How to Cope with the Loss of a Loved One and Find Strength in Sorrow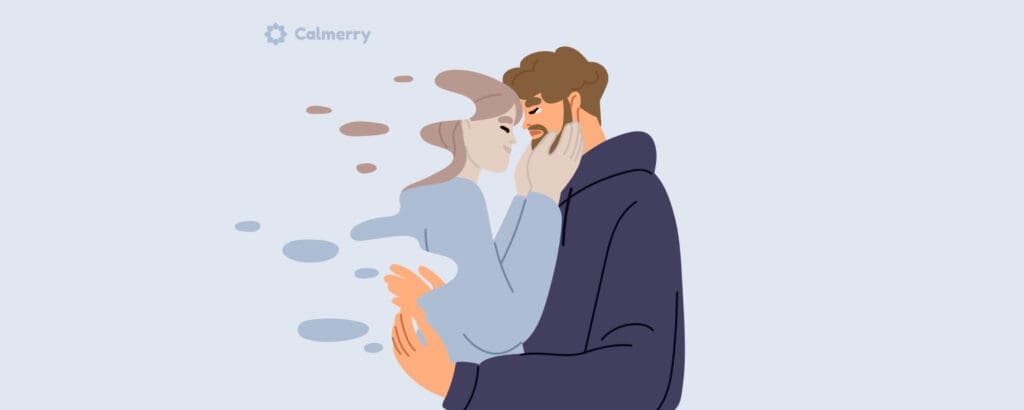 Reading Time:
6
minutes
Grief is a natural response to losing someone you love or care about. Feelings of profound sorrow or sadness characterize this response. Grief can also cause you to feel other intense emotions like guilt, anger, and fear.
Yes, dealing with grief can be a long and overwhelming process. However, it is possible to accept the death of a loved one and healthily cope with grieving. We also asked Tiffany Lovins, a Licensed Mental Health Counselor at Calmerry, to share some insights into this subject.
Psychological effects of the death of a loved one
Losing someone you love through death, especially an unexpected one, is a stressful experience that increases the risk of developing mental health problems. Moreover, the grieving process can also lead to feelings of guilt, anger, and loneliness.
While any death of a loved one can be emotionally devastating, unexpected deaths of loved ones cause especially strong responses, as there is less time to prepare for and adapt to the death.
Throughout the lifespan, the unexpected death of a loved one is associated with:
Anxiety symptoms
Substance use problems
Additionally, there is a heightened risk for prolonged grief reactions such as complicated grief. Complicated grief is a more severe form of grief that can develop after the death of a loved one. Research suggests that complicated grief affects approximately 7-20% of bereaved individuals and can last for months or even years.
The experience of grieving and mourning is unique and personal, so no two people grieve or mourn similarly. The first and most important step to getting healed is to accept the death of a loved one.
How to accept the death of a loved one – the therapist answers
Accepting the death of a loved one is a complex process that involves working through a range of emotions and experiences. It can be a painful and challenging journey, but people need to find ways to come to terms with their loss to move forward.
Tiffany Lovins, a Licensed Mental Health Counselor, says: "Our ability to process the immense impact of these losses can be overwhelming. Researchers often categorize grief into several stages: shock or denial, pain and guilt, anger and bargaining, depression, reconstruction, and acceptance. The reality is that these stages rarely happen from one to the next, and once you reach acceptance, you are no longer grieving."
It is important to note that accepting loss doesn't mean you feel okay immediately. Tiffany added, "Moreover, acceptance does not mean that there is no longer pain or that you feel okay with the loss. It simply means that you have reached a place with enough resolution to start rebuilding your life and move forward with hope and purpose."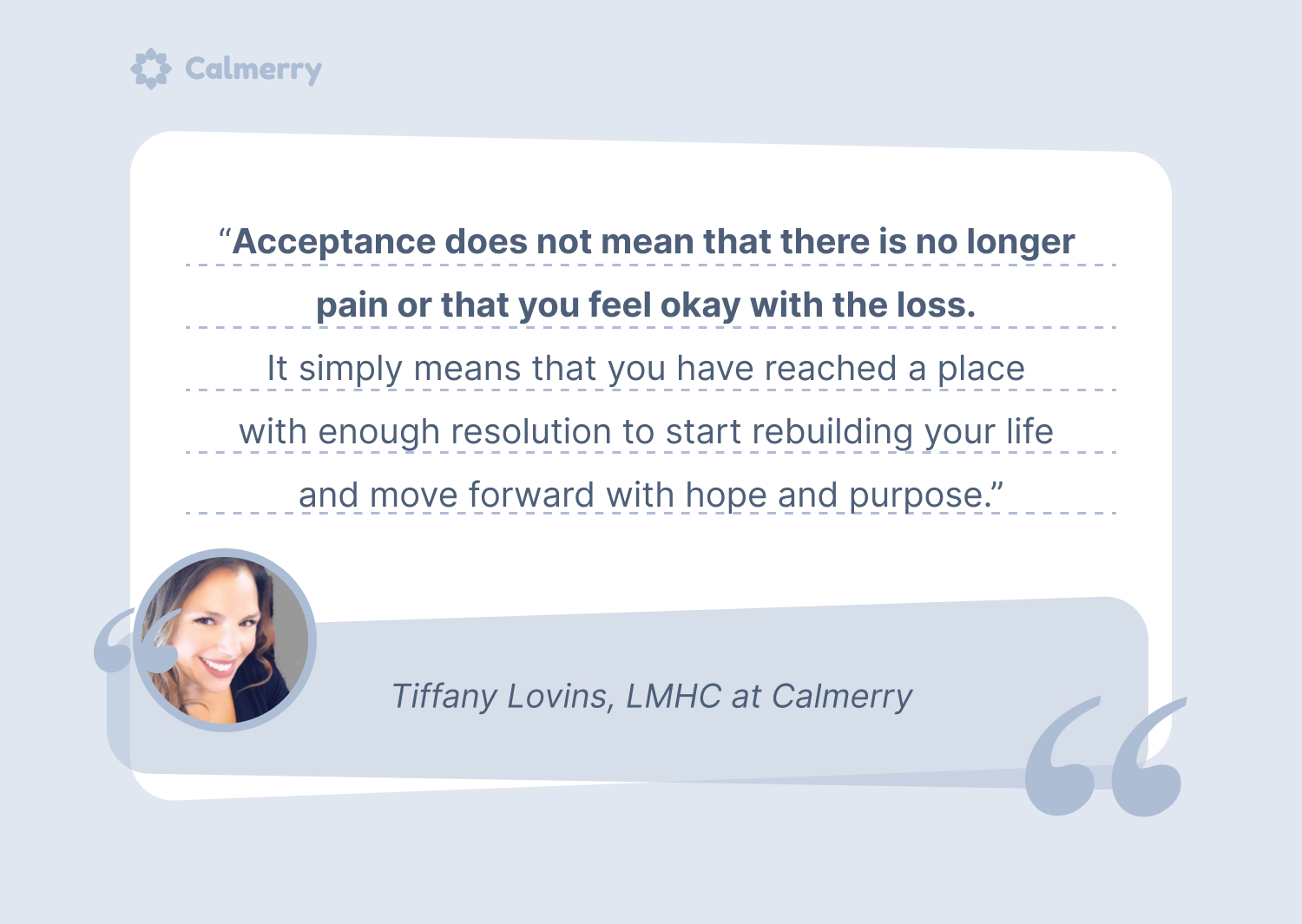 Embrace your real emotions and feelings about the loss
Accepting the reality of a loved one's death is an important aspect of accepting the loss. This can involve allowing oneself to experience the full range of emotions that come with grief, from sadness and despair to anger and frustration. It can also involve recognizing that the loved one is truly gone and will not be coming back.
"Acceptance is not a one-time end goal but a continuous process and place to return to. Achieving a place of acceptance requires allowing yourself to feel and be present with all emotions, thoughts, and memories", explains Tiffany and goes on, "Reaching out and connecting with others to talk about the loss is critical to process and make sense of the impact of this loss in your life."
Tiffany also notes, "Accepting the death of a loved one may include identifying what needs are no longer being met that the loss of this individual has created in your life. Seeking out ways to meet those needs from other people or sources is a big part of accepting and rebuilding your life."
8 healthy ways to deal with the loss of a loved one
Grieving after losing a loved one can be a difficult and overwhelming experience, and finding healthy ways to cope with the grief is important. Besides acknowledging and accepting the reality of the situation, and embracing real emotions, here are nine healthy ways to deal with the loss of a loved one.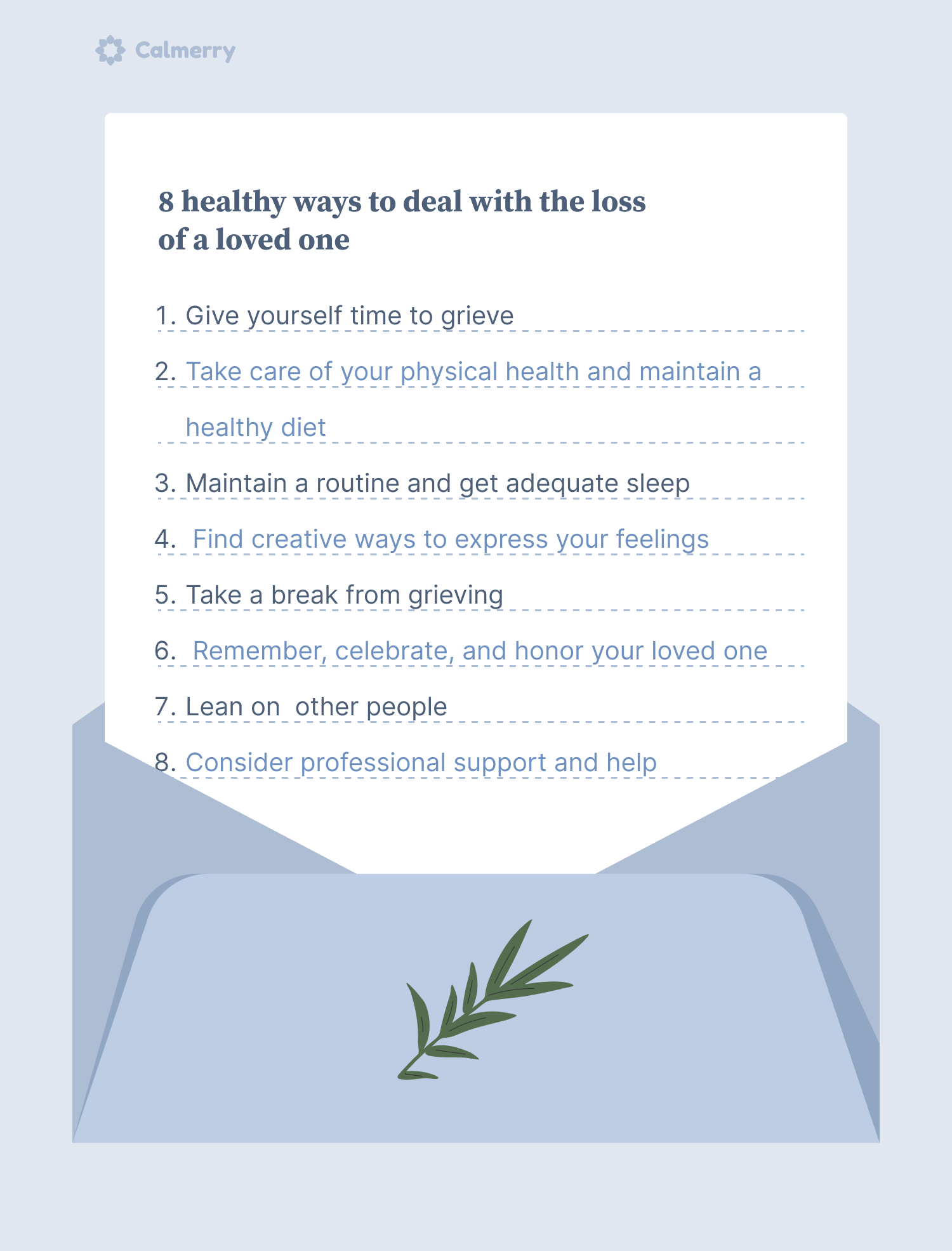 Give yourself time to grieve
Giving yourself some sort of a deadline for how long you should be grieving is not a good idea. Let emotions unfold at their own pace, and don't criticize yourself for not coping with grief soon or feeling better quickly.
In short, practice self-compassion and be kind to yourself. Grief is a highly personal experience, so everyone should grieve the way they need to.
Take care of your physical health and maintain a healthy diet
As previously mentioned, grief can manifest in physical symptoms. Acknowledging and attending to your physical needs is important to cope better emotionally.
Feelings of overwhelming loss can lead to skipping meals or not eating at all. However, our body needs nutritious foods to get through the grieving process. Avoid overeating and overindulging in junk and processed foods.
Exercise or any type of physical activity can also help your mood and be an energy-giving habit. These release endorphins, which are beneficial in boosting your mood or relieving discomfort. Exercising is also a positive tool that can help you adapt to loss and keep moving forward.
Maintain a routine and get adequate sleep
Keep up with your daily routine so that you won't get overwhelmed. This will allow you to stay connected to the world around you and somehow feel better emotionally.
It is also best not to make any major life changes during this period. The stress and pressure of grieving can make you vulnerable to making impulsive decisions that you may regret later on.
Besides, grief can disrupt your sleeping habits, resulting in insomnia, sleep deprivation, or just exhaustion. So try to focus on creating healthy sleeping habits like relaxation, sticking to a regular bedtime and wake-time routine, and ensuring that your bedroom is cool, dark, and quiet.
Find creative ways to express your feelings
Consider writing your thoughts and feelings in a guided journal or a diary. Doing so can help ease the stress and pressure of your pain. It will also allow you to look back and see how your emotions and grief change over time.
If you find expressing your feelings in words difficult, you can engage in other activities you enjoy, like art or music.
Subscribe
to our mental health digest
Let us support you on the way to better mental well-being. Get expert tips and insights on mental health delivered to your inbox monthly.
Take a break from grieving
The pain of grieving can sometimes get overwhelming. Permit yourself to take a break from it by engaging in things or activities you enjoy. You could watch a movie, listen to music, start a new hobby, or hang out with friends. It is perfectly fine not to feel lonely all the time. It is good for you to smile, laugh, or feel happy.
Lean on other people
Share whatever you're going through with family and friends when you can. Talking about your loss and grief is beneficial, especially in processing and navigating your feelings.
You can also grieve as a family, talk about your deceased loved one, share your emotions, or even cry together. If you feel like you need extra help or emotional support, you can also talk to a counselor or health care provider.
Remember, celebrate, and honor your loved one
Another important aspect of accepting the death of a loved one is finding ways to honor and remember them. This can involve creating a memorial or tribute, participating in rituals or ceremonies, or simply reflecting on the positive memories and experiences shared with the loved one. By keeping their memory alive, individuals can find a sense of comfort and connection, even in the face of loss.
Holidays, birthdays, and death anniversaries can be challenging for everyone. While such occasions can reawaken sadness and other emotions, they can also be used as a time to celebrate and remember the life of a loved one or continue honoring the relationship you had with them.
When to seek professional support and help
If you're struggling to cope with the loss of a loved one, seek help from a licensed mental health professional. An experienced therapist will educate you about what you might experience and use evidence-based treatments to help you get through your sorrow. They will also help you navigate your emotions and deal with the hurdles you face while grievings.
The emotional symptoms associated with grief gradually ease over time. If feelings of emptiness, guilt, and sadness don't go away, or if you feel they are getting worse, your grief can turn into depression. This may be the saying "there is no right or wrong way to grieve" is true.
The right support, effort, and patience can help you move forward. An experienced grief counselor or therapist can help determine the treatment or type of support you need.
Consider online therapy
Grief counseling or therapy can also be conducted remotely or online. If you're grieving or feeling anxious, stressed, or depressed, ask for help and take online therapy at Calmerry.
Professional help is always available to help you deal with grief and its challenges healthily to lead a better life. Take advantage of online therapy or ask for help if you need it.
Сheck your mental well-being for free: