Published November 16, 2023
"I Miss My Dad" – Coping with the Grief of Losing a Father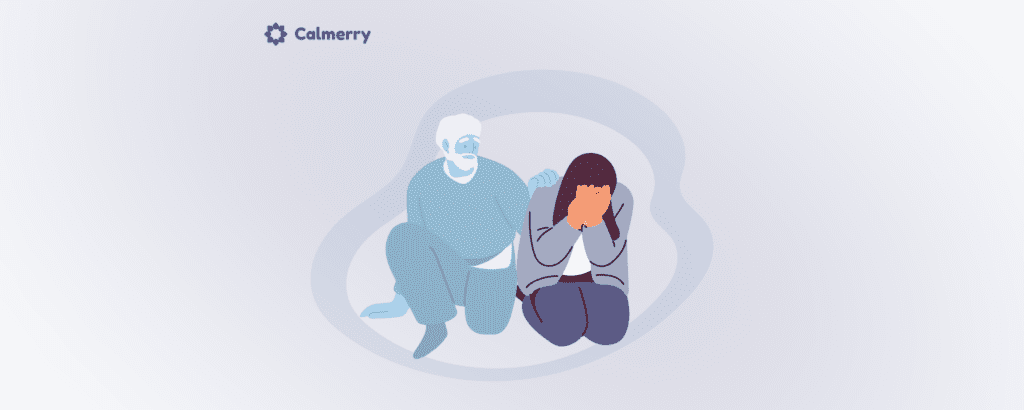 Reading Time:
6
minutes
The loss of a father can be an intense and life-altering experience. Grief is a very personal journey, looking different from person to person.
Although there is no one-size-fits-all solution for coping with the grief following the death of a father, there are some tools and skills that may be helpful to anyone navigating the path from grief to healing.
Understanding grief when losing a father
Grief is a natural response to a loss. Grief is often experienced as psychological distress, confusion, yearning, and a focus on the past.
While grief is never easy, the grief associated with the loss of a parent can be particularly devastating. Understanding grief and its various stages can provide a framework for individuals to make sense of their emotions and begin the healing process.  
In 1969, Swiss-American psychiatrist Elisabeth Kubler-Ross introduced a theory that there are five stages of grief in her book, "On Death and Dying." 
Kubler-Ross identified the five stages as:
1. Denial
This is often the first reaction following the loss of one's father. Denial is a sort of protective factor or defense mechanism that comes to cope with the shock of the news.
When someone dies, it is sometimes very hard to believe. It can feel surreal, almost like a bad dream.
2. Anger
As the reality of the loss sets in, many people may experience anger. This anger might be directed in various ways, perhaps towards medical professionals, family members, or even the father who has passed.
3. Bargaining
This stage involves attempting to negotiate with a higher power to reverse the loss. Individuals often find themselves praying or making promises in the hope of bringing the person who has died back.
4. Depression
As you come to terms with the loss, sadness and depression may become overwhelming. It's crucial to differentiate between normal grief-related sadness and clinical depression. 
Seeking professional help is essential if you experience severe and persistent depression.

– Jenna Jarrold, M.S., Licensed Professional Counselor (LPC)
5. Acceptance
In the acceptance stage, individuals start to accept the reality of the loss and adjust to a life without their father. It does not mean the pain is gone, but it signifies a level of peace or understanding.
It is critical to note that not everyone experiences these stages in the same order, or for the same amount of time. And while some may go through each of the five stages, others only experience one or two.
Grief is a unique journey for everyone, and there's no "right" way to grieve.
How to cope with loss of father
Losing a father is an incredibly challenging experience that brings a profound sense of loss and grief. It's a journey that many find difficult to navigate, filled with emotions that can feel overwhelming.
These coping strategies will offer guidance and support for those who are grappling with this significant loss.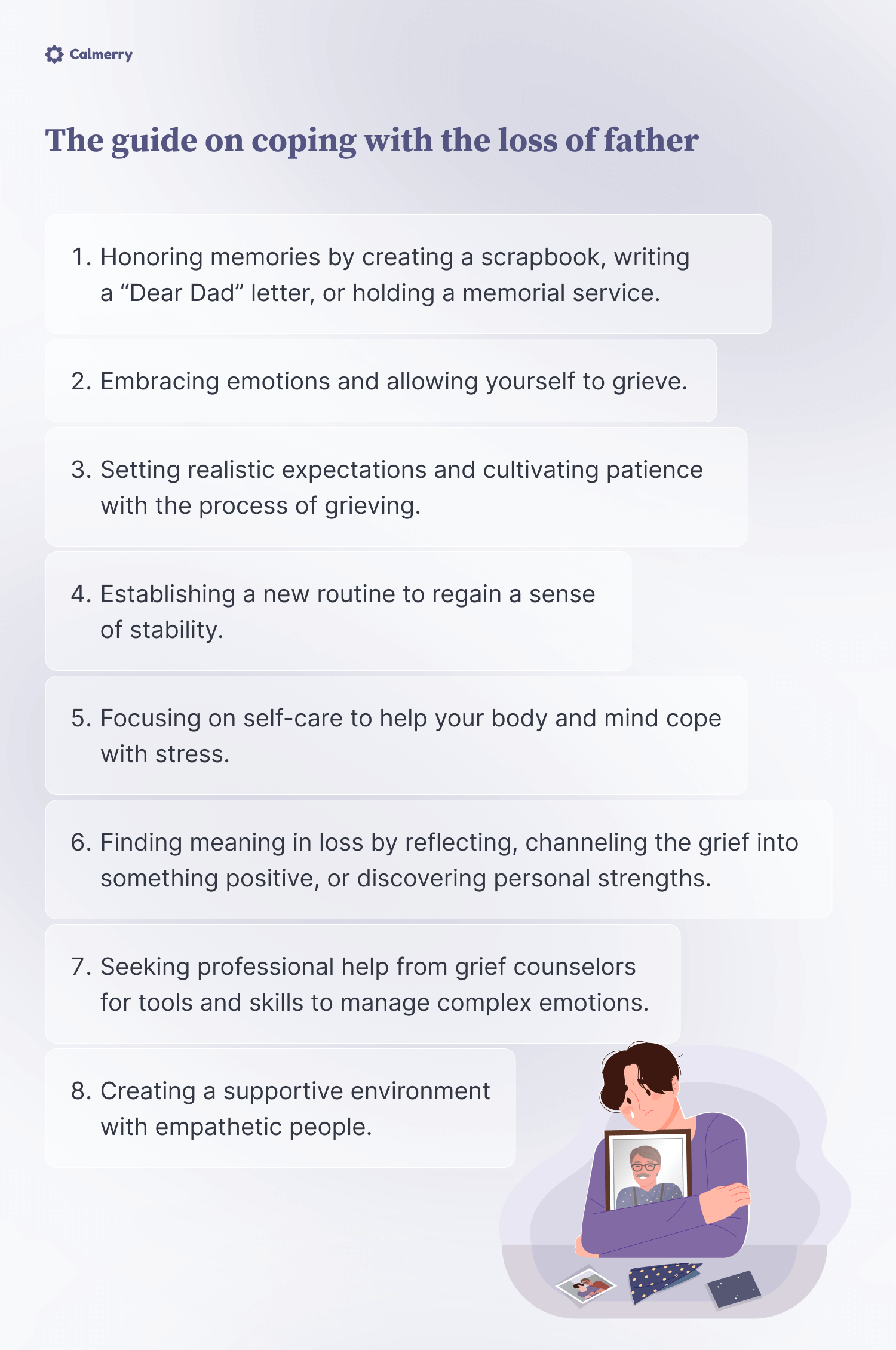 Honoring memories
One of the first steps in coping with the grief of losing a father is to honor and celebrate his memory. Memories of your father can provide comfort and a sense of connection even after he's gone.
Here are some ways to honor his memory:
Create a scrapbook or memory book – to capture the essence of one's lost father, many scrapbooks include items such as photos, mementos, and/or any reminders of that person.
Write a "Dear Dad" letter – following losing a dad, writing a letter in which one expresses their feelings, cherished memories, or even things that had been left unsaid can be extremely cathartic. 
Hold a memorial service – for individuals who have lost their father, holding a memorial service can be a crucial part of the grieving process. Memorial services are not necessarily based on religion (although they can be) and are meant to assist those whose loved one has passed in preserving that person's memory.  Some describe a memorial service as a celebration of life, where friends and family share thoughts, stories, and memories of the deceased. [1] What is a Memorial Service? | Memorial Service vs Funeral. (n.d.). https://www.connerandkoch.com/what-is-a-memorial-service
Start a tradition or ritual in the father's honor, such as visiting a special place or participating in his favorite hobby. Some may choose to do this throughout the year on a sporadic basis, while others may pick a specific date, such as the death anniversary.
Building a support network
Grieving is a process that is best navigated with the support of others. Reach out to friends and family members who can provide emotional support and understanding during this difficult time.
Don't be afraid to ask for help when you need it, and consider joining a support group for people who have experienced a similar loss. Talking to others who have gone through a similar experience can be incredibly comforting and can provide a sense of community.
Focusing on self-care
Grief can take a toll on your physical health, as it is often accompanied by stress and emotional upheaval. Taking care of your physical well-being is an important part of coping with the grief of losing a father:
Eat a balanced diet: Nourishing your body with a healthy diet can help you cope with the physical and emotional stress of grief.
Get regular exercise: Physical activity can help reduce stress and improve your mood. Even a short walk each day can make a difference.
Get enough sleep: Grief can disrupt your sleep patterns, so it's important to establish a bedtime routine and create a calming sleep environment.
Avoid excessive alcohol or drug use: Substance abuse can temporarily numb the pain of grief but can ultimately worsen your emotional state.
Seeking professional help
Some experience grief as overwhelming and debilitating, while others may find it simply interferes with day-to-day life. Regardless of the intensity of one's individual grief experience, seeking professional help can be a great source of support.
Working with a mental health professional who specializes in grief can aid in learning the tools and skills needed to navigate grief's complex emotions following the loss of a father.

– Jenna Jarrold, M.S., Licensed Professional Counselor (LPC)
Additionally, grief counseling can provide a safe space to process memories and reflect on one's own thoughts or beliefs around death and dying. 
Most mental health professionals offer both in-person and online therapy options, making grief counseling more accessible to people.    
Embracing emotions
Losing a dad can be an overwhelming experience wrought with intense emotions.
Understandably, many people attempt to avoid these emotions. Some seek emotional avoidance or "numbing out" using drugs and/or alcohol, while others may shut down, isolate, or distract by keeping themselves extremely busy. [2] Does drinking alcohol help numb grief or sends us down a slippery slope? | NACADA -National Authority for the Campaign Against Alcohol and Drug Abuse. (n.d.). https://nacada.go.ke/does-drinking-alcohol-help-numb-grief   
Unfortunately, these tactics do not actually work, and, in most cases, only delay the grief experience.
Embracing your emotions and allowing yourself to grieve is an important part of healing. It's okay to feel a wide range of emotions, from sadness and anger to guilt and even relief, depending on your relationship with your father.

– Jenna Jarrold, M.S., Licensed Professional Counselor (LPC)
Give yourself permission to experience and express these feelings without judgment.
Setting realistic expectations
Grief does not follow a particular timeline or a linear path. This means there should not be any set expectations of the process – no set expectations of how one should feel, how one should act, or how one should experience grief overall. 
The only expectation is to be gentle and kind to oneself and to cultivate patience with the process of grieving a father. 
Establish a new routine
Losing a father can really shake up a person's life and daily routines, often leaving a person feeling a bit lost or adrift. Although it may take some time to regain a sense of stability, re-establishing routines (or establishing new routines) may be central to the healing journey.  
This might include setting goals, maintaining a daily schedule, and engaging in hobbies and self-care. [3] Altru Health System. (2019, August 2). Altru Health System. https://www.altru.org/20-ways-to-take-care-of-yourself-while-grieving/
Find meaning in your loss
As one moves forward following a father's death, it may be helpful to consider finding meaning in your loss. Just as grief looks different for everyone, so does finding meaning in the loss.
For some, finding meaning involves channeling the grief into something positive, such as volunteering, advocating for a cause, or starting a project in the lost father's memory.
For others, it may be doing inner work and reflecting on the purpose one can find in their own life.
And for others, it might be a newfound awareness of the personal strength it has taken to move through the grief.
Finding purpose and meaning can be a powerful way to honor your father's legacy and find solace in your grief.
Create a supportive environment
Surrounding yourself with a supportive environment can make a significant difference in coping with the grief of losing a father. This includes seeking out people who understand the grief (or can relate to the loss of a father) and are empathetic. 
Supportive environments can also be in one's surroundings, such as creating a space that feels comforting, safe, and/or soothing.
Coping with the grief of losing a father is a deeply personal journey. For some, the journey is easier to navigate than for others.
Although there is no "quick fix" for the pain that often follows such a loss, understanding the possible stages of grief, seeking support, practicing self-care, and allowing oneself the time and space to grieve are essential in finding solace and healing.
And remember, grief is not a sign of weakness but a testament to the love and connection one shared with a father.

– Jenna Jarrold, M.S., Licensed Professional Counselor (LPC)
A word from Calmerry
At Calmerry, we understand how challenging and unique each person's grief can be. That's why we offer specialized online therapy and counseling services, dedicated to supporting you through this difficult period.
Our compassionate mental health professionals specialize in grief counseling and are equipped with the understanding and tools to help you navigate your feelings and memories.
Whether you need a space to share your thoughts, seek validation, or simply find a listening ear, our team is here to provide the support and guidance you need, at your own pace and in the comfort of your own space.
Start with a brief survey – and get matched with your professional within 1 hour.
We curate our articles with warmth and care, drawing from reputable sources and expert knowledge. Explore our editorial process to understand how we prioritize your trust and keep accuracy in every word we share.
Сheck your mental well-being for free: