Published November 9, 2023
Reasons Behind Feeling Lost in Life and What to Do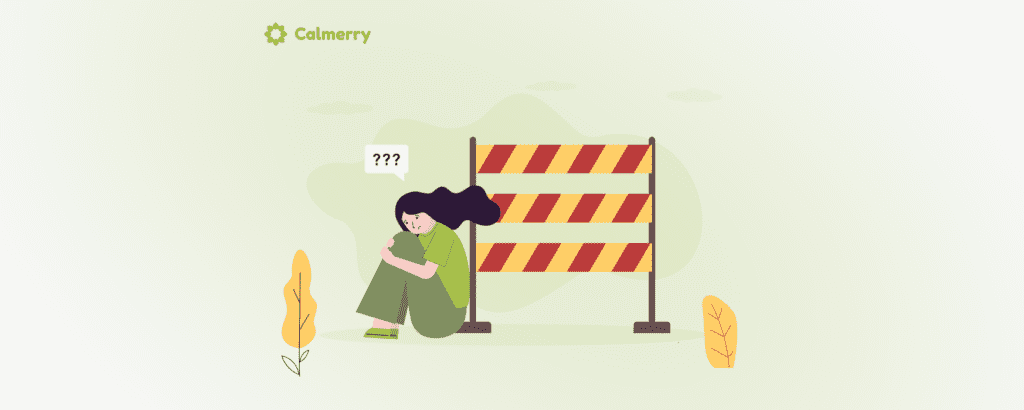 Reading Time:
7
minutes
Ever felt stuck or that you're drifting aimlessly in life and wondering, "I don't know where my life is going?" Though not often talked about, feeling lost in life is a common occurrence that many people experience at one time or another.
This feeling can make you feel disconnected from the people around you and make you wonder about your purpose in life. These thoughts can lead to feeling confused, anxious, and/or depressed.
But it's definitely a normal part of life to feel lost and question your purpose.
What does it mean to feel lost in life?
Feeling lost in life is an intricate emotional condition. It can feel a lot like depression. Those caught in this whirlwind of uncertainty often grapple with a range of emotions, including sadness, anxiety, and frustration. [1] Ms, M. T. (2022, March 25). Feeling lost? Here's what it means and how to find yourself. Psych Central. https://psychcentral.com/blog/when-you-feel-lost
Feeling lost can also be accompanied by a sense of isolation, loneliness, and disconnection from those around you.
Other symptoms of feeling lost might include:
Persistent sadness or low mood
Lack of motivation
Feelings of hopelessness
Irritability
Indecisiveness or difficulty making decisions
Detachment and feeling disconnected from your surroundings, activities, or relationships that used to bring joy
Putting off tasks, especially those related to long-term goals or plans
Disconnection or feeling out of touch with one's sense of a higher purpose
At its core, feeling lost is often rooted in inner conflict. This feeling arises from having conflicting values, beliefs, or desires. Living out of alignment with your own principles and integrity only deepens this sense of disconnection.

– Veronica Silver, Therapist-turned mental health writer
Why do I feel so lost?
There are many reasons for feeling lost in life. A major aspect of feeling lost is the lack of purpose or clear direction in life. This can manifest as uncertainty about the future and an absence of concrete goals or aspirations, leaving you feeling aimless and directionless.
But it's not only uncertainty about the future that can contribute to feeling lost in life. These feelings can arise from a variety of factors that vary among individuals. [2] Gupta, S. (2023, January 23). How to Cope When You're Feeling Lost. Verywell Mind. https://www.verywellmind.com/feeling-lost-7096808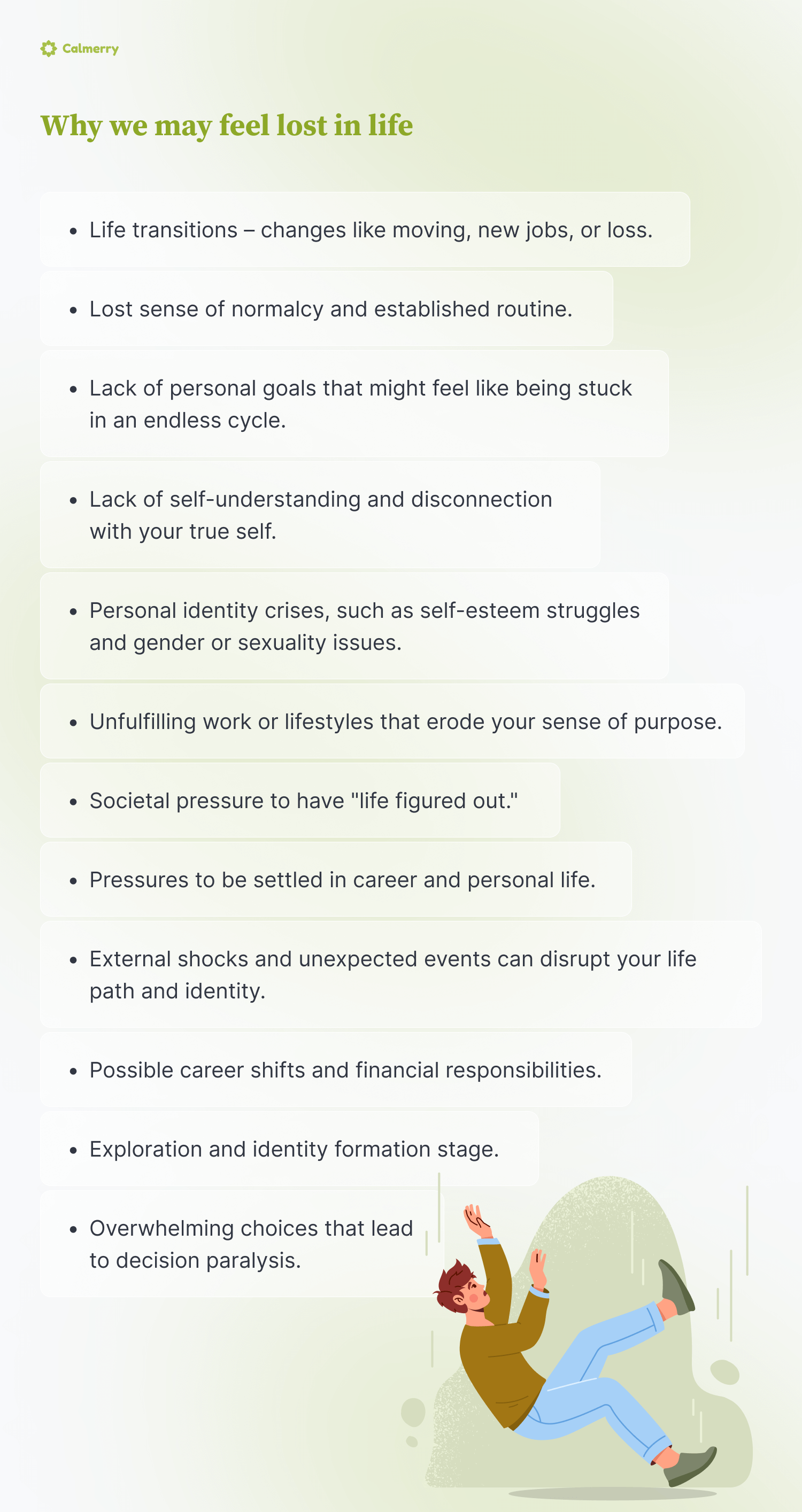 1. Life transitions
Life is full of transitions. Major life transitions can challenge your identity and sense of belonging. Graduating from school, starting a new job, moving to a new city, or experiencing the loss of a loved one can upend one's sense of normalcy and provoke feelings of being lost.
In these instances, you may not have an established routine, know your way around, or have friends yet.
2. Lack of personal goals
Having goals gives us something to strive towards and a purpose in life. Without personal goals or benchmarks for success, life can seem like an endless cycle without purpose.
The absence of clear aspirations can leave a void that contributes to the feeling of being lost and directionless.
3. Overwhelming choices
If you have a lot of important or life-changing decisions to make, the overwhelming choices can leave you feeling stuck.
In a world where there are infinite paths to take, making a decisive choice about which direction to go in life can be daunting, leading to paralysis and being unsure of what to do.
4. Lack of self-understanding
Have you ever thought, "I don't know who I am"? Not knowing oneself deeply – what one wants, values, or finds meaningful – can lead to disorientation and lack of direction.
Without this self-understanding, it's easy to feel unanchored. Personal identity crises, such as self-esteem struggles and gender or sexuality issues, can lead to this sense of not knowing oneself.
5. Dissatisfaction with life or career
A job or lifestyle that doesn't align with your passions or values can lead to dissatisfaction, prompting questions about your purpose and direction.
Burnout from chronic stress or overwork can also leave you questioning your life choices and feeling like you have no direction in life. [3] Job burnout: How to spot it and take action. (2021, June 5). Mayo Clinic. https://www.mayoclinic.org/healthy-lifestyle/burnout
6. External shocks
Unexpected events such as economic downturns, the loss of a loved one, or natural disasters can disrupt your life trajectory and leave you feeling shocked, angry, sad, and lost.
Aspects of your life and identity may be intertwined with the person or place that may no longer be there or be the same. This may make you unsure of how to move forward.
So, there are many reasons for feeling lost in life. Both negative and positive transitions can upend our sense of self and leave us wondering what to do and where to go next.
Is it normal to feel lost in life?
Sometimes, we think of the lack of direction or purpose in life as a midlife crisis. But this feeling can happen at any time in life. In fact, it's a rather common experience that many people encounter at one point or another.
As we mentioned previously, any life transition can contribute to this feeling of being lost in life and existential depression.
Feeling lost is a natural response to change and can indicate personal growth.

– Veronica Silver, Therapist-turned mental health writer
Is it normal to feel lost in your 20s?
Feeling lost in your 20s is not only normal but also quite prevalent. This decade of life is often thought of as a period of exploration, discovery, and excitement, but it's also a time that's full of uncertainty and the pressure to figure out one's life path.
Your 20s are typically marked by significant life transitions, such as graduating from college, starting a career, and forming long-term relationships. [4] Carlsson, J., Wängqvist, M., & Frisén, A. (2015). Identity development in the late twenties: A never ending story. Developmental Psychology, 51(3), 334–345. https://doi.org/10.1037/a0038745 Each of these milestones comes with its own set of challenges and can lead to feelings of being lost as you navigate new responsibilities and expectations.
There's also societal pressure that by your 20s, you should have your life "together." Meaning that you should know your career path, be in a serious relationship, and be on track for future success. But that is not often the case for many people.
When reality doesn't match these expectations, it can lead to a sense of disorientation and inadequacy.
Identity formation
Despite the belief that everyone should have it figured out by the time they graduate from college, the 20s are a critical time for identity formation. [5] Settersten, R. A., Ottusch, T. M., & Schneider, B. (2015). Becoming Adult: Meanings of Markers to Adulthood. Emerging Trends in the Social and Behavioral Sciences, 1–16. https://doi.org/10.1002/9781118900772.etrds0021 It's a period where many question who they are and who they want to become. This introspection can lead to a deeper understanding of oneself, but it can also be a source of confusion and feeling like you have no direction in life.
Feeling lost in your 20s is a common experience that signifies the struggle of coming to terms with adult responsibilities while trying to maintain one's sense of self and purpose.
These feelings are normal and often temporary. They can be an important catalyst for personal development.
Is it normal to feel lost in your 30s?
Feeling lost in your 30s is also a common and normal experience, though the reasons may differ somewhat from those in your 20s. By the time people reach their 30s, they often face a new set of challenges and life questions that can contribute to feelings of uncertainty or a sense of being adrift.
By the time you reach your 30s, you've likely made significant life decisions regarding your career, relationships, and lifestyle. It's normal to start questioning these choices and whether they align with your true desires and values, which can lead to a sense of feeling lost or the need for change.
There's also often an internal or societal pressure that by your 30s, you "should be" settled in a career, "should be" married, or "should be" starting a family. If your life doesn't fit this narrative, it can prompt fears that you're falling behind your peers.
Career plateaus and financial pressures
Some people may find that the career trajectory they've been on is no longer fulfilling or that they've reached a plateau. The desire to shift careers can lead to uncertainty, particularly as such changes often come with financial and personal risks.
Financial responsibilities often increase in your 30s, with mortgages, family expenses, and savings for the future becoming more prominent concerns. Thus, these risks can place further stress and strain on one's life.
Lifestyle and identity shifts
Friendships and social circles can change significantly during this decade, as many peers may focus on their family life or career. Those who don't follow the same path might feel a loss of connection and a need to seek out new social groups, which can be disorienting and make you feel lost and alone.
The 30s are a time when the idealism of youth often meets the practical realities of adult life, sometimes leading to anxieties and confusion. Recognizing these feelings as normal can be the first step in navigating through them.

– Veronica Silver, Therapist-turned mental health writer
Feeling lost at this age can spur changes that lead to a more authentic and satisfying life.
What to do when you feel lost in life
Feeling lost in life and career can be disheartening. The thought, "I feel lost," can make us feel anxious and fearful, but it also presents an opportunity for self-discovery and redirection.
Here's what you can do when you feel lost and confused:
1. Acknowledge your feelings
Ignoring or denying our emotions can do more harm than good. [6] Webb, J., PhD. (2022, February 19). 3 Problems caused by ignoring your emotions. Psychology Today. https://www.psychologytoday.com/3-problems-caused-ignoring-your-emotions The first step in how to stop feeling lost in life is to accept that it's okay to feel this way.
You're not alone in feeling lost, and it doesn't mean you've failed. Acknowledge your emotions without judgment.
2. Take a break
Give yourself permission to take a break from trying to figure everything out. Sometimes, stepping back can provide a fresh perspective.
3. Reflect on your values and passions
Take time to consider what really matters to you. What are your core values? What activities make you lose track of time?
Rediscovering what you are passionate about can help you find direction.
4. Set small, achievable goals
When you're feeling overwhelmed, setting small goals can help you take steps towards larger aspirations. Completing these can build confidence and a sense of progression.
5. Consider professional help
A counselor or therapist can provide professional guidance. They can help you clarify your thoughts and formulate a plan of action.
Professional support can help you explore your feelings and teach you tools to be able to manage how you're feeling.
For those lacking access to in-person mental health professionals, online therapy on Calmerry can be a great option.
6. Make self-care a priority and practice gratitude
Often, when we feel lost, we neglect our well-being. Ensure you're getting enough sleep, eating well, exercising, and finding time for relaxation. Engaging in practices like meditation can help you relax and focus better.
Focus on the aspects of your life that you are thankful for. Gratitude can shift your mindset from what is lacking to what is abundant.
7. Write it down
Journaling can be a powerful tool for self-discovery. [7] Journaling for Emotional Wellness – Health Encyclopedia – University of Rochester Medical Center. (n.d.). https://www.urmc.rochester.edu/encyclopedia/content.aspx Write about your experiences, feelings, and what you're learning about yourself. Journaling can help you process your thoughts and emotions in a safe space. It can also help you prioritize your concerns and fears. 
Feeling lost is often a temporary state. It's a sign that you're questioning, growing, and evolving as a person. With each step, no matter how small, you're carving out a path that is uniquely yours.
We curate our articles with warmth and care, drawing from reputable sources and expert knowledge. Explore our editorial process to understand how we prioritize your trust and keep accuracy in every word we share.
Сheck your mental well-being for free: