Published November 10, 2023
Why Do I Cry When I Talk About My Feelings?

Reading Time:
5
minutes
In the 70s (the 1870s, that is), Charles Darwin wrote that human tears are an "incidental result, as purposeless as the secretion of tears from a blow outside the eye."
While it's not my belief that human tears are purposeless, all this time later, we still don't quite know their exact function. Let's explore.
Why we cry
Most of us come into the world crying, and we keep on doing it into old age. I currently have a nine-month-old baby, and crying is one of his main modes of communication. He might cry to let me know when he's hungry, tired, or has a dirty diaper. And it works. His tears capture my attention.
When humans cry, we are sending an emotional signal to ourselves and those around us that we are experiencing an intense emotion, such as:
Sadness
Hurt
Overwhelm
Grief
Upset
Surprise
Fear
Heartbreak
Suffering
Homesickness
Joy
Relief [1] Sidebotham, C. (2020). Viewpoint: Why do we cry? Are tears 'purposeless'? British Journal of General Practice, 70(693), 179. https://doi.org/10.3399/bjgp20x709049
There's no universal rule that the act of crying will offer a sense of relief or help you manage your emotions. For some people, it might be the comforting response offered by others when they cry that reduces stress. It's also possible that crying will offer no relief at all. In certain situations, it may even worsen your mood. [2] Vingerhoets, A., Van De Ven, N., & Van Der Velden, Y. (2016). The social impact of emotional tears. Motivation and Emotion, 40(3), 455–463. https://doi.org/10.1007/s11031-016-9543-0
What we do know is that tears help humans empathize, care for one another, have compassion, and share vulnerability. It's even thought that crying creates a sense of social connectedness that may have helped early humans form cohesive communities. [3] Empathy quiz. (n.d.). Greater Good. https://greatergood.berkeley.edu/quizzes/take_quiz/empathy

– Kate Dubé, Licensed Clinical Social Worker (LCSW)
Because emotional tears are high in protein, they stick to the skin and roll slowly down the cheek – functioning as a visible signal of a person's feelings.
Seeing someone cry actually lights up similar regions in our brain to when we ourselves are crying. This effect is so powerful that tears can neutralize another person's anger. In this way, crying is sometimes used to manipulate others through this empathy response.
Is it okay to cry when expressing my emotions?
There's no definitive, universal answer to this question. Instead, ask yourself how crying when you discuss your emotions affects you, your relationships, and your ability to communicate.
For some, in certain situations, tears might open channels that deepen connection. For others, and in other situations, they might create hurdles or blockages.
Research has found that the root cause of your tears, as well as the support you receive when you shed them, are key factors in determining whether crying helps or hurts your emotional state. [4] Bylsma, L. M., Croon, M. A., Vingerhoets, A., & Rottenberg, J. (2011). When and for whom does crying improve mood? A daily diary study of 1004 crying episodes. Journal of Research in Personality, 45(4), 385–392. https://doi.org/10.1016/j.jrp.2011.04.007
In one study, participants were more likely to feel better if they cried alone or around one other person but felt worse or neutral if they were with two or more people.
If you cry every time you talk about your feelings, it's possible that you become overwhelmed when you bring your feelings to the surface. This is neither inherently good nor bad, but rather something to take note of and observe how it affects your life and relationships.
The stirring of emotions that precipitates a cry can offer rich material to explore your inner world and improve your self-awareness. Your tears can be an indication of what matters to you and what feels significant.

– Kate Dubé, Licensed Clinical Social Worker (LCSW)
You may want to consider the various contexts in which your sharing and crying happens. For example, crying with a close friend may be a different experience than crying with a co-worker whom you barely know. In the latter case, you may end up feeling worse if you don't receive the support or connection that you're seeking.
Some people might also feel lonely, exposed, or embarrassed.
When sharing difficult emotions, a few things to consider include:
Who you're talking to
The timing of the conversation
Your surroundings
Whether you are able to learn anything about yourself
It's human to feel sad sometimes
There's nothing to be ashamed about if you feel sadness, melancholy, or grief. Part of being a human is to experience the whole spectrum of emotions. And it's OK, or even liberating, to break free from the "tyranny of positivity."
What's more, if we try to avoid or suppress certain emotions, they tend to increase tenfold. As Peter Gabriel sang:
When I allow it to be
It has no control over me
I own my fear
So it doesn't own me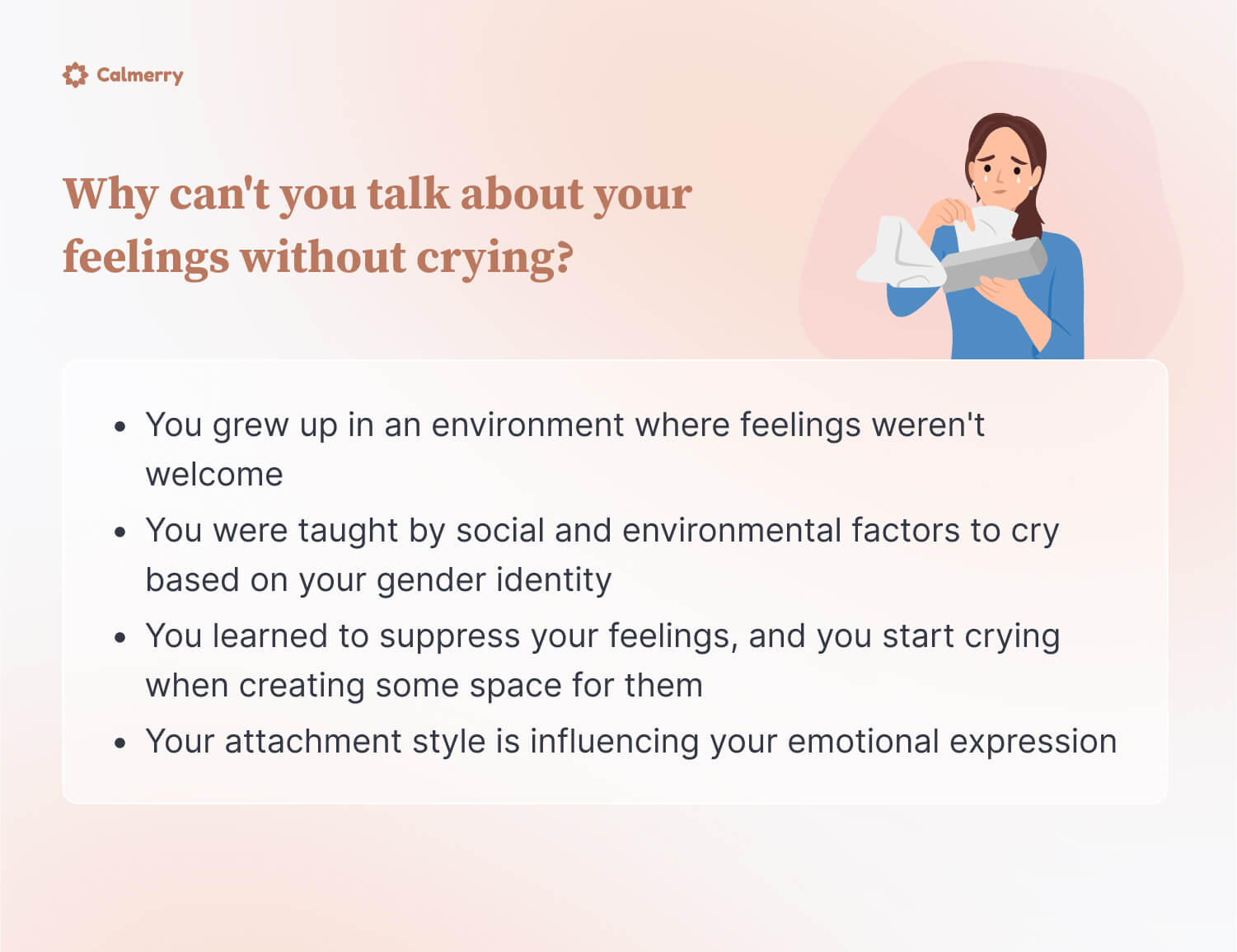 So, why can't I talk about my feelings without crying?
There's no single answer to the question of why you may cry when you talk about your feelings. Below are four potential factors that may influence your tendency to shed tears as you open up about your emotions.
You grew up in an environment where feelings weren't welcome
Even the most well-meaning parents may scold their children for expressing certain feelings. In some households, all difficult feelings are shunned, dismissed, or ignored.
You might have been:
Called overly sensitive
Teased when you tried to express yourself
Told to "get over it" or "quit whining"
Laughed at
Yelled at
Ignored
If any of this sounds familiar, chances are you learned to suppress or hide your feelings at a very young age. Now, as an adult, you are less acquainted with your true feelings and more easily overwhelmed by them when they surface.
You were taught to cry based on your gender identity
While research is limited, some studies have found that across many cultures, women tend to cry more often than men and also tend to report a more positive experience of crying. [5] Sharman, L., Dingle, G. A., Baker, M., Fischer, A. H., Gračanin, A., Kardum, I., Manley, H., Manokara, K., Pattara-Angkoon, S., Vingerhoets, A., & Vanman, E. J. (2019). The relationship of gender roles and beliefs to crying in an international sample. Frontiers in Psychology, 10. https://doi.org/10.3389/fpsyg.2019.02288
Though certain hormones such as testosterone and prolactin may play a role, this doesn't necessarily mean that female-identifying people have some innate tendency to cry. It's probable that social and environmental factors have also taught women that shedding tears is an acceptable and appropriate response to distress or overwhelm.
Men, on the other hand, may not cry as readily – and may even suppress their tears to not appear weak. [6] The underrated power of crying. (2021, October 28). Men's Health. https://www.menshealth.com/benefits-of-crying/ However, as gender norms evolve and become more fluid, this pattern will likely also change.
You learned to suppress your feelings
If you've been stuffing your feelings down for a while, it's no wonder you'll cry when you finally create some space for them. If this is the case for you, it might help to consider why you've been repressing your emotions.
Ask yourself the following questions:
What function is it serving to block out my feelings?
Do the people close to me offer curiosity, care, and support for me to express how I feel?
Is anyone in my life making it seem like my feelings aren't important or valid?
Who do I admire when it comes to expressing emotions?
How do I feel right now?
Your attachment style is influencing your emotional expression
Adult attachment theory and research are based on the idea that the emotional bond a child develops with their caregivers affects how that person connects to friends and intimate partners as an adult. [7] A brief overview of adult attachment Theory and research | R. Chris Fraley. (n.d.). http://labs.psychology.illinois.edu/~rcfraley/attachment.htm This can shift and change throughout a person's life depending on the specific relationship.
It's thought that a person's tendency to cry may reflect their attachment style.
According to Judith Kay Nelson, PhD, research points towards the idea that securely attached people are able to cry because they are comfortable expressing their emotions. [8] Seeing Through Tears: Crying and attachment. (n.d.). Routledge & CRC Press. https://www.routledge.com/Seeing-Through-Tears-Crying-and-Attachment/Nelson/p/book/9780415949682
People with insecure attachment may also cry – however, their tears tend to show up at more inopportune times, more frequently, and be harder to soothe.
On the flip side, people with avoidant attachment styles can be less likely to cry and may exert more effort to inhibit the release of tears.
Therapy is the right venue to talk about your feelings
We all find ways to express our inner lives and share our feelings – whether consciously or unconsciously. Sometimes, our self-expression can feel empowering and grounding, and other times, it can feel overwhelming or harmful.
Consider the habits that you have developed to express yourself.
If you tend to:
Socially withdraw or isolate
Fight and start arguments
Criticize the people around you
Deny or dissociate
Cause harm to yourself or others
Use food or substances to numb
You may be able to shift to healthier patterns of emotional expression, including:
Pausing and slowing down
Acknowledging ad making space for your feelings
Channeling your emotions into a creative outlet
Journaling and exploring your inner world
Finding ways to self-soothe
Reaching out to your friends and family for support
Changing habits is easier to say and harder to do. For this reason, it's a great topic to explore and gain support with through in-person or online therapy.
A word from Calmerry
At Calmerry, we're dedicated to providing a safe space where tears can flow as freely as laughter, where your feelings are heard and fully accepted.
Our compassionate therapists understand that sometimes the bravest thing you can do is allow yourself to cry, to feel, and to heal. It's a sign of strength – to seek help and express the full spectrum of your emotions.
We're here to support you in transforming your emotional struggles into steps toward greater resilience and self-discovery.
Start with a brief survey – and meet your confidential, non-judgmental space to explore and understand your feelings, at your own pace and on your own terms.
We curate our articles with warmth and care, drawing from reputable sources and expert knowledge. Explore our editorial process to understand how we prioritize your trust and keep accuracy in every word we share.
Сheck your mental well-being for free: