Published November 13, 2023
Coping with a Friendship Breakup and Moving On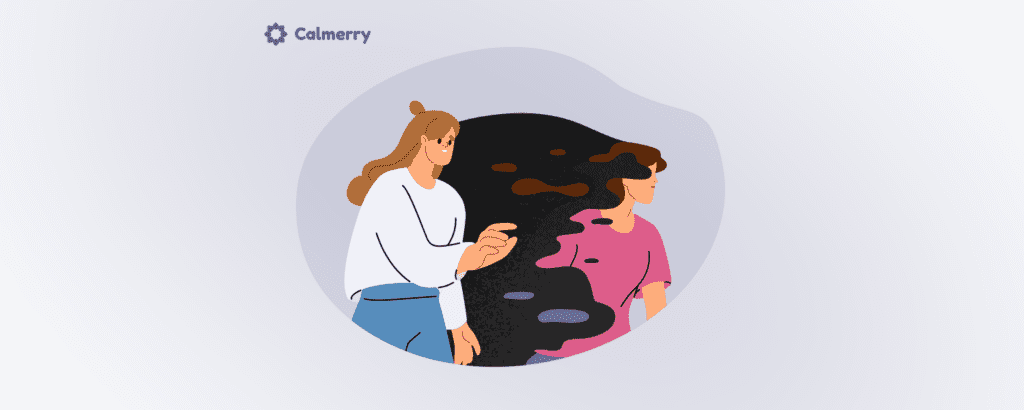 Reading Time:
6
minutes
Most of us have experienced the grief that comes with the end of a significant romantic relationship, but what about friendships? Sometimes, we have a falling out with a close friend, or after years of camaraderie, the friendship suddenly ends.
While society may not recognize friendship breakups the same way that we recognize divorce or a split from a romantic partner, the truth is that ending a friendship can come with feelings of grief.
Below, learn how to get over a friendship breakup so that you can get back to feeling like yourself again.
Understanding friendship breakups
As the name suggests, friendship breakups occur when a friendship comes to an end. These breakups can be less straightforward than the end of a romantic relationship. After all, friendships are not exclusive relationships.
Many of us have numerous friends, and we may naturally grow apart from some of them over time. Or, as life becomes busy, we may simply spend less time together. In these instances, a friendship may end, or at least become less intense, with no hard feelings.
What this means is that when a true friendship breakup occurs, we may feel confused. In a romantic relationship, there is usually a clear end. We sit down with our partner and have the "breakup" talk, and then we decide, formally, not to be a couple anymore.
Friendship breakups may be more sudden, and because they aren't as recognized or well-studied as the end of romantic relationships, we may not know how to process them.

– Dr. Jenni Jacobsen, PhD, Licensed Social Worker (LSW), mental health writer
You might never find closure with a friendship breakup, because after a serious argument or betrayal, the friendship could abruptly end. There won't necessarily be a conversation.
Why friendship breakups happen
If you're trying to come to terms with a broken friendship, you may wonder what went wrong. Below are some common reasons for a best friend breakup:
Belief from one or both friends that the other is not putting enough time into the relationship
Conflict arising from a romantic partner interfering with the friendship
Coming to dislike each other
Developing new values or beliefs that conflict with what the other person believes
Extreme betrayal (i.e., the friend turned their back on you when you needed support)
Severe conflict or arguments [1] Vieth, G., Rothman, A. J., & Simpson, J. A. (2022). Friendship loss and dissolution in adulthood: A conceptual model. Current Opinion in Psychology, 43, 171–175. https://doi.org/10.1016/j.copsyc.2021.07.007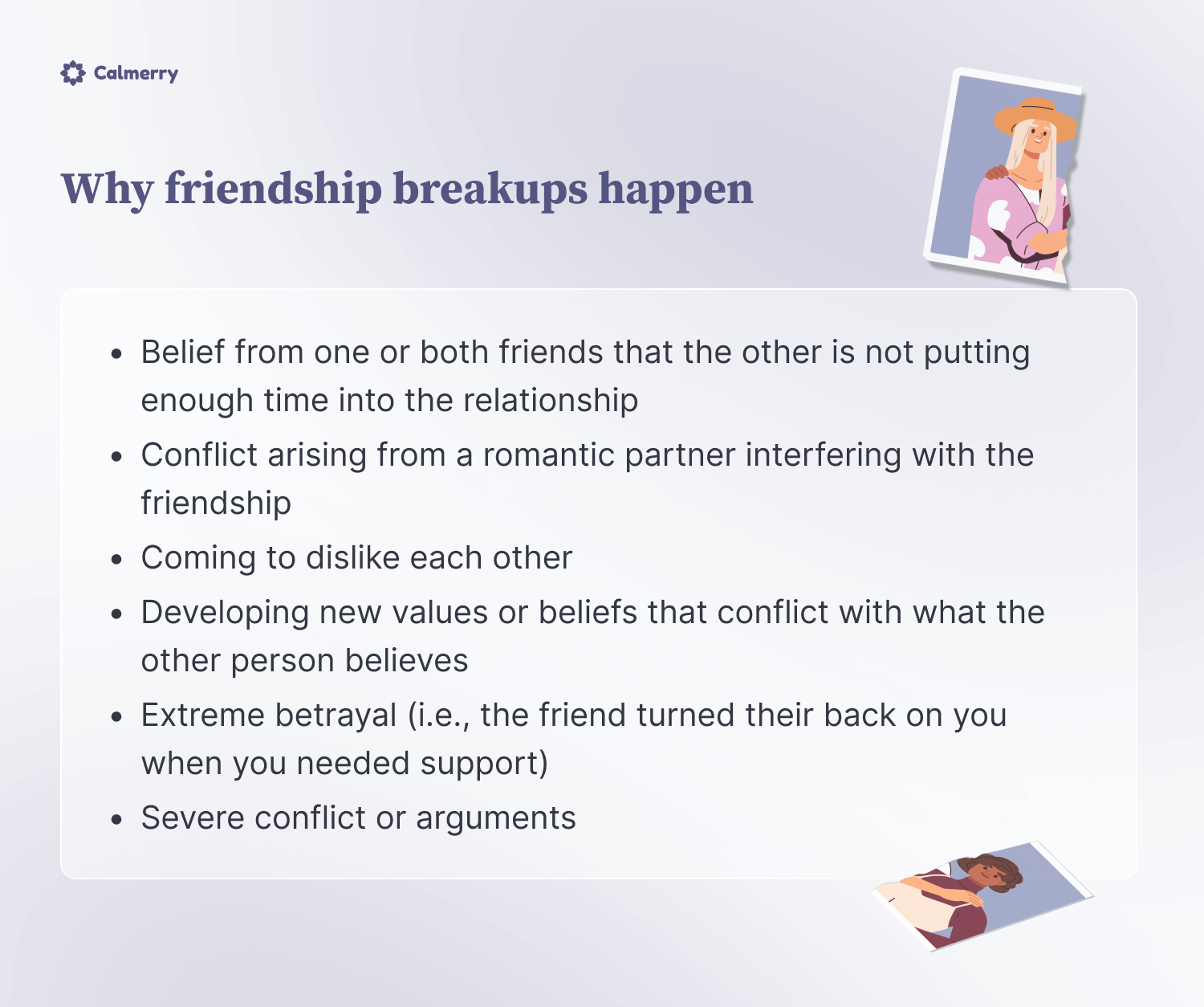 The emotional impact of losing a friend
Learning how to move on from a friendship isn't always easy, because a friendship breakup is often a form of disenfranchised grief. This term is applied to situations in which society doesn't necessarily acknowledge the impact of a loss. [2] Protivnak, J. J. (n.d.). Addressing the unrecognized grief of elementary students experiencing relationship loss. https://eric.ed.gov/?id=EJ1281110
So, when you end a friendship, you might not receive the same level of support you'd experience if you ended a romantic relationship or experienced the death of a loved one. You might be left feeling rather alone, which can make intense feelings worse.

– Dr. Jenni Jacobsen, PhD, Licensed Social Worker (LSW), mental health writer
Rest assured that it's entirely normal to experience sadness, confusion, and a sense of loss when a friendship ends. This is especially true if it's a close friendship, or a "best friend."
Friendships play an important role in our functioning, and having supportive friends in our corner is associated with increased well-being. [3] Chopik, W. J. (2017). Associations among relational values, support, health, and well‐being across the adult lifespan. Personal Relationships, 24(2), 408–422. https://doi.org/10.1111/pere.12187 Ending a close friendship means a loss of support and social connection, which can have a negative impact on mental and emotional health.
The grieving process
Make no mistake – a friendship breakup is a real loss, so you may even experience grief stages as you process the end of an important friendship. This means your emotions could fluctuate, and you may take some time to overcome the loss.
As you make sense of the friendship breakup, you might experience the following stages of grief:
Denial – at this point, you cannot believe that the friendship has ended. You might feel as if the fight or betrayal you experienced isn't real, and the relationship will return to normal soon.
Anger – when you reach this stage, you'll feel anger related to the pain you're experiencing. You might find that you're quite irritable, and you might even have a desire to seek revenge. Some people become angry with God or believe the world isn't fair.
Bargaining – this stage represents more of a negotiation with yourself or a higher power to undo the loss you've experienced. You're likely to ruminate over what went wrong, and you may wish to go back and change things so the relationship doesn't end.
Depression – at the depression stage, you're finally ready to feel the real emotions associated with your loss. You're no longer trying to change it or deny that it happened. You may feel extreme sadness and have a difficult time finding enjoyment in your usual activities as you work through the loss.
Acceptance – once you reach acceptance, you're ready to move forward and plan for a better future. You might not be happy about the loss, but you've come to acknowledge that the situation will not change, and life must go on. [4] Avis, K. A., Stroebe, M., & Schüt, H. (2021). Stages of Grief Portrayed on the Internet: A systematic analysis and critical appraisal. Frontiers in Psychology, 12. https://doi.org/10.3389/fpsyg.2021.772696
Strategies for coping with a friendship breakup
When you're going through a friendship breakup, it's important to learn strategies for coping. It's okay to feel sad or to have a sense of shock over the loss of the relationship. It's also okay to feel negative emotions and to wish things were different.
However, it is important to find ways to rebuild your life so that you do not find yourself obsessing over the loss of the friendship or experiencing ongoing distress.
Below, learn how to move on from a friendship with some helpful coping strategies.
Grant yourself some grace
When a friendship ends, you might get caught up in blaming yourself. This can cause anxiety and sadness and make it difficult to move on.
Rather than placing all the blame on yourself, grant yourself some grace. Understand that it takes two people to make a relationship work. While you might have made some mistakes, chances are that your friend did, too.
If you can't stop blaming yourself, try to land on just taking a portion of the blame. This can make it easier for you to stop ruminating over what you could have done differently to save the friendship.
Focus on your own hobbies
After a friendship breakup, you might have more time to yourself, especially if it was a close friendship. If you're no longer spending free time with your best friend, you'll likely have to find other activities to fill your time.
Take this time to focus on your hobbies. Certainly, you might need some time to grieve, but making time for things you enjoy can make it easier to move on.
Filling your schedule with your favorite activities can take your mind off of the loss.
Don't give yourself too many expectations
If you're taking the end of the friendship especially hard, it might be time to lower your expectations. In the beginning stages of grief, you might not feel like doing much, and you shouldn't feel guilty for that.
You might need to take some time to just simply survive. Go to work, take care of daily responsibilities, and then allow yourself to grieve. This might mean you have to say no to extra commitments, such as trips, overtime at work, or social gatherings.

– Dr. Jenni Jacobsen, PhD, Licensed Social Worker (LSW), mental health writer
Make time for self-growth
Once you've processed your initial feelings of shock and anger, you can take your mind off the friendship breakup by focusing on your own growth. If there's a change you've been wanting to make, now might be the time to do so.
Perhaps you've wanted to go back to school, aim for a promotion at work, or learn a new skill. Focus your energy on this, so you can experience growth in the face of loss.
Establish new social connections
Perhaps you're worried that with this broken friendship, you'll never make close friends again. The truth is that you can make friends as an adult.
Friendships in adulthood are likely to center on shared interests, so you might find new friends while you're participating in your usual activities or hobbies.
For instance, if you enjoy sports, consider attending an open gym at a community center. Or, you might decide to join a recreational sports league.
Other opportunities for friendship might come from joining a local hobby group, such as a garden club or yoga class. You could also consider joining a prayer group or a local mom's group.
Regardless of what your interests are, you can probably develop new social connections while participating in a recreational activity you enjoy.
Don't forget self-care
It's easy to neglect yourself when you're experiencing feelings of grief, but self-care is important. Remember to grant yourself time to relax and rejuvenate.
It's also important to ensure you're nourishing your body with regular, healthy meals and taking time for physical activity that you enjoy. You may be feeling down, but it's still important to care for yourself.
Seeking professional support during tough times
There are steps you can take to cope with a friendship breakup, but sometimes, you might need professional support.
If you are simply unable to move on, and you're having a tough time returning to normal life, it can be helpful to reach out to a counselor or therapist. They can help you to process your grief and develop new ways of thinking, so you aren't so negatively impacted by the loss.
At Calmerry, we provide online therapy, so you can access support from the privacy and convenience of your home.
We offer individual services for adults, and we can match you with a licensed therapist within 1 hour who is trained in treating symptoms of grief.
Start with a brief survey, and tell us about your needs.
We curate our articles with warmth and care, drawing from reputable sources and expert knowledge. Explore our editorial process to understand how we prioritize your trust and keep accuracy in every word we share.
Сheck your mental well-being for free: