Published April 19, 2023 / Updated August 15, 2023
Navigating the Five Stages of Grief and Finding Healing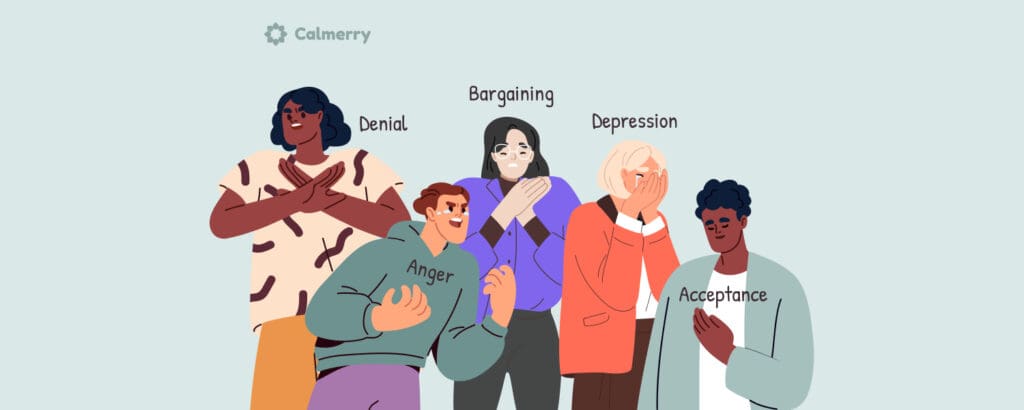 Reading Time:
6
minutes
Grief is universal but also very personal. It could be related to the death of a loved one, ending of a relationship, the loss of a job, or the loss of a hope. At one stage in everyone's life, there is likely to be at least one encounter with grief.
We all grieve in different ways. However, there are some common elements in the stages and experiences when going through grief. Whatever the change that alters the course of your life, it is important to find effective ways of dealing with grief.
This article explores the five stages of grief, coping strategies for navigating these stages, and when to seek professional help.
What are the 5 stages of grief?
While many theories have been created to explain grief, one of the most popular is developed by Elisabeth Kübler-Ross. E. Kübler-Ross, a renowned psychiatrist, proposed this model in her 1969 book "On Death and Dying."
According to Kubler-Ross, people progress through the following five stages as they cope with a loss:
Denial
Anger
Bargaining
Depression
Acceptance
Let's briefly explore all these 5 stages in order.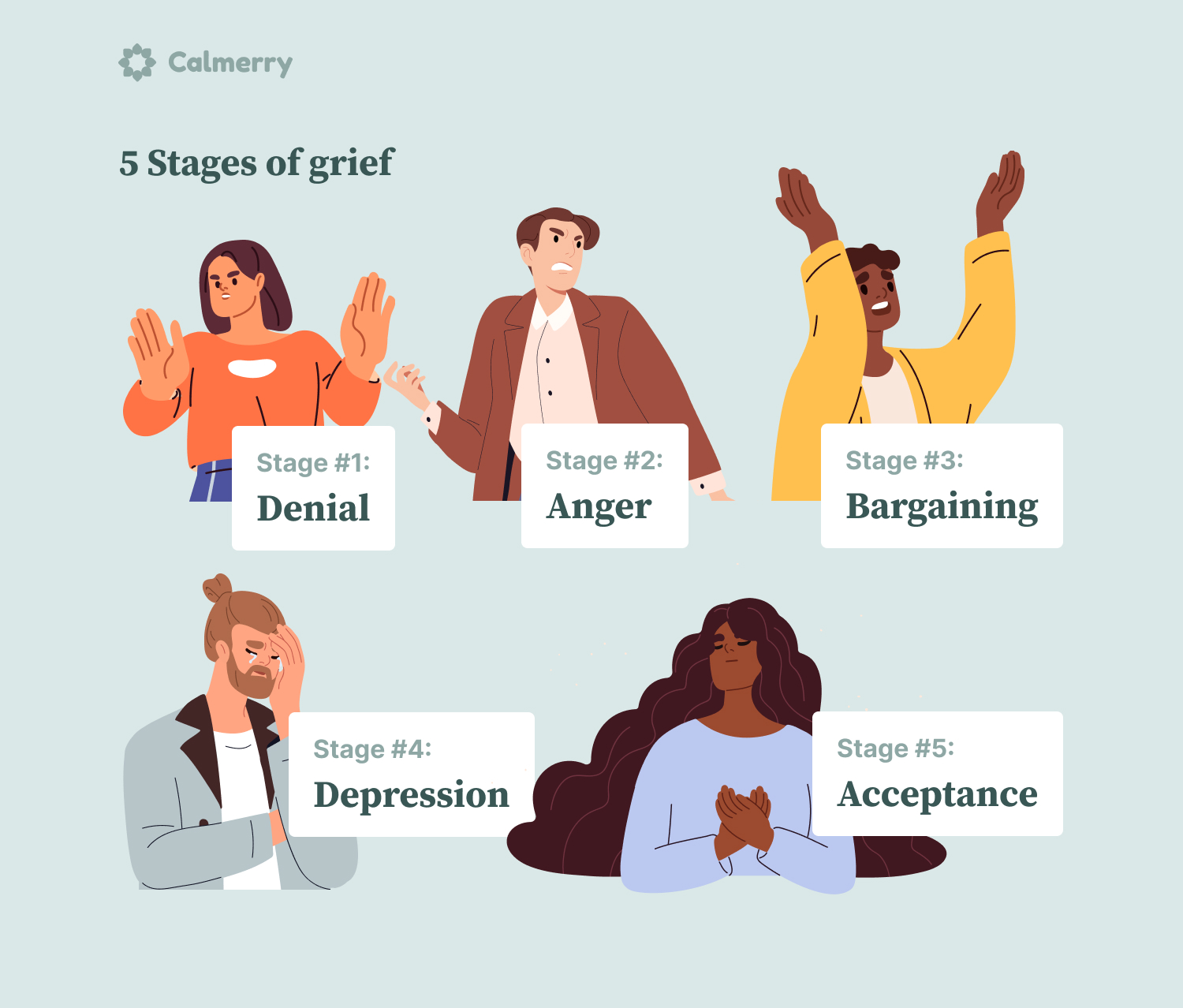 Denial
According to the Kübler-Ross stages of grief theory, denial is the first stage in the grieving process. Sometimes the pain from losing someone or something can be so overwhelming that people lose themselves to it.
Denial helps people minimize the overwhelming impact of that pain. While the person tries to process the loss, they also strive to get through emotional pain.
The objective of denial is to slow down the process of digesting information, gradually taking you through the stages. Instead of risking being overwhelmed by the loss, denial allows you to pause the process, taking things one step at a time.
Anger
It is common for people to experience anger when they experience immense loss. When we lose someone or something, anger tells us that we are trying to adjust while still going through immense emotional turmoil.
You don't have to be vulnerable to feeling anger after losing someone or something you love. However, in most cases, people tend to accept being angry over confessing being scared.
The unfortunate thing is that, after loss, anger is usually the first thing we feel when releasing emotions.
Bargaining
After experiencing loss, people often look for ways to minimize or eliminate the pain. Losing someone or something you love can push you to want to do almost anything possible to avoid facing the pain. People bargain differently, making promises if only the pain can be reduced or alleviated.
When faced with overwhelming loss, human beings tend to turn to a higher power as they realize that the happenings are beyond their control. When you start to understand that nothing you do can improve the situation, the feeling of helplessness can push you to protest through bargaining.
Bargaining is one of the way of gaining control over an event that is actually beyond control.
Depression
Depression is the fourth stage in the Kübler-Ross model. At this stage, the loss can feel more intense. In addition, it's more likely to show symptoms of depression like apathy, misery, crying, frustration, and others.
As the feelings of panic start to reduce, the weight of the loss becomes more evident. During such moments, sorrow about the event grows, and people become less sociable.
Acceptance
The last stage in the grieving process is acceptance. When a person starts to acknowledge and accept the loss, it does not mean they no longer feel the pain of losing something or someone. Rather, it means they have stopped resisting the reality of what has happened and learned to live with it.
While experiencing acceptance, people may still have moments of sadness or regret. And it's totally okay. However, they are more likely to be calmer and look forward to the future.
Subscribe
to our mental health digest
Let us support you on the way to better mental well-being. Get expert tips and insights on mental health delivered to your inbox monthly.
How long do the stages of grief last?
The process of grieving is unique as each person goes through it. The five stages are not stopping in a strict linear timeline of grief. There is no set timeline for how long a person may experience these stages or how intensely they may feel them.
That means that people may move through these stages in a different order or may experience some stages more intensely than others. Some people may even experience additional stages beyond the original five, and some may not experience any of them at all.
Additionally, the duration of grief can vary depending on a variety of factors, such as:
The nature of the loss
The individual's personality
Support system
Grief can last weeks, months, or even years and resurface unexpectedly.
Generally speaking, these five stages form part of the framework that makes up people's learning to live with loss. They are intended to describe the various emotional and psychological states a person may experience when dealing with a significant loss or change.
Are there 5 or 7 stages of grief?
While the Kübler-Ross model is generally accepted and widely cited, there are other models that can be used to explain the stages of grief. For example, the seven-stage model proposes two new stages.
The 7 stages of grief – an alternative model
The 7 stages of grief is an alternative model based on the work of Elisabeth Kübler-Ross. This model emphasizes the cognitive and emotional processes during the grieving process.
Both models suggest that the grieving process is not linear, and a person may experience the stages in different orders or skip stages altogether.
However, the 7-stage model includes additional stages, such as shock, disbelief, and guilt, that may be helpful to understanding and processing grief holistically.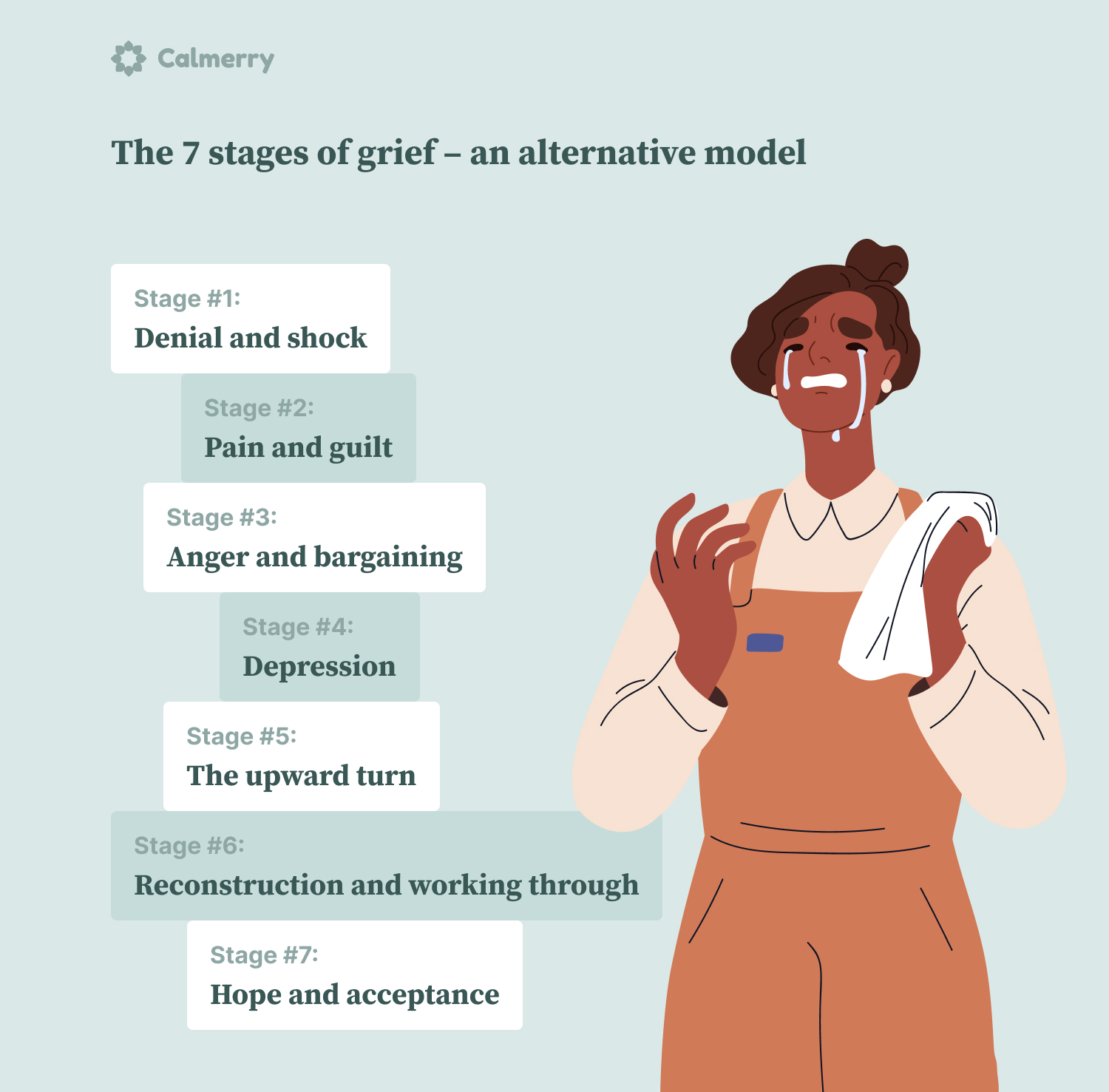 Here is a more detailed description of each of 7 stages:
Denial and shock — can be felt as numbness and denying the fact of loss.
Pain and guilt — the loss seems unbearable, and you feel you are making life hard for others.
Anger and bargaining — you feel annoyed, lash out at others, and start to negotiate with a higher power to get relief.
Depression — a person in grief can isolate himself from people as you process and reflect on the loss.
The upward turn — the feelings of pain and anger have reduced, and the feelings are becoming more relaxed and calmer.
Reconstruction and working through — here is the start of putting the pieces of your life back together and considering what the future holds.
Hope and acceptance — at this point, a person starts gradually accepting the new reality and hoping for a better future.
Coping strategies for dealing with the stages of grief
While the concept of the five stages of grief remains widely recognized, it's important to remember that everyone's experience of grief is unique, and there is no "right" or "wrong" way to grieve and cope with it.
Here are some coping strategies that can help you navigate the stages of grief and find healing.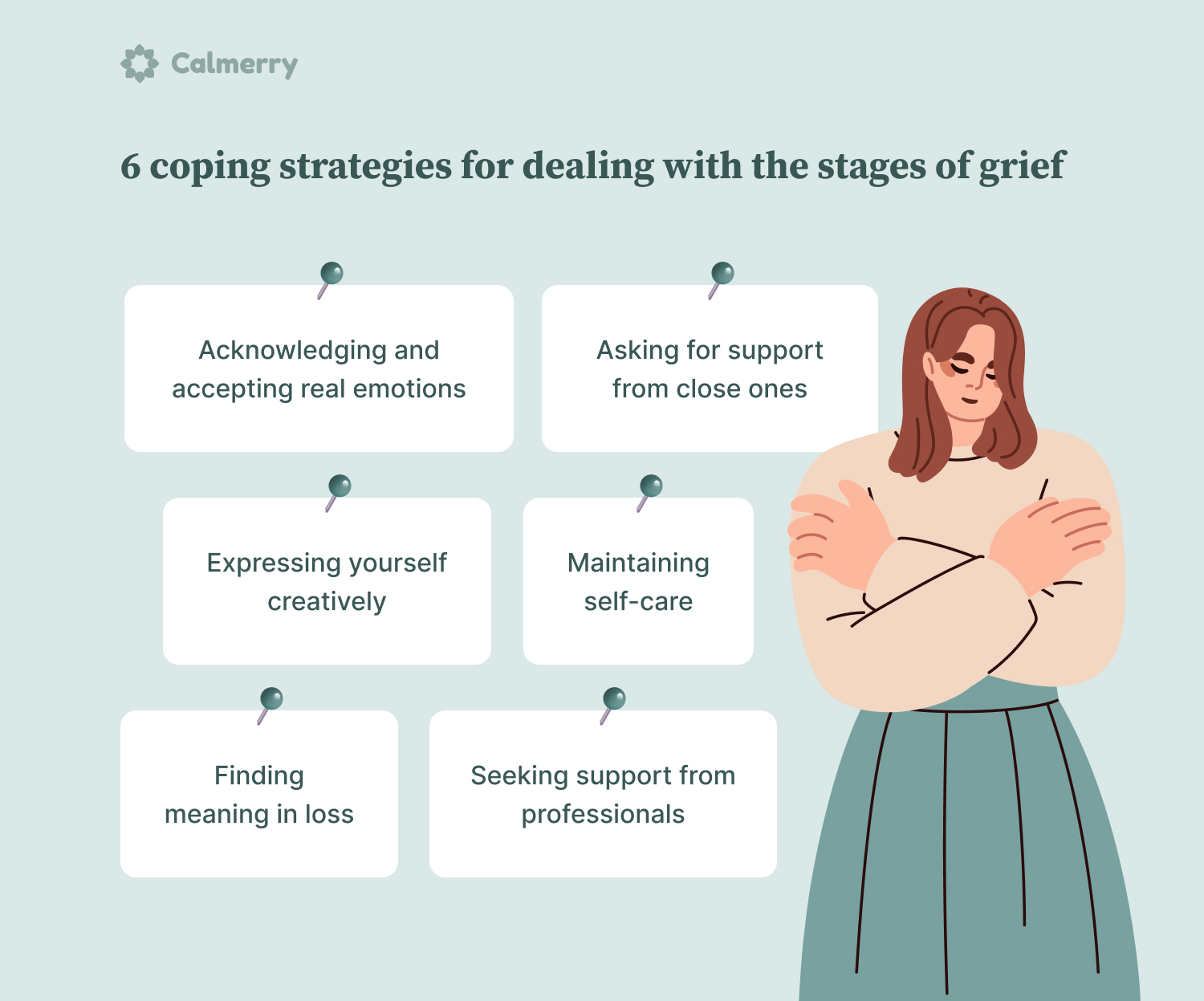 Acknowledging and accepting real emotions
It's important to allow yourself to experience and express various emotions during the grieving process, including sadness, anger, frustration, and uncertainty.
Acknowledging and accepting our emotions is a normal part of the grieving process.
Asking for support from close ones
The pain associated with grief can sometimes make people want to isolate themselves from friends and family and retreat into a shell. Having people who support you is critical when healing from loss.
Maintaining self-care
Grief can take a toll on your physical and emotional well-being. Take care of yourself by eating well, exercising regularly, and getting enough rest.
Expressing yourself creatively
Consider journaling or engaging in other creative activities that help you express yourself. Art, music, and writing can be powerful tools for processing emotions and finding meaning in loss.
Finding meaning in loss
While loss can be painful and difficult, it can also be an opportunity for growth and reflection. Look for ways to honor the memory of your loved one and find meaning in their life and legacy.
Seeking support and finding healing after loss
Losing someone or something important to us can be an incredibly challenging and painful experience. While pain and depression are normal during grieving, complicated grief and symptoms of clinical depression should be a cause of concern. Without professional help and treatment, it is likely to result in emotional and mental health problems, including suicidal thoughts.
However, grief therapy or counseling can help people struggling with processing their loss. A grief counselor at Calmerry can provide support, guidance, and tools to help you cope with your loss. They can also help you navigate complex emotions and provide a safe space to process your feelings.
Try online grief counseling that helps you learn healthy ways to cope and recover from your grief.
Сheck your mental well-being for free: