Published July 31, 2022 / Updated March 20, 2023
Breaking Toxic Masculinity: There's More Than One Way of Being a Man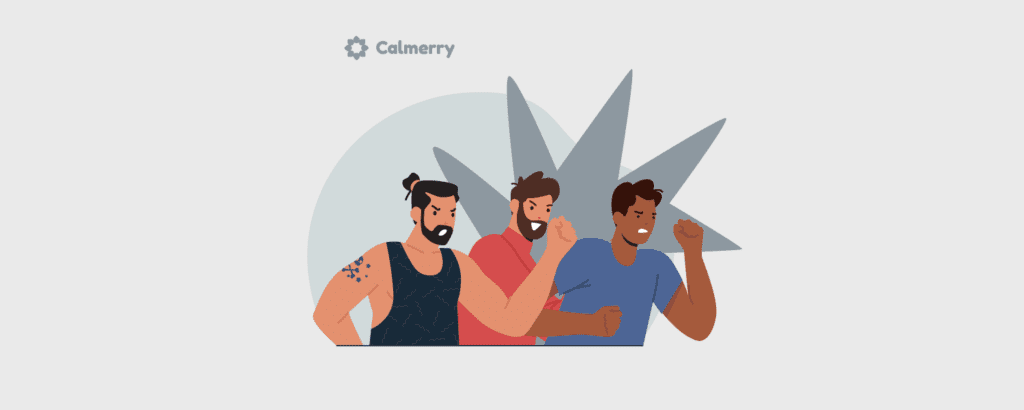 Reading Time:
7
minutes
Most of us have heard about toxic masculinity, even though not everyone may recognize toxic male behavior as such. What is toxicity, and what does it have to do with being a man? Is it men's behavior that hurts others, or is it just a set of annoying habits?
Well, sometimes, an expression of toxic masculinity by a coworker or family member may just ruin someone's mood, and sometimes, it may have more serious negative consequences, especially when toxic traits are demonstrated by those who have power over others.
In this article, we'll consider the connection between toxic masculinity and gender roles, take a look at some common effects of toxic masculinity, and think of whether or not there's only one way of being a man.
What toxic masculinity is
The term "toxic masculinity" was coined by the men's mythopoetic self-improvement movement of the 80s and 90s. This movement was heavily influenced by Freud's psychoanalytic theory, and it described some patterns of male behavior as immature.
The mythopoetic movement lacked a solid scientific background but it came up with some valuable observations. It pointed out that masculinity itself isn't toxic. However, societal norms associated with masculinity can encourage toxic behavior.
The term has quickly become popular, being frequently used when talking about the negative aspects of masculinity. The popularity of this term, however, has created a lot of room for misunderstanding. What is masculinity, and when does it become toxic?
The flip side of masculinity
The concept of masculinity stems from societal expectations and incorporates many traits: positive, negative, and those that depend on the context and situation.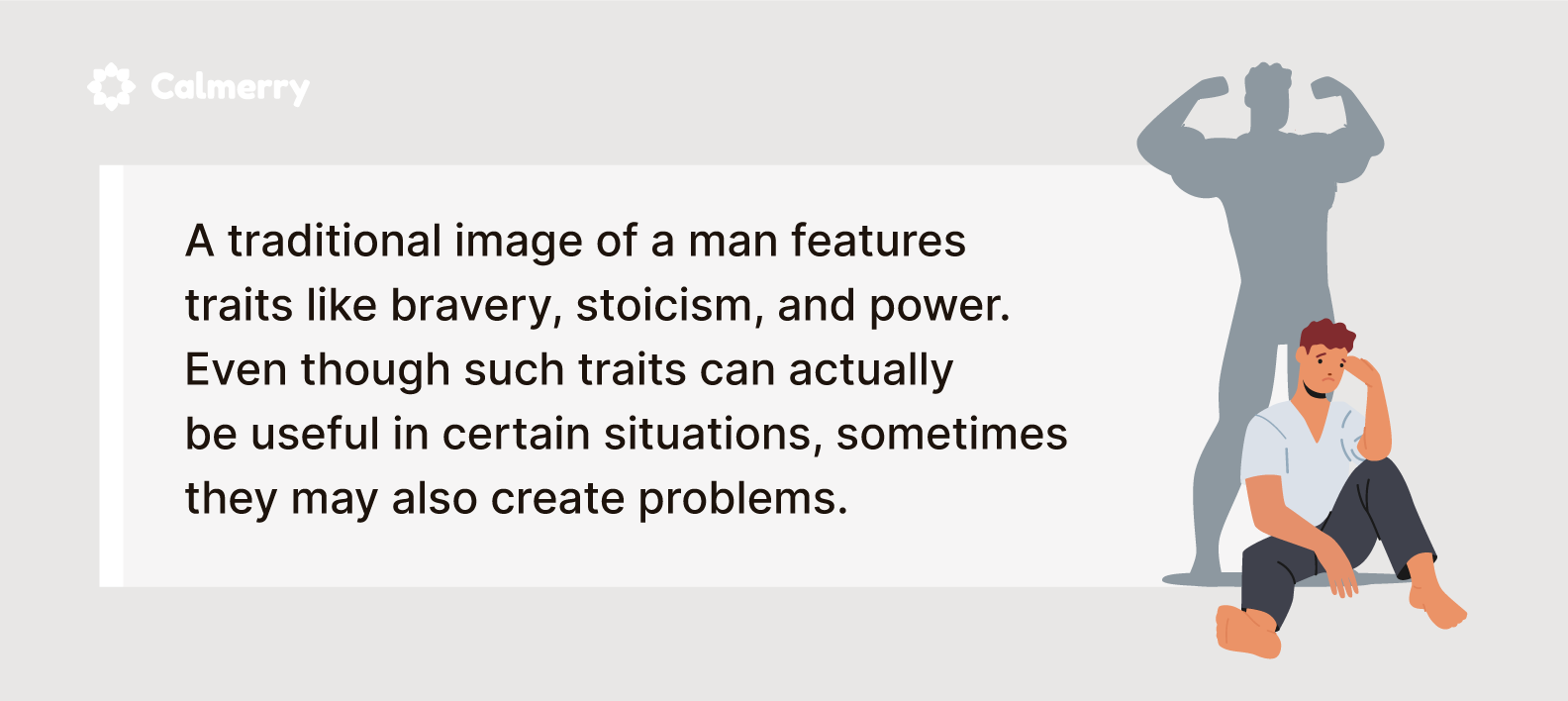 For instance, unreasonable bravery may lead to risky behaviors, and stoicism may stop men from acknowledging their weaknesses and vulnerabilities.
The fear of appearing vulnerable is one of the main reasons why men have so many excuses to avoid therapy. As a result, men often choose to suppress their emotions, which may eventually find their way out as anger. The constant urge to demonstrate power can easily turn into domination, which is yet another of the many everyday examples of toxic masculinity.
Generally, "toxic masculinity" is an umbrella term that includes numerous socially regressive traits. These traits can lead to sexism, misogyny, domination, homophobia, bullying, violence, and many other negative consequences.
The irony of the situation is that the exaggerated masculinity that's considered toxic in modern society has been widely celebrated and glorified in many cultures for many years. That just might be one of the main reasons why overcoming toxicity often turns out to be so difficult.
The role of gender stereotypes
Toxic masculinity stems from power, sexism, and privilege. Power has been historically considered important for men, and it's believed to be one of the main driving forces behind men's actions. Besides, the traditional gender roles have put men into a privileged position, giving them more economic and social power.
As a result, boys who grow up in a society that treats them as a privileged group may take some things for granted.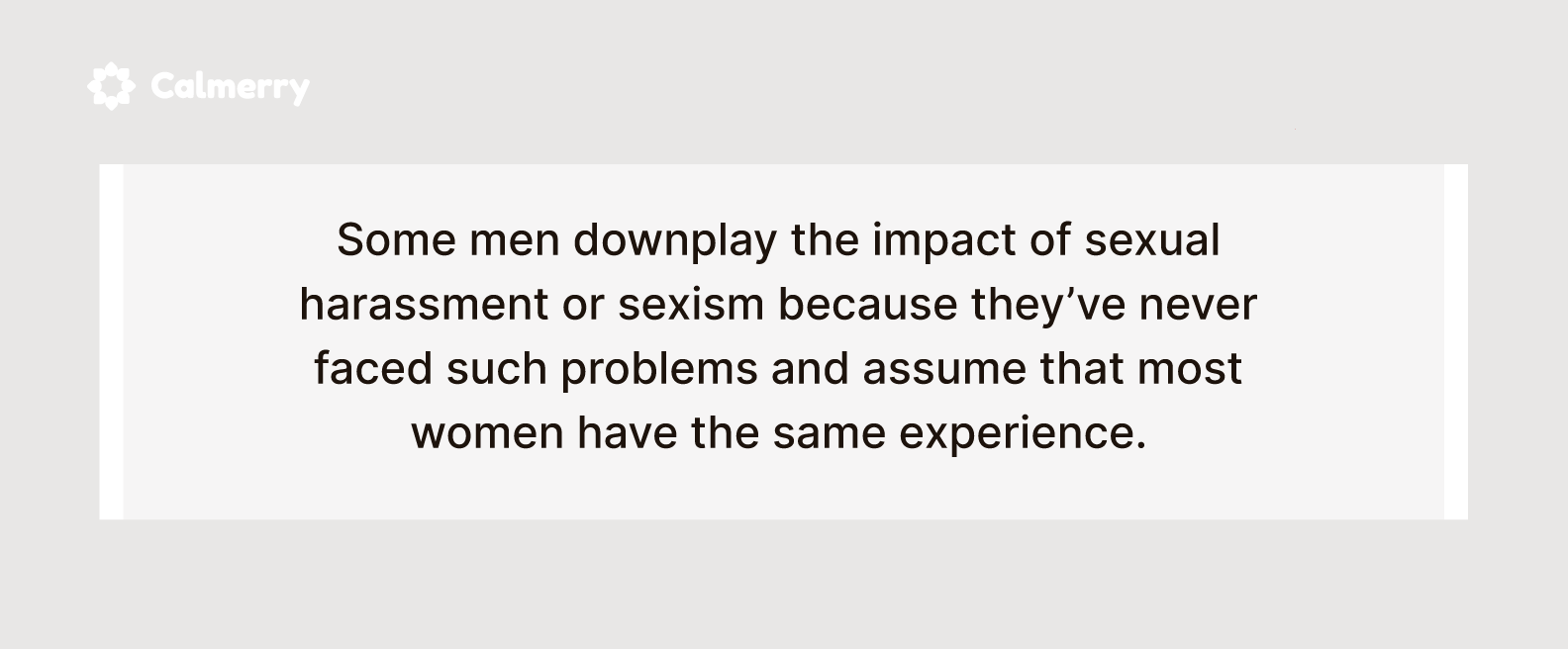 The connection between toxic masculinity and gender roles negatively affects not only women but also men. For instance, men are often shamed for behavior that doesn't fit the stereotypical "manly" standards.
A healthy expression of emotions can be interpreted as weakness, while suppression of emotions and unhealthy coping strategies like substance abuse are widely considered normal kinds of behavior by those who conform to masculine stereotypes.
As a result, many men with mental health issues resort to unhealthy coping practices instead of getting the so-needed help. In turn, substance abuse may only worsen symptoms of various mental health disorders, including depression in men.
Men vs. anger
Despite all the negative health effects of anger in men, lashing out every once in a while is rather an ordinary type of male behavior according to traditional gender stereotypes. In contrast, women usually don't receive the same kind of forgiving treatment when they openly express their anger.
Research data shows that boys learn to resolve conflicts through aggression as they socialize. Public displays of aggression are often used by men to prove their masculinity, and other men tend to approve of such behavior. Perhaps, this is one of the main reasons why men are more likely to commit violent crimes.
Consequences of toxic masculinity
First of all, toxic masculinity can affect others. A man who demonstrates toxic behavior may use domination to assert himself, and he may not recognize this sort of behavior as unhealthy. That's why gaslighting and constant criticism are among the most common signs of toxic relationships.
Another, perhaps less obvious, effect of toxic masculinity is that it distorts the very masculinity definition and limits a person's understanding of what it means to be a man. As a result, such a person may experience a conflict between his views and environment.

The gender role conflict can have a significant negative impact on men who don't meet some of the stereotypical gender standards, making them feel like they can only gain acceptance by demonstrating toxic traits.
How to overcome toxic masculinity
Expectations from friends, romantic partners, or family members can put a lot of pressure on a man who's trying to find his masculine identity.
Although some individuals, as well as religious and political groups, may emphasize a certain masculinity definition, it's always better to think of what this concept means to you, and what definition you would like to give it.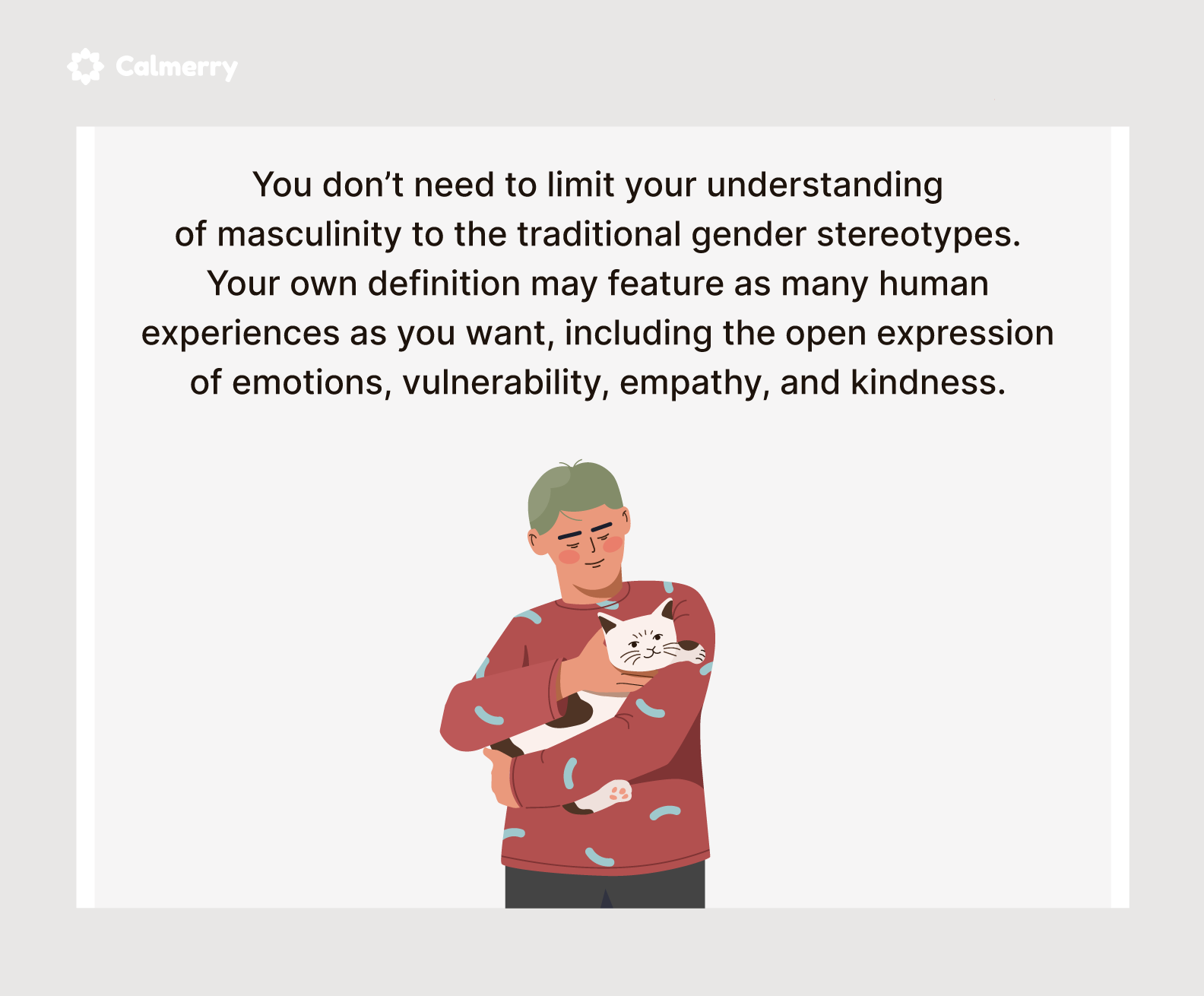 Developing your own understanding of masculinity also doesn't necessarily mean forgetting all of the traditionally masculine traits. Just make sure that these traits resonate with your true self, and don't put restrictions on you.
Here are some simple tips that might help you overcome toxicity.
Embrace different roles in relationships
Toxic masculinity in relationships may create not only problems for a partner but also affect the person who demonstrates it. For example, gender stereotypes don't allow men to get emotional around anyone, but their wives but also stop men from showing their vulnerability. As a result, they end up expressing frustration and anger.
Besides, traditional gender roles imply that a man should be a provider. As a result, work can become a crucial part of a man's identity, and problems at work can have a severe impact on his relationships and self-esteem.
It's important to realize that expanding men's roles in relationships can benefit everyone involved. Don't be afraid to appear vulnerable when talking to your loved one, and don't hesitate to exchange responsibilities.
For instance, you may spend more time with children. Spending quality time with fathers lowers the risk of developing depression in children and improves their overall life satisfaction.
Subscribe
to our mental health digest
Let us support you on the way to better mental well-being. Get expert tips and insights on mental health delivered to your inbox monthly.
Any activity can be manly if you enjoy it
Toxic masculinity involves pretty strict "rules" regarding what's considered manly. For instance, men who stick to the traditional gender stereotypes may have problems with watching a romantic comedy with their partners, while watching an MMA fight would be completely acceptable.
Sticking to the activities approved by gender stereotypes can make you feel insecure. Besides, you may experience the urge to compensate when you feel like your masculinity is threatened, and that can lead to toxic behavior.
To avoid such problems, don't hesitate to question your understanding of what is or isn't manly. The only thing that really matters is whether or not you genuinely enjoy something.
Learn more about other people's experiences
Sexism, homophobia, and many other expressions of toxic masculinity stem from ignorance. Besides, ignorance fuels stereotypes, so overcoming them can be difficult if you don't replace them with knowledge.
By actively seeking to understand the experiences of people who are different from you, you can spot your biases and understand their impact. For example, you may educate yourself about women's issues by reading books, listening to podcasts, and attending events dedicated to women's issues.
If you're straight, you may also attend an LGBTQ+ event. Get out of your comfort zone, talk to different people, and don't be afraid to ask questions to better understand other people's perspectives.
Identify and examine your biases
Unfortunately, men often don't notice what's wrong with them unless other people tell them about it. You may not be aware of some of your biases rooted in toxic masculinity. However, you can identify them by paying more attention to your reactions to other people's actions and words.
Think of people of another gender, orientation, or race, and which of their behaviors make you feel irritated or upset. Why do these things bother you? Do you feel the same when people of your gender/orientation/race do these things? You can also speak to a therapist online and discuss your observations.
Embracing healthy masculinity
There are no positive effects of toxic masculinity, but unfortunately, it's still way too common. Quite often, men resort to toxic behavior when they feel like their masculinity is threatened, and usually, it happens when men fail to demonstrate some stereotypical masculine traits.
To understand how to stop toxic masculinity, you should first accept the fact that it's deeply rooted in outdated gender stereotypes which are still popular among modern men. Therefore, fighting the toxicity, if you spot it in yourself, may require some bravery and determination.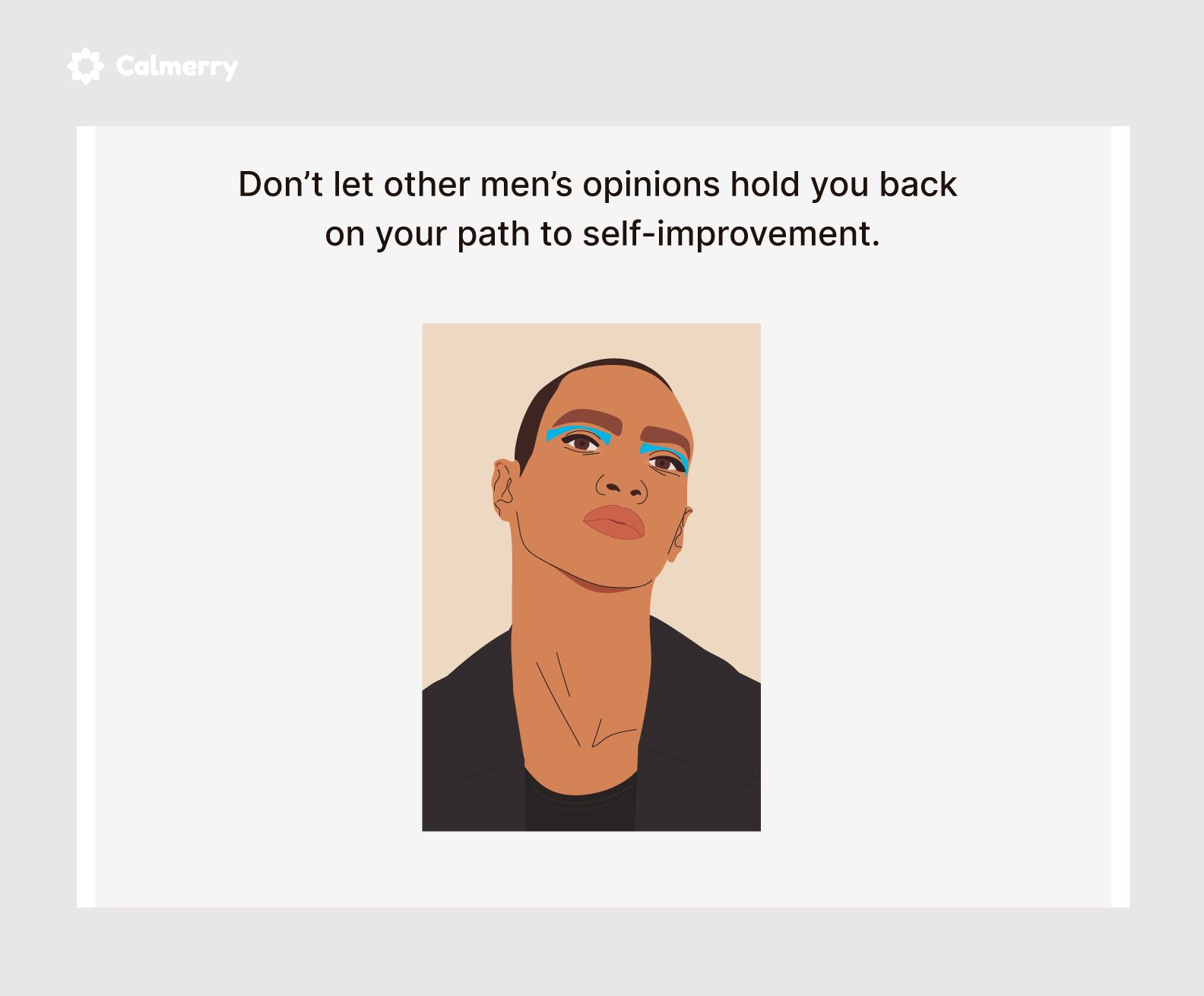 You should also keep in mind that it might be difficult for a person to recognize their own toxic behaviors. Such a task may require you to work on your self-awareness, so don't hesitate to ask for professional help. A licensed therapist can help you improve your social skills, figure out the causes of your emotional issues, and suggest effective coping strategies.
Сheck your mental well-being for free: