Published February 8, 2023 / Updated March 21, 2023
Being Nonbinary: What Does It Mean, and How It Impacts Your Mental Health?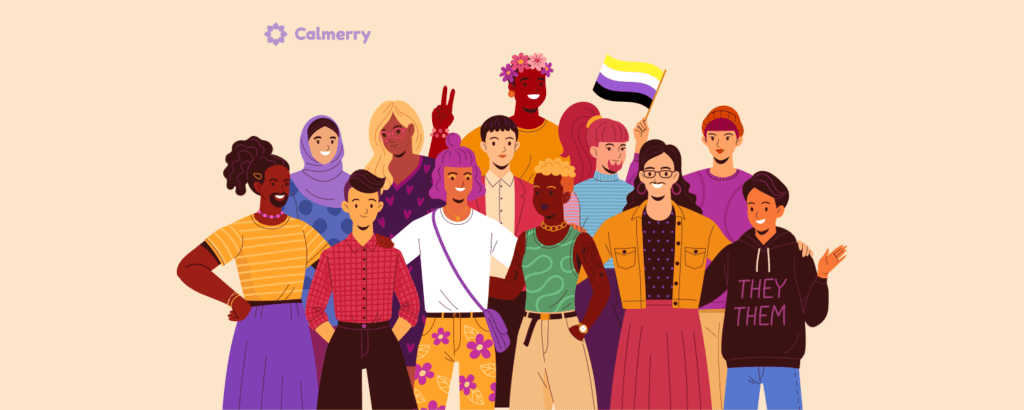 Reading Time:
6
minutes
There are 1.2 million nonbinary people in the USA alone. Yet, this part of the LGBTQ+ community still faces significant discrimination and a lack of understanding. This has devastating consequences on their mental health: a staggering 94% of them have considered suicide.
Despite all these challenges, how can you embrace your gender identity and take care of your mental well-being?
What does nonbinary mean?
Nonbinary people feel like their gender identity (not to be mistaken with sexuality) falls outside the gender binary – an idea that you can be either male or female.
Nonbinary identities are often put under the transgender umbrella, though identifying as trans is an individual choice.
At the same time, nonbinary is also used as a more extensive term to include many identities outside the binary.
Agender vs. nonbinary
Agender falls under the nonbinary umbrella. It means being "without gender." In other words, you have no gender you identify with or one that is neutral.
Genderfluid vs. nonbinary
Genderfluid also falls under the nonbinary blanket. A genderfluid person feels their gender identity fluctuate over time – sometimes over one day, sometimes months.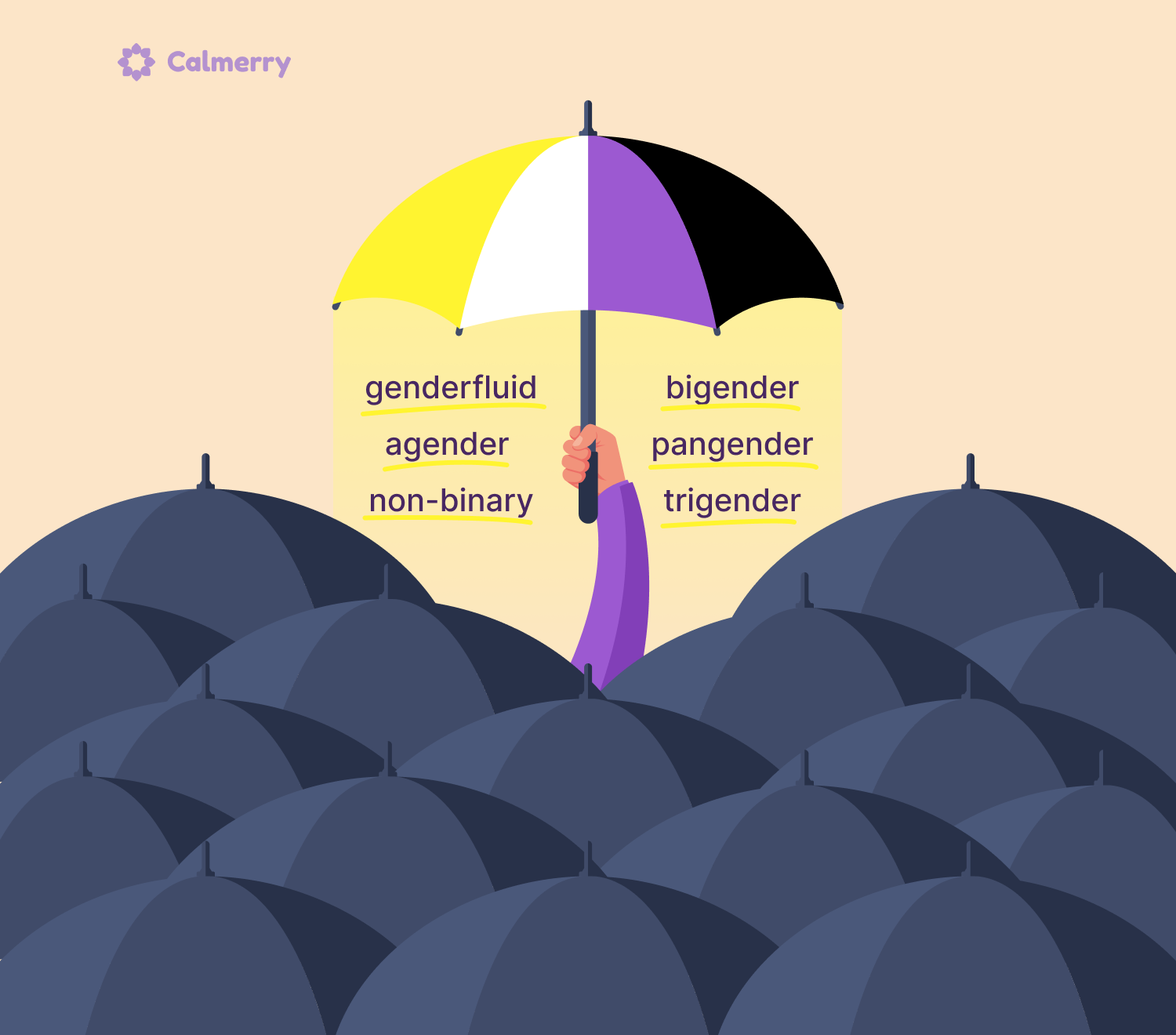 How to know if you're nonbinary?
There is no simple answer here. It will feel different for each person. If possible, try talking to nonbinary people to see if anything rings a bell.
In the simplest terms, you may be nonbinary if you feel you're neither a man nor a woman. Maybe you think that you are both. Perhaps you don't identify as any particular gender but simply as "you"?
Another sign could be feeling more comfortable with gender-neutral pronouns (e.g., "they/them" or "xe/xem") and language (e.g., "partner, sibling"), though some nonbinary people still use gender pronouns.
Discovering and embracing your gender identity is a long and emotional journey. Take your time and remember – there are no good or wrong answers here. You don't have to check all the boxes to identify as nonbinary.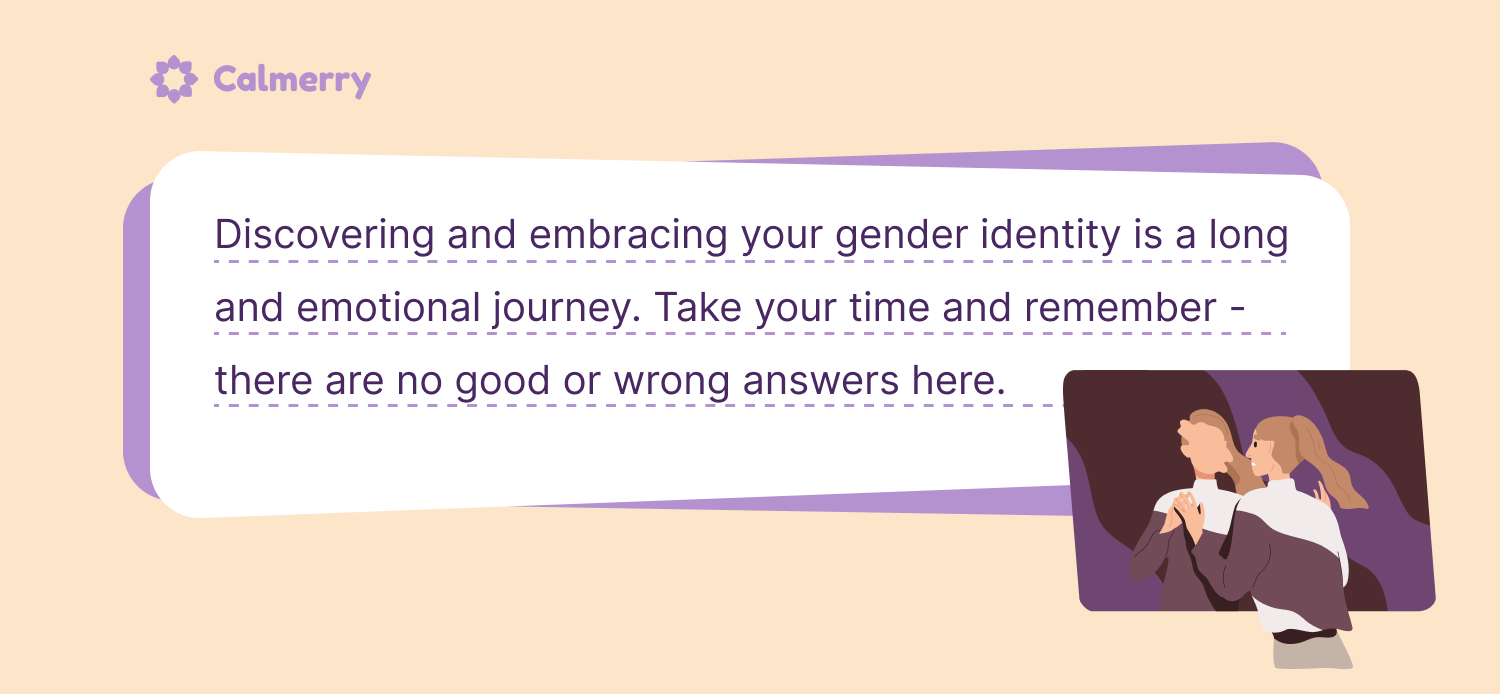 How to come out as nonbinary?
You may never feel the need to come out, and that's okay. You don't have to unless it's something you want.
It's normal to experience all kinds of emotions in this situation. It can be exciting and feel right but also scary and difficult.
If you decide to come out, make sure it's safe. You can start small with the people you trust most and see how it feels.
Remember that there are many ways to come out – choose the one that makes you most comfortable. You may directly talk with someone, write a letter, record a message, or even make a song.
Nonbinary people and mental health
As glorious and joyful living as your authentic self can be, our society is still deeply rooted in cisnormativity – the mistaken idea that people whose sex assigned at birth and gender identity do not match are not normal.
For nonbinary people, this means a life full of challenges that often leave them with worse mental health than other genders.
Discrimination
Discrimination against nonbinary people creates many barriers and puts them at more risk of homelessness, unemployment, or lack of access to proper healthcare.
They are also more likely to experience abuse, bullying, or harassment.
Discrimination and lack of validation mean you may be under constant pressure to hide your true self, controlling how you express yourself – from the clothes you wear to how you walk and talk.
Gender dysphoria
Usually discussed in the context of being trans, gender dysphoria can also affect nonbinary people. It can be defined as significant stress due to the disparity between the sex assigned at birth and gender identity.
The distress can also be because of an inability to express your gender – for example, out of fear of discrimination or pressure from your environment. Parents could force their nonbinary child, assigned female at birth, to "act like a girl." People may also insist on using a person's deadname – their birth name they changed as part of their transition.
Eating disorders
Research shows that gender-diverse people are more likely to struggle with eating disorders. It can be connected to gender dysphoria, low self-esteem, or lack of self-determination and control in their lives – which in queerphobic society is often the case.
Consequences
The discrimination, lack of support, and being unable to live as your authentic self has many negative and even dangerous consequences, such as:
Depression
Long-term stress
Trauma
Low self-esteem
Eating disorders
Gender dysphoria
Loneliness and social isolation
Self-harm
Suicidal ideation
How to take care of your mental health as a nonbinary person?
For nonbinary people, self-care is even more critical in a world of discrimination and many frustrating barriers. It's easy to become burned out when you deal with the stress of navigating life as a genderqueer person.
Talk with someone you trust
Open up about the emotions you're struggling with by talking with someone you trust, like a friend or parent. Don't be afraid to ask for help.
Bottling your feelings or staying silent can be harmful to your health. If you're hesitant to talk, you can try journaling. Writing down your emotions and thoughts can help you feel calmer and improve your mood.
If you prefer, you can also try calling or texting a helpline, such as:
Find social support
You may feel alone and like you don't belong. Find people who are understanding and have similar experiences. Consider checking out your local LGBTQ+ community center or support group to connect with other gender-diverse people and, maybe, find your chosen family.
Such centers also often offer help with matters such as housing or legal advice.
Subscribe
to our mental health digest
Let us support you on the way to better mental well-being. Get expert tips and insights on mental health delivered to your inbox monthly.
Express yourself
Find a way to express your feelings and thoughts healthily, with self-compassion, and without judgment. Writing, painting, dancing, or other creative endeavors can help you boost your mood, lower anxiety, and explore your identity.
Don't forget to focus on the good things, too, like hope, love, or moments you experience gender euphoria.
Rethink social media
Social media can help you share your true self, connect with other nonbinary people and find inspiring role models to follow. However, it also has the potential to harm your mental health. To keep yourself safe, unfollow or block any accounts that make you uncomfortable.
Move your body
Although essential for good physical and mental health, regular exercise can be a challenge for nonbinary people. Many struggle with body issues and eating disorders. You may be afraid that some types of exercise can make you look too masculine or feminine and exacerbate your gender dysphoria. Try to find the kind of movement you enjoy, like walking, yoga, or dancing.
Consider therapy
Self-care, while very important, may not be enough if you struggle with severe mental health issues, such as depression, eating disorders, or trauma. Consider therapy with an inclusive provider.
An affirming therapist can help you better understand your emotions and explore your identity in a safe environment.
How to support a nonbinary person?
If your friend or loved one grapple with their emotions or goes through something difficult, you probably want to be by their side, offer to listen, or help them find more support. But if they identify as nonbinary, what else can you do to make them feel loved and understood?
Don't be afraid to ask
Strive to learn as much as possible, and don't hesitate to ask if you're unsure about something. It may be very new to you, and you're still learning, so making mistakes is natural. Your friend will probably greatly appreciate your efforts and understand that learning is a process.
Use gender-neutral language
English isn't a heavily gendered language, but there are still words with a gender assigned to them. Wherever it's possible, try to use gender-neutral alternatives to be more inclusive, such as:
"Child" instead of "son/daughter"
"Sibling" instead of "brother/sister"
"Police officer" instead of "policeman/policewoman"
Of course, if a person chooses specific terms to describe themselves – like a nonbinary person wanting to be called "aunt" or "mom" – that's how you should address them. If you're unsure, don't assume – ask.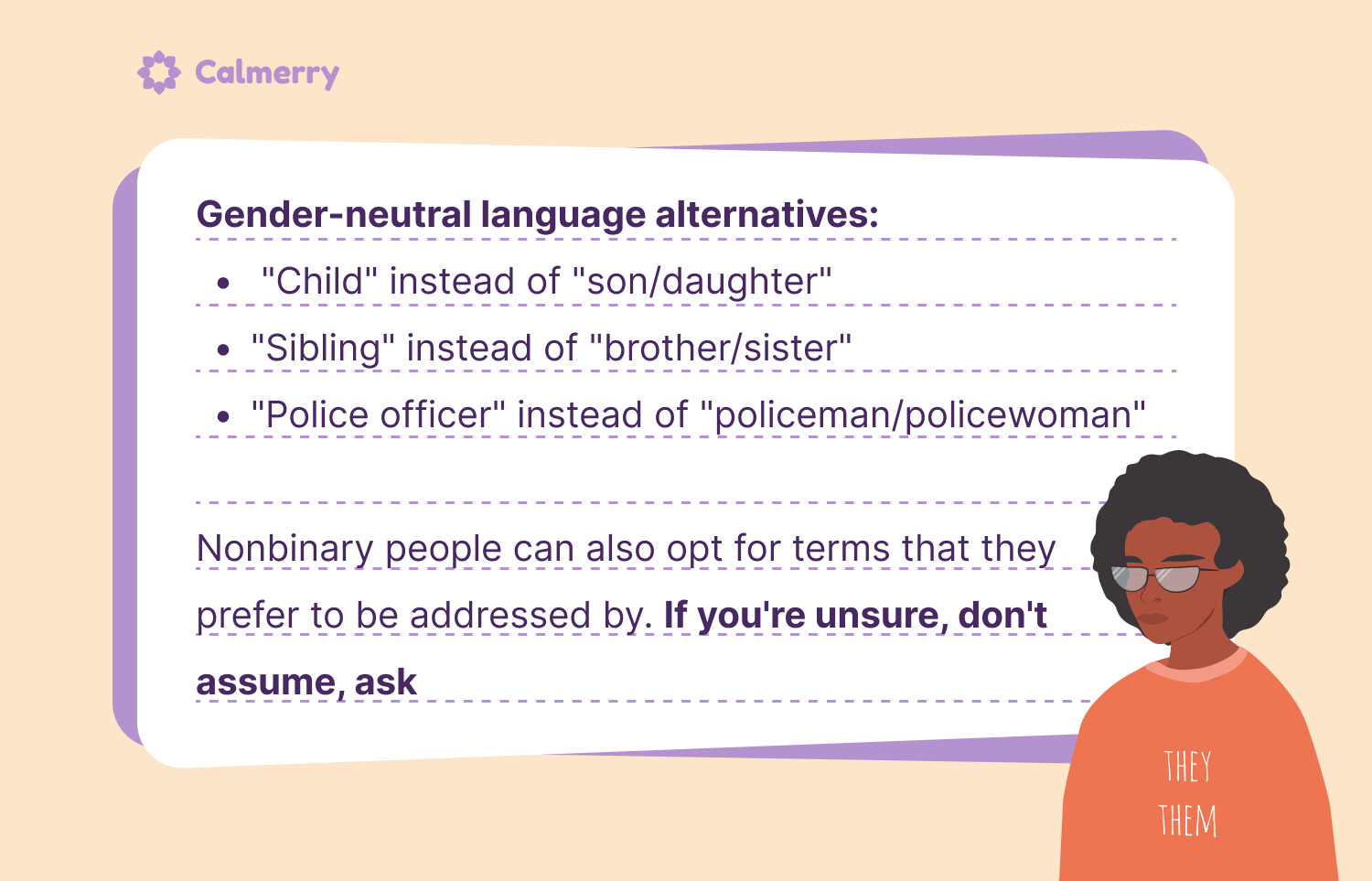 Call out discrimination
Another way to support a nonbinary loved one is to react to discrimination. However, always make sure it's safe before intervening. You can also correct misinformation you find on the Internet or raise awareness about anti-trans and anti-LGBTQ+ laws and ways of opposing them.
Concluding thoughts
Despite the challenges that the nonbinary community may face, such as discrimination and lack of understanding, individuals should strive to embrace their true identity and take care of their mental well-being.
And remember that it's not the path that you need to walk alone. Finding an LGBT support group, leaning on loved ones, and talking to a licensed counselor are all great options you should consider exploring if you are still figuring out what it means to be you.
Сheck your mental well-being for free: