Mental Health Problems Faced by the LGBTQIA2S+ Community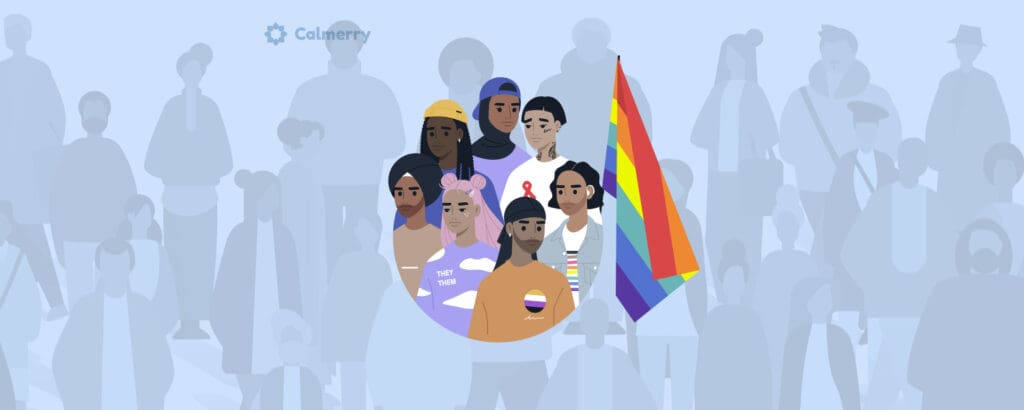 Reading Time:
9
minutes
If you identify as part of the LGBTQIA2S+ community, you may sadly be at greater risk of both physical and mental health issues when compared to the general population. This may be, in part, due to minority stress.
Minority stress is a concept that explores the experiences that those in a minority, such as the LGBTQIA2S+ community, have as a result of various stressors and coping mechanisms the general population may not have to contend with.
Learning more about how your mental health relates to minority stress and how LGBTQIA2S+ therapy can benefit you will help you nurture your emotional well-being long-term.
What does LGBTQIA2S+ stand for?
LGBTQIA2S+ is an acronym that stands for:
Lesbian. A woman who is romantically attracted exclusively to other women.
Gay. A man who is romantically attracted exclusively to other men.
Bisexual. Someone who is attracted to more than one sex or gender.
Transgender. An individual whose gender identity does not match the sex they were assigned at birth.
Queer and/or Questioning. Queer describes someone whose sexual or gender identity does not match traditional ideas around sexuality or gender. Questioning denotes someone who is unsure or exploring their sexuality.
Intersex. Someone born with both male and female organs, genitals, or chromosomes.
Asexual. An individual with no sexual desires.
2S – Two-spirit. One who identifies as having both masculine and feminine spirits.
+ . The plus symbol denotes the many other ways people self-identify.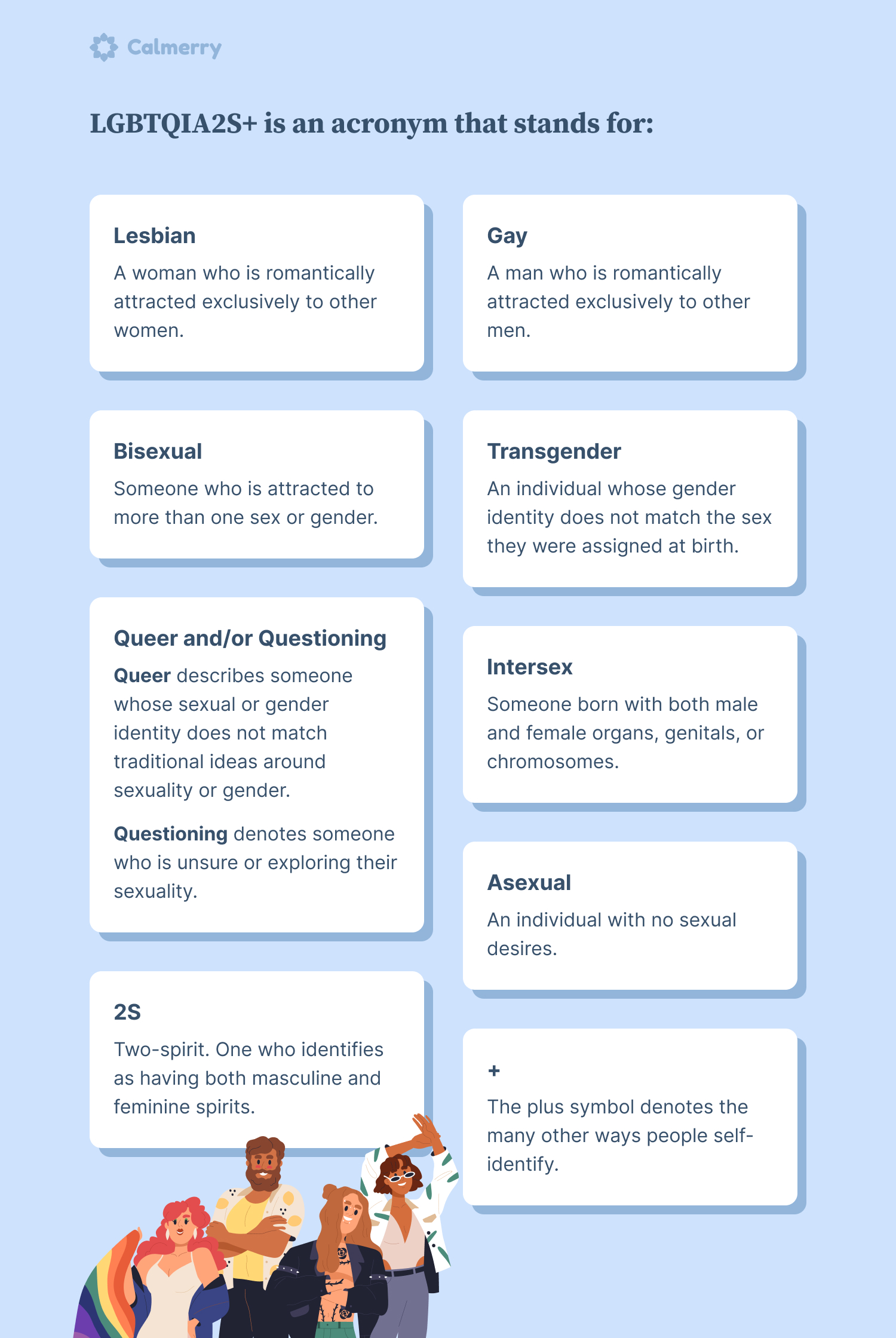 Also known as the rainbow community, those who identify as part of the LGBTQIA2S+ community often do not fit into the dominant boxes of heterosexual (straight) or cisgender (identifying as the sex you were assigned at birth).
The LGBTQIA2S+ community is made up of people of all ages, races, ethnicities, nationalities, and socioeconomic statuses. Anyone can self-identify as part of the community, and no actual "membership" is required. If you feel that you are a member, then you are one. People from all walks of life are welcome and included.
What is minority stress?
LGBTQIA2S+ mental health may be affected by minority stress or stress that impacts a non-dominant group because of their minority status.
Specific stressors for the rainbow community might include prejudice, bullying, rejection, or concealment of one's true self. These stressors are not generally experienced by those in a dominant group in society, including those who identify as heterosexual or cisgender.
LGBTQIA2S+ individuals may be mistreated, abused, or victimized, and that is damaging to their overall well-being.
Furthermore, to manage minority stress, a person might rely on coping mechanisms that affect their physical and emotional well-being, putting them at greater risk of mental health problems.
Problems faced by the LGBTQIA2S+ community
Anyone in a minority group can be at risk of minority stress, and there are some specific LGBTQIA2S+ challenges you might face.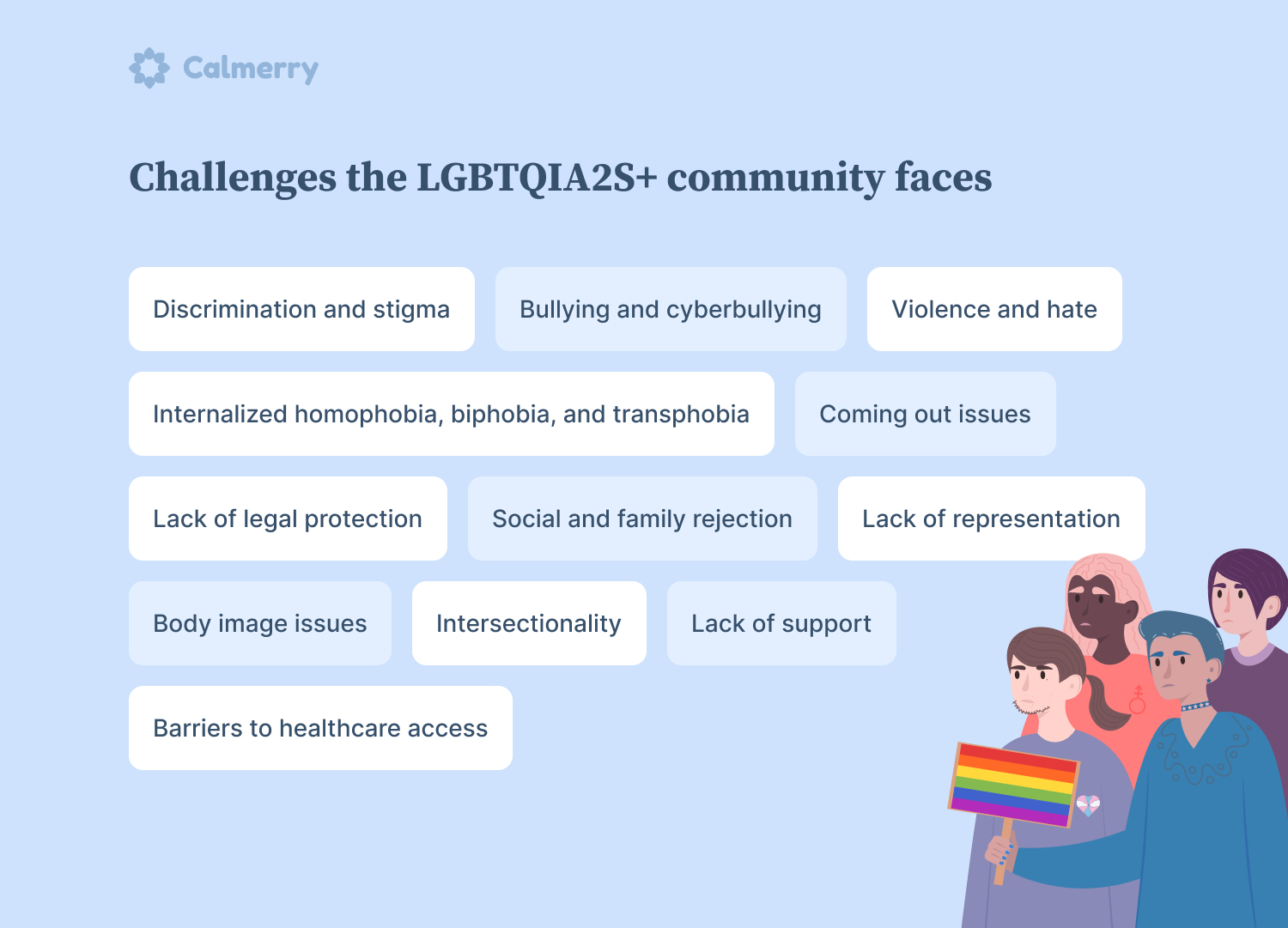 Discrimination and stigma
Discrimination is the unjust or prejudicial treatment of an individual or group based on a certain characteristic, such as gender, sexuality, or identity.
Sadly, some LGBTQIA2S+ people might feel they are treated less favorably at school, college, or work because of their identity. They may not be considered for promotion, may be treated unfairly, or be bullied due to discriminatory behavior.
Stigma is a social construct. It is the disapproval of someone based on a certain characteristic, such as their gender identity. In some cases, stigma is a mark of disgrace. For example, you may feel that there is a stigma attached to visiting a gay bar because the wider community openly views it as a dirty or disgusting venue.
Bullying
When someone intends to hurt you physically or emotionally, this is bullying. In some cases, the perpetrator may make it obvious that they are bullying you because of your identity, but in others, they may hide the true basis of their aggression.
Bullying can occur at home, work, school, in sports clubs, online, or in any other social situation.
Internalized homophobia, biphobia, and transphobia
Homophobia, biphobia, and transphobia are the dislike of gay, bisexual, and transgender people, respectively.
It may be surprising, but gay, bisexual, and transgender people can hold homophobic, biphobic, and transphobic views, too. This is often internalized oppression, as these feelings occur when we live in a society that is vocal about disliking anyone who is not straight or cisgender.
Whether you are certain of your identity or questioning it, internalized hatred can cause feelings of self-disgust and self-hatred. Your self-esteem may also plummet. These LGBTQIA2S+ issues are common, especially if you feel you have little support around you.
Coming out issues
Coming out is a shortened version of "coming out of the closet." It refers to telling other people about your sexuality or gender identity. This process is often part of accepting and understanding who you are and being able to live authentically.
Coming out may feel easy if your friends and family are supportive, but can be excruciating if you are met with hostility, especially your parents.
Social and family rejection
Sadly, some LGBTQIA2S+ individuals are rejected by their family, friends, or religious community. This can even occur if others are suspicious of or make assumptions about your identity without you confirming it.
This form of rejection can be extremely distressing. In some cases, it leads to a negative spiral of low self-esteem and self-hatred. In other, more positive cases, it can lead a person to search for or create their own "urban family" or community.
Gender dysphoria
Gender dysphoria occurs if you feel that your biological sex does not match your gender identity.
While you might have been assigned female at birth, you may be certain that you are male. This can lead to feelings of unease, dissatisfaction, distress, depression, or anxiety.
Body image issues
Body image issues are complex and cover a wide range of conditions and feelings. You may be a little unhappy with your body, hate your body's appearance, or focus intently on the shape or size of your body by comparing it to unrealistic social ideals.
Body image issues might also occur if you are questioning your gender or if you were born intersex. These feelings can cause low self-esteem, anxiety, depression, and may lead to disordered eating.
Intersectionality
Intersectionality refers to the way that our different social identities are interconnected. In your neighborhood, you might be part of a minority in terms of race, class, or education. And if you are also part of the rainbow community, this could lead to overlapping factors of disadvantage or discrimination.
LGBTQIA2S+ individuals who belong to other marginalized groups, such as people of color, disabled individuals, and those with are part of a religious minority, might face specific additional challenges not faced by those whose only minority group is the rainbow community. So, intersectionality and mental health are closely linked.
For example, young people of color might try to remove themselves from their culture to try to better fit into gay culture. A white, middle-class, gay individual might be better accepted at college than an Asian lesbian.
So, the LGBTQIA2S+ problems may also depend on your other characteristics, perceived status, or background.
Lack of support
LGBTQIA2S+ people may feel unsupported by their family or communities compared to straight, cisgender individuals. Whether you have experienced prejudice, discrimination, or rejection, it can be very difficult to navigate life when you feel alone or unsupported.
Check out these resources. Support is available from:
LGBT National Help Center – offers free and confidential support, information, and resources to individuals who identify as lesbian, gay, bisexual, or transgender through their hotline, online chat, and email services.
LGBT National Youth Talkline – provides a safe and confidential space for LGBTQ+ youth to talk about their experiences, concerns, and questions with trained volunteers who identify as LGBTQ+ as well.
LGBT Domestic Abuse Hotline – offers support and resources specifically tailored to individuals within the LGBTQ+ community experiencing domestic violence or abuse.
The Center – also known as LGBT Community Center, is a community-based organization that provides a wide range of services, support groups, cultural events, and resources for LGBTQ+ individuals, including counseling, advocacy, and social activities.
You could also talk to an LGBTQIA2S+ affirming therapist as part of your powerful support network.
Barriers to healthcare access
Research has shown that LGBTQ+ populations are more likely to smoke and drink alcohol, both of which can increase your risk of developing cancer. However, numerous barriers exist for LGBTQIA2S+ individuals to access healthcare, including access to cancer treatment and mental health services.
Queer theory suggests that heteronormativity is still in place in healthcare systems, leaving nonheteronormative and gender-nonconforming individuals exposed to prejudice, discrimination, or mistreatment by healthcare professionals.
In 2018, the LGBT charity Stonewall reported that discrimination against LGBTQIA2S+ individuals is widespread in healthcare settings.
If you are regularly assumed to be heterosexual, misgendered, or dead-named, you may lose faith in the medical profession and not seek support when you need it. This is an important LGBTQIA2S+ healthcare issue.
It is possible to gain access to the same level of quality healthcare as those who are part of majority groups. To do so, you will need to find culturally competent and affirming healthcare providers and mental health professionals who understand you as an individual and can support you appropriately.
How to take care of your mental health facing the LGBTQIA2S+ problems 
Stonewall's report found that more than half of LGBT people had experienced depression in the last 12 months, but 1 in 7 avoid seeking healthcare because of fear of discrimination by staff.
As many factors can contribute to poor mental health for LGBTQIA2S+ individuals, learning how to care for yourself and meet your own needs is vital to your overall well-being.
Developing practical strategies that form part of your daily life is a great way to support your mental health. Simple self-care practices are easy to get started with, such as:
Having a bath
Listening to music
Creating some artsy stuff
Lighting a candle while watching TV
Reading a book
Spending time with your pet
Once you've started making time for yourself with the ideas above (or other relaxing alternatives), it's time to think about other practices that can help you build resilience and manage stress.
Building resilience and managing stress
Experiencing discrimination, being rejected, and having poor mental health can all lead to overwhelm. The following tips have all been shown to be helpful in building resilience and managing stress:
Challenge negative thoughts – be aware of negative self-talk or internalized stigma. Practice self-compassion and challenge negative beliefs with positive affirmations, realistic thinking, and reframing negative experiences.
Practice resilience through reflection – reflect on past experiences where you have demonstrated resilience and overcome adversity. Remind yourself of your strengths and abilities to face future challenges with confidence.
Be kind to yourself – be proud of your achievements (however small or big) and take breaks throughout the day.
Find a way to relax – use relaxation exercises, meditate, or practice mindfulness.
Try a new hobby – from art to hiking, hobbies give us a positive focus and can be a good way to make new friends.
Join a support group – this could be the support you find online or visiting your local LGBTQIA2S+ support group to meet people who will understand how you feel.
Set boundaries – learn to establish and enforce healthy boundaries in your relationships and interactions. This includes saying no when necessary, prioritizing your needs, and surrounding yourself with supportive and respectful people.
Find support elsewhere – think about friends, family, neighbors, or work colleagues you can talk to and who can provide a sense of belonging and understanding. Surround yourself with people who accept, support, and affirm your identity.
Seek out inclusive employers – research companies and organizations known for their LGBTQ+-friendly policies and practices. Look for inclusive workplace environments that support LGBTQ+ employees and prioritize diversity, equality, and respect for all employees.
Spend time in nature – go for a walk or cycle, spend time with pets or animals, or get some houseplants to help you feel calmer at home.
Engage in activism and advocacy – this can provide a sense of purpose and empowerment. Contributing to positive change and fighting for equality can enhance resilience both individually and within the community.
Seek professional help when needed – if you are struggling with mental health concerns or facing significant challenges, don't hesitate to reach out to mental health professionals who specialize in working with the LGBTQIA2s+ community.
Subscribe
to our mental health digest
Let us support you on the way to better mental well-being. Get expert tips and insights on mental health delivered to your inbox monthly.
Looking after your overall well-being
When your mental health takes a hit, taking care of yourself can become the lowest priority. However, looking after your physical and mental health is vital for being able to cope when life feels hard.
Take care of your overall well-being in the following ways to start feeling stronger and more positive:
Eat healthy foods, but don't deny yourself the occasional treat
Drink plenty of water
Exercise – even a short walk each day will help
Prioritize getting enough sleep
Write in a journal
Get help in LGBTQIA2S+ therapy
While the strategies above are a positive and important step towards taking care of yourself, LGBTQIA2S+ therapy can help with specific mental health concerns, worries, and emotions you may be experiencing in relation to, or regardless of, your identity.
Safe and affirmative counseling will provide you with a safe space to express your feelings without fear of prejudice or discrimination. You can also be assured that a therapist understands the intricacies of your identity and how this may impact your sense of self, perceived place in the world, and any difficulties this may have brought.
If you feel you would benefit from counseling but struggle with social anxiety or have a schedule that makes it hard to accommodate travel to sessions, online LGBTQIA2S+ therapy with Calmerry could offer you the flexibility to ensure you can access the right support for your circumstances.
At Calmerry, we offer specialized support, validation, and guidance from mental health professionals who understand the community's specific needs. They can empower you to enhance your well-being, build resilience, and develop a greater sense of self-acceptance and authenticity.
Final thoughts
Members of the LGBTQIA2S+ community are at greater risk of mental health problems as a result of both discrimination and healthcare inequality. Taking good care of yourself and getting professional help to build resilience and manage stress can help your mental and physical well-being.
At Calmerry, you can work with licensed therapists experienced in providing LGBTQIA2S+ affirmative therapy. Access online therapy today for professional care and expertise to help you work through your personal experiences and challenges.
Сheck your mental well-being for free: