Published March 22, 2023 / Updated June 1, 2023
How to Come Out to Your Parents Safely and Comfortably – at Any Age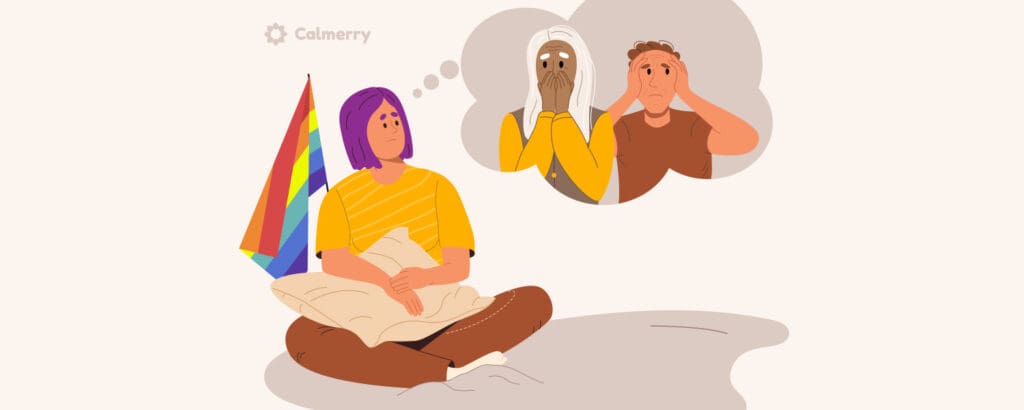 Reading Time:
6
minutes
"Should I come out to my parents?" – question someone may have been asking themselves for some time now. The short answer to the question below is no.
There is no "should" in coming out. You do not owe anyone to disclose your sexual orientation or gender identity. You can do it only because you want to and feel ready to, not because someone pressured you or you feel obligated to do that.
You may never feel the need to come out or just do so to a few people. It can be because you fear discrimination or feel perfectly content with how things are. That's perfectly normal and okay. Remember, it's entirely up to you whether to come out or not.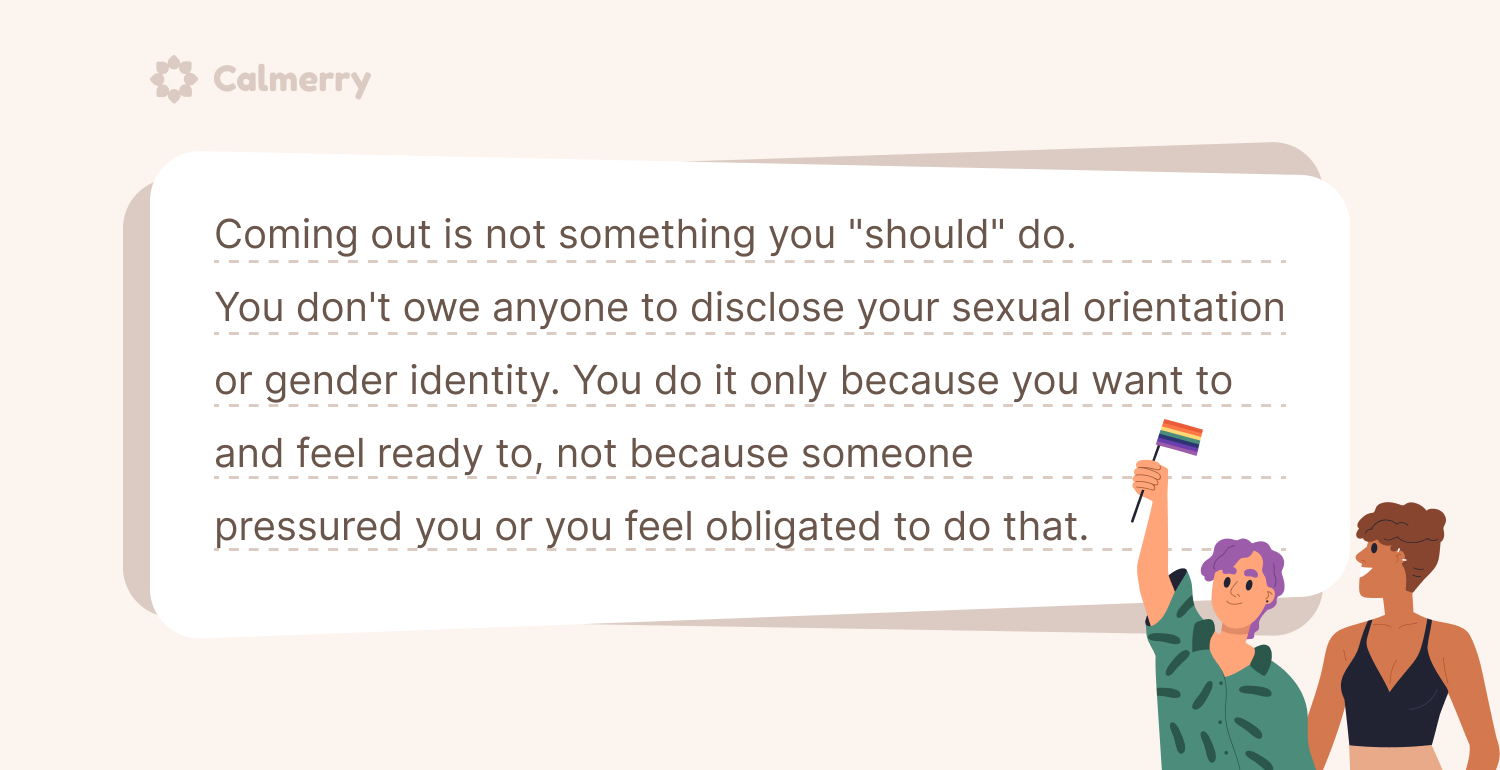 Ways to come out to your parents
Coming out is complicated and can bring both joy and sadness. However, studies show that it can be overall beneficial to your mental health.
Or for example, a study by Robert-Paul Juster from the University of Montreal states that gay, lesbian, bisexual, transgender, or queer people who are out to their family and friends have lower stress levels. It improves their quality of life and makes them healthier.
Doing it safely and comfortably is essential if you decide to come out to your parents.
View this post on Instagram
Your safety comes first
Your safety is the first and most important thing to consider. Did your parents previously give you any reason to worry you may be hurt or rejected?
Furthermore, consider your current situation: are you living with your parents? Are you financially dependent on them? If things go wrong, do you have someone to turn to, such as your friends?
Be sure also to let your parents know who they can share this information with. For example, you may feel unsafe coming out to certain relatives or want to tell them alone.
You can start with one person
Some people may want to talk to both their parents simultaneously or even organize a non-conflict family meeting to come out.
You aren't obligated to tell both of your caretakers on the same occasion. You can start with just one person or even ask them to talk to the other parent independently if that's something you feel more comfortable with.
Choose the most comfortable way to come out
You don't have to talk to your parents face to face if that's too much stress. There are many ways to come out – choose one that makes you safe and comfortable.
Here are some communication ideas:
By phone conversation
By writing a traditional letter
By sending an email
By sending a text message to messengers
By recording a voice message
By writing a song or a poem
If you think your parents will accept your honesty, drop a hint in a conversation to start the discussion. For instance, you could tell them about an article or a documentary you saw about LGBTQ+ people or casually mention your partner.
Consider time and place
Again, pick the space you're most comfortable with: a morning walk in the park, a meeting in a coffee shop, or a quiet evening visiting your parents.
However, you should also consider a time and place where you'll have their undivided attention. It's best to avoid calling them when they're at work, walking on a busy and loud street, or vacation and with limited access to their phone or the Internet.
If you want to create a message or a recording, waiting many hours or even days for their answer is nerve-wracking. Try sending it when you know they can check it out quickly.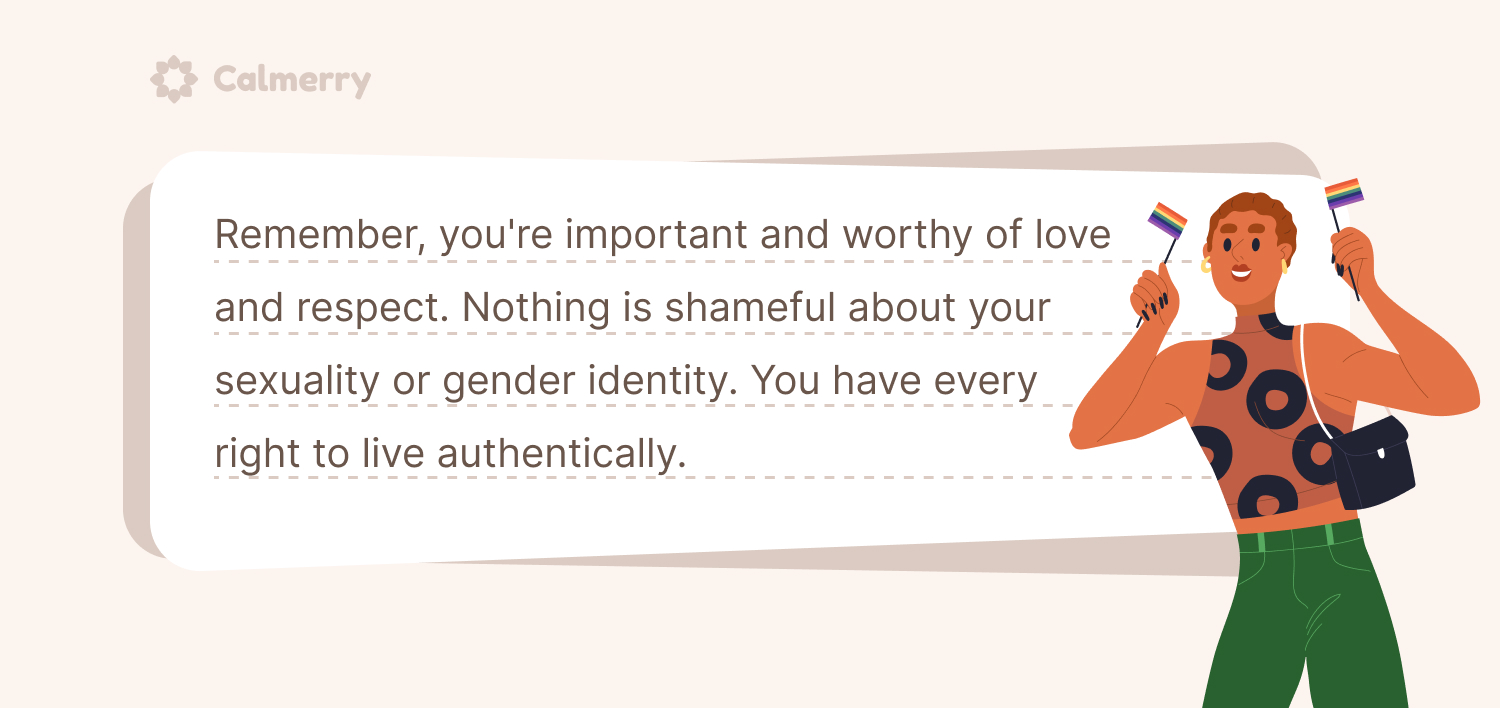 Plan what you want or going to say
Try to be as prepared as possible and think of what you want to say to your parents. Especially when emotions run high, losing track or fumbling for words is not difficult.
Coming out to your parents can be stressful, but making a plan and writing down the most important points can help to feel more in control.
Be ready for questions
Another part of preparing is creating a list of potential questions your parents may have. Being caught unawares can only heighten your anxiety, so try to come up with answers to these questions.
What's more, you could also make a list of links to resources or books for parents of an LGBTQ+ child.
At the same time, remember that you're not obligated to answer if you don't want to or feel uncomfortable answering. Instead of explaining, you can point them to your prepared resource list.
Be prepared for any reactions
It's good to be aware that there are many ways in which your parents may react to your announcement. Moreover, their individual reactions can differ significantly, from calm and immediately accepting to shock and grief.
If you believe that your parents love and support you, try not to take their initial adverse reactions to heart. They may have never suspected anything and feel shocked; they can feel angry with themselves for not noticing. It doesn't mean they don't love or accept you.
Practice relaxation techniques
Feeling anxiety or even panic when planning to come out is completely natural. Learning some grounding techniques to calm down and regain control over your emotions is good. It's a valuable skill that can help you in any situation.
You can start with simple things, such as:
Breathing exercises
Stretching or shaking your body
Meditation
A short walk
Try anxiety journaling
Journaling is an effective coping technique to help you work through your anxious feelings, organize your thoughts, and help healthily process them. Anxiety journaling provides instant, temporary relief from overwhelming thoughts about coming out to parents or whatever happened after.
Journaling is a simple technique, and there are no rules about how you should journal. The main thing is to make this practice a regular habit.
Give them time and space to process
You've probably had years to explore and understand your sexuality or gender identity. Your parents are most likely in a completely different place and may need some time to process and come to terms with this new information about you.
Let yourself process it as well. Coming out to your parents can feel amazing, but it's often stressful and emotionally draining.
How to come out to homophobic parents
While it can still be beneficial in the long run, coming out to a homophobic family carries more significant risks. In this case, it's even more crucial to consider your current situation and prepare yourself for different scenarios. As an example, if you're living with your parents, you may think about whether waiting until you move out is safer.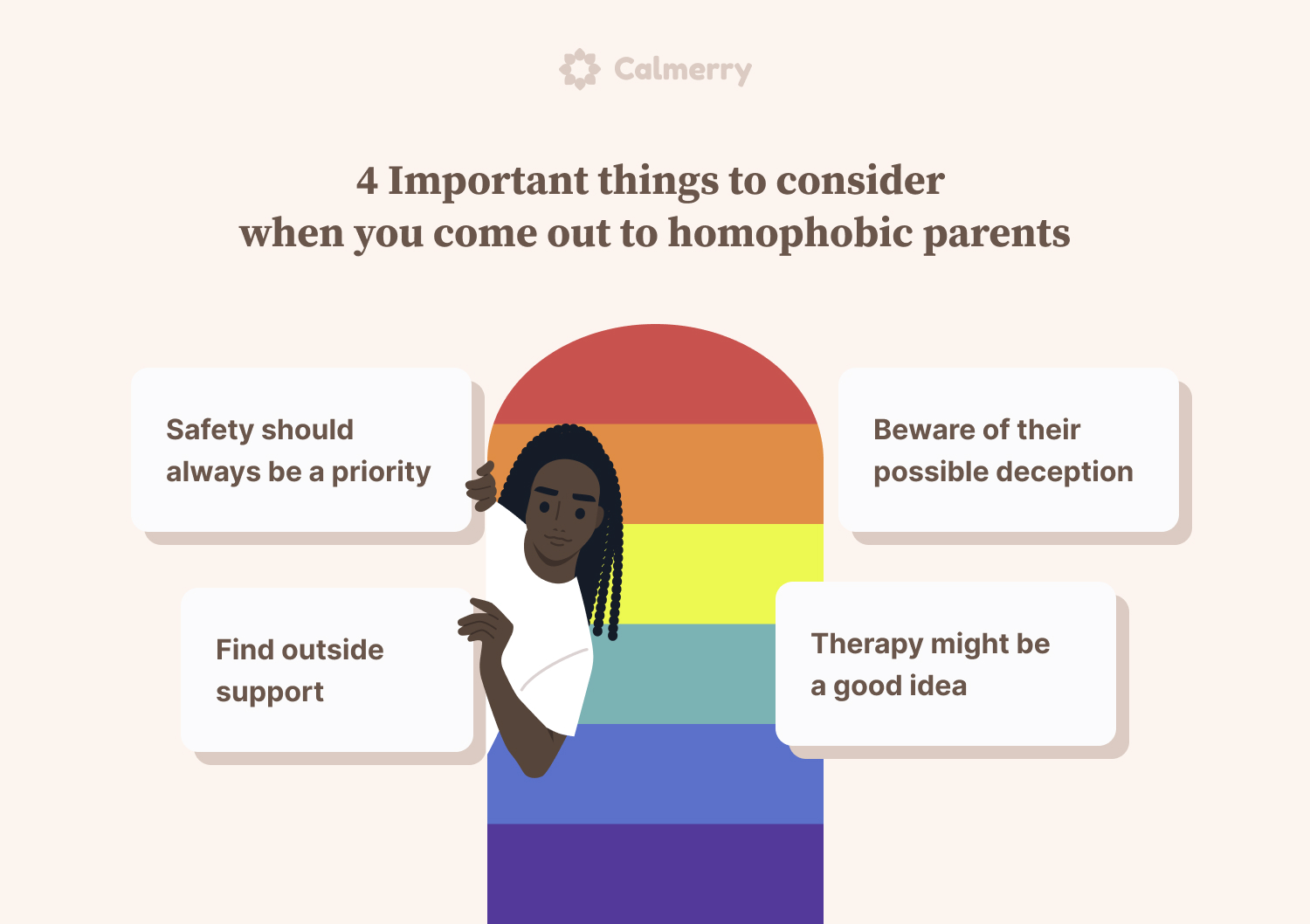 Safety should always be a priority
If your parents are homophobic, there is a real risk to your physical and mental safety. Threatening, hitting, or throwing you out is possible reactions.
If you still plan to come out to them, research organizations that offer legal advice or help in case you become temporarily homeless. Or in case of verbal abuse or even physical from your parents. Check resources for LGBTQ+ youth in each state.
Beware of their possible deception
Your parents may say hurtful things or shame you in response to your coming out. As difficult as it is to not listen to them, try to remember that their words are untrue.
Remember, you're important and worthy of love and respect. Nothing is shameful about your sexuality or gender identity. You have every right to live authentically.
Find outside support
Make sure you have a robust support system you can rely on in case things go south: your significant other, friends, or your own chosen family.
You can also reach out to a local LGBTQ+ center to connect you with other people with similar experiences or find services you may need.
Therapy might be a good idea
Whether you decide to come out to your homophobic parents or not, their attitude towards Queer people can significantly impact your mental well-being and self-worth. Online therapy can help with healing this kind of traumatic event.
Subscribe
to our mental health digest
Let us support you on the way to better mental well-being. Get expert tips and insights on mental health delivered to your inbox monthly.
Counseling can help you work through your own feelings about your identity so that when you choose to come out and feel confident in yourself.
Furthermore, a careful therapist from Calmerry can aid you in dealing with your parent's negative influence and processing their rejection after coming out.
Сheck your mental well-being for free: