Published June 13, 2023 / Updated June 9, 2023
Depression in Men: Understanding the Signs of Male Depression and Causes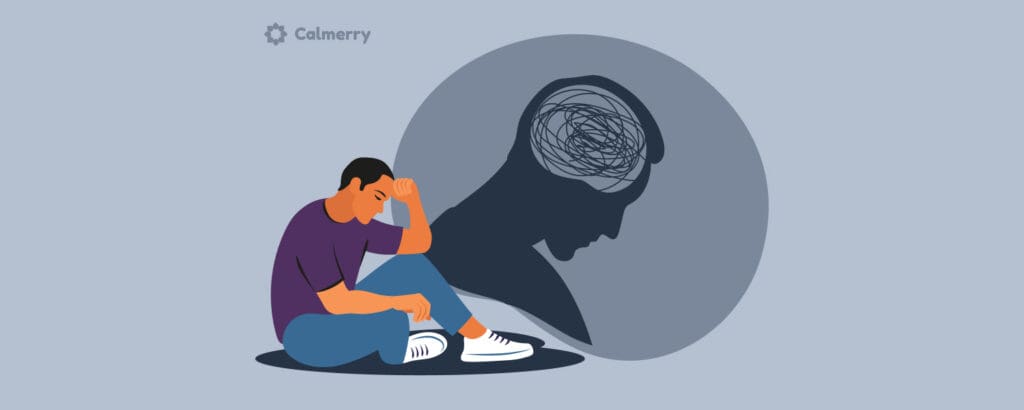 Reading Time:
6
minutes
People may associate depression more with women when compared to men. And given the differences in prevalence between the two genders, there is some logic behind this.
According to the National Institute of Mental Health, of the 21 million U.S. adults who experience an episode of depression within a given year, women are more likely to be affected than men.
In fact, 10.5% of female adults experience depression over the course of a year, compared to 6.2% of men. While depression prevalence is higher in females, this does not mean that male depression does not exist.
Depression in men is a legitimate and serious mental health problem worthy of treatment.
Prevalence of depression in men and stigma around help-seeking
As indicated above, 6.2% of adult men in the United States experience an episode of depression within a given year. Furthermore, research suggests that over the course of their lives, 13% of U.S. men will experience depression, compared to 20% of women.
One problem that may arise among men with depression is the fear of negative judgment. After all, men are often socialized to adhere to masculine gender norms, calling them strong, brave, and resilient. Men who report symptoms of depression may worry they will be viewed as weak or inferior – so they might avoid help-seeking altogether.
Another consideration related to depression in men vs. women is that given the effects of gender socialization and perhaps biological differences between men and women, men may experience different depression symptoms compared to women.
It's possible that depression prevalence rates in men would be similar to those seen in women if depression diagnostic criteria were sensitive to more "masculine" presentations of depression.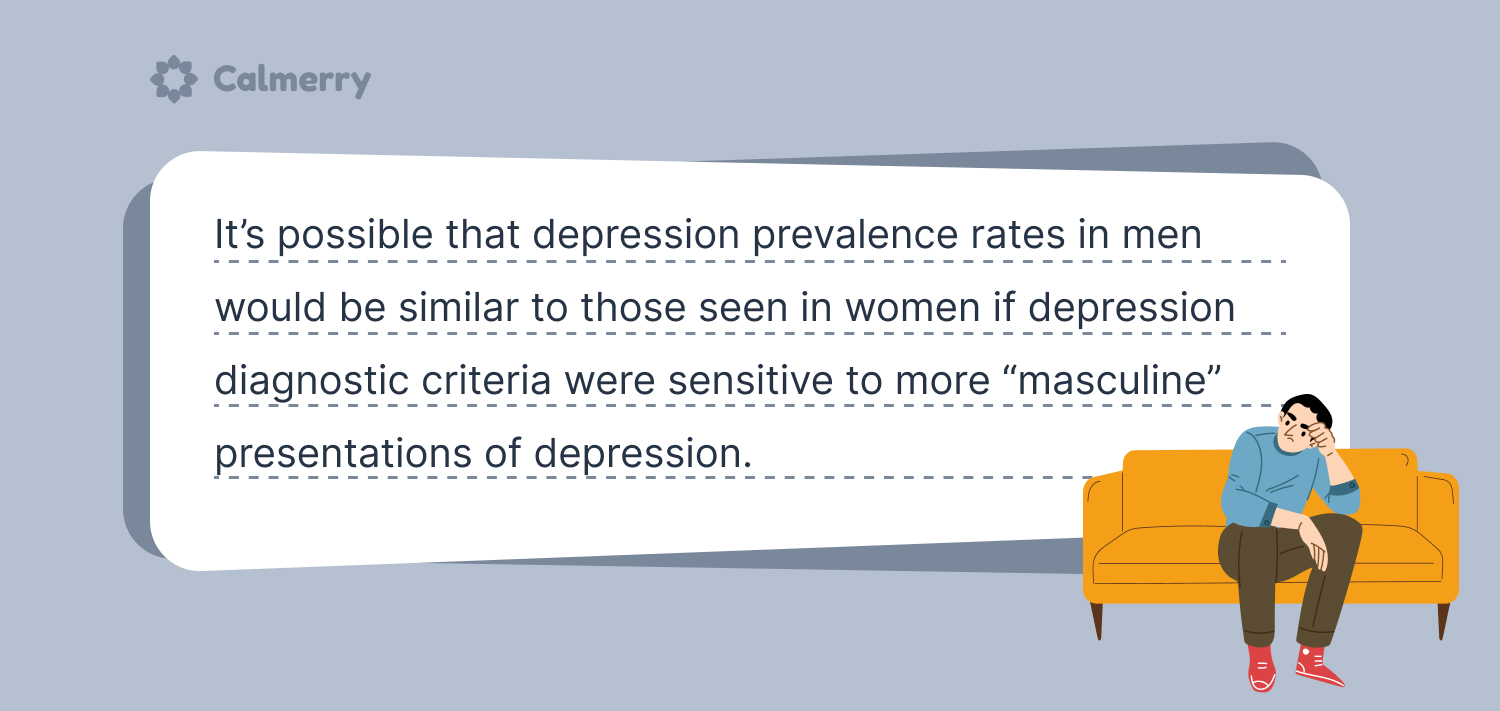 Symptoms of depression in men
Studies have found that gender may influence the way that depression presents itself. For example, recent research has shown that women tend to be more likely to show depression symptoms that align with the formal diagnostic criteria for the disorder.
In men, depression is different, at least according to studies comparing men to women.
Women with depression are likely to show a depressed mood and other classic depression symptoms, such as sleep problems and appetite changes. On the other hand, signs of depression in men may not be so obvious.
Some symptoms of depression in men that deviate from the standard diagnostic criteria may include:
Drug or alcohol misuse
Risk-taking
Impulsivity
Increased activity level
Anger
Irritable behavior
Agitation
Increased sexual activity
While not every man who experiences depression will present with more masculine features of the disorder, quite a bit of research has found that men are more likely to demonstrate externalizing symptoms, such as:
Anger
Impulsivity
And substance abuse
While women demonstrate classic internalizing symptoms, like sadness, loss of interest in usual activities, and difficulty concentrating.
What causes depression in men?
There's no single cause of depression in men. Instead, there are factors that can increase a man's risk of developing depression. When someone has more risk factors for depression, they are more likely to develop the mental health condition than someone with few or no risk factors.
Some risk factors associated with male depression include:
Unemployment
Low educational attainment
Legal problems
Financial strain (significant debt, bankruptcy)
Living in a high-poverty area
Experiencing a disability
Belonging to a sexual minority population (gay, transgender, or bisexual)
While not all of these factors are unique to men, they have been found to increase the risk of depression in men across several studies.
Experts have concluded that men tend to be socialized as breadwinners. So they place a high degree of importance on their careers and financial status. Men who experience unemployment or financial distress or are unable to work because of a disability are at higher risk of depression, as they are not fulfilling their internalized gender roles.
Additionally, men who belong to a sexual minority population can experience stigma or discrimination, which increases the risk of depression. Men who belong to sexual minority groups are also at increased risk of HIV/AIDS, which is also a risk factor for depression.
Finally, divorced or separated men face numerous stressors, such as physical separation from their children and financial obligations to two households.
Summing up: How is depression different in men compared to women?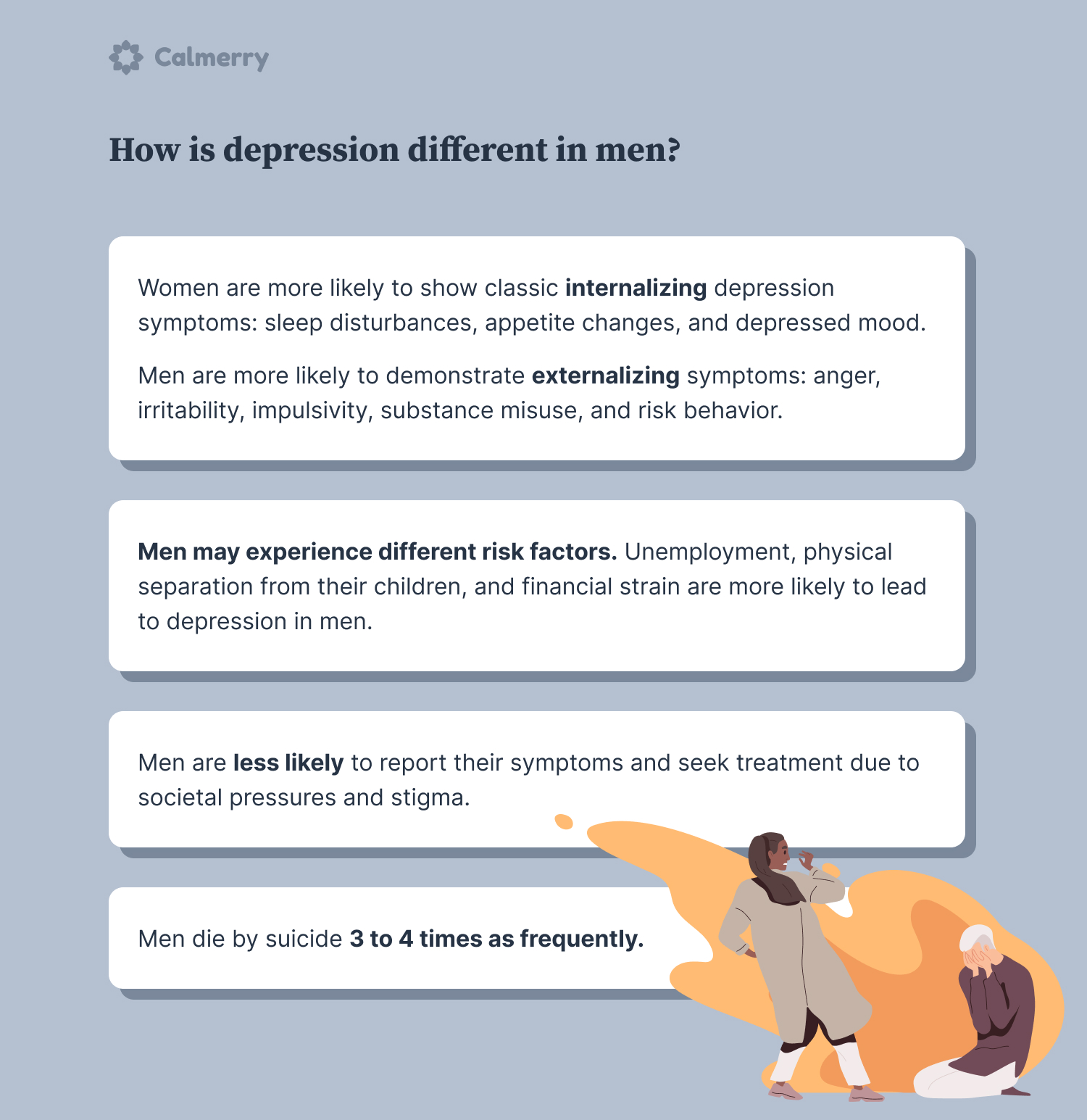 While each person's experience with depression will be unique, a large body of research suggests that men's experiences with depression are different from depression in women.
For example, research has found the following to be true:
Women who are depressed are more likely to show classic depression symptoms, like sleep disturbances, appetite changes, and depressed mood. Men are more likely to show anger, irritability, substance use disorder, and risk behavior.
Factors like unemployment and financial strain are more likely to lead to depression in men vs. women, suggesting that men may experience different risk factors.
Depression in men may be more likely to go undetected when compared to depression in women because men are less likely to seek treatment.
Men die by suicide 3 to 4 times as frequently.
Depression in men and relationships
When men experience depression, it can take a significant toll on their relationships. Symptoms like anger, irritability, and impulsivity can lead to conflict within marriages and other close relationships, decreasing the emotional intimacy between a couple.
A man who becomes depressed may become irritable and socially withdrawn, leading to a lack of communication in their marriage.
Depression can also have negative effects on children. A man who is coping with depression may become angry and irritable, which can negatively impact parenting practices and bonding with children. 
A man experiencing depression symptoms may also have difficulty at work. Anger and impulsivity can lead to poor work performance, conflict with coworkers, and even disciplinary action.
Male depression treatment options
If you're living with symptoms of depression, it's important to seek treatment. Reaching out for help shows strength. It's also helpful to remember that as a mental health disorder, depression is a legitimate health condition worthy of professional intervention.
If you're experiencing symptoms of depression, the following treatment options are common and effective:
Therapy
In talk therapy, you'll sit down with a mental health professional to discuss your symptoms and the problems you're experiencing related to depression. In sessions with a therapist, you'll process your thoughts, reframe negative thinking patterns, and learn to develop healthy coping skills.
Two forms of therapy commonly used in depression treatment include cognitive behavioral therapy (CBT) and interpersonal therapy.
Therapeutic strategies that focus on anger management can also be helpful for male depression, given that men with depression are more likely than women to experience anger and irritability.
At Calmerry, we employ licensed, experienced therapists who can offer online support and convenient therapy for depression.
Medication
Sometimes, chemical imbalances in the brain can cause depression, and medication can help. If you're seeking depression treatment, you may benefit from talking with your family doctor or a psychiatrist about antidepressant medications.
Several different classes of medications can be used to treat depression. And you may have to try a few to determine which medication works best for you.
Self-help strategies
While professional depression treatment is incredibly helpful, you can also improve your mental health by using self-help strategies to complement treatment like therapy.
For example, exercise has been found to be beneficial for reducing depression in men. Intense exercise, such as running, tends to have the most significant effect.
Other self-help strategies can include:
Eating nutritious foods
Taking time to help others
Keeping busy with hobbies and enjoyable activities
Carving out time for relaxation
Rewarding yourself with small treats
Meditating or practicing other mindfulness exercises
Subscribe
to our mental health digest
Let us support you on the way to better mental well-being. Get expert tips and insights on mental health delivered to your inbox monthly.
How to help a man with depression
If a man in your life shows signs of depression, there are steps you can take to help. They may not be willing to take the first step and reach out, so you might have to begin the conversation by expressing your concern.
You could say something like, "I've noticed you're not yourself lately. Is there something going on? Can I help you?"
Other tips for helping a man with depression include:
Encourage them to get treatment
Be willing to listen without passing judgment
Remind them there is no shame in seeking help for mental health
Invite them to come along for activities they might enjoy, such as camping trips, bike rides, or sporting events.
Check in on them often so they know you're open to talking.
Final thoughts
Depression in men is perhaps more common than you realize. After all, over 1 in 10 men experience depression over the course of their lives. If you experience symptoms of depression, it's nothing to be ashamed of, as depression can happen to anyone.
The good news is that treatment is available, and it can help you to move beyond the symptoms of depression. If you're looking for online therapy, visit the Calmerry website today to connect with a licensed professional from the comfort and privacy of your home.
We will match you with the best-suited compassionate professional who can support you and provide the help you need.
Сheck your mental well-being for free: