Published January 9, 2023 / Updated March 3, 2023
Depression in Women: Spotting the Signs and Causes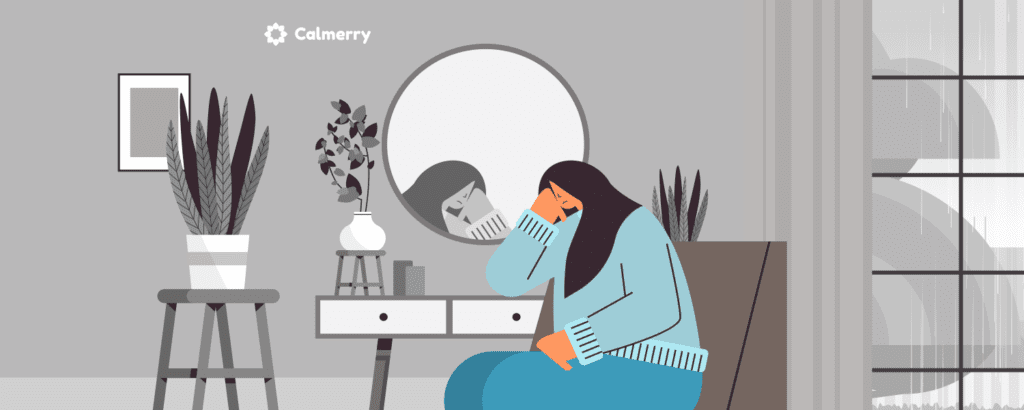 Reading Time:
7
minutes
Depression is a common disorder, with 280 million people worldwide living with this mental health condition. In the USA, a study found that 8.4% of all adults had experienced at least one major depressive episode in the preceding 12 months. This is equivalent to around 21 million adults.
People who have a history of sleep disturbances, medical illness, chronic pain, anxiety and attention-deficit hyperactivity disorder (ADHD) are more likely to develop depression.
Depression is more common in women than men, with around 12 million women experiencing depression in the USA each year.
In this article, we will look at the causes and signs of depression in women, as well as the best management and treatment options available.
What is depression, and how does it feel?
The word "depression" has its origins in Latin. It translates roughly to "to press down," denoting the sense of heaviness or low feeling that many people with depression describe. Low mood is sometimes described as a poor "affect."
Many people with depression have the cardinal symptoms of feeling down, sad, or tearful. The condition can also be associated with loss of appetite or overeating, difficulty sleeping, lack of enjoyment in activities, absence of motivation, chronic feelings of emptiness, and poor concentration.
Some people describe feelings of hopelessness, low self-worth, and even despair. In some cases, these feelings can lead to thoughts of harming oneself, or even suicidal ideation.
Depressive symptoms are known to be linked to the levels of the three main neurotransmitters in the brain. High or low levels of dopamine, norepinephrine, and serotonin can dictate the specific symptoms an individual might experience. Many pharmacological treatments, therefore, rely on addressing the imbalance in the brain's chemical composition.
Although some people can pinpoint a particular trigger for depression, for others, there will be no obvious cause for their low mood which may indicate a chemical imbalance as a primary cause. In some cases, depression may last for a few months, while for others, it can persist for years.
Even if the original cause can be attributed to life stressors, this can often cycle into a neurobiological depression for many as prolonged exposure to stress can result in chemical imbalances.
Each person's journey is then unique in recovering from depression, whether it is reducing severity and frequency of depressive episodes or resolving symptoms altogether. It may require tackling both talk therapy and pharmacological intervention as well as exploring lifestyle changes and holistic approaches that have been linked to positive outcomes.
Depression in women – what you should know
Around 1 in every 8 women in the USA will develop clinical depression during their lifetime. So, there is a high chance that either you or someone you know will experience depression.
In women, the most common time to experience depression is between the ages of 25 and 44.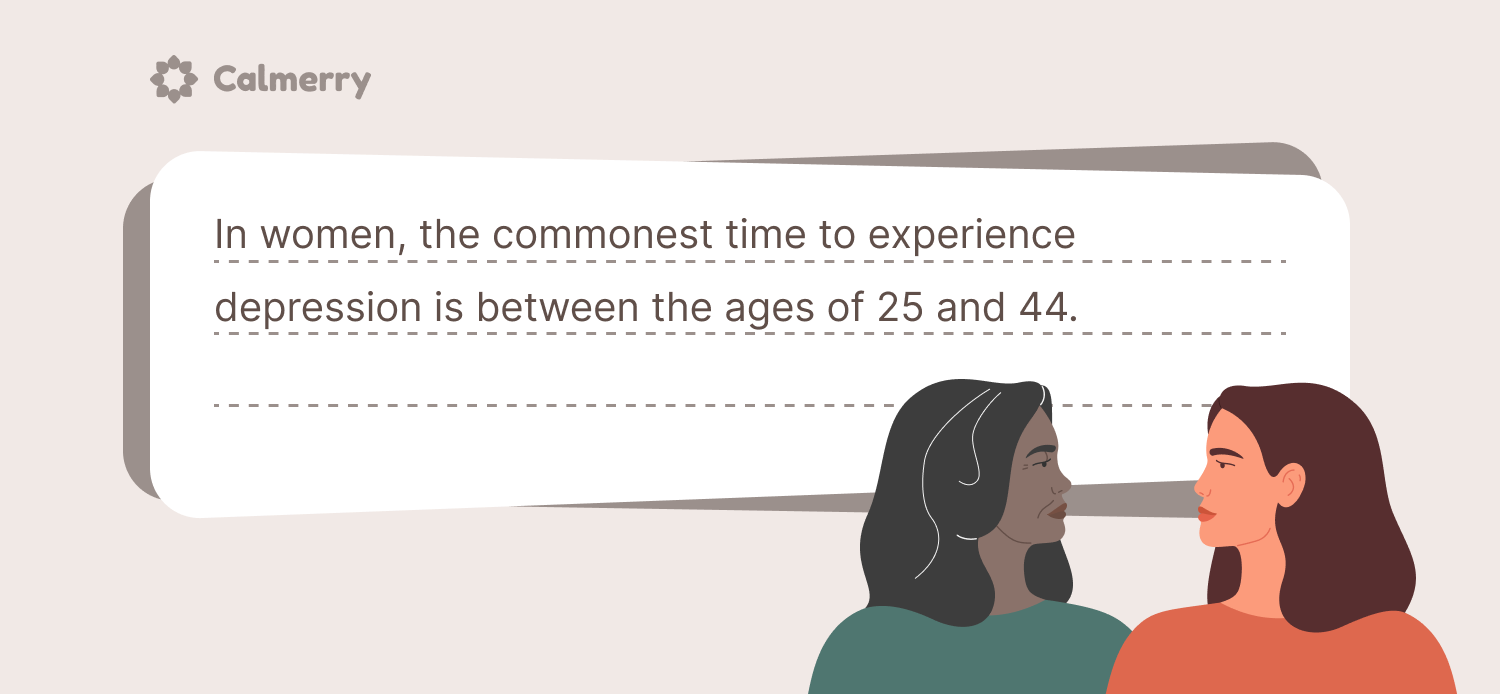 Link with anxiety
Anxiety and depression can sadly go hand-in-hand. Almost 50% of people diagnosed with depression also have an anxiety disorder.
As women are twice more likely than men to have an anxiety disorder, this increases the likelihood of a woman experiencing an episode of depression.
Contributory factors
Although there can be many contributory factors, depression in women can be related to genetic, developmental, reproductive, or hormonal factors.
Women also have other biological factors that can increase the risk of depression, such as:
Hormonal changes that lead to premenstrual syndrome
The effects of pregnancy
Miscarriage
Childbirth
Infertility
And the experience of menopause
Women may also be at greater risk of social difficulties that can increase the risk of depression. This includes the stress of balancing a career and family responsibilities, as well as higher rates of poverty and an increased chance of being sexually abused.
Symptoms and signs of depression in women
Although the cardinal symptoms of depression might be the same in men and women, additional symptoms or signs may be different.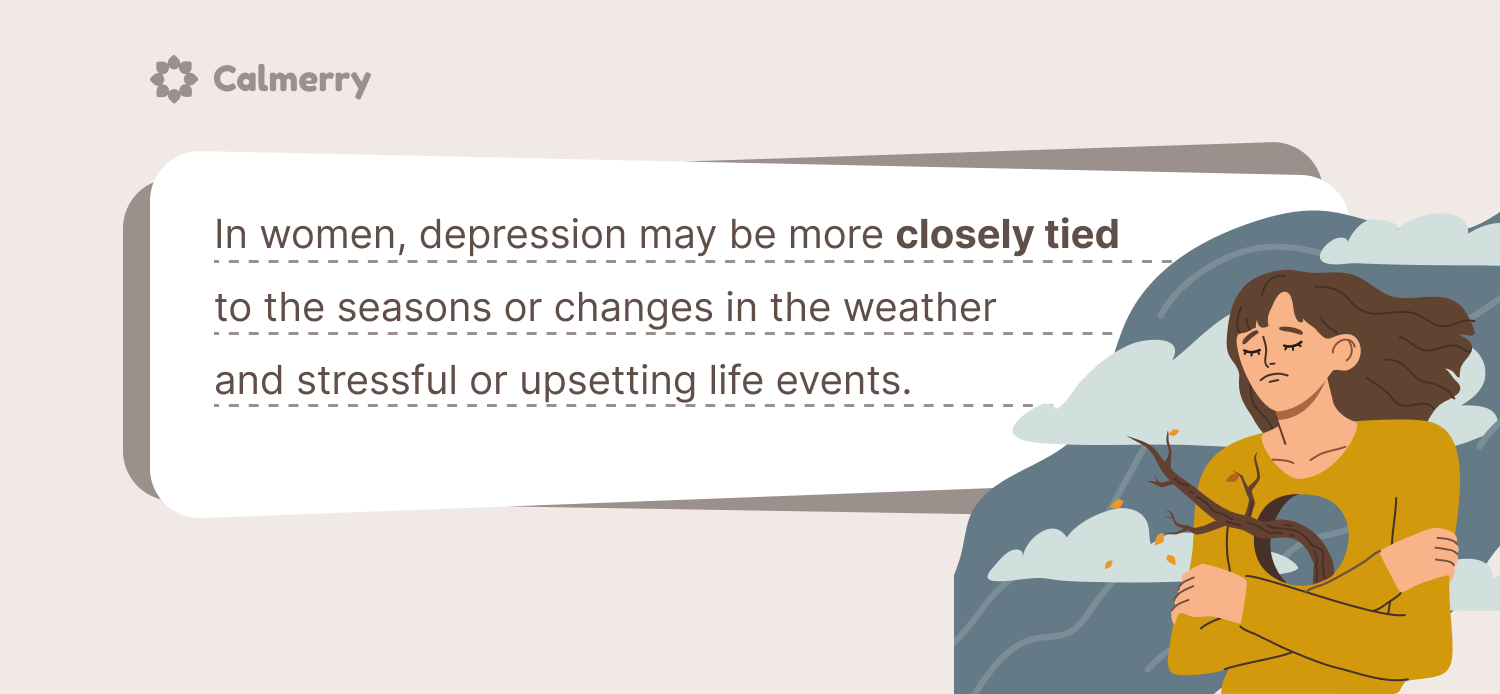 Women are more likely to experience depression at a young age and may find that depressive episodes last for longer. Women may also find that despite previously resolving, depression returns later in life.
Also, in women, depression may be more closely tied to the seasons or changes in the weather and stressful or upsetting life events.
Besides, we have already seen that depression in women is more likely to be linked to an anxiety disorder. Depression symptoms in women can also be related to hormonal changes associated with female sex hormones. Although the change in hormones may be a normal part of a woman's menstrual cycle, it can have a dramatic effect on the symptoms of depression.
Some types of depression are directly related to the menstrual cycle. This includes premenstrual syndrome (PMS) and premenstrual dysphoric disorder (PMDD), which we will look at in more detail below.
Causes of depression in women
For some women, there is no obvious trigger for their depression. However, they may be impacted by several risk factors that can affect their mental health.
Trauma
Childhood trauma, including abuse or the loss of a parent, can increase the risk of depression occurring in adolescence or adulthood.
Although both boys and girls are affected by abuse, girls are more likely to be sexually abused by family members than boys. A prior history of sexual or physical abuse is a robust risk factor for depression or depressive symptoms. It can also increase the likelihood of suicidal behaviors.
Family history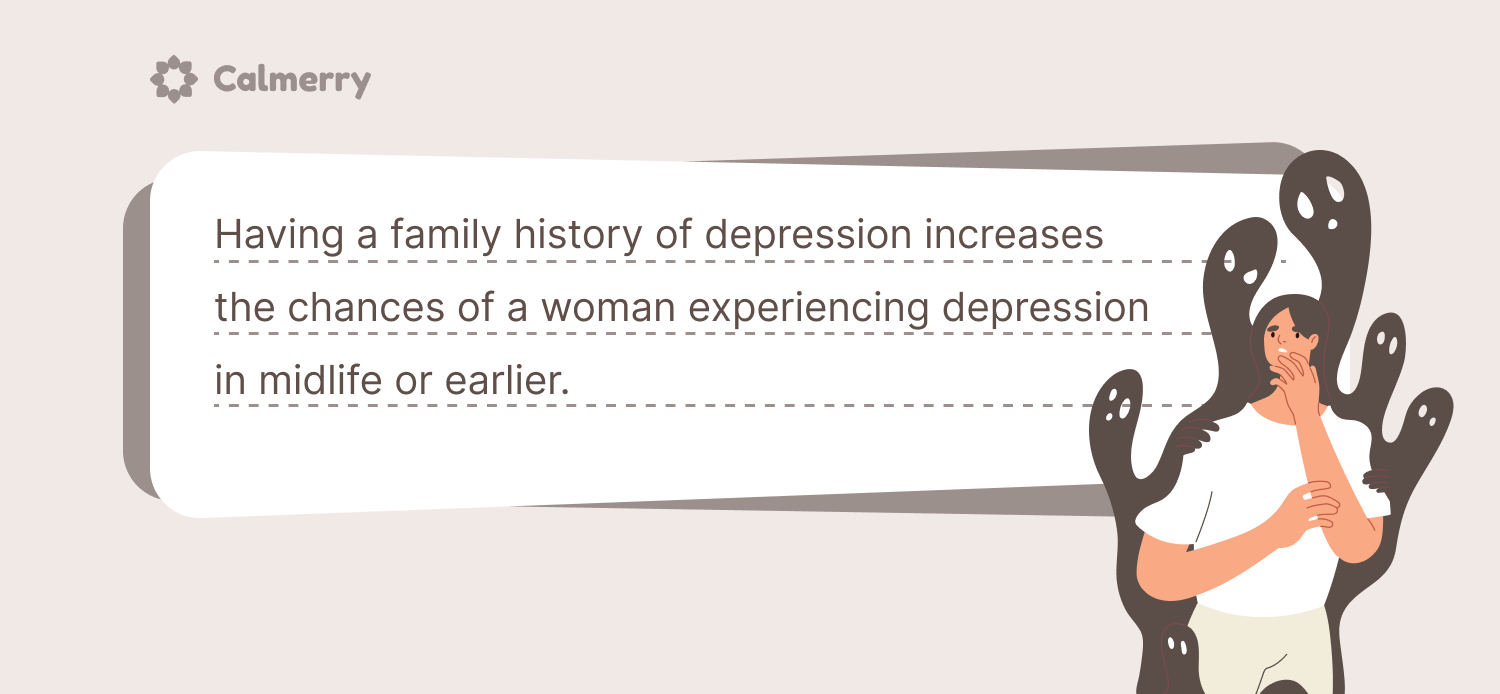 Having a family history of depression increases the chances of a woman experiencing depression in midlife or earlier. This remains true even when other risk factors are accounted for, such as chronic medical conditions or stressful life events.
Psychological stress
Ongoing psychological stress is common in women. Modern life places heavy demands on women who are expected to "do it all," which may often include bearing children, providing childcare, having a career, and running the household.
Job loss, financial worries, relationship problems, divorce, shared custody of children, or being a single parent can all lead to periods of extreme stress.
Major depressive episodes are significantly associated with the occurrence of both chronic and acute stress.
Physical illness
Chronic illness or pain can increase the chance of depression. Additionally, some conditions that are strongly associated with depression are more common in women. These include both over- and under-active thyroid disease, anemia, fibromyalgia, hypercalcemia, vitamin D deficiency, and chronic fatigue syndrome.
Premenstrual syndrome (PMS) and premenstrual dysphoric disorder (PMDD)
PMS and PMDD can both lead to depression in women. Most women experience a change in mood prior to menstruation.
However, around 5-8% of women suffer from severe PMS, with most of this group also meeting the criteria for PMDD. So, this represents a significant number of women in the USA who are at risk of depressive symptoms.
[subscrive-form]
Hormones
Depression in women can be related to the different stages in a woman's life. Pregnancy, the perinatal period, perimenopause, and menopause can all lead to changes in mood.
Ante-natal and postpartum depression are common, with each condition affecting 10% of women. Around 20% of women experience depression when they are perimenopausal.
How are PMS and PMDD related to depression in women?
PMS is a common condition, and mild symptoms will affect most women. Although every woman is unique, the most likely symptoms include:
Feeling upset or irritable
Mood swings
Tiredness
Headaches
Breast tenderness
Generalized aches and pains
Some women find that the days before their period can feel dark or depressing.
For PMDD to be diagnosed, at least five symptoms need to be present from the following:
Mood symptoms which could include depressed mood, mood lability, anxiety, anger, lack of energy, difficulty concentrating, and/or irritability
Symptoms must interfere with work, school, relationships, or social activities
The symptoms must occur during the luteal phase (the days after ovulation and before menstruation occurs) for at least two consecutive menstrual cycles
Symptoms must not be an exacerbation of another disorder.
In the USA, 90% of girls are menstruating by the age of 13.75. The average age of menopause in the US is 51, although some women may not experience it until around the age of 58.
So, women are at risk of depressive symptoms relating to PMS or PMDD for a significant proportion of their lives. 
Best ways to treat depression in women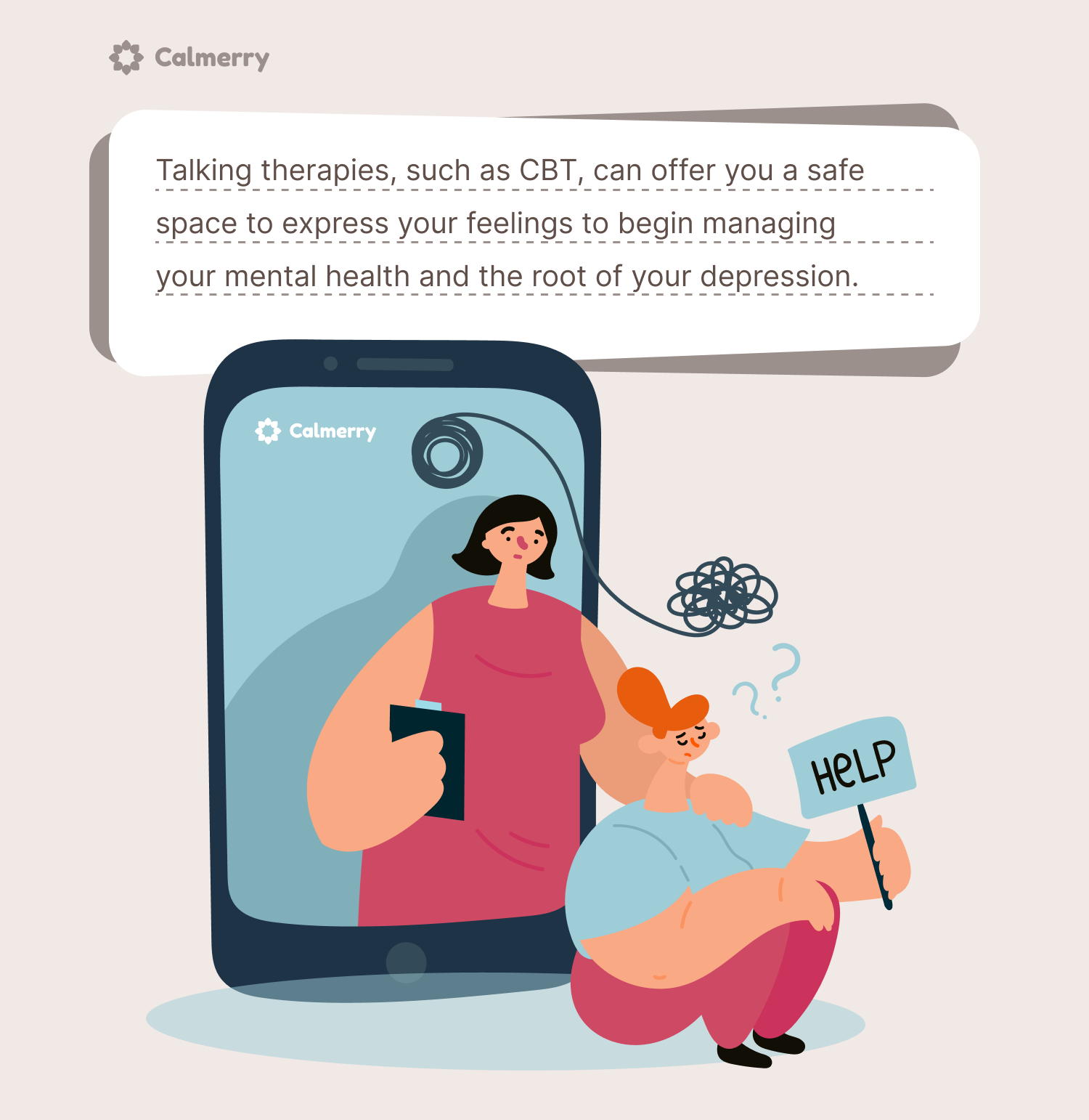 The treatment of depression in women depends on many factors. Where there is a medical or hormonal cause of depression, it is wise to seek medical advice so that the cause can be treated appropriately. Some types of depression can be addressed simply by managing the medical cause, such as thyroid disease.
Some women require help and support in the form of online or in-person therapy. Psychological support, or talking therapies, such as CBT, can offer you a safe space to express your feelings to begin managing your mental health and the root of your depression.
A counselor can work with you to explore your symptoms and help you think about any modifiable risk factors for depression. They can also suggest techniques that may help you to manage your mood on more difficult days.
Expressing your concerns through counseling can have a positive effect on your overall mood and quality of life. If you feel that your depression is misunderstood by friends or family, speaking to a professional could help you validate your feelings.
Final thoughts
Depression is more common in women than men, with women having additional risk factors for the development of the condition. Social, hormonal, genetic, and biological factors can all increase your risk of experiencing a depressive episode at some point in your life.
However, the symptoms of depression can be eased using therapy or by seeking appropriate medical advice when required.
Start your self-help journey by completing a brief survey on Camerry today to give yourself the time and space to work through difficult feelings and low mood.
Сheck your mental well-being for free: