Published October 20, 2022 / Updated June 2, 2023
Do You Have Existential Depression? Symptoms and Coping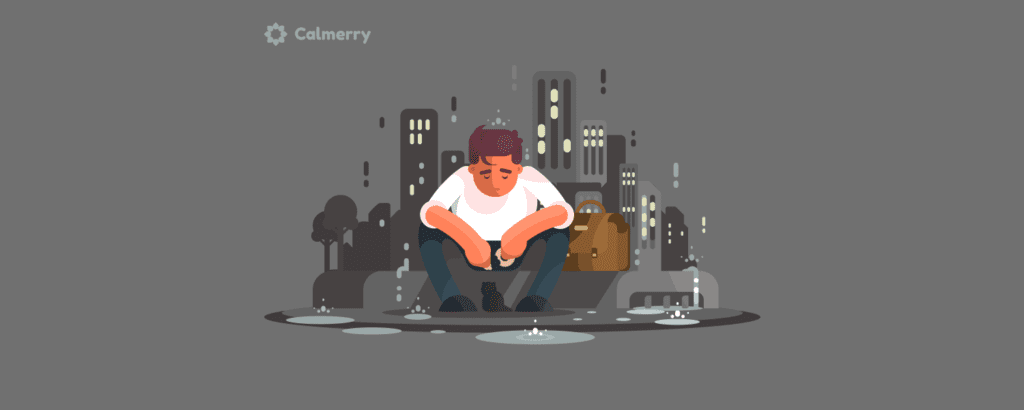 Reading Time:
6
minutes
Life is full of unanswered questions that many people tend to ignore, while others might ponder on quite frequently.
According to recent findings, about 57% of Americans wonder about the meaning and purpose of life at least monthly. If you're in the majority and have noticed that your thoughts start to negatively affect the quality of your life, you might be experiencing existential depression.
In this article, we'll talk about what this disorder looks like and how to deal with it.
What is the difference between existential depression and existential dread?
It's human nature to wonder about the meaning of life, and since some questions we ask ourselves don't have answers, it's also common to feel uncomfortable with how uncertain it is.
If you think about it, the path we follow is never as straightforward as we would like it to be. One day we might be working on our goals, and the next, we might have an accident that completely alters our plan.
Many people tend to wonder about what happens after death and might ask themselves if there's a point in achieving their dreams since they're no longer going to exist one day, anyway.
Others might have experienced trauma that made them question their values. For example, religious people whose loved ones died of cancer might become more aware of the inevitability of death and question their faith.
Those who broke up with their partners might feel disconnected from others and avoid forming close bonds because of their belief that no relationship lasts forever.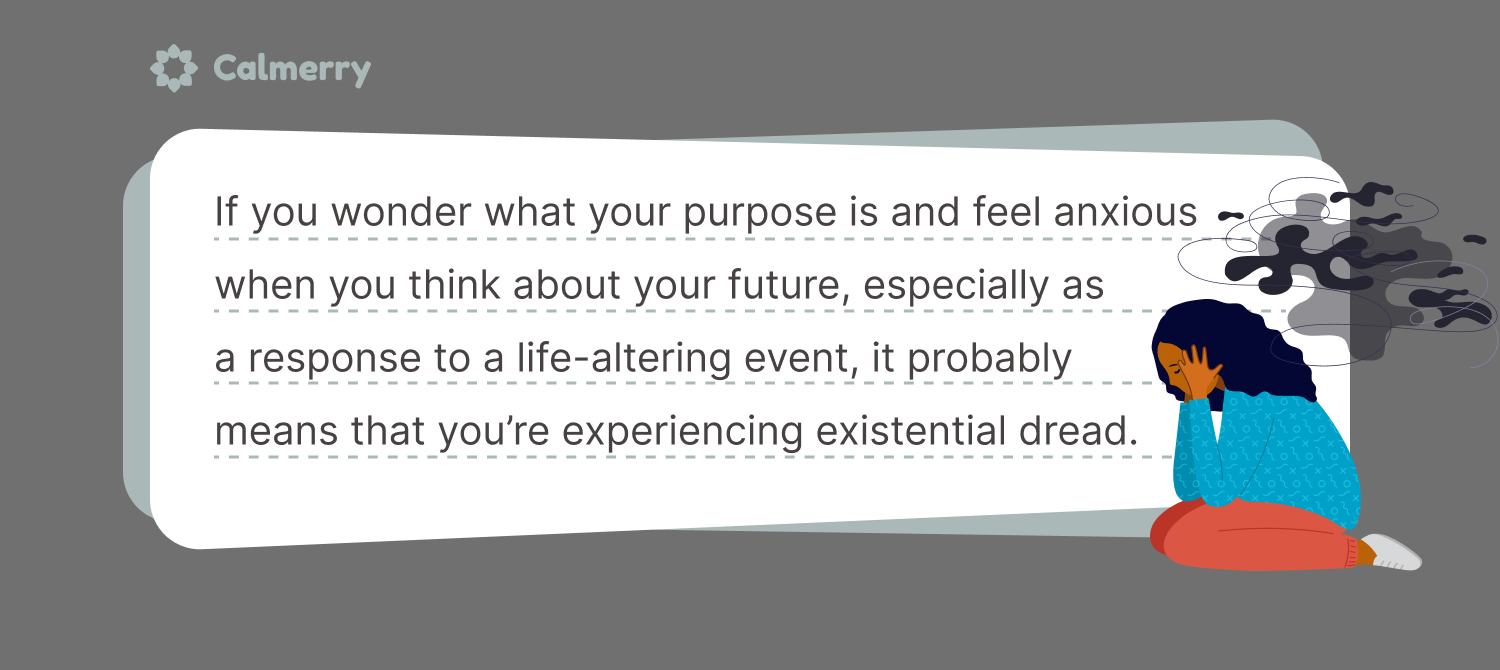 Existential dread, also known as existential angst, can make you feel uncertain and question your life choices. But don't worry, your existential dread is normal. Most people ask themselves existential questions at some point in their lives and eventually learn how to accept unpredictability.
However, if the apprehension about the future makes you feel out of control and leads to a sense of despair, you might be dealing with existential depression.

Subscribe
to our mental health digest
Let us support you on the way to better mental well-being. Get expert tips and insights on mental health delivered to your inbox monthly.
What is existential depression, and what does it look like?
Existential depression is a type of crisis that arises from feeling overwhelmed due to constantly confronting yourself with unanswerable questions. A person with this disorder might overanalyze their life and struggle to find meaning, which makes them feel hopeless and depressed as a result.
Even though existential depression isn't a formal diagnosis, it's a valid response to an ongoing existential dread associated with the following symptoms:
Hopelessness
Anhedonia (inability to feel pleasure)
Dissatisfaction with life
Loss of identity
Suicidal thoughts
Feeling overwhelmed by life's possibilities
Overanalyzing your past choices
When you're experiencing existential depression, you might believe that life is meaningless and that there's no point in making anything out of it since you're going to die anyway.
You might also think that nothing you'll ever do will make a difference and contemplate the injustice of the world. Unfortunately, if you think that life is pointless, you'll find it difficult to be happy.
If you're unsure whether what you're going through is just a rough patch in your life or something more serious, you can always take a free depression test online that can give you a better idea of your situation. If a few of the symptoms listed in the test sound familiar, you may want to talk to a therapist.
If you have suicidal thoughts or consider self-harm, please immediately contact the 988 Suicide & Crisis Lifeline.
What can trigger existential depression?
You might be wondering if some people are more prone to experiencing existential depression than others. One of the myths about depression is that it mainly affects people who are intelligent. But when it comes to existential dread, there might be some truth in that.
From what studies are telling us, it's possible that intellectually gifted individuals are at higher risk of suffering from the so-called crisis of meaning.
Additionally, some factors might contribute to one developing existential depression. For example, if you experienced a loss in your family or were diagnosed with a terminal disease, you might be more likely to wonder about the inevitability of death.
Besides these reasons, since we spend the majority of our lives working, dissatisfaction with a job might also deepen your existential dread.
How to deal with existential depression
Existential depression might affect your relationships, make you feel disconnected from your values, and lead to identity loss. To put it simply, it makes it difficult for you to enjoy life. Once you've realized that something needs to change, you're already making progress and might benefit from trying out some of these ways to cope.
Learn about radical acceptance
The truth is that no matter how much you wish things were different, it's impossible to control everything that happens in your life, and the sooner you'll accept that we have to live with some degree of uncertainty, the sooner you'll be able to find meaning and enjoyment.
The best way to start is to practice radical acceptance, which is especially helpful if your existential dread arose from an upsetting event or if you tend to feel guilty about your past choices.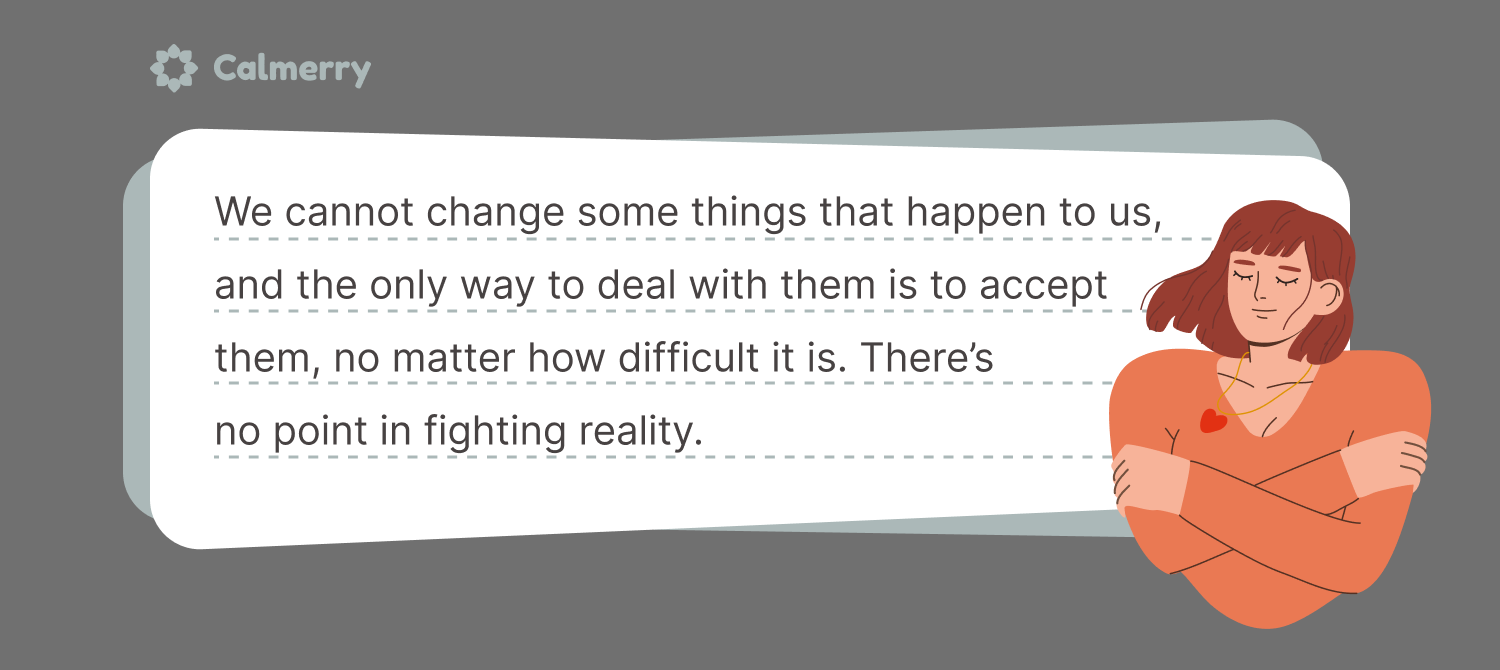 Radical acceptance is a concept that recognizes pain as a part of life but believes that acknowledging it can prevent it from turning into life-long suffering. For example, if your loved one suddenly passed away, it's natural to ruminate over the injustice of life, but their death is still a fact you can't change, and if you keep fighting the reality, this could prolong your happiness.
Whenever you worry about things you have no control over, remind yourself that life isn't perfect, and it's not supposed to be. Even though you don't know what might happen in the future, there are still aspects of your life you can control.
For example, you can focus on living according to your values and take one step at a time: ask yourself what your life would look like if you accepted the way things are, and make sure you do something that brings you closer to your goals every day.
Let out your fears and change your mindset
When you dread the future, it can be helpful to remind yourself that you aren't alone. We're all heading toward the same end, and discussing your worries with someone you trust can make you feel more supported and less alone. Other people might also be able to offer you an alternative perspective on life.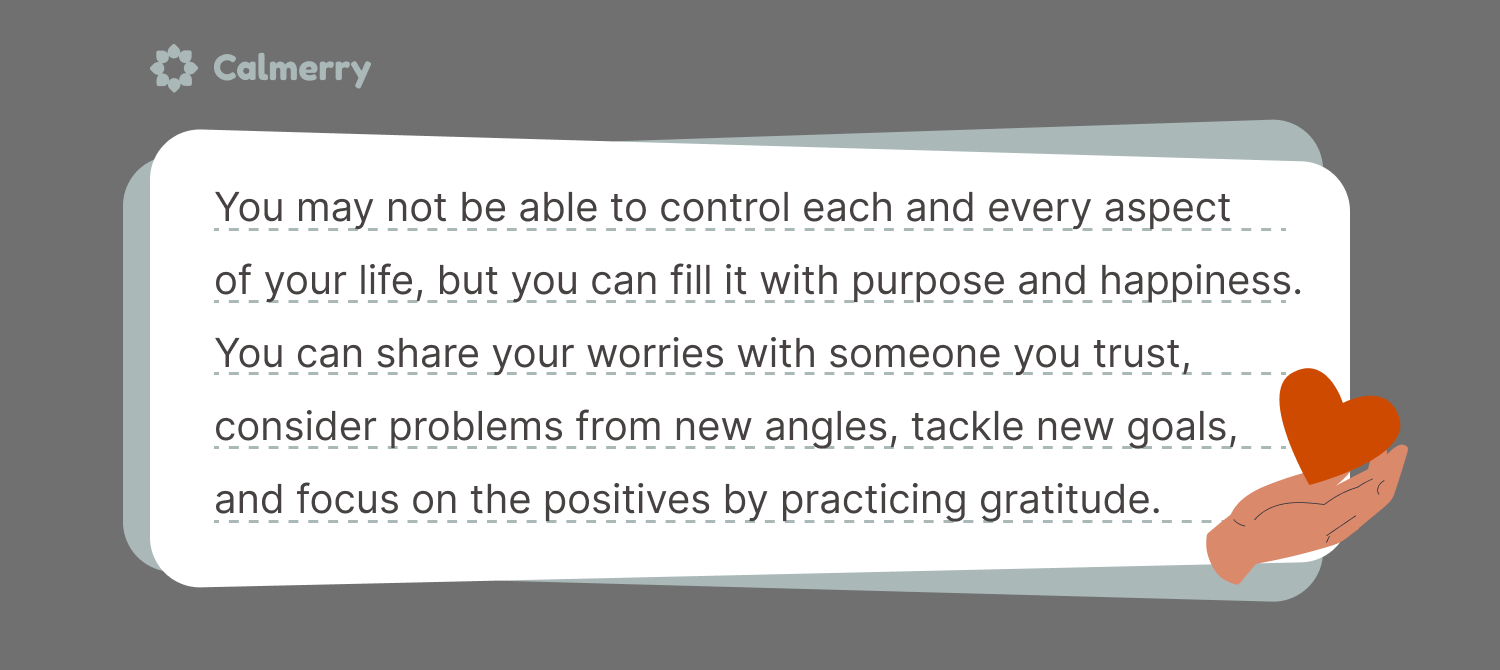 A great way to express your distress can be journaling. Putting your thoughts on paper can not only let you release the negative feelings but also makes it easier to address the existential dread.
For example, if you feel hopeless because you believe there's no point in achieving your goals, it might lead you to a question: what can you do to make your life more purposeful?
And once you find it easier to focus on the positives, you might also consider keeping a gratitude diary where you list everything you're grateful for.
Practice positive affirmations
While some questions will always remain unanswered, you don't have to spend your life feeling uncertain. With the help of positive affirmations, it's possible to increase your sense of safety and learn how to cope better.
Positive affirmations are statements that aim to help you overcome negative thoughts, and can be repeated in front of a mirror every day.
Here are a few examples you can use:
"I am where I'm supposed to be in life"
"I can take it one day at a time"
"The universe is working in my favor"
"I'll be fine wherever I end up"
"I'm safe"
Existential depression treatment
Sometimes, practicing coping skills isn't enough to deal with some of the feelings you're experiencing, and the best option might be to seek depression therapy.
Since existential depression is rather a slang term used to describe symptoms of depressive disorders, you should consider treatment that has been found effective in treating depression, such as Cognitive Behavioral Therapy (CBT).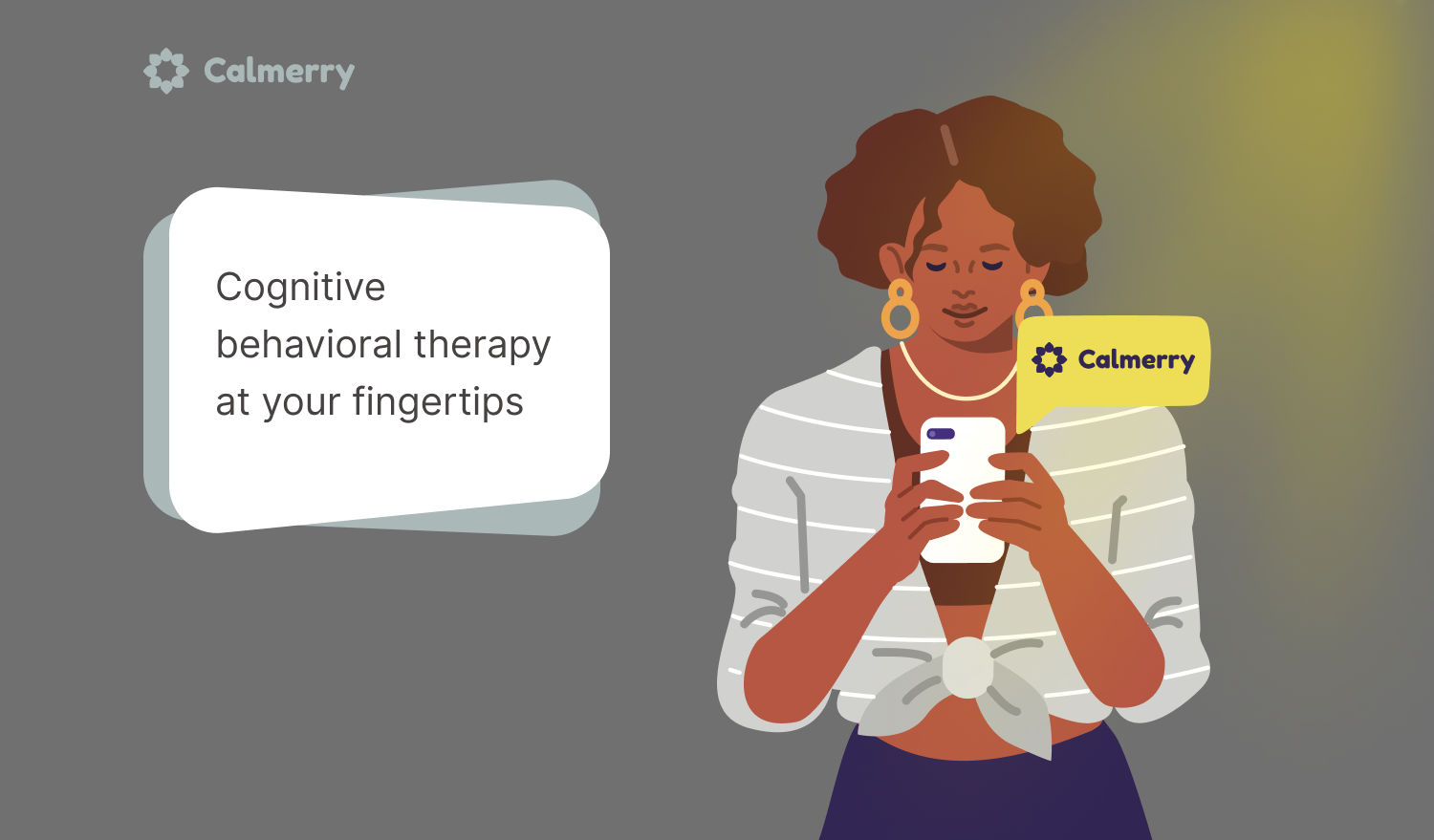 CBT can help because it uses the "downward arrow technique" that helps identify core beliefs, which might be contributing to the existential crisis. There are also other types of depression therapy, including interpersonal therapy and psychodynamic therapy.
The best way to receive the appropriate existential depression treatment is to discuss your situation with a mental health professional who can help you find therapy suited to your needs. Calmerry can match you with a licensed therapist from your state within just an hour, so please don't hesitate to ask for help.
Сheck your mental well-being for free: