Published November 8, 2023
Darkness Visible: Coping With "Crippling" Depression
Reading Time:
5
minutes
Depression is the number one cause of disability worldwide, with nearly 5% of the population experiencing some form, according to the World Health Organization. 
Anyone who suffers from depression knows how all-encompassing the condition can be. For some, the symptoms are severe enough to be debilitating or "crippling."
What is "crippling" depression?
"Crippling" depression is not a clinical diagnosis but an informal term used to describe depression that is so severe it inhibits basic functioning.
People with crippling depression often have trouble completing daily activities such as bathing, eating, getting dressed, or going to work.
The term crippling depression is relatively new. It was popularized by YouTuber Ian Carter, who in 2016 posted a video of himself jumping into a wheelchair and announcing, "I have crippling depression." The video went viral, and the term was soon adopted by people who felt it captured the experience of severe depression.
The term is not without controversy, however. People with physical disabilities argue that the word "crippling" reinforces ableism and minimizes the challenges they face on a regular basis. They point out that although it may be difficult for someone with severe depression to get out of bed unassisted, they're physically capable of doing so in a way that someone with partial paralysis is not.
The words we choose impact how people perceive and understand mental health conditions. They can either help to reduce stigma or perpetuate harmful stereotypes.
In an effort to use informed language in this article, the terms severe depression and debilitating depression will be substituted for crippling depression.
Symptoms of debilitating depression
People with severe depression suffer many of the same symptoms as people with major depressive disorder, but the symptoms are more constant and extreme.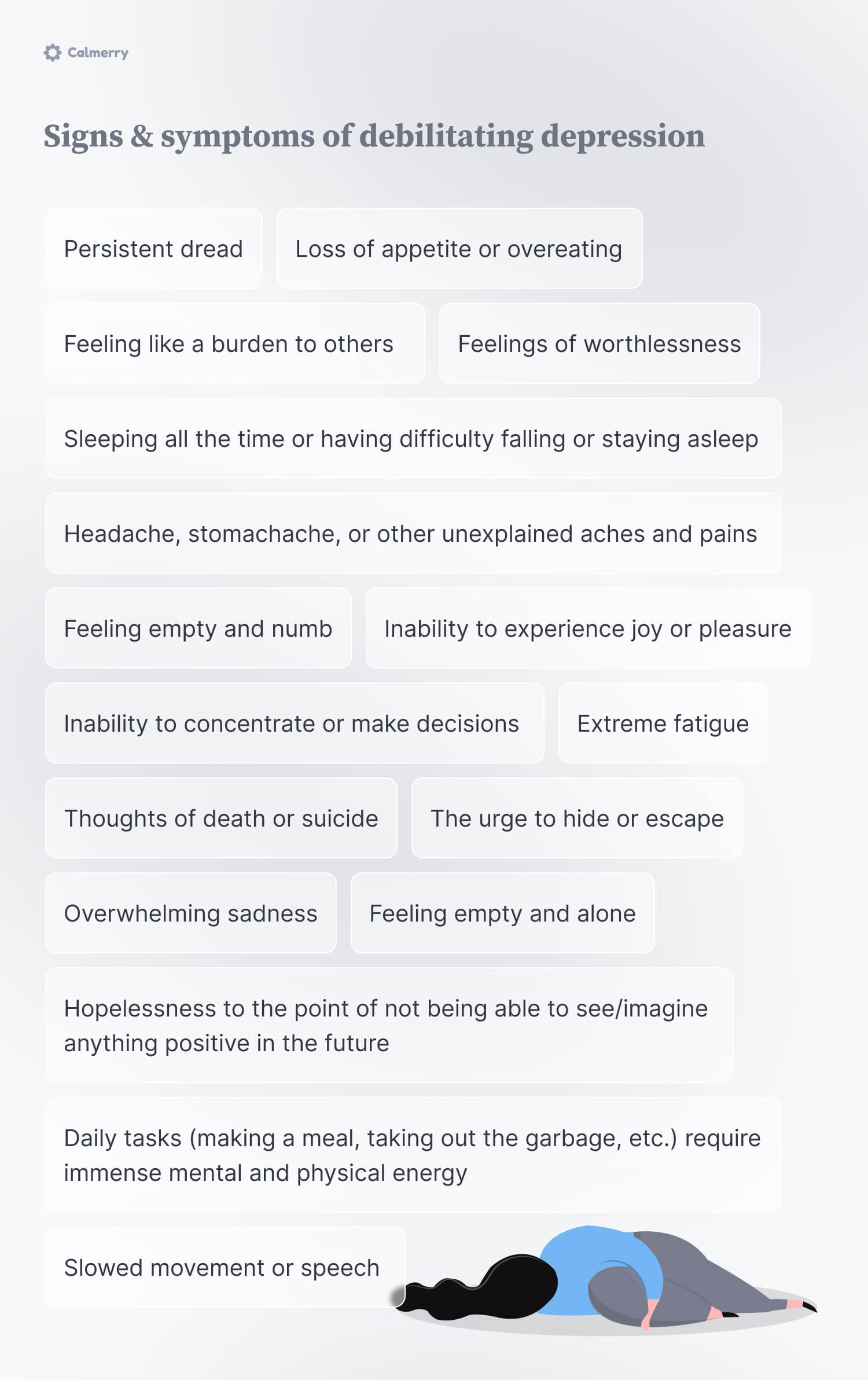 Tasks that non-depressed people accomplish with ease – such as making a meal, taking out the garbage, or returning a phone call – require immense mental and physical energy for someone with severe depression.
People with this type of depression may also experience the following symptoms:
Overwhelming sadness
Feelings of worthlessness
Feeling like a burden to others
Hopelessness to the point of not being able to see/imagine anything positive in the future
Inability to experience joy or pleasure
Feeling empty and numb
Persistent dread
The urge to hide or escape
Sleeping all the time or having difficulty falling or staying asleep
Loss of appetite or overeating
Extreme fatigue
Slowed movement or speech
Inability to concentrate or make decisions
Headache, stomachache, or other unexplained aches and pains
Feeling empty and alone
Thoughts of death or suicide*
*If you or someone you know is having suicidal thoughts or feeling unsafe, call your local suicide hotline or emergency services number.
Although not every person with debilitating depression will suffer all of the above, the symptoms are typically severe enough to cause impairment in multiple areas of life. 
People with debilitating depression might miss school, work, or other commitments as a result of their symptoms. Their relationships are often impacted as they withdraw from family and friends, exacerbating their feelings of disconnection.
How to cope with debilitating depression
Debilitating depression is not something you can battle alone. Whether it's the support of family and friends or a professional, enlisting the help of others is an important first step toward recovery.
However, there are things that you can do on your own to alleviate some of the symptoms of severe depression.
Most important is to cut yourself some slack when your depression is at its worst. It may help to think of it as a physical illness. If you had the flu, you wouldn't expect to function as you do when you are healthy. You would clear the schedule and practice good self-care. 
Here are some other things you can do to cope with debilitating depression:
Scrap your usual to-do list
Instead, choose just one thing you would like to accomplish – for example, shower, get dressed, or have breakfast – and focus on that.
If this seems insurmountable, try incorporating some sort of reward – for example, "If I take a shower and get dressed, I can play games on my phone for 20 minutes afterward."
Make a list of people you can call upon for help
Ask them to check in on you regularly. Alternatively, you can use an app like notOK to alert friends and family that you need their support.
Stick to some form of routine
One thing that the COVID-19 pandemic demonstrated is the importance of routines for mental health. [1] Hou, W. K., Lai, F. T. T., Ben–Ezra, M., & Goodwin, R. (2020). Regularizing daily routines for mental health during and after the COVID-19 pandemic. Journal of Global Health, 10(2). https://doi.org/10.7189/jogh.10.020315 Try to maintain at least some aspect of your usual routine – for example, waking up and going to bed at your usual times.
Try to get some exercise
This doesn't have to be a 45-minute gym session. Take a walk around the block or to the mailbox. Do some light stretching or a short yoga session.
Exercise in any form releases endorphins, which can help to counteract the symptoms of debilitating depression.
Connect with nature
A study at Stanford University found that people who walked for 50 minutes in nature felt significantly less depressed and anxious than those who walked in an urban environment. [2] Bratman, G. N., Daily, G. C., Levy, B. J., & Gross, J. J. (2015). The benefits of nature experience: Improved affect and cognition. Landscape and Urban Planning, 138, 41–50. https://doi.org/10.1016/j.landurbplan.2015.02.005  
Live in a city? Find a public park. Bad weather? Research shows that even looking at photos of nature can improve subjective well-being.
Celebrate small wins
Depression makes it difficult to recognize your accomplishments. But when you have debilitating depression, simply getting through the day is a noteworthy feat!
Celebrate your wins, even if they seem insignificant. Whether it's reaching out to a friend, getting out of bed, or eating a nutritious meal, recognizing these efforts will help you to build momentum and a more positive mindset. 
Of course, none of the above is easy when you have severe depression. Done consistently and collectively, however, these activities can have a significant impact on your mental health. Think of each strategy as a small step in a staircase that can eventually lead you out of depression.

– Lindsay Renner Schwartz, Licensed Clinical Social Worker (LICSW)
Treatment options for debilitating depression
Hippocrates, the ancient Greek "father of medicine," believed depression was caused by an imbalance of bodily fluids. The cure? Bloodletting. Other ancient treatments for depression included exorcism and drowning. [3] Schimelpfening, N. (2023, March 27). The history of depression. Verywell Mind. https://www.verywellmind.com/who-discovered-depression-1066770  
Thankfully, there are humane and evidence-based alternatives today. Here are some of the most common treatments for debilitating depression:
Psychotherapy
Treatment for depression often includes psychotherapy, also known as talk therapy.
For example, cognitive-behavioral therapy, or CBT, can help to change the negative thought patterns associated with severe depression. 
Other types of psychotherapy for depression include psychodynamic therapy and acceptance and commitment therapy (ACT). 
Whether you opt for in-person counseling or online therapy, a licensed professional can help determine the best approach for you.
Medication
Medication can also be helpful in alleviating the symptoms of severe depression. The most commonly prescribed are selective serotonin reuptake inhibitors, or SSRIs, such as Prozac and Zoloft.
However, there are other classes of antidepressants that target different neurotransmitters to improve mood and energy. A psychiatrist or licensed physician can help you decide whether medication is right for you.
Brain stimulation therapies
Brain stimulation therapies like electroconvulsive therapy (ECT) or transcranial magnetic stimulation (TMS) are used when standard treatments like psychotherapy and medication have failed to provide adequate relief. 
ECT uses a brief electrical stimulation administered by a team of medical professionals, while TMS uses magnetic fields to stimulate nerve cells in the brain.
Both therapies affect brain activity to improve symptoms of severe depression.
Residential treatment or intensive outpatient programs
Sometimes, people with debilitating depression need more intensive support.
Residential treatment programs provide round-the-clock care by a multidisciplinary team of mental health professionals, including therapists and medical doctors.
Intensive outpatient programs (IOPs) provide a level of care between weekly therapy and residential treatment. Like residential programs, IOPs include individual and group therapy, but for 3 to 6 hours a day, 3 to 5 days a week.
Both treatments offer a break from the stressors and triggers of everyday life, creating a space where you can focus your energy on recovery.
Conclusion
The impact of severe depression is so profound and pervasive that it can aptly be described as debilitating or "crippling."
Perhaps this is what author William Styron was attempting to capture when he wrote:
In virtually any other serious sickness, a patient who felt similar devastation would be lying flat in bed, possibly sedated and hooked up to the tubes and wires of life… His invalidism would be necessary, unquestioned and honorably attained. However, the sufferer from depression has no such option.

– William Styron, American novelist and essayist
Styron ultimately recovered from his depression through a combination of outpatient and inpatient therapy. Thirty years after the publication of his memoir Darkness Visible, there are even more treatment options available, including psychotherapy, medication, and brain stimulation. 
The difficult but important first step is to reach out to a licensed professional who can help you determine the best course of treatment. Hopelessness might be a hallmark of depression, but as author John Greene aptly notes, "There is hope, even when your brain tells you there isn't."
We curate our articles with warmth and care, drawing from reputable sources and expert knowledge. Explore our editorial process to understand how we prioritize your trust and keep accuracy in every word we share.
Hou, W. K., Lai, F. T. T., Ben–Ezra, M., & Goodwin, R. (2020). Regularizing daily routines for mental health during and after the COVID-19 pandemic. Journal of Global Health, 10(2). https://doi.org/10.7189/jogh.10.020315
Сheck your mental well-being for free: