Published November 6, 2023
How to Support Your Depressed Manager as a Leader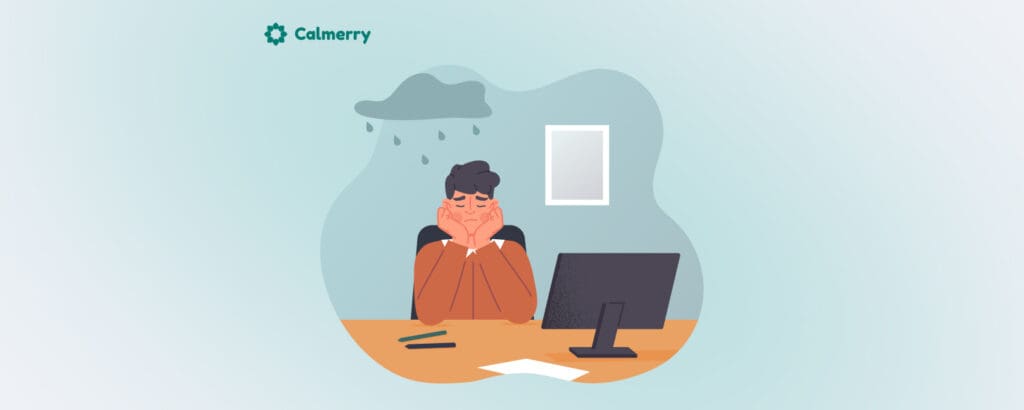 Reading Time:
6
minutes
Managers are often placed on pedestals – viewed as having unwavering strength and resilience – seeming immune to the anxiety and stresses of the work environment. [1] Cloutier, A., & Barling, J. (2023). Expectations of leaders' mental health. Journal of Leadership & Organizational Studies, 30(3), 276–296. https://journals.sagepub.com/doi/10.1177/15480518231178637
They're presumed to wear invincible armor against burnout and workplace pressures.
Yet, behind closed doors, they are struggling – silently grappling with the immense psychological toll of their roles and the constant pressure to perform.
It's time we dismantle this illusion and shine a spotlight on the importance of mental well-being in leadership positions.
Is being a manager mentally exhausting?
Yes, being a manager can be mentally exhausting. The role of a manager typically involves juggling a variety of roles and challenges.
Managers are often the person in the middle of the CEOs or organizational leaders and the employees. They have to move from one role to the other and are tasked with relaying information between both parties, while also keeping the day running smoothly.
Managers frequently find themselves in the middle of conflicts, whether between team members or with clients, which can be mentally taxing.
Managers are also saddled with dual responsibilities. They are responsible for getting their own work done while simultaneously being responsible for their teams' work.
This dual responsibility and role-switching can be mentally exhausting and lead to burnout.
The importance of mental well-being in leadership positions
Too often, managers put the well-being of the business or their team over their own needs. They may be forced to put their own personal issues and struggles aside to focus on the well-being of those around them.
But how can a manager help others when they can't seem to help themselves?
Addressing mental health and supporting your depressed manager is important for the continued success of the company or business. The manager is the leader of the team. So, their health and well-being directly impact that team and the people they serve.

– Veronica Silver, Therapist-turned mental health writer
Supporting the manager in good mental health sets a positive example to the team and can improve employee satisfaction.
The ability to recognize and understand emotions – emotional intelligence – is one of the skills of good leadership. [2] Emotional intelligence in Leadership: Why it's important. (2019, April 3). Business Insights Blog. https://online.hbs.edu/blog/post/emotional-intelligence-in-leadership So, an emotionally supported manager is more likely to be positive, motivating, and supportive, which can inspire and elevate the entire team.
Prioritizing mental well-being for managers also leads to good decision-making. A manager's ability to make sound, timely decisions is crucial. Difficulty making decisions is a core symptom of depression. [3] Leykin, Y., Roberts, C. S., & DeRubeis, R. J. (2010). Decision-Making and Depressive symptomatology. Cognitive Therapy and Research, 35(4), 333–341. https://doi.org/10.1007/s10608-010-9308-0
Therefore, good mental health fosters clarity of thought and balanced judgment. This ensures that the manager's decisions are made rationally rather than emotionally.
Signs a manager might be dealing with depression
Depression can sometimes be difficult to spot. It can appear as persistent sadness, difficulty sleeping, change in appetite, or all of the above. [4] Depression. (n.d.). National Institute of Mental Health (NIMH). https://www.nimh.nih.gov/health/topics/depression
People experience depression differently, but there are ways to spot signs that your manager might be dealing with depression.
1. Changes in attitude
You might notice your manager withdrawing from team activities or not speaking up as much in meetings. A depressed manager might also be more irritable or impatient than usual. They might exhibit more agitation and have a shorter fuse.
2. Difficulty concentrating or making unusual mistakes
A depressed manager might appear to be less focused, have difficulty concentrating, and even start making unusual mistakes.
3. Decrease in productivity
Because of the depression, you might notice a decrease in the manager's productivity and managing responsibilities. They might consistently miss deadlines or neglect their responsibilities.
4. Changes in appearance
You might notice neglect in appearance and personal grooming in a manager dealing with depression. They might appear worn down or have noticeable signs of significant weight loss or weight gain.
5. Increased absenteeism
A depressed manager might start taking more sick days than usual or more frequently arriving late or leaving early.
6. More subtle sings
While many employees can also exhibit these signs of depression, there might be subtle differences in a depressed manager, given their authority and responsibility.
Depressed managers may be more adept at hiding their emotional turmoil due to their high-functioning status or fear of losing their position.
There are many corporate organizations that still employ a culture of drinking – whether at work functions, after hours for social connection, or at dinners with clients. [5] Carnegie, M. (2023, March 22). Why workplace drinking culture is fading fast. BBC Worklife. https://www.bbc.com/worklife/article/20230320-why-workplace-drinking-culture-is-fading-fast So it might also be difficult to spot risky behaviors, like excessive drinking, if it's being encouraged in the work environment.
Of course, there could be many reasons for physical or behavior changes in a person, so it's important to note whether these issues or behaviors are out of character for them and to approach them with compassion and empathy.
What to do if your manager is depressed?
Given how important mental health is to morale and productivity in the workplace, how can you support employee mental health? [6] Picard, J. (2023, May 2). The importance of mental health support in the workplace. In Bloom Project. https://inbloomproject.com/blog-2/the-importance-of-mental-health-support-in-the-workplace
Approaching a manager who might be dealing with depression requires tact, empathy, and sensitivity. The goal is to express concern, offer support, and encourage them to seek professional help if needed.
Choose the right timing and setting
Avoid stressful moments. It's best not to approach them during peak work hours or when they are visibly stressed. Choose a time when they seem more approachable and calm.
Ensure you have enough time for a meaningful conversation and are not rushed. You'll also want to make sure the conversation is in a private space to eliminate embarrassment or make the manager feel put on the spot.

– Veronica Silver, Therapist-turned mental health writer
Use empathetic and supportive language
Start the conversation by expressing your concern based on observable behaviors, without making assumptions about their mental health. For example, "I've noticed you've been coming into work late and seemed stressed lately, and I'm concerned about you."
Make sure your language is supportive and non-judgmental. Avoid phrases that could be perceived as accusatory or minimizing their experience. Let them know you are there to support them and ask how you can help.
Be a good listener
Give them your full attention and show that you are actively listening through your body language and verbal affirmations. Avoid jumping to conclusions or trying to diagnose their condition. Encourage them to speak to a mental health professional for an accurate assessment.
Follow up
Follow up with them after your initial conversation to show ongoing support and concern. Ensure that any information they share with you is kept confidential, unless there is an immediate risk to their safety or the safety of others.
Approaching a manager who might be dealing with depression requires a thoughtful and supportive approach. Avoid downplaying their feelings or offering simple solutions like, "Maybe you just need a vacation".
Remember to respect their privacy and promote a supportive work environment.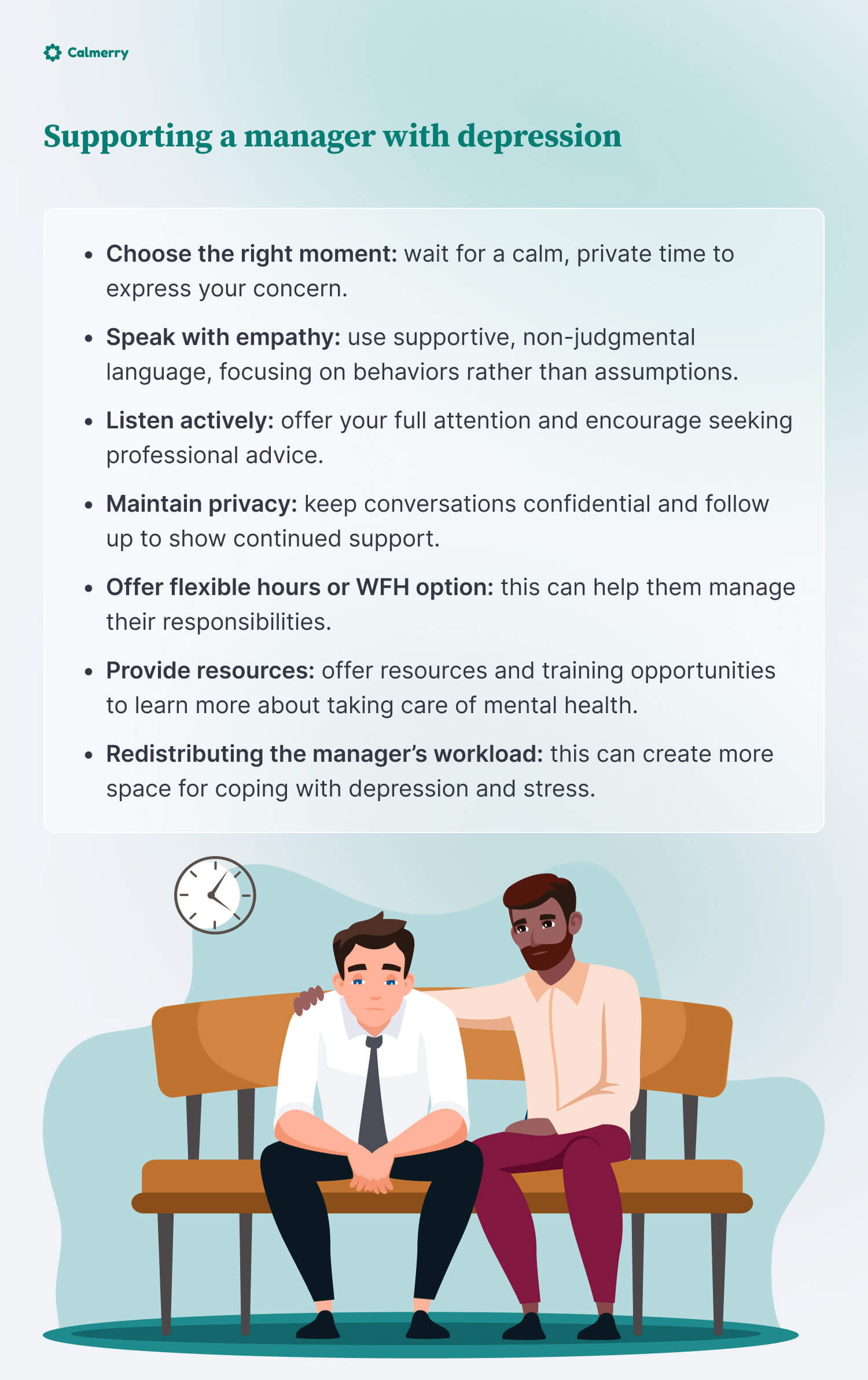 Strategies to support a depressed manager
1. Encourage open conversations
It's important to encourage a work environment where all employees, including managers, feel open to having conversations and discussing mental well-being.
This can promote an environment where people feel seen and heard and are comfortable discussing any potential struggles. [7] Novotney, A. (2023, April 21). Why mental health needs to be a top priority in the workplace. https://www.apa.org. https://www.apa.org/news/apa/2022/surgeon-general-workplace-well-being
2. Offer flexible hours and support
If your manager is dealing with depression, if possible, offer flexible working hours or the option to work from home. This could help accommodate therapy or counseling sessions.
To reduce stress and anxiety, assist in redistributing the manager's workload temporarily, or provide additional support to help them manage their responsibilities.
3. Promote work-life balance
Promote a healthy work-life balance. Encourage taking breaks, using vacation time, and maintaining a balance between work and personal life.
You can also make sure the organization has easy access to mental health resources.
4. Provide resources and training opportunities
Managers and employees can be supported in their mental well-being by offering resources and training opportunities to learn more about taking care of mental health.
It can also show that the company values and prioritizes positive mental wellness.
Employee Assistance Program (EAP): ensure they have access to EAPs that offer employee mental health services.
Counseling services: provide information on external counseling services for employees available.
Mental health apps: share recommendations for mental health apps that offer resources and tools to manage stress and depression.
Educational materials: distribute educational materials on depression and strategies for managing mental health.
Leadership training: include modules on self-care and mental health management in leadership training programs.
Workshop on creating a supportive environment: conduct workshops aimed at creating a stigma-free and supportive work environment.
By implementing these strategies, organizations can create a supportive environment that acknowledges the importance of mental well-being for managers, helping them navigate their responsibilities while managing their mental health.
The importance of professional mental health treatment
Creating an environment of psychological safety at work is important to the overall well-being of managers and employees.
The first step in creating psychological safety is encouraging people to seek professional mental health treatment. This means providing access to licensed healthcare professionals and offering opportunities to employees to be able to attend sessions if needed.
Organizations that prioritize mental health are likely to have more employee loyalty and improved employee satisfaction, which can lead to improved productivity, greater innovation, and increased motivation. [8] Contributors, G. (n.d.). Why Prioritizing Mental Health is Good for Employees and Employers. Nasdaq. https://www.nasdaq.com/articles/why-prioritizing-mental-health-is-good-for-employees-and-employers
So, investing in mental health not only supports the well-being of the workforce but also translates into tangible benefits for the organization, leading to a healthier bottom line and a resilient, thriving work community.
If you're ready to provide access to professional support to your team, Calmerry is here to discuss your and your team's needs.
Let's connect
Book a 30-min demo call with us to learn more about our B2B offering and how Calmerry can help take the pressure off your team through flexible, customizable, and holistic therapy.
See a live demonstration of how platform works
Have an overview of our flexible payment models
Get a tailored offer based on your company needs and number of employees
We curate our articles with warmth and care, drawing from reputable sources and expert knowledge. Explore our editorial process to understand how we prioritize your trust and keep accuracy in every word we share.
Сheck your mental well-being for free: