Published June 7, 2023 / Updated June 15, 2023
Women in Leadership: Calmerry's 2023 Research on Workplace Challenges and Solutions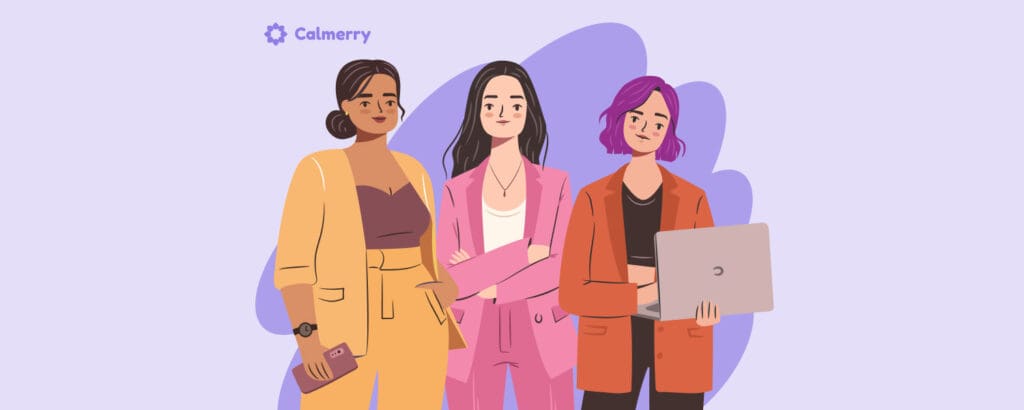 Reading Time:
9
minutes
In 2022, the first signs of recession emerged alongside a massive wave of layoffs in the US market as companies tried to cut expenses. According to the US Government Accountability Office research, leadership positions were tasked with executing these decisions, and 42% of these leaders were women. 
These women were already grappling with breaking through the glass ceiling, combating workplace stereotypes, and finding a balance between work and family.
So, at Calmerry, we started industry research in October 2022 to delve deeper into the challenges faced by women leaders in the workplace.
We sought to understand the problem from their perspective and surveyed over 150 women in managerial positions, such as Head of People, Team Lead, VP, and Senior Manager. All of them worked closely with their teams, facing various challenges together.
Our aim was to shed light on the personal challenges for women in leadership, the team challenges they try to resolve, and how companies support them in their efforts. Here, we'll also provide valuable insights that can drive positive change, foster inclusivity, and empower women in leadership roles.
Download the Calmerry's Support for Female Leaders 2023 report in PDF. Explore more infographics inside.
Throughout this article and our research, we use the terms "woman" and "female" to encompass all individuals who identify themselves as women. We recognize and respect the diverse identities and experiences within this group.
Speaking of women in leadership statistics…
Understanding the current landscape of women in leadership roles is crucial for recognizing the challenges they face and driving meaningful change.
Let's explore some key statistics:
Despite progress in recent years, women continue to be underrepresented in leadership positions. In the US and Canada, they hold about 37% and 35% of leadership positions.
Women of color continue to be underrepresented in leadership positions across industries. They make up only 1% of C-suite executives in Fortune 500 companies.
Disparities exist in the representation of female leaders across different sectors. Some sectors, such as technology and finance, have historically had lower levels of female representation in leadership positions. But there are also sectors where women have made significant strides in leadership, such as healthcare and education.
The gender pay gap persists, with women earning less compared to men in similar roles in many industries. According to the Census Bureau, women of all races earned, on average, 82 cents for every $1 earned by men of all races. And the wage gap is larger for most women of color. 
Women leaders often face numerous barriers to career growth and advancement, including biases, stereotypes, and limited opportunities for mentorship and sponsorship. These barriers can contribute to the underrepresentation of women in senior leadership roles.
In the following sections, we will delve into these challenges, accompanied by our research findings into the experiences of women managers as they navigate their professional journeys.
Top challenges women in leadership face
Navigating the corporate landscape as a woman leader may be an empowering yet formidable journey, marked by various challenges. Let's explore some of the most prevalent obstacles female leaders encounter in the workplace and shed light with our findings.
Here's an overview of the biggest problems of female leadership in the workplace, according to our research: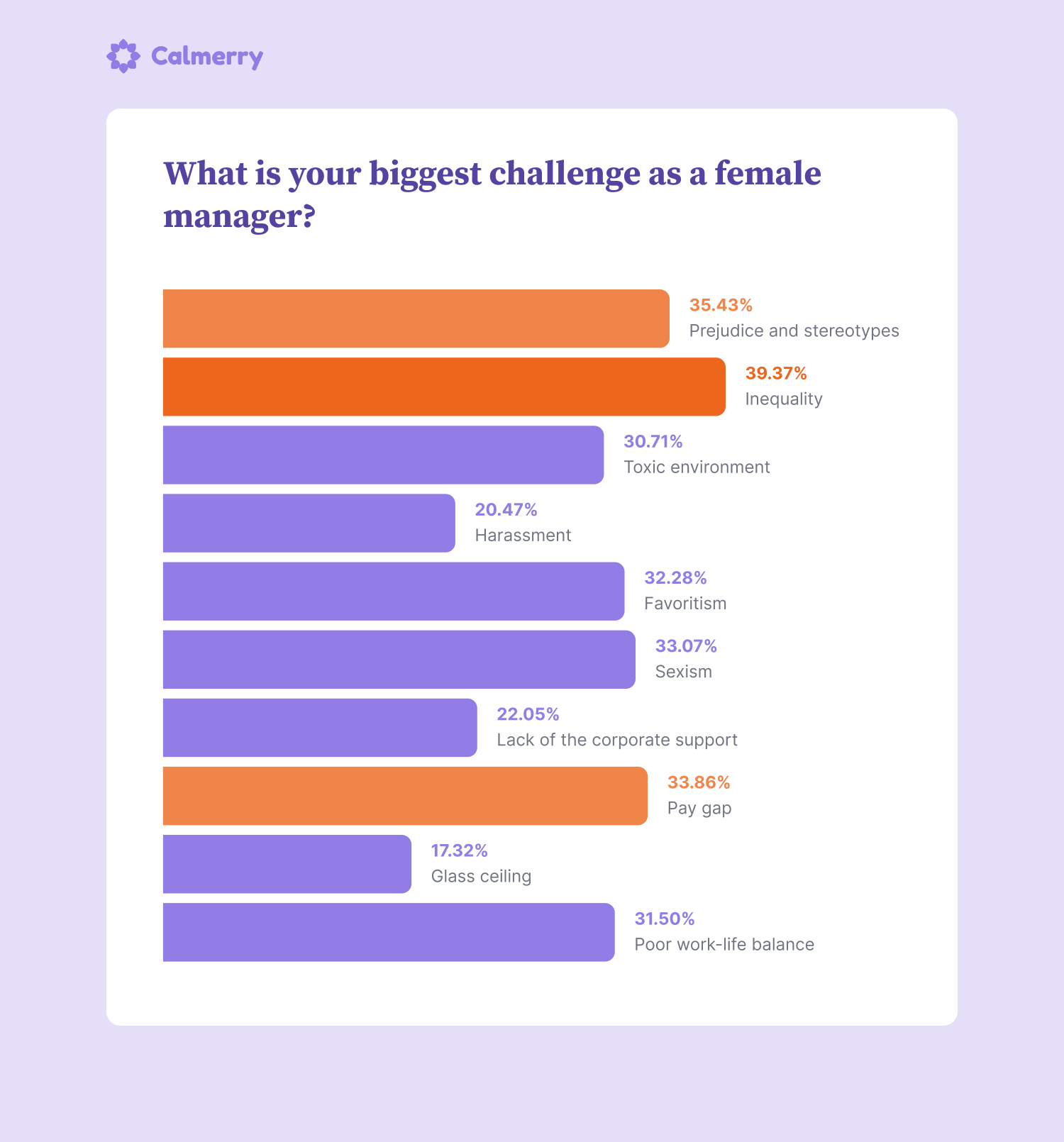 Inequality
Gender inequality persists in many workplaces, impeding women leaders' opportunities for advancement and equal treatment. This inequality manifests in:
Disparities in compensation
Limited access to leadership roles
Systemic barriers that impede women's professional growth
Bias against mothers, and many other forms
In our research, over 39% of responders acknowledged this challenge as the leading one.
Addressing gender inequality requires proactive measures, such as:
Promoting diversity initiatives
Implementing strategies to eliminate unconscious bias in recruitment and promotion processes
Ensuring transparent, equal pay policies
Providing mentorship and sponsorship opportunities for women leaders
Prejudice and stereotypes
Prejudice and stereotypes can pose significant hurdles for female leaders, hindering their professional progress and influencing how they are perceived and treated.
These biases may manifest as preconceived notions about:
Women's capabilities
Leadership styles
Or suitability for certain roles
Our research revealed that over 35% of women in positions of power identify prejudice and stereotypes as significant challenges. Overcoming these biases requires dismantling deeply ingrained stereotypes and promoting a more inclusive and equitable work culture.
Pay gap
The persistent gender pay gap was acknowledged as a challenge by almost 34% of female responders. Despite progress made in recent years, a significant gender pay gap still persists, impacting women leaders' financial security and professional recognition.
Addressing the pay gap requires companies to:
Conduct regular pay equity analyses
Establish transparent compensation structures
And actively work towards closing the gap to ensure fair remuneration for all employees
Sexism
Sexism in the workplace manifests in various forms, even in the most subtitle ones. Some examples include:
Microaggressions
Double standards
Derogatory comments
Objectification
Sexist humour or jokes, and other forms
These biases can impact women's self-esteem, credibility, and professional development.
Sexism also emerged as a significant challenge – over 33% of women leaders reported its impact on their experiences and advancement.
Organizations need actively address and challenge sexist behaviors. Fostering a culture of respect and providing gender-sensitivity training to promote an inclusive and equitable environment are important steps to take.
Favoritism
Our research findings indicated that over 32% of women leaders faced challenges related to favoritism. The prevalence of favoritism can be a significant challenge for them, as it can undermine their opportunities for growth and advancement.
When certain individuals are given preferential treatment based on personal relationships or biases, it hampers fair decision-making processes and can create a sense of disillusionment among women in leadership roles.
Promoting transparency, accountability, and meritocracy is crucial in combating favoritism within organizations.
Poor work-life balance
Balancing professional responsibilities with personal life, commitments, and well-being is essential for sustainable leadership. But achieving a healthy work-life balance remains a challenge for many women leaders – for over 32% of them in our research. It can be due to societal expectations, dual roles, and limited workplace flexibility.
Companies can promote work-life balance by implementing flexible work policies, providing support for caregiving responsibilities, and cultivating a culture that values holistic well-being.
A word on burnout
Almost half of the women leaders surveyed reported their work-life balance is often or always disrupted. And half experienced high levels of burnout.
The percentage of women admitting their work-life balance is always disrupted correlates with the number of women experiencing the highest levels of burnout.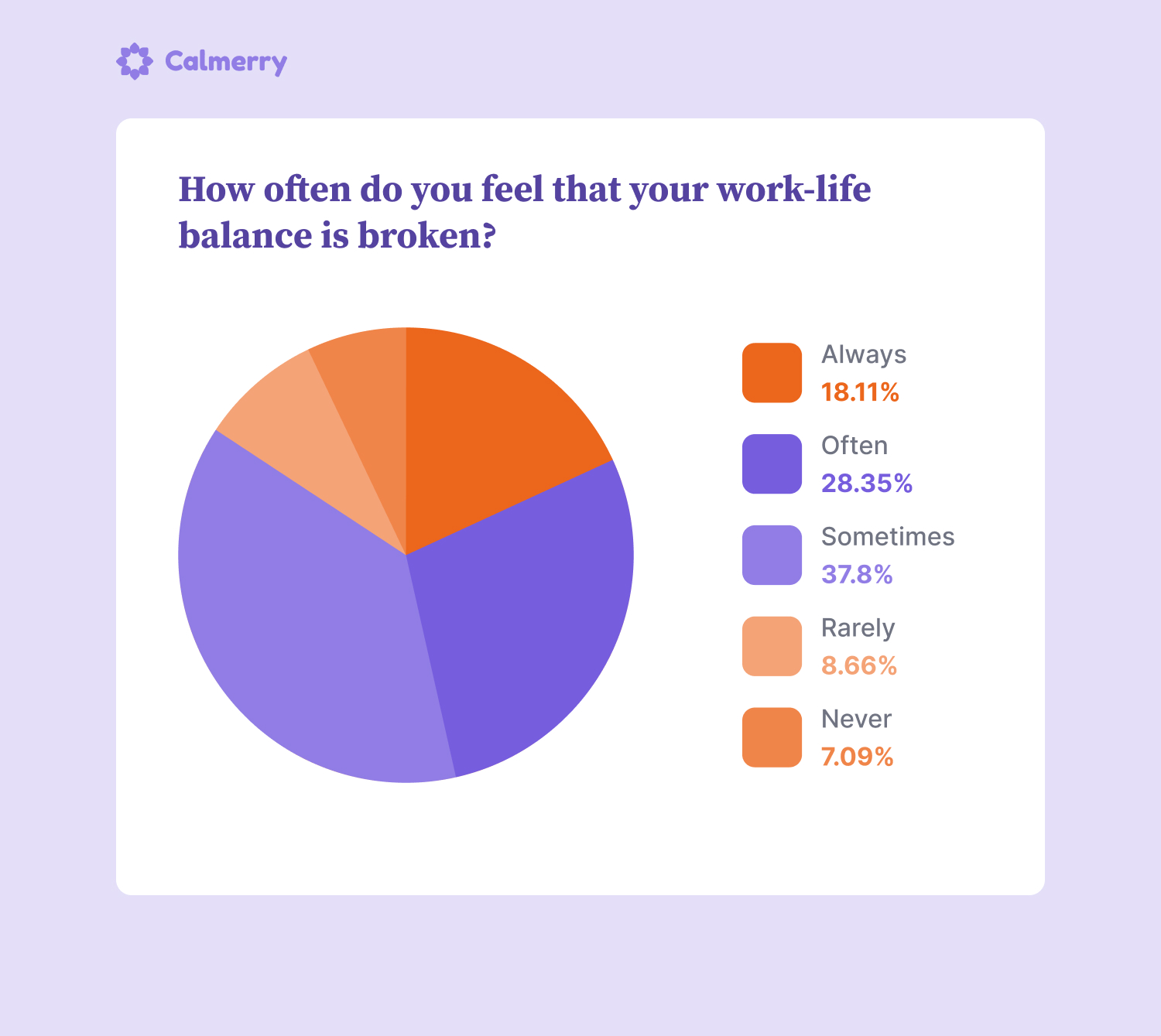 Toxic environments
Toxic work environments can have detrimental effects on women leaders' well-being and professional growth. These environments may be characterized by bullying, harassment, or a lack of psychological safety.
Our research uncovered that 31% of female leaders identified toxic work environments as a pressing challenge.
Creating a supportive and inclusive work culture that prioritizes respect, empathy, compassion, and open communication is essential for fostering a conducive environment where employees can thrive.
Lack of corporate support
Many women leaders face a lack of adequate support from their organizations to address the unique challenges they encounter. In the Calmerry findings, 22% of female managers reported this issue.
Insufficient resources, limited mentorship opportunities, and a lack of well-being programs can hinder their growth.
Investing in comprehensive support systems and resources that specifically cater to the needs and aspirations of women leaders can help them and companies succeed.
Harassment
Harassment, whether verbal, physical, or psychological, is a distressing reality for many employees. It creates an environment of fear, erodes confidence, and compromises their ability to perform effectively.
Over 20% of women in managerial positions reported harassment as a significant challenge in the Calmerry research.
Establishing robust policies against harassment, implementing comprehensive training programs, and cultivating a culture of zero tolerance to emotional or physical abuse are vital steps toward ensuring the safety and well-being of women leaders and all workforce.
Glass ceiling
The concept of the glass ceiling resonated with 17.32% of our responders.
The glass ceiling represents an invisible barrier that impedes women's progress into upper leadership positions. It limits their access to key decision-making roles and hinders career advancement opportunities.
To break the glass ceiling, organizations need to commit to:
Assessing their work environment by asking employees for their views
Fostering diversity and inclusion
Offering mentorship and sponsorship programs
Challenging structural biases that create gender disparities
Workplace anxiety
We also took a closer look at this common workplace problem. For our responders, heavy workloads and communication with managers are the main causes of workplace anxiety. It reveals a vicious cycle of stress between middle and top managers.
The root cause of problems with women leaders' mental health appears deeply ingrained in work and goal-setting approaches.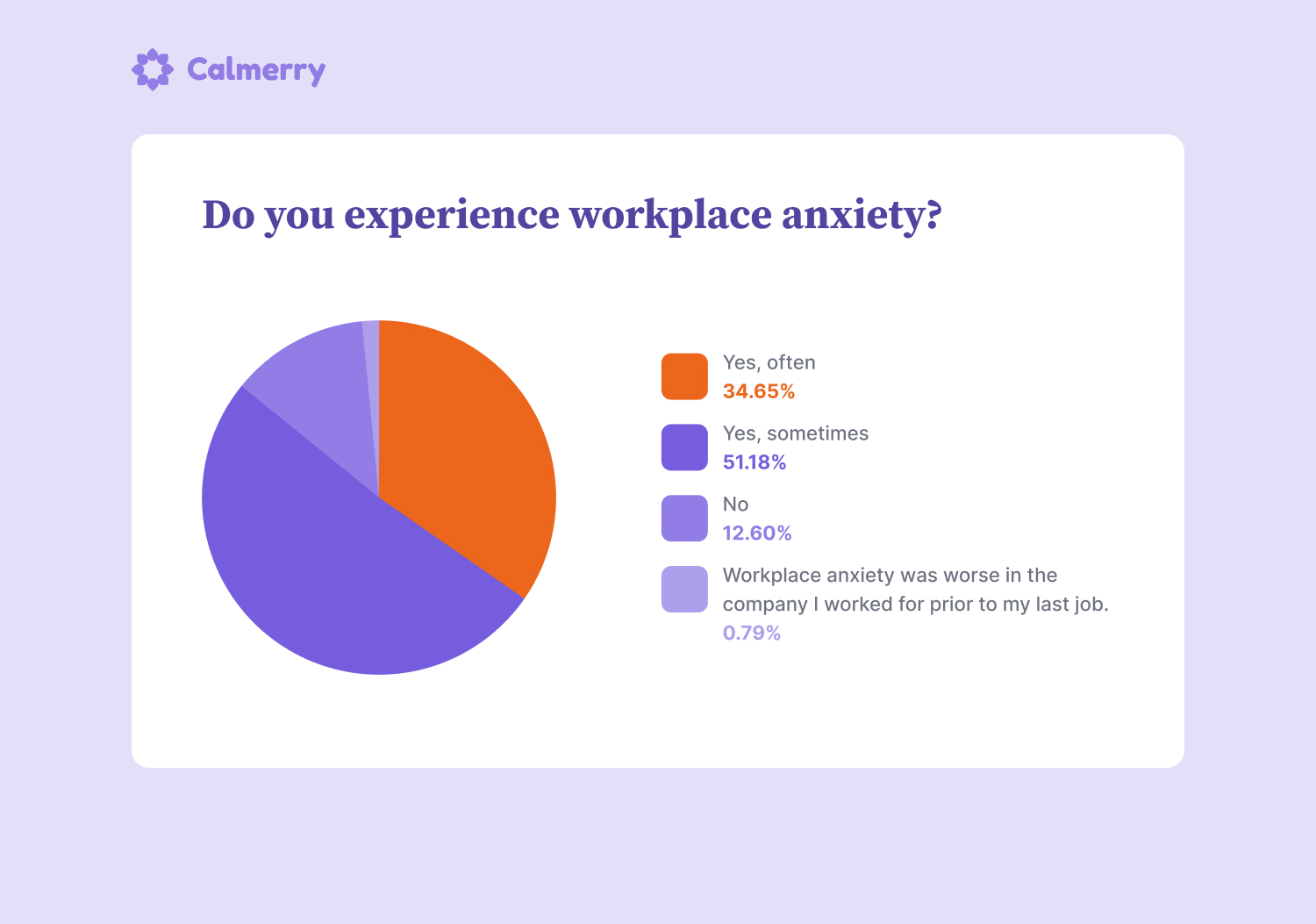 How teams' challenges impact women leaders during turbulent times
Navigating turbulent times, such as the wave of layoffs and restructuring, can significantly impact teams and their leaders. It's during these challenging periods that additional pressures and workloads often fall on women in leadership roles.
Let's explore the team challenges during such times and some findings from our research on the impact.
Teams changes
A quarter of the surveyed managers said layoffs did not impact their teams, and a quarter stated their teams were just formed or grew. But approximately 50% of teams experienced changes in their composition in 2022, primarily due to teammates leaving the company.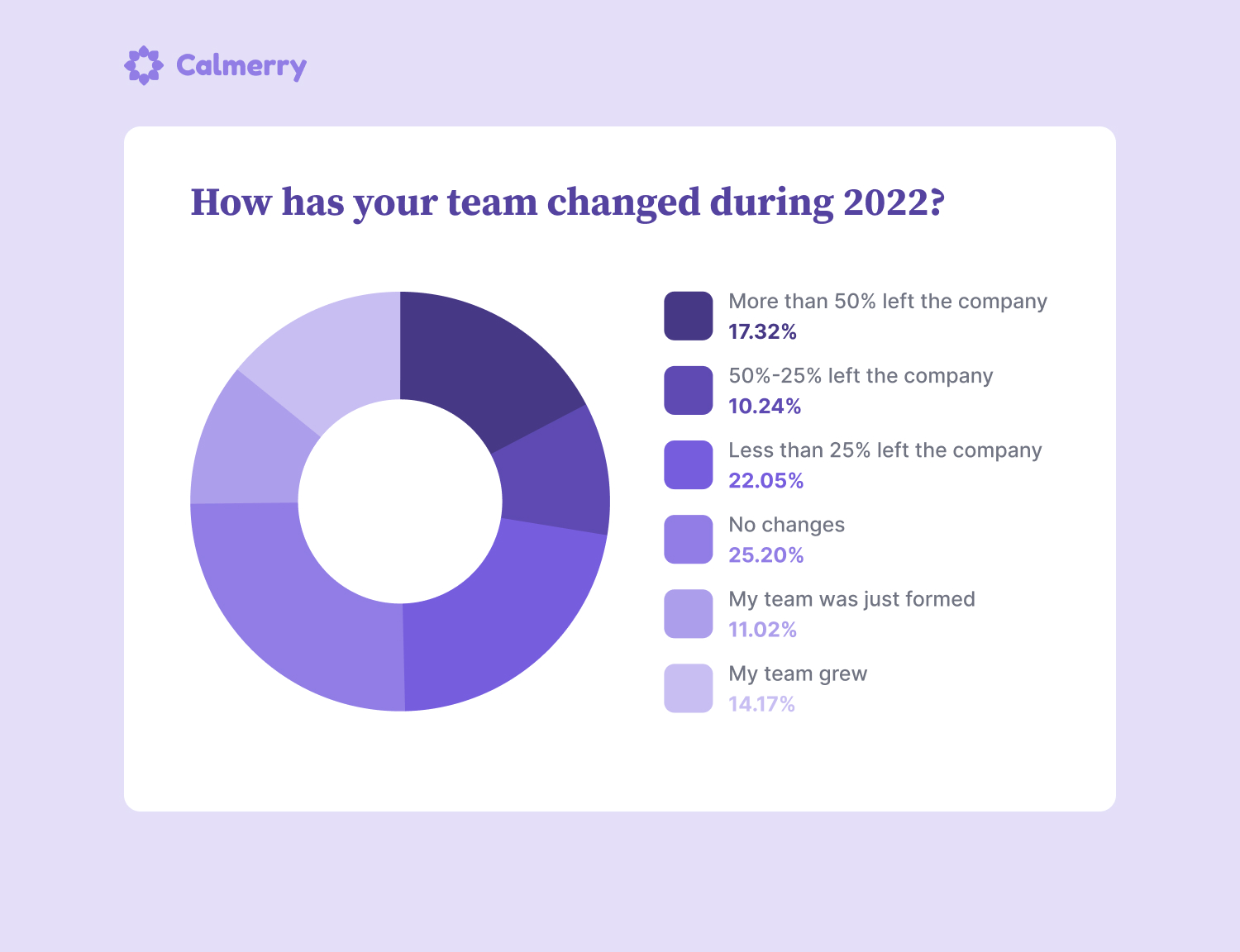 This shift can result in additional pressure for managers as they strive to support their teams during turbulent times and work on their motivation.
When more than 50% of teammates leave the company, it can significantly disrupt team dynamics and require significant efforts to rebuild and realign the team.
Team mood amidst layoffs
The trend of layoffs can create a range of emotions within teams. Our research found varying levels of concern and anxiety among teams, with about 40% of employees concerned about layoffs.
It's important to note that even if layoffs are not planned for a particular team, the overall environment of uncertainty can still impact team morale and well-being.
And this creates additional challenges for women in leadership – they have to address these concerns and provide reassurance to alleviate anxiety and maintain team motivation.
Team mental well-being tracking
Monitoring and addressing the mental well-being of teams is always crucial and beneficial for employees' productivity and overall organizational success. Our research explored how companies measure it:
One-on-one meetings were found to be the most common method. It suggests that direct communication and personal interactions play a significant role in understanding and supporting team members.
Meanwhile, 30% of companies don't track employees' mental well-being at all. This indicates a significant gap in understanding and prioritizing the mental health of their workforce.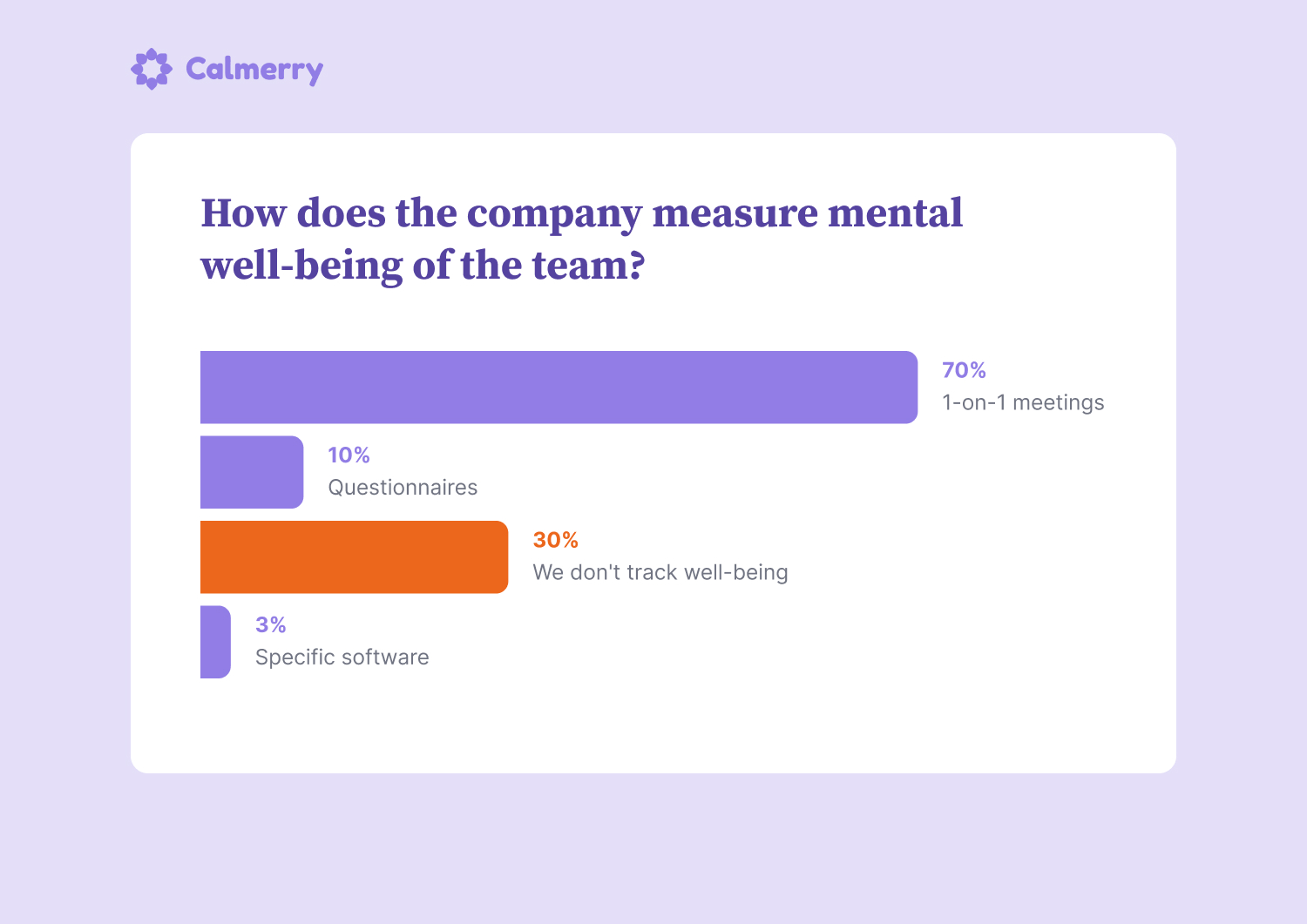 Current level of company support for women leaders
The current state of support for women leaders is disheartening but hopeful. Our research revealed that companies seem to be listening to their employees. They're trying to implement Employee Assistance Programs (EAPs), corporate coaching, and shorter working weeks.
However, approximately 27% of companies continue to ignore the problem.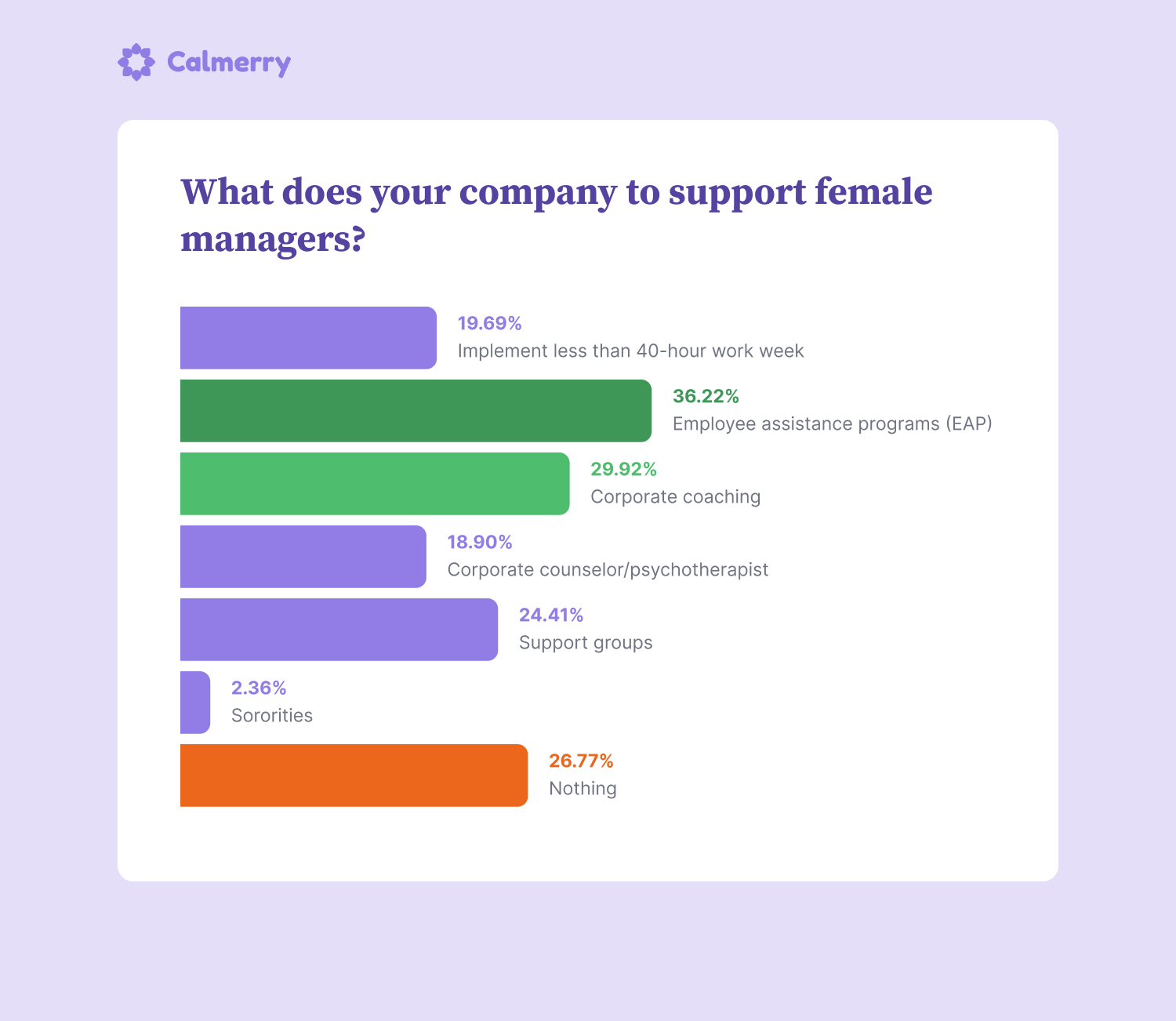 Regarding dynamics:
About 40% of women leaders acknowledge that support has increased.
And over 16% indicate that companies provide even less support during these challenging times.
Despite nearly 70% of those surveyed stating that their companies have an EAP, it appears insufficient to meet their mental health needs. Even more concerning is that the other 27% either don't have an EAP or have never heard of it.
What support women managers actually want
One of the most significant findings from our research is the substantial gap between the support companies provide and the support that women leaders and their teams actually want:
Research indicates that most employees desire shorter working weeks to restore their work-life balance, along with support-oriented group activities and diversity and inclusion training.
Roughly 35% of companies meet employees' needs for mental health days off, but they overlook group activities and diversity training, leaving teams' expectations unfulfilled.
Typically, managers from companies with fewer than 170 employees request shorter weeks, while managers from larger companies more often request mentorship and formal coaching.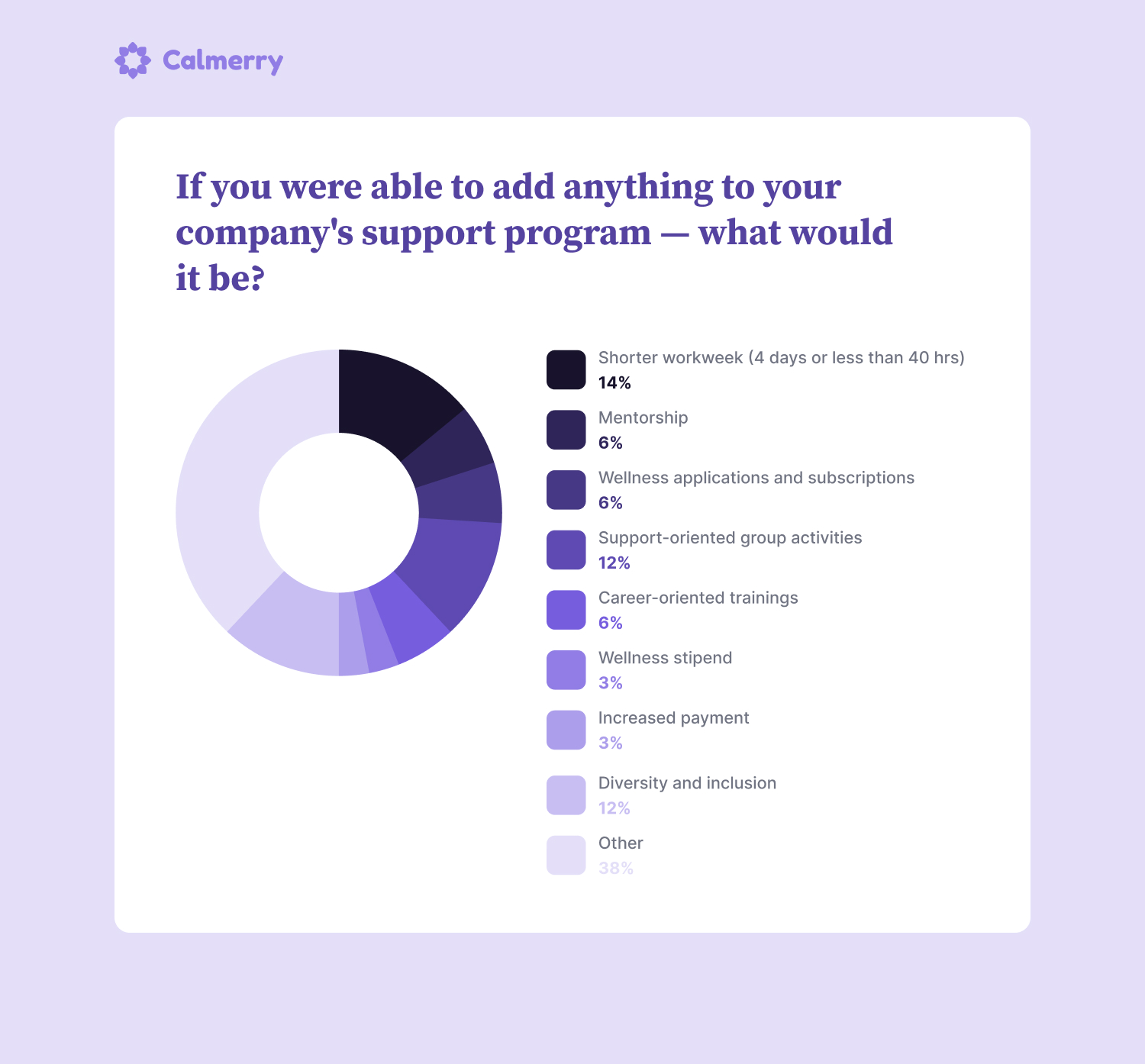 How how to promote female leadership and managers' well-being
As we can see, the current level of support for leaders and their teams is inadequate, particularly as the recession and workforce crisis worsen, increasing anxiety. Teams are seeking a more comprehensive approach to their well-being, encompassing individual and group activities, time off, and changes to corporate culture.
The main issue appears to be a lack of communication between top management and middle managers in developing an optimal support program for employees.
As a result, women managers struggle with an imbalanced work-life due to having to address their teams' problems without sufficient tools provided by the company. This leads to burnout and negatively impacts productivity.
Companies need to take a more proactive and comprehensive approach to address the challenges faced by female leaders and their teams by:
Prioritizing well-being in the workplace
Nurturing an inclusive environment with the core of empathy, support, acceptance, and psychological safety
Fostering open communication
Providing access to mental health resources
Implementing employee-focused policies such as shorter work weeks, group activities, and diversity training
Recognizing and addressing the unique challenges faced by women of color, LGBTQIA2S+ individuals, and individuals with disabilities in leadership positions
Continuously investing in leadership development and mentorship programs for women
Regularly monitoring and addressing the gender pay gap to ensure equal compensation
Establishing clear channels for reporting and addressing issues of harassment, discrimination, and bias in the workplace.
This way, organizations can create a supportive environment that enhances well-being and promotes productivity and success.
Improve your female leaders' mental health with Calmerry
A potential solution to the challenges we discussed is investing in employee well-being assessments and partnering with reputable companies that offer consistent mental health support for employees. 
At Calmerry, we have a reliable network of licensed mental health professionals with a proven track record of managing work-related problems such as anxiety, stress, burnout, and depression.
Additionally, we have been researching teams' needs for years and are aware of current trends in the US workforce. To provide care in the most flexible manner, Calmerry offers a range of tools to help companies support and monitor the mental well-being of their leaders and teams.
Let's empower your leaders to thrive and create a workplace that truly cares.
Let's connect
Book a 30-min demo call with us to learn more about our B2B offering and how Calmerry can help take the pressure off your team through flexible, customizable, and holistic therapy.
See a live demonstration of how platform works
Have an overview of our flexible payment models
Get a tailored offer based on your company needs and number of employees
Сheck your mental well-being for free: