Published March 7, 2023 / Updated March 17, 2023
What to Do When You Get Laid Off? Tips for Bouncing Back and Moving Forward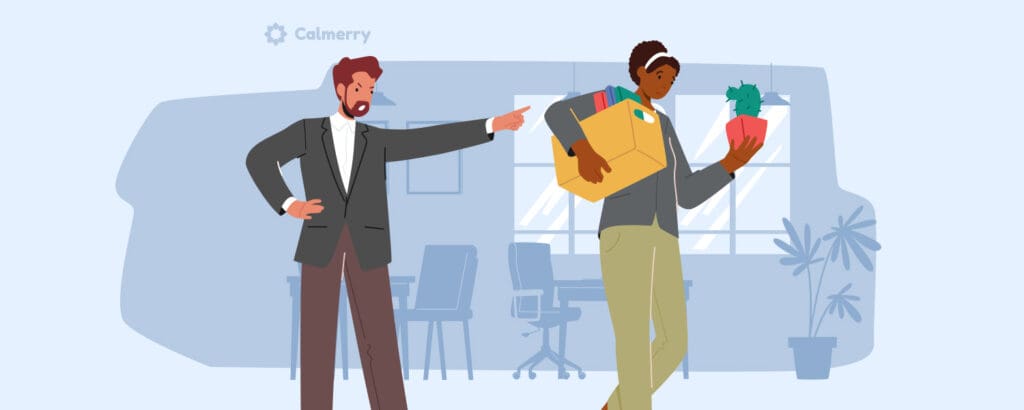 Reading Time:
7
minutes
Job loss is a stressful experience. It can take a toll on your mental health, especially if you support your family financially or do not have access to other resources, such as savings or unemployment insurance. When you're hit with the devastating news that you're being laid off, you may not know where to turn.
Today we are going to talk about strategies for coping with being laid off, so you can maintain your mental and emotional well-being during this time.
The effects of job loss on mental health
Before learning about strategies for coping with a layoff, it's helpful to understand the negative mental health effects of job loss. You may feel alone, as if no one else has ever experienced the mental anguish that comes along with being laid off from work, but the reality is that the distress you're experiencing is quite typical.
One recent study that explored the mental health effects of job loss during a recession found that people experienced the following reactions after a layoff:
Feelings of isolation
Reduced self-esteem
Hopelessness
Lower sense of belonging
Negative emotions
Stress related to finances
Inability to socialize or engage in leisure activities due to the implied cost
All of these can lead to worsened mental and physical health. Some people may even develop mental health disorders following a job loss.
A recent study with a sample of 525 people who had lost their jobs found that people fell into one of four categories after losing their jobs:
A grieving group that experienced mostly grief-related symptoms, such as being unable to accept the loss of their job.
A depressed group that showed symptoms such as feeling worthless and as if they had nothing to look forward to in life.
A mixed group that showed signs of both grief and depression.
A resilient group that did not show any of the above symptoms.
In total, about 55% of people in the study demonstrated negative mental health symptoms after a job loss, whereas 45% showed resilience and did not experience any significant mental health effects after losing a job.
What can be concluded is that a little over half of people who experience a layoff will suffer from poor mental health, so developing healthy coping strategies is essential.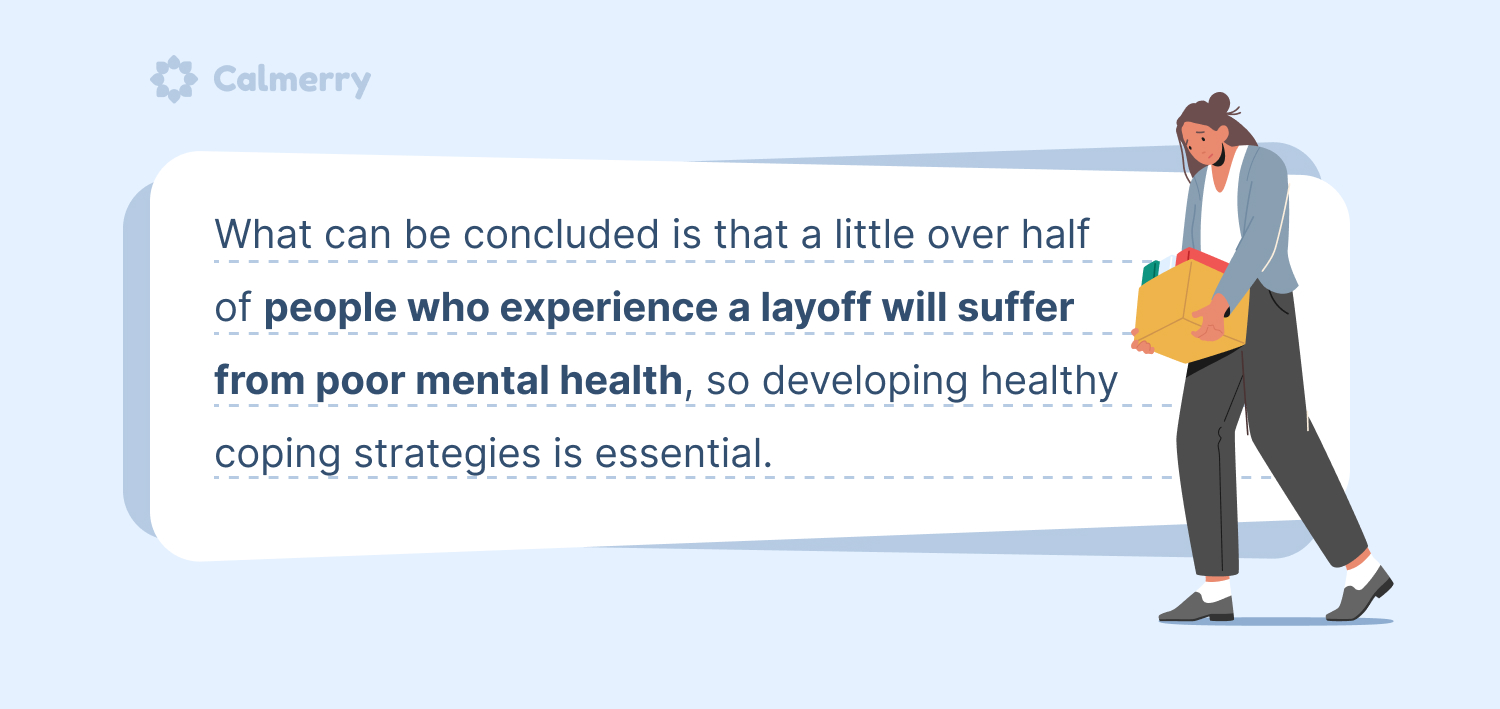 What to do when you get laid off: strategies for coping
If you experience symptoms like depression, anxiety, and feelings of low self-worth after a job loss, you are not alone. While these symptoms are common, it's important to learn strategies for coping with being laid off from a job so that you can overcome the stress that comes with being out of work.
Developing healthy coping strategies to help you move forward from a job loss can make a world of difference. In fact, research shows that people who develop depression after losing a job are significantly less likely to become re-employed.
Having effective strategies for coping reduces the mental health impact of being laid off, so you can return to your typical level of functioning.
This doesn't mean you can't worry about the future or grieve the loss of your job; it simply means that coping effectively sets you up for a more successful future so that you can experience personal growth in the long run.
So, what are some healthy ways of coping with the stress of being laid off? Consider the strategies below.
Establish a routine
When you're working, you tend to have a consistent daily routine. You wake up at the same time, you have a scheduled shift at work, and then a post-work routine of eating, tending to family matters, and taking time for yourself.
When you're laid off, your routine is suddenly thrown off balance, which can make life without a job even more chaotic and stressful. Try to create some semblance of normalcy in your daily life by establishing a routine.
For example, you might set your alarm for the same time you did when working, set aside a few hours in the morning for job searching, following up on job leads, and submitting applications, and then stick to an evening routine of dinner and chores.
Get some exercise
You've probably heard it before: exercise is beneficial for your mental health. When you're feeling down about losing a job, getting some physical activity is an excellent way to cope. People who have been laid off from jobs report that getting outside to jog, cycle, or get some form of physical activity helps them to feel that they are accomplishing something rather than just sitting inside all day.
Moving your body will boost your mood and give you a sense of purpose, especially if you make exercise a part of your regular routine. Choose an activity that you enjoy and that you can realistically stick to; if you dread running, opt for an activity you will enjoy.
Develop a support network
You don't have to keep to yourself when you're struggling with the reality of losing your job. Suffering in silence is probably only going to make you feel worse. Confide in trusted friends and family members to help yourself manage this challenging time.
Verbalizing your worries and concerns to others can be therapeutic in and of itself. Knowing that you have support from loved ones can be a buffer against the stress and fear you're experiencing in the aftermath of job loss.
Handle practical matters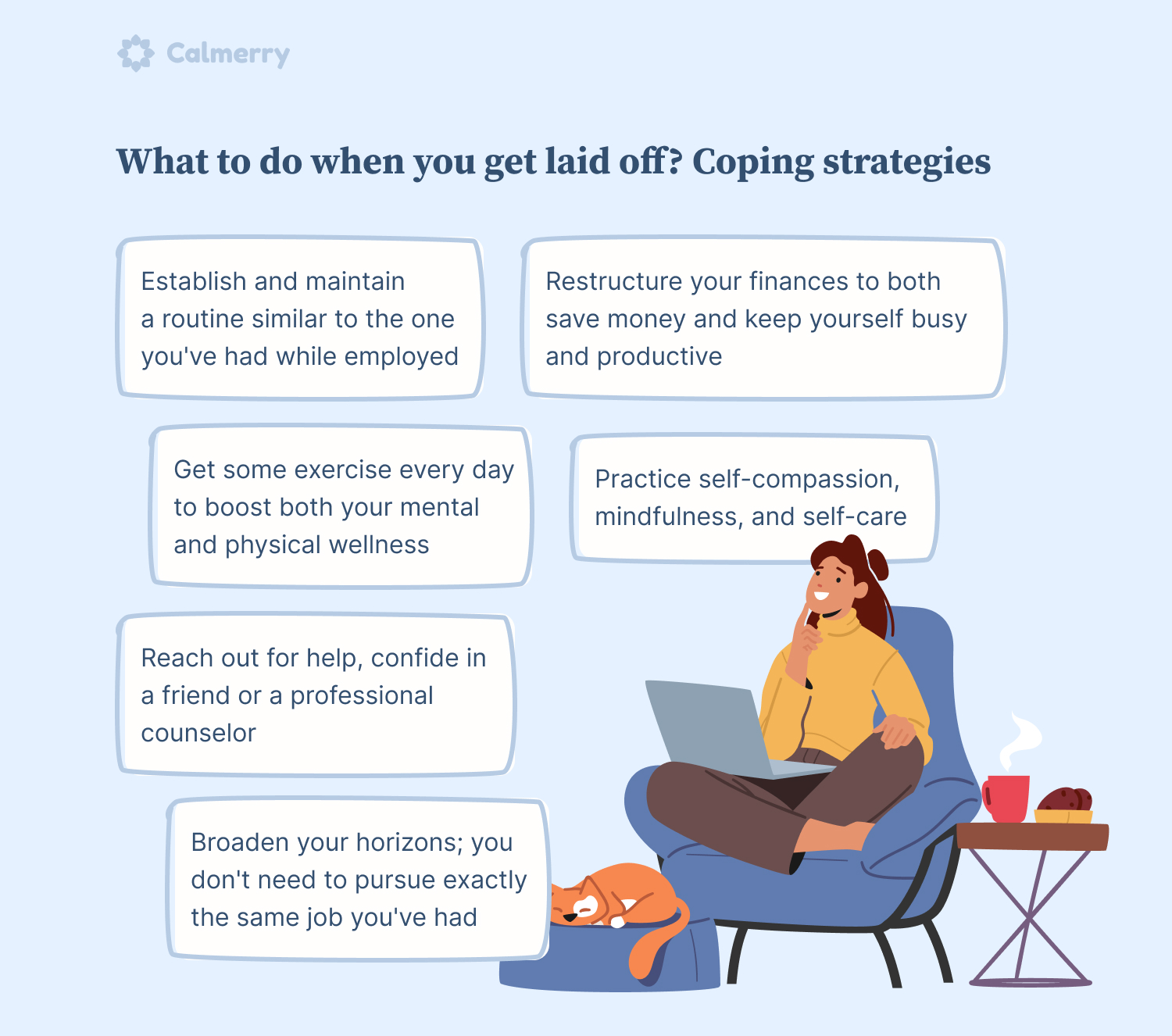 The reality is that you're probably going to have to find a way to make ends meet in the short term, as well as devise a long-term plan for getting back on the job market.
This means that part of your coping with being laid off will need to be solution-focused, addressing practical matters related to your career and finances.
You can ease some of your anxiety surrounding job loss by creating a plan to reduce expenses and get back to work.
It can be helpful to sit down and take a look at your monthly costs. Are there any that you can eliminate?
For instance, eating out on a regular may need to be off the table for a while. Alternatively, you can tally up all your digital subscriptions and see which ones aren't essential. You will be surprised at how many services we subscribe to on a whim and then forget about them.
Other practical ways of coping include reaching out to community resources, such as the local unemployment office. You may qualify for unemployment benefits to ease some of the financial burdens of being laid off. It can also be beneficial to work with an employment agency to link you with jobs that meet your needs and qualifications.
Focusing on these matters isn't just a productive thing, as remaining productive and accomplishing small goals every day can keep you distracted from negative thoughts.
Think outside the box
Getting back into the workforce is probably the first thing on your mind after losing your job, and in many cases, people think they need to find a replacement job that is exactly like their previous position.
In reality, holding out for something that offers the same title, pay, and duties as your former role may not be realistic, and it can keep you from getting back into the working world.
If there aren't any job openings in your specific field, consider how your skills might transfer to a similar role or even to an entirely different field.
For instance, if you've worked at a software development company, you might be able to transfer your skills to the world of IT support. If you've worked in a marketing or public relations firm, your experience may transfer well to a position as a social media manager.
You might also consider offering freelancing or consulting services while you're waiting for a full-time gig to open up in your area of expertise.
If you're a teacher or educator, you may be able to find consulting work in the area of curriculum development or course design. You could also offer writing or editing services that align with your niche; plenty of business owners, medical professionals, and behavioral health organizations hire content creators to write material for their web pages and blogs.
Practice self-compassion
It's easy to feel down and blame yourself when you've lost your job, but now is not the time to be hard on yourself.
Instead of blaming yourself or thinking negative thoughts, practice self-compassion. Remind yourself that when the economy takes a hit, layoffs, and unemployment can happen to anyone. Regardless of what you may tell yourself, you cannot blame yourself for your job loss.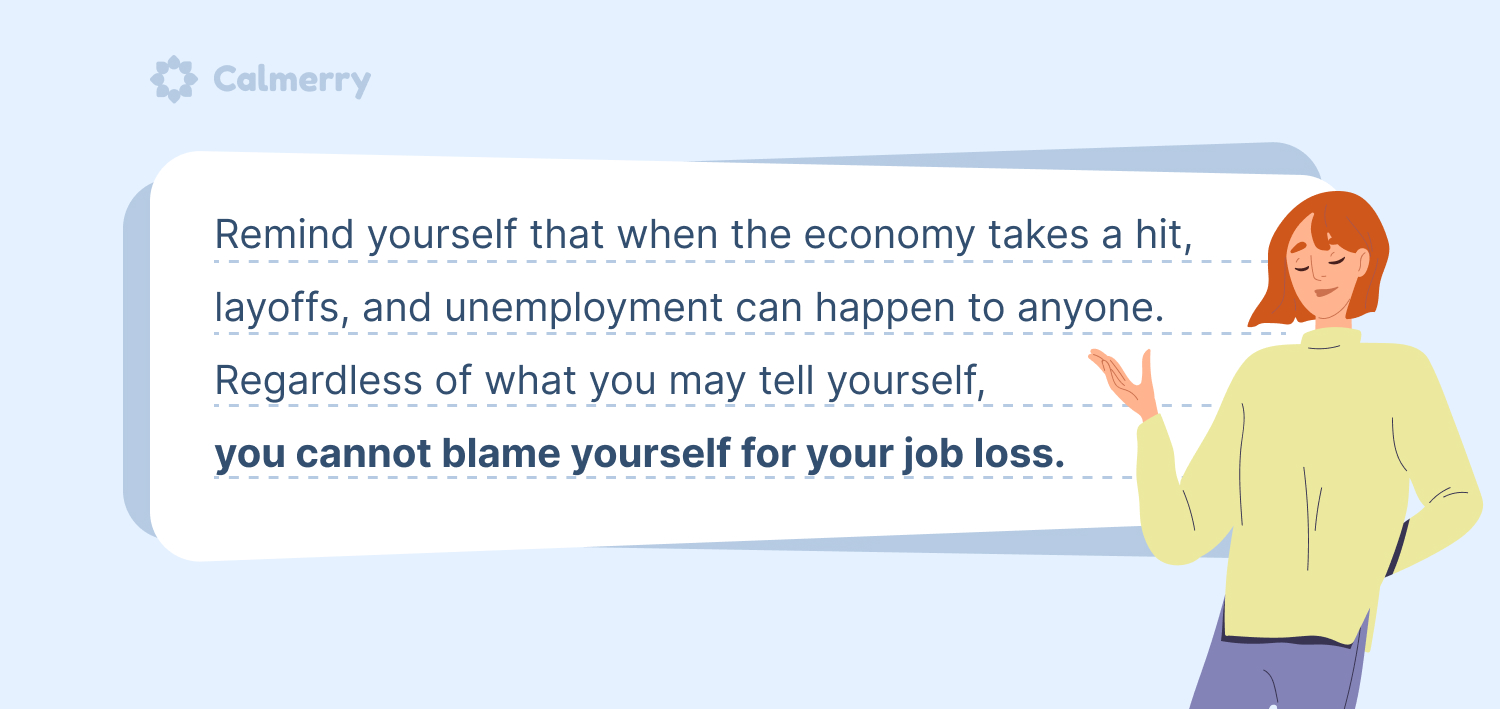 Focus on your strengths and be kind to yourself, and you'll overcome the feelings of guilt and worthlessness stemming from job loss.
When to seek treatment
Practicing self-care and other healthy coping strategies can help you to manage the stress of losing your job. But sometimes, job loss can be incredibly devastating, leading to mental health symptoms that interfere with daily functioning.
If you've tried several strategies for coping with the stress of being laid off, but you're still experiencing depression, anxiety, or guilt, it may be time to reach out for professional help, especially if these feelings make it difficult to care for yourself, or if they interfere with your motivation to seek another job.
When the stress associated with being laid off from work becomes too much to manage on your own, you may benefit from reaching out for therapy.
Subscribe
to our mental health digest
Let us support you on the way to better mental well-being. Get expert tips and insights on mental health delivered to your inbox monthly.
Sessions with a licensed therapist give you a safe setting for processing your emotions, and you'll be able to address any unhelpful thinking patterns that are leading to low self-esteem and interfering with your ability to move on from job loss.
If you're searching for convenient, flexible therapy services, Calmerry is here to help. We offer online therapy, so you can work with a professional from the comfort and privacy of your home.
Сheck your mental well-being for free: