Published March 14, 2022 / Updated March 23, 2023
Career Counseling: What Is It and Can It Help Me?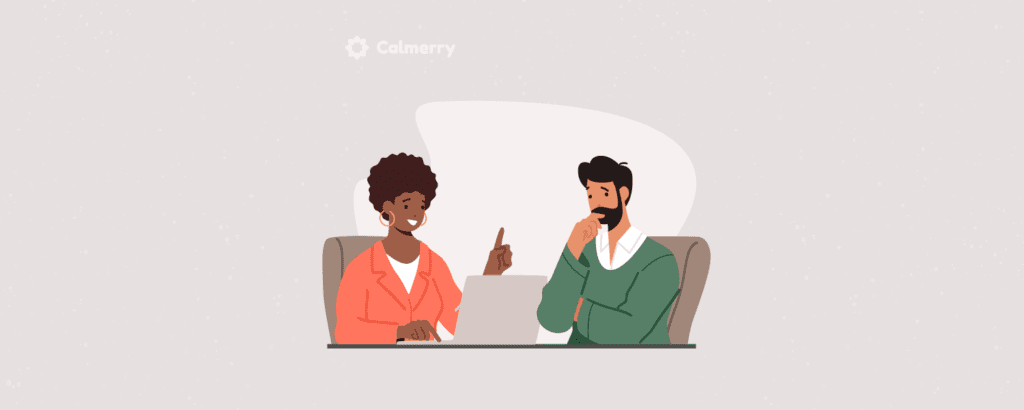 Reading Time:
7
minutes
Seemingly overnight, the pandemic forever changed how we think about careers and the workplace. It's a very different landscape than it was in March 2020 when everything paused.
Suddenly, working from home became a reality for jobs that had traditionally been thought of as 100% in-office. Online entrepreneurship became a realistic option for people who had never entertained such a path.
New opportunities in tech, healthcare, and other high-demand industries emerged. What the work world learned is that there is more than one way to "do work." People learned more about their preferences, their options, and, yes, even their deal breakers.
Fast forward to today, and lots of adults are finding themselves at a crossroads. Some are entering the workplace for the first time. Others are contemplating a move to a new career and looking at options.
Still, others find that their old job is either gone or changed in ways that just don't fit them anymore. This dilemma can leave you feeling stressed out, anxious, and even a little lost. If this sounds like you, you're not alone. Choosing a fulfilling career path doesn't always happen easily and without some stress.
Calmerry has crafted this article for those seeking insights into career counseling.
The good news is, you don't have to go it alone. There are professionals specially trained to help you navigate the world of work and choose a path that is right for you. Whether you're fresh out of school or a mid-life career changer, a career counselor can help you explore possibilities and find your perfect fit. Let's take a closer look at career counseling and how it can help you find that just-right career fit.
What is career counseling?
When you think of career counseling, you may harken back to your senior year in high school when you met with the guidance counselor for the standard "What do you want to do after you graduate?" meeting. The counselor may have even offered you some information or some questionnaires about careers. While high school guidance is helpful, choosing, adapting, and changing career paths require much more in-depth attention.
Career counseling, sometimes referred to as career guidance or career coaching, is a distinct type of counseling that helps a person to explore possible career paths and options. More than just asking you about your dream job, career counseling takes you deeper to explore your values, strengths, skills, and interests to help you find a fulfilling career.
Career counselors are most often licensed therapists who have earned a Master's Degree or higher in an area of behavioral health, such as counseling, psychology, or a closely related field. Additionally, many career counselors are also certified by the National Career Development Association (NCDA) and hold the Certified Career Counselor (CCC) designation. Such credentialing recognizes their expertise both as a therapist and in career development. Why does that matter so much?
People spend a significant part of their lives working. Work-related stress is an issue that many adults struggle with. Even before the pandemic, surveys consistently found that about half of working adults were unsatisfied with their jobs. Since the pandemic, that number has remained stable, but concerns about job stress, job insecurity, and even loss of work have risen exponentially.

Even with more work-at-home options, work-related stress and burnout have increased. Too much work-related stress can lead to anxiety, depression, and a host of other health and mental health issues. These are issues to address with a therapist.
Why choose career counseling?
When you're facing a change, it can be tough going it alone. Career counseling can help you to sort through the many decisions you will be making and build skills that will help you put your best foot forward.
Benefits of career counseling include:
Motivation
Having a career counselor is like having your very own coach! Work-related issues can be overwhelming. Your counselor can guide you and help you develop the skills you need to succeed. Having someone to coach you through the process helps you stay motivated and focused on your goals.
Exploration
You'll learn more about yourself. A career counselor is trained to assess your unique strengths, skills, work-related values, interests, and more. Using a number of tools, your counselor can help you to identify those things that are most important for you in a career. Whether you're in the early stages of career development or a seasoned professional looking for new opportunities, understanding your unique qualities is a great place to start.
Expand your horizons
It's easy to get stuck into thinking you can only pursue certain types of jobs based on your past employment or training. The fact is, there are so many options! Career counseling opens the door to a world of possibilities. You have the chance to not only learn more about yourself but you can explore careers that you may never have imagined yourself pursuing.
Goal setting
Career decisions require thought and planning. You may have some ideas about what you want, but what's your plan for getting there? Goals are like stepping stones to getting where you want to be. Your career counselor can help you define your career goals and help you devise a strategy for reaching them.

Skills building
Once you know what you want, you have to take steps to get there. Whether it's applying for jobs, practicing for interviews, or learning new job skills, a career counselor can help you learn the skills you need.
Work-life balance
Balancing work, home, and the stressors of life can be a challenge. Work-related stress can significantly impact your well-being as well as your home life. Because career counselors are also trained mental health professionals, they can help you find ways to reduce and manage stress.
What is career counseling like?
As with any type of counseling, knowing what to expect from career counseling can help you get the most out of the process. It's more than just some questions and some recommendations. You and your counselor will work together to find career options that are the right fit for you. Of course, because every person is unique, how that unfolds will differ a bit. Let's take a closer look at some of the strategies and tools a career counselor might use.
The first session
Your initial session will consist of you and your career counselor getting to know each other. You may have some routine paperwork to complete.
Expect that there will be lots of questions about your work experience and interests. For example:
What were some of your most rewarding work experiences?
What was your favorite job/task?
What were areas or tasks that you struggled with?
What is the change you're seeking? When you imagine it, what does that change look like?
What's the motivation for that change?
Expect that some of the questions will ask about your levels of stress and your mood. Remember, workplace stress, physical health, and mental health go hand-in-hand. Your counselor is looking for those needs as well. Some questions your counselor might ask include:
How do you balance your work life and your home life?
How do you cope with stress?
Are you able to leave work and disconnect at the end of the day? Are you able to relax?
What aspects of work create stress or cause you the most distress? How does that distress look for you?
The important thing to remember is that there are no right or wrong answers. Your counselor is simply trying to understand your unique experiences and needs so that you can move forward with a plan that fits your needs.
What comes next
Career counselors use many techniques and strategies to build a plan and guide you as you make your decisions.
Early in the process, your counselor will probably have you complete some assessments either in session or at home between sessions. These assessments are a way to delve deeper into your unique needs, skills, work-related values, interests, and preferences.
Some of the most common tools include:
Strengths and skills assessments
Aptitude assessments such as the MAPP
Questionnaires about your history, experiences, etc.
Personality assessments such as the Myers-Briggs or 16Personalities
Assessment of your emotional well-being and need for mental health support (e.g., managing stress)
If you're not sure of the direction you want to go, you may spend some time exploring different types of jobs and what each might entail. Some of the most commonly used tools include:
O*Net Online – Here you can search occupations and learn more about the skills, abilities, training, and other aspects of each work area.
Career Voyages – This site provides information about emerging and in-demand occupations. The site includes an interest inventory that users can use to further explore their career interests.
From there, you and your counselor will come up with a plan that is right for your needs. Your counselor can help you look beyond the short term and see what a career path can look like.

With your goals in place, you will work on building the skills you need to excel. For some, that may mean finding additional training for the job you desire. For others, it may mean help with applications or brushing up on those interview skills. Your career counselor is by your side to help you with those next steps.
Especially for people who have been in the same position for many years, the idea of applying for jobs and interviewing can be especially daunting. Today, much of the interviewing and hiring process takes place online using a number of employment sites and interviews via online video platforms. That's new territory for a lot of mid-life job seekers.
Subscribe
to our mental health digest
Let us support you on the way to better mental well-being. Get expert tips and insights on mental health delivered to your inbox monthly.
Interviews, whether face-to-face or via video platforms, are inherently anxiety-provoking. Your career counselor can help you rehearse and hone those interview skills. You'll be confident and well-prepared when the interview time comes.
Finding that ideal job takes time, and it's easy to get discouraged. Each step along the way is an opportunity to re-assess what's working, what's not, and where you can make adjustments. Your counselor can help you stay focused and stay in a mindset of confidence that you have what it takes to succeed.
Whether you're a first-time job seeker wondering what's out there for you or a seasoned professional looking to start a new chapter, career counseling can help, and in today's digital age, online therapy offers a convenient and accessible avenue for gaining valuable insights. You'll learn more about yourself, acquire new skills, and discover a world of opportunities, all with the added benefit of professional guidance to help you choose the path that is right for you.
Сheck your mental well-being for free: