Published March 25, 2022 / Updated June 2, 2023
I'm Always Tired: What Is Fatigue, and How to Fight It?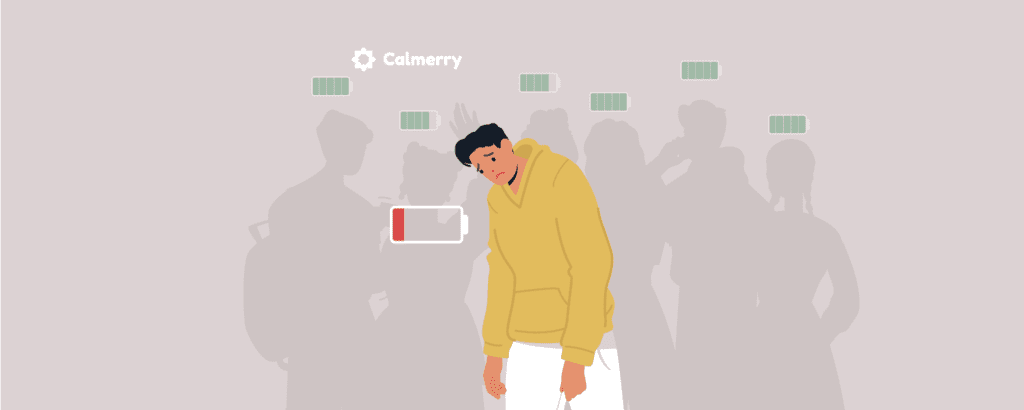 Reading Time:
5
minutes
How often have you complained about being 'exhausted'? Lot's we bet! That's not surprising. We're used to living a very fast-paced lifestyle, more so than ever. Adapting to an ever-changing atmosphere means our mind and body could struggle to keep up.
There are lots of factors that could contribute to fatigue, mild or chronic. Such things as hormonal changes, like during puberty or menopause, external stressors, like from work, or even personal problems, can all factor into feelings of fatigue.
What can we do when our fatigue starts to dominate our mood or even impact our ability to function normally? In this article, we will define what fatigue is and explore what can cause it. We will suggest ways to monitor and manage symptoms and, importantly, give some tips on where you can go for support when suffering from fatigue and sleep disorders.
What is fatigue?
Fatigue is a feeling of tiredness or extreme lack of energy that does not go away, even when you rest. It can be physical, psychological, or both. Psychologists differentiate between acute and chronic fatigue, and this is defined by how much it impacts your life and how easy it is to manage.
Fatigue can be a normal and natural response to physical exertion, poor eating habits, emotional or mental stress, lack of sleep or disrupted sleep patterns. However, persistent feelings of fatigue could be a symptom of an underlying medical problem.
Markus MacGill at Medical News Today explains: "Some people are more likely than others to suffer from fatigue. For instance, women more often report fatigue. People who live in poverty and those with the mental or physical illness are also more likely to present with fatigue."
It is important to identify if your fatigue can be alleviated with changes in habits or whether you may require medical help.
Common symptoms of fatigue
Here are just some of them:
Feeling tired or exhausted: The most obvious symptom of fatigue is feeling physically or mentally tired, even after getting enough rest.
Lack of motivation: When you're fatigued, you may feel unmotivated to do things that you usually enjoy or even necessary tasks.
Difficulty concentrating: Fatigue can make it difficult to focus on tasks or concentrate on what you're doing.
Forgetfulness: You may experience memory issues and lack of concentration when you're fatigued.
Physical symptoms: Fatigue can also cause physical symptoms like headaches, muscle aches, and dizziness.
Mood changes: Fatigue can cause irritability, anxiety, and even depression.
Poor performance: When you're fatigued, your overall performance may suffer, whether it's at work, school, or in other areas of your life.
Signs that your fatigue may be chronic
When fatigue is not relieved by enough sleep, good nutrition, or a low-stress environment, you should seek further help. Try keeping a fatigue diary or journal, you can track and rate your fatigue at different times of the day and week and see if there is any correlation or if patterns emerge.
You should then contact your doctor. You can work on your next steps to managing your chronic fatigue and find out whether you require medical treatment or even gain a diagnosis for a sleep disorder, like hypersomnia.
But why am I always tired?
There are many possible physical and mental causes of fatigue and some energy-draining habits that can lead to it:
Lack of sleep: Not getting enough sleep can cause fatigue, as can poor quality sleep or sleep disruptions due to sleep apnea, restless leg syndrome, or other sleep disorders.
Poor diet: A diet that lacks proper nutrients, such as iron or vitamin B12, can lead to fatigue.
Dehydration: Not drinking enough fluids can cause dehydration, which can make you feel tired.
Sedentary lifestyle: Lack of physical activity can make you feel tired and sluggish.
Stress: Chronic stress can lead to fatigue and exhaustion.
Depression and anxiety: Mental health conditions like depression and anxiety can cause fatigue.
Chronic medical conditions: Chronic medical conditions such as diabetes, heart disease, and fibromyalgia can also cause fatigue.
Medications: Certain medications, such as antidepressants and antihistamines, can cause drowsiness and fatigue.
Hormonal imbalances: Hormonal imbalances, such as those caused by thyroid disorders or menopause, can cause fatigue.
Overcommitting: Taking on too many tasks or responsibilities can lead to burnout and exhaustion.
Poor time management: Procrastinating or not prioritizing important tasks can lead to stress and fatigue.
Negative thinking patterns: Constantly dwelling on negative thoughts or worrying can be mentally draining and contribute to feelings of fatigue.
If you're experiencing ongoing fatigue, it's important to speak with your healthcare provider to rule out any underlying medical issues.
How to fight fatigue and get your energy back
Sometimes fatigue can follow disruption in your professional or personal life. This 'fight or flight' response is common and is a natural reaction to pressure. But it's a good idea to try to improve your routine or habits to help avoid prolonged periods of fatigue before it starts to impact your life.
Here are some ways that you can help to manage stressors that may lead to fatigue.
Improving your sleep schedule
Sometimes, it can seem impossible to prioritize getting 7 – 8 hours of sleep every night. However, improving the quality of your sleep can really help with your mental and physical health.

Mindfulness, reading or other relaxing activities, and having a screen-free hour before bed can help to increase your chances of an undisturbed, quality night's sleep.
Change your dietary habits
Consider how your diet may impact your energy levels. Are you getting enough nutrients and vitamins in your diet? Choose whole-grain carbohydrates that release energy slowly, and avoid super sugary foods that could result in energy spikes, followed by crashes.
Make sure to drink plenty of water — though be mindful that this could disrupt your sleep if you drink too close to your chosen bedtime. Similarly, monitor your caffeine intake — you may even want to consider cutting out caffeine completely. Alcohol can also impact your sleep quality, so try to limit your consumption.
Talk about workplace pressure
Workplace stress has a huge impact on fatigue. In fact, according to a 2018 survey by the National Safety Council (NSC), more than 69% of workers feel fatigued at work.
Readdressing a healthy work-life balance can not only help to relieve and avoid recurring fatigue. It can also help to avoid burnout and could improve your sleep by removing potential worries you may have. Speak with your manager or someone in human resources if you feel more comfortable there to discuss how you might reduce pressure from work.
With intense pressure to perform, the stress of staff shortages, or management demands, it's not surprising that 52% of workers in the US experienced burnout in 2021. Alongside panic attacks, increased blood pressure, and general stress, fatigue is a big indicator and symptom of burnout.
Increase physical activity
While this may seem counterproductive, as physical exertion can lead to fatigue, partaking in regular exercise could improve your overall energy levels. Find a form of exercise that you enjoy and fits your lifestyle, and it will be easier to prioritize it.

Go to therapy
Stress reduction therapy looks at addressing your unconscious feelings, thoughts, and behaviors about a situation to help reduce stress and begin repairing your mental well-being.
Connecting with a professional provides valuable emotional support for any life situation that comes your way. Calmerry can help connect you with mental health professionals online, wherever you are.
Final thoughts
Moderate levels of tiredness, and even mild fatigue, are common. But changing your lifestyle to prioritize a healthy diet, a regular sleep pattern, and alleviating stress in all aspects of your life can help to reduce periods of fatigue.
If you experience prolonged fatigue or constantly feel overwhelmingly tired, it is important to see your doctor to see if your fatigue is caused by an underlying medical problem. Once you have your diagnosis, you can look into treatment options, whether they are holistic or medicinal.
Сheck your mental well-being for free: