Published February 24, 2022 / Updated March 20, 2023
What Is Binge Eating Disorder: Symptoms, Causes, and Treatment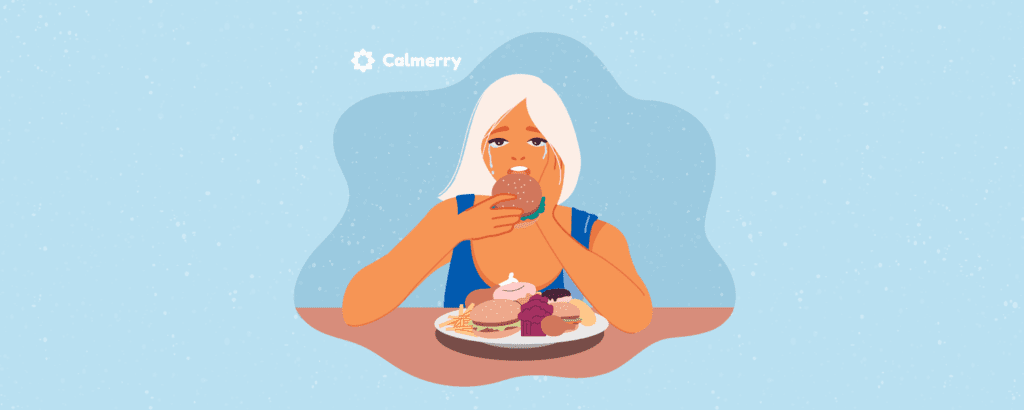 Reading Time:
8
minutes
Everyone may overeat from time to time. For example, you may occasionally eat an entire bag of cookies in one sitting, finish a bag of popcorn while watching a movie, or have a celebratory five-course meal.
But if you find yourself binge eating regularly – once a week over a period of three months, you may have a binge eating disorder, which is a serious mental condition that requires the attention of a mental health professional for depression therapy and comprehensive treatment.
What is binge eating disorder?
Binge Eating Disorder is characterized by regular episodes of eating large quantities of food over a short period of time, despite indications to stop eating and a sense of fullness. Binges can be planned in advance like a ritual and may include "special" foods, or they can be spontaneous.
People with binge eating disorder may eat regular meals outside of their binges or restrict their diet, and then binge eat due to hunger or feelings of deprivation. They eat in secret and don't feel like they're in control of what and how much they eat. Then they quickly feel distressed, ashamed, and guilty about it. These feelings can further reinforce the cycle of negative emotions, restriction, and binge eating again.
Binge eating disorder, or BED, is now formally recognized as a diagnosis in the Diagnostic and Statistical Manual of Mental Disorders (DSM-5). It's considered to be the most common eating disorder in the United States, although it's less known than anorexia and bulimia.
Binge eating disorder symptoms: it's not just overeating
Many people admit they often eat more than they should, but eating large amounts of food from time to time doesn't mean that a person has a binge eating disorder. Many of us may find comfort in food, and it's not dangerous if it doesn't happen very often and you don't feel out of control, guilty, distressed, or disgusted.
So how do you know if you binge eat?
The warning signs of binge eating disorder are connected to the frequency, the nature of the binges, and their emotional aspect. Binge eating is cyclical, and uncontrollable, and it's often driven by a need to soothe negative emotions. Still, you should remember that emotional overeating is not considered an eating disorder – it's an eating behavior. But if you feel that you use food as a primary way to cope with uncomfortable emotions and feelings, you should reach out for help.
A person can be diagnosed with a binge eating disorder if binge episodes occur at least once a week for three months. Binge eating symptoms include:
Eating a lot of food in a relatively short period of time
Eating large quantities of food without feeling physically hungry
Feeling like your eating is out of your control
Eating alone or secretly
Rapidly eating large amounts of food
Feeling depressed, ashamed, guilty, upset, or disgusted after overeating
Organizing life around bingeing episodes
Frequent dieting, possibly without weight loss
A distorted body image or extreme dissatisfaction with body shape
Keep in mind that behavioral and emotional signs may vary, and a person doesn't have to have all of these symptoms to be suffering.
Causes of binge eating disorder
Binge eating disorder is not about a lack of willpower or personal weakness. It can affect anyone, although it's more common in women than in men, and the condition tends to develop in the young adult years – it often begins in the late teens or early 20s.
According to the National Eating Disorders Association (NEDA), about 2.8 million Americans have binge eating disorder, and 60% of cases occur among women.
The exact causes of BED are not known, but researchers believe it can result from a combination of risk factors, including genetics, biological factors, emotions, and experience.
Genetic studies reveal that people with binge eating disorders may have increased sensitivity to dopamine. Dopamine is a brain chemical that's responsible for feelings of reward and pleasure. In addition, there's evidence that binge eating disorder is an inherited condition and can run in families.
Other mental health conditions can also be linked to binge eating. Approximately 80% of people with BED have at least one other mental health disorder, such as depression, phobias, post-traumatic stress disorder (PTSD), anxiety, bipolar disorder, or substance usage.
Many people who have the binge-eating disorder have low self-esteem and feel negative about themselves, their skills, and their accomplishments. An episode of binge eating can also be triggered by stressful events, extreme dieting, negative body image, the availability of food, or boredom.
Why is it bad to binge eat?
If you overeat once in a while, it will leave you with a stomach ache, and the adverse effects are temporary. But if you binge eat regularly, that leads to serious consequences – physical, emotional, and social.
Binge eating disorder is a serious condition that severely interferes with one's health and happiness. Unlike people with bulimia, binge eaters don't purge or try to 'compensate' for their eating by exercising. As a result, they put on weight. Binge eating disorder is often associated with obesity and can have other long-term effects like high cholesterol, high blood pressure, gastrointestinal problems, cardiovascular disease, and Type 2 diabetes.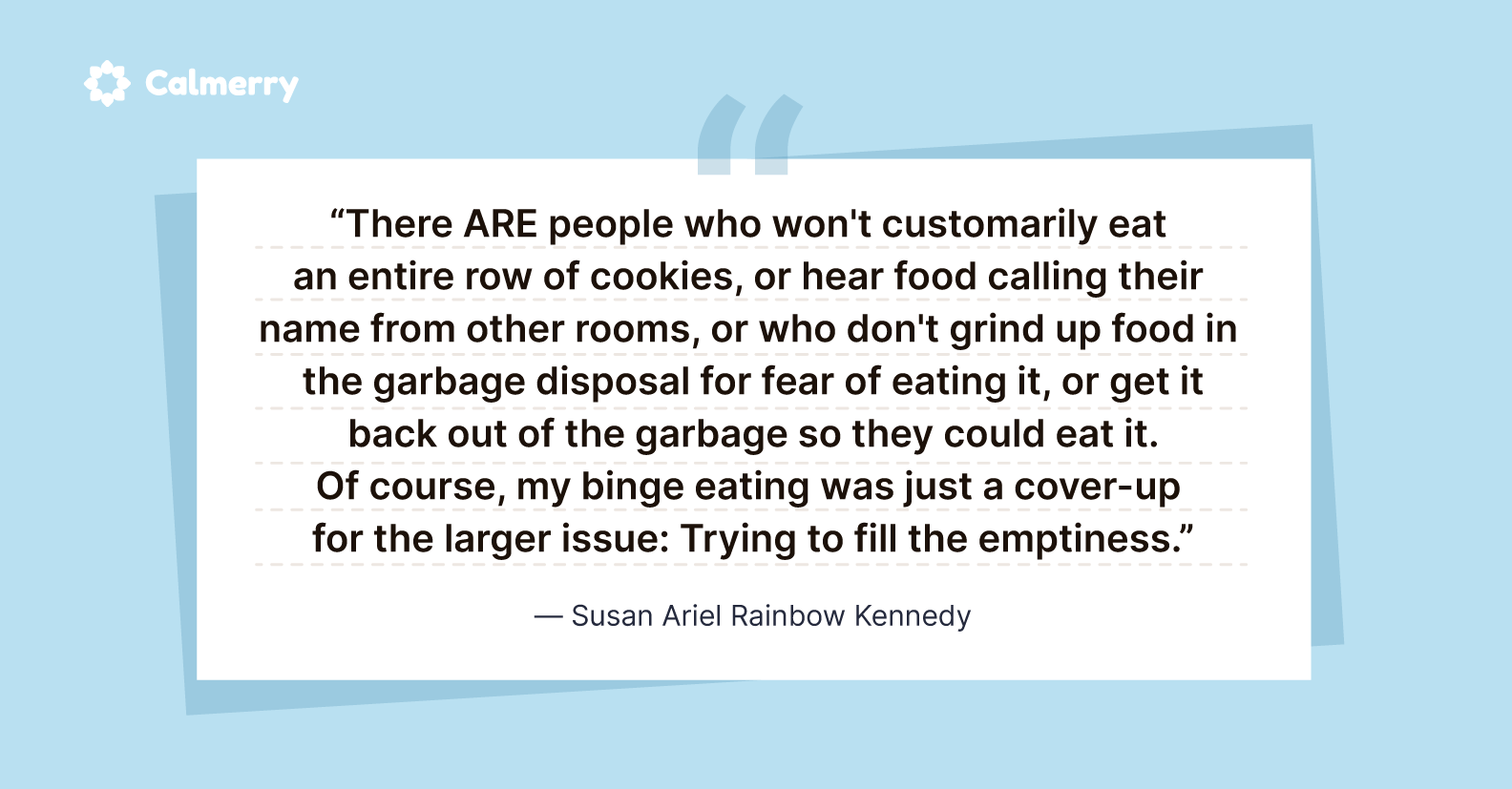 But the impact of excessive eating is not limited to physical threats. It results in psychological issues like feelings of worthlessness, self-hatred, anger, depression, anxiety, loneliness, and social isolation. It all creates a vicious cycle and makes you powerless, so binge eating disorder may also impact your career, finances, and relationships. You may find it difficult to function in daily life due to the severity of this illness.
How to get help with binge eating
If you think you may have an eating disorder, talk to your doctor, who will refer you to a specialist who can help you recover. Remember: binge eating disorder is treatable, and with proper care, it's possible to experience a full recovery, reverse the unhealthy effects, and return to a normal life, although it may take time.
Treatment for BED can help you address the underlying reasons for binge eating. The goals for treatment are reducing the amount of food binges and building healthy eating habits. The treatment may also address excess weight, negative body image, shame, negative emotions, and other mental health issues. Treatment options include psychotherapy, medications, and behavioral weight-loss programs.
Psychotherapy
Psychotherapy is the first-line treatment option for binge eating disorder. Talk therapy (individual or in group sessions) can help teach you how to change your unhealthy habits into healthy ones and reduce bingeing episodes.
Psychotherapy includes teaching people with binge eating disorder practical techniques for developing healthy attitudes toward food and weight. It also focuses on changing the way a person responds to difficult situations and stress.
Cognitive behavioral therapy
Cognitive behavioral therapy (CBT) is the number-one recommended evidence-based treatment. You can get it in group sessions with other people or in 1-to-1 sessions with a therapist in their office or online. CBT focuses on helping people understand the thought patterns and feelings that influence their behaviors. It may help you cope with issues that can trigger binge-eating episodes and with learning to control your behavior and regulate eating patterns.
Interpersonal psychotherapy
Interpersonal psychotherapy focuses on your relationships with other people, for example, family members, peers, and co-workers. Its goals are to identify the specific problem linked to negative eating behavior and to help you improve your interpersonal skills and make a constructive change. This type of therapy may be effective for people whose binge eating is triggered by problematic relationships and unhealthy communication skills.
Dialectical behavior therapy
Dialectical behavior therapy views binge eating as an emotional reaction to negative experiences. It focuses on teaching people skills to cope with stress, regulate their emotional responses, and improve their relationships with others, all of which can reduce the desire to binge eat.
Medications
People with binge eating disorder may be offered an antidepressant in combination with psychotherapy to help them manage other conditions and reduce symptoms of depression, anxiety, OCD, or social phobia. Other available treatments include antiepileptic drugs like topiramate, normally used to control seizures, and lisdexamfetamine, which is traditionally used for hyperactive disorders.
How to stop binge eating: helpful tips
No matter which treatment strategy is used, recovery doesn't happen at once, so you should be patient. It's also important to make healthy lifestyle changes that will help you get through difficult times without binge eating.
Here are some helpful self-care strategies that can be used alongside professional BED treatment. It's important to understand that these strategies are not substitutes for professional treatment.

Keep a food and mood diary
Some people find it helpful to monitor what they eat and drink throughout the days that follow the binge and how they are feeling when they eat. Keeping a food and mood journal can help you identify triggers that may be causing you to binge eat and notice patterns in your behavior. It's an important step when learning how to control your binge impulses.
Practice mindfulness, deep breathing, and yoga
These are effective tools for reflecting on uncomfortable feelings, relaxing, feeling gratitude and happiness, and boosting creativity.
Research suggests that mindfulness meditation exercises can significantly decrease binge eating and be an effective component in treating BED. Practicing mindfulness can help you be more aware of binging triggers, increase your self-control, and maintain self-acceptance. Mindfulness, breathing exercises, and other relaxation techniques promote the relaxation response and reduce stress eating.
Yoga promotes peace and self-acceptance and teaches self-compassion and resilience. Practicing yoga can help you accept your body as it is, improve your body image and self-confidence, and boost your mood.
Support yourself with healthy lifestyle habits
When you're physically strong, relaxed, and well-rested, you're better equipped to face the challenges of life and cope with them in a healthy way.
Make time for regular exercise – take a walk, swim, dance, run, or ride a bike. When you exercise, your body releases feel-good chemicals called endorphins that trigger a positive feeling in the body. Exercise can help relieve stress, reduce symptoms of anxiety, boost your mood, and improve your body image. Some studies have revealed that aerobic activity can significantly reduce binge eating episodes in the long term.
Get enough sleep every night. Sleep affects hunger and appetite, and poor sleep means poor diet. When you don't sleep well at night, you crave foods that contain sugar because they give you a quick energy boost. It's important to get at least 7-8 hours of good sleep each night. This way, it will be easier to control your appetite and make better and healthier food choices.

Choose healthy foods and stick to scheduled mealtimes. Avoid strict dieting because it will trigger food cravings and the urge to overeat and put weight loss on the back burner. Instead, you should focus on nutritious foods and plan balanced meals and snacks.
Your meals should consist of foods high in protein, fiber, and healthy fats. Eating regular meals that consist of whole foods will help provide needed nutrients and satisfy hunger. Healthy meals with higher levels of protein and fiber can keep you feeling fuller and prevent overeating.
Subscribe
to our mental health digest
Let us support you on the way to better mental well-being. Get expert tips and insights on mental health delivered to your inbox monthly.
How to help someone with binge eating disorder
If you suspect that your family member or friend may have binge eating disorder, let them know you're worried about them. It's a delicate conversation, and you should talk about your concerns and your loved one's struggles in a comforting, understanding way. Tell your loved one that BED is a real psychological problem that is treatable with talk therapy and medication. Be supportive, show your compassion, and encourage them to seek qualified, professional help.
The bottom line
People with binge eating disorder usually require professional attention to get well. Although recovery is not a straight path, it is possible, and the key is changing your attitude toward food.
If you are concerned that you may have an eating disorder, you should talk to a doctor or trusted mental health professional. You can contact the NEDA helpline at 1-800- 931-2237 or use their online chat to find support for yourself or your loved one.
Our counselors from Calmerry are also ready to work with you online to help you break the binge eating cycle, better manage your emotions, and regain control over your health. You can recover from binge eating disorder with the right help and commitment.
Сheck your mental well-being for free: