Published May 8, 2022 / Updated June 2, 2023
Why Do I Feel Guilty for No Reason?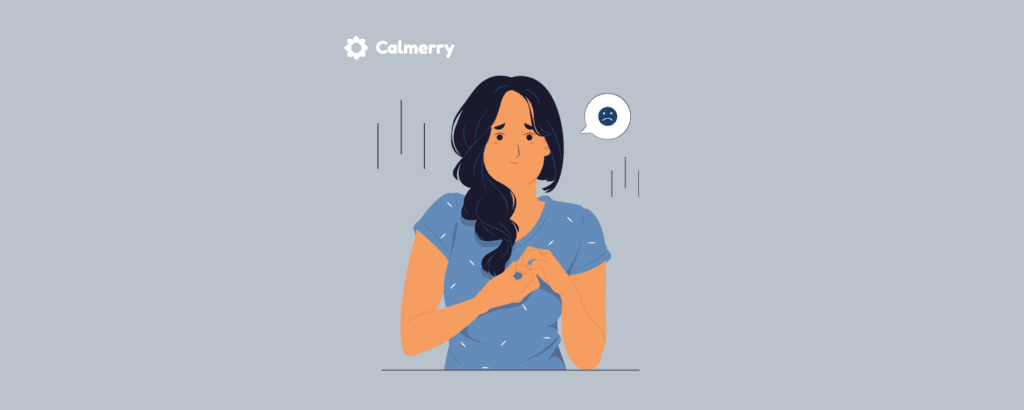 Reading Time:
7
minutes
Although guilt is hardly a pleasant feeling, it can be quite helpful. Without feeling guilt, we wouldn't be able to realize what we've done wrong. Guilt stops us from turning into narcissists who only care about themselves and enables us to put our empathy to use, understanding what we should or shouldn't do to others.
Your inner critic allows you to consider your actions from different viewpoints so that you can adjust your behavior to various socially acceptable norms. Guilt helps people establish healthy social connections.
However, your mind may also be overly critical, and that's where problems start.
Some people feel guilty without any obvious reason. If you've done nothing wrong and yet feel guilty, that might be a sign of various mental health issues. When the feeling of guilt gets out of control, it can make a person feel miserable and have a significant negative impact on their quality of life.
Here, we'll analyze different causes of guilt and its types to better understand the answer to the question, "Why do I feel guilty for no reason?"
Controversial guilt
Simply put, guilt can be healthy or unhealthy. Healthy guilt is a result of actions. If you've done something wrong and now you feel guilty, this is a healthy reaction of your conscience. Perhaps, if you didn't feel guilty, that would be a problem. However, guilt can also be unhealthy, and in this case, it has more to do with self-punishment than fixing one's mistakes.
For example, sometimes, people feel guilty for skipping the gym, overeating, or leaving their partners. In other words, guilt can be very subjective and based on what you consider to be wrong, regardless of whether or not you've caused any actual discomfort or harm to anyone. When the feeling of guilt appears out of nowhere, it is often connected to a lack of self-compassion and low self-esteem.
Some people always feel like they're not enough. Social media, with thousands of influencers who constantly broadcast every detail of their successful lives, can make a person feel bad for themselves, triggering shame and guilt.

Types of guilt
All people experience emotions differently, whether it be happiness, sadness, anger, or guilt. Besides, the nature and intensity of various emotions directly depend on the factors that triggered them. There are several types of guilt. Let's take a look at the most common ones.
Legit, natural guilt
One may feel guilty after doing something wrong. If you have hurt someone or made wrong choices, you may feel guilty because it's a normal, natural response to such an action. This type of guilt can help you understand how you should change your behavior and how you can improve your relationships with others.
If the feeling of guilt negatively impacts your everyday life, you can relieve it by fixing your mistakes and apologizing to those you have hurt. However, if you're unable to do anything about the consequences of your decisions, the feeling of guilt may persist and cause more harm than good. In this case, the best solution is to get professional help.
Maladaptive guilt
Guilt isn't always caused by objective reasons and real actions. Sometimes, people experience this feeling because of the things they cannot control. For example, one may feel guilty for not preventing some events that were impossible to prevent.
Despite having no control over the situation, they may still feel bad. Obviously, this isn't a healthy type of guilt, and if it doesn't go away, the best solution is to talk to a therapist and find out what causes this problem.
Existential guilt
This is a complex type of guilt that is also rooted in the factors a particular person cannot control. For example, sometimes people feel guilty because of observing injustices. Another common type of existential guilt is survivor's guilt — in this case, a person may feel guilty when they are safe while others are suffering from disasters or wars. It's also possible to feel existential guilt just for being lucky.
Guilty thoughts
Many mental health problems are caused by negative thoughts. All of us have negative thoughts from time to time, but sometimes, negative thinking patterns become particularly influential, seriously affecting people's behavior and quality of life.
One of the most common types of such thoughts is guilty thoughts. One may experience guilt without doing anything wrong, just for thinking something inappropriate. For example, a person may feel guilty when they want to cheat on their partner or wish someone bad luck. Quite often, such guilt is accompanied by the fear of someone else learning about these thoughts.
What causes feelings of guilt?
When guilt isn't a direct result of a person's wrongdoings, it can turn into a real problem, having a significant negative impact on one's well-being.

Childhood trauma
The feeling of guilt can be taught. Poor parenting can make a child feel guilty for no reason, especially when parents blame children for their own failures and decisions. Such parenting problems can lead to the development of unhealthy thinking patterns that may not go anywhere even when a person grows up.
Anxiety
Another common reason why people feel guilty for no reason is anxiety. Anxiety can distort your evaluation of your own thoughts and actions, making you feel guilty when you haven't actually done anything wrong. For instance, people with social anxiety are often afraid to be judged by others, so they can be too critical of their own thoughts and actions, feeling shame and guilt.
Religion
The feeling of guilt is quite common among people who were raised in religious families. Religions that revolve around the concept of sin can contribute to the development of unhealthy guilt, especially when a person feels guilty for not following religious traditions or having thoughts and desires that contradict religious norms.
Culture
The feeling of guilt is often rooted in cultural norms. If your actions, thoughts, or desires diverge from what's considered appropriate in society, you may feel guilty even when you don't actually support these norms and don't share common beliefs.
Social pressure
Even if you haven't done anything wrong, it's still possible to feel guilty when you're facing social pressure. Some people can be too judgemental, and if you feel the need to always meet other people's expectations, guilt can become a problem. In this case, guilt is closely connected to one's sense of self-worth and self-esteem, as well as the ability to set healthy boundaries.
How to cope with guilt
If the feeling of guilt is persistent and already affects your everyday life and relationships with others, you need to learn to cope with it. Guilt is a hard emotion, but you can overcome it in therapy and by following some self-care strategies.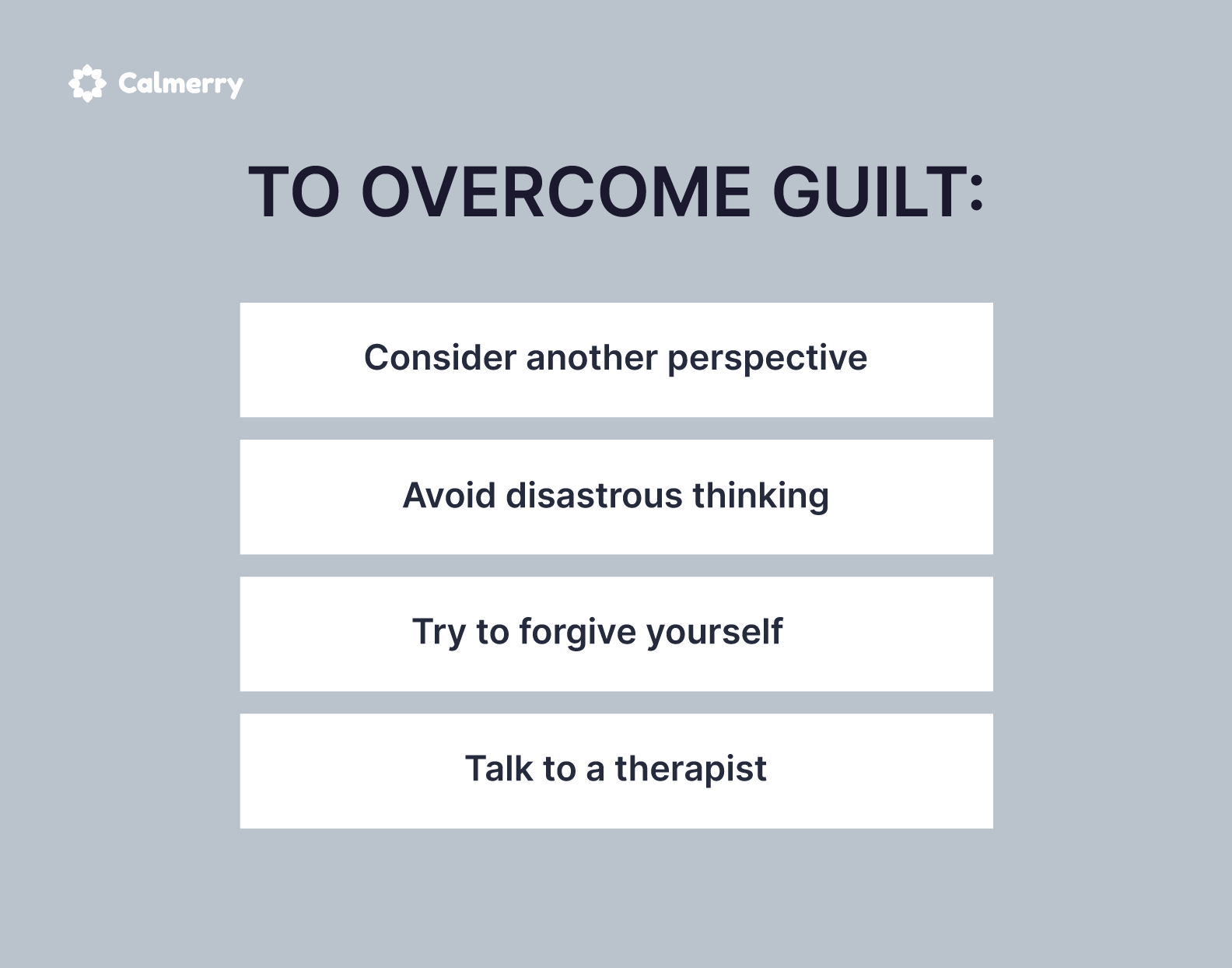 1. Consider another perspective
If you constantly focus on negative thoughts, try to consider the situation from a different perspective. What factors did you ignore when assessing the situation? What would you do differently in the future, and what couldn't you do differently at that time?
Imagine someone you respect in the same situation and think of what they would do. Would they blame themselves? Besides, is the situation actually that bad? If there's nothing to fix and no one has been hurt, then the chances are that you're the only one who's concerned about it.
2. Avoid disastrous thinking
Think of the worst-case scenario and compare it to the real situation. Quite often, people feel guilty because they overreact and exaggerate the consequences. Consider things that weren't impacted by your actions. Talk to someone you know and ask them to evaluate the situation.
This way, you'll be able to consider the problem from a new angle and assess it more objectively. Practicing mindfulness and gratitude can also help you focus on the situation as it is, as well as various positive factors that you could have ignored.
3. Try to forgive yourself
When it comes to guilt, self-compassion and self-forgiveness are crucial. You should let your guilt go away. That doesn't mean that you should forget about your actions that have actually hurt someone. The main thing is to switch your focus from emotions to responsibility and improvement.
You won't be able to fix your mistakes by simply punishing yourself, anyway.
Subscribe
to our mental health digest
Let us support you on the way to better mental well-being. Get expert tips and insights on mental health delivered to your inbox monthly.
4. Talk to a therapist
As we've already mentioned above, if you feel guilty for no reason, it can be a sign of mental health issues. Whether this feeling is caused by anxiety, burnout, or past trauma, a licensed therapist can help you better understand the causes of the problem and suggest effective coping strategies.
The feeling of guilt is often rooted in unhelpful thinking patterns, and cognitive behavioral therapy can help you identify and challenge thoughts that trigger unpleasant feelings and affect your life.
A great thing about cognitive behavioral therapy is that it can be delivered remotely, so you won't need to commute to a therapist's office. If you have a busy schedule, you can try online therapy and talk to a therapist from the comfort of your home.
Wrapping up
Although the feeling of guilt is supposed to be a response to our wrongdoings, this isn't always the case. Sometimes, people feel guilty for no reason.

It's important to recognize the difference between healthy guilt caused by real actions and their consequences and unhealthy guilt that has more to do with self-criticism and self-punishment. If the feeling of guilt starts to impact your self-esteem and prevents you from building healthy social connections, the best solution is to talk to a therapist.
A licensed professional can help you figure out what caused your feeling of guilt and learn how to stop feeling guilty all the time. Such a feeling can be very destructive, so don't hesitate to reach out for help.
Сheck your mental well-being for free: