Published December 15, 2022 / Updated April 21, 2023
The Importance of Being Proud of Yourself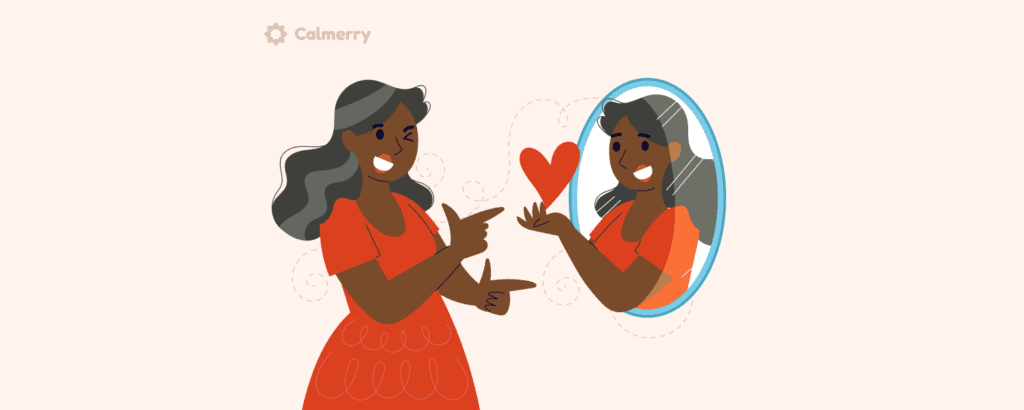 Reading Time:
8
minutes
Do you ever look around and feel like everyone is doing better than you? Do you feel like it's not right to celebrate the wins in your life, no matter how big or small they may be?
If so, know that you're not alone – many people struggle to accept positive recognition and admiration for their progress. But here's the thing: it's incredibly important to acknowledge your efforts and speak kindly about yourself.
Self-love and recognition of one's strengths are critical for feeling empowered in your life path and pushing yourself towards future success. It's also an important tool that allows you to believe in your abilities, take pride in what you do, and ultimately celebrate who you are.
All in all, in the journey of life, you're the first person who can recognize and support yourself.
Unfortunately, this isn't always the case. And many people – for many reasons – develop dysfunctional relationships with themselves, being too harsh, feeling inadequate, lacking self-compassion, and not recognizing their own potential.
In this article, we explain the importance of being proud of yourself and tell what practical steps you can take today to help foster healthy levels of confidence throughout your journey.
So, what does it mean to be proud of yourself?
Simply put, being proud of oneself means having a strong, healthy sense of self-worth, which leads to generally more positive well-being. It's a vital part of leading a healthy and happy life.
People who have a strong sense of self-worth feel more content with their lives and empowered with their life journey.
Self-pride doesn't mean thinking you're perfect. It means recognizing your achievements, traits, something that's unique in you, and the fact that your personality is worth celebrating. This way, you can learn to view yourself positively. Self-pride also means accepting your vulnerabilities and embracing them as a unique part of yourself.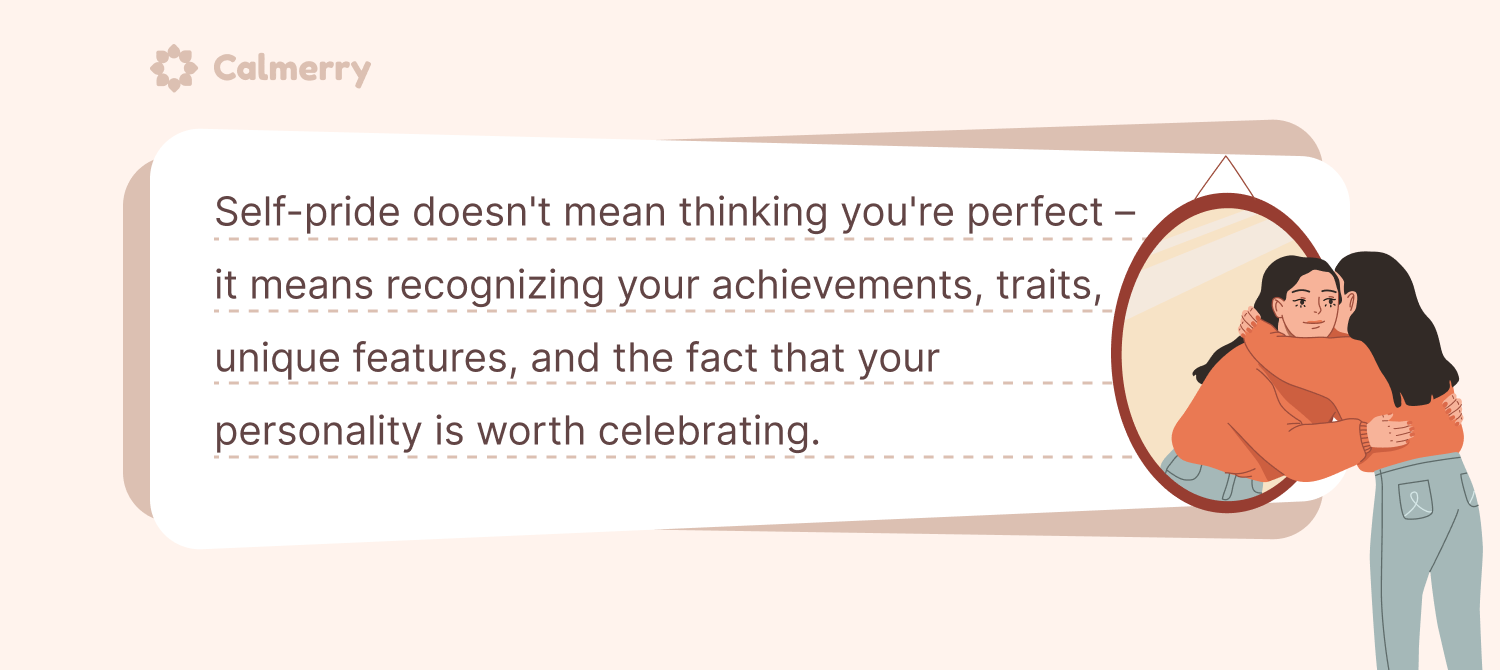 By cultivating self-pride, we can foster respect for ourselves and become more confident in our ability to succeed. As a result, you can trust yourself even more, being determined to reach your goals.
The way we look at situations is never really objective. We all have our filters and biases, and our perception of ourselves doesn't always reflect our actual capabilities and potential. Besides, what we think about ourselves doesn't always reflect the way others see us.
Unfortunately, recognizing what you might need to improve in your own perception can be extremely difficult. And that's why overcoming self-esteem problems often turns into a challenge. Many people need help with it, and that's where self-esteem therapy can be helpful.

Healthy self-esteem starts with self-acceptance and ultimately allows you to be proud of yourself, celebrate your achievements, and recognize your strengths.
Why is it important to be proud of yourself?
When you love who you are as a person and appreciate what you bring to the table, it sets a positive tone for relationships, careers, and life in general.
This isn't, however, the only reason why having a healthy sense of self-worth and being proud of yourself can benefit you. Here are some of the key benefits of being proud of yourself.
When you're proud of yourself, you learn to build healthy relationships
It's important to emphasize that being proud of yourself does not mean embracing narcissism or ignoring unproductive behavioral or thinking patterns in yourself altogether. Furthermore, it does not mean putting down others so that you can feel superior.
Being proud of yourself rather means being happy with who you are and acknowledging your strengths. And when you have a strong sense of self-worth, you can have better and more fulfilling relationships with others and yourself, prioritizing your needs.
People who know their worth can establish clear boundaries in their relationships, and they can better cope with the fear of abandonment or rejection.
Besides, you can feel free to make your own decisions and learn to say "no." After all, you don't need to sacrifice your interests and needs for others when you're not dependent on their opinions.
Building a healthy relationship with yourself can be a challenge. But our self-esteem worksheets can offer invaluable help along the journey. They're designed to help people looking to increase their self-confidence by providing a focused approach supported with helpful tips and techniques. Download our Self-Esteem Worksheets Pack now.
When you're proud of yourself, you feel motivated
Another reason why you should be proud of yourself is that it allows you to be self-motivated. You won't need constant validation from other people when you feel good about yourself. This way, your motivation will not depend on external approval.
Self-pride can be the main ingredient for overcoming doubts and insecurities. Acknowledging what you have achieved and how far you have come can really help to reset your mindset when things don't seem to be going well.
Celebrating these successes is an even better way to realize your worth and remind yourself how awesome you are.
As a result, it helps you to fuel confidence and foster great accomplishments by providing inner motivation. Keep believing in yourself and stay proud of every accomplishment – no matter how big or small – and you'll be bound to create more wins.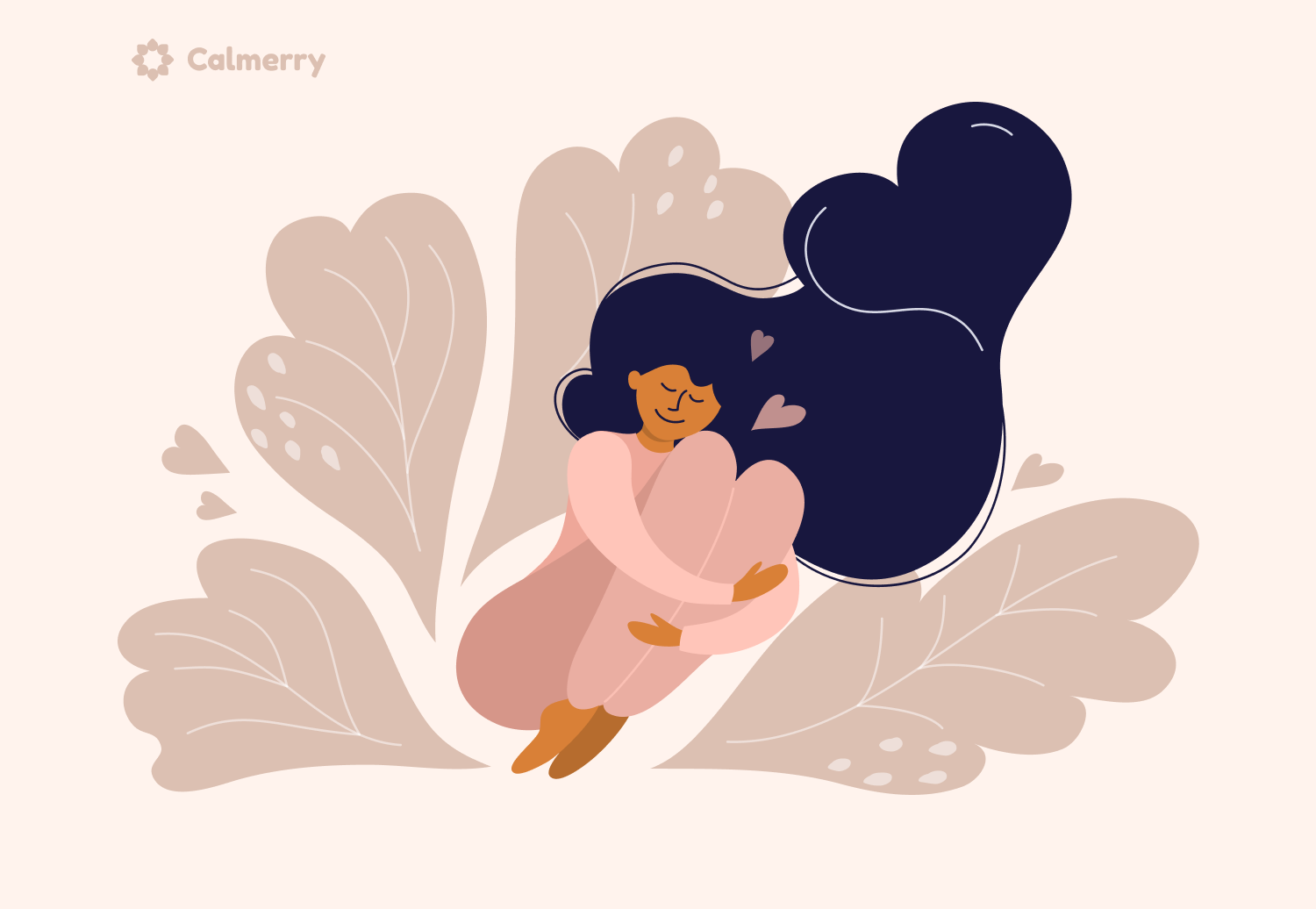 When you're proud of yourself, you take care of your health
Self-pride is the ultimate form of self-love, and when we love something, we care about it. By embracing yourself as you are, you can develop a healthier relationship with your body, recognizing its needs and protecting its health.
The feeling of self-pride might motivate you to stick with a healthy lifestyle. Whether it be working out, jogging, doing yoga, or switching to a healthier diet, there are countless ways to take better care of yourself. All these things also create a lot of room for new accomplishments.
The problem with self-criticism
There is a difference between healthy and low self-esteem, and such a difference may impact not only your emotional well-being but also your relationships, career, and virtually any other area of your life. Most often, such problems stem from self-criticism.
First of all, let's point out the fact that self-criticism itself isn't bad. Moreover, it's rather necessary if you want to improve and grow, both personally and professionally. To grow, you need to identify areas of improvement.
With that said, only a healthy amount of self-criticism can be helpful. Unfortunately, it can also easily get out of control and turn into self-deprecation or even self-sabotage.
Numerous studies suggest that self-criticism can have a severe negative impact on a relationship with one's self. Unhelpful self-criticism and negative thinking can make you ignore your own strengths and achievements.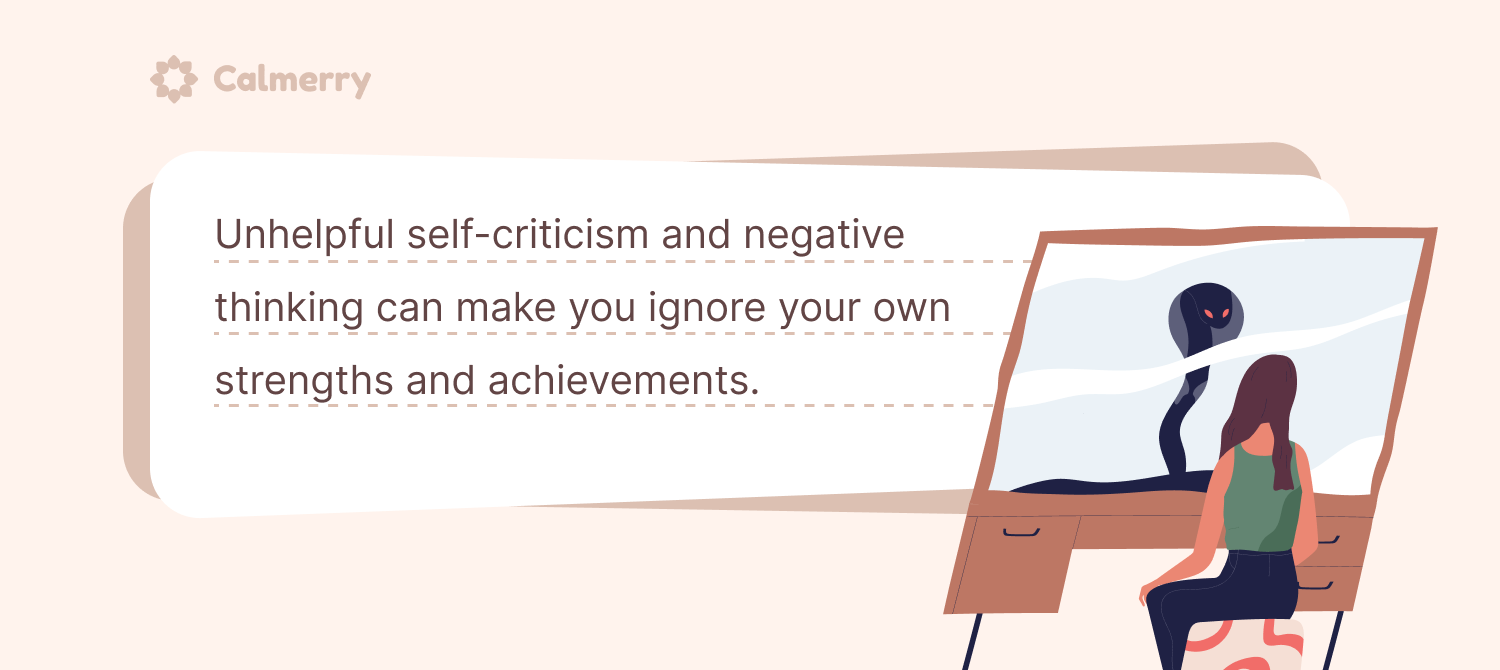 Persistent self-criticism is associated with uncompromisingly high standards and growing demands toward oneself that become increasingly difficult to meet. As a result, self-criticism may become harsher with time, leading to a growing sense of self-dissatisfaction.
Unproductive self-criticism may fuel depression and worsen its symptoms. Research data shows that people with major depressive disorder score higher on a self-criticism scale. Besides, a high level of self-criticism has been linked to anxiety and self-isolation.
Why can we be overly self-critical?
All of us have an inner voice that guides our sense of judgment. The criteria directly depend on our social environment from early childhood, life experiences, and the values we have developed over time. Subconsciously, we use these values as an assessment scale for both others and ourselves. And sometimes, the inner voice can be harshly self-critical.
Your evaluation of yourself also depends on the state of your mental health. We've already mentioned that increased self-criticism is linked to depression and anxiety, and it's also associated with eating disorders, bipolar disorder, and personality disorders.
Besides, sometimes, our perception of ourselves doesn't correlate with our expectations or perfectionistic thinking. For instance, one may feel that they haven't done their best on a task or should have tried harder.
Eventually, your self-critical and subjective evaluations of yourself can start to have an impact on your sense of self-worth. This, in turn, may shape your self-talk, making it either devaluing or supportive.
The thing is that how we perceive ourselves also has an impact on how we behave. When you constantly feel that you are not good enough, you may always push yourself too hard and set unrealistic expectations that don't reflect your actual capabilities or needs.
The good news is that there are actionable steps you can take to feel confident in your efforts and learn to cherish yourself.
Subscribe
to our mental health digest
Let us support you on the way to better mental well-being. Get expert tips and insights on mental health delivered to your inbox monthly.
How to feel proud of yourself
Self-pride comes as something natural for people who were raised in a supportive environment. On the other hand, those who are used to living with a lack of support or experienced traumatic events often find it challenging.
Self-pride takes some time to build. So, instead of trying to quickly change those deeply rooted values – a task that can be quite difficult – you can start reducing the effect that those thinking and behavior patterns have on you. This means changing your attitude toward yourself, one step at a time.
1. Accept your vulnerabilities
You have to accept that no one is perfect, even you. Besides, you need to understand that there is always some room for growth and learning.
If you fail at something, always keep in mind that mistakes and failures teach us important things and show us areas for growth.
2. Challenge your inner critic with self-compassion
There is no denying that we tend to be our own harshest critics. You should challenge your unhelpful inner critic if you want to cultivate self-pride.
Many people often hide their weaknesses to demonstrate a positive image of themselves, but self-compassion means increasing understanding, normalizing, and appreciating one's limitations.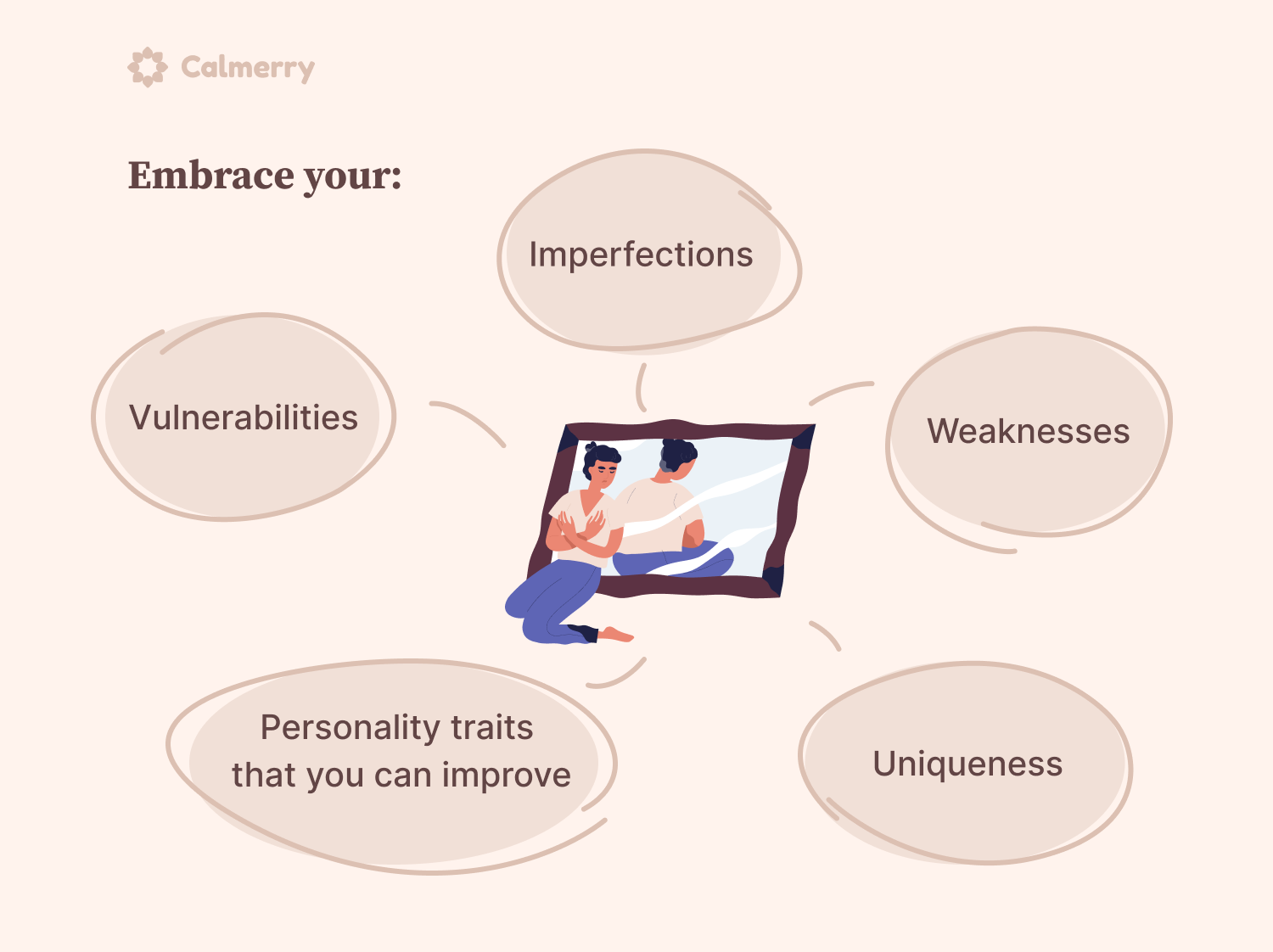 3. Know yourself
Keep in mind that to truly improve your sense of self-pride, you need to know yourself. Of course, self-compassion doesn't mean ignoring dysfunctional behaviors or attitudes.
However, as you get to know and accept yourself, you can notice those weaknesses that you should focus on in terms of personal growth.
Here are a few helpful tips:
4. Get support from a professional
Given that your perception of yourself may not reflect your actual strengths and the way other people see you, it can be difficult to challenge self-criticism without taking a look at yourself and your life from a new angle.
It's especially challenging to restructure your negative thoughts about yourself if you're dealing with mental health problems.
A licensed therapist can provide you with a safe space where you can better understand yourself and reconsider some of your beliefs about yourself. Besides, a therapist can guide you through every step on your way to healthy self-esteem, self-pride, and life.
Final thoughts
In this article, we considered some reasons why self-pride is important if you want to live a fulfilling life. A lot can be said about this complex subject, but there's also a simple truth that summarizes everything: you deserve to be loved, especially by yourself.
You can learn to forgive yourself and embrace your imperfections, but it may not be an easy task. So, if you have a hard time trying to win a fight against your excessive inner critic, don't hesitate to ask for help.
If you're experiencing difficulties that affect your mental health, you can benefit from professional online counseling. A licensed therapist can help you rediscover yourself, recognize your strengths, and learn to be proud of yourself.
You deserve to be happy, and you're one step away from a more fulfilling life and a better relationship with yourself.
Сheck your mental well-being for free: