Published April 27, 2023 / Updated May 29, 2023
What Is Self-Image, and How to Nurture a Healthy One?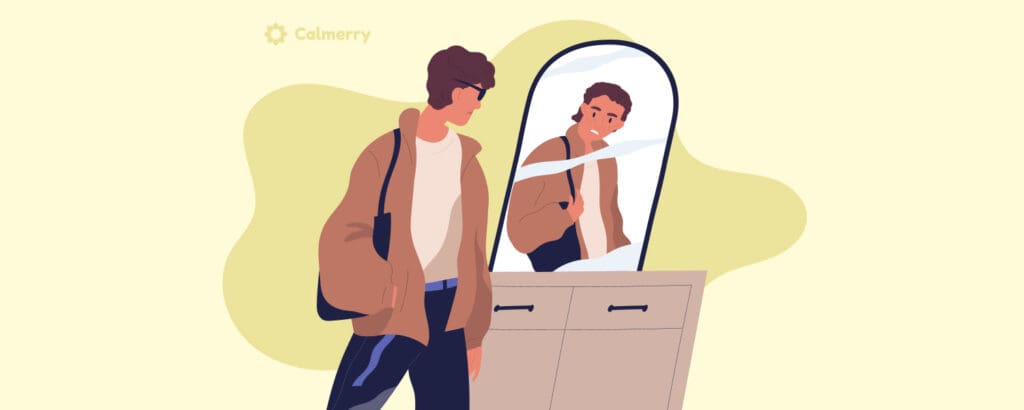 Reading Time:
6
minutes
Our perception of ourselves plays a crucial role in how we live, interpret reality, interact with others, and cope with life's challenges.
However, our self-image may not always be accurate. Various factors, including experiences, relationships, and cultural and societal influences, can negatively affect it, decreasing our self-esteem, self-confidence, and overall life satisfaction.
So, it is essential to understand what self-image is, how it develops, and how we can maintain a healthy mental image of ourselves.
What is self-image, and how is it developed?
In 1965, psychologist Morris Rosenberg published the first study exploring the self-image concept. Also, he provided one of the most-cited psychology scales for measuring self-esteem level – the Rosenberg Self-Esteem Scale.
Essentially, he defined self-image as how we perceive or what we think about ourselves. In other words, self-image is our mental picture of ourselves. This includes how we perceive:
Our physical appearance
Our abilities and capacities
Our personality traits
Our beliefs about ourselves
Self-image isn't inherent but rather a result of learning. During childhood, self-image is largely shaped by a child's interactions with parents and experiences with peers.
Self-image can be particularly important during the teenage years as teenagers begin forming identities and learning about themselves. In addition, they may feel pressured to conform to societal norms and compare themselves to others, so their self-image can change.
In adulthood, self-image continues to evolve as people face new experiences and life changes, such as getting a job, becoming a parent, or experiencing physical changes. In this period, self-image can be shaped positively or negatively by various factors, including relationships, career, health, and personal experiences.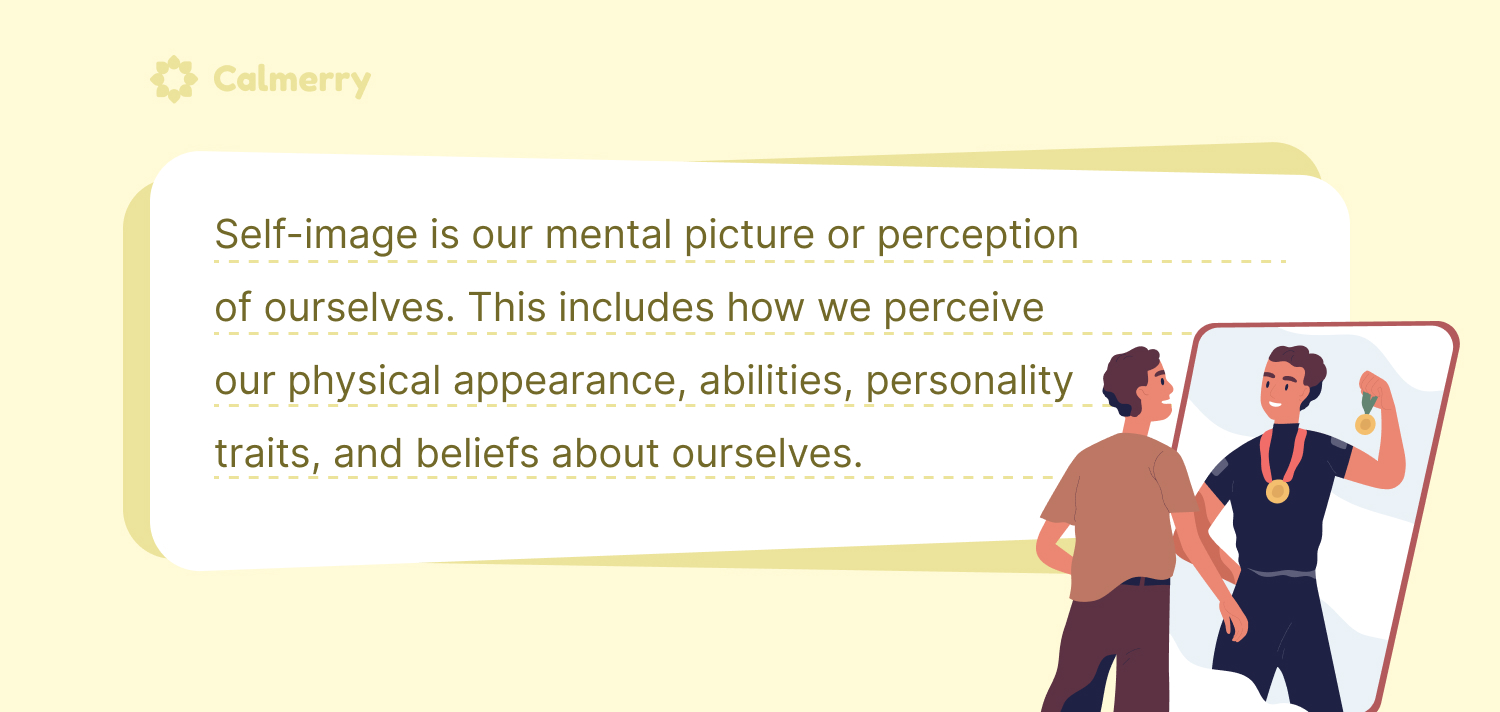 Positive vs. negative self-image
Positive self-image refers to a positive assessment of physical appearance, personality, and traits. In other words, it is how a person views and evaluates oneself in a positive light.
It can be influenced by various factors such as:
Supportive and healthy relationships with parents
Positive experiences in the teenage years
And personal achievements
Research has shown that a healthy self-image is crucial for mental well-being, healthy self-esteem, resilience, and it can reduce symptoms of anxiety and depression.
In contrast to a positive one, a negative self-image makes us feel inadequate, can decrease our life satisfaction, and can even lead to depression.
Negative self-image refers to a person's negative perception of themselves, including their physical appearance, body image, and personality traits. Past traumas or experienced abuse, social pressures, and cultural expectations may contribute to negative self-perception.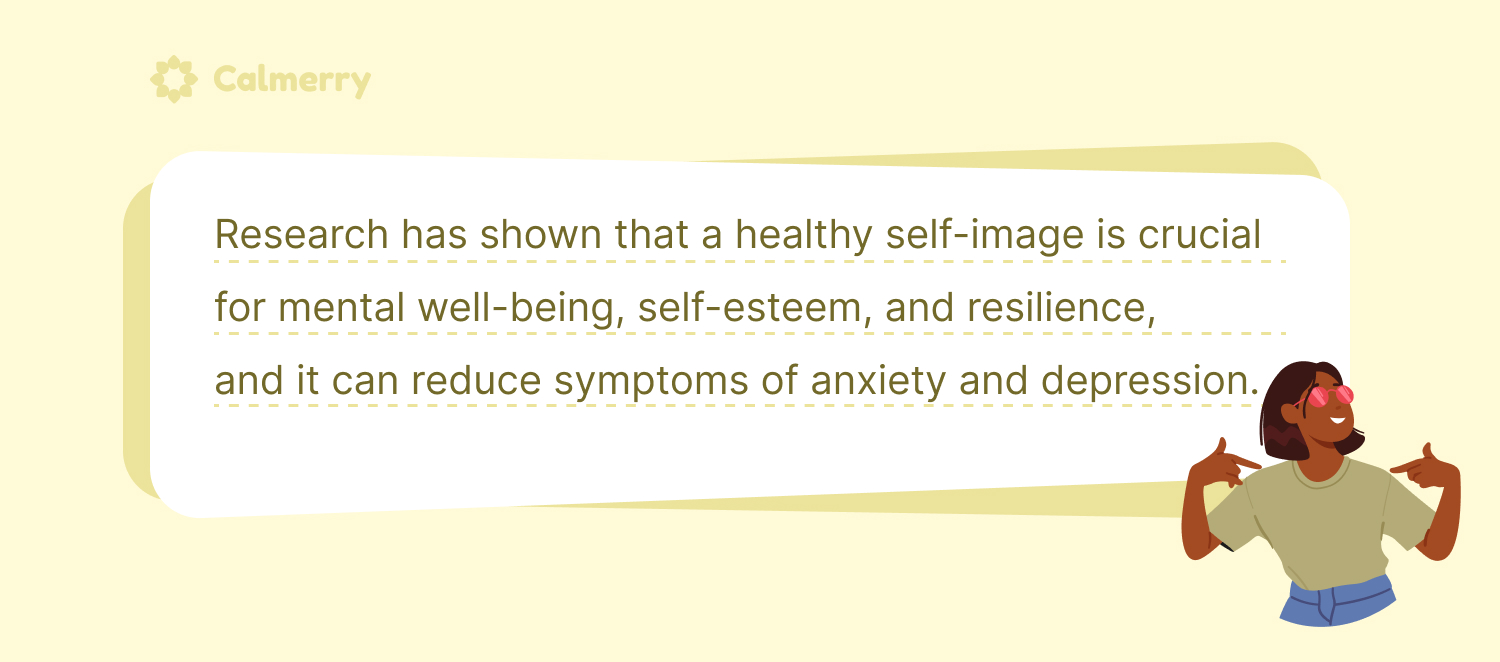 When negative self-image leads to self-image distortion
Distorted self-image can occur when self-perception is not aligned with reality. For instance, those with a positive self-image may engage in self-enhancement bias, overestimating their abilities and achievements while downplaying their shortcomings. This can lead to unrealistic expectations and disappointment.
Distorted self-image can also occur in the context of body image dissatisfaction, where people's perceptions of their physical appearance often don't align with reality. This can lead to body dysmorphic disorder (BDD), a mental health condition characterized by experiencing obsessive thoughts and feelings with perceived defects or flaws in appearance.
Self-image vs. self-esteem – the key difference
While self-image is the personal view or mental picture of ourselves, self-esteem refers to our overall evaluation or judgment of ourselves and a sense of self-worth.
Self-esteem is based on our perception of how well we are meeting our own standards and expectations. Simply put, self-image is a component of self-esteem.

A healthy self-image can contribute to higher self-esteem, while a negative self-image can lower self-esteem.
5 benefits of a positive self-image
As we know now, having a positive self-image is an important aspect of mental and emotional well-being. But there's more to it than that. Here are five key benefits of having a positive self-image:
Unconditional self-acceptance. People with a positive self-image can accept themselves for who they are without feeling the need to change themselves to fit in or conform to society's expectations.
Increased self-confidence. A positive self-image is associated with a strong sense of confidence. People believe in their abilities and their potential to achieve their goals.
Enhanced resilience. People with a positive self-image tend to be more resilient. They can bounce back from setbacks and challenges and don't let failure or rejection define them.
Improved assertiveness. People with positive self-image can express their thoughts, feelings, and needs clearly and assertively. They also can set boundaries and stand up for themselves without being confrontational.
Emotional balance. A positive self-image is associated with emotional balance, the ability to regulate emotions, and coping with stress in a healthy way.
Keeping a self-esteem journal is a great way to begin thinking about the good things you do and experience, setting yourself up for a positive outlook on life.

Don't know what to write about? Download this free worksheet with 3 journaling prompts for each day of the week 👉🏾 Self-Esteem Journal
6 ways to nurture a healthy self-image
There is no such thing as a fixed self-image – it's dynamic and can keep changing throughout our life based on our experiences. Developing a positive, healthy self-image can help us lead more fulfilling lives, which challenge the distortions in the mirror.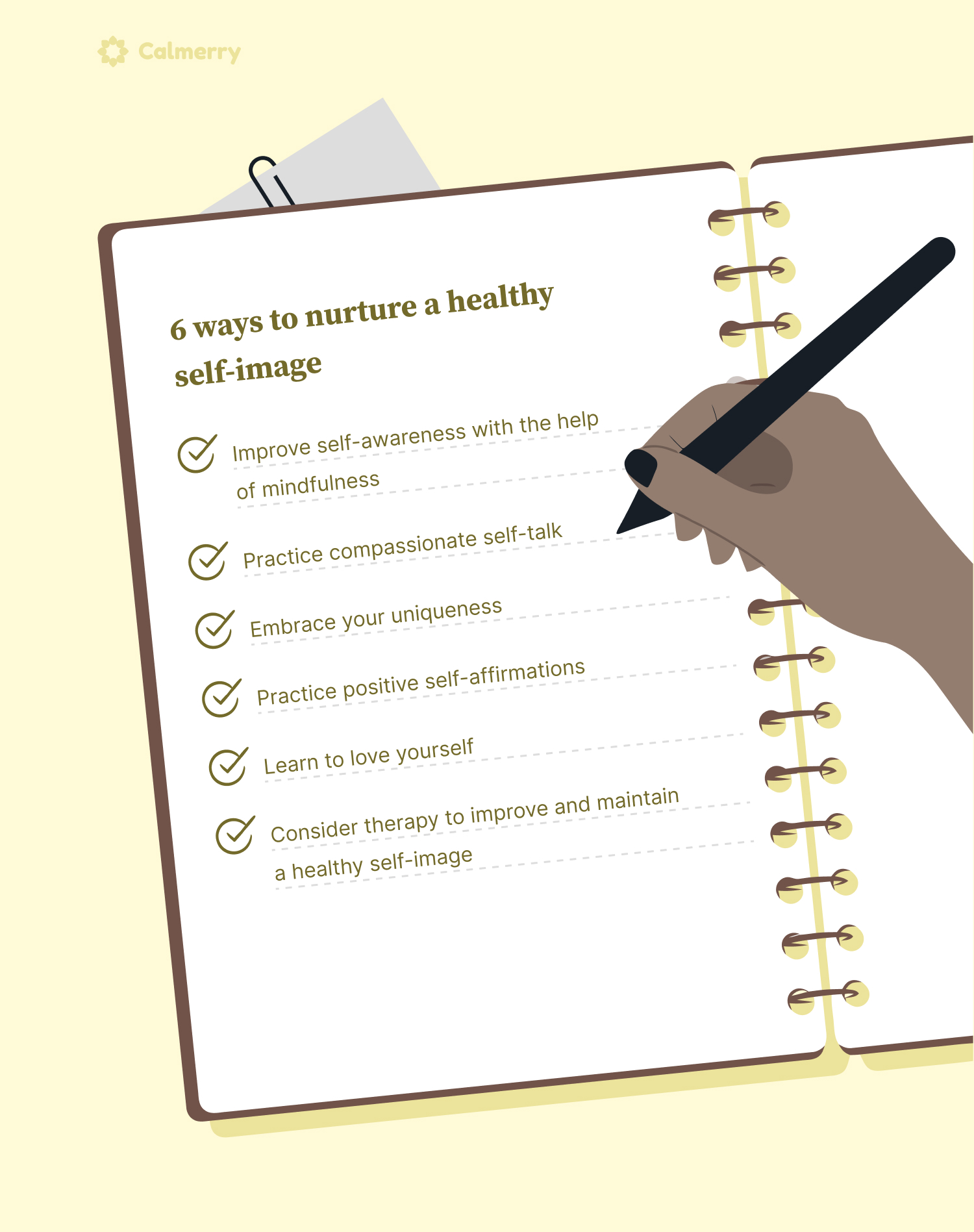 Improve self-awareness with the help of mindfulness
Self-awareness and self-image are closely related – our self-image becomes more "real" as we learn more about ourselves. So improving self-awareness can lead to a more positive self-image.
How does it work? When you are more self-aware, you better understand your strengths and weaknesses. This can help you focus on your strengths and develop strategies to work on the sides of yourself you want to improve, leading to a more positive view of yourself.
Consider trying mindfulness – it is the practice of being fully present and engaged in the current moment. This can help you become more aware of your thoughts and emotions and allow you to observe them without judgment. As a result, it leads to a healthy self-perception and image of ourselves.
Practice compassionate self-talk
How you talk about yourself greatly impacts your ability to embrace your potential and make positive changes in your life. When you nurture a positive relationship in your internal dialogue, it helps you and your self-image flourish. On the other hand, negative self-talk can create serious challenges on your way to self-discovery and can lead to self-image distortion.
So, try to challenge your negative thoughts and make space for self-compassion. Try to refocus your inner dialogue in a healthier, self-compassionate direction.
Embrace your uniqueness
Whenever you make a mistake, it is easy to be hard on yourself. However, this may worsen the situation since you can end up in a self-deprecation cycle.
The best way to support yourself is to make peace with your inner critic and substitute acts of self-criticism with self-acceptance.
Remember that everyone has flaws and makes mistakes, so don't be hard on yourself. Accepting your imperfections and flaws is essential to self-acceptance, as those things make us special and unique.
Practice positive self-affirmations
If you've never used affirmations, you may wonder what they are. Simply put, they're short positive statements you repeat to yourself regularly. Usually, it's a list of between 10 and 50 affirmations that you can read, say out loud, or listen to an audio recording each day.
Positive affirmations are powerful tools that can help improve your self-image and boost your self-confidence.
Here are some tips for using positive affirmations to improve your self-image:
Choose affirmations that resonate with you and reflect your values, beliefs, and priorities. This can make the affirmations more meaningful and effective.
Use present tense when stating your affirmations, such as "I am confident and capable," rather than "I will be confident and capable." This can make the affirmations more effective and believable.
Repeat affirmations regularly, for example, every morning or before bedtime. This can help reinforce the positive messages and make them a part of your mindset.
Believe in your affirmations: If you have self-doubts or negative thoughts, try to reframe them in a positive way. For example, if you have negative thoughts about your appearance, reframe them by saying, "I am beautiful and unique in my own way."
Subscribe
to our mental health digest
Let us support you on the way to better mental well-being. Get expert tips and insights on mental health delivered to your inbox monthly.
Learn to love yourself
Self-love is the practice of treating ourselves with kindness, compassion, and understanding. It also involves accepting ourselves for who we are, all sides of ourselves, with prioritizing our physical and emotional well-being.
Treating ourselves with care and respect makes us more likely to have a positive self-image. So by taking care of ourselves on all levels, physically, emotionally, and mentally, we can improve our self-esteem and develop a more positive self-image.
Consider therapy to improve and maintain a healthy self-image
How we interact with the world, maintain relationships, cope with difficulties, and even what level of life satisfaction we have depends on how we perceive ourselves.
A negative self-image negatively affects our quality of life. On the other hand, improved self-awareness, self-acceptance, and positive affirmations can flourish a positive self-image – and, eventually, our well-being.
But sometimes, we need professional support to help with the process of knowing and accepting ourselves. Therapy for self-esteem can help you confront your self-deprecating beliefs and learn to love yourself for who you are.
And even if you don't have time to visit a therapist in person, online therapy platforms like Calmerry can help you access mental health professionals from the comfort of your home to nurture a healthy self-image and start living your best life.
Сheck your mental well-being for free: