How Dialectical Behavior Therapy (DBT) Works, Techniques, and Benefits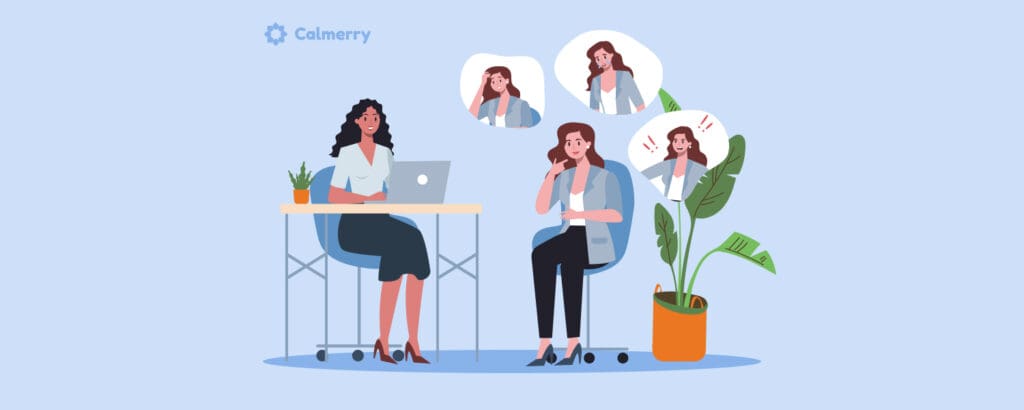 Reading Time:
7
minutes
Trigger warning and disclaimer: This article contains sensitive information about self-harm and suicide. If you're currently experiencing self-harming or suicidal thoughts, please prioritize your well-being and seek proper support. Here are the emergency resources for immediate help.
When you seek counseling or therapy for a mental or emotional health problem, there are a variety of different modalities that the mental health professional may use. Some counselors and therapists are experts in one or two specific modalities, whereas others use more of an eclectic approach, combining multiple styles.
One specific approach therapists may employ is Dialectical Behavior Therapy (DBT). This modality is useful for treating a variety of mental and emotional health problems, and it provides an intensive level of treatment.
Below, learn about DBT techniques and how they may be beneficial for you.
What is DBT?
Dialectical behavior therapy (DBT) is a therapeutic modality developed by Marsha Linehan to treat women with suicidal behavior. Linehan put great effort into developing a comprehensive treatment program that combined evidence-based approaches used in treating depression and anxiety. And initially, her approach used cognitive-behavioral interventions that emphasized changing thoughts and behaviors.
Despite having the best of intentions, Linehan's initial model was not well-received by her patients. Many felt attacked and criticized, because so much emphasis was placed on changing their way of being. As a result, patients tended to drop out of treatment, feeling defeated and misunderstood.
To address this problem, Linehan went back to the drawing board and modified DBT. Eventually, she incorporated practices that communicated acceptance for the patients and also allowed them to develop a stronger acceptance of themselves and others.
After years of research and clinical practice, Linehan arrived at her final DBT model, which balances the acceptance of the patient with change-oriented interventions. 
The final model is based upon principles of cognitive-behavioral therapy (CBT) and provides evidence-based treatment to people through a combination of individual therapy and group skills sessions.
While DBT is a comprehensive treatment modality that addresses numerous skills, the primary focus of treatment is helping people to learn skills for regulating their emotions.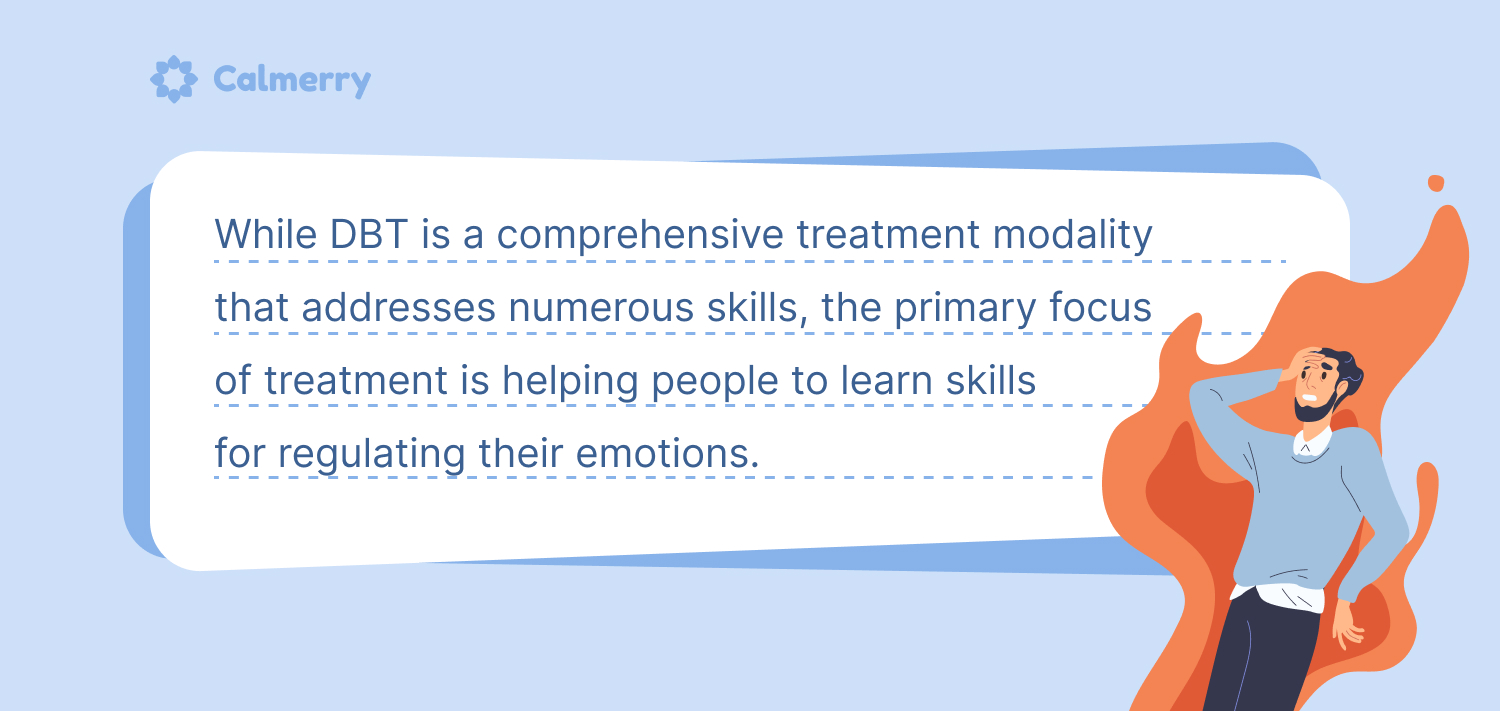 How does DBT work?
DBT follows a structured format, combining individual and group sessions. Typically, patients in DBT have a weekly individual session with their therapist, lasting one hour. They also participate in a skills training group once per week, often for 1.5 to 2 hours.
Beyond direct services to patients, the DBT therapist regularly participates in consultation team meetings with other therapists to receive feedback and ensure they provide the highest quality of care possible.
Therapists are usually also available by phone between sessions to respond to patients in crisis and help them apply skills to the crisis situation.
Who can it help?
While DBT is a comprehensive treatment modality that addresses numerous skills, the primary focus of treatment is helping people to learn skills for regulating their emotions.
What makes this modality unique is that it approaches treatment using a dialectical philosophy, in which there is a tension between polar opposites. On the one hand, the therapist communicates acceptance of the patient, while on the other hand, using interventions that promote change.
DBT was primarily developed to treat individuals with borderline personality disorder, particularly those demonstrating suicidal behavior. However, given that DBT targets broad skills, including emotional regulation, mindfulness, and interpersonal skills, it has been used to treat multiple other mental and emotional health problems. 
For example, numerous studies have demonstrated that DBT is beneficial for reducing dysregulated anger, making it beneficial for those who have problems related to displays of anger. For instance, someone who experiences relationship conflict or problems at work because of intense anger may benefit from the skills learned in DBT.
Beyond its benefits for treating borderline personality disorder and anger-related disorders, DBT can be beneficial for the following:
Is DBT effective?
When people are considering entering DBT treatment, they often ask about its effectiveness. Fortunately, numerous studies have been conducted to evaluate the effectiveness of the DBT modality, and they offer promising results.
One form of study that has been widely conducted to evaluate DBT effectiveness is meta-analysis. It combines data from numerous studies to determine the overall effectiveness of a treatment or intervention.
One recent meta-analysis reviewed the results of studies that evaluated the effects of DBT on anger management. It found that DBT significantly reduces anger, especially when treatment is longer in duration.
Another meta-analysis involving patients with eating disorders found that DBT was effective in reducing binge eating, psychopathology, depression symptoms, and emotional dysregulation in these patients.
Finally, a meta-analysis evaluating studies that used DBT in patients with borderline personality disorder (BPD), which was the condition that DBT was initially developed to treat, found that DBT reduced depression and self-harm behaviors in this population, especially when treatment lasted longer than four months.
The bottom line is that quite a bit of research supports the use of DBT for treating numerous mental health problems.
The 4 stages of DBT
If you're considering DBT, it's helpful to understand that this form of therapy occurs in four stages:
Stage one: During this stage of therapy, stabilization is the focus. This involves addressing life-threatening behavior, such as suicide attempts or non-suicidal self-injury, and managing homelessness, chronic unemployment, substance misuse, depression, and other factors that significantly interfere with the quality of life. Another goal of this stage is to alleviate factors that interfere with the therapeutic process, such as failing to show up for appointments.
Stage two: Once a patient is stabilized, they move into stage two, during which the therapist begins to address and treat trauma.
Stage three: After processing trauma, a patient is ready to move into stage three, during which they set individual goals and resolve general problems of living.
Stage four: Finally, in stage four, the patient and therapist work to help the patient find a sense of joy in life.
DBT is a balance between accepting negative emotions and moving toward change.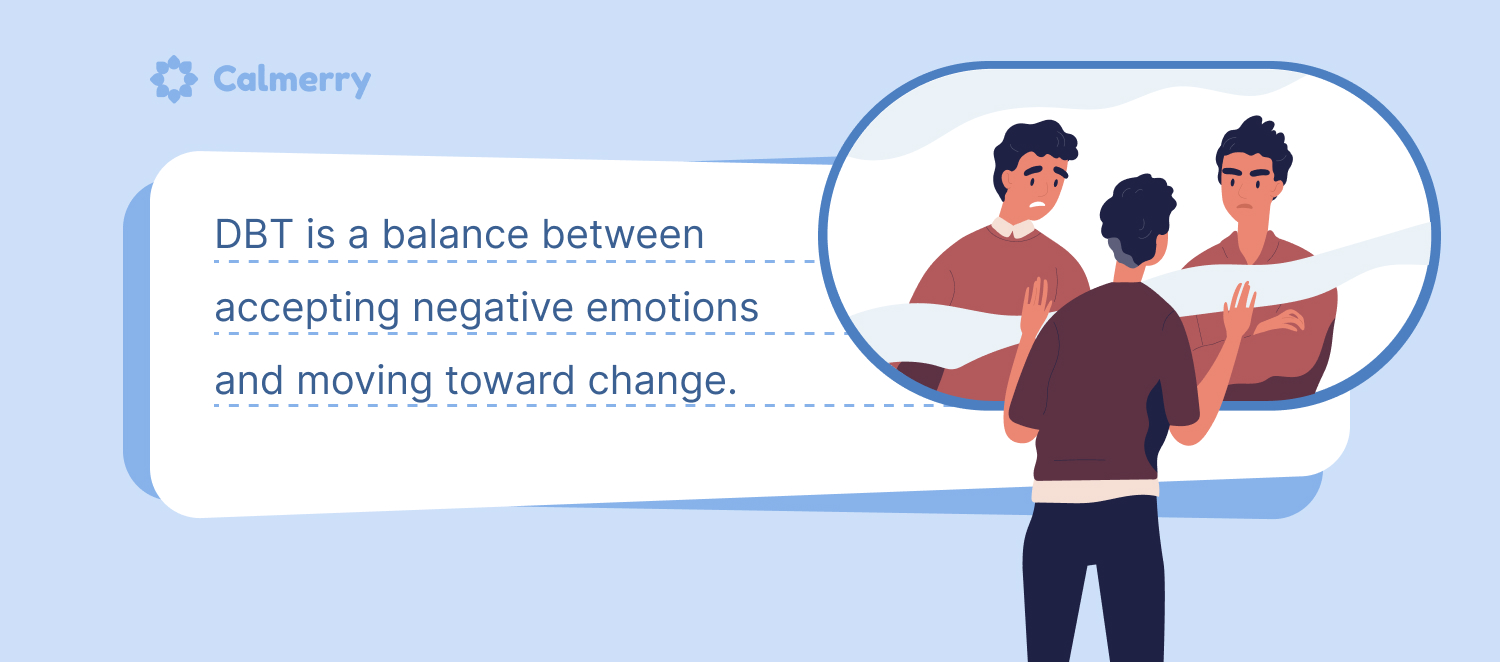 CBT vs. DBT
It is common for people looking into different therapeutic modalities to inquire about the difference between CBD and DBT. DBT is a derivative of CBT, but there are some key differences between CBT and DBT.
DBT is a specific variation of CBT that teaches patients skills for coping with distress and regulating their emotions. It is also designed to meet the needs of patients sensitive to rejection and who experience extreme emotional reactivity.
While CBT focuses on changing dysfunctional or unhelpful thinking patterns, DBT is a balance between accepting negative emotions and moving toward change.
Furthermore, CBT generally isn't quite as intensive as DBT, which uses both individual and group sessions and teaches a variety of skills beyond simply changing negative thinking patterns.
DBT techniques and skills
There are a variety of DBT skills and techniques incorporated into therapy. Patients participating in DBT treatment learn the following skills:
Distress tolerance
Coping with crisis situations
Social skills for navigating interpersonal relationships
DBT techniques are helpful for mastering these skills. In both individual and group sessions, patients practice their new skills to be transferred to everyday life. A therapist may also give "homework assignments," such as thought logs or DBT worksheets so that patients can apply new skills between sessions.
During DBT groups, therapists directly teach new skills, such as mindfulness, and give patients an opportunity to discuss these skills.
View this post on Instagram

Another goal of DBT is to help patients reduce unhelpful behaviors that interfere with a healthy life. This is achieved by allowing patients to use self-monitoring cards to track behaviors such as self-harm or thoughts of suicide. These unhelpful behaviors, when present, become the focus of an individual therapy session.
The DBT therapist may also help patients to analyze their behaviors. For instance, a patient who has been engaging in self-harm or other negative behaviors may learn to identify what led up to the behavior, what the consequences of the behavior were, and how they can apply skills to reduce such behavior.
Finally, DBT may help individuals modify their environments. For example, a patient who is struggling with drug misuse may be taught to avoid people, places, and things that trigger substance use.
What to expect in the first therapy session
When you enter DBT treatment, your first session will begin with a full assessment, in which the therapist gathers information about why you're seeking therapy. They will conduct a comprehensive assessment, which includes gathering information about the following:
Your mental health history
Your current functioning
The symptoms or problems that brought you to therapy
And your family
After completing an assessment, your therapist will work with you to develop treatment goals.
Based on the philosophy of DBT, if you're experiencing problems that place you at risk of harm, such as suicidal thinking or self-injury, the first step in the treatment process will be achieving a state of stabilization before proceeding to deeper work, such as processing trauma.
What to look for in a DBT therapist
If you think DBT is a good fit for you, it's important to find a qualified therapist who has experience and/or training in the DBT modality. They should be a licensed mental health professional, such as a social worker, psychologist, or professional counselor.
Your therapist should also treat you with dignity and respect and make you feel accepted. Finding a therapist who is a good fit for you can be one of the most important parts of treatment.
At Calmerry, we have licensed therapists trained and experienced in the DBT approach. While treatment of eating disorders, substance use problems, behavioral addiction, and suicidal ideation are not the main focus of our platform at this time, we do have therapists on staff who can apply DBT principles to address a range of mental and emotional health problems.
Visit our webpage today to learn more about our online therapy services.
FAQs
The answers to the following common questions provide additional information about DBT.
How long does DBT take?
The length of time that an individual person spends in DBT treatment will depend upon their unique needs. But DBT is generally intended to be long-term. 
Most people spend six to 12 months in treatment. Research shows that spending more time in treatment leads to better outcomes from therapy. Your therapist will determine the best treatment length for your needs.
Subscribe
to our mental health digest
Let us support you on the way to better mental well-being. Get expert tips and insights on mental health delivered to your inbox monthly.
Are there any disadvantages of DBT?
While DBT is effective, there is not one single treatment modality that works for everyone. Some people may find DBT too intensive or time-consuming since it may involve individual and group therapy sessions each week.
DBT is also intended to be a long-term treatment, so some people may find it too costly.
What are the benefits of DBT?
DBT is beneficial because it provides an intensive and comprehensive level of care. Patients participate in both individual and group sessions weekly, and they learn various new skills, including mindfulness, distress tolerance, and emotion regulation.
DBT is also effective for treating various mental and emotional problems, including depression, anxiety, anger management issues, PTSD, BPD, eating disorders, substance misuse, and suicidal behavior.
The information provided in this article is for educational purposes only and is not a substitute for professional mental health advice or treatment. Our services are not suitable for people who need immediate crisis assistance. Please contact emergency services or a helpline in your country.
Сheck your mental well-being for free: