Published April 1, 2022 / Updated January 17, 2023
The Truth About Self-Harm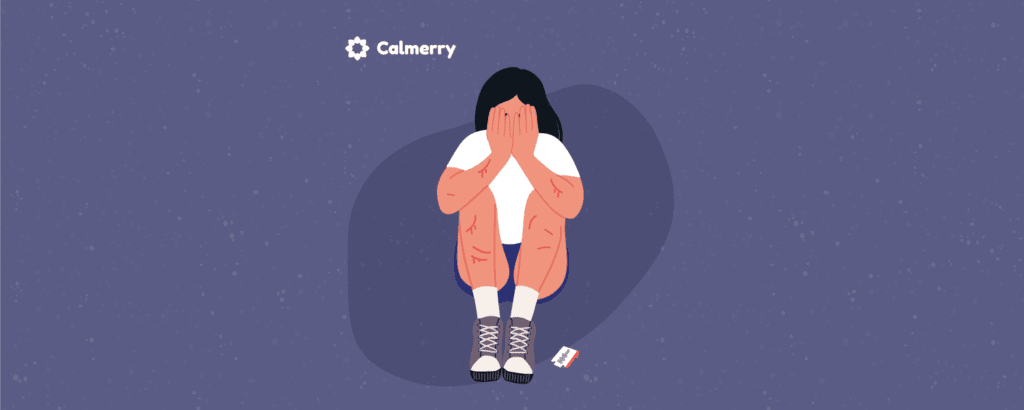 Reading Time:
6
minutes
Self-harm is a secretive behavior that affects more people than you may think – about 10% of adolescents and young adults. This article is an explainer, and its goal is to explain self-harm, its possible causes, and how to access treatment and support.
What is self-harm?
Self-harm or self-injury describes the non-suicidal behavior when someone deliberately inflicts harm on their body as a way of dealing with distress and emotional pain, for example, cutting oneself, taking a non-lethal dose of medication, or burning oneself. It's not a suicide attempt. However, self-harm includes both minor and high-risk behaviors.
Self-harm isn't a mental illness. It's a sign of emotional distress, and it should be taken seriously. It usually starts as a way to relieve the pressure from distressing feelings and thoughts, overwhelming situations and experiences, and painful memories. Injuring yourself stimulates the body's endorphins or pain-killing hormones and might give temporary relief from the emotional pain you are feeling, but the underlying issues that cause your distress still remain.
Once a person injures themself, they may experience shame and guilt. These feelings lead to intense negative emotions that make the person feel worse so they may hurt themself again. This behavior can become someone's normal way of dealing with life's difficulties, creating a dangerous cycle. It can even become a long-term habit, and some people may create rituals around it.
Why do people self-harm?
People harm themselves for different reasons. Sometimes it can be a combination of factors. The reasons may also change over time. Some of the common reasons why people harm themselves include:
Alcohol and drug abuse
To make themselves feel normal
To distract themselves
Anxiety
Low self-esteem
To relieve themselves of bad feelings
Transitions like changing schools
When someone faces a combination of these factors, it can be difficult for them to cope. As a result, they turn to self-injury as a way of releasing the strong emotions they feel. Most people who self-harm do not believe they have any other option.
In most cases, individuals who inflict harm on themselves believe others can't understand what they're going through. Even worse, they think people won't understand the need to inflict self-harm. For this reason, they hurt themselves in secret and keep what they're going through to themselves.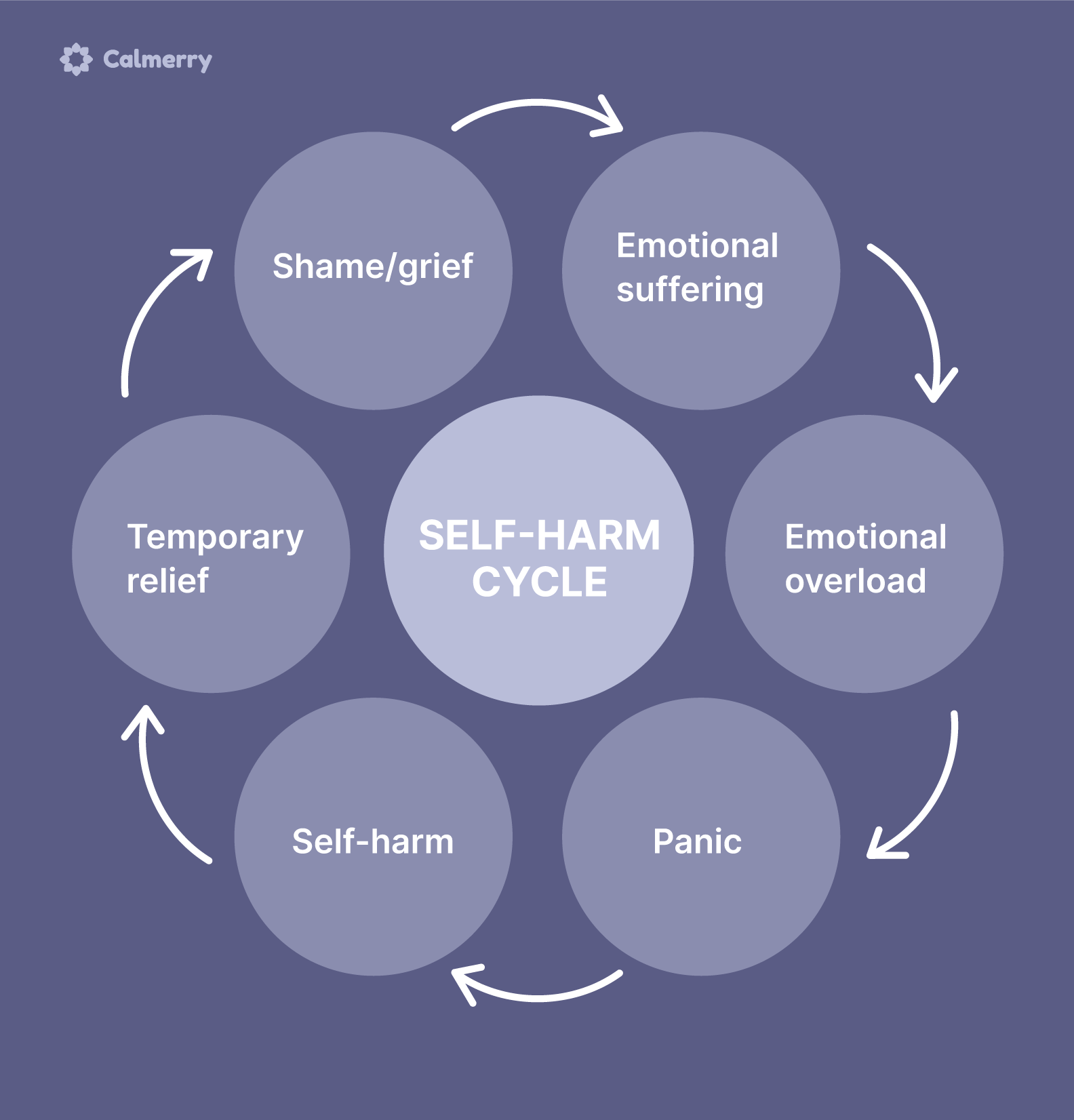 But whatever the reasons for self-harming, it's important to know that there is help available. If you want to stop, there are effective treatments that can allow you to feel in control of your emotions again.
Who self-harms – common risk factors
Self-injury is most common among pre-teens and teenagers. In these age groups, emotions are more volatile. Teens face a lot. They have to deal with changes in their bodies, conflicts with parents and authority figures, peer pressure, and more. However, it's not uncommon to find adults who self-harm. Here are some of the factors that may drive one to inflict harm on themselves.
Life challenges
Some people injure themselves because they're facing difficult situations in life. It may be after losing someone, difficulties at the workplace, or other life challenges. They have a hard time opening up about what they're going through. As a result, the only way they can escape and deal with their emotions is by inflicting self-harm.
Mental health disorders
Self-harm is not a mental disorder. However, this behavior can arise from different mental disorders. Some of the common mental health issues that may push someone to self-harm include borderline personality disorder (BPD), anxiety, and depression. People who injure themselves also tend to have a poor self-image and have poor decision-making skills.
Alcohol and drug abuse
The use of recreational drugs makes it more likely for one to harm themselves. When one is in an intoxicated state, their decision-making process is impaired. As a result, they're more likely to make poor decisions like hurting themselves. Besides, the overuse of drugs and alcohol is another way of trying to escape and deal with difficult emotions and life struggles.
Friends who self-harm
Self-injury may also stem from peer pressure, especially among teens. Teenagers who see their friends inflicting self-harm may think it's a good way to deal with emotions. Some teens do it to fit in because they don't know any better.
Childhood trauma
People who grow up in traumatic situations are also more likely to self-harm. For instance, a child who was sexually abused may feel alone and unable to share their experience due to shame. As a result, they'll self-harm to escape and release their negative emotions. Emotional and physical abuse may also push one to self-harm.
Low self-esteem
A person's sense of self-worth may also push them to self-harm. Individuals with low self-esteem feel less worthy than others, and they don't consider themselves worthy of love. Furthermore, they tend to be overly critical of themselves and don't love themselves. As a result, they inflict harm on themselves because they don't feel like they deserve any better.
Money worries
Financial troubles create a lot of stress and uneasiness. Some people may start inflicting harm on themselves to feel as if they're in control of something. They also find self-injury as a way of dealing with negative emotions and releasing negativity.
Pressures at work or school
Teenagers are more likely to inflict self-harm on themselves due to school pressures. They do it to feel as if they're in control and deal with heavy emotions they don't know how to release. Adults have the same kind of pressure at the workplace. It's even worse for them because they're expected to have life figured out and be in control of their lives.
What are complications of self-harm?
When most people start inflicting harm on themselves, they believe it's harmless. But this couldn't be further from the truth. If the problem is not addressed, self-harm has the potential to become an addiction.

You see, this behavior mirrors substance addiction. Most individuals who self-injure describe getting a feeling of euphoria and exciting release every time they hurt themselves. The more you do it, the harder it becomes to stop.
Some of the complications of self-harm include:
● Increased risk of suicide. Because most people harm themselves in times of deep distress, they're likely to go too far and commit suicide.
● Increased feelings of shame. Once the euphoria has passed, it's followed by intense feelings of shame.
● Permanent scars. Behaviors like cutting, burning, and other bodily injuries leave life-long scars.
● Infection. People who open up their wounds and cut them as a way of self-injuring are at a higher risk of infections.
● Worsening of underlying issues. Mental health disorders get worse over time if left untreated.
Can self-harm be prevented?
Self-injury is difficult to prevent because there's no sure way of doing so. However, parents, teachers, friends, and caregivers can take steps to reduce its risk. Some of the best ways to reduce the likelihood of self-harm include:
● Creating awareness. Teach people about the warning signs of self-harm and how to seek assistance.
● Encouraging peers to seek help. It's easier for friends to encourage their peers to seek help and avoid secrecy.
● Identify people in need of help and offer it. People at high risk of self-harm can be taught healthier ways to deal with distress.
● Encourage expansion of social workers. Creating avenues for people to talk about what they're dealing with makes them less likely to engage in self-harming behaviors.
● Media influence. News, music, and other media outlets should refrain from promoting self-harming behaviors.
Subscribe
to our mental health digest
Let us support you on the way to better mental well-being. Get expert tips and insights on mental health delivered to your inbox monthly.
How to find help
If you need immediate support to deal with self-harm or suicidal thoughts, call the National Suicide Prevention Lifeline in the U.S. at 1-800-273-8255.
If you're ready to get help, talk to someone you trust – such as a friend, a family member, or a trained volunteer and seek professional treatment for cutting and self-harm. Find a therapist who has experience treating both trauma and self-injury. The earlier you get help, the easier it will be to learn healthy ways of coping with difficult emotions and work toward recovery.
A therapist trained to listen with empathy and acceptance will help you discover the underlying causes of your behavior and also teach you effective strategies to cope with the problems you're dealing with. Besides, you'll get a safe space to vent about what you're going through without fear of judgment.
Try Calmerry therapy
Сheck your mental well-being for free: