Published April 13, 2023 / Updated April 19, 2023
The Rosenberg Self-Esteem Scale (RSES): Measure Your Level with This Self-Esteem Test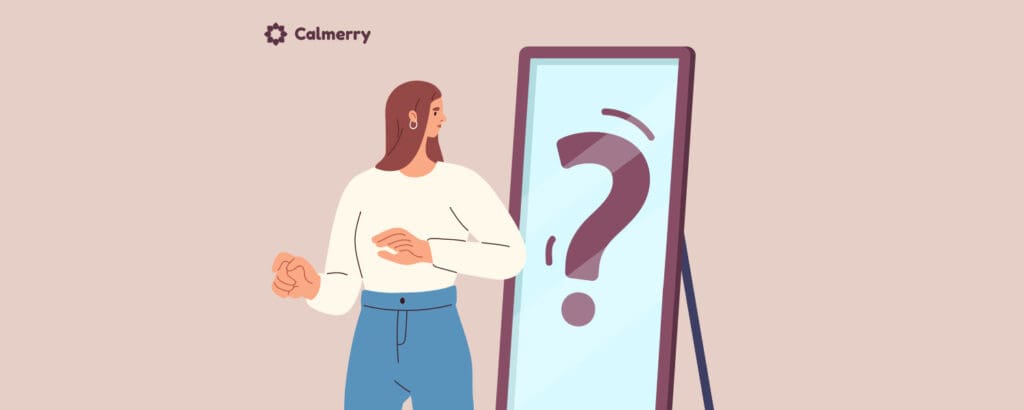 Reading Time:
4
minutes
Self-esteem is defined as a combined sense of self-confidence, self-respect, and a sense of self-worth. Healthy self-esteem is essential for our overall well-being and life satisfaction. It impacts all our decisions and even defines the quality of our lives.
Many people tend to focus on enhancing self-esteem since it leads to many positive outcomes and benefits. The first step in boosting self-esteem is measuring it to know where it stands.
The Rosenberg Self-esteem Scale (RSES) is the most widely used instrument to evaluate the level. And in this article, we will explore how this self-report measure works and how it can make you closer to improving your self-confidence and well-being.
Please note: this online self-esteem test is not a diagnostic instrument. Consider sharing your results with a licensed provider who can give you a full assessment. Seek professional help if your mental health needs extra support.
What is the Rosenberg Self-Esteem Scale (RSES)?
The Rosenberg Self-Esteem Scale is a psychological assessment tool developed by Morris Rosenberg, a social psychologist at the University of Maryland, in the mid-1960s.
Nowadays, RSES is a widely used measure of self-esteem and is common in research and clinical settings. The scale provides a more comprehensive assessment of self-esteem by measuring both its positive and negative aspects.
The original scale consists of ten statements, five of which are positive and five negative. In that questionnaire, participants should indicate their level of agreement with each statement on a four-point scale, ranging from strongly agree to strongly disagree.
The convenience of the Rosenberg Self-Esteem Scale
This self-esteem test is a convenient and accessible tool for measuring signs of low or high self-esteem. It is a self-report measure, which means that the person can complete it without the assistance of a trained professional and rely only on their individual report of symptoms.
The scale is also relatively short, consisting of only ten statements, which makes it a quick and simple assessment tool.
In addition, the Rosenberg Self-Esteem test is widely available and has been translated into many different languages. This makes it a useful tool for researchers and clinicians working with diverse populations.
However, it is important to use the test with other assessments and diagnostic tools from mental health professionals to explore a person's mental health comprehensively.
Subscribe
to our mental health digest
Let us support you on the way to better mental well-being. Get expert tips and insights on mental health delivered to your inbox monthly.
Rosenberg self-esteem scale scoring and interpretation
The RSES has been scored in a range from a minimum score of 10 to a maximum of 40 points. Over the years, the Rosenberg scale has undergone several revisions, with some versions containing as few as 5 questions and others containing up to 30.
The self-esteem test above is the adopted version, with a range of 0 to 30 points. And here are guidelines for interpreting the results:
21-30 points: Can be defined as high self-esteem
15-20 points: Can be defined as moderate self-esteem
0-14 points: Can be defined as low self-esteem
5 quick tips to boost your self-esteem
As mentioned earlier, self-esteem is an essential aspect of mental well-being that influences your self-confidence, enhances resilience, and impacts overall life satisfaction.
If your test results suggest that you need some improvements, try these quick tips that can help boost your self-esteem and improve your quality of life.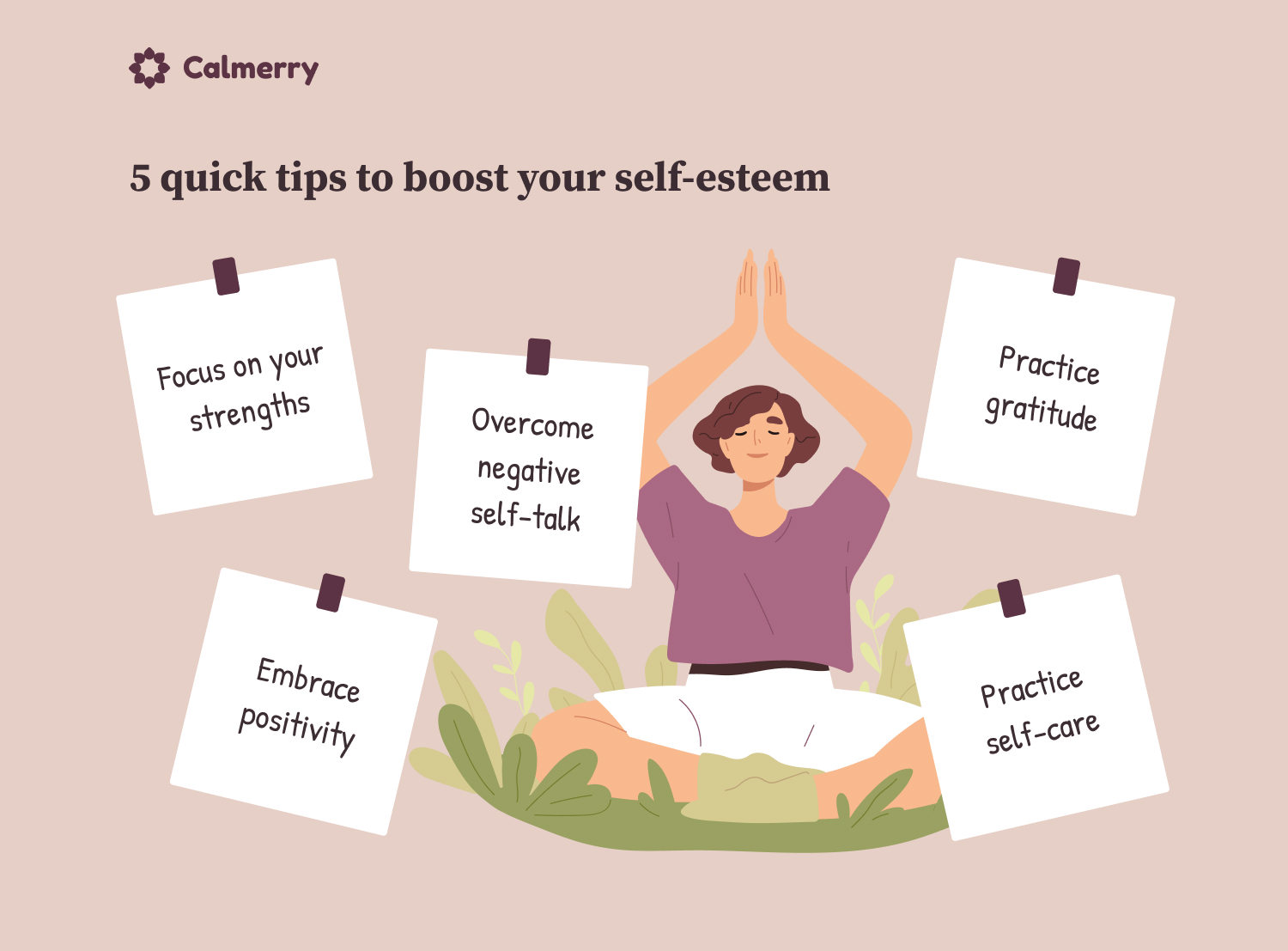 Focus on your strengths
Identify your strengths and use them to your advantage. Focus on these skills and try to use them in your daily life, whether it's at work or in your personal life.
Focusing on your strengths will make you feel more capable and competent, positively impacting your self-esteem. Remember, everyone has unique strengths, so embrace yours and use them to your benefit.
Overcome negative self-talk
Pay attention to your inner dialogue. What does it say? Is it more constructive dialogue or self-deprecative thoughts? Try to replace negative thoughts with positive ones. In other words, learn to stop negative self-talk.
For example, instead of thinking, "I'm not good enough," try thinking, "I'm capable and deserving of success."
Practice gratitude
Take a moment to appreciate the good things in your life, whether it's the people you love, your mental health, or your achievements. This can help shift your focus from negative thoughts to positive ones.
Embrace positivity
Try to avoid toxic relationships and situations that bring you down. It is better to spend time with people who are supportive and encouraging.
Certainly, healthy relationships can boost your self-esteem and improve your emotional intimacy and connection.
Practice self-care
Practice self-care in physical, emotional, and mental aspects. This can include eating well, exercising, getting enough sleep, and engaging in activities that bring you joy.
Taking care of yourself can help you feel more self-assured and improve your overall well-being.
Practicing gratitude can help improve mental health and overall well-being.
Wrapping up
The Rosenberg Self-esteem Scale is an easy but useful tool for everyone who wants to measure their level of self-esteem. Although this test is not a diagnostic tool, it still can be helpful as a way to find out more about yourself.
If you feel that your self-esteem is low, or if the outcome of the test indicates that it needs some improvements, check out these expert and effective ways to improve your self-esteem and learn to love yourself more.
On Calmerry, you can get emotional support and unconditional acceptance from a licensed mental health provider. Our therapists can help you become more self-aware, improve your sense of self-worth, and overcome self-doubt.
So, try online therapy to discover yourself in a non-judgmental, safe space where you can reflect on who you are and what you need to unlock your full potential to live a happier, more fulfilling life!
Сheck your mental well-being for free: