Published March 14, 2023 / Updated April 21, 2023
The Anatomy of Relationship Crises: Signs, Causes & Strategies to Overcome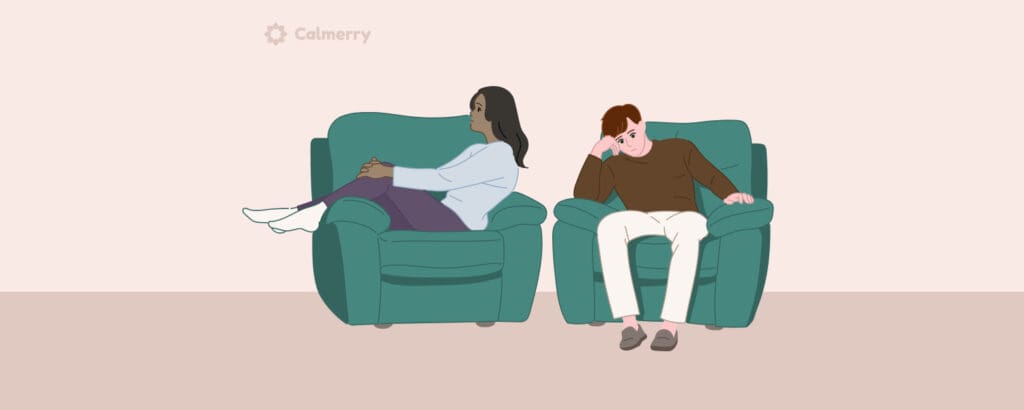 Reading Time:
5
minutes
Having a good long-term relationship can help us overcome life's challenges and maintain mental health. Sometimes, nurturing them is difficult. Even when you're having a wonderful time and sharing great moments, some things can irritate you, creating emotional disconnection and leading to prolonged arguments and relationship crises.
People facing relationship crises but still committed to salvaging their relationships may benefit from improving their relationships and making them healthier. This article highlights some warning signs that your relationship may be going through a crisis and strategies for dealing with such crises.
What is a relationship crisis?
Relationship crises can be defined as periods of intense stress or conflict within a romantic relationship that threaten the stability, life satisfaction, or well-being of both partners.
An unstable, distrusting, or unsatisfactory romantic relationship may result from significant conflict or challenges. Studies show that relationship crises can negatively affect mental and physical health. For instance, experiencing relationship distress was associated with an increased risk for depression and anxiety symptoms.
What makes people fall out of love?
Falling in love is often described as an intense, euphoric experience, but what happens when those feelings start to fade?
One of the reasons people fall out of love and have a crisis, as a result, is a lack of emotional connection and emotional validation in relationships. Couples can become less connected to one another, and the emotional bond holding them together can start to weaken.
This can be due to a lack of quality time spent together, communication breakdowns, or changes in priorities or interests. Love and attraction can fade with the loss of the emotional connection.
Other factors that can contribute to falling out of love include unresolved conflicts, unmet expectations, and growing apart due to diverging life paths. As a result, a couple may burn out and end up in a breakup or divorce.
10 signs that your relationship may be in crisis
It is important to note that maintaining unhealthy relationships can be physically and mentally exhausting. The stress of constantly being uncomfortable or upset can seriously affect your overall well-being. The question that remains, however, relates to how people can know if their relationships are going through crises.
While many people can identify when their relationships are going through a crisis, there are instances when problems can be less evident. Relationship crises can take many forms, and the signs can vary widely depending on the individuals involved and the nature of the relationship.
However, some common signs may indicate that a relationship is in crisis:
You find yourself criticizing each other all of the time
You're fighting frequently
You feel a lack of intimacy, including emotional and sexual intimacy
You keep arguing over the unimportant things
You live independent lives in parallel
You don't want to spend time together
You stop trusting each other
You are no longer motivated to resolve problems
You start considering having an affair
Your mind is always wandering about leaving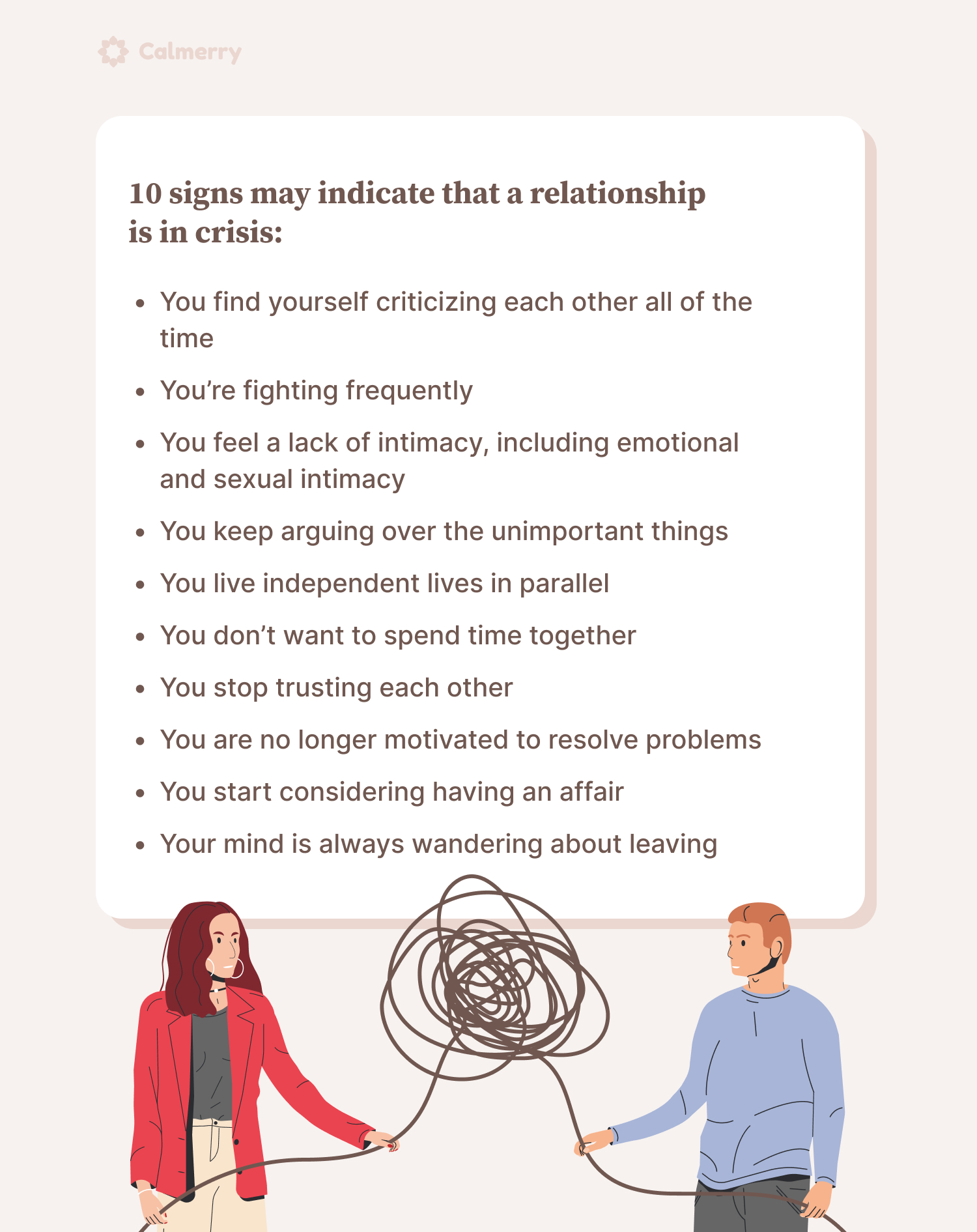 Is the "x-year itch" a myth or reality?
The "7-year itch" is a popular phrase used to describe a phenomenon where couples start to experience relationship difficulties around the seven-year mark. However, this phrase is more of a cultural myth than a scientific reality.
The "10-year itch" is another popular phrase used to describe a phenomenon where couples experience relationship difficulties around the 10-year mark. However, similar to the "seven-year" one, this is more myth than truth.
Some couples can experience relationship difficulties during the seventh year, but no clear evidence suggests this is a universal experience. Studies have shown that relationship satisfaction tends to decline gradually over time rather than experiencing a sudden dip at a specific point.
It's also worth noting that the reasons why couples experience relationship difficulties can vary widely. But, in short, while the "seven-year itch" or "ten-year itch" may be catchy phrases, it's not necessarily an accurate reflection of the complexities of long-term relationships.
Want to learn how satisfied are you with our relationship? Try this test to evaluate your relationship satisfaction.
7 strategies for dealing with relationship crises
Building happy and strong relationships requires work and dedication. Relationships are filled with challenges. The goal is to create a meaningful future for the couple.
Here are some coping strategies that may help fix your relationship if you feel that your relationship is in crisis and you can relate to some of the signs above.
Give each other space to reconcile
Getting your relationship back on track when you have hurt your partner, or you have been hurt can be difficult. If you were wrong, it's better to apologize and allow the healing process to begin.
If you have been hurt, understand that although you have the right to be angry, it is also okay to want to make things work. Be honest with yourself about what hurts you, and express your emotional needs to your partner using the "I-statements."
Develop and maintain effective communication in a couple
Work on effective communication throughout your relationship, giving each other enough time and space to express yourselves.
Healthy communication involves expressing your feelings clearly and listening to your partner's point of view. Also, being honest in relationships is important when it comes to dealing with crises.
Additionally, express your appreciation for any positive responses your partner gives. Doing this helps create a safe space within the relationship where both partners feel comfortable communicating openly with one another.
Build strong emotional intimacy
As we mentioned earlier, a lack of emotional intimacy in a relationship can spell trouble and lead to crisis. Without an emotional connection, your interactions may be superficial and fraught with insecurity.
In this article, we looked at how to build It in your relationships.
Spend more quality time together
Happy couples with happy memories can better handle challenges as they emerge. When you have more positive interactions, you can always look back on them and find a reason to fight for a relationship.
If you have started noticing that you and your partner may face more challenges than normal, try to tip the scale by initiating spending quality time together.
Here are some ideas of things you can do together that will help increase connection and intimacy:
Prioritize yourself and practice self-care
Prioritizing yourself and practicing self-care is crucial when navigating through relationships in crisis. It's important to practice self-care for your own well-being before you can effectively support and communicate with others.
Maintain a healthy sleep, exercise, and diet routine to reduce excessive stress. It is not selfish to take care of yourself. It allows you to be the best version of yourself and, as a result, become a better partner.
Express gratitude helps value your relationships more
Simple acts of gratitude can help you see the value of your relationship. Taking the time to acknowledge and appreciate someone's efforts can help them feel valued and understood. Doing this makes both partners feel more connected and motivated to maintain the relationship.
Also, gratitude can help you appreciate the little things in life. When you focus on what you are thankful for, it can shift your attention away from negative thoughts. This can lead to increased feelings of happiness and contentment, leading to stronger relationships.
Subscribe
to our mental health digest
Let us support you on the way to better mental well-being. Get expert tips and insights on mental health delivered to your inbox monthly.
Therapy is one of the key strategies for coping with relationship crises
A broken trust or the lack of emotional connection can negatively affect the quality of your relationship. In cases where the breach is significant, it may need to work together with a therapist. Having a relationship counselor can be incredibly beneficial because they are able to guide you in building a fulfilling relationship.
Working with a therapist can be helpful even for highly satisfied couples. With the skills learned in therapy sessions can help couples manage conflict and resolve issues before they become crises.
A therapy session is an ideal and safe way to try being honest with another person and see how it goes. Don't hesitate to ask for help when you or your relationship need it. You're not alone, Calmerry is always here for you with a vetted team of licensed therapists.
Сheck your mental well-being for free: