How to Overcome Self-Doubt and Fully Embrace Yourself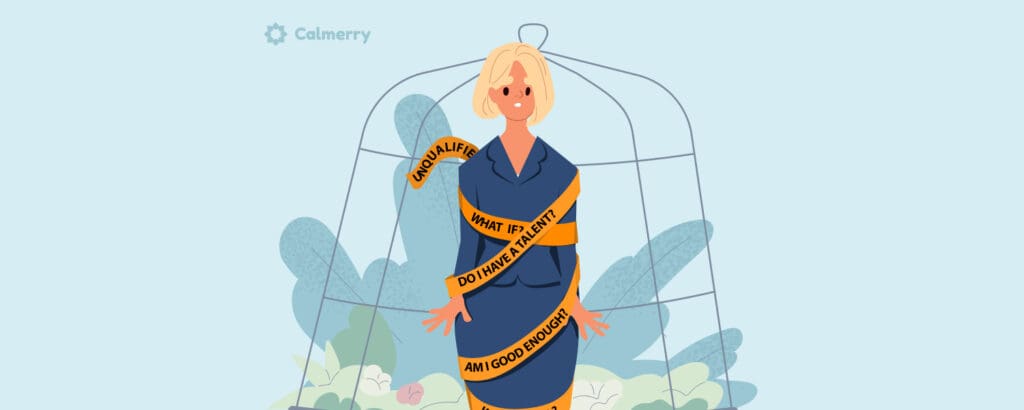 Reading Time:
6
minutes
Do you find yourself frequently questioning your abilities and second-guessing your decisions? "I am no good…" "What if I make a fool of myself?…" "I can't do it…"
The feeling that you are "not good enough" can happen to all of us once in a while. However, it can negatively affect your self-esteem and well-being if it begins to overwhelm you.
Here are possible causes of self-doubt and 8 tips to stop self-doubting yourself and support yourself when you feel "not enough" and even inadequate.
What is self-doubt?
When you become overwhelmed, it's easy to take it all personally and start self-doubting yourself. "Everyone else is handling it, so why can't I?". So, what is this feeling?

Self-doubt is defined as a feeling of uncertainty or lack of confidence in oneself and one's abilities. It can manifest in various forms, including anxiety, fear, and insecurity.
But why do I doubt myself?
So, where does self-doubt come from? This insecurity about yourself can arise in response to situations such as setbacks, rejection, criticism, or a lack of support in childhood or later on in adulthood.
Here are some more details on each of these factors:
Previous experiences of failure or rejection, especially in childhood, can create self-doubt, leading to feelings of inadequacy and self-criticism.
Being constantly criticized or receiving negative feedback can lead to self-doubt, making you question your abilities and self-worth.
Fear of failure can create self-doubt, making you doubt your abilities and your ability to succeed.
Comparing yourself to others can create self-doubt, as you may feel inferior or inadequate compared to those who appear to be doing better than you.
Cultural or societal expectations around success and achievement can make you doubt yourself, as they can lead you to question whether you are meeting the standards set by others.
What are the effects of self-doubt on your well-being?
Self-doubt can have significant negative effects on our ability to achieve our goals. When we doubt ourselves, we tend to focus on our weaknesses rather than our strengths, which can lead to feelings of inadequacy and low self-esteem. This, in turn, can create a vicious cycle where we start to doubt ourselves even more, and our self-confidence continues to erode.
According to a study published in the Journal of Social and Clinical Psychology, people who experience high levels of self-doubt are likely to develop depression and anxiety disorders.
Another research has also shown that self-doubt can significantly impact mental health, well-being, and efficiency.
7 signs you may be dwelling on self-doubt
Self-doubt can be a challenging emotional state that many people experience at various points in their lives. Identifying the signs of self-doubt is an important step toward understanding and addressing it.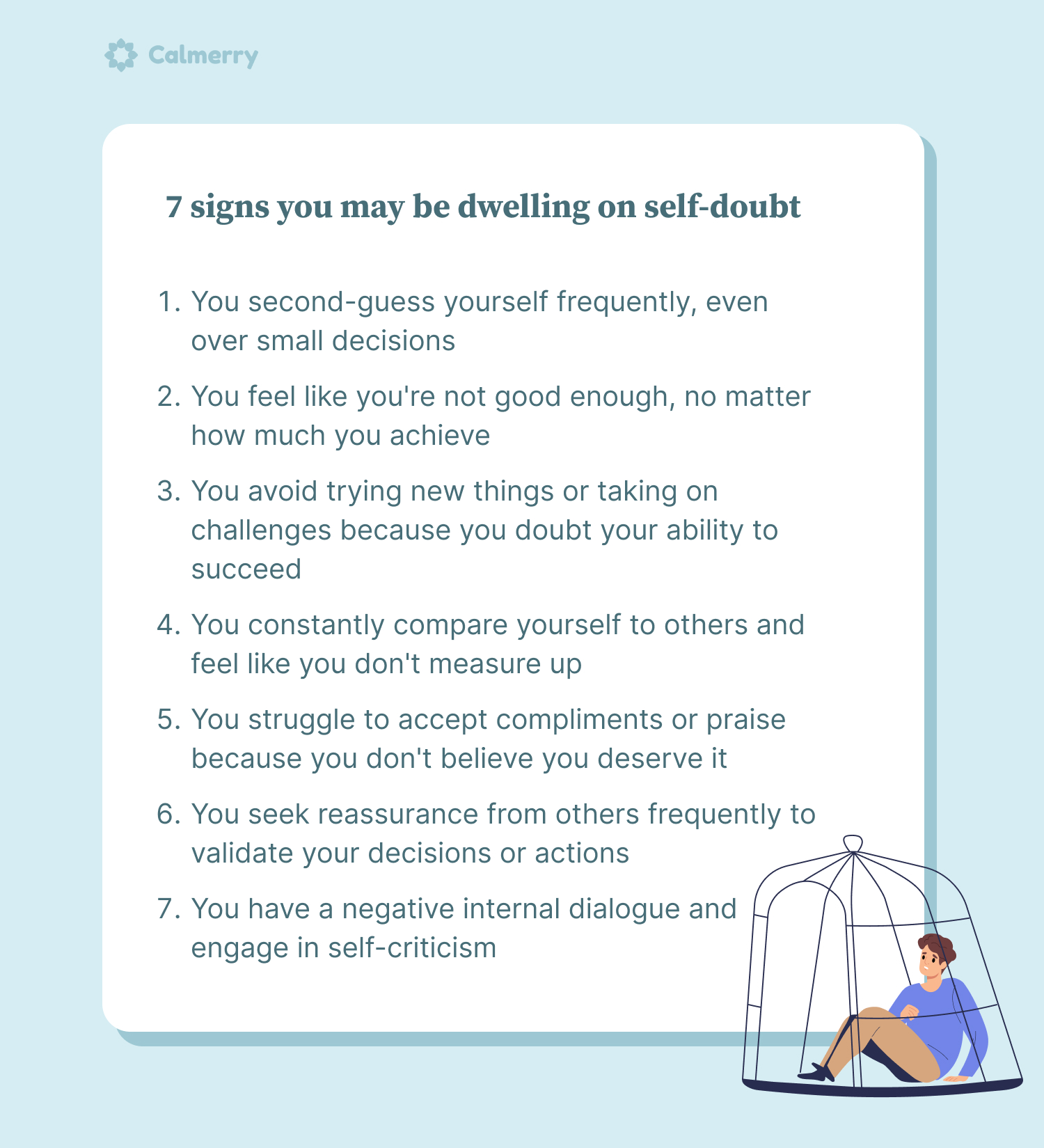 Here are some signs that you may be doubting yourself:
You second-guess yourself frequently, even over small decisions
You feel like you're not good enough, no matter how much you achieve
You avoid trying new things or taking on challenges because you doubt your ability to succeed
You constantly compare yourself to others and feel like you don't measure up
You struggle to accept compliments or praise because you don't believe you deserve it
You seek reassurance from others frequently to validate your decisions or actions
You have a negative internal dialogue and engage in self-criticism
8 tips to overcome self-doubting
Overcoming self-doubt is a process that requires patience, self-reflection, and persistence. And although it is common, you have the power to manage it. Here are 8 practical tips to help you overcome self-doubt and embrace your true capabilities.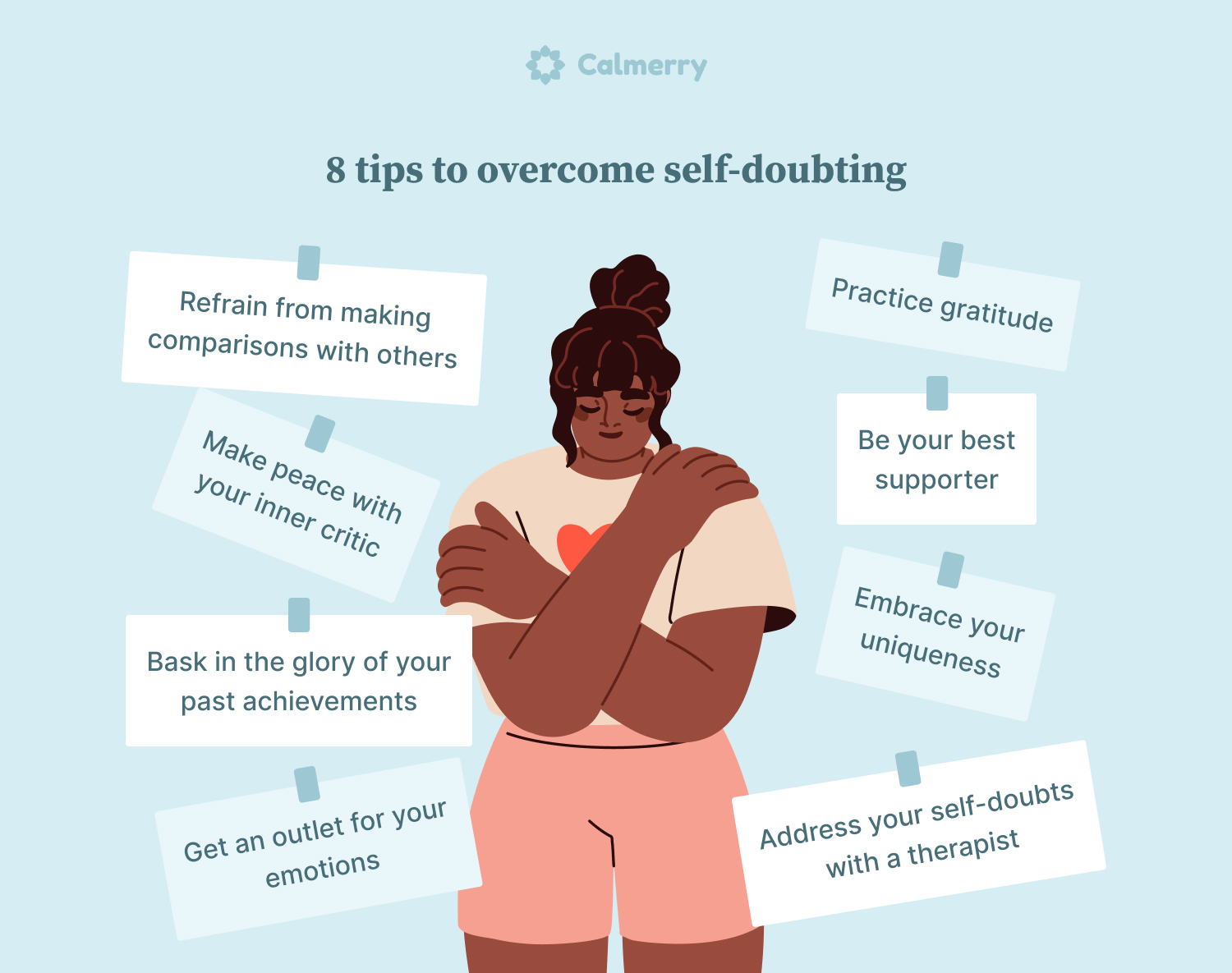 1. Refrain from making comparisons with others
In the age of social media, everyone may seem to be doing better than you. But we all know that life is not as perfect as it seems on social media. We all have things we'd never tell the world about.
So keep your head up and try not to compare yourself with others. Develop a sense of connectedness with others without comparing yourself to them. It is okay to be inspired by others' achievements – but constantly feeling too bad for not having what others have can be hard.
Embrace the fact that you have your own pace and journey, and everything will come to you at the right time.
2. Make peace with your inner critic
The voice in your head can motivate you to work harder and do better. But sometimes, it can be harsh and judgmental – after all, we are our own worst critics.
Negative thoughts slowly chip away at your self-confidence and can worsen your self-doubt.
But you can keep your inner critic from holding you back in life. When you find yourself immersed in self-deprecating thoughts, try to redirect your thoughts to positive ones and make the voice in your head sound encouraging and compassionate instead.
3. Bask in the glory of your past achievements
It is easy to forget how far you have come when you only think about how bad your current situation is. So reflecting on your past achievements can be a great source of motivation. 
Make a list of all your victories and cases when you did something you thought was impossible for you. Recalling such moments can help make you feel positive about yourself. It will remind you that you are good enough to accomplish whatever you want and help you overcome self-doubt.
Take time to celebrate your current achievements as well, no matter how small, and give yourself credit for your efforts.
4. Get an outlet for your emotions
The most effective way to deal with emotions is to feel and express them fully. Avoiding or suppressing them may only contribute to your distress, so allowing yourself to feel them fully will nourish your well-being.
There are plenty of ways to get a healthy outlet for your negative emotions – and journaling can be just one of the strategies. Thye these steps:
Try to name and describe your feelings
Explore why you think you are experiencing them in your journal
Think of ways to improve your mood by brainstorming possible solutions
Below are a series of questions that can give some perspective as you journal:
What are you feeling?
Why are you feeling that particular emotion? Are there any events that triggered your current state?
Do you believe that you deserve to be unhappy? If not, why?
What would happen if you chose a different outcome?
Subscribe
to our mental health digest
Let us support you on the way to better mental well-being. Get expert tips and insights on mental health delivered to your inbox monthly.
5. Be your best supporter
Treat yourself with self-compassion, understanding that mistakes and setbacks are part of the human experience. Give yourself the same kindness and compassion that you have for your best people.
Wake up each morning and speak lovingly to yourself: encourage, congratulate, motivate, and console yourself. When you're practicing self-kindness, the crippling waves of self-doubt start to lessen over time.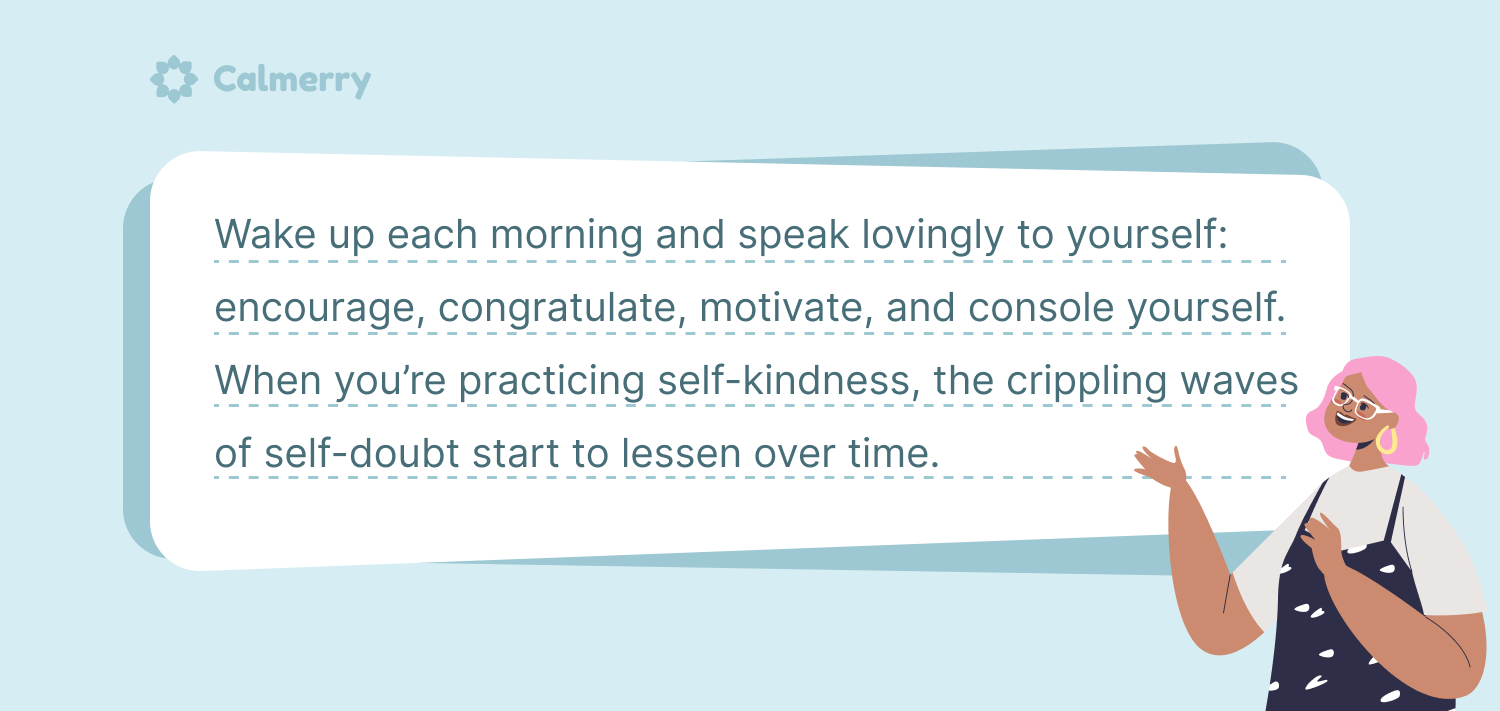 6. Practice gratitude
Practicing gratitude is a powerful tool for overcoming self-doubt. Cultivating a habit of gratitude helps shift your focus from negative thoughts to all the good that you have in your life, fostering a positive mindset.
Take time each day to reflect on the things you are grateful for, whether they're big or small. This practice helps you recognize the positive aspects of your life and appreciate your own worth.
Gratitude also helps to counter negative self-talk by reminding you of your strengths and potential. And it promotes self-acceptance by acknowledging your experiences and what makes you unique.
7. Try these affirmations to combat self-doubt
Affirmations are a powerful tool to stop self-doubt. Here are some statements you can try:
I believe in myself and my abilities
I am capable of achieving my goals
I trust my intuition and make confident decisions
I am worthy of success and happiness
I embrace my strengths and weaknesses and use them to grow
I am proud of who I am and what I have accomplished
I am deserving of love and respect
I am resilient and can overcome any challenge
Repeat these affirmations daily, either in the morning or before going to bed. You can also write them down and keep them in a place where you can see them regularly, such as on your mirror or in your workspace. With time and practice, you'll start to believe these positive statements about yourself, and they'll help to combat self-doubt.
8. Enjoy your uniqueness
Embracing your uniqueness and valuing the qualities that make you who you are is essential. The best antidote to self-doubt is self-acceptance.
So practicing self-care and engaging in activities that nourish your mind and body. Remember, self-acceptance is a lifelong journey, so be patient and gentle with yourself as you cultivate a strong sense of self-worth. You got this!
Address your self-doubts with the help of a therapist
Self-doubt can be a challenging issue that can have a significant impact on well-being and quality of life. If your feelings of self-doubt persist, it may be helpful to consider therapy. In therapy, you can explore the underlying causes of your self-doubt and develop effective strategies to overcome it.
An online therapist at Calmerry can help you feel understood and give you tools to challenge and replace negative thoughts with positive ones. Furthermore, therapy can provide a supportive and non-judgmental environment where you can safely explore your emotions, thoughts, and behaviors.
Сheck your mental well-being for free: