Published November 16, 2022 / Updated March 20, 2023
Thanksgiving and Eating Disorders: Managing Eating Disorder Symptoms During the Holidays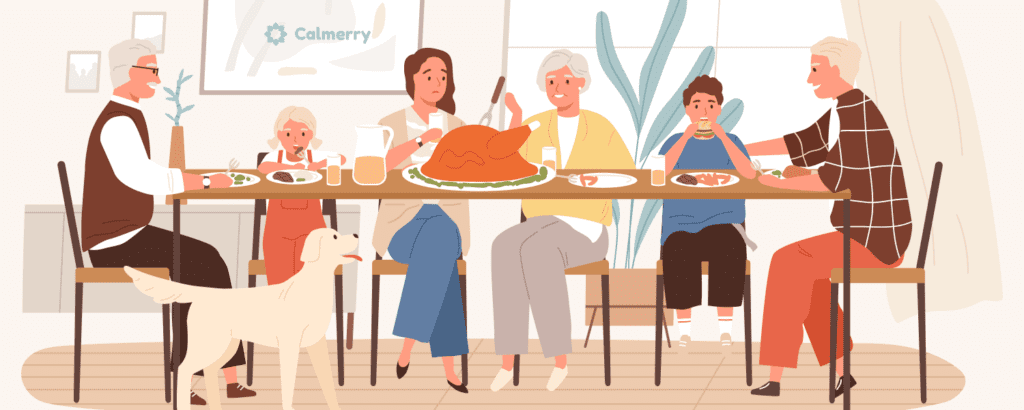 Reading Time:
6
minutes
The holiday season is typically a joyful time when friends and family get together to celebrate. But for those with emotional or mental health problems, the holidays can create added stress. Eating disorders and the holidays can be particularly difficult to manage.
Many holiday gatherings involve savory meals, and eating in front of large groups of people during family get-togethers can create anxiety for someone who has an eating disorder.
So, what can you do to manage eating disorder recovery during the holidays? Learn some solutions for coping with an eating disorder during Thanksgiving below.
How holidays can impact someone with an eating disorder
Before jumping into strategies for managing an eating disorder during Thanksgiving, it's helpful to understand why Thanksgiving and eating disorders pose such a challenge. If you notice that your stress increases during the holidays and that eating disorder symptoms worsen, know that you are not alone.
Behavioral health experts recognize that the holidays can be quite challenging for those who live with eating disorder symptoms. While the specific challenges can vary based upon the type of eating disorder a person lives with, the reality is that any sort of eating disorder can make the holidays more stressful.

Subscribe
to our mental health digest
Let us support you on the way to better mental well-being. Get expert tips and insights on mental health delivered to your inbox monthly.
Specific eating disorders and the holidays
It's important to recognize the unique challenges of individuals with various eating disorder diagnoses to understand why ED recovery is difficult during the holiday season.
Anorexia nervosa
Consider, for example, anorexia nervosa. A person who has symptoms of anorexia severely restricts food in order to maintain a low body weight. People with anorexia also base their self-esteem on their weight and body size.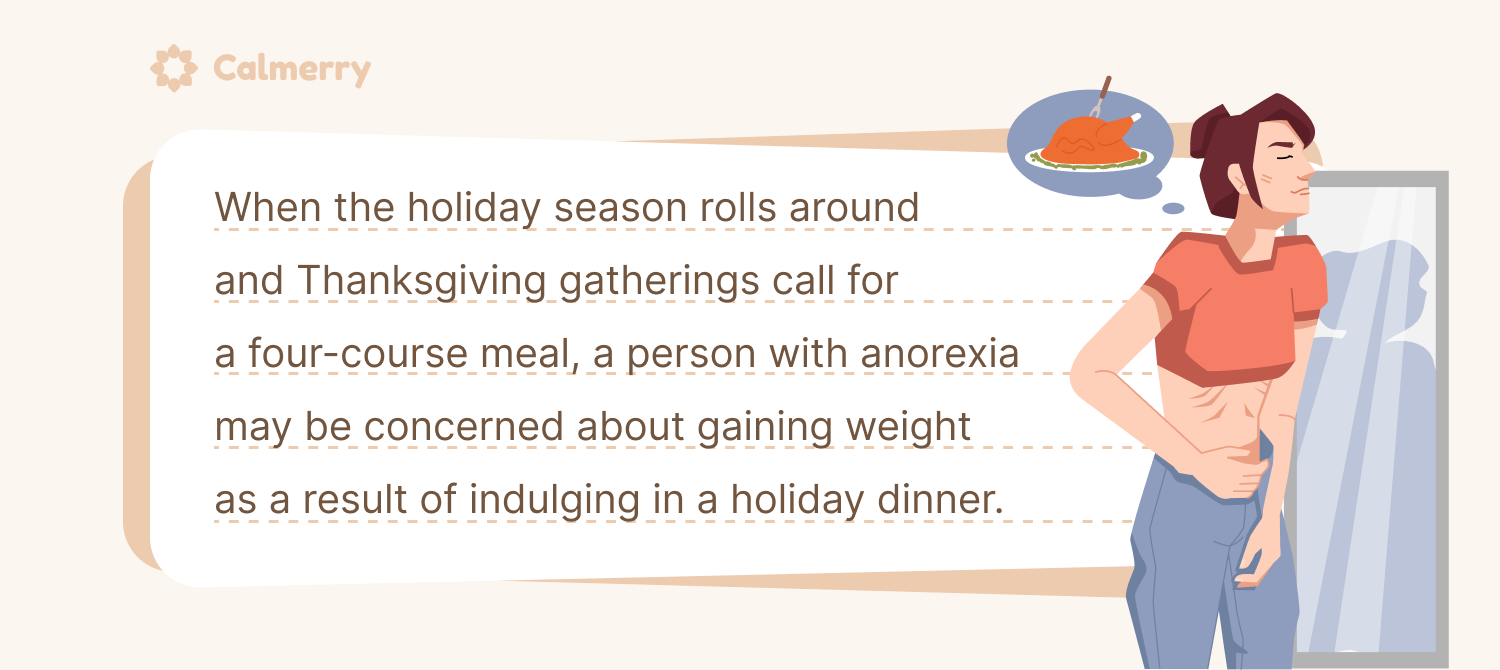 When the holiday season rolls around and Thanksgiving gatherings call for a four-course meal, a person with anorexia may be concerned about gaining weight as a result of indulging in a holiday dinner.
The fact that Thanksgiving is often the start of a rather lengthy holiday season, complete with numerous family gatherings, can make a person with anorexia even more distressed, as they imagine themselves sitting down to several large meals.
Bulimia nervosa
Eating disorders and the holidays can pose different challenges for those with bulimia nervosa or binge eating disorder. Since these conditions involve consuming excessive amounts of food, the holiday season can be particularly triggering.
Faced with large meals and a plethora of food options, a person with bulimia or binge eating disorder may be triggered to engage in binging behavior. After Thanksgiving dinner, they are likely to feel ashamed or guilty about what they've consumed. For those with bulimia, a large Thanksgiving dinner can lead to a desire to purge.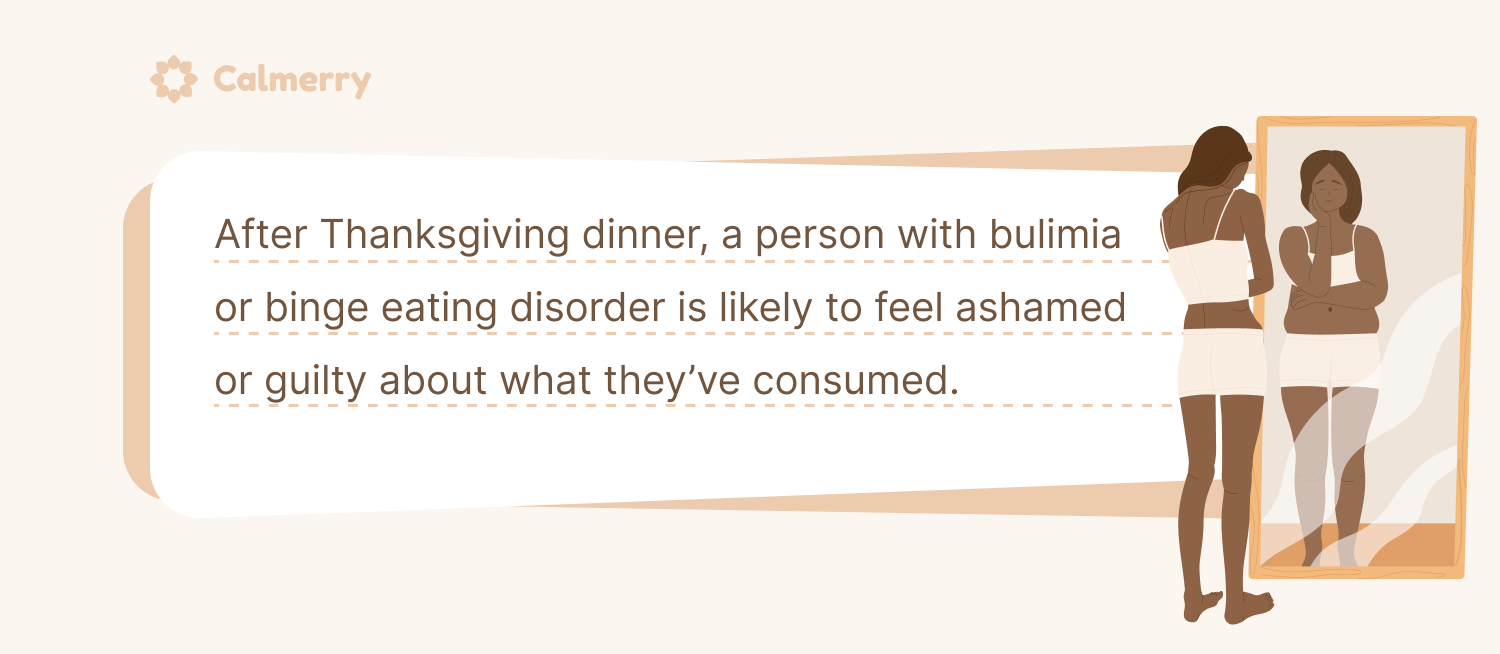 Orthorexia
Finally, it's helpful to understand that orthorexia can also pose challenges during the holidays. While this eating disorder is perhaps less commonly known than anorexia, bulimia, and binge eating disorder, it still creates significant distress for those who have symptoms.
Individuals with orthorexia fixate on healthy eating, and they become distressed when faced with food choices that they perceive as unhealthy. They may even eliminate entire food groups out of fear of eating them. Thanksgiving can understandably be challenging for someone with orthorexia.
Whether you're seeking strategies for yourself or looking to learn how to help someone with an eating disorder during the holidays, it's helpful to think about how eating disorder diagnoses can affect someone. If you're seeking advice for yourself, the information above can validate your experience and make you feel less alone.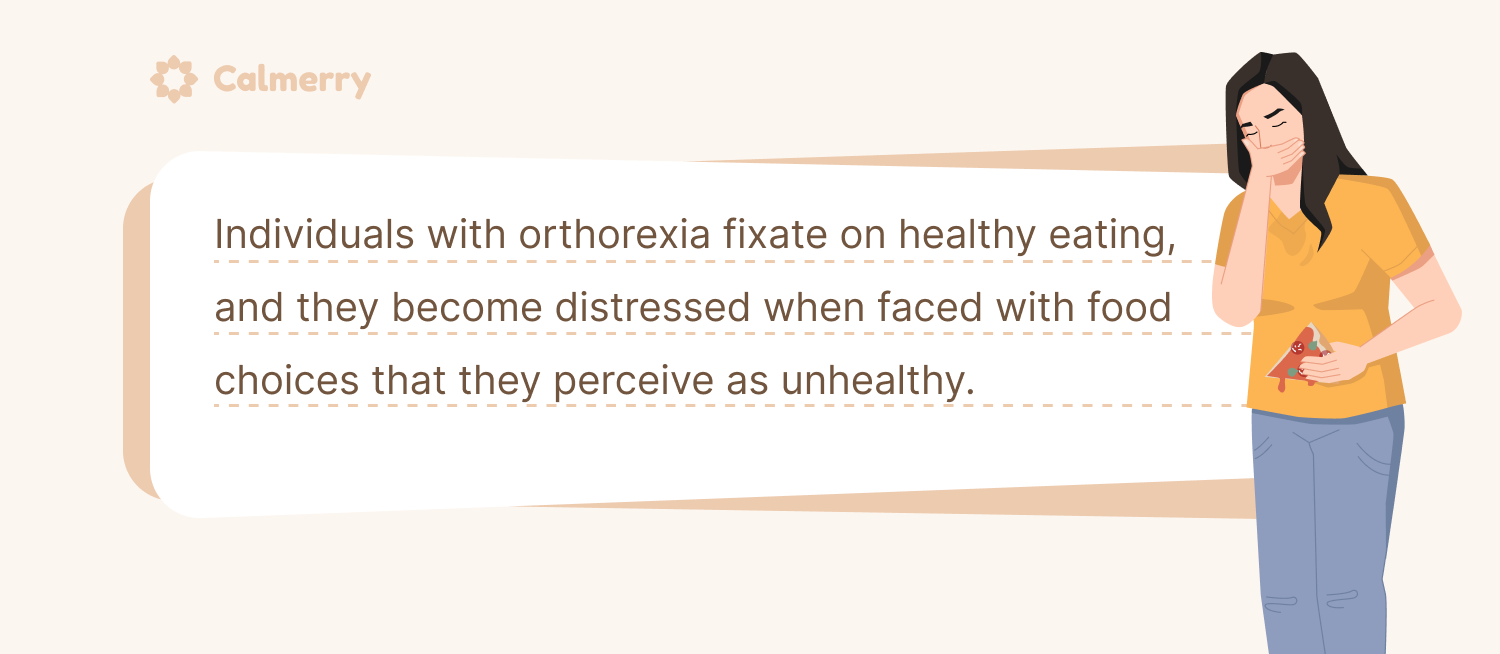 If you're looking to help a friend or family member, keep in mind that what they are experiencing is extremely distressing for them. They are coping with symptoms of a legitimate health condition that makes it difficult for them to engage in holiday celebrations. Showing some empathy can go a long way toward helping them to cope.
Strategies for coping
Regardless of the specific challenges you face during the holiday season, there are strategies you can employ to help you cope when dealing with Thanksgiving and eating disorders.
The tips below can help you to maintain your commitment to ED recovery without sacrificing time with family and friends.
Set clear boundaries
If you're in an eating disorder recovery, it is essential for you to set boundaries with your family members, and you shouldn't feel guilty for doing so. For example, you have every right to tell them that you will not participate in conversations about dieting or setting New Year's weight loss resolutions.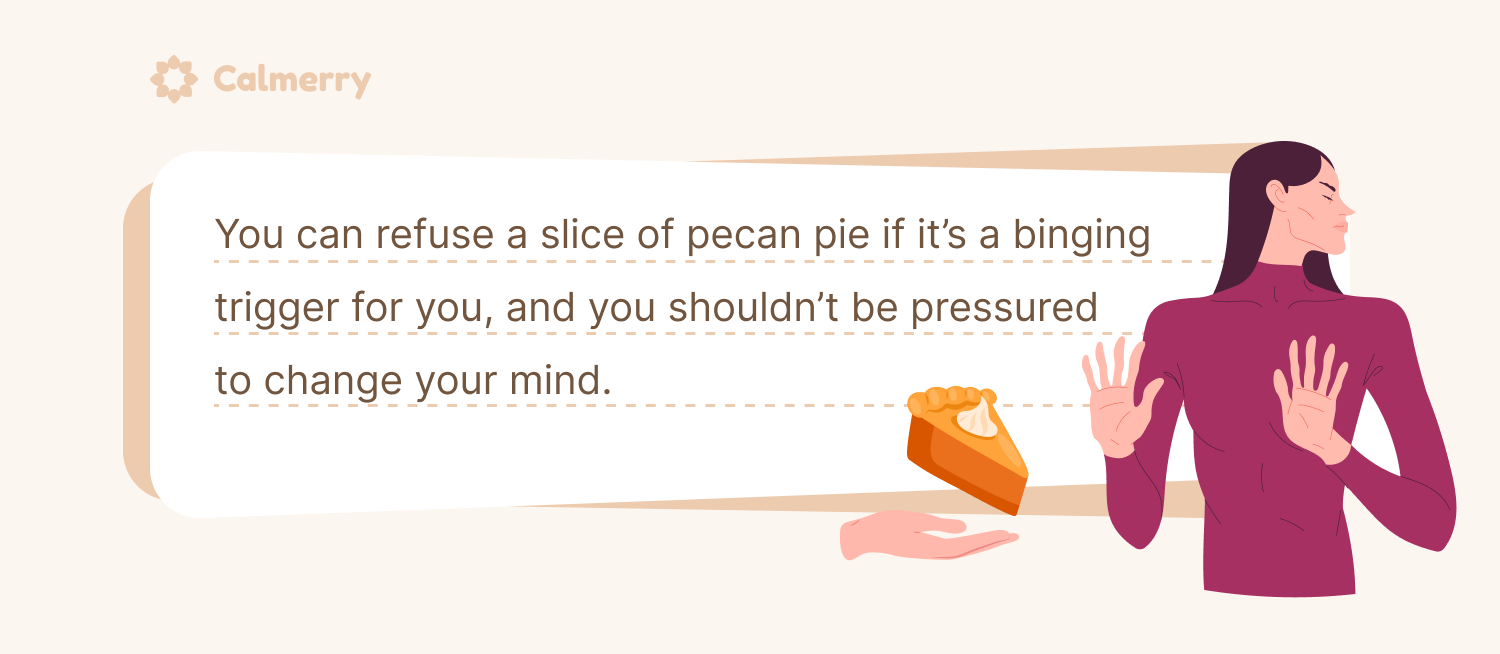 Similarly, you can refuse a slice of pecan pie if it's a binging trigger for you, and you shouldn't be pressured to change your mind.
Hopefully, your loved ones will respect your boundaries. If they don't, it's up to you how much information you give them when reinforcing your boundaries. You might tell them that you won't be discussing dieting because it's harmful for your health, or you may go so far as to explain how this type of conversation is harmful for your recovery.
Stick to your eating plan
Hopefully, you're working with a dietician who has you following an eating plan that meets your needs and discourages you from restricting or binging.
If this is the case, do your best to stick to your meal plan for the Thanksgiving meal. Think about filling your plate with adequate portion sizes of foods that meet your nutritional needs.
If you haven't been working with a dietician, now may be the time to start. A dietician is uniquely trained to help you improve your relationship with food, understand your body's nutritional needs, and plan meals that nourish your body.
Nutrition counseling is a key component of eating disorder recovery. With the holidays approaching, working with a dietician may be more important than ever.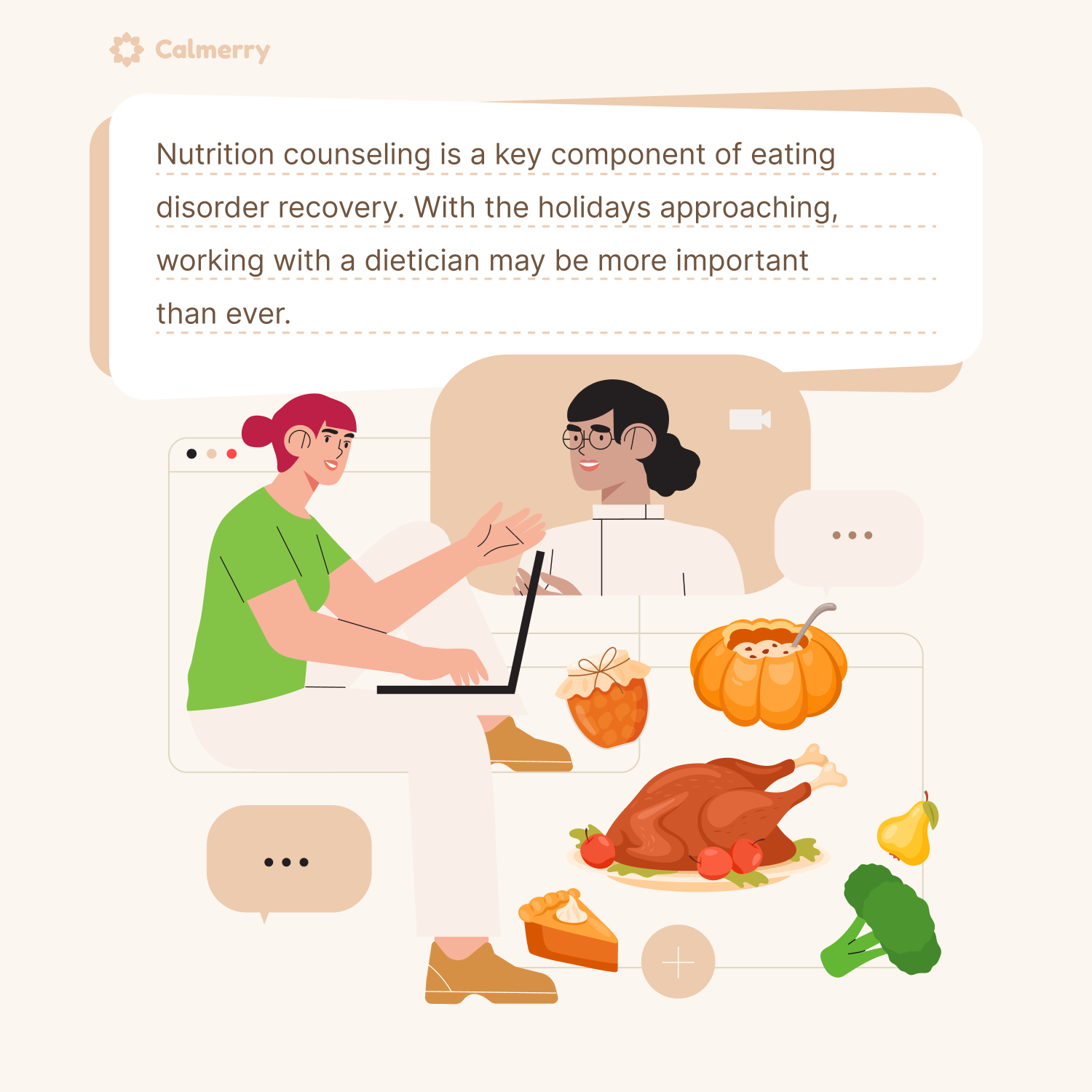 Use your existing coping strategies
Experts have hypothesized that eating disorder behaviors can be a strategy for coping with negative emotions and stress, and there is research evidence to support this hypothesis.
For instance, a 2013 study in the Journal of Abnormal Psychology found that individuals with anorexia were likely to restrict food in response to negative emotions. When these individuals exercised or consumed fluids to reduce their appetite, negative emotions were found to decrease.
Negative emotions can also be a trigger for episodes of binge eating. Numerous studies have demonstrated that negative emotions can lead to binge eating episodes in those with binge eating disorder.
What can be concluded from these findings is that negative emotions, including the stress of the holidays, can lead to an exacerbation of eating disorder symptoms.
To manage eating disorders and the holidays, it's important to be prepared to use effective coping strategies, which might include:
Talking with a supportive, trusted family member about what you're feeling, so you have someone on your side.
Practicing self-care by taking time for rest and engaging in activities that you enjoy.
Using relaxation techniques such as meditation, yoga, or progressive muscle relaxation to alleviate stress.
When you're regularly practicing healthy coping strategies, you'll be prepared to encounter the stress of the holidays without resorting to unhealthy behaviors as a means to cope.

Reaching out for professional help
Thanksgiving and eating disorders can be a stressful combination, but there are strategies you can use to cope. If you're actively engaged in recovery and have established healthy habits, you can maintain your commitment to ED recovery during the holidays by setting healthy boundaries, sticking to a nutritious eating plan, and using existing coping strategies.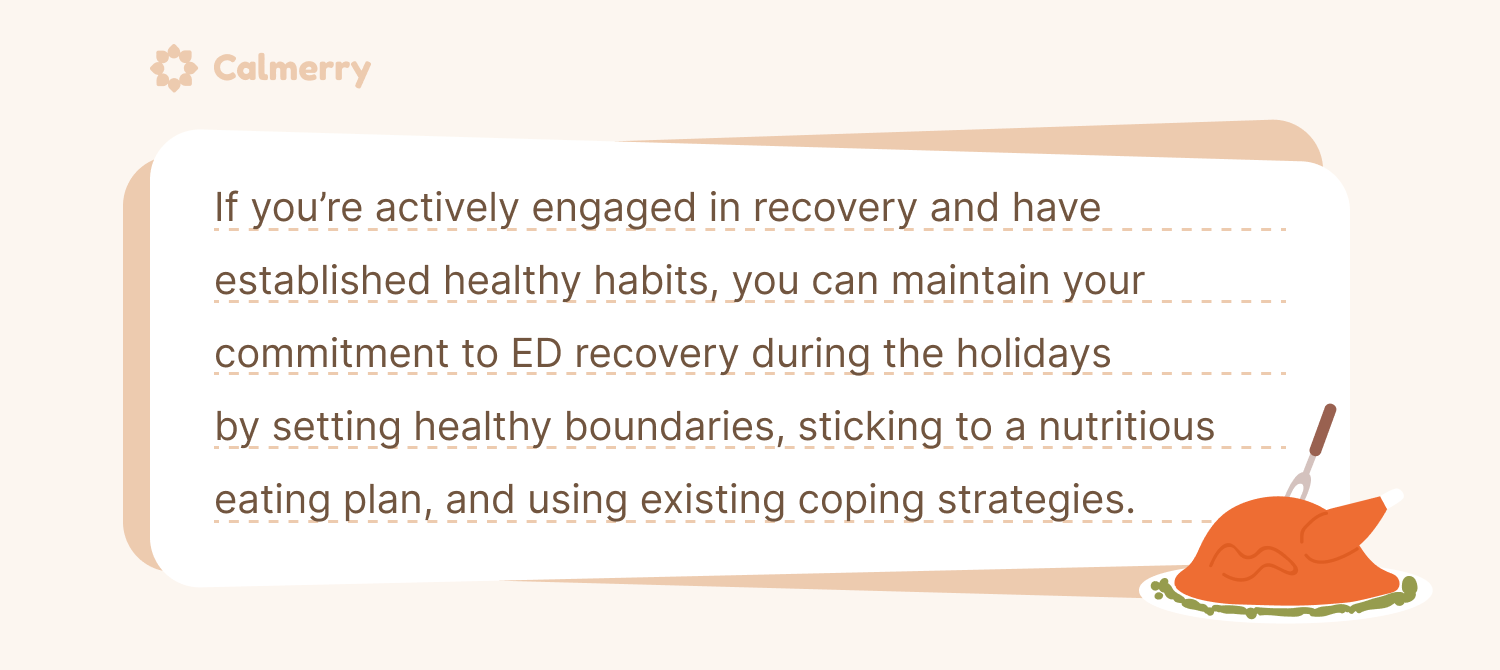 While you can find ways to cope with eating disorders and the holidays, sometimes, this time of year is stressful enough that you may benefit from reaching out for professional treatment.
If you're no longer participating in counseling or eating disorder support groups, now may be a good time to re-engage, especially if you find that you are starting to fall into old patterns. If you're still working with a counselor or therapist, you might need to increase the frequency of your sessions, or at least take time to have a conversation about how the holidays are affecting you.
If your holiday season is already packed full of events and extra commitments, you might consider online therapy for eating disorders. Working with an online therapist allows you to receive support from the comfort, convenience, and privacy of home, which can make it easier for you to access services.
For those seeking online therapy, Calmerry can match you with a licensed online therapist who suits your needs. We offer therapy for a variety of life issues, including eating disorders, grief, and family conflict. Visit our website today to get started.
Сheck your mental well-being for free: