Published June 16, 2022 / Updated January 24, 2023
18 Reasons & Excuses Why Men Avoid Therapy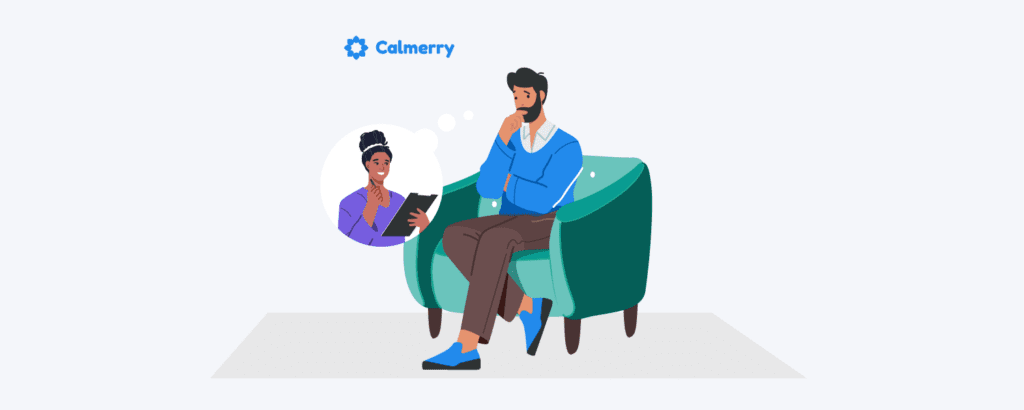 Reading Time:
7
minutes
Therapy can be an excellent way for men to get the mental health support they need. Unfortunately, however, many men avoid therapy at all costs. There are many reasons why men don't go to therapy. Some of these reasons are valid concerns, while others are simply excuses.
This article looks at 18 common excuses men use to avoid therapy and why they might want to reconsider. It's time to break down the stigma and misconceptions and normalize mental health support – therapy is for everyone, including men.
1. "I can handle my problems on my own."
Men are much more likely to try and cope alone than women. While it's true that people can sometimes deal with their problems without professional help, it is not always possible. Also, trying to handle problems alone all the time is not the most efficient or effective way to do things, and mental health issues can worsen when left untreated.
2. "Therapy is for weak people."
With the stigma surrounding therapy for men and mental health issues, seeking help from a professional often requires some initial bravery. It also takes a lot of courage to face your problems, whereas it's easier (in the short term) to pretend they don't exist. Therefore, doing therapy is actually a sign of strength rather than weakness.
3. "I'm fine; there's nothing wrong with me."
There doesn't have to be something wrong with you to benefit from therapy, just like you don't have to be unfit to benefit from physical exercise. Some men may not realize a mental health issue is impacting their life in some way until they do therapy.

It can also help you understand how your thoughts and feelings may affect you and how to optimize them. Simply talking to a therapist about your experiences without bias and judgment can be highly rewarding in itself.
4. "They will put me on medications."
A common fear among men is that their therapist will put them on medication if they do therapy.
While medication is helpful in some cases, it is only one of many options that your therapist may consider if you're struggling with a mental health issue, and it's never forced upon anyone. At therapy, you get to talk through all the options available before deciding which route is best for you.
5. "I don't have time for therapy."
"I don't have time" is a classic excuse often used to avoid therapy and many other things in life. However, the truth is that most of us men could fit in an hour a week for therapy. Today, it's easier than ever before. Many therapists also offer online or evening appointments to accommodate busy schedules. With teletherapy, you can attend therapy sessions from your home, office, or even in your car.

6. "Therapy is too expensive."
The cost of therapy is a genuine concern and a common reason why men resist going to therapy. Therapy can be expensive in some cases, but prices vary a lot from one therapist to the next. For those in the US, your health insurance plan may cover it. Telehealth and online therapy, i.e., therapy done remotely via phone, messaging, and video calls, tend to be more affordable options and just as effective.
Whether you think therapy is expensive or not also comes down to how you perceive and value it. And when you consider how much it can help compared to other things you may spend more on, it might not seem as expensive as you first thought.
7. "I'm not the type of person who goes to therapy."
Therapy really is for everyone; there isn't a specific type of person for whom it isn't suitable. When we cast aside any stigma surrounding mental health help and look at the true picture, we'll see that just about anyone can and has benefited from therapy. There's a reason why most top athletes, fortune 500 companies, and successful people all use therapy; because it helps them stay at their best.
8. "My problems are not serious enough."
You don't have to be in a crisis to see a therapist. Therapy is as much about prevention and optimization as it is about treatment. Small problems, when left unsolved, can turn into big ones. And minor fears and worries can develop into debilitating disorders. So it's worth nipping in the bud any issues you have early rather than leaving them.

9. "I went before, and it didn't help me."
If you've tried therapy before and it didn't work, you might be hesitant to try it again. However, it's important to remember that not all therapy and therapists are the same. There are many different types, and what works for one person might not work for another. Therefore, it's worth looking around to find a therapist with whom you connect and feel is helping.
Subscribe
to our mental health digest
Let us support you on the way to better mental well-being. Get expert tips and insights on mental health delivered to your inbox monthly.
10. "I don't trust therapists."
If you've had a bad experience with therapy in the past, it's understandable why you might not trust therapists. However, the vast majority of therapists want to help, even if there are a few bad eggs out there.
By law, therapists have to keep anything you tell them confidential, meaning they are some of the most trustworthy people to discuss personal issues with. It's also essential to find a therapist that you feel comfortable with before committing to ongoing therapy sessions.
11. "I'm not sure what I would talk about in therapy."
This is a common concern, and therapy can initially seem a little daunting, especially if you're more introverted.
However, there really is no right or wrong thing to say; you can talk about anything you feel like, no matter how trivial it may seem. You can also make notes ahead of therapy to take with you, so you'll be sure not to forget any important topics.

12. "I'm not comfortable talking about my feelings."
Men can have a hard time expressing emotions freely due to stigma and cultural expectations around masculinity.
For example, society usually expects men to be tough, dominant, and successful, and therefore, they are more likely to suppress certain feelings like sadness or fear. These suppressed emotions often present in other ways, such as anger or irritability, as they're considered more acceptable, "manly" emotions.
The great thing about therapy is that it's a completely safe, confidential, and non-judgemental space for men to express themselves freely, which is often hard for many guys to find elsewhere.
13. "I'm not crazy."
Again, this plays into the outdated stigma and negative stereotypes surrounding therapy and the types of people who do it.
You don't have to be "crazy" or "mental" to benefit from therapy; in fact, they are not even recognized conditions, just hurtful slurs. Mental health issues can affect anyone, and absolutely anyone can do therapy.
14. "I'm worried my friends would find out."
Therapy is completely confidential, so there is no reason anyone has to find out unless you decide to tell them. Many men worry that their friends would judge them if they knew they were going to therapy.
However, this isn't always the case, and your friends will likely be more understanding than you think. If some of your friends tend to be unsupportive, this is probably a good thing to discuss at therapy.

15. "I meditate daily."
Meditation is an excellent way to relax and de-stress, but it's not a cure-all. In some cases, therapists may recommend meditation and mindfulness exercises to their patients as part of their treatment program.
However, this doesn't mean meditation should be used as a substitute for therapy. They are two different things, and therapy is unrivaled when it comes to effectively dealing with mental health issues.
16. "A cold beer in the evening is my way to relax."
Chilling out with a cold beer or a glass of wine occasionally in the evening isn't necessarily a bad thing. However, it's certainly not a replacement for men's counseling, and when alcohol is abused or used as a coping method, it can be very harmful over the long term.
Studies show that excessive alcohol consumption increases the risk of depression, anxiety, and suicide. Men are also more likely to turn to alcohol and substance abuse as unhealthy coping methods instead of doing therapy.
17. "It's hard to find a therapist."
Trouble finding a therapist is a legitimate concern for many men, as they may not be widely available in your local area. However, there are some simple steps you can take to increase your chances of finding the right therapist for you:
Ask your doctor for a referral.
See who is covered on your health insurance plan and set up consultations.
Do a search online for therapists in your local area.
Consider online therapy and set up some initial consultations.
Remember to consult with at least a few different therapists to find one who's a good fit for you.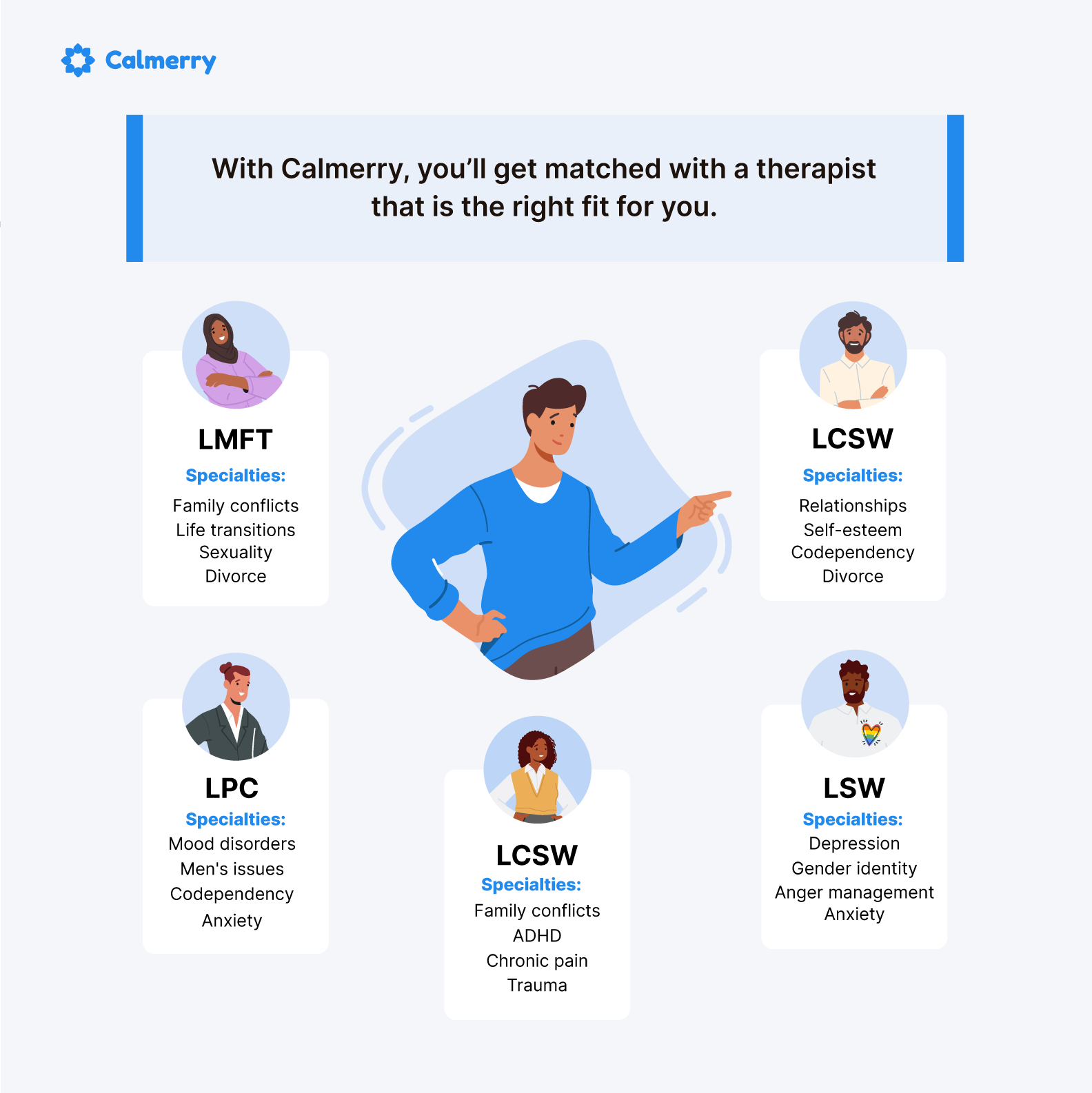 18. "I'm worried my boss or coworkers will find out."
Your boss or coworkers will not find out unless you choose to tell them. As already mentioned, therapists are required by law to keep your interactions with them private. The same applies to insurance companies; they cannot disclose any information to your employer without your consent.
Wrapping up
Therapy can be a very beneficial experience, but unfortunately, many men still feel ashamed and find ways to avoid it.
If you're having difficulties with something, undergoing a big change, or are struggling with a mental health issue, don't let these excuses (or any others) hold you back from getting the help you need.
Try Calmerry therapy
Сheck your mental well-being for free: