Published July 5, 2022 / Updated January 24, 2023
The 6 Best Tips for Raising an Emotionally Intelligent Child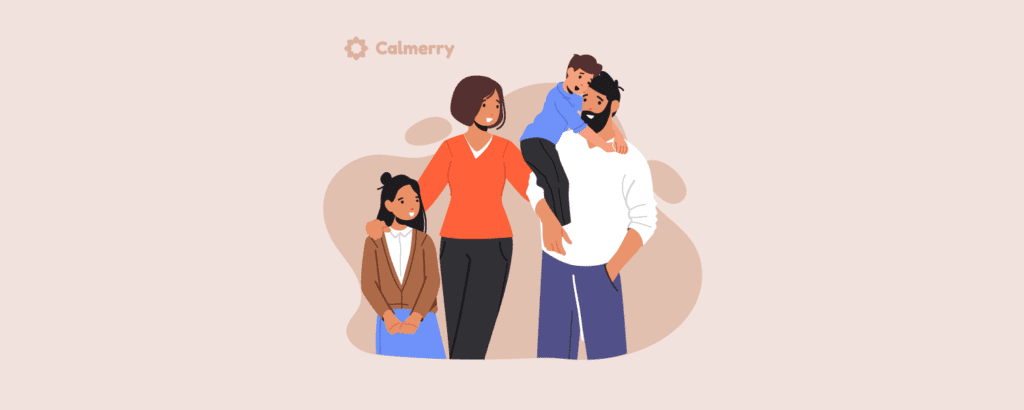 Reading Time:
6
minutes
As a parent, you want the best for your children. As soon as they're born, their physical wellbeing and development become your all-consuming priority. Baby sensory classes, exposure to classical music, and infant swimming lessons might all be on your radar.
But what can you do to nurture and protect your children's emotions? In this article, we will explore emotional intelligence and reveal our top tips for helping your children to grow up with a good understanding of their emotions and feelings.
What is emotional intelligence?
Emotional intelligence, or EQ, is defined as the ability to understand the way people feel and react. This skill can then be used to make sensible judgments that will either avoid creating a problem, or work towards solving it.
Raising an emotionally intelligent child is considered by many to be easier than raising a child who finds it more difficult to understand emotions. Children who are emotionally intelligent recognize why they might feel a certain way. Furthermore, they can regulate this emotion and express it appropriately.

Conversely, a child who often appears to be angry, upset, or frustrated, may feel this way because they have not yet learned how to understand or manage the way they feel. This can lead to unexpected outbursts. Not only does this cause further frustration in your child, but watching your child's rollercoaster of emotions can put your own wellbeing to the test, too.
Why is emotional intelligence important?
More than a century after EL Thorndike suggested that IQ was not the only type of intelligence, there have now been numerous studies into emotional intelligence. Many studies have focused purely on the emotions of children, and why emotional intelligence is important.
Developing emotional intelligence in childhood can lead to many essential outcomes in adulthood. A study in 2007 found that children with higher emotional intelligence find it easier to develop positive relationships and pay attention in class. Five years later, researchers showed that emotionally intelligent children were better at regulating their behavior and tended to achieve higher grades.
Incredibly, having good social-emotional skills in childhood is strongly associated with future success in the workplace. In a long-term study, emotional intelligence in kindergarten was associated with graduation from high school on time, completing a college degree, and being employed in a full-time job in adulthood.
Developing the skills to understand and manage emotions in childhood could therefore have a significant impact in adulthood.
How to raise an emotionally intelligent child
There are many ways you can help your child to become emotionally intelligent. As with many other aspects of parenting, this will likely represent a period of growth for both you and your child. However, adopting these new practices could help you both to grow and become more resilient.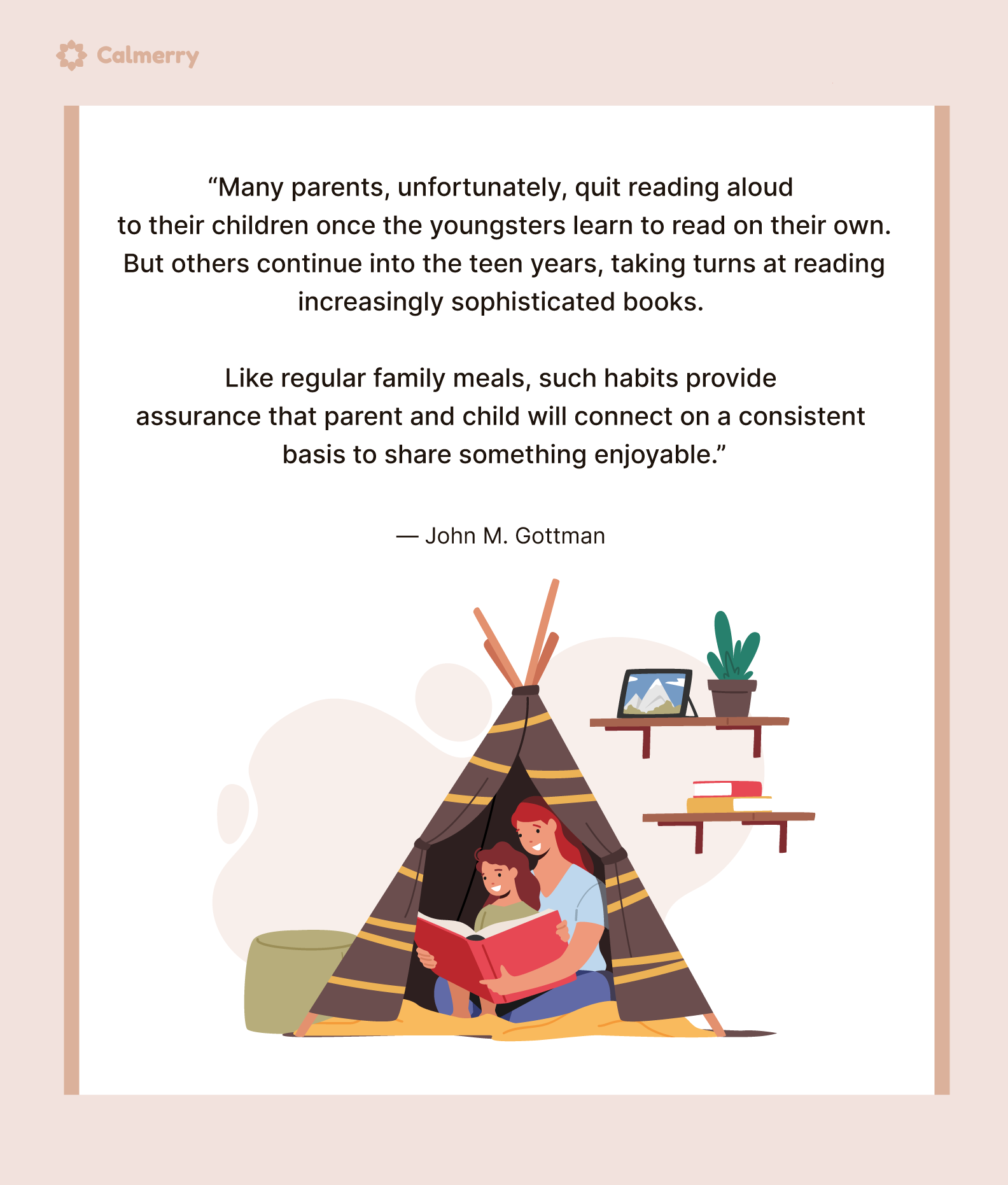 1. Lead by example
From the moment they were born, your child has been learning from you. If a child can observe your emotions, they will begin to understand their own.
If paying attention to your feelings and expressing them is new to you, take your time.
Notice emotions as they arrive, and question whether you feel happy, sad, anxious or frustrated, and why this might be. If appropriate, you can then start to share these thoughts with your child.
For example, you might say, "I'm feeling stressed because work was so busy today. Shall we relax together and watch a movie?"
This way, your child will notice that it is ok to acknowledge problems that arise. They will also learn that it is ok for them to express their feelings with you.
If your child shows their emotions, practice empathy and compassion. Children's emotions, and their understanding of them, are still developing, and so it may take time for them to learn this art of communication. Take care not to belittle how they feel. If they know that they have your support, they will be much more likely to open up to you in future.
2. Help your child label their emotions
If your child finds it hard to express how they feel, or becomes frustrated when you try to talk about their emotions, creating a list of emotions for kids may help. Even toddlers can start to understand emotions if you create the list in picture form.
For school age children, sit together and write down all the emotions you can think of. Make sure you include positive emotions such as happiness or excitement. Building on your child's awareness of their feelings can help to avoid the frustration they might feel when they are unsure why they feel a certain way.

For preschoolers, you can draw faces or use Emojis to help them recognize the way they might be feeling. A child who can point to the emotion that best describes how they feel will be better equipped to express themselves.
If your child is less vocal or physically demonstrative, it is also helpful to watch their body language. Saying to your child "it looks like you're really angry," can help them identify the emotion they are feeling, so that you can talk about it together.
3. Show empathy to validate feelings
Even if it seems that your child has burst into tears over something inconsequential, it is important to remember that their feelings are as real as any adult's.
It can be tempting to try to 'fix' their feelings, rather than letting them 'suffer' by feeling them. If their new balloon bursts at the fair, immediately fixing it by saying "I'll get you another straight away" is tempting, but this won't help them to develop into an emotionally intelligent child.
It can be reassuring for children to know that their parents also feel a range of emotions.
Show them that you understand how they are feeling by saying, "I felt so sad when my new necklace broke," or "I felt so annoyed when my bike stopped working". This form of role modelling shows your child that their feelings are valid, and that the emotion can be overcome.
If you want to replace your child's balloon after you've validated and explored their feelings, go ahead! The key is to let them feel the emotion in a safe way, before you help them to fix it.
4. Teach your child how to cope
Strong emotions such as anger or frustration can be hard to manage. Your child will look to you to understand how they can manage the way they feel. Although you might shy away from showing or telling your child how you cope with life's ups and downs, it is important to be honest with them and model coping behaviors.
If you are feeling sad, frustrated, or anxious, you can explain this to your child and then show them that you manage these feelings by exercising, chatting with a friend, reading a book, or journaling. Don't hide these healthy habits from your child; they are an excellent example of you supporting your own mental health.
Your child can also start to find ways to cope with strong emotions. You could suggest:
Practicing breathing exercises together
Your child does some coloring
Your child listens to an audiobook
You do a craft activity together or go outside to play ball
Subscribe
to our mental health digest
Let us support you on the way to better mental well-being. Get expert tips and insights on mental health delivered to your inbox monthly.
5. Remember: Mistakes are normal
It is normal to make mistakes, but children don't always know this. They may think they have to be 'perfect' all the time. It is important for your child to understand that it takes time to regulate emotions, and that friendships and relationships have ups and downs.
Even if they've had a big row with their best friend, there will be a way to make amends. Use this as a learning opportunity to help them think about what happened, what they could do differently next time, and the steps they can take now to resolve the situation. The aim of this is not for them to immediately have the answers, but to start thinking about solutions and alternatives.
6. Use play to guide discussions
Children learn when they are playing. In young children, use role play or dolls to guide discussions around emotions. Ask your child how a doll might be feeling in a certain situation, or act out a character who is feeling jealous, sad or angry. This exposure to emotions in a safe environment can help children to better understand feelings and discover empathy.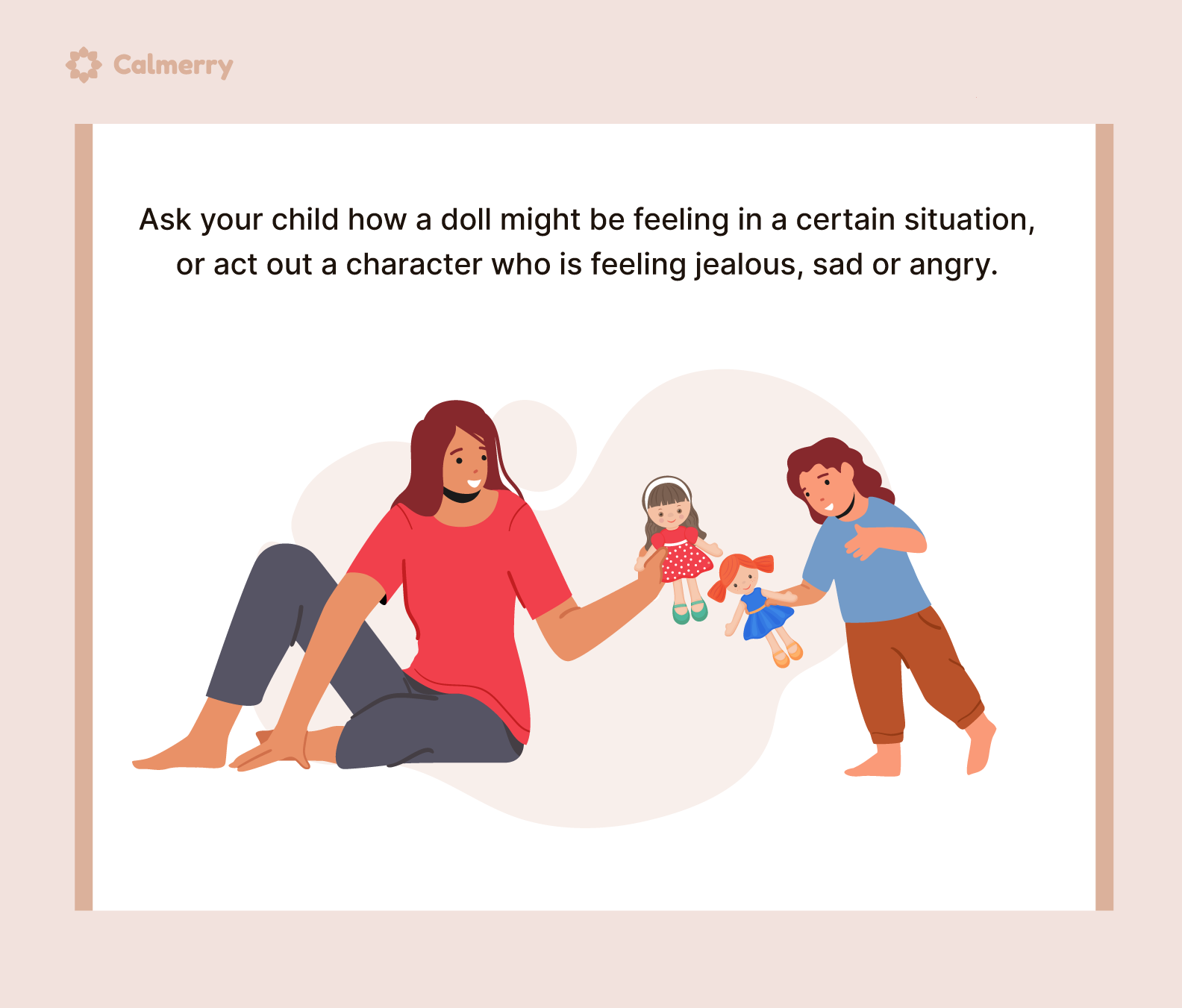 In older children, use shared books, films or video games as a prompt to explore how someone might feel. These mediums are also good for understanding and exploring depression and mental illnesses.
Final thoughts
It takes time to raise an emotionally intelligent child. Gentle reference to emotions can help children start to understand how they are feeling, how friendships and relationships are formed, and the importance of empathy.
If you have struggled with your own emotions or mental health, or have not had the opportunity to develop resilience in childhood, you may find it helpful to access online therapy. By better understanding your own emotions, you will find it much easier to support your children's emotions as they grow and develop.
Try Calmerry therapy
Сheck your mental well-being for free: