Published January 24, 2023 / Updated January 25, 2023
8 Tips to Get Over Your Fear of Public Speaking at Work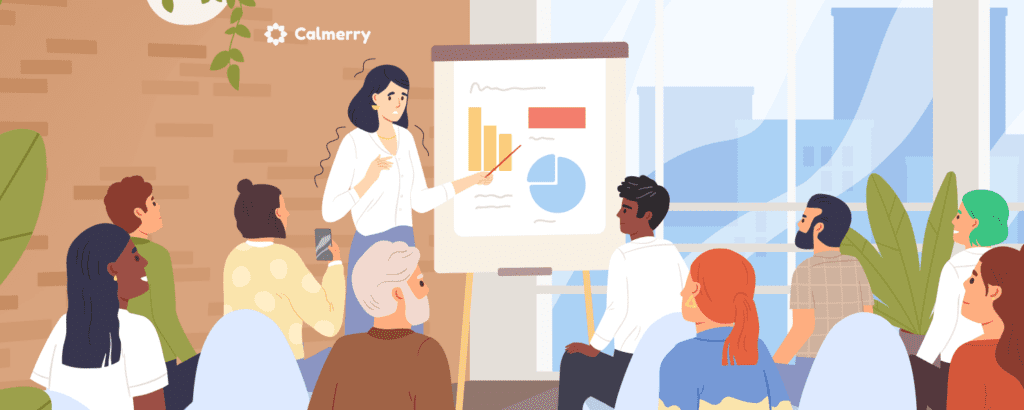 Reading Time:
6
minutes
There's something about presentations, work meetings, and video chats that makes you want to jump out of your skin. You're not alone. Fear of public speaking is quite common.
Who wouldn't be scared of standing in front of dozens, if not hundreds, of colleagues dissecting the things you say? But wouldn't it make you feel even better if someone were to tell you that overcoming your anxiety can help you improve your quality of life and feel self-empowered?
Today we will talk exactly about that. We will explore how to overcome workplace public speaking anxiety and the signs to look out for so you can work towards improving your confidence. Thus, changing the direction of your career and personal life.
Symptoms of public speaking anxiety at work
Fear of public speaking is known as glossophobia in healthcare settings. It's a Greek word that means "glossa," or tongue, and "phobos," or fear. Professionals classify it as a social anxiety disorder in DSM-5.
Many people are more scared of presenting themselves to people. Approximately 15-30% of the population have this type of anxiety, to be exact. But once you understand how to not be nervous during a presentation or meeting, you can learn to manifest a better version of yourself.
You may have noticed that speaking in front of a crowd can add another layer of stress on top of your workload. The symptoms can be so debilitating that the fear may "paralyze" you. So if you have any of the following symptoms, you might be suffering from public speaking anxiety:
Stuttering
Intense worry
Muscle tension
Rapid heart rate
Shortness of breath
Nausea and vomiting
Lack of concentration
Clammy hands and feet
Self-doubt or intrusive thinking
Excessive shaking and sweating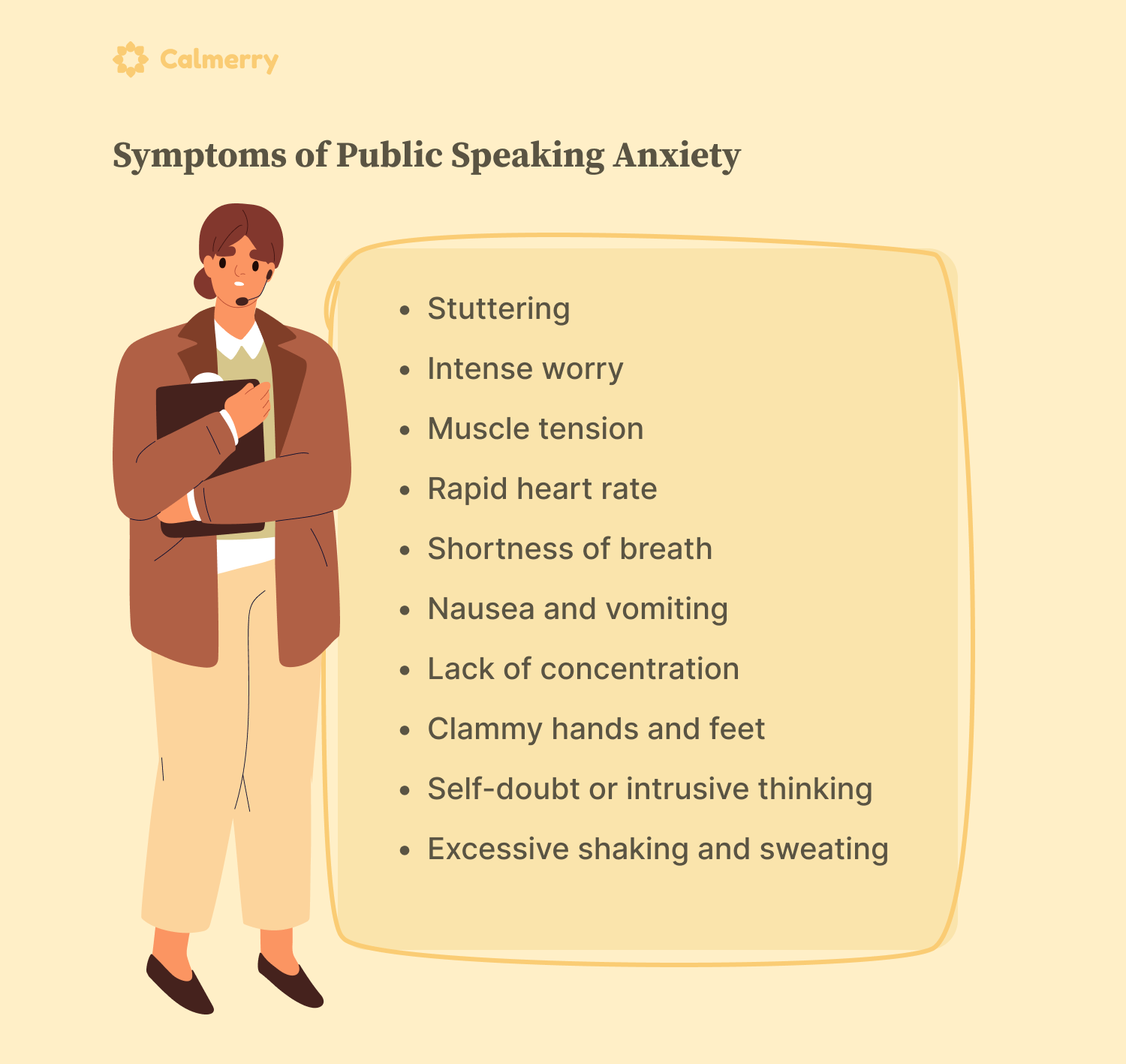 The workplace can trigger the symptoms of anxiety. But if it starts to overpower your ability to perform regular tasks, it can significantly affect the quality of your life and even lead to the development of anxiety disorders.
So here's our advice to take with you: don't let the stigma around mental health issues delay you from seeking help. Instead, educate yourself about the facts surrounding your experiences. Having mental health challenges does not make you weak, lazy, or incompetent. Being here and reading about it shows the opposite.
Why public speaking skills are important
If you want to seek new experiences, form new connections, and even rebuild old ones, you need to face your fear of talking to people. Without improved communication skills, success may be difficult to attain.
For several reasons, public speaking skills are important at work and in everyday life:
Presenting yourself with confidence builds your reputation, whether pitching a proposal to your clients or leading a Zoom meeting with colleagues.
Public speaking skills can help you build relationships and maintain their longevity in both your personal and professional life. Learning how to have fluid conversations can foster stronger bonds with your family, friends, and co-workers.
Communicating in public spaces is a great way to boost your self-esteem. It feels good when you can influence a crowd with your speech. Learning how to speak in public can make you feel at ease in other situations, such as job interviews, conferences, and social gatherings.
Self-esteem issues can make you less productive and more stressed. So muster up the courage to answer the questions you try to avoid because it'll help you deal with anxiety at work.
Public speaking skills are something that you can learn over time through practice and by managing your anxiety.
So, take a deep breath, and let's take a look at a few tips on how you can overcome your public speaking anxiety.
8 tips to overcome the fear of public speaking at work
Professional life can be challenging if you have public speaking anxiety. Think about it. There will be situations that require you to speak up. But something deep inside you is hindering you from that.
Maybe you experienced an embarrassing moment at work or a failed public speech during town hall meetings. Whatever it is, holding on to past mistakes can only hold you back from improving. Get to the root cause of your fears and spot triggers or red flags so you can develop ways to manage your anxiety.
To help you learn how to overcome a fear of public speaking at work, we share some of these practical steps:
1. Prepare ahead of time
Getting organized before a presentation or meeting is one of the most effective ways to deal with public speaking anxiety.
Simultaneously, not planning your speech is how you may set yourself up for unpleasant emotions and stress. But you can avoid that if you map out a timeline and a checklist of things to do.
Also, know your topic. It's easy to talk about something you know a lot about. The more you understand it, the more comfortable you'll feel. Consider your audience's questions and prepare responses in advance so you'll have control during the presentation.
Don't forget to inquire about your venue and equipment so you'll know what to expect. This will help you with things such as Zoom anxiety as well, as you can familiarize yourself with the equipment and connection ahead of the presentation.
Subscribe
to our mental health digest
Let us support you on the way to better mental well-being. Get expert tips and insights on mental health delivered to your inbox monthly.
2. Explore different relaxation techniques
Relaxation techniques ease the tension and calm the nerves. So find one that suits your needs.
An example technique would be box breathing. Inhaling deeply through the nose on a count of four, then holding for four seconds. Next, exhale slowly through the mouth for four counts again, then hold. Repeat the cycle several times.
This relaxation method cancels out anxiety symptoms by allowing your heart rate to return to its natural rhythm.
3. Record yourself
Taking a video of yourself while rehearsing for a presentation lets you identify areas of improvement. It'll help you focus on your content, delivery, and body language rather than getting caught up with racing thoughts.
Send the video to someone more versed in public speeches than you are. So they can advise you on how to deliver it better.
4. Learn to pause
The pause between your sentences can be a powerful tool to help you improve your delivery and radiate confidence. It allows you to gather your thoughts while your listeners think about what you said.
Use pauses strategically when you transition between ideas and emphasize a point you want to get across to your audience. So during your practice, take three to five seconds to pause when you are:
Asking a question
Wrapping up a story
Highlighting something
The silences between your speech add drama, flair, and power to your presentation.
5. Practice more often
Find opportunities to speak to people because it'll help you prepare to speak on top of a podium. Whether at work, at virtual events, or at social gatherings, give yourself a chance to be listened to.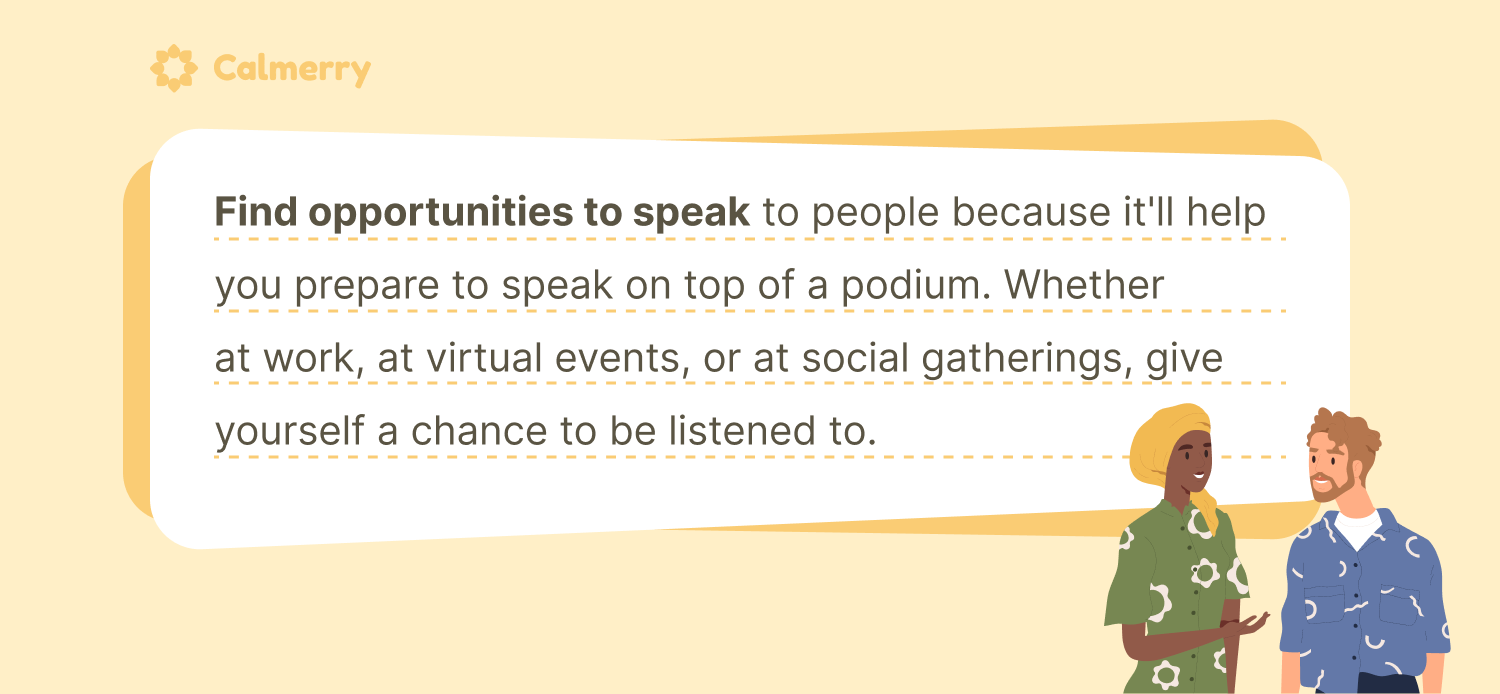 Talking with a therapist is also a great way to overcome anxiety, as it gives you an opportunity to talk to someone in a safe and welcoming environment.
Gradually expose yourself to more challenging public speaking situations over time. With the right approach and mindset, you can regulate your fear, improve your performance, and ultimately change your career trajectory.
6. Be more mindful
Mindfulness is the practice of staying in the present moment instead of allowing the past and future to hold you hostage. It lets you concentrate on yourself rather than what people think about you.
Visualize your happy place or use a mantra or affirmations to keep a laser-like focus on the now. You can even write a list of things you're grateful for before you speak and verbally repeat it to yourself.
7. Concentrate on what you are going to say
It's normal to feel self-conscious when making a speech, but putting your attention on your message keeps your anxiety at bay.
Use visual aids such as slides or props to help communicate your message. But keep them simple and easy to follow. Observe the 5/5/5 rule of Powerpoint presentations:
Don't put more than 5 lines per slide
Don't add more than 5 words per line
Use 5 bullet points or less
Before you put on your show, practice and familiarize yourself with the setup. Ensure to charge your electronics and see that everything is working well.
8. Find a support system
It's helpful to seek support from your peers. But sometimes they may have biases and might not give you the proper advice for your problems. After all, they're not professionals. Therapists and counselors can help you to develop coping strategies and work through underlying issues.
Look into different types of therapy and find one that feels right for you. If in-person sessions don't resonate with you, try online therapy.
Going to a therapist requires you to share your concerns and welcome feedback and guidance. So allow yourself to open up to heal – and your therapist will create a safe environment for the start of your journey.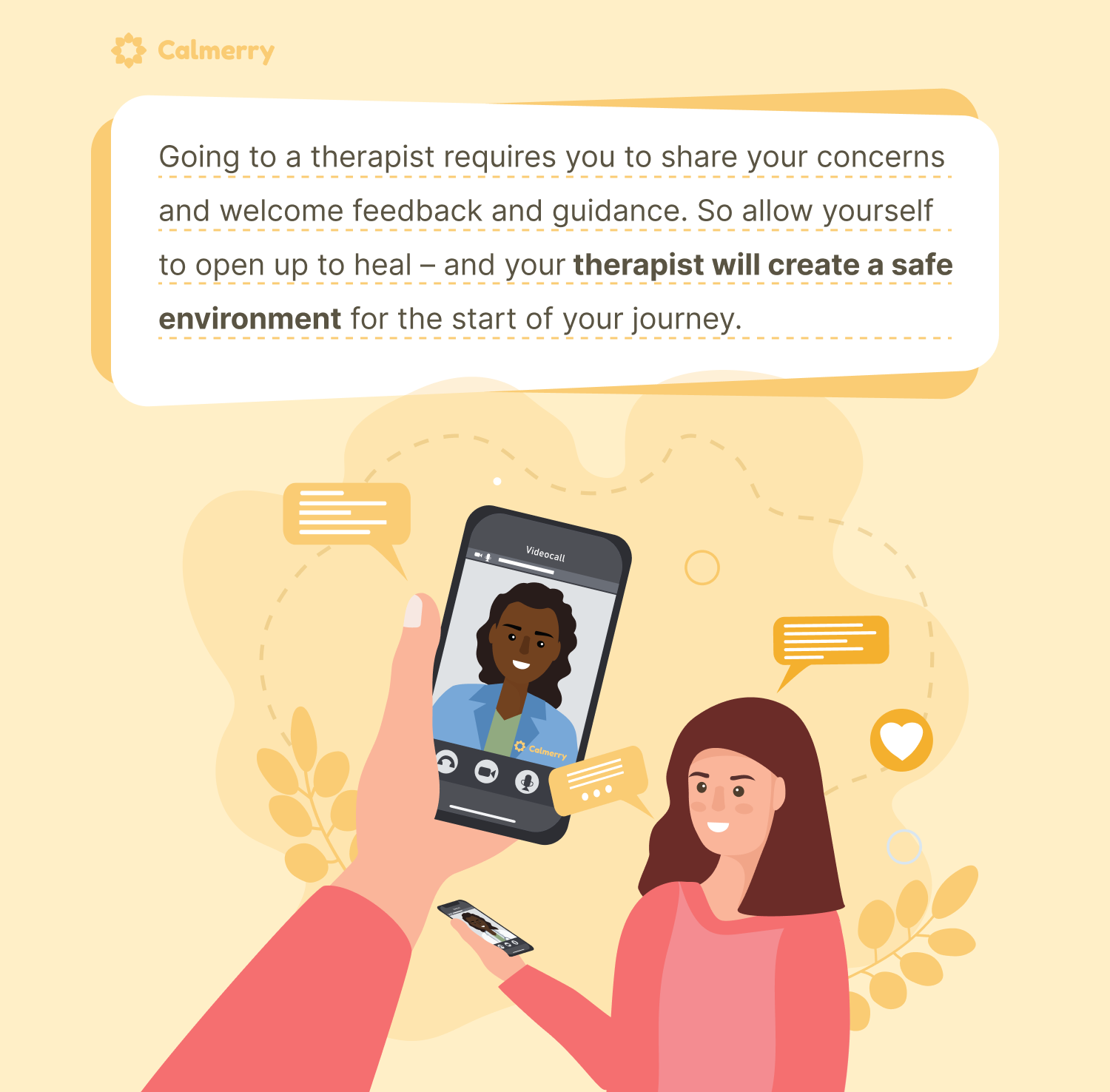 Public speaking can turn your professional life around
Public speaking anxiety is a common concern that can significantly impact one's professional life. But remember, your voice has the power to make a difference. It's better to face your fears and learn to cope with them than to suppress them.
Allow yourself to take charge of your destiny.
When you're stuck in your career, let others help you. Your support system is there to guide you through turbulent times. So cling to them.
Professional therapists can provide the support you need if you are willing and ready to work on yourself.
Сheck your mental well-being for free: