Published January 19, 2023 / Updated January 20, 2023
Losing a Parent: What You Need to Know About Grief and Finding Healing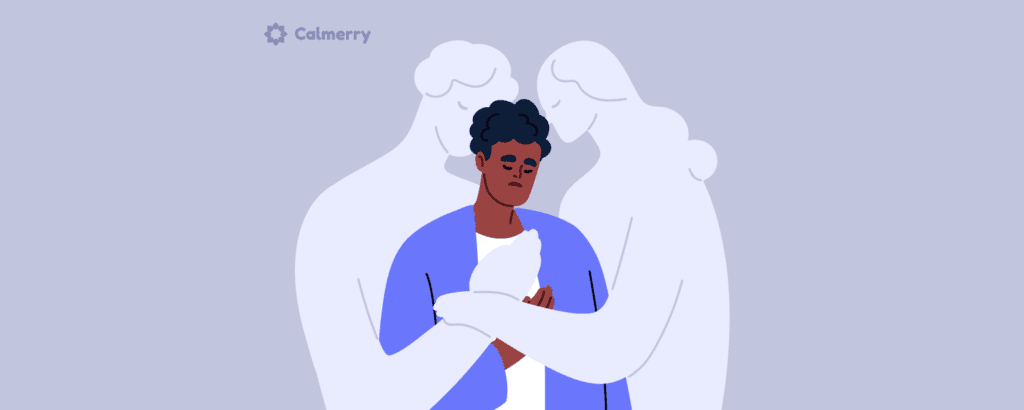 Reading Time:
5
minutes
Losing a parent is one of those moments in life that, as an adult, we know will come. It's more than just a "death in the family." Losing a parent signifies the end of an era, of a connection you've had your entire life. Even if the connection to your parent was less than you'd hoped, the loss can still have a tremendous impact.
This was the person who gave you life. This was the person whose very existence shaped who you would become. When a child loses a parent, the stakes are even higher.
Facing the death of a parent is never easy, and the loss is profound. Just how you'll react to the loss is something you can't predict, even when the loss is expected. It's a unique kind of loss that carries a lot of emotional weight.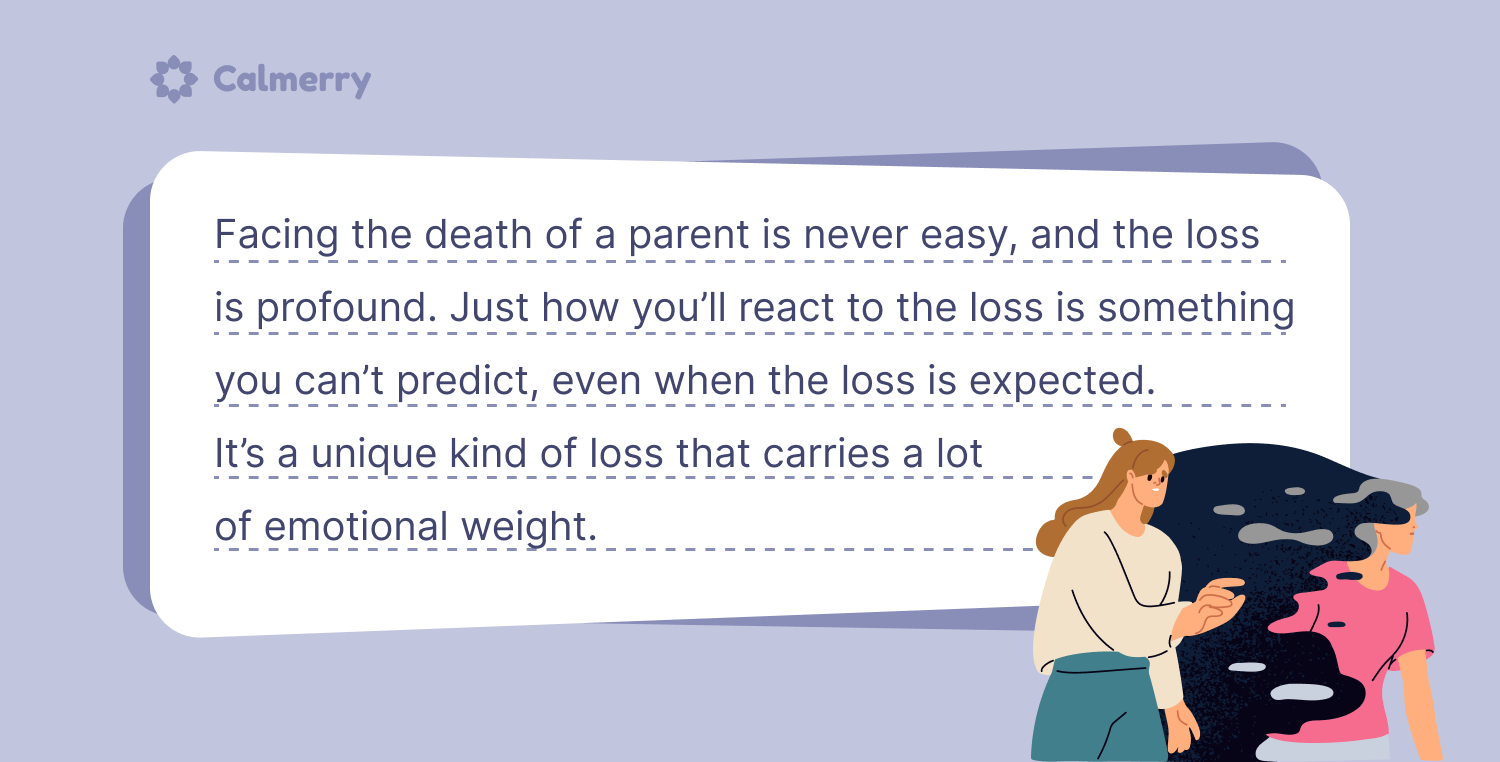 Knowing how to handle losing mom or dad is not something we're ever really prepared for. Death isn't something we talk about until it happens. Understanding grief and loss and finding healthy ways to cope can help you heal and find peace.
Here's a closer look at grief and six tips for dealing with your loss.
When a child loses a parent
The grief of losing a parent is unlike any other you will experience. Even as an adult, you are still your parent's child and will feel the loss, perhaps quite deeply. This holds even if your connection to your parent was not strong. You may grieve what was lost. You may grieve what could have been.
As an adult, you have the benefit of life experience and maturity to manage these feelings. When a young child loses a parent, they may need help to understand what happened.
Losing a parent at a young age presents unique challenges for managing the grief that will surely come. Children are still in their early emotional development, and how the loss is handled can set the stage for healing and growth beyond the loss.
Children tend to grieve in ways that look very different from adult grief. Very young children will struggle to understand the loss and may see it as temporary and reversible. Older children may have some better understanding but may not completely understand.
How grief of losing a parent manifests
Some signs a child is grieving may include:
Acting out or regressing in behavior
Disruptions in sleep or appetite
Need for reassurance and support from caregivers, wanting to feel safe and secure during this difficult time
Depression or loss of interest in activities, withdrawal from friends
Becoming clingy or fearful
Some children may avoid talking about the loss or the person who passed away as a way to protect themselves from painful emotions
Physical symptoms like stomachaches or headaches, which can be related to emotional distress
Expressing a desire to be with the parent they lost.
These can all be a normal part of the grieving process. Kids can also experience complicated grief. Grief counseling can help kids work through their loss.
How to deal with losing a parent
No one or nothing can fully prepare you for the loss of a parent, even when you know it's imminent. Knowing what to expect and how to manage your season of grieving can help you heal and find peace.
The key to dealing with the death of a parent, as with any significant loss, is self-compassion. Be kind to yourself. The first few months after a loss are often referred to as "grief fog." You will make mistakes along the way. Some days, it will feel like you'll never be happy again.
Here are six tips for dealing with your loss:
Give yourself time – Grief is a process that takes time. Go at your own pace.
Face your feelings – Part of the grieving process is acknowledging the pain and dealing with the feelings that will come. Journaling can be a great tool for sorting out everything you're feeling.
Spend time with family and friends – Getting out and doing things helps to avoid isolation and helps you get back into a routine.
Do things for you – It's ok to get back to enjoying the hobbies and activities you love.
Seek support – You might be trying to "be strong," but even superheroes need help sometimes. It's ok to let others support you. Talking with someone about how you're feeling can be healing. Research has found that emotional support is the most desired type of support following a loss. Sources of support might include family or good friends, a support group, or even grief counseling.
Practice self-care – Make time to eat well and get some movement in your day. Make sure you're getting good sleep. In the early days, this might be hard. If you're struggling, reach out to your healthcare provider for advice. Self-care also includes taking care of your mental health. Take time to do things that are emotionally soothing and let you express yourself creatively. Activities like journaling, yoga, and meditation have been shown to enhance the healing process.
What to say to someone who has lost a parent
Finding the right words is never easy. Death is not something that most families talk openly about. People fear saying the wrong thing, and when we don't know what to say, we tend not to say anything.
Sometimes the simplest expressions can convey deep care:
"I'm sorry for your loss." 
"How can I support you?"
"Please know I'm here for you, and you don't have to go through this alone."
"I can't even imagine what you're going through, but I want you to know that I care about you and am here to listen if you want to talk."
"I know that there are no words that can take away the pain, but I hope you find some comfort in knowing that you have people who care about you and are willing to support you during this difficult time."
If you're at a loss for words, it's OK to say that too. "I wish I had the right words. Just know that I care and I'm here."
If you've lost your parent and people seem to be avoiding the subject, it's likely that they care very deeply but are unsure what to say.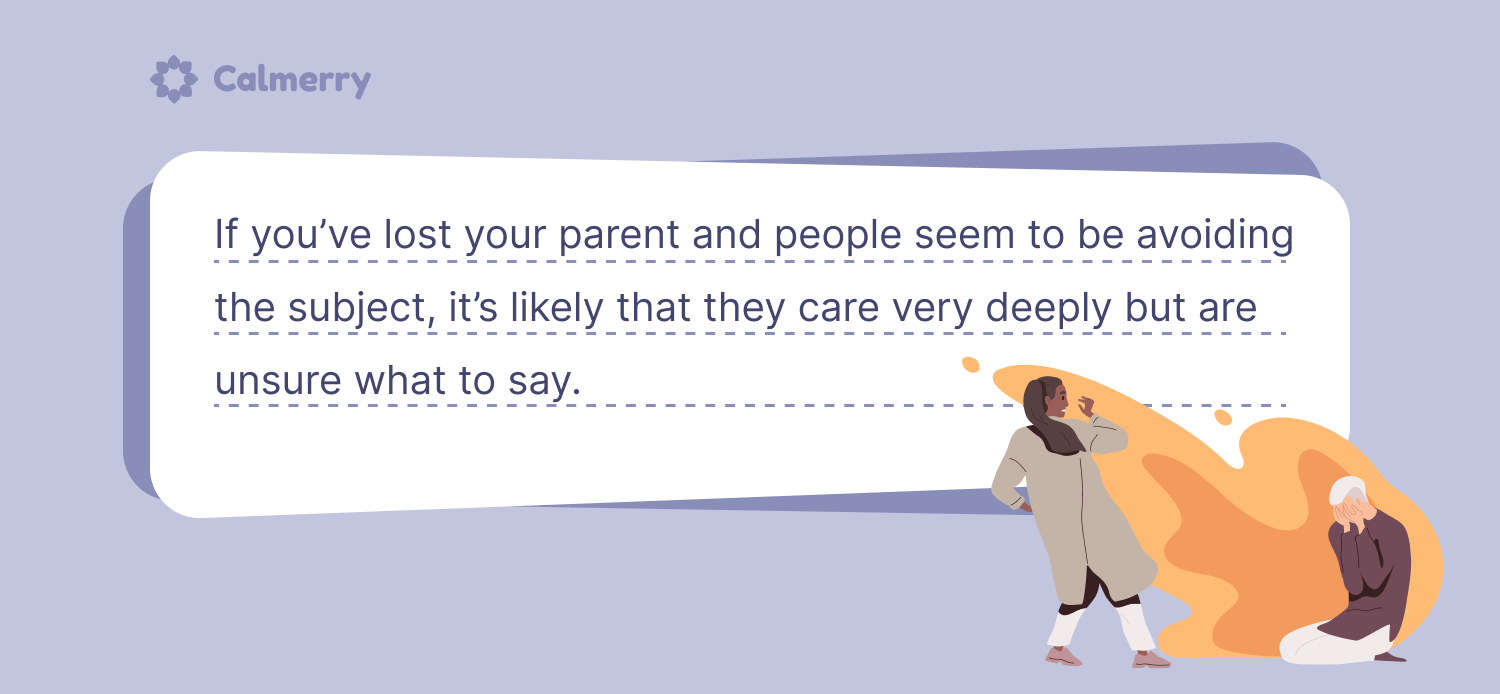 The next steps
Losing a parent is never easy, and no one tells us how we are supposed to handle that kind of loss. If you find yourself struggling to find the right words or if you're feeling stuck, talking with someone can help.
A trained therapist can help you understand your grief and find healthy ways of coping and healing so that you can move forward.
Today, finding therapy is easier than ever. Online therapy makes seeing a therapist convenient and comfortable. With online therapy, you can see your therapist from the comfort of your home and at times that work with your busy schedule.
Best of all, online therapy is at least as effective as traditional in-person therapy. You can heal from your loss and find peace. Therapy can help you get there.
Сheck your mental well-being for free: