Published March 29, 2023 / Updated April 21, 2023
How to Deal With Anxiety Without Medication — Strategies that Work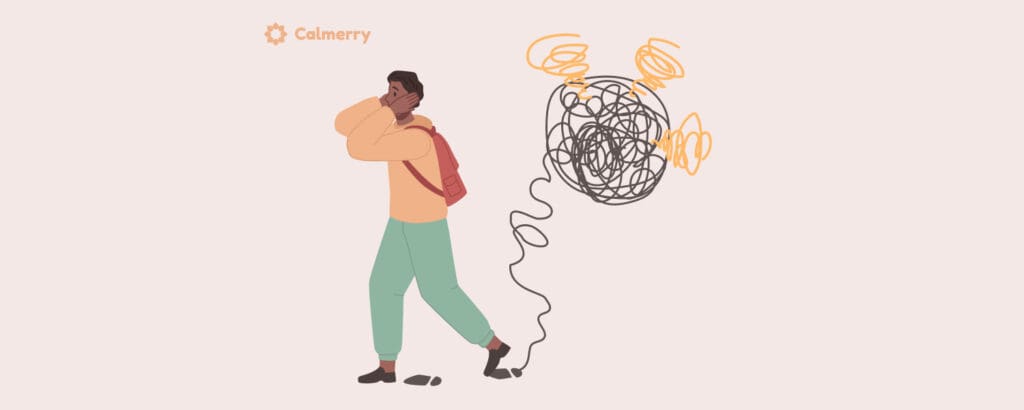 Reading Time:
6
minutes
When juggling a career, parenthood, bills, and social life all at the same time, it can take a toll on a person. It's no wonder that so many of us experience episodes of anxiety during our lifetime.
Online anxiety therapy has become a popular alternative for many seeking relief.
But when anxiety sticks around for a while, there are steps you can take to feel calmer. In fact, medication is a well-respected treatment for anxiety disorders. But due to myths around anxiety, stigma, or side effects, many people prefer to know how to handle anxiety without medication.
From grounding techniques to journaling, learning the coping skills that will help you take control of your worries and fears naturally is always beneficial.
Here are a few suggestions you may want to try for handling anxiety without medications.
Maintaining good physical health
Did you know that experiencing physical discomfort is linked to anxiety and depression? Physical conditions such as chronic pain, high blood pressure, digestive issues, and migraine can all be more likely in people with anxiety.
So, it's important to consult a healthcare provider to check that anxiety is not caused by an undiagnosed physical condition. The good news is that taking care of your physical health in the following ways can help to treat anxiety.
Take up exercise
Exercise and regular activity have been proven to "positively impact the pathophysiological processes of anxiety." Physical activity likely achieves this through psychological and biological mechanisms.
Although the neurological pathways are not fully understood, physical exercise aids brain development and acts to break down the foundations of anxiety.
Choose an activity that suits your circumstances: some people may prefer to stay active by going for a daily walk, while others might choose to follow online aerobics or yoga classes.
Get enough sleep
Due to research, sleep difficulties are commonly experienced alongside anxiety. You may find that you have trouble falling asleep, difficulty staying asleep, or experience early morning wakening. Being exhausted can make your anxiety symptoms even worse.
Developing sleep hygiene is one of the best ways to deal with anxiety without medications. It involves creating a healthy sleep routine, e.g.,  maintaining regular bedtime can help calm anxiety at night.
Before sleeping, calm your room and ensure it is neither hot nor cold. Set a realistic bedtime and try to stick to it. For many, a good time to go to bed is between 10 and 11 pm.
Blue light can affect the circadian rhythm, therefore affecting your sleep cycle. Leaving your phone in another room is another good practice so you will not be tempted to look at it in bed after an hour of not using screens. For the same reason, avoiding watching TV in bed is better for your sleep routine.
Eat healthily
When you feel anxious, your appetite can change, and you may reach for convenience snacks rather than preparing meals from scratch. If possible, try to ensure you have plenty of protein, fiber, carbohydrates, vitamins, and minerals. Eating fruit and vegetables can help nourish your body.
If eating and drinking well is a struggle when you feel anxious, investing in healthy pre-prepared meals or asking a friend or a family member to prepare a simple meal for you can help.
Stay away from caffeine and substance use
Studies show that caffeine might boost your energy, but can also worsen your anxiety. Because caffeine is a stimulant, you may want to cut back on coffee, tea, cola, and chocolate.
Alcohol can be a crutch for some people, but it's not good for your health. Alcohol puts pressure on vital organs, including your liver, and also alcohol acts as a depressant.
Substance use and anxiety commonly form a vicious cycle of worsening mental health. Drug use is strongly advised against for this and many other reasons, but if you are already taking a substance, seek a specialist to help you to reduce it.
Practicing stress- and anxiety-relieving techniques
Many simple anxiety-relieving techniques are free, easy to learn, and suitable to try anytime.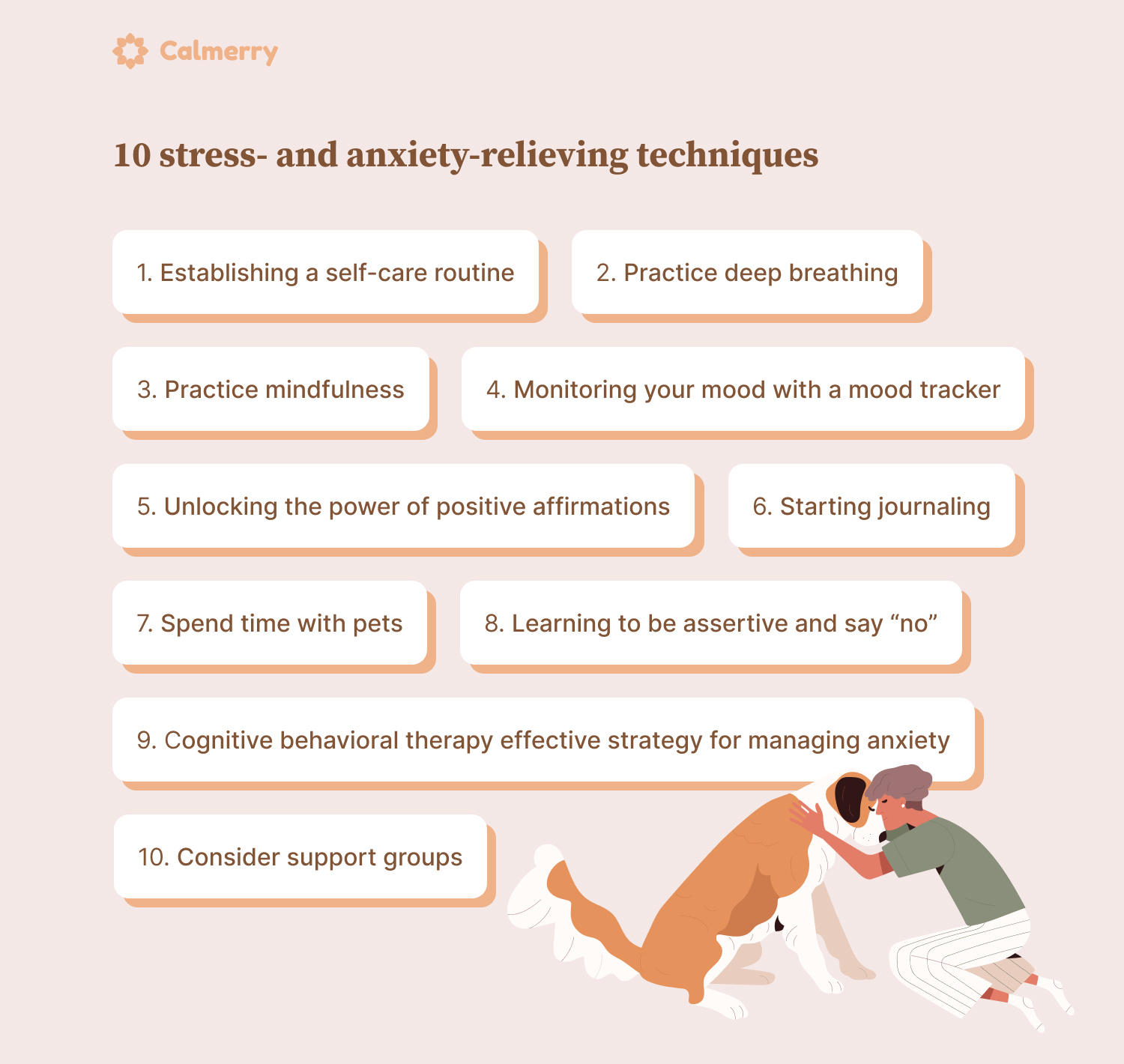 Establishing a self-care routine
Make self-care part of your daily routine. Self-care can help to reduce anxiety, so start by writing a list of activities that are important to you.
This could include bathing, calling a friend, reading, exercising, watching a movie, eating well, or going for a massage.
Practicing mindfulness
Mindfulness has been proven to help manage anxiety. Focusing on the safety of your current circumstances will help to draw your mind away from the anxiety you may feel about hypothetical situations.
Mindfulness is also considered an effective strategy to reduce anxiety in the long term.
Practicing deep breathing and grounding technics
Much of your anxiety might be based on events in the future or things that may never happen. Grounding yourself in the present with deep breathing exercises is an excellent way to reduce your anxiety.
Deep breathing exercises can help calm stress, anxiety, and panic in just a few minutes. They are easy to learn because you simply focus on your breathing and can do them anywhere.
Monitoring your mood with a mood tracker
Get into the habit of documenting your mood each day. Think about how you feel, events relating to your mood, and the impact of any strategies you have tried, such as eating well or prioritizing sleep. And simply write them all down in the mood tracker.
Reflection Bot by Calmerry is a tool that helps you better understand your emotional states. And develop strategies for combating negative feelings and anxiety symptoms. It's free for everyone – you can use it as a part of your self-care routine. You can share your entries with your therapist.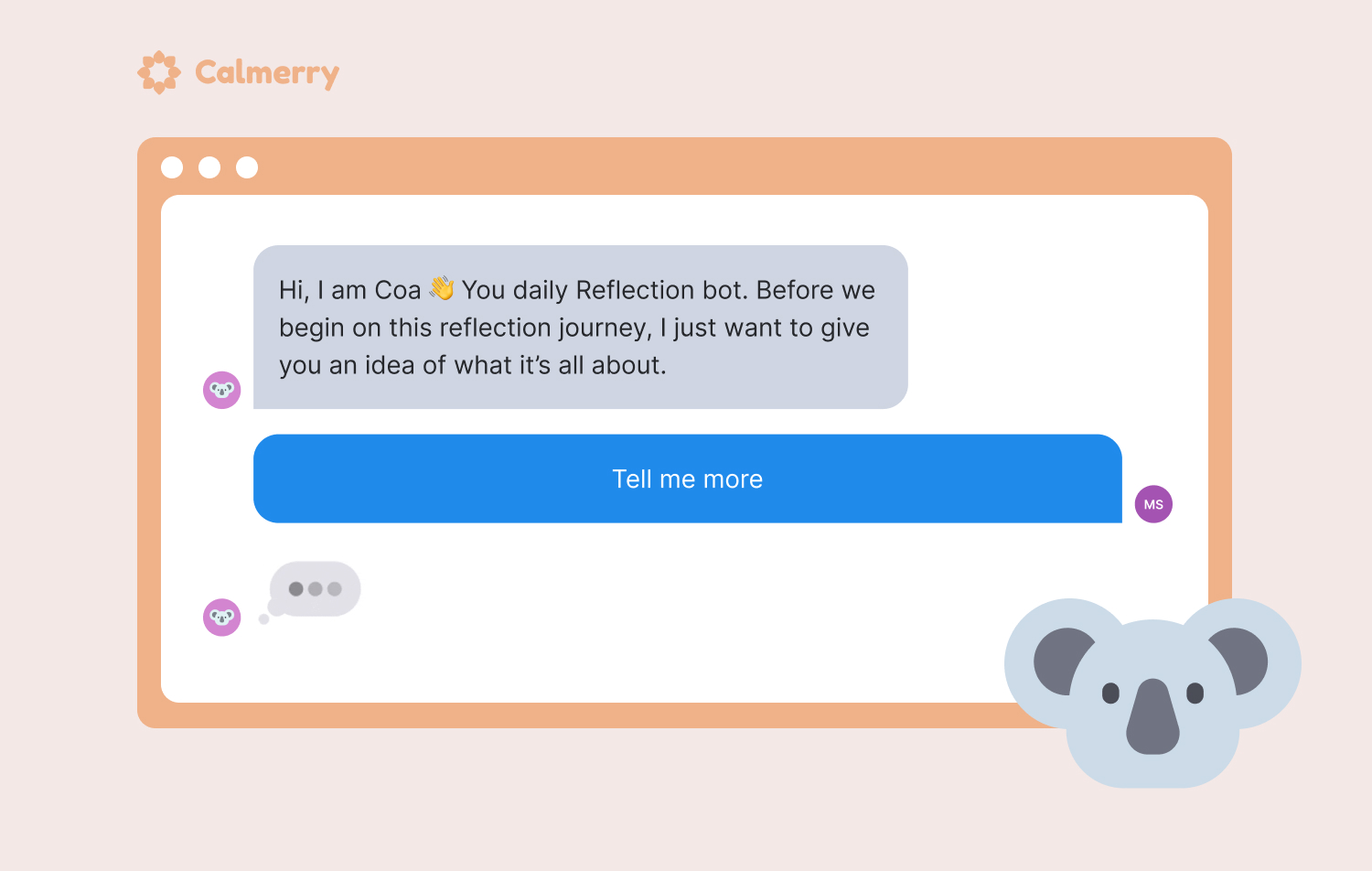 Starting journaling
If you feel that your body and mind need help, journaling for anxiety can be an effective coping technique that will help you work through your anxious feelings, organize your thoughts, and healthily process them. Try to develop a habit of writing every day before bed or when you wake up.
Writing down your thoughts and feelings is a form of self-reflection. Getting your worries onto a page is a well-proven strategy for managing anxiety without meds. It can stop troublesome racing thoughts and help with emotional regulation, too.
Learning to be assertive and say "no"
Learning to say no is important in protecting your mental health. When invited to an event or asked to do something, consider whether you truly want to accept or do it for someone else's benefit. If you really don't want to do something, try to decline politely.
We all occasionally do favors for friends and family or attend work conferences when we would rather not. The key is finding a balance by working out what you want to do and what you can say no to.
Unlocking the power of positive affirmations
Another effective strategy to manage complex feelings and relieve anxiety is using positive affirmations. Affirmations can be written on stickers and said out loud. Simply put, they're positive statements you repeat to yourself regularly.
Writing positive affirmations can help you think more favorably about yourself, boost your resilience, and aid relaxation. If you are unsure where to start, learning more about positive affirmations to relieve anxiety can help.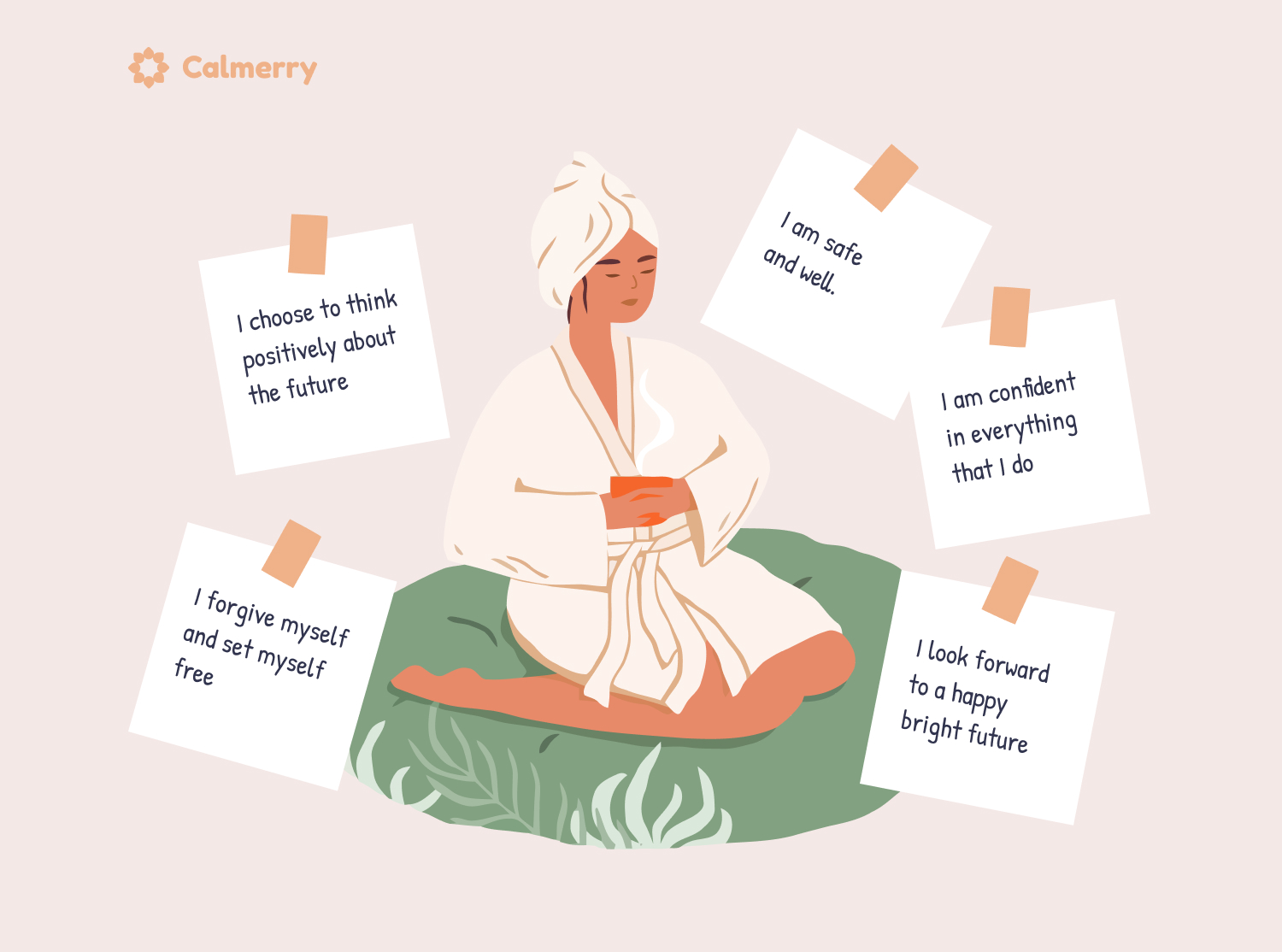 Spending time with pets
Research has shown that spending time with a dog can boost your mood and help with anxiety. If you don't have a dog or would feel worried about meeting one, even watching videos of dogs can positively impact how you feel.
Considering support groups
The old saying "a problem shared is a problem halved" has some truth to it. Members of a support group are likely to have a better understanding of how you might be feeling and going through. They may help you feel validated and see your issues in a different light or even help you work out what your next steps might be.
Subscribe
to our mental health digest
Let us support you on the way to better mental well-being. Get expert tips and insights on mental health delivered to your inbox monthly.
Therapy as the first-line anxiety treatment without medication
Many people with anxiety turn to talking therapies. This can be one of the most effective anxiety treatments without using medication.
For instance, the online format can be extremely convenient when life is busy and is ideal for getting generalized anxiety disorder treatment without medication. Online counseling also makes help accessible and convenient to people with social anxiety.
Although friends and family can be a great support network, working with a therapist allows you to talk confidently about anxiety, the symptoms you experience, and the effect on your daily life.
Cognitive behavioral therapy is an effective strategy for managing anxiety
Although anxiety disorders are one of the most prevalent mental health conditions and can feel difficult to manage, scientists recognize that effective treatment is possible not only with medication but also by implementing cognitive behavioral interventions.
Cognitive behavioral therapy (CBT) has been shown to be effective in managing anxiety disorders to improve the quality of life. It is a skills-focused treatment that gives you the tools to manage your thoughts and behaviors to improve the way you feel.
Calmerry offers online therapy with licensed mental health professionals who work in CBT and other evidence-based approaches.
Final thoughts
Learning how to treat anxiety without medication can help many people overcome anxiety naturally. Developing the tools to manage the way you feel will give you a good understanding of how you respond to stress and the most helpful strategies.
Talking to a therapist in Calmerry will give you the space for self-reflection and the tools to utilize new coping mechanisms to cope with your anxiety symptoms.
Сheck your mental well-being for free: