Published March 27, 2022 / Updated May 17, 2023
8 Mental and Emotional Issues That Affect Men's Sex Lives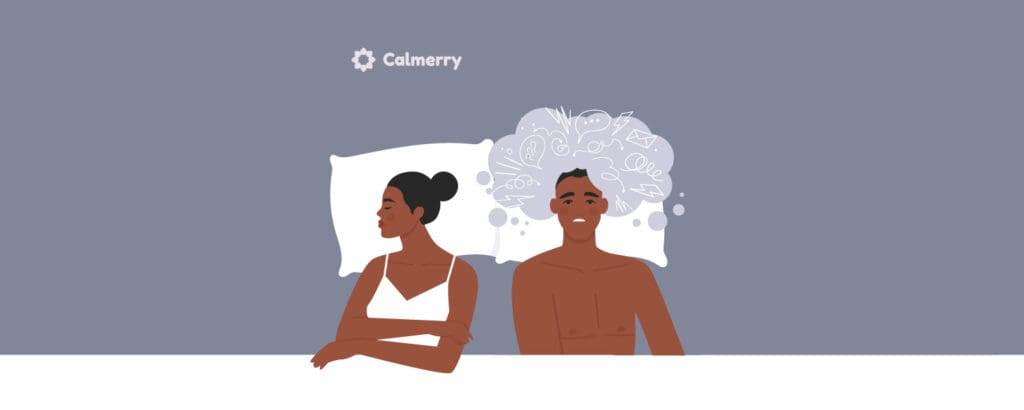 Reading Time:
10
minutes
Sex and intimacy are fundamental parts of men's well-being, no matter their age, relationship status, or sexual orientation. Indeed, sexual and mental health are intrinsically linked — the benefits of sex for mental health are hard to deny.
It's a common fact that underlying medical problems seriously affect men's sexual life. However, mental and emotional issues play an important role as well. In particular, they can lower libido and cause sexual dysfunctions like erectile dysfunction, premature or delayed ejaculation, anorgasmia, and problems with arousal.
Having satisfying sex life is impossible without mental and emotional well-being. Self-esteem issues, trauma, stress, interpersonal difficulties, or mental disorders become stumbling blocks that don't allow males to feel close to others, engage in intimacy, and fully enjoy their sexual experiences.
Sadly, men are less likely to discuss their emotional and sexual problems. Stigma, toxic masculinity, social taboos, shame, or lack of sexual self-awareness and sex education shadow these topics.
So let's shed some light and find out the links between mental health and sexual problems and the ways to get help.
The impact of stress on men's sex life
The stress of finances, employment, education, societal pressure, mid-life crisis, work/life imbalance, identity crisis, and relationship issues can weigh heavily and affect every aspect of men's well-being, including sexual health. Stress is often at the forefront of sexual dysfunctions. It can even rob your energy for sexual thoughts and fantasies. 

It's no wonder: when dealing with any personal, professional, or social challenges, it's common to experience decreased sex drive and not to make sex a priority. The physical and mental symptoms of stress — exhaustion, sleep problems, high blood pressure, headaches, low energy, worries, and irritability — can leave you too tired for any form of intimacy and interrupt how your brain signals your body's physical response.
Additionally, due to stigmas derived from rigid gender norms and toxic masculinity, men tend to suppress their emotions, keep stressful experiences insidious, or use other maladaptive coping strategies.
In turn, stress can accumulate, becoming overwhelming and developing into chronic stress — a continuous "fight-or-flight" mode where adrenaline and cortisol play a role. Long-term stress is strongly associated with ED development, but learning healthy stress management strategies is an important part of treatment.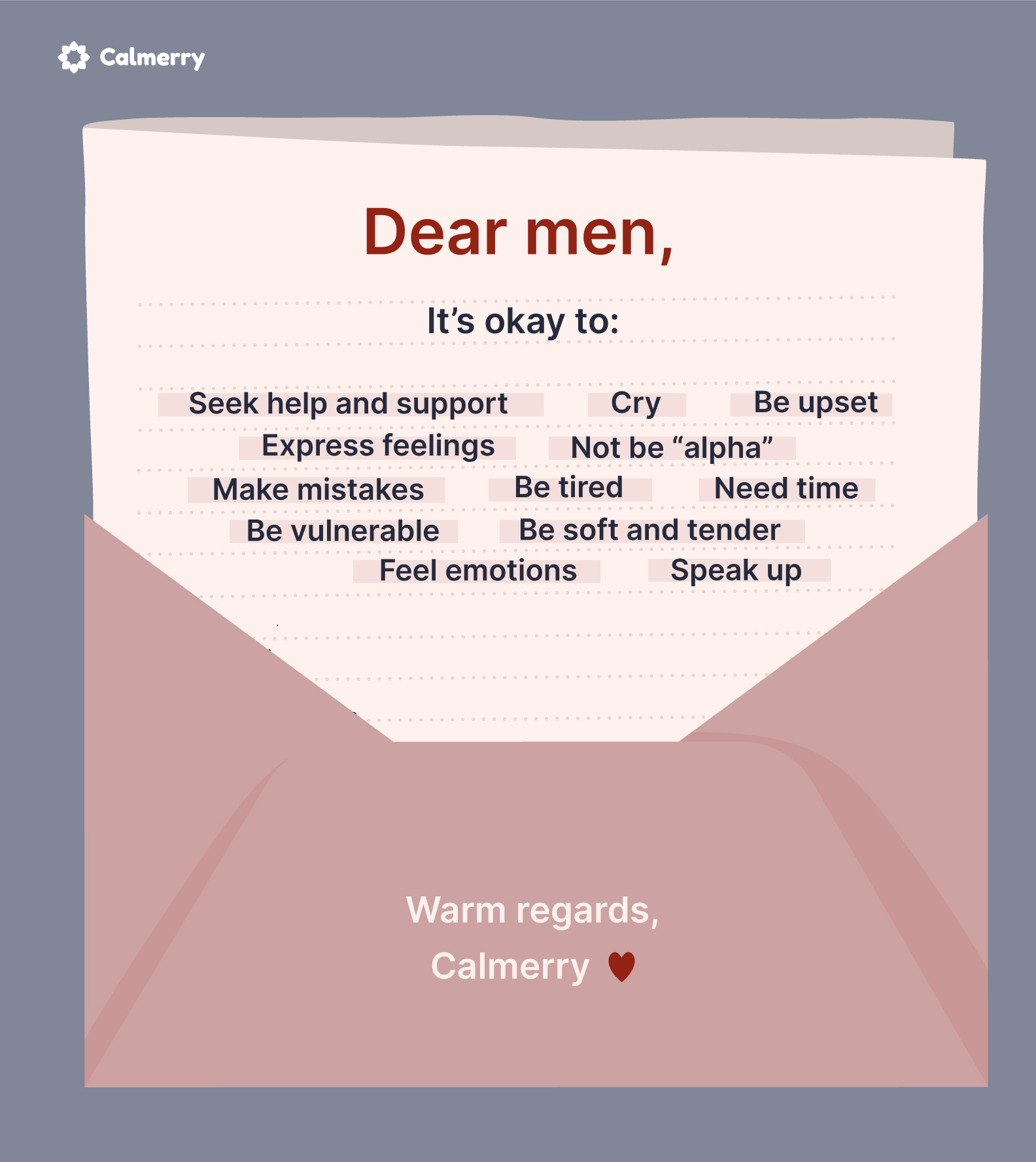 Anxiety and male sexual problems
Sexual problems such as premature ejaculation, ED, and sex avoidance are especially common among people with anxiety disorders. Nearly 37% of men with ED have reported anxiety disorders.
Yet, non-problematic anxiety as a reaction to daily stress can also cause erectile dysfunction and is a significant factor in the loss of libido. As in the case of stress, anxiety disrupts bodily processes important for sexual arousal and affects the sympathetic nervous system responsible for the initiation and maintenance of an erection.
Apart from it, performance anxiety is the most common cause of ED, loss of sexual confidence, poor body image, anorgasmia, and a fear of sex in young males aged 20 to 35.
Performance anxiety is an especially big deal at the beginning of sex life. Earlier "not the best" incidents, lack of experience, or perfectionism makes them more anxious about intimacy, which turns sex from an enjoyable experience into an anxiety-provoking event.
This way, a vicious circle occurs:
1. Negative sexual experience results in low self-esteem, feelings of worthlessness, fostered anxiety, and reduced sexual enjoyment for a person and their partner.
2. It activates negative assumptions about self and sexual performance:
"I'm not good enough."
"I must satisfy my partner by penetrative intercourse."
"I must perform well."
3. It causes negative beliefs and predictions:
"I will lose my erection or ejaculate too early — my partner will be disappointed — they will tell others — they will leave me."
The effects of depression
According to the CDC, about 5.5% of US men have depression. But these figures are underreported since men's depression is more insidious and inward. They're more reluctant to talk about mental health problems and are less likely to seek appropriate help.
Additionally, while depression has many similarities among all genders, men experience it a bit differently. Some symptoms may include aggression, irritability, and violent or risky behaviors. They're also more likely to withdraw and self-isolate.
These symptoms, along with the common ones — fatigue, anhedonia, anxiety, shame, feelings of hopelessness and worthlessness, and mood swings — cause a host of male sexual issues:
Reduced feelings of closeness with loved ones
Doubts about how to think, talk, or initiate intimacy
A low or absent sex drive
Erectile dysfunction
Difficulties with sexual self-esteem
Trouble having an orgasm
A person with depression is locked in the moment of their suffering. So it's hard to be mindful and intimate with a partner. In this case, men may feel even more stressed, worried, and overwhelmed with guilt about not wanting to sexually and emotionally connect with others.
However, depression is very treatable and preventable. Treatment usually includes a combination of self-help, talk therapy, and medications. It's worth noting that common medications for depression can cause such side effects as low libido or delay in ejaculation.
Luckily, healthcare providers can have a solution for this. It's important to speak with your doctor about this side effect so they can come up with the optimal treatment plan for you. 
Feeling about your sexuality while grieving
While grieving, it's common for people to move on the spectrum from loss of sexual desire to a heightened sex drive.
For sure, grief is a complex and deeply personal experience accompanied by intense painful feelings and emotions. And maintaining a sexual connection with your partner while going through the stages of the grieving process can seem impossible.
It's difficult to feel aroused and even think about sex when your mind is clouded with sadness, depression, anger, stress, and guilt. And it can take weeks or even months to get interested in sexual activity again. Often, people need more support and professional interventions to get back on track.
Moreover, things can become even more complicated when you're going through disenfranchised grief. When others don't recognize your loss, you may feel extremely lonely with your painful experiences and face devastating emotional disconnect from a loved one who can't get why you reject sexual intimacy.
As to the heightened sex drive, sexual intimacy serves as a coping mechanism that helps release feel-good and pain-reducing hormones. It also provides the comfort people badly need during grieving and other necessary resources to process the emotional pain.
Either way, there's no "normal" way to feel about your sexuality while grieving. Just try to be more self-compassionate and get in touch with your feelings and needs.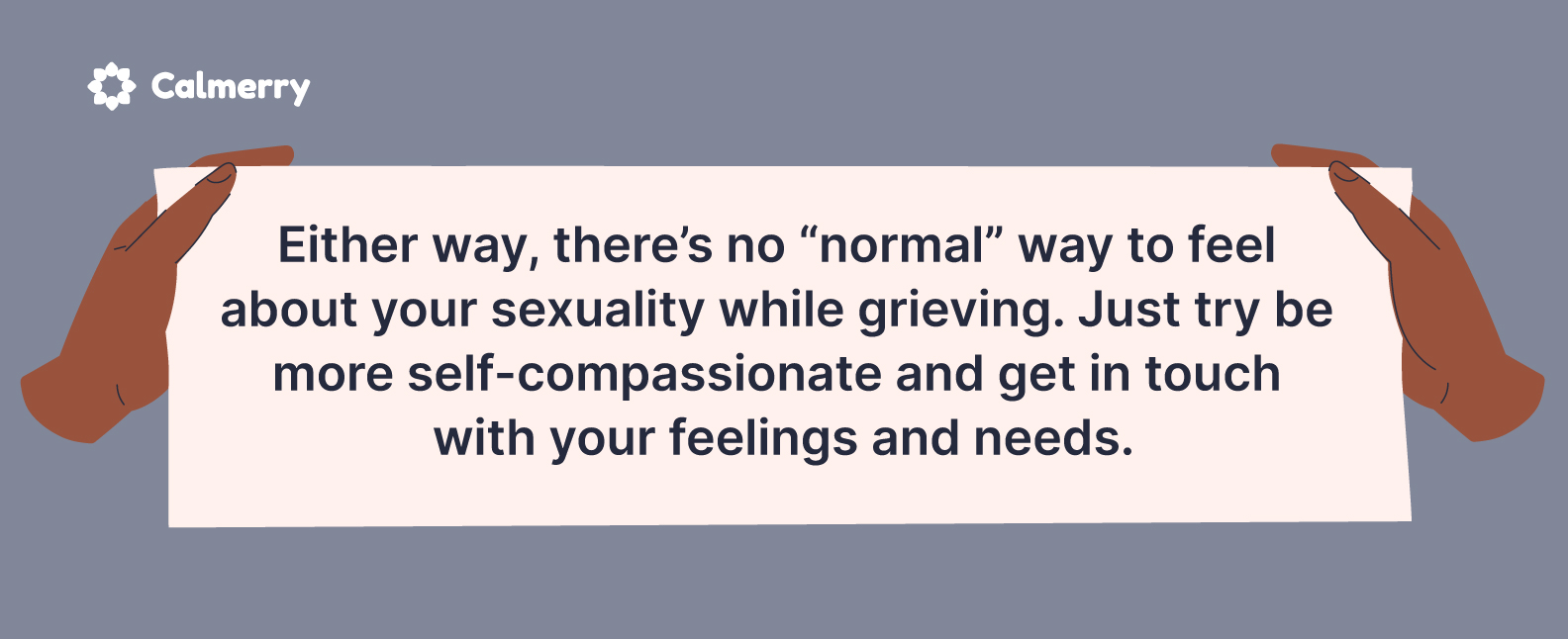 It also helps to talk to your partner about what's going on with you and give them insights on your emotional and sexual needs for now. If you don't feel like having sex, you may try saying:
"I'm going through tough times now, so I can't think about sex. This loss is affecting me badly. I'm bottled up with sadness and grief, and it may take me some time to feel better. But I'm grateful for your support and readiness to be there for me."
Conversations about grief and sex seem awkward, especially when coupled with one problem. And it takes a lot of courage and strength to start. But hiding from them can make your grieving process even more isolating, confusing, and overwhelming.
Self-esteem issues
The relationships you have with yourself are one of the most influential factors in your sexuality. While it's normal for any person to have insecurities and vulnerabilities, a poor self-image and low sexual self-esteem strip away the enjoyment of your sex life — both solo and partnered. If this is the case, you're not alone, as many males go through this.
Everything becomes too complicated when it comes to self-acceptance, especially the sides of an intricate intimate world. We're bombarded with social "standards" of relationships, bodies, and sexualities. And we're so often criticized for our true sexual wants, needs, and desires that it's hard to be in tune with them and overcome the shame or guilt. It may root the feeling that you're not worthy of being desired or getting pleasure.
This also leads to excessive self-consciousness about your body. You become preoccupied with how you look, how to "hide" your most disliked body parts, and what you do. You focus on the feelings of possible judgment instead of getting enjoyable experiences from emotional and physical closeness.
Usually, unrealistic ideals shown in the media, social comparison, self-criticism, a history of bullying, health issues, or toxic masculinity are the top reasons for a negative internalized image of your body. But therapy may be a safe place for you to work toward self-acceptance and challenge negative perceptions of your body and sexuality.
Developing self-awareness is also a helpful skill for exploring your body's likes and dislikes and what could be causing them.
Sexuality concerns
Your sexuality is an important part of your life. It isn't as white and black as many assume — sexual orientation is on the spectrum. And it's perfectly normal to move through it, be confused, question your sexuality, or feel some shifts in your attractions. Questioning your sexuality doesn't mean you're "choosing" — it means you're still learning about who you are and what feels right to you. As you age, you become more self-aware of your preferences and needs, accessing new facets of sexual life you couldn't reach before.

However, men often face serious obstacles on their way to self-discovery. Many factors can prevent you from embracing your sexuality fully:
Religious taboos or cultural beliefs
The level of openness around the sex-positive discussions with friends, family, a loved one, or social community
Fear of breakup or a divorce with a current partner
Trust issues
Traumatic experiences
Lack of sexual awareness or education
Strong negative messages about sex passed down through generations
Restrictive upbringing or disapproving parents
Adopted feelings of shame and guilt around sex
Fear of intimacy
Exploring your sexuality can be a really exciting process. But it also can be a scary and emotionally difficult experience. You might be worried about how others will react, what it means for your future, and whether it will ruin your committed relationships.
Feeling pressure to hide who you are can feel really stressful and affect your well-being and sexual life. If difficult feelings come up for you, it may be helpful to talk to a professional or just to a person you feel safe with.
Remember that shifts in your attraction don't mean your relationship is over. In a healthy relationship, you should be comfortable with discussing sexuality and can at least try to work through this together to find what works for you both.
Trauma reactions
About 6 of every 10 men experience at least one trauma in their lives. And at least 1 in 6 men have been sexually abused or assaulted.
This statistic is underestimated since it doesn't include non-contact experiences, and males are more likely to stay quiet about their traumatic experiences than females.
Victims of traumatic events suffer from difficult and long-lasting emotional, physical, and psychological effects. Besides a higher risk of experiencing ED, here are just some of the reactions shared by male survivors:
A feeling of disconnect from a body
Physical or emotional numbness
Feelings of inferiority, like you're "less of a man"
Intimacy avoidance
Low-to-no sex drive
Hypersexuality as a response to abuse
Flashbacks during physical arousal
Mental health conditions, such as anxiety disorder, depression, PTSD, sleep problems, and eating disorders, also can be at the root of sexual dysfunction
Avoidance of people or places that remind of the traumatic event
Inability to relax
Self-blame or shame
Trust issues or inability to form meaningful, long-lasting connections
Increased sense of isolation
All these reactions can break the bond of safety and care, which are necessary for having pleasurable, healthy sexual experiences. Trauma makes it difficult for the body to survive and thrive simultaneously.

While stigma, shame, and worries about disclosing make seeking help a great challenge for men, it's important to find a trusted doctor and mental health professional who can help you heal, cope with devastating effects, and regain autonomy over your body again.
Relationship issues
Although solo sex is an important part of your sexuality, it often takes two to tango. And the level of satisfaction with your sex life enormously depends on the quality of your relationships with yourself and your partner.
A great scope of interpersonal difficulties and relationship challenges can directly affect you sexually. If you think sexual dysfunction stems from them, you may ask yourself several questions as a part of self-exploration:
Am I okay being single, or is there something lacking?
What stops me from building a committed relationship and nurturing long-lasting connections?
Am I happy in my current relationships?
Are our relationship dynamics healthy? Are they reinforced with love, trust, compassion, respect, affection, open dialogues, emotional safety, and mutual support? Or, do unresolved conflicts, arguments, boredom, disregard of needs, poor communication, difficulty trusting each other, hostility, and anxiety about relationship security prevail?
Can we voice sexual concerns in a sex-positive way and take steps to fulfill the needs of each other?
Do we work on reawakening sexual creativity and improving intimacy?
When you're going through relationship challenges, it doesn't mean that sexual problems are solely your or your partner's fault. Don't take the sexual challenges personally. Rather, it signals that you both need to find some ways and resources to get to the underlying issues and try to move toward happier, more satisfying relationships.
Working with an impartial relationship counselor individually or as part of couples therapy can help. A counselor can provide more insights on possible attachment issues replayed during adulthood and your ways of building relationships with others.
You can break the cycle
Everyone's sex drive is different, and there's no such thing as a "normal" libido. And occasional problems with male sexual function are common. But if they last more than a few months or cause distress for you or your partner, consider seeking medical advice and treatment. A professional can assess whether the cause is likely to be medical, psychological, or a combination of the two.
And even when medical issues are at the root of sexual problems, men also can benefit from psychological interventions. This is because the connection between sexual function and mental health goes both ways.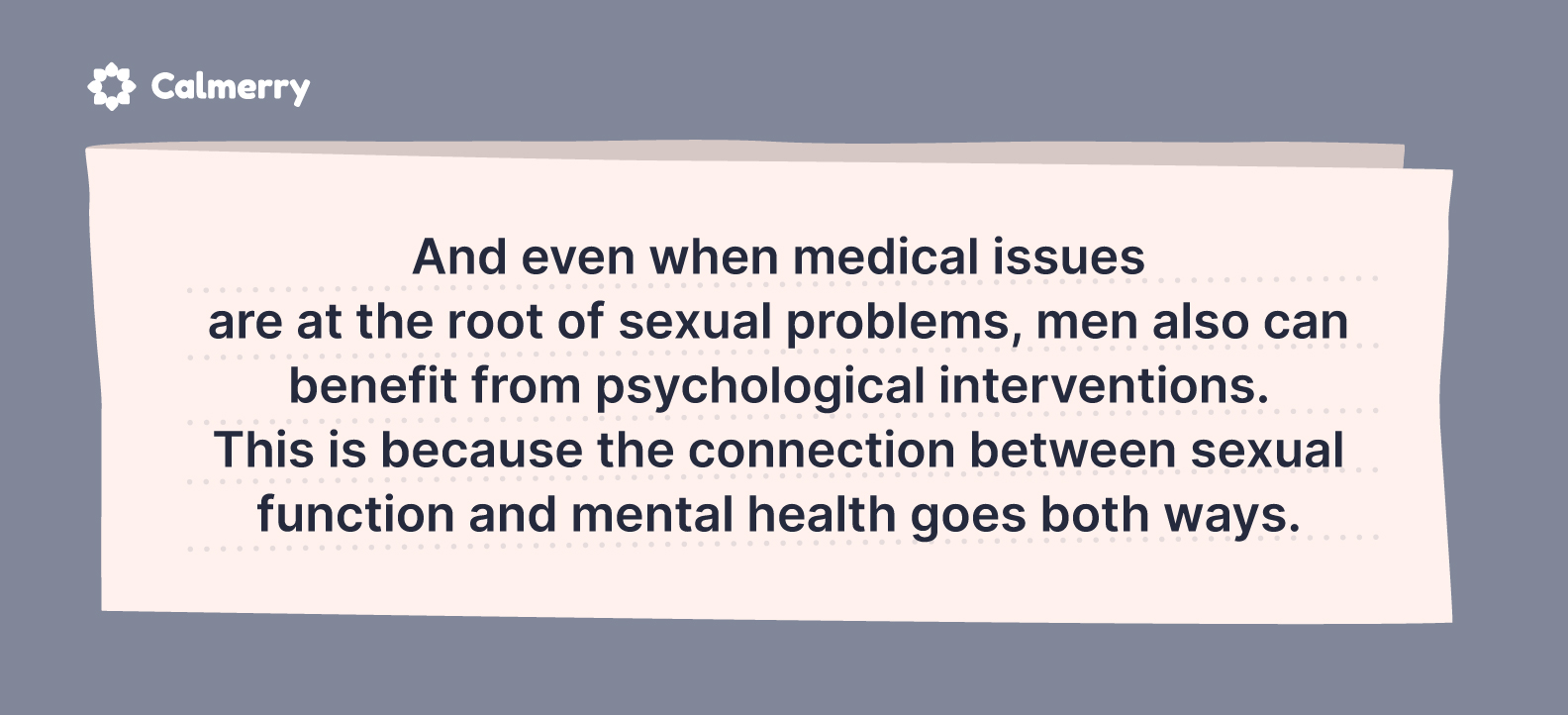 Therapy often goes in conjunction with medical treatment and making lifestyle changes. And it's a first-line treatment to address psychological causes preventing men from having a fulfilling sexual life.
Sadly, many men are silent about their problems. They get stuck in unfulfilling patterns, pressure, and feelings of inadequacy. Many don't know how to talk about it and what steps to take to build a satisfying intimate life.
Subscribe
to our mental health digest
Let us support you on the way to better mental well-being. Get expert tips and insights on mental health delivered to your inbox monthly.
But you can break the cycle. For all men struggling to discuss the emotional and mental challenges they face, Calmerry is a safe space to speak to a licensed therapist, get a real insight into their problems, and learn to enjoy the sexual part of their lives.
Сheck your mental well-being for free: