Published May 13, 2022 / Updated August 15, 2023
5 Best-Known Grief Theories and Models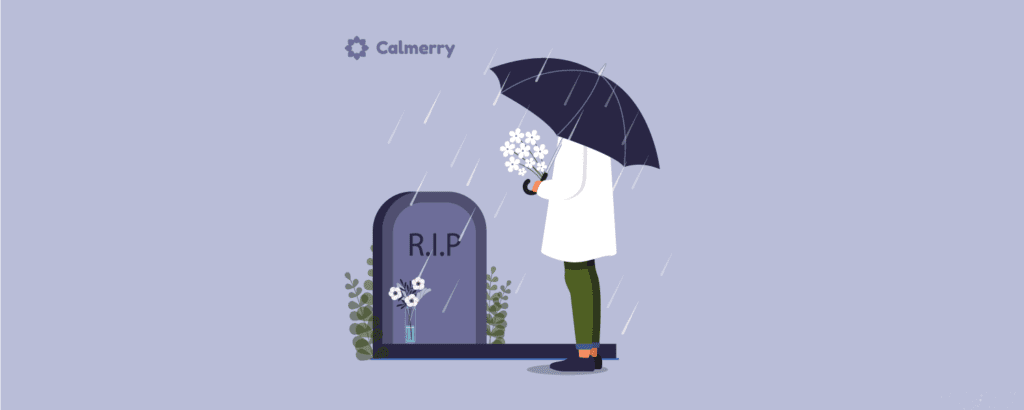 Reading Time:
6
minutes
Having a variety of emotions, including anger, guilt, and sadness, is normal when processing a loss. While everyone experiences their grief differently, there are some theories that can help explain the grieving process so that we can make sense of what we are experiencing.
Here, learn about a few of the top theories of grief. Some theories may seem more relevant to you than others, but finding a theory that aligns with your experience can help you to feel validated as you go through the emotions associated with losing a loved one.
Dual process model of grief
The Dual Process Model of Grief incorporates both loss-oriented and restoration-oriented coping strategies. According to this model, loss-oriented strategies refer to traditional grieving processes like ruminating about the person who has passed away and experiencing a range of emotions associated with bereavement. Loss-oriented coping can also involve a focus on maintaining a continued relationship with the deceased.
On the other hand, restoration-oriented coping refers to adjusting to new identities and roles people take on in response to losing the deceased person. For instance, once a spouse passes, the surviving spouse has to learn to tend to daily tasks on their own, and accept the identity of a widow or widower.
People utilizing a restoration-oriented coping strategy may also try to distract themselves from their feelings of grief, so they can begin to move on from the loss.
The dual process model of grief also states that people fluctuate back and forth between restoration-oriented and loss-oriented coping. So, if you find that sometimes you're able to cope with the loss of your loved one, and successfully carry on without them, but at other times, you cannot help but think about them, your experience is typical, according to this model.
This theory reminds us that healing isn't always a linear process. Some days, you may feel as if you have moved on, whereas you might find yourself falling back into feelings of depression or numbness on other days.

Tonkin's model of grief
Tonkin, a grief counselor herself, conceptualized grief as a process that involves "growing around the grief." According to this model, which remains among the most popular theories of grief, in the initial stages of bereavement, grief tends to be all-consuming. As time goes on, the grief remains, but instead of consuming a person's entire world, the grief grows smaller, and other areas of the individual's life grow larger.
This means that with time, new experiences, new relationships, and moments of happiness will begin to take up a larger portion of a person's life, and the grief will shrink. Despite growing smaller compared to other areas of life, grief will still remain in the background.
This theory suggests that there is a level of resilience that comes with a loss. Even if feelings of grief remain in the foreground or rise to the surface from time to time, people learn to incorporate grief into their overall identity while finding happiness in other areas of life.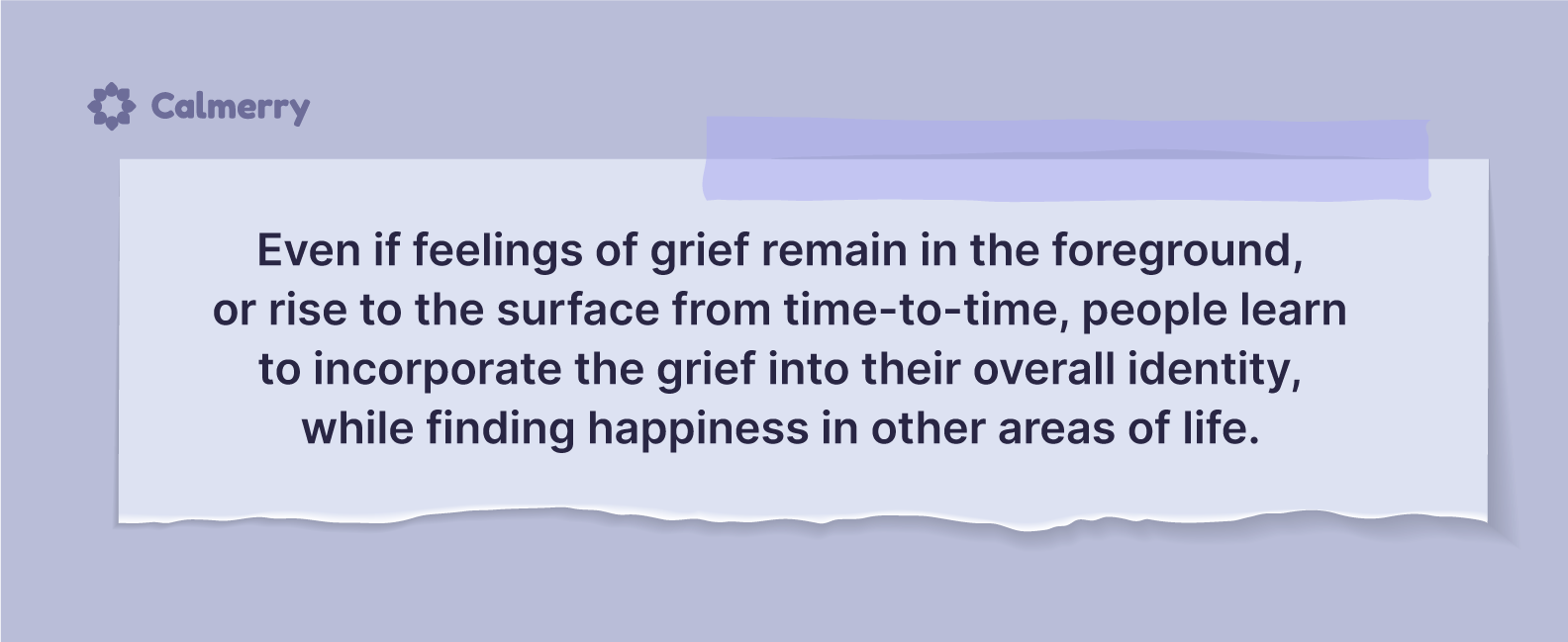 Meaning reconstruction theory
Meaning Reconstruction Theory is in contrast to the stage theories of grief, which tend to emphasize predictable, fixed patterns that bereaved individuals undergo. This particular theory asserts that reconstructing meaning is central to the grieving process, and it describes grieving as an effort to recreate a sense of self in the face of the loss. This recreation is deeply personal and involves a narrative process in which individuals create an account of life lessons.
Narratives during the grieving process can surround the loss itself, the new sense of self that arises in light of the loss, or life lessons derived from grief. The narrative process that a person undergoes to reconstruct new meaning is highly individualized because it involves the specific content a person chooses to focus on when creating a narrative and how they tell their story.
Various social forces, including culture, gender, age, and the relationship to the deceased person, can also influence how a person reconstructs meaning in the face of loss.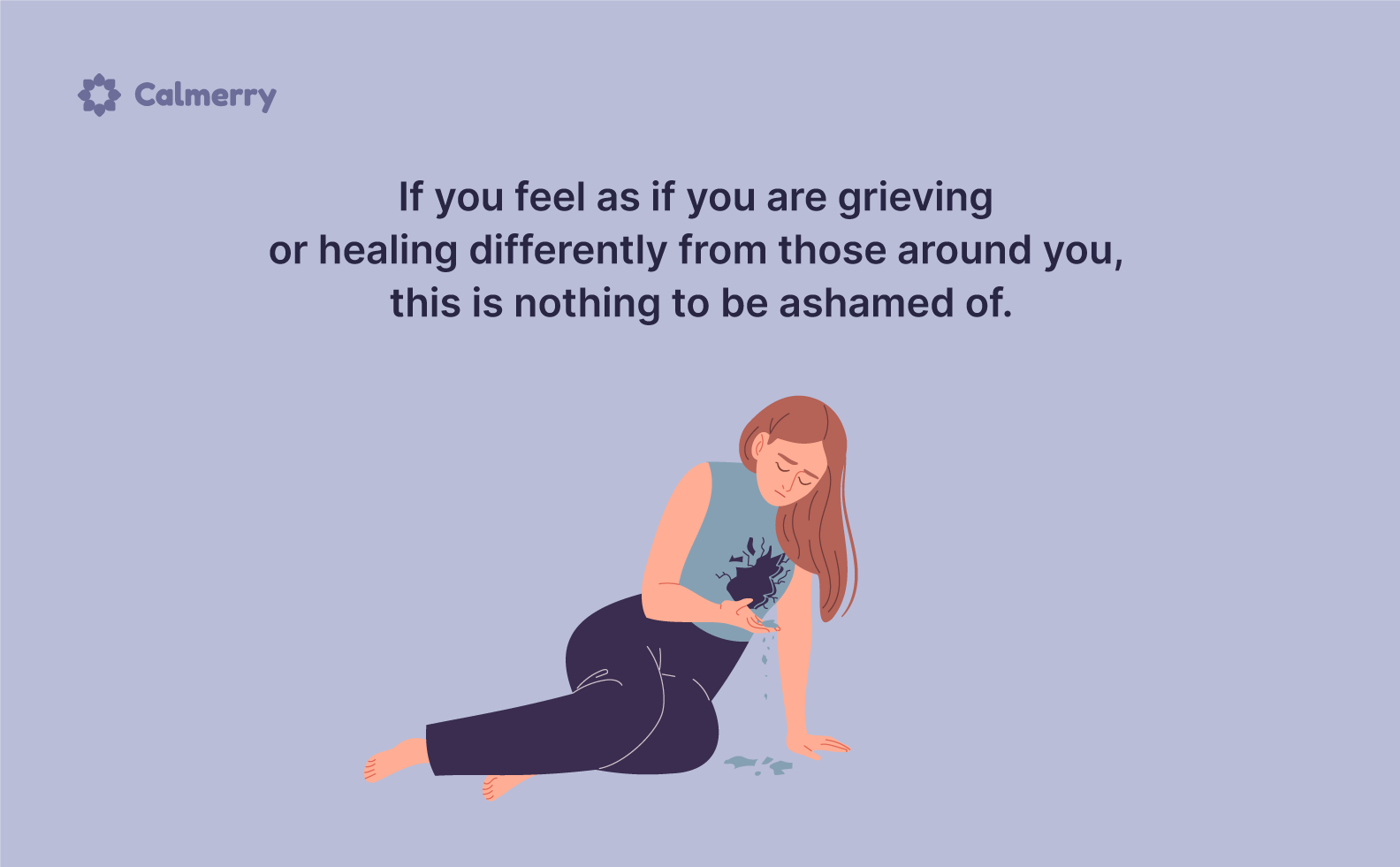 What can be learned from Meaning Reconstruction Theory is that we all make sense of loss in different ways. If you feel as if you are grieving or healing differently from those around you, this is nothing to be ashamed of; you may have simply constructed a different narrative regarding the loss, based on your unique life experiences.
Stage theories of grief
There are various stage theories of grief, which suggest that people move through predictable, predetermined stages when experiencing bereavement. One of these stages is the Four Tasks of Grieving model, which specifies that grief occurs according to the following stages:
Accepting
Working through & experiencing the pain
Adjusting
Relocating/moving on
In contrast to Tonkin's Model of Grief, which argues that people hold on to grief indefinitely, stage theories like the Four Tasks of Grieving suggest that people progress through multiple phases, and during the last phase, they come to accept the loss and move forward with life.
Another model among the stage theories of grief is Kubler-Ross' Five Stages of Grief, perhaps the most popular stage theory. According to Kubler-Ross, people progress through the following five stages as they cope with a loss:
Denial
Anger
Bargaining
Depression
Acceptance
While stage theories can be helpful for conceptualizing the grief process, the truth is that they are imperfect. Not everyone proceeds through the stages above in the order described, and some people may skip stages altogether. These theories can be helpful for people who find comfort in knowing that intense emotions like anger and depression will not last forever.
But if you do not go through stages exactly as described, it does not mean that your grieving process is in any way abnormal.
Disenfranchised grief
When evaluating grief and loss theories, it is important to address the concept of disenfranchised grief. Psychologists have described grief as being disenfranchised when people feel as if they do not have the right to grieve. Because of this, a person's grief is not acknowledged or validated by other people.
Deaths that occur via suicide, drug or alcohol overdose, or a condition like AIDS are often regarded as "bad deaths" and result in disenfranchised grief. When grief is devalued or disenfranchised, people are denied social support, which can make it even more difficult to cope throughout the grieving process.

Unfortunately, disenfranchised grief can occur in any situation where a loss is regarded as unworthy of grieving. For instance, when individuals in the LGBTQ community lose a partner, they may be stigmatized or denied the opportunity to grieve because of negative judgment from the larger society.
Other forms of disenfranchised grief can include the loss of a step-parent or former spouse, as people may not recognize these losses as significant.
Seeking support for bereavement
There are various theories of grief, and finding one you identify with can help you process a loss and feel validated in your experience. With that in mind, it is also helpful to understand that everyone experiences grief differently, and your experience is not by any means pathological if it does not align perfectly with one of the existing models.
In many instances, it is normal to feel a range of emotions, including sadness, anger, depression, or perhaps even confusion, following a loss. Over time, these feelings lessen in intensity. And while you may maintain a bond with your loved one, or occasionally have waves of sadness, intense negative emotions usually do not last forever.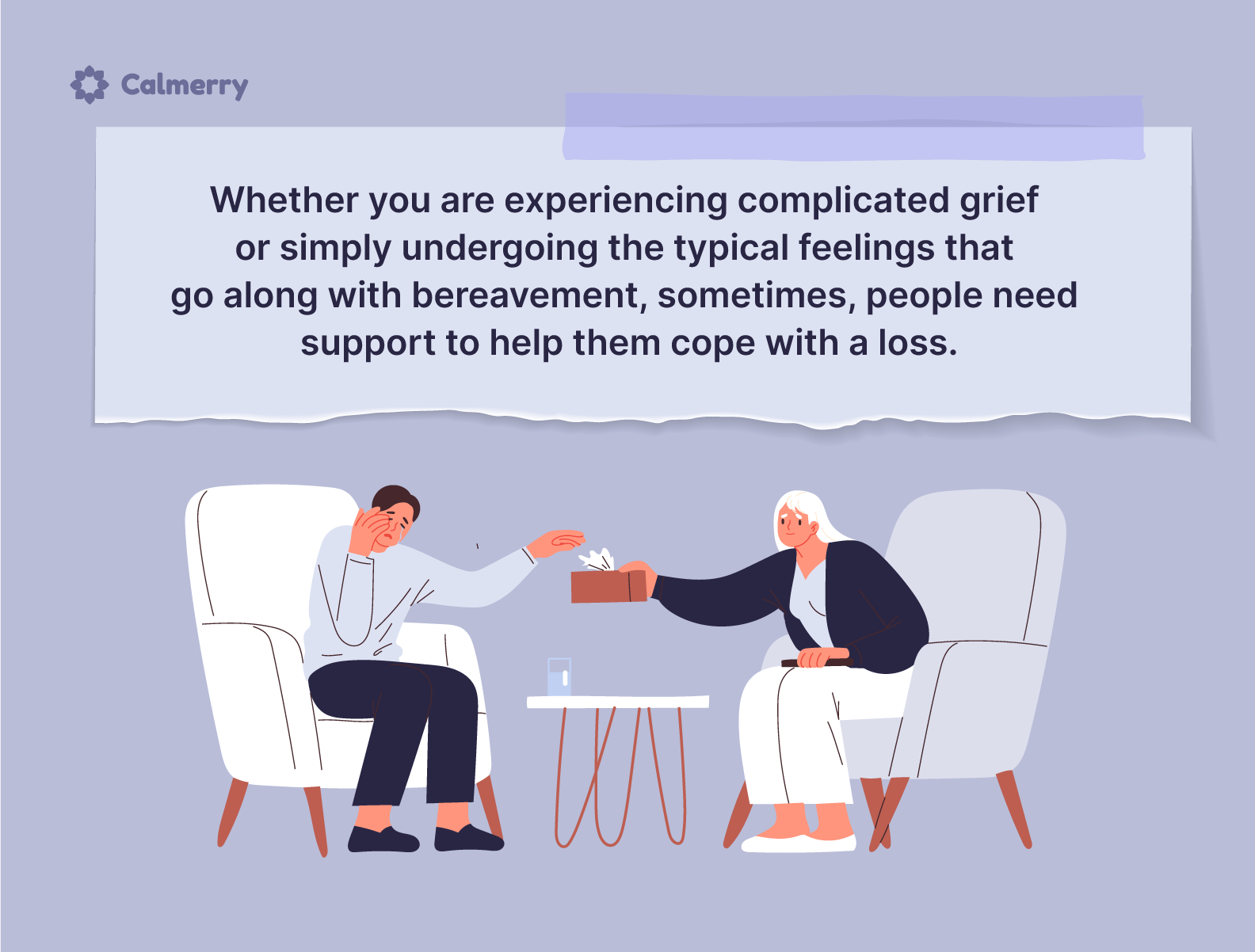 While it is normal to feel some intense emotions following a loss, if you are having trouble processing these feelings, you may benefit from attending a bereavement support group or seeking some sort of counseling to help you make sense of the situation.
Less commonly, people may experience what is called complicated grief. In this case, grief is intense and long-lasting compared to what is typically expected. Complicated grief also results in significant impairment in daily functioning, making it difficult to return to normal life and engage in work and family life.
Subscribe
to our mental health digest
Let us support you on the way to better mental well-being. Get expert tips and insights on mental health delivered to your inbox monthly.
If you're experiencing complicated grief, you may find yourself obsessing over your loved one's death, withdrawing from others, or desiring to join the deceased person.
Whether you are experiencing complicated grief or simply undergoing the typical feelings that go along with bereavement, sometimes, people need support to help them cope with a loss. If you're looking for private support, online grief counseling could be a suitable option. You'll be able to connect with a counselor from the comfort of home, so you can process your grief in a private environment.
Сheck your mental well-being for free: