Published August 17, 2023 / Updated September 4, 2023
Humanistic Therapy: Types, Techniques, and Effectiveness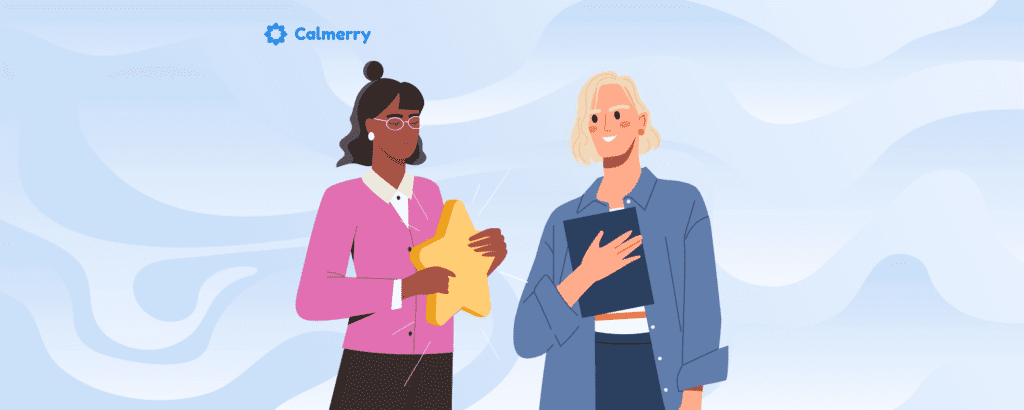 Reading Time:
8
minutes
Many people say that one of the best parts of working with a therapist is being able to express your thoughts and feelings without fear of judgment. Therapists provide you with a safe place to explore how all of your experiences have led you to the complete person you are now.
Much of this is based in humanistic therapy, which emphasizes your unique journey of self-discovery and personal growth.
This approach believes in your inherent potential for positive change and focuses on creating a therapeutic environment where you're encouraged to uncover your true self.
Let's delve deeper into the principles and benefits of humanistic therapy and how it can empower you on your path to self-acceptance and authenticity.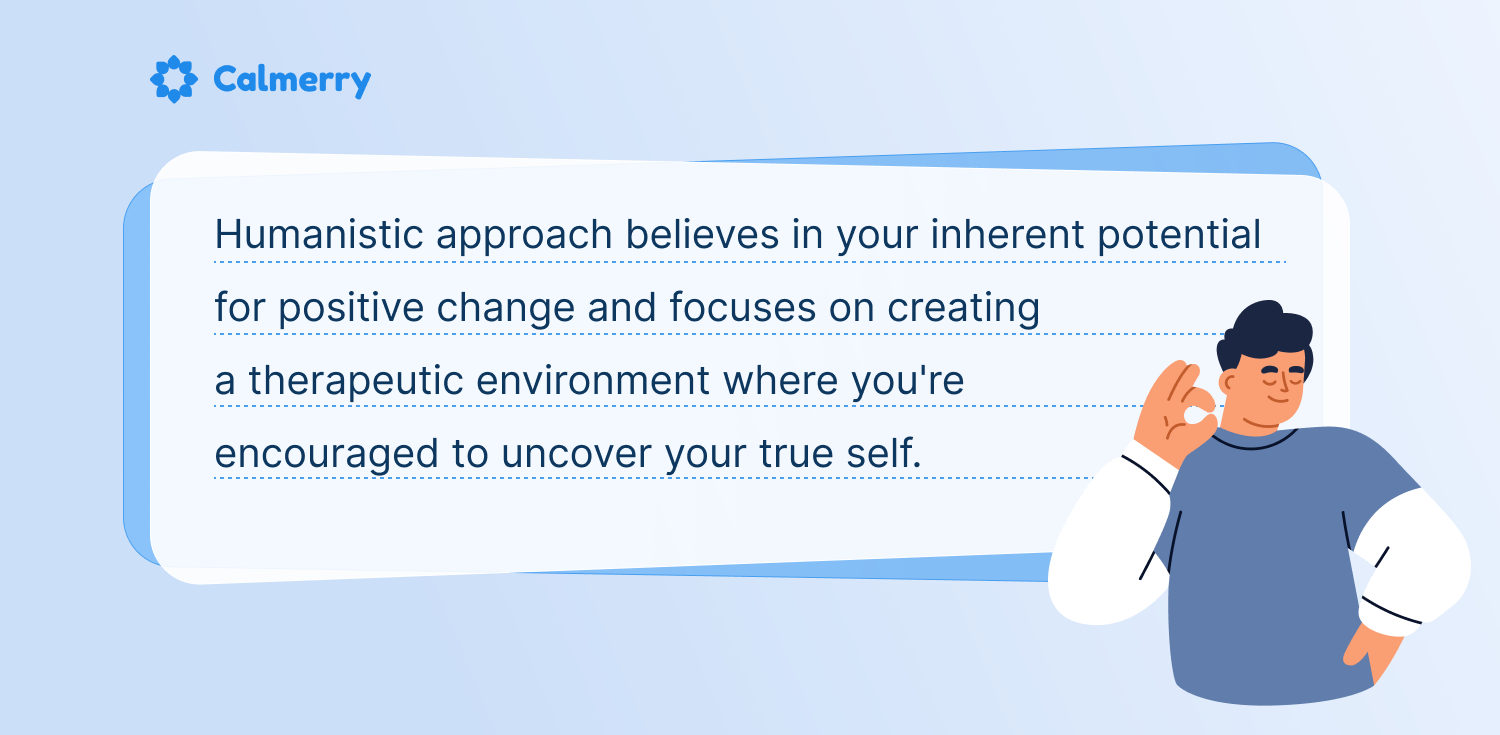 What is humanistic therapy?
Humanistic psychology, or humanistic therapy, describes a category of psychotherapy based on the assumption that people, at their core, are good. Further, humanistic psychology assumes people to be intrinsically motivated to reach self-actualization; that they have free will to make their own decisions.
Psychologists Abraham Maslow and Carl Rogers are generally thought of as the grandfathers of humanistic psychology. Maslow created the hierarchy of needs in the 1950s, which shifted the focus of psychology from focusing on human faults to the need for self-actualization.
Carl Rogers was deeply influential in the development of humanistic psychology. He believed that every human had inherent worth as well as an intrinsic need for self-development. He advocated for a more holistic approach to mental health care and treating clients like the complex human beings they were rather than a "sick patient."
Humanistic psychology vs. psychoanalytic model
To truly grasp the impact of humanistic therapy, it's helpful to understand the context. Before humanistic psychology came along, Freud's psychoanalytic model was the dominant approach to mental health treatment. Although this model has some advantages, it revolves around the fundamental belief that people are flawed.
In addition, psychoanalytic therapy is focused on helping people uncover their unconscious or subconscious desires and thoughts. These desires were believed to drive people's behavior.
In contrast, humanistic psychology takes the approach that people are in control of themselves. And they need to be empowered to make choices that help them reach their full potential. This was considered a radical approach to mental health care at the time.
Key concepts of humanistic psychology
According to the Association of Humanistic Psychology, there are 5 basic principles of humanistic psychology, which are:
Human beings, as human, supersede the sum of their parts. They cannot be reduced to components. In other words, it's essential to understand the complete picture of a person rather than focus too narrowly on symptoms. Humans are messy, and that's okay.
Human beings have their existence in a uniquely human context, as well as in a cosmic ecology. No human exists within a vacuum; it's essential to understand the cultural and societal context in which they've grown up and live today.
Human beings are aware and are aware of being aware — i.e., they are conscious. Human consciousness always includes an awareness of oneself in the context of other people. Therefore, it's an essential task to help people deepen their self-awareness and develop a positive sense of self.
Human beings have the ability to make choices and therefore have responsibility. People can be trusted to make healthy decisions for their own lives – and to take ownership and reflect when they make mistakes.
Human beings are intentional, aim at goals, are aware that they cause future events, and seek meaning, value, and creativity.
Overall, humanistic therapists believe that every human being has inherent worth. They try to understand people as a whole – and deeply understand that each person has a unique and valuable life story.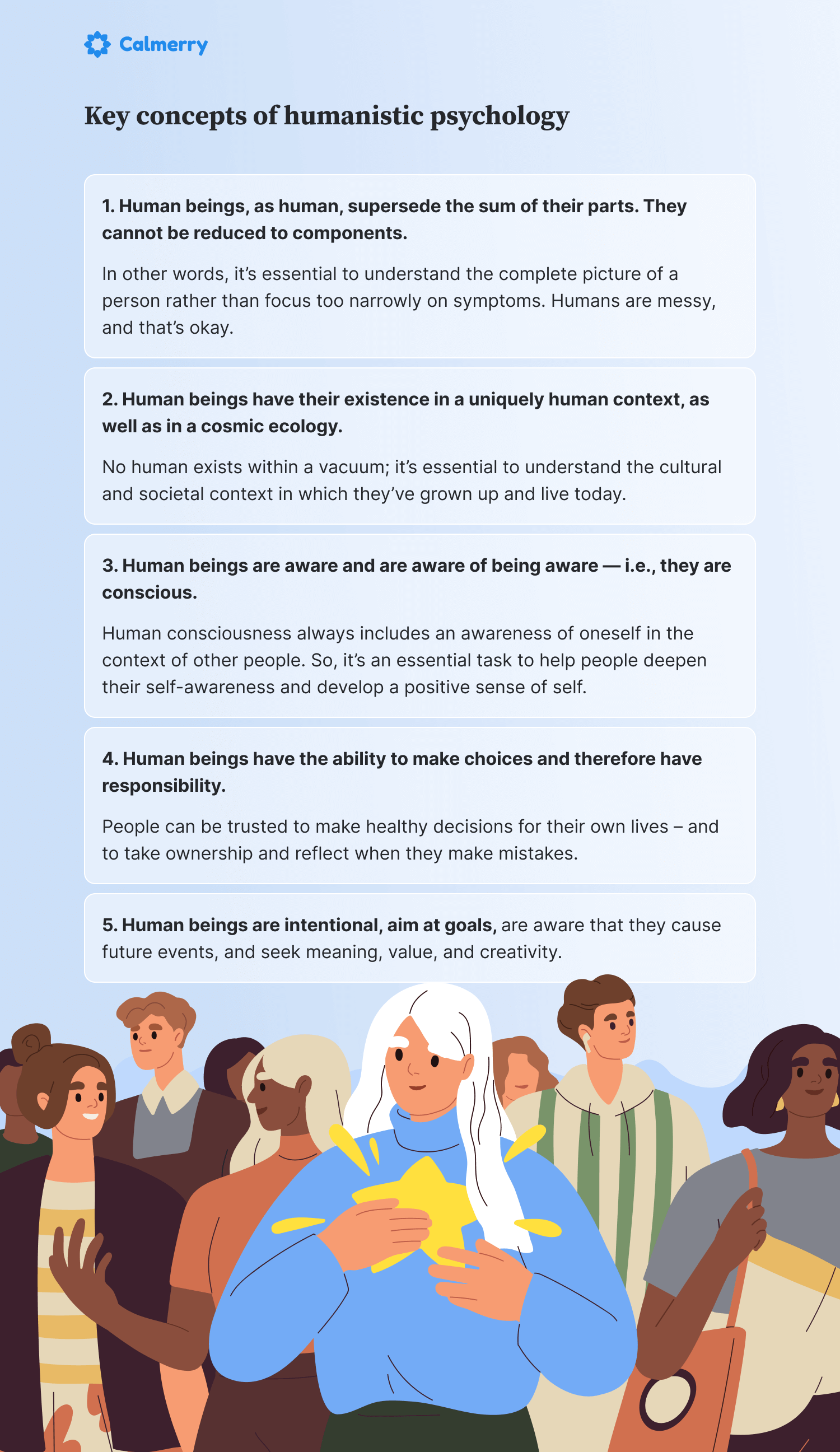 How does humanistic therapy work?
Humanistic therapists take the role of a non-judgmental and supportive listener rather than a doctor or an expert. Humanistic therapy works by allowing you, the client, to take the lead during sessions. This doesn't mean that your therapist won't offer guidance sometimes, just that they will respect you as the ultimate expert on your own life.
There are different types of humanistic therapies, and each works differently. But as a group, humanistic therapists:
Deliver therapy in the form of unstructured interviews, which allow them to observe you and understand you on a deeper level
Guide you in developing a healthy sense of self
Hold a positive view of you and your potential (this is called unconditional positive regard)
Tailor treatment to every unique individual rather than generalizing human traits
Focus on your free will and self-discovery
Help you to free yourself from limiting self-beliefs
Offers you a safe place to explore your identity and reach unconditional self-acceptance
Approach mental health as working with whole individuals rather than just a diagnosis or set of symptoms
The overarching goal of humanistic therapy is to help people become more self-aware and promote growth and self-actualization. It's about moving forward.
In contrast, the goal of psychoanalytic therapy is to uncover unconscious desires and explore childhood memories.
What can humanistic therapy help with?
Humanistic therapy wasn't designed to treat any mental illness in particular. Unlike some other therapy methods, humanistic therapy isn't structured or manualized – and, in fact, there are many different therapy methods that are considered to be within the realm of humanistic psychology.
This is different from something like cognitive processing therapy, which was specifically designed to help people with trauma.
However, the humanistic approach can help with many different mental health concerns and general life problems, including:
Couples therapy
Schizophrenia
Substance use disorder
Mood disorders
Personality disorders
Finding purpose
Feelings of meaninglessness
Although humanistic therapy alone may not be enough for more severe mental health conditions, any therapist can take a humanistic approach, even when utilizing a more structured treatment method.
Different types of humanistic therapy
Within the umbrella of humanistic psychology, there are different, more specific treatment approaches. Here are some of the most common types of humanistic therapy.
Client-centered therapy
Client-centered, or person-centered, therapy was created by Carl Rogers, one of the early founders of humanistic psychology. It's a broad technique based on the general principles of humanistic therapy.
In client-centered therapy, the client is given the reins to guide therapy sessions. Client-centered therapy is non-directive in the sense that the therapist doesn't try to control the direction, or even the goals, of treatment.
Clients are respected as the experts on their own lives. And the therapeutic process is based on the fundamental belief that all people are inherently driven toward self-actualization.
Gestalt therapy
Gestalt therapy, created by Frederick and Laura Perlz in the 1940s, is a type of humanistic therapy that helps people differentiate between their thoughts and feelings in the present moment and what they may have interpreted due to past experiences.
Gestalt is a German term that means "whole" – Gestalt therapy's primary aim is to help people achieve self-awareness of themselves as a whole that is larger than the sum of their parts.
Existential therapy
Existential therapists focus more on the fourth basic concept of humanistic psychology – that people are free to make choices (and take responsibility for them).
They help people reach self-actualization and forge meaning in their lives through love, authenticity, creativity, freedom, and free will.
Narrative therapy
Narrative therapy focuses on helping you rewrite the story of your life. It's a non-judgmental, non-blaming approach that centers you as the main character in your life and helps you reexamine the stories you tell yourself.
The ultimate goal of narrative therapy is to help you change these stories to be healthier and more accurate and to externalize your problems so you can feel more confident about your ability to grow.
Humanistic therapy techniques
Different techniques are used in humanistic therapy, and some are specific to the different types of humanistic therapy.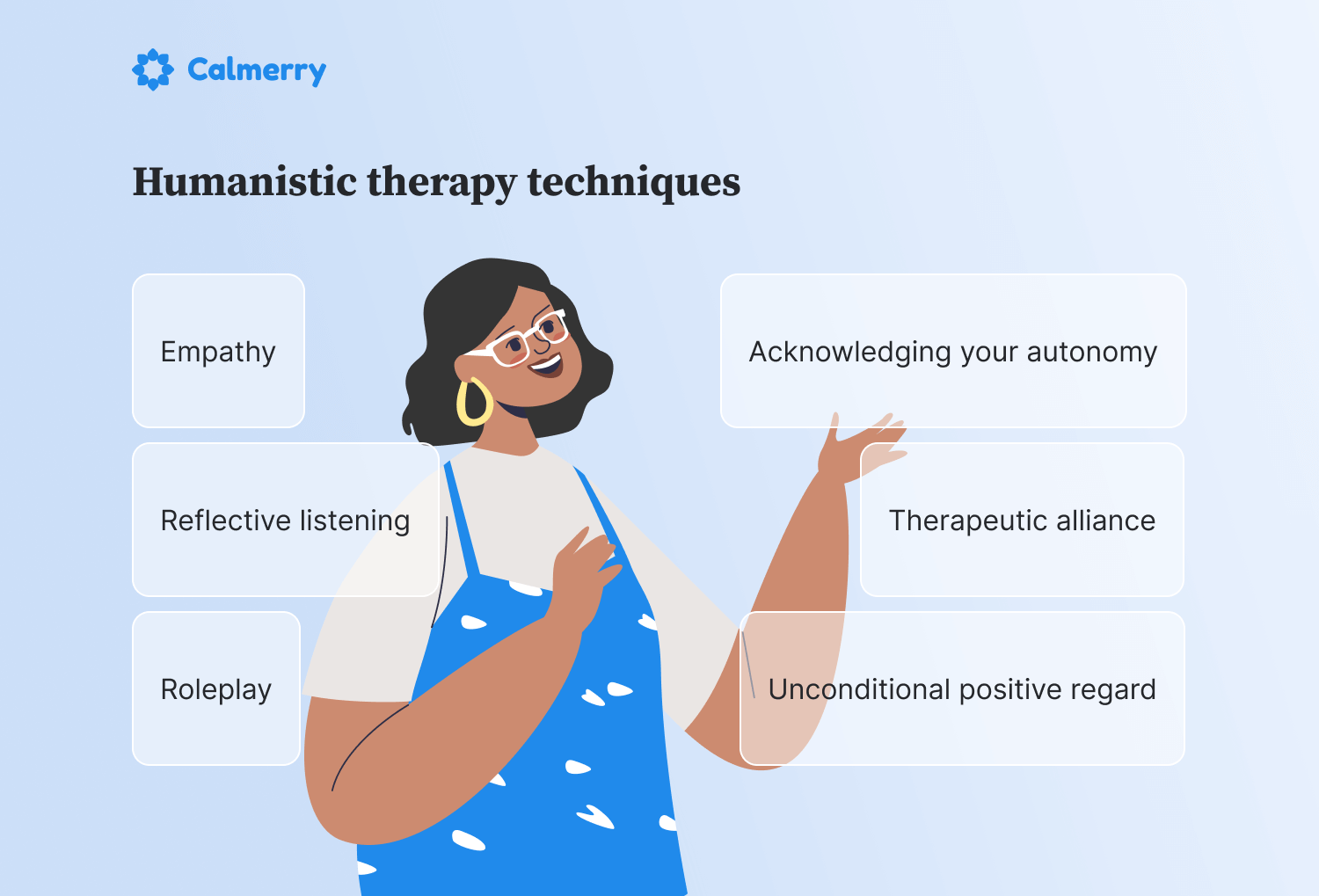 Empathy
Empathetic understanding is about being able to take the perspective of another person without judgment. Humanistic therapists always strive to have empathy for your experiences. The goal is to understand accurately what you are going through.
This is different from sympathy, where someone might feel pity for what you're going through without trying to take your perspective.
Reflective listening
Often, humanistic therapists will reflect this empathetic understanding back to you by using reflective listening techniques. For example, they may offer you a reflection that brings to the surface some deeper feelings you are experiencing but may not have put words to yet.
Unconditional positive regard
Unconditional positive regard isn't so much a technique as much as it is a core assumption that all humanistic therapists hold at the forefront of their practice.
Unconditional positive regard is a concept first named by Carl Rogers, and it refers to therapists' unwavering belief in their clients' inherent worth and abilities. Humanistic therapists believe that this attitude is fundamental for personal growth.
Therapeutic alliance
Humanistic psychologists center the therapeutic alliance and understand it to be essential to successful treatment. They may build a therapeutic alliance with you using many of the other skills and techniques on this list.
Acknowledging your autonomy
Humanistic therapists often emphasize your autonomy. They may remind you that no one has the power to make decisions for you and that you are in control of your life. This empowers you to make the best decisions for yourself.
Roleplay
This is a technique often used in Gestalt therapy. During a roleplay session, you'll pretend to have a conversation with another person (who isn't present) or even a different part of yourself.
This can help clarify your thoughts and feelings and understand situations from different perspectives.
Pros and cons of humanistic therapy
Like any therapy method, humanistic therapy isn't for everyone. Although most modern therapists eclectically incorporate the fundamental beliefs of humanistic therapy – you'd be hard-pressed to find a therapist who doesn't believe in the fundamental worth of all people – specific humanistic approaches have both benefits and limitations.
Advantages of humanistic therapy
Some of the biggest advantages of humanistic therapy include:
You are seen as a whole individual and not a "patient"
Your autonomy and expertise are respected
Your therapist will provide you with a safe and non-judgmental environment in which you can achieve self-growth
You're empowered to figure out your own insights and solutions instead of having them force-fed to you
You can feel more confident in your self-efficacy
Your therapist will always hold you in unconditional positive regard, which can be healing on its own
Disadvantages of humanistic therapy
Some of the possible limitations or disadvantages of humanistic therapy might be:
Sometimes, a non-directive approach may not be appropriate; it may be necessary for the therapist to sometimes take the lead
The lack of structure can sometimes lead to clients feeling lost during sessions, especially if you're just starting therapy
Humanistic therapy on its own isn't ideal for severe mental health conditions. However, a humanistic approach can be incorporated into more adequate treatment methods.
What to look for in a humanistic therapist
Many therapists now incorporate the principles of humanistic psychology into their practice, even if they don't explicitly state they are a humanistic therapist.
Some signs that someone is a good humanistic therapist include:
They help you explore your whole identity rather than hyperfocusing on symptoms
They truly believe in your potential to become your best self
They respect your autonomy and honor the importance of making your own choices
They don't give you unsolicited advice or try to direct the therapy session too much
If providing a specific type of humanistic therapy like Gestalt, they're trained and experienced in this model
They're licensed to provide mental health services in your area
At Calmerry, we have a large and diverse team of licensed online therapists who can provide you with quality mental health care right in the comfort of your own home. We can match you to a therapist that meets your needs, whether you're looking for a humanistic or other type of therapist.
Sign up to complete a brief survey and get started!
Сheck your mental well-being for free: