Published June 29, 2023 / Updated July 4, 2023
What Is Person-Centered Therapy, and Is It Right for Me?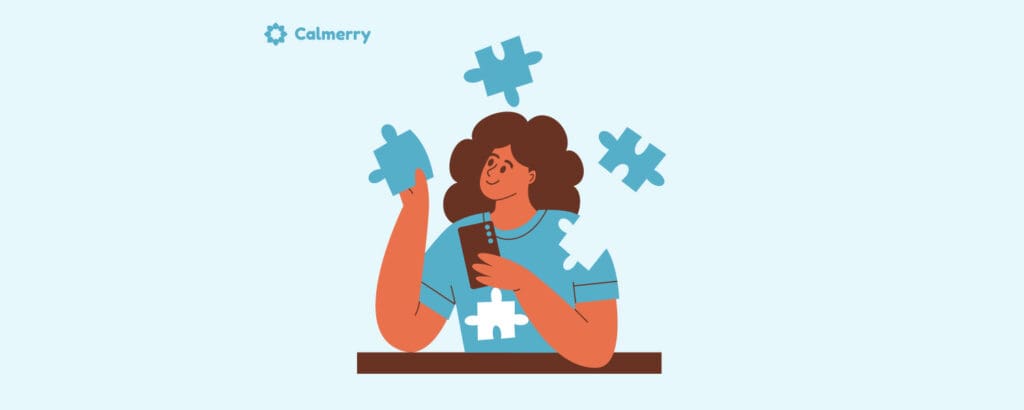 Reading Time:
6
minutes
If you've searched for therapy services, you've probably noticed that there are A LOT of types of therapy and approaches to therapy. One of the most popular approaches to therapy is Person-centered therapy (PCT).
When you hear "person-centered," you might be a bit confused. After all, isn't all therapy "person-centered"? Isn't it all about you? You're not wrong.
All therapy is about the person seeking help. However, the differences in approaches are more about how the therapist and client (you) engage.
The person-centered approach to therapy focuses more on the person (client) and less on the therapist. This approach is based on the idea that you are the best expert on you, making it a popular and appealing approach for many people.
What is person-centered therapy?
Person-centered therapy, sometimes referred to as Rogerian therapy or client-centered therapy, is a type of talk therapy that was developed by the humanistic psychologist Carl Rogers.
From the humanistic perspective, people are seen as inherently good, having the free will to explore and change and the ability to reach their full potential. The focus is on the whole person and their relationship and experiences with their world. Problems are opportunities for growth.
Carl Rogers was a strong proponent of self-actualization, believing that people tend to want to reach their full potential and be the best version of themselves.
A person-centered approach provides a path to self-actualization.
PCT focuses more on the person (client) and less on the therapist. This approach is based on the idea that you are the best expert on you.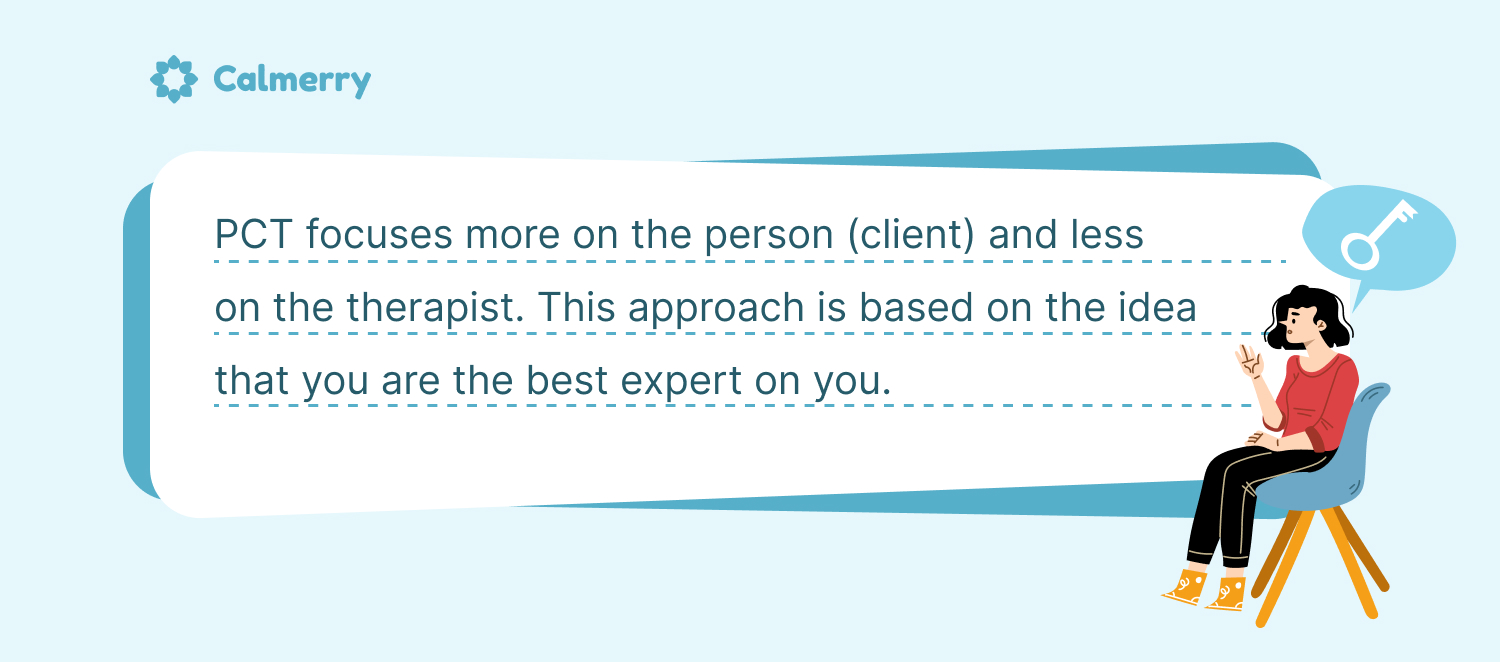 How does person-centered therapy work?
Person-centered therapy is a departure from more traditional approaches in which the therapist is seen as the "expert" or the one who directs the process.
Instead, the focus is on the client and their experiences and needs. It is a client-led, non-directive therapy. That means the client decides what they choose to work on and sets the tone for sessions. The therapist's role is to reflect and help clarify the client's ideas, allowing them to grow through exploring and understanding their own experiences and insights.
Key concepts of person-centered therapy
The approach relies on a set of core concepts to create a therapeutic environment that is safe, supportive, and conducive to positive change.
Key concepts of person-centered therapy include:
Unconditional Positive Regard (UPR)
The concept of unconditional positive regard refers to the therapist's attitude of acceptance and support for the client irrespective of their actions or expression of emotions.
In other words, there are no conditions or restrictions on the client and no judgment whether they're expressing positive ("good") emotions or behaviors or negative ("bad") ones.
According to Rogers, unconditional positive regard is essential to healthy development and a person's self-awareness, self-worth, and personality growth. This acceptance allows the client to feel free to express and explore in whatever way feels most comfortable.
Congruence and genuineness
The concept of congruence and genuineness means that the therapist is self-aware, authentic, and open with the client.
Modeling congruence and genuineness can help the client to learn these skills. These concepts have also been shown to help support a secure therapist-client relationship and promote feelings of safety in sharing.
Empathetic understanding
Empathy is the ability to understand someone from their perspective rather than one's own.
In the person-centered approach, the therapist is able to understand and accept where the client is coming from and be able to express that to the client.
Client vs. patient
One thing you might notice is that when referring to the person in therapy, the person-centered approach uses the term "client" as opposed to "patient."
The two terms are often used interchangeably, but in person-centered therapy, client vs. patient is an important distinction. "Patient" is a term that implies a person is sick. Person-centered therapy views the client as capable of making the changes they desire and empowers them to take control of their lives in the ways they choose.
Goals of person-centered therapy
Because each client is unique, goals for therapy really depend on the client. However, there are a few overarching goals for a humanistic approach:
Facilitate personal growth and development
Eliminate or reduce distressing feelings
Increase self-esteem and openness to experience
Enhance the client's understanding of self
With this approach, only the client can decide what they want to achieve. Only they know themselves well enough to set effective and meaningful goals. The therapist does not have that level of knowledge about the client.
So, who can PCT help?
Because this approach focuses more on the whole person and the broader concepts of self-actualization and personal growth, it can be helpful for a variety of issues and needs:
Feeling stuck
Dealing with a loss
Stress
Low self-esteem
Relationship issues
Life changes and transitions
A person-centered approach has also been shown to be effective for a variety of mental health issues, including:
Person-centered therapy does require a great deal of client engagement in the process.
If you like the idea of being able to talk freely about your issues and learning more about yourself, and you're comfortable with the non-directive approach, PCT might be a good fit.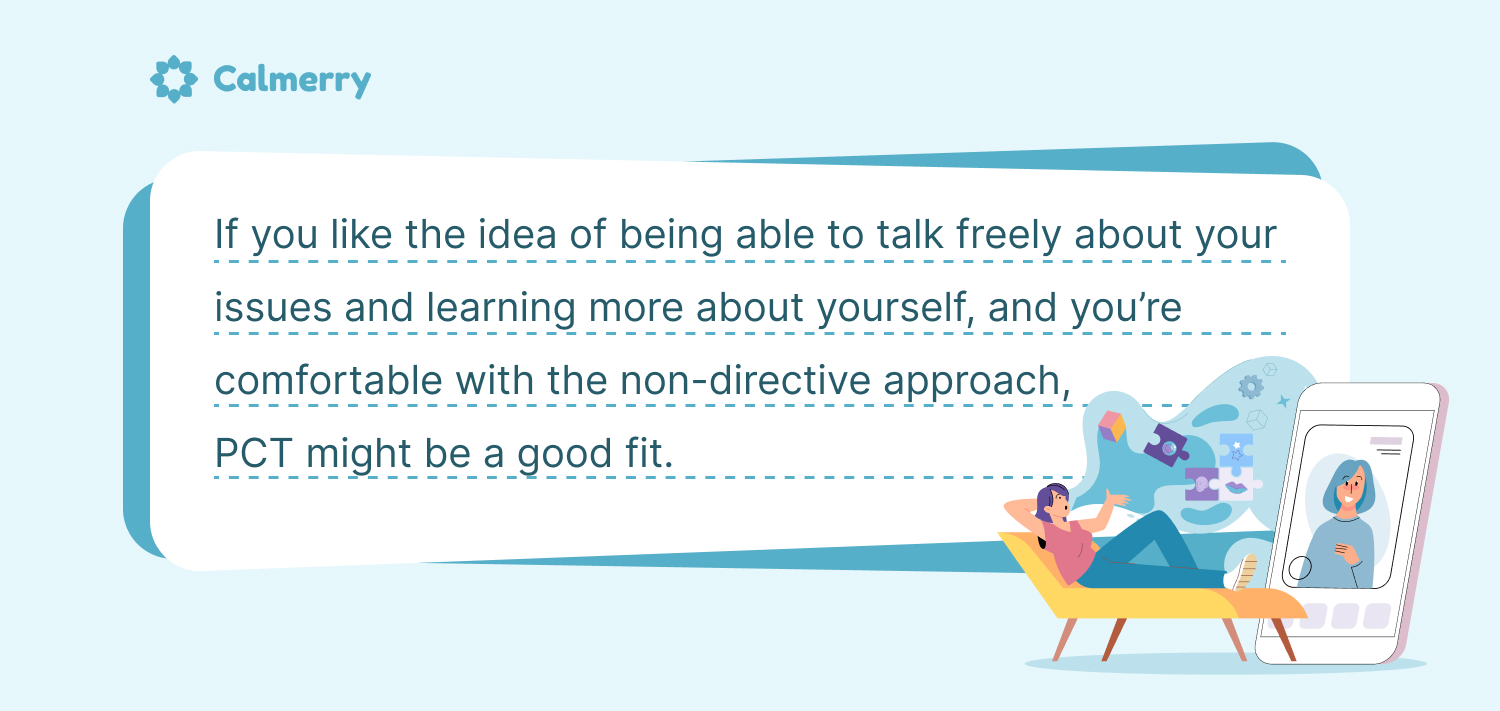 Benefits of person-centered therapy
There are many benefits of working within a person-centered approach. As a client, you have the freedom to explore and express your feelings and opinions in whatever way you find most helpful.
Some of the many benefits of client-centered therapy include:
Developing healthy self-esteem and confidence
Improving the ability to regulate emotions
Strengthening self-identity and authenticity
Creating healthier relationships
Reducing stress
Learning to trust and express your feelings
Learning to embrace and be comfortable with change
Improving mental health
What to expect in a PCT session
So, if the sessions are client-led, you might be wondering just what the therapist will be doing. You might expect there to be certain person-centered therapy techniques that your therapist might use.
In fact, PCT is more about the strength of the therapist-client relationship and less about using techniques or strategies. The Rogerian approach views the use of "techniques" as depersonalizing and can be more of a hindrance than a help.
The single most effective "technique" used in PCT is non-judgmental listening. Some of the ways that your therapist might facilitate that include:
Setting healthy boundaries between therapist and client
Acting as a sounding board for the client
Allowing the client to make their own decisions
Using the core concepts of congruence and genuineness, unconditional positive regard, and empathetic understanding
Non-directiveness – letting the client drive the sessions
How a session flows will vary depending on what you want to talk about that day. Some days you may talk a lot. Other times you may be in a more reflective place. Your therapist may ask questions to help clarify or understand what you're sharing and help you to explore your experiences further. They will follow your lead.
Why is this way of engaging so powerful? Carl Rogers probably said it best:
"When you are in psychological distress, and someone really hears you without passing judgement on you, without trying to take responsibility for you, without trying to mold you, it feels damn good!"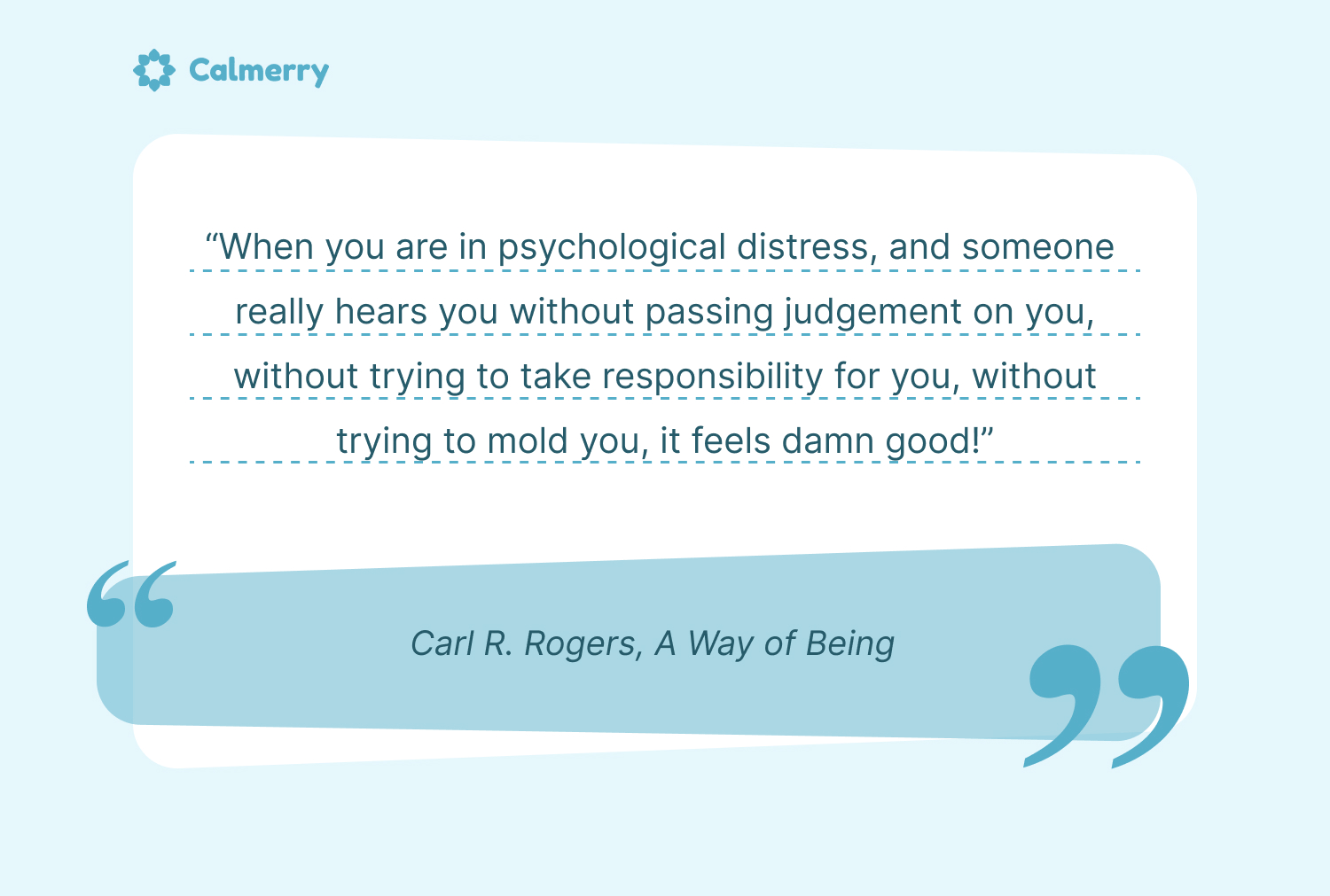 Finding a PCT therapist
If PCT sounds like a fit for you, the next step is to find a therapist. But what should you look for?
You want to seek out a therapist who is trained in the person-centered approach. This approach is different from traditional talk therapies, and not every therapist may be trained in this approach. It's OK to ask about their training and experience with PCT.
Utilize therapist directories or services that allow you to search for matches that meet your needs. Ask trusted friends or family for recommendations.
In your first session, get a feel for the therapist. Do they seem to be open and easy to engage with? If you click, that's great! If you don't, it's OK too. Finding the right therapist is like finding the perfect shoe. You might have to try on a couple of pairs. Therapists know this too. If you don't feel you can build a rapport with them, it's OK to move on. You can find your perfect fit.
PCT can be done online
One of the barriers to therapy for so many people is convenience. Traditionally, therapy meant taking time away from work or school, driving to an appointment, sitting in an office, and then the drive home. And, sometimes, there's no one available near you.
Online counseling has changed the way people do therapy. Online therapy has become one of the most popular ways to seek out help, and for a good reason. It works. Studies have found that online therapy is as effective as in-person counseling for many people and many issues.
Online therapy removes the barriers of time, travel, and availability. You can see your therapist from the comfort of your own space, at a time that works for you. Your therapist might be in the same town or across the state. It's your therapy, your way.
At Calmerry, we have therapists who are trained and experienced in person-centered therapy and are ready to see you when it's most convenient for you. You'll be connected with a therapist that can help guide and support you on your wellness journey. Whether you're looking to make the positive changes you desire or you're simply looking for a place to explore and express yourself, we're here to help.
Reach out anytime. Calmerry therapists are here when you're ready.
Сheck your mental well-being for free: