Narrative Therapy: Techniques, Efficacy, and How It Works
Reading Time:
8
minutes
What is the story of your life? 
If you were to be the narrator of your life experiences – and share your life as a story with a beginning, middle, and end – what would you include? 
What characters would be important, and what life events would be turning points in the plot?
If you're like most people, it's likely that your life has had many different stories with many different interpretations. According to narrative therapy, it's important to become the narrator in your own stories and rewrite them when they're no longer serving you.
Narrative therapy is a non-judgmental, non-blaming therapeutic approach that centers clients in their own life stories and positions them as the experts of their own lives. It's been shown to be effective for a wide variety of mental health concerns, including trauma and depression.
Before you start looking for a narrative therapist to help you, here's a guide to help you understand all of its ins and outs.
What is narrative therapy?
Narrative therapy was developed in the 1980s by two Australian therapists, Michael White and David Epston.
The foundation of narrative therapy is the idea that people are separate from their problems. Too often, we identify with our problems – we are depressed; we are a trauma survivor; we are an angry person.
Narrative therapy empowers people to reclaim their lives by externalizing problems and past traumas. It is based on the fundamental belief that people have the skill and ability to make positive changes in their lives, reach their full potential, and find purpose.
Narrative therapists help you to re-author your story in a more favorable and healthier way, with problems being externalized – and therefore changeable – rather than being viewed as core parts of your story and personality.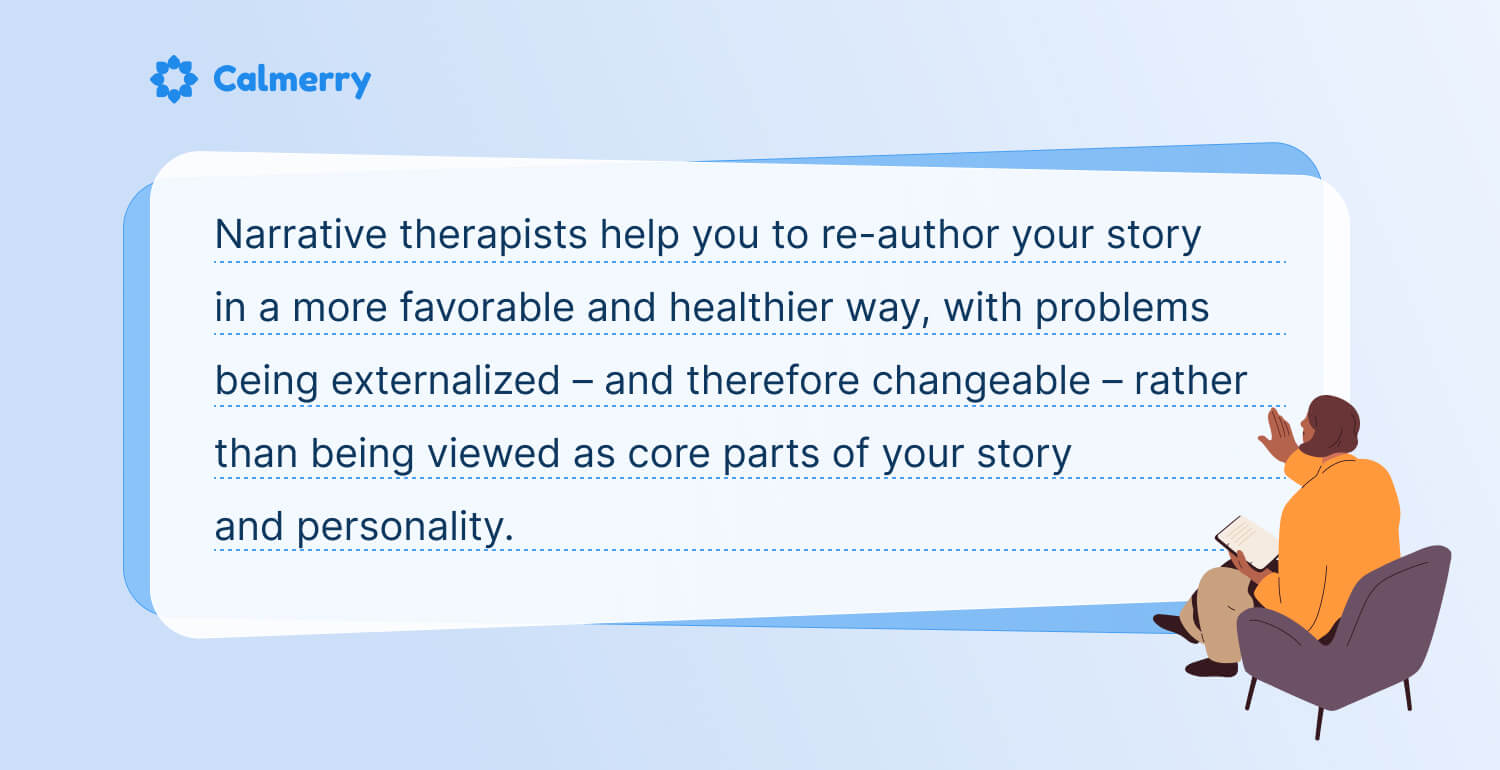 Goals of narrative therapy
The main goal of narrative therapy is to help you write (and rewrite) stories about your life that fit who you want to be. This helps you make changes to be the best version of yourself.
Narrative therapists help you see problems as outside of yourself and understand that problems exist within a larger sociocultural context.
With the help of narrative therapy, you can understand how certain events and problems have created your existing story and learn how to look at all possible meanings to make room for other, healthier storylines.
Some of the other goals of narrative therapy include:
Externalize problems
Bring the "untold" aspects of your life into your life narrative
Understand how a key problem or problems have impacted your life thus far
Allow you to tell your story in your own words
Challenge unhealthy or misunderstood perspectives (stories) that cause you emotional pain
Identify values and themes that run through all of your stories
Teach you how to make room for other stories and perspectives
Rewrite your story to one that better matches who you want to be moving forward
What can narrative therapy help with?
Narrative therapy can be used in individual, couples, or family therapy. Therapists can also use it together with other therapy types, like cognitive-behavioral therapy. 
Although narrative therapy is especially helpful for people living with mental health concerns like depression or PTSD, it can also help for a wide range of other life concerns such as:
Anyone labeling themselves as "the problem" or "broken"
Narrative therapy for trauma
Narrative therapy can be used to help people heal from trauma.
Trauma is the emotional reaction that we have after we experience something that feels threatening to our life and safety. Trauma is human after going through these terrifying experiences, but for some people, the emotions might be stronger or longer-lasting. They could develop a mental health condition called post-traumatic stress disorder (PTSD).
Narrative therapy can help trauma survivors retell the story of what happened and consider these experiences from a different perspective. With narrative therapy, you can externalize these events and the problems that have arisen from them and see the bigger picture of where these events fit into your overall life narrative.
This process can help you to reclaim some of the power back over your own story. It can help you see that these traumatic experiences are one part of your past – they don't define your whole story.
It's important to note that there is an evidence-based treatment approach specifically for trauma called narrative exposure therapy or NET. This is not the same thing as narrative therapy; NET is a type of cognitive-behavioral therapy that uses prolonged exposure to help people overcome trauma.
Narrative therapy for depression
Narrative therapy can also be successfully used for depression.
Depression often changes the way you think about and perceive things, both internally and externally. For example, you could start having thoughts like, "I'm no good," or "No one will ever love me."
These thoughts aren't true, and there may be no evidence to support them. But because of the way depression affects your thoughts, you start to feel this way.
Narrative therapy can help you to externalize depression as something that's outside of yourself. You can re-author your life story in a way that doesn't center depression.
Narrative therapy key concepts and techniques
There are several specific techniques that your therapist may use with you during the process of narrative therapy.
Telling your story
One of the key concepts of narrative therapy is developing and telling your story. When you get started with a narrative therapist, they will allow you to tell your story in your own words.
They may ask open questions to invite you to reflect on the events, settings, and people that formed a part of your story.
Retelling your story (alternative stories)
Narrative therapy doesn't end with telling your story for the first time. After you've created your story, your therapist will help you identify the conclusions that you may have drawn from it. Often, these conclusions are unhelpful, irrational, and can even cause you emotional pain.
A key component of narrative therapy is creating alternative stories – ones that are healthier and more positive. The building of alternative stories takes into account that people are always changing and growing; you can rewrite your story to take into account where you want to be, not just where you've been.
This process lies at the heart of narrative therapy.
For example, perhaps you went through traumatic childhood experiences. You feel these experiences have defined your life and see yourself as a "broken, traumatized person." In your original story, you have narratives like "My trauma has damaged my ability to ever have healthy relationships."
Your therapist could help you to re-author your story to be one of hope. Instead of feeling like your trauma defines your life, you could write another story: "Trauma happened in the past, and I also made strong connections with my teachers and grandparents. They taught me how to love, and there is hope for me to have a healthy relationship in my future."
Externalization
Another central technique in narrative therapy is externalization, or viewing problems as outside oneself.
Instead of seeing problems – like past trauma history, problematic behaviors like substance misuse, mental health struggles, and so on – as part of you, your therapist will work with you to externalize them as outside of you.
The idea behind this is that it's easier to make changes to external behaviors than it is to change something you feel is a core part of you.
If you see yourself as an "angry person," you may not feel very hopeful about being able to change your core personality. By externalizing it as "Temper" – some therapists may even invite you to give a name to this character – you can start to work on changing the specific behavior.
Deconstruction
Using deconstruction, your therapist can help you to get to the specific root causes of your problems.
Seeing problems in a vague way can make them feel all-encompassing and overpowering. Deconstruction helps you break the problem into smaller, more manageable pieces.
Unique outcomes
Unique outcomes in narrative therapy are also called "sparkling moments." They are any outcomes or moments in your life that go against the narrative you've told about your life. You may have just not paid as much attention to these outcomes because they didn't go along with your narrative.
For example, let's take the story above about being defined by childhood trauma. There might be moments in your life when you did have healthy relationships. There may be people in your life now who do love you. But if these things don't align with your story of being "broken" or "unlovable," you may have missed them.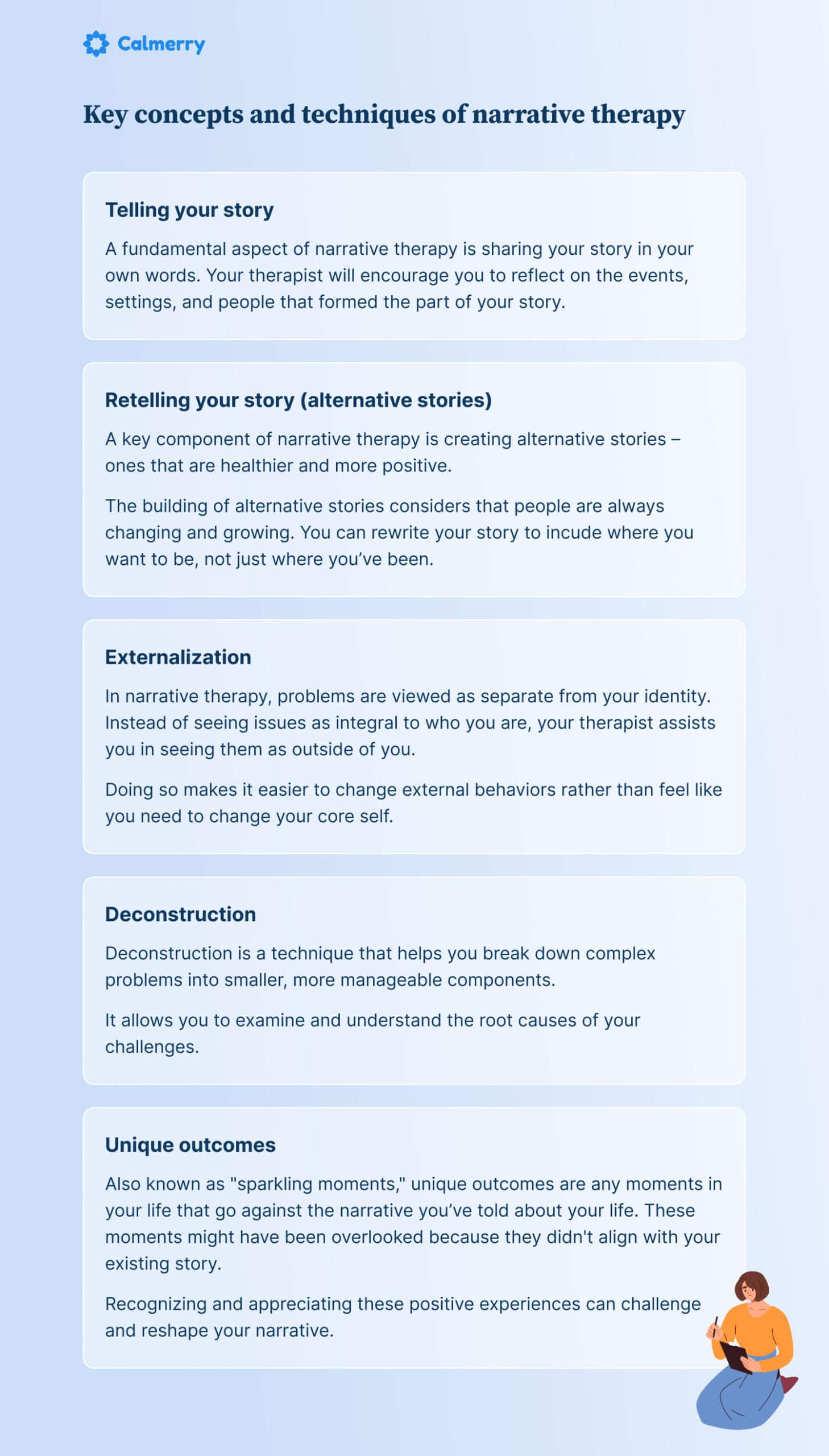 Benefits of narrative therapy
Narrative therapy may be a great option for you if you've gone through trauma or experience depression, anxiety, grief, or self-esteem issues that stem from past experiences.
Some of the most powerful benefits of narrative therapy include:
Non-blaming – narrative therapy helps you to take ownership of your life story. But it doesn't blame you for any bad things that may have happened.
Externalization – seeing problems as outside of yourself can make it easier to change behavior.
Collaboration – narrative therapists form a partnership with their clients; your therapist will respect you as the expert of your own life.
Goal-base – narrative therapy has the ultimate goal of helping you to reauthor your life to tell a healthier story.
What is the effectiveness of narrative therapy?
There are some research studies that show that narrative therapy is effective for depression, trauma, and other mental health concerns.
For example, in one quasi-experimental study, narrative therapy combined with emotion-focused therapy was helpful in increasing hope and positive emotions for people with depression.
Another found that 10 sessions of narrative therapy reduced depression and anxiety in people with amphetamine addiction.
Narrative therapy may be effective for children with anxiety and depression as well.
Limitations of narrative therapy
Although narrative therapy is powerful for many people, it isn't for everyone.
For one, it can be emotional to tell and retell the story of your life. Especially if you have unresolved or ongoing trauma, narrative may bring up memories and emotions that are extremely frightening for you to confront. It's important that you're ready before confronting this type of trauma, which is something your therapist can help you with.
Some critics say there is a lack of quality research that supports the effectiveness of narrative therapy. There aren't as many studies about narrative therapy as some other types of therapy, but it's also relatively new compared to other methods like cognitive-behavioral therapy. Hopefully, more research will come along that further establishes narrative therapy as an evidence-based practice.
In addition, critics point to the fact that narrative therapy is vulnerable to therapist bias – your therapist will help you redefine your story, and any biases they may have could impact the way your story gets told. That's why it's so important to work with an experienced and licensed professional.
What to look for in a narrative therapist
Like with any therapy approach, the therapeutic alliance you have with your therapist is the most important factor. It's important to choose the right professional for your narrative therapy process.
Look for a therapist who:
Is trained and experienced in providing narrative therapy
Has experience in the mental health problem you're experiencing, whether it's depression, PTSD, anxiety, or something else
Makes you feel safe and comfortable
Never does or says anything to make you feel unsafe or judged
You feel a strong rapport and connection with them
Has the licensing and credentials to provide mental health therapy
At Calmerry, we have licensed and trained therapists experienced in providing narrative therapy. They specialize in various mental health problems, such as depression, PTSD, anxiety, and more, ensuring they can address your specific needs.
Our online therapists create a safe and comfortable environment where you can explore your story without judgment and receive the quality mental health care you deserve.
Сheck your mental well-being for free: