Published August 15, 2023
Grief Counseling: Goals, How It Works, and How It Can Help Healing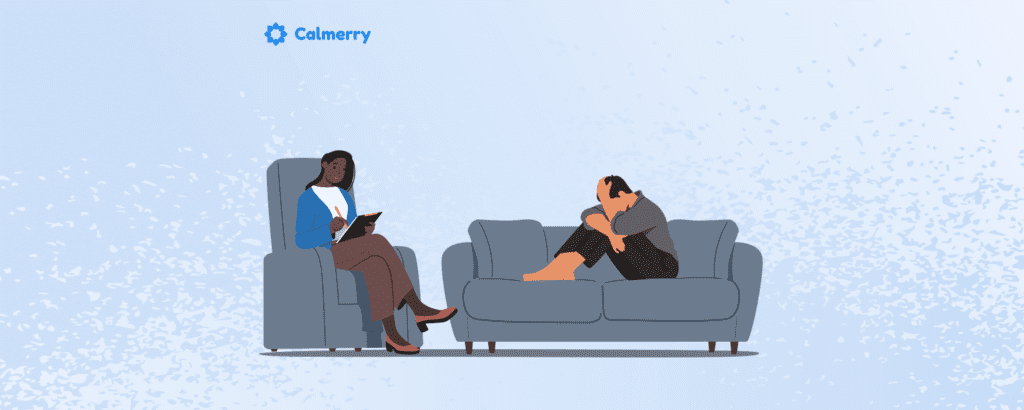 Reading Time:
7
minutes
Experiencing loss is challenging, but each person works through their grief differently. While some people may cope by talking with friends, focusing on their personal goals, or practicing self-care, others may find that their grief simply does not subside or interferes with daily functioning.
When grief is severe and/or ongoing, it can be beneficial to participate in grief counseling. This professional intervention can help you to work through your grief and develop healthy coping skills.
What is grief counseling?
In general terms, grief counseling is an intervention used to help people cope with loss.
While death is perhaps the most common form of loss associated with grief, some people may seek the services of a grief counselor after a non-death loss. For example, job loss, divorce, or in the case of immigrants or refugees – the loss of one's country of origin.
In sessions with a grief counselor, people can work through their feelings about the loss, develop healthy coping skills, and make meaning of the loss. This can help them resolve intense or complicated emotions related to their grief.
Ultimately, grief counseling helps you cope with the loss while still being an active participant in daily life.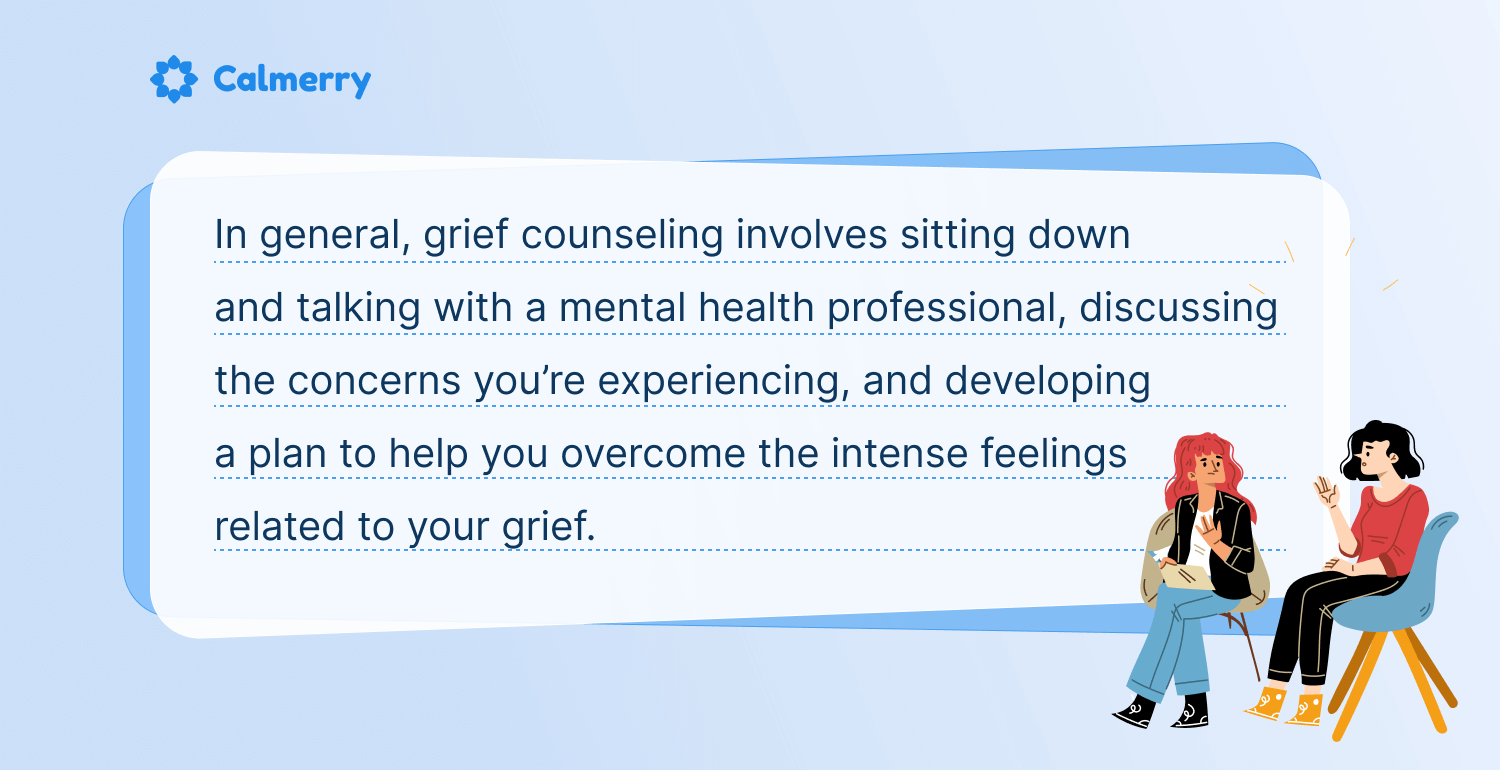 Do I need grief counseling?
Not everyone who experiences a loss will need grief counseling. But some people may find that their grief simply does not improve. In this case, they may benefit from seeking the services of a professional who offers grief counseling.
Some signs that suggest you may need to seek grief counseling include:
Ongoing feelings of grief that persist for months or even years after the loss
Difficulty performing daily tasks, such as going to work, paying bills, tending to household responsibilities, and caring for children
Experiencing disrupted sleep because of grief
Being unable to think about anything aside from your loss
Struggling to care for yourself because of your grief (i.e., not eating, not bathing regularly)
Withdrawing from hobbies and other activities because of fixation on the loss
A note on prolonged grief disorder
Additionally, some people who experience a loss may develop a condition called prolonged grief disorder, now recognized by the American Psychiatric Association. This condition is diagnosed when a person's grief is intense and persistent and interferes with their daily life.
If you experience symptoms of prolonged grief disorder, you should reach out to a grief counselor to help you manage your bereavement.
Some signs that suggest you might have developed prolonged grief disorder include:
Disruptions in personal identity because of the loss (i.e., believing that you've lost a part of yourself)
Extreme disbelief about the loss or death
Avoiding anything that reminds you of the loss
Extreme despair, anger, or bitterness related to the loss
Detaching from other people
Being unable to reintegrate into normal life
Feeling emotionally numb and/or believing that life has no meaning
Sometimes, the symptoms above may be labeled as complicated grief, but prolonged grief disorder is the official diagnostic term for the condition.
Disenfranchised grief
Others may experience disenfranchised grief, which occurs when a person silently grieves. This can occur in situations in which grief is not recognized or publicly acknowledged, such as in the case of a miscarriage, the death of a pet, or grief related to a still-living person who struggles with addiction or mental illness.
If you experience disenfranchised grief, you may also benefit from grief counseling.
How does grief counseling work?
The specific nature of grief therapy can vary based on the professional with whom you are working. There are various professionals involved in the world of grief counseling, including mental health counselors, therapists, social workers, and psychologists.
There are also various techniques for grief counseling, and even within the same profession, such as clinical social work, clinicians may practice different methods. While the specific methods can vary, there are some general factors that apply to most grief counseling techniques.
In general, grief counseling involves sitting down and talking with a mental health professional, discussing the concerns you're experiencing, and developing a plan to help you overcome the intense feelings related to your grief.
Your first session
In your first session with a grief counselor, you'll likely discuss the loss that brought you into treatment and the symptoms you've been experiencing, for example:
Extreme anger
Difficulty accepting the loss
And an inability to return to your regular routine
Developing a treatment plan together
After diving into the history and nature of your grief, you'll work with your grief counselor to develop a treatment plan, which will include goals and objectives.
For instance, your goal may be to decrease the level of interference that the grief has in your daily life. And your objectives may include attending weekly counseling sessions, participating in a support group, and using healthy coping skills.
Learning healthy coping tools
As you work toward your treatment goals in your grief counseling sessions, your counselor will provide you with a safe space for processing your emotions.
They will also offer non-judgmental support during this challenging time, equip you with tools for healthy coping, and guide you toward reframing your feelings to make meaning of and accept the loss.
Grief counseling vs. grief therapy
Sometimes, people may use the terms "grief counseling" and "grief therapy" interchangeably. In layperson's terms, counseling and therapy often refer to the same concept: sitting down with a mental health professional and talking through problems and emotions.
However, in the clinical world, these two terms differ:
Counseling is typically less clinical in nature and involves short-term problem-solving. A grief counselor may offer support and help you to develop coping skills.
On the other hand, grief therapy is more clinically focused. It uses specific techniques rooted in psychological theory to help people overcome intense grief.
Goals of grief counseling: How can grief counseling help?
The goals of grief counseling are to help people overcome symptoms related to prolonged or intense grief and to allow them to return to their usual life.
Grief counseling helps people to achieve these goals in the following ways:
Providing non-judgmental support
Offering a safe setting for discussing uncomfortable emotions
Helping with the development of healthy coping skills
Reframing thinking patterns to be more positive
Giving tools for making meaning out of the grief
Validating concerns and emotions
Providing a neutral perspective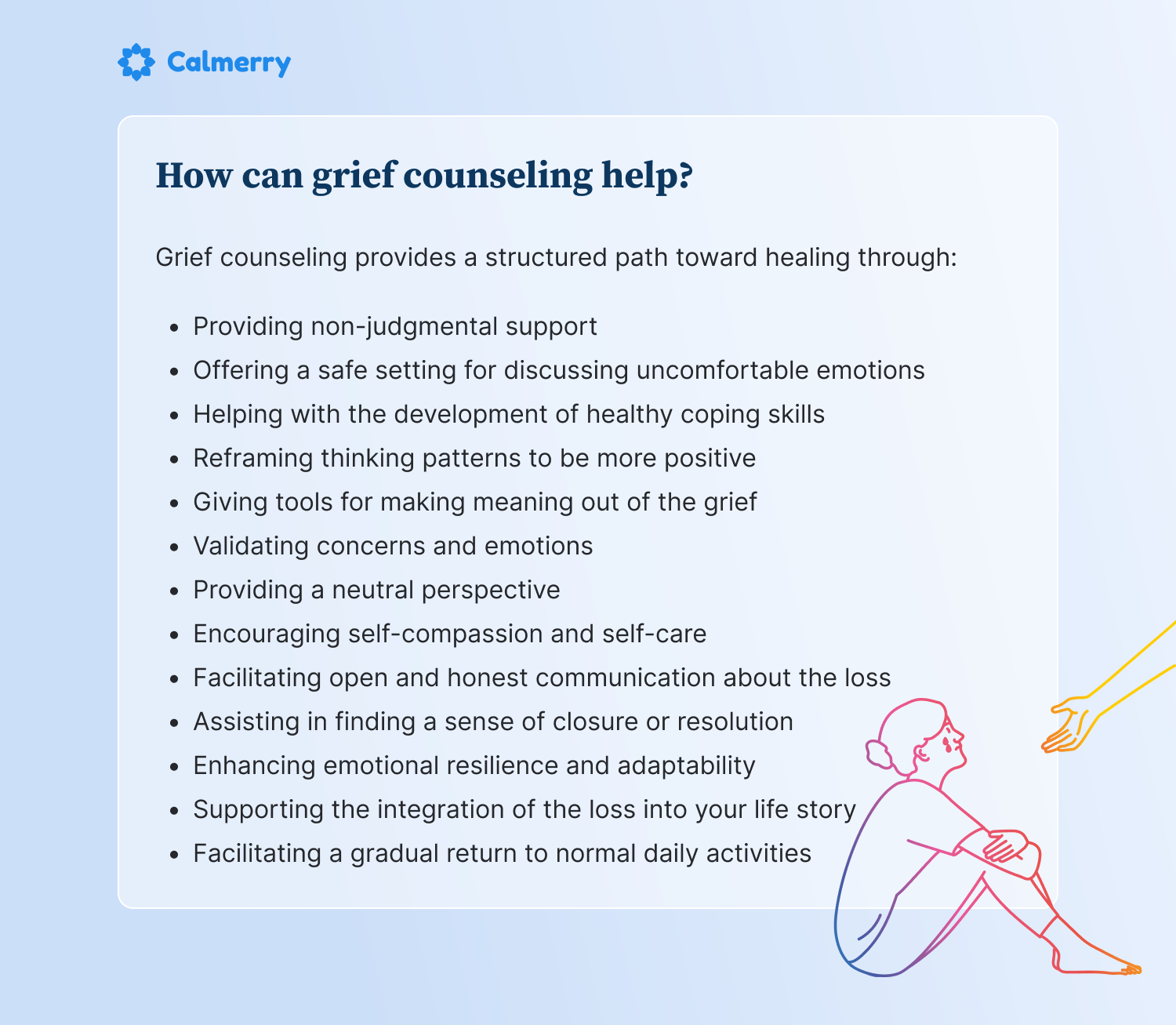 Types of grief counseling and therapy. Which approach is best?
There are multiple different grief models, each of which attempts to explain the grieving process and the steps a person should take to overcome their grief.
For instance, you've probably heard of the five stages of grief. It explains the phases a person should work through, eventually arriving at acceptance after experiencing a loss.
And people often ask, "What is the best therapy for grief and loss?" The truth is that numerous different therapeutic modalities may be applied to grief, and there is no single approach that is the "best" in every situation.
Instead, the best type of grief counseling depends on a person's unique needs, situation, and preferences.
Some of the most common modalities for grief therapy and counseling are below.
Cognitive behavioral therapy (CBT)
Cognitive behavioral therapy (CBT) is based on the belief that faulty thinking patterns can lead to psychological problems and the notion that thoughts and behaviors are intertwined.
CBT sessions can help a grieving person correct distorted thinking patterns, such as the belief that "life will never be the same again" after a loss.
CBT sessions can also help people to recognize how certain behaviors may be unhelpful and contribute to negative emotional states.
By learning healthy coping mechanisms, people can change their behaviors, which in turn, helps them to experience more positive emotions.
Acceptance and commitment therapy (ACT)
Acceptance and commitment therapy (ACT) teaches people that they can still live a life that aligns with their goals and values, even when they face uncomfortable emotions.
When applied to grief, ACT allows individuals to understand that even if they experience sadness and grief, they can continue to enjoy other aspects of life, such as friendship, hobbies, and work.
Narrative therapy
Narrative therapy is also commonly used in the treatment of grief. This modality can help you to "rewrite the story" of your loss so that it is more manageable for you to cope with in daily life.
When coping with grief, narrative therapy allows you to see the loss as just one part of your story instead of the entire story.
Group therapy
Group therapies can also be beneficial for addressing grief. In the group setting, people can learn from others experiencing the same challenges.
Being connected to a group of people living through the same experience also provides one with social support, which can be healing in and of itself.
What are the techniques used in grief counseling?
There are a variety of techniques used in counseling for grief, as well as various modalities in addition to those described above.
These different types of grief therapy may use a range of techniques, such as:
Thought logs
Expressive writing
Teaching of coping skills
Positive reframing
The specific techniques used in grief therapy will depend on the therapist's training and an individual person's preferences.
Benefits and limitations of grief counseling
Grief counseling can be helpful for those who are having a challenging time coping with a loss, but it is not a cure-all.
Some benefits of grief counseling include:
Learning new ways of coping
Developing skills for returning to normal life after a loss
Feeling as if your experiences are valid
Overcoming intense and prolonged grief reactions
Thinking about a loss in a new way
While these benefits are common with grief counseling, it's important to understand the limitations of this modality.
For instance, someone who has intense sadness, feelings of worthlessness, and thoughts of suicide after a loss may be experiencing symptoms of depression. In this case, treatment that moves beyond grief counseling may be warranted. 
Does grief counseling work?
There is no single treatment modality that works for everyone. But based on the research evaluating the effectiveness of grief counseling, there is evidence that this mental healthcare service is effective for many people.
A report published in June 2019 in the Journal of Affective Disorders analyzed the results of 31 different studies that evaluated the effectiveness of grief counseling. The studies included in the report utilized a variety of different modalities, including CBT and narrative therapy.
And results revealed that psychological interventions, including counseling and therapy, are effective for alleviating grief.
Online grief counseling may be your option
If you're having a hard time coping with a loss, it may be time to reach out to a grief counselor. For those who have busy schedules or who prefer the convenience and privacy of working with a counselor from home, online grief counseling can be a suitable option.
At Calmerry, we offer online grief counseling with licensed and experienced counselors, so you can get the support you need without leaving home. Visit our website today to learn more or get started with one of our online therapy programs.
Сheck your mental well-being for free: