Published August 2, 2023 / Updated August 14, 2023
How Interpersonal Therapy Works and What to Expect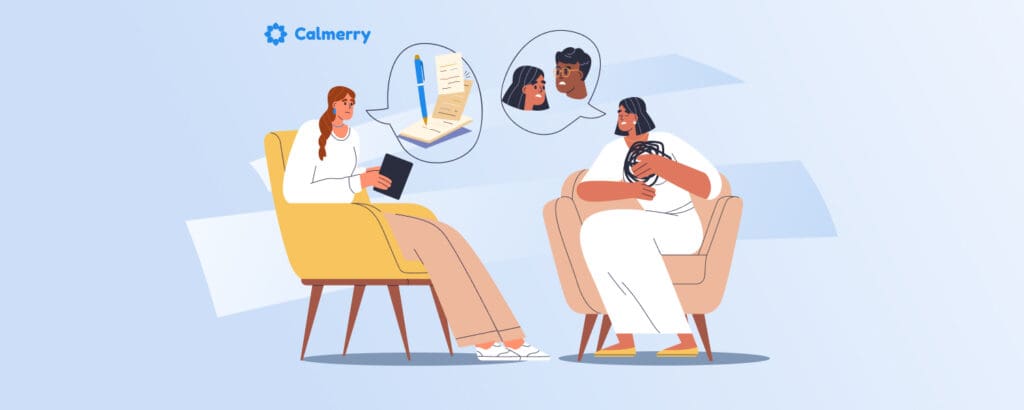 Reading Time:
6
minutes
When it comes to therapy, it is definitely not a one-size-fits-all. Therapeutic approaches and how they're used vary widely. In short, there's more than one way to do therapy. So much depends on the person, their unique needs and preferences, and of course, the therapist's own theoretical orientation.
Many people prefer therapy that focuses more on the present and gets down to business. For some, Interpersonal Therapy (IPT) may be just the right fit.
What is interpersonal therapy?
Interpersonal Therapy (sometimes referred to as Interpersonal Psychotherapy) is a targeted, structured, and time-limited approach to therapy. It focuses on relational issues in the here-and-now and resolving symptoms that may be affecting your interpersonal functioning.
Targeted means that you and your therapist identify problem areas to work on. As you progress in treatment, those targets and strategies may change as you move closer to your goals.
Time-limited means that your therapy will consist of a set number of sessions. In other words, there is a clear beginning, middle, and end. IPT is typically completed in about 12-16 weeks, with individual sessions occurring weekly. Note that IPT is sometimes used in group therapy too.
Structured means that your sessions include homework, continuous assessment of progress, and active engagement with the therapist. You're actively working towards your specified goals.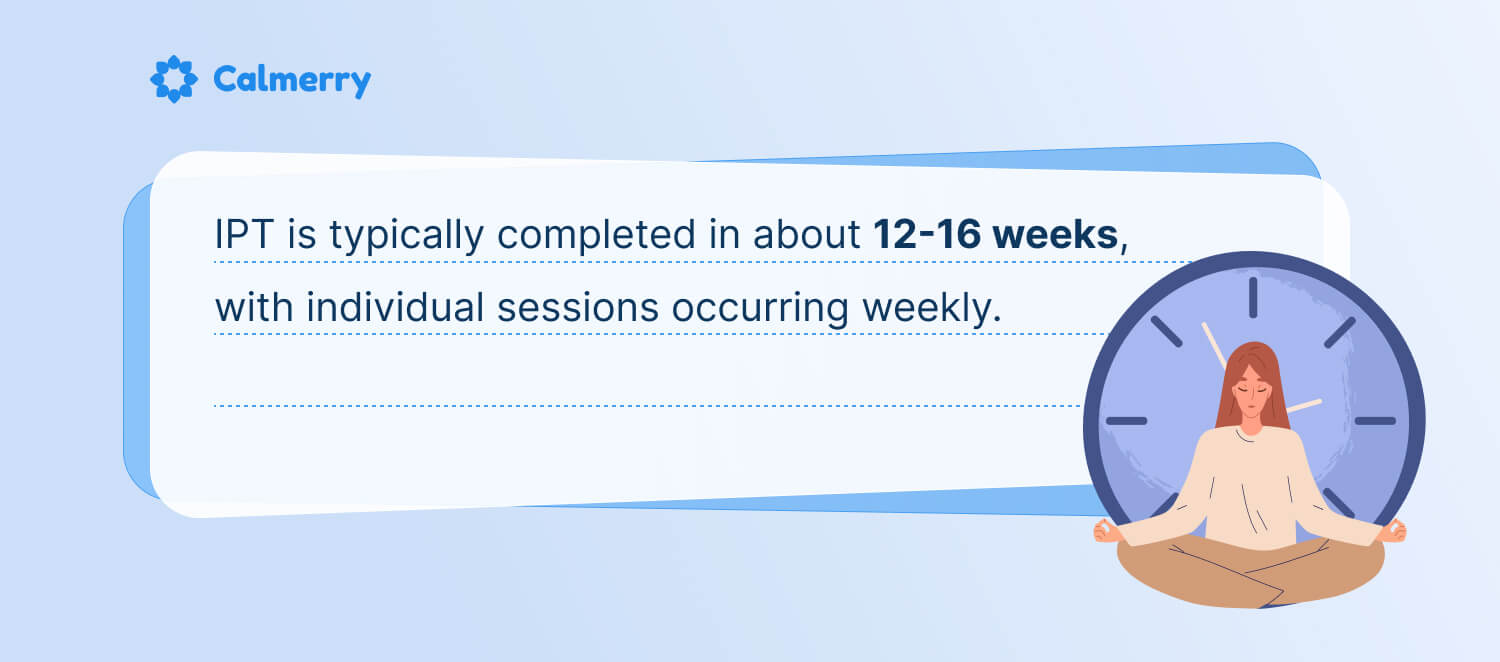 What is IPT used for?
IPT was originally developed as an intervention for treating major depression. Interpersonal therapy for depression was based on the idea that depression was a biological predisposition and that challenges in one's social environment play a critical role in the onset and progression of depression.
This approach essentially eliminates the notion of "fault" and empowers the person to make interpersonal changes that can alleviate bothersome symptoms.
What else is IPT used for?
Since its inception, IPT has been adapted to treat a variety of mental health issues and age groups, including:
Adolescents (IPT-A)
Children and their families FB-IPT (family-based interpersonal psychotherapy)
Depression
Interpersonal therapy has also been used to address marital issues that are contributing to depression in one or both partners.
CBT vs. IPT
With the homework and structure, you might think that IPT sounds an awful lot like cognitive behavioral therapy (CBT). And you wouldn't be wrong.
When you compare cognitive behavioral therapy vs. interpersonal therapy side by side, you'll find that while sharing some similarities, they are distinctly unique approaches:
Both are time-limited, symptom-targeted, and structured.
Both IPT and CBT have been shown to be effective for various mental health issues, including major depressive disorders, social anxiety (IPT for Anxiety), and binge eating disorder.
The goal of CBT is to find new ways of thinking and coping.
The goal of IPT is to resolve or improve interpersonal issues, reducing symptoms and distress.
CBT is not a single therapy but rather a range of interventions that share the same core idea and general approach. Developed by Aaron Beck, CBT holds that problems arise from faulty thinking and are maintained by maladaptive behaviors.
IPT is based on the premise that interpersonal challenges can influence developing and maintaining mental health issues like depression. IPT focuses on interpersonal issues and deficits, addressing current conflicts and tensions in your relationships (friendships, marriage, parent-child, work, etc.) that may be exacerbating your symptoms.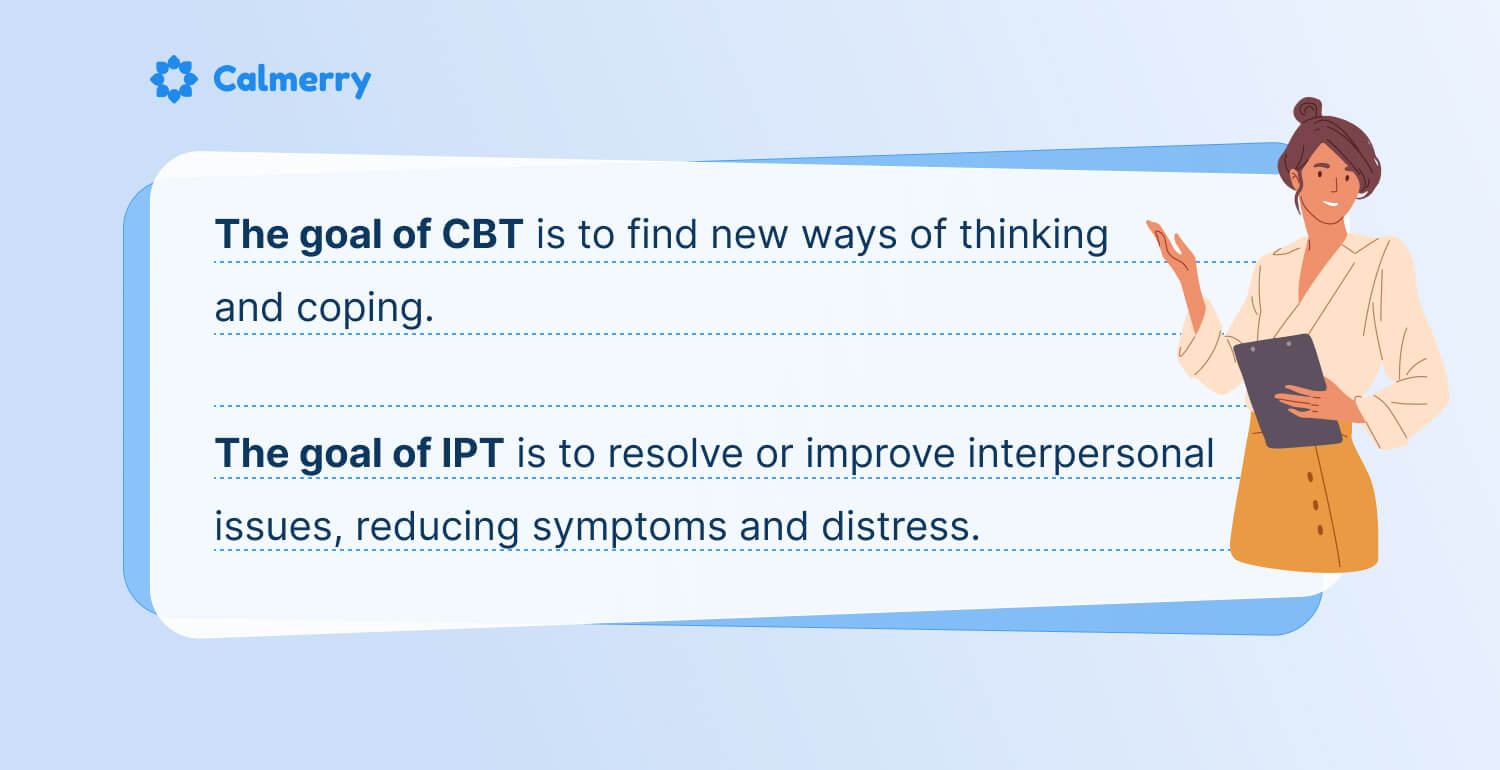 Goals of interpersonal therapy
The main goal of IPT treatment is to improve the quality of one's interpersonal relationships and social functioning. As those dynamics improve, distress is diminished.
IPT focuses on four main problem areas related to a client's interpersonal relationships that can contribute to depression and other issues.
The goals of interpersonal therapy focus on improving the client's relationships along one or more of those dimensions:
Interpersonal role disputes
You and the significant people in your life may have different ideas about your relationships. These conflicts can be a source of tension and emotional distress.
Role transitions
Life happens, and it can be emotionally challenging (e.g., going through a divorce, new baby, career change). Changes can affect one's feelings about themselves and others, leading to emotional distress.
Grief
It's normal to grieve a loss but left unresolved, grief can contribute to depression and other issues. IPT can address issues related to stages of grief and coping with loss.
Interpersonal Deficits
Starting and maintaining healthy relationships can be hard. IPT can help you identify what's holding you back and help you build healthy relationship skills.
IPT is focused on your unique interpersonal relationship dynamics. What your specific interpersonal therapy goals will be unique to your needs.
Types of interpersonal therapy
Like most therapeutic approaches, variations of IPT have been developed that use different strategies while remaining true to the theoretical foundations of IPT.
Two of the most common variations you might encounter are:
Dynamic interpersonal therapy
Dynamic interpersonal therapy (DIT), sometimes called psychodynamic interpersonal therapy, focuses more on past experiences and relationship problems and how they impact your emotions and behaviors in the present.
You may not even be aware of your behavior patterns and how they affect your current relationships with others. DIT helps you to recognize those patterns and change how you respond.
Metacognitive interpersonal therapy
Metacognitive interpersonal therapy (MIT) is a specialized, integrative therapeutic approach that focuses on identifying the social factors that influence behavior and understanding your own thoughts, feelings, and beliefs, as well as those of others.
MIT emphasizes learning to recognize and replace negative social behaviors like avoidance or passive aggression with more positive, productive ways of interacting with others.
How does interpersonal therapy work?
While 16 weeks sounds easy enough, changing relationship dynamics isn't easy.
You're probably wondering just how does interpersonal therapy work, and what can you do in 16 weeks?
IPT works by helping you to identify and modify the interpersonal relationship dynamics that create distress for you.
The theory behind IPT is that interpersonal problems cause mood disturbances and symptoms. By improving the dynamics of your social environment, you can achieve relief from symptoms such as anxiety or depression.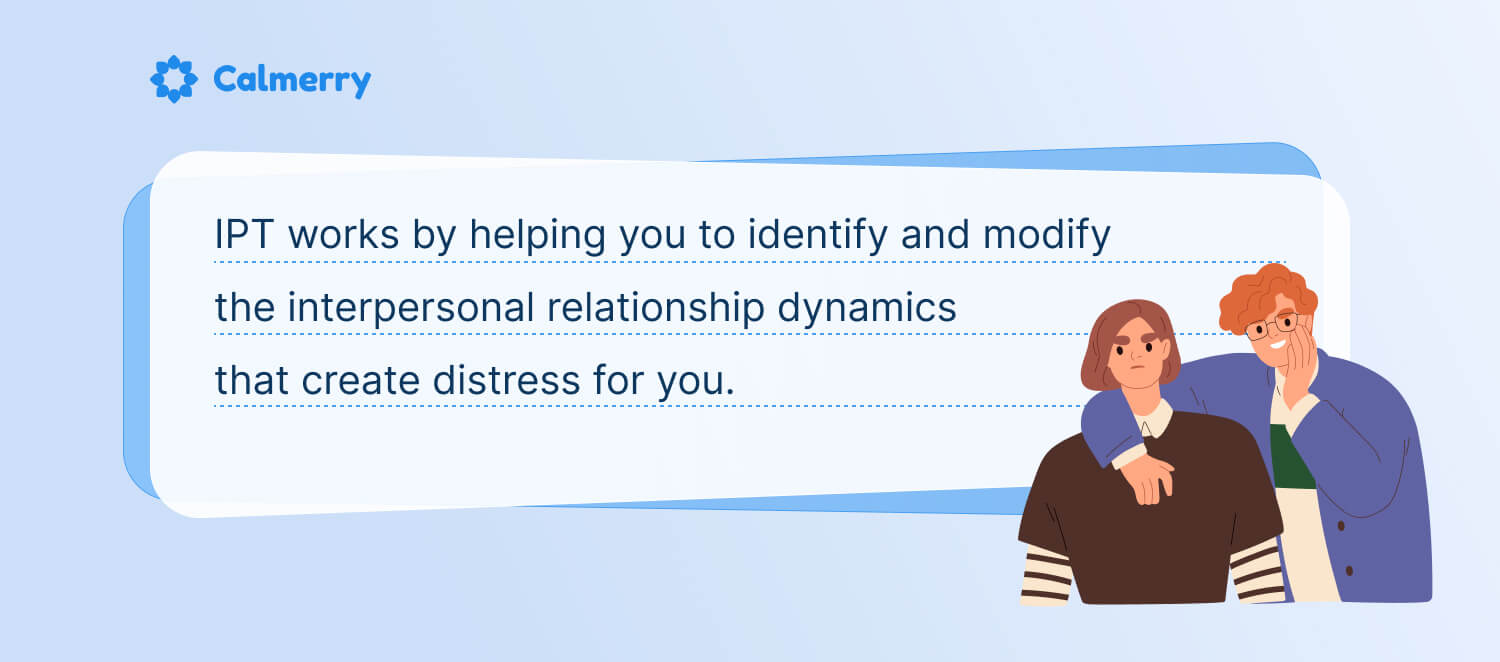 Interpersonal therapy techniques
One of the things people wonder about is just what the therapist will do during sessions. What will happen?
What they're really wondering about is what types of techniques and interventions they can expect. The unknown can create fear and hesitation, even keeping someone from seeking help.
At the heart of IPT is the therapist-client relationship. In the IPT therapist-client dynamic, the therapist is active and non-neutral, supportive, and offers options for change. Of course, as the client, you are always in control, and you choose the option that you feel is best.
Which IPT techniques a therapist might choose will depend on the client's unique needs. Here's what you need to know about interpersonal therapy techniques and interventions and what to expect:
Your sessions will follow a basic structure. Here's an example of interpersonal therapy:
The beginning/opening sessions (1-3)
During the first few sessions, you and your therapist will begin gathering information about your needs and setting treatment goals.
Part of the process of IPT is completing an interpersonal inventory where you will identify the key relationships in your life and group them according to the four main problem areas.
The middle (4-14)
In these sessions, you will work on improving the problem area you've chosen to work on. You and your therapist will work together to develop solutions to those problems.
During this time, homework will include implementing those solutions between sessions. Depending on what you're working on, your therapist may give you worksheets or other materials to help you build your skills.
The ending/final sessions (15-16)
In these last sessions, you and your therapist will review your progress and prepare for the completion of your time in therapy.
This ending is generally referred to as termination.
Pros and cons of interpersonal therapy
As with any type of therapy, there are pros and cons of interpersonal therapy. These are important to consider when you are thinking about starting therapy.
Pros:
Time-limited
Evidence-based (supported by empirical research)
Focused on present issues
Improved relationships with others
Decreases depression
Cons:
Requires a high level of motivation
Homework between sessions
May require maintenance sessions beyond the 16 weeks to maintain mood stability and prevent relapse
If IPT sounds like a good fit for you, the next step is to find your therapist.
Consider interpersonal therapy online
Today, with online resources, finding care is easier than ever. Online therapy has become a popular option that many people prefer to the traditional office setting.
Online therapy lets you seek care when it's most convenient and comfortable for you. And online therapies, including interpersonal therapy online, have been shown to be as effective as in-office care.
At Calmerry, we have experienced therapists who are trained in providing interpersonal therapy and are ready to see you when it's most convenient for you.
When you reach out, you'll be connected with a therapist who can help guide and support you on your journey of growth. Whether you're looking to make positive changes or simply looking for a place to explore and express yourself, Calmerry is here to help.
Reach out anytime. Calmerry therapists are here when you're ready.
Сheck your mental well-being for free: