Published August 11, 2023
SHRM23: Key Workplace Trends – with Insights from the Calmerry CEO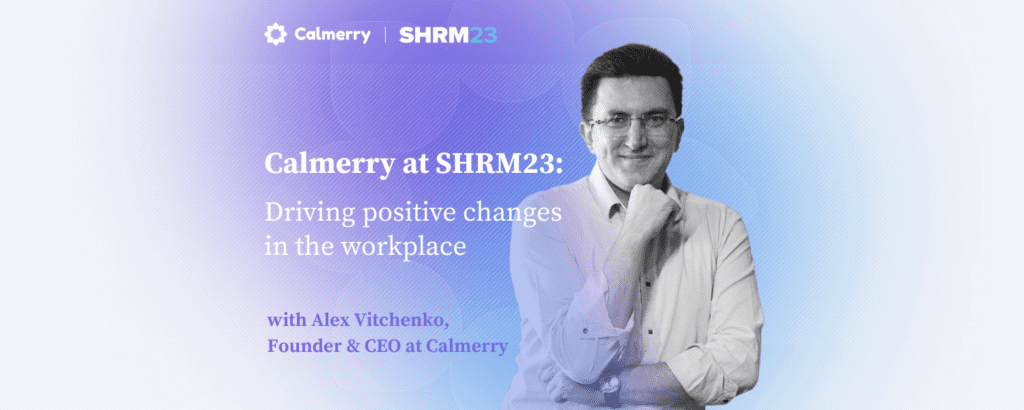 Reading Time:
7
minutes
Calmerry recently attended the SHRM23 conference in Las Vegas. This highly anticipated event brought together over 25 000 professionals from 60+ countries dedicated to driving positive change at the workplace.
With the theme of "Driving Change," SHRM23 highlighted the evolving, key role of HR professionals in adapting to the ever-changing work landscape. It sparked meaningful conversations on:
Maintaining employee morale, engagement, and retention
Finding and retaining talents
Workforce well-being and its connection to organizational success
Strengthening mental health benefits or coverage
DE&I (Diversity, equity, and inclusion)
HR professionals overload
Employee resilience, productivity, and satisfaction
Belongingness and psychological safety
Training effective leaders and people managers and improving their soft skills (empathy, healthy communication, and compassion)
Support for caregivers, and more.
At SHRM23, HR professionals and thought leaders came together to learn, grow, and inspire each other. So, we had much to gain from their expertise and experiences!
Let's explore these insights and hear from our team.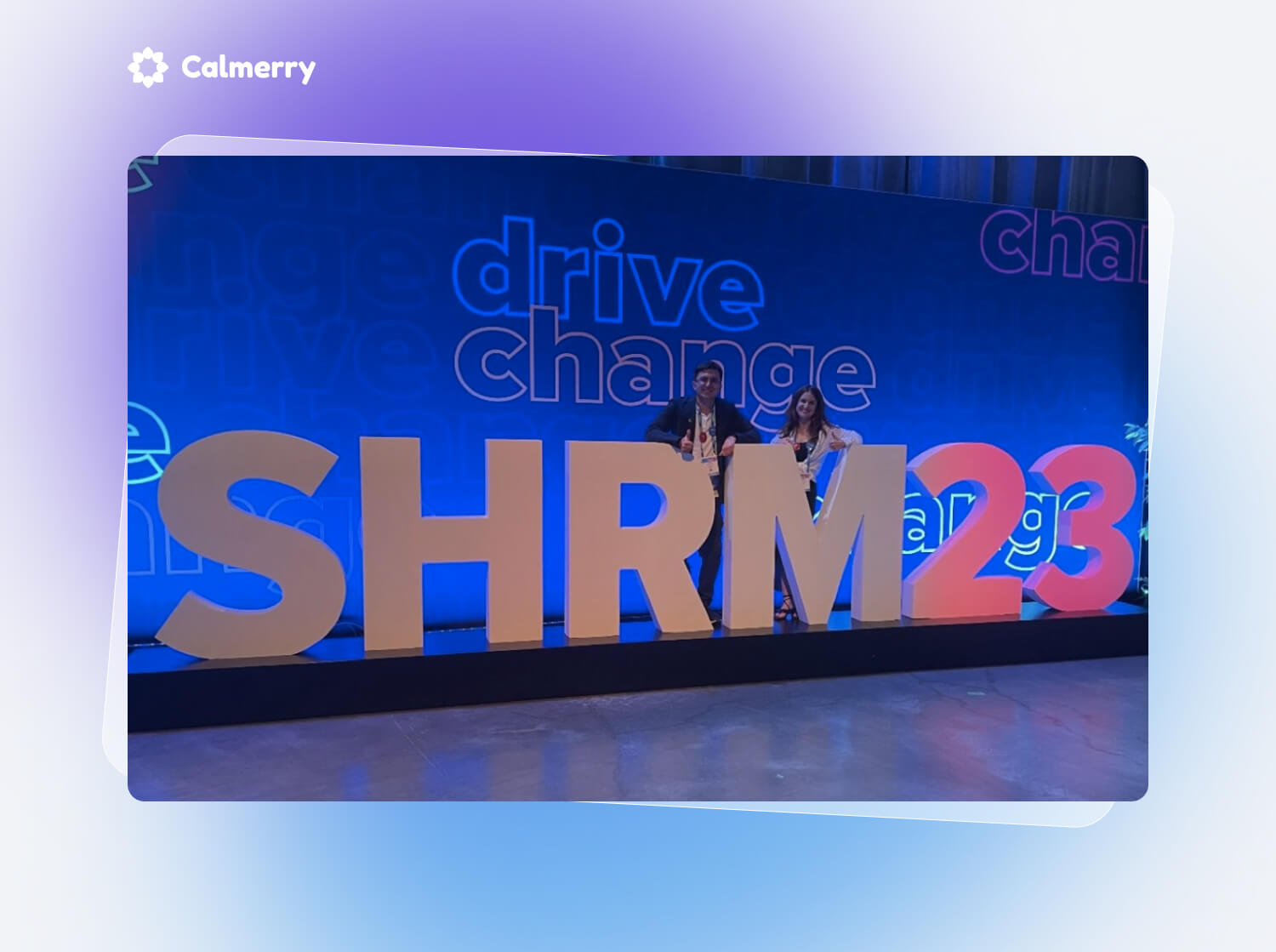 Important trends of the corporate world and HR community – with insights from the Calmerry CEO
The world will never be the same. Thus, the corporate world is transforming profoundly. And never before has the role of HR professionals been more critical.
Our team was inspired by the trends and topics at the forefront of the corporate world and HR community as they strive to foster a supportive environment for their employees and bring success to companies.
Let's hear from Alex Vitchenko, Founder & CEO at Calmerry.
Calmerry: Alex, what are the latest and emerging trends in the workplace based on what you saw and heard at SHRM23?
Alex: One critical aspect that stood out was the growing importance of mental health benefits. It's clear that employees need and value such support. Today, it's a necessity, an investment in organizational success and resilience – not a trade-off with other goals.
For example, the APA's study revealed that 81% of US employees consider mental health support a very important factor when seeking future job opportunities. And it's especially crucial for attracting Gen Z workers. Organizations that neglect mental health benefits may struggle to compete for top talent and retain employee productivity and satisfaction. And if employees face negative mental health effects due to their job, they're much more likely to actively search for a new one.
I was hit by the SHRM research data that showed workplaces negatively impact the mental health of 1 in 3 US employees. And that almost 50% of US employees will consider leaving their current job for one with significantly better mental health benefits. And this is especially true among younger employees (over 60% of Gen Z and 50% of Millennials).
Absolutely, mental health support is essential in today's workplace, and these discussions highlight its significance for both employees' needs and companies' success.
But it's not just about mental health; overall well-being directly impacts a company's performance and resilience. One of the sessions presented the Oxford workplace research explaining this link. Companies that prioritize their employees' happiness, satisfaction, sense of purpose, and holistic health (including mental health) tend to outperform others in terms of company value, annual profits, productivity, and overall success.
For me, as a senior executive, founder, and investor, it's a wise note to take.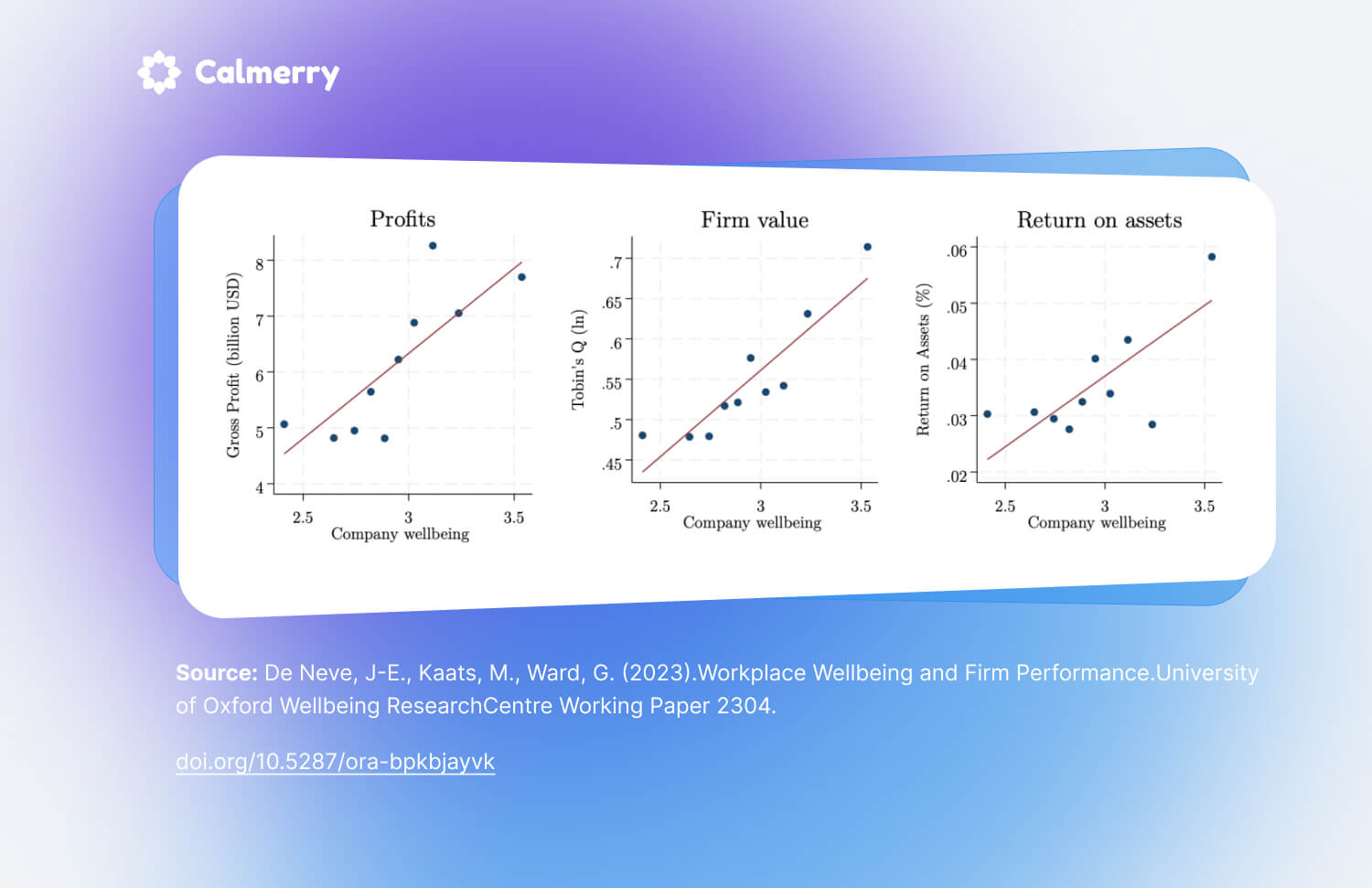 Also, many trends are focusing on improving work-life balance. One of the most discussed is a four-day working week to tackle burnout. As a mental health company, we look closely for strategies that can improve the well-being of our employees at Calmerry.
For instance, after SHRM, we implemented one day a week without meetings and set a time limit of 40 minutes for meetings. Those small but important steps can help employees focus, minimize stress, and maintain digital communication hygiene, especially in remote work.
Some key discussions about the ever-evolving workplaces
As organizations adapt to new challenges, HR leaders and visionaries from around the globe gather at SHRM to explore strategies for navigating the ever-changing work landscape. It's a place where future workplaces and thriving organizations are shaping – and where they learn to embrace the changes and drive them.
Let's delve into some – among hundreds – standout discussions.
1. It's Okay Not to Be Okay: How to Identify, Address, and Navigate Mental Health in the Workplace
Speaker: Carol Leonie Maria Schulte
This session shed light on the importance of breaking mental health stigma by encouraging brave conversations, setting healthy boundaries, and advocating for oneself and others.
Attendees gained actionable strategies to create safer and more supportive workplaces, promoting the well-being and thriving of all employees.
2. Stigma No More: Protecting and Advancing Mental Health
Speaker: Chia-Chia Chang
Addressing mental health in the workplace requires a comprehensive approach. This session highlighted the role of HR professionals in creating psychosocially safe working environments.
The speaker shared that by implementing benefits design, healthy work design, and fostering a healthy culture, organizations can:
Minimize work-related stress
Promote work-life balance
Reduce chronic health conditions
And enhance worker satisfaction
3. Empathy: A Critical Component of Business Success
Speaker: Alexander Alonso
Empathy in the workplace is evidently a critical topic – it took the whole track at the conference, with dozens of SHRM speakers touching it.
During the session, Alexander Alonso said empathy emerged as a critical component of organizational culture and business success. Research demonstrated how empathy impacts employee attitudes, behaviors, and, ultimately, organizations' bottom–line results.
And another speaker, Rob Lawless, highlighted the transformative impact of intentional connections and empathy. In a world where loneliness and disconnection can prevail, the power of human connection and authentic relationships can't be underestimated.
4. Belongingness: The Antidote to Workplace Imposter Syndrome
Speakers: Miguel Joey Aviles and Michelle E. Rosa
Imposter syndrome can affect just anyone, but it disproportionately affects underrepresented groups. So this session explored the role of work cultures in perpetuating these feelings.
HR professionals gained strategies to create a sense of belonging, implement sustainable systemic solutions, and address imposter syndrome at its source. By fostering an inclusive environment where every employee matters and feels valued, organizations can help employees thrive and overcome self-doubt.
5. Top 10 Best Practices for Workplace Inclusion
Speaker: Tara B. Taylor
Bias, exclusionary behaviors, and micro-aggressions are prevalent. They hinder team success and create a negative work environment. 
The session highlighted key strategies for advancing workplace equity and inclusion, such as:
Being a better ally
Using inclusive language
Shifting away from micro-aggressive behaviors to micro acts of inclusion
Hire, retain, and support workers with disabilities
and more
These practices promote a positive, proactive workplace culture of DE&I that fosters employee belonging and organizational effectiveness.
Other topics discussed at SHRM23 included the following:
Recognizing emotions in employees
The importance of HR professionals' well-being
Effective communication techniques for fostering collaboration
Pro-family, pro-work policies (where Former President Bill Clinton said that family and work "is not an either-or situation. Raising our children is the most important job that adults have.")
Offering support to trauma survivors
Mental health days as a need to cope with stress and anxiety
Creating gender-inclusive workplace
Strategies for addressing burnout and promoting work-life balance
So many important conversations took place at SHRM23! And the topics above are just a glimpse of the rich and diverse discussions.
Mental health in the workplace is critical. But there's still work to be done
According to the 2022 and 2023 SHRM reports, statistics reveal that:
78% of organizations currently offer or plan to offer workplace mental health resources in the next year
94% of HR professionals believe such resources can improve overall employee health
88% believe they can increase productivity
86% indicate they can enhance employee retention
However, despite this recognition, there's still work to be done:
51% of HR professionals consider offering mental health resources a high priority for their organization in 2023. In 2022, 32% prioritized it as a goal.
41% believe their organization doesn't offer enough mental health support
13% say their organization doesn't measure the efficacy of mental health benefits
So, despite the significant progress, it's evident that more support is needed to address mental health challenges in the workplace.
On the other hand, HR professionals, who play a crucial role in fostering employee well-being, often face overwhelming demands and responsibilities. Striving to retain talent and maintain productivity amidst the global crisis, they try to navigate complex decisions to support their workforce effectively.
How can employers and HR professionals help to create a mentally healthy and thriving workplace?
According to the SHRM lead researcher Ragan Decker, Ph.D., SHRM-CP, organizations can improve the positive impact of work on employees' mental health by:
Emphasizing workload management
Fair pay and compensation
Addressing staffing challenges
Fostering strong leadership and management
Offering opportunities for career growth
And implementing mental health support programs, all while nurturing a positive company culture.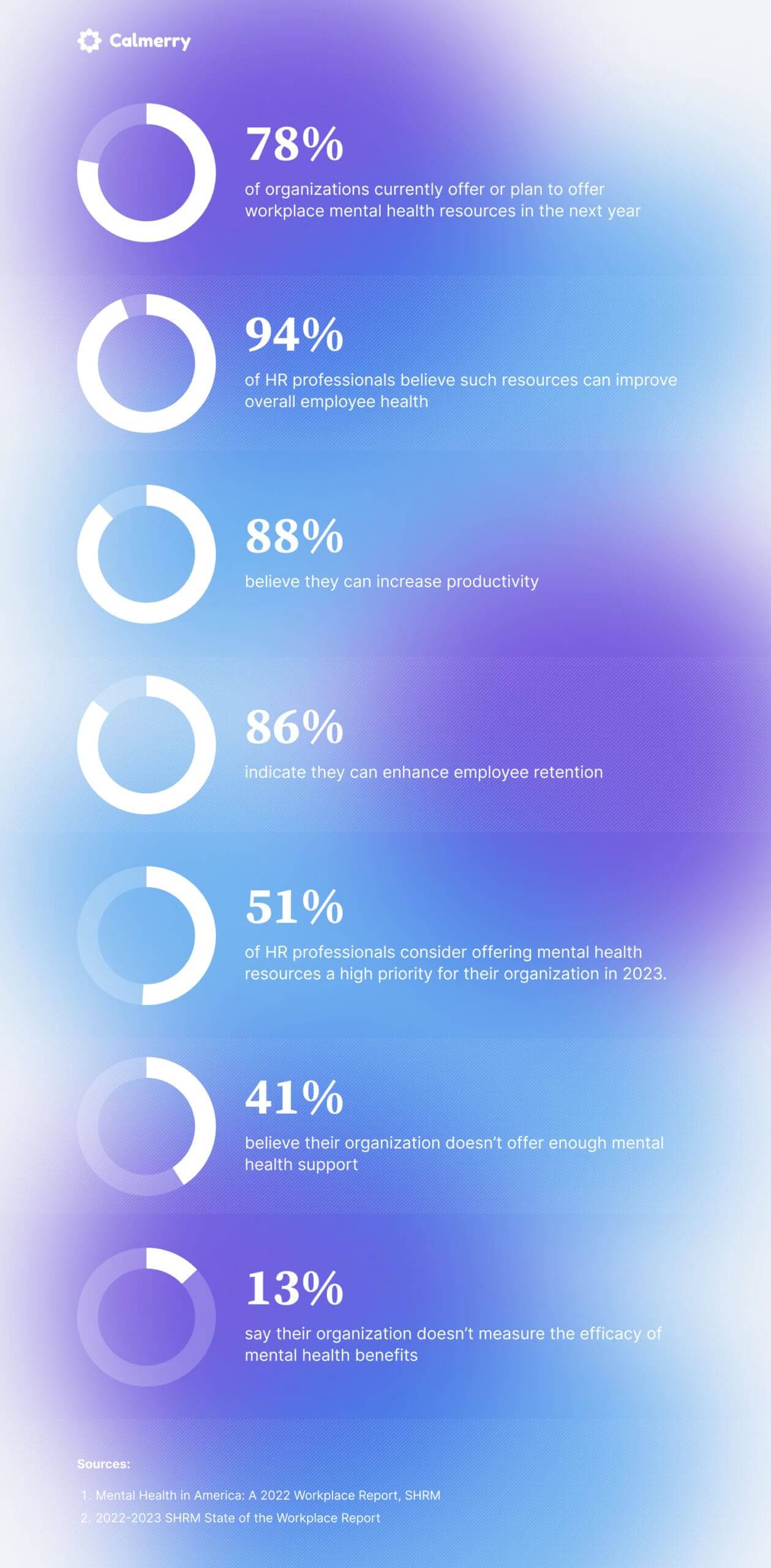 Calmerry as an outcome-focused mental health solution for your organization
Understanding the challenges faced by organizations in prioritizing well-being and success in the workplace, we sought advice from our founder and CEO, Alex Vitchenko. He emphasized the importance of choosing a well-being contractor with an outcome-focused approach to mental health care. This will ensure quality support for employees and bolster organizational performance.
"In today's challenging times, employers and HR professionals seek solutions that prioritize talent retention and support and help them establish mental health culture at the workplace. This is where a comprehensive benefits overview plays a critical role. And we at Calmerry aim to make that choice easier for them. We're proud to be cost-effective, flexible, and personalized, catering to diverse clients' needs," shares Alex.
If you're seeking an employee mental health program that aligns with your organization's goals and values, Calmerry may be the right choice. We understand the importance of prioritizing employee well-being and its impact on productivity, retention, and overall success.
That's why our tailored solution is designed to meet diverse needs and support your organization's journey toward a healthier, happier, and more resilient workforce:
Your employees can get the professional, compassionate support they need and achieve personal goals with the help of fully licensed and vetted counselors – via asynchronous messaging and live video sessions. 
Your HR professionals and managers get access to expert content with practical skills they can use to make positive changes in the workplace and support employees and themselves during difficult times.
Employers get anonymized, aggregated reports on utilization and engagement, allowing them to track program performance and growth.
Let's discuss your needs and drive positive changes in the workplace together.
Let's connect
Book a 30-min demo call with us to learn more about our B2B offering and how Calmerry can help take the pressure off your team through flexible, customizable, and holistic therapy.
See a live demonstration of how platform works
Have an overview of our flexible payment models
Get a tailored offer based on your company needs and number of employees
Сheck your mental well-being for free: