Published August 25, 2023
Spotting Toxic Productivity and Breaking the Cycle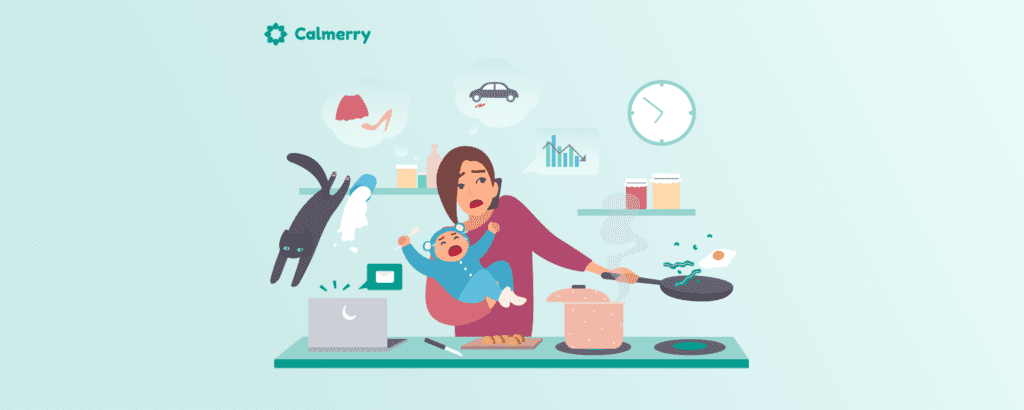 Reading Time:
11
minutes
Have you ever felt like you're constantly rushing around, trying hard to prove to yourself or others that you can do a lot?
Maybe you neglect basics like having nourishing meals, moving, connecting with loved ones, or resting because you're so focused on getting things done.
Or perhaps you feel guilty when taking breaks or being less effective than the hustle culture expects.
These are at the core of toxic productivity.
Even though regular productivity is generally seen as positive, toxic productivity is an unhealthy phenomenon. It pushes us to do more and more at the expense of our well-being. And it can make you feel stressed, anxious, depressed, overwhelmed, and burned out. [1] Neale, P. R., PhD. (2022, January 22). When Doing is Your Undoing: Toxic Productivity. Psychology Today. https://www.psychologytoday.com/us/blog/leading-success/202201/when-doing-is-your-undoing-toxic-productivity
What is toxic productivity?
In essence, toxic productivity is an unrelenting drive to achieve and produce at the expense of your well-being. Yet, it's more than just a feeling of busyness.
In a toxic productivity culture, pursuing tasks and accomplishments becomes all-consuming, overshadowing your need for rest, relaxation, self-care, and genuine personal connections. It can make you feel inadequate if you're not consistently busy/learning/growing/performing or not achieving remarkable milestones.
This detrimental pattern often infiltrates and grows within modern workplaces, where the culture of success, competition, and productivity is intertwined with being "constantly on" and achieving higher.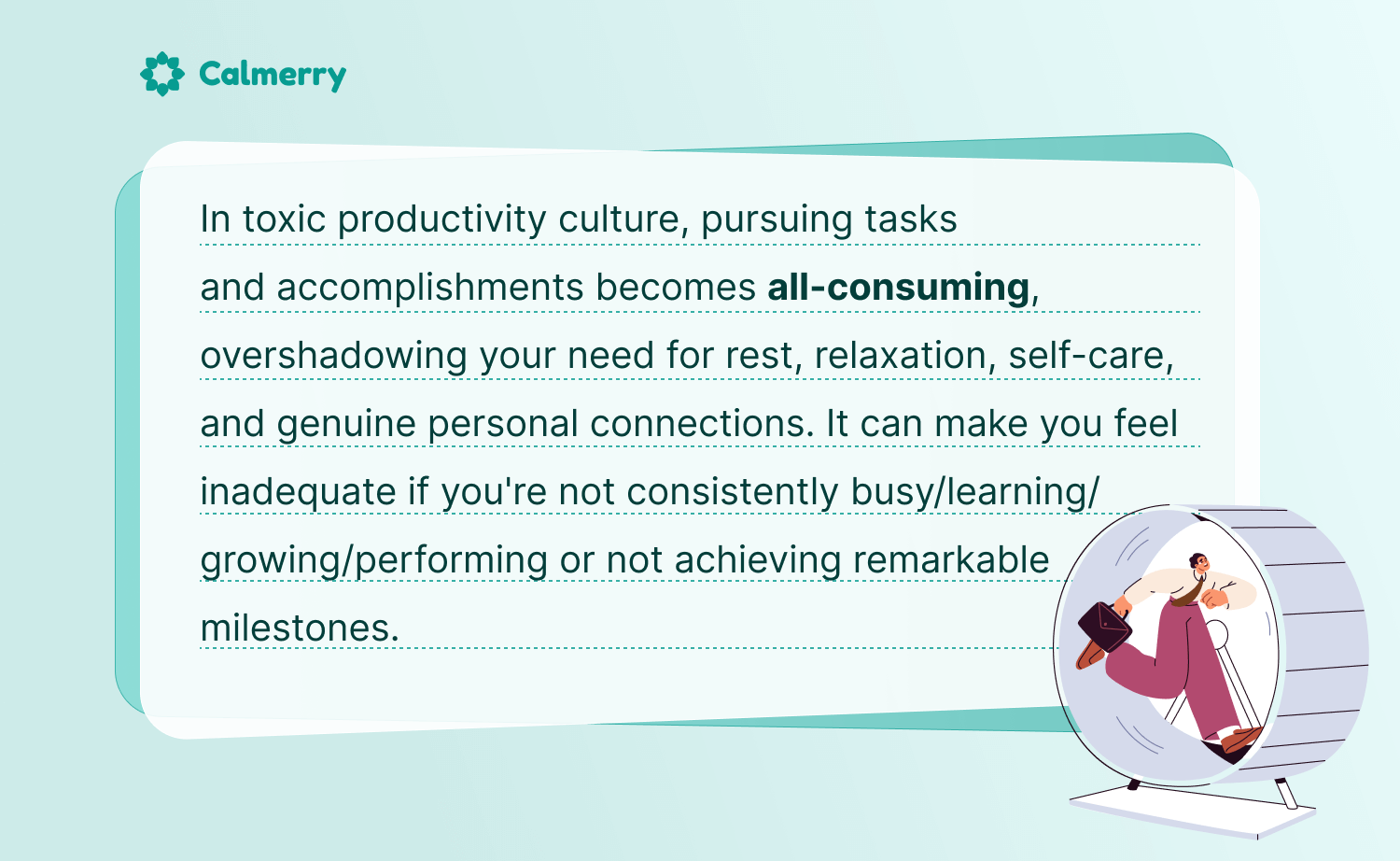 What are the signs of toxic productivity?
Imagine a voice in your head relentlessly saying, "Keep going, keep doing! Rest is for the weak. If you don't finish the task today, you'll fall behind. What will your manager think of you? Okay, at least, let's respond to this dozen emails!"
In the world of toxic productivity, this voice becomes a persistent companion. Let's look at it closer – here are some telltale signs and examples that toxic productivity might be at play:
You feel constant guilt when you're not actively working or not at your best to function/provide the expected input
You have an insatiable desire to do more
You're driven by the constant fear of missing out (FOMO)
You neglect vital basics like sleep, rest, exercise, connecting, and personal hygiene
You ignore personal boundaries and cross your limits
You often criticize or even self-loath yourself for your limits, deficits, setbacks, capabilities, and mistakes
You consider days off as an unnecessary distraction rather than an essential pillar of well-being
You feel emotional/mental exhaustion and overwhelm
You find it challenging to pause and relax
You regularly work overtime
You're always "on" and available in work chats
Your self-worth hinges solely on what and how much you do/achieve
You struggle with impostor syndrome and fear that someone will "find out" you're "not as capable" as they believe you to be
You often compare yourself to others and feel inadequate
You feel you did almost nothing, even after you did a lot
You're rarely content with your output/outcomes
You've lost joy in your hobbies and favorite activities
Your work takes priority over and affects your relationships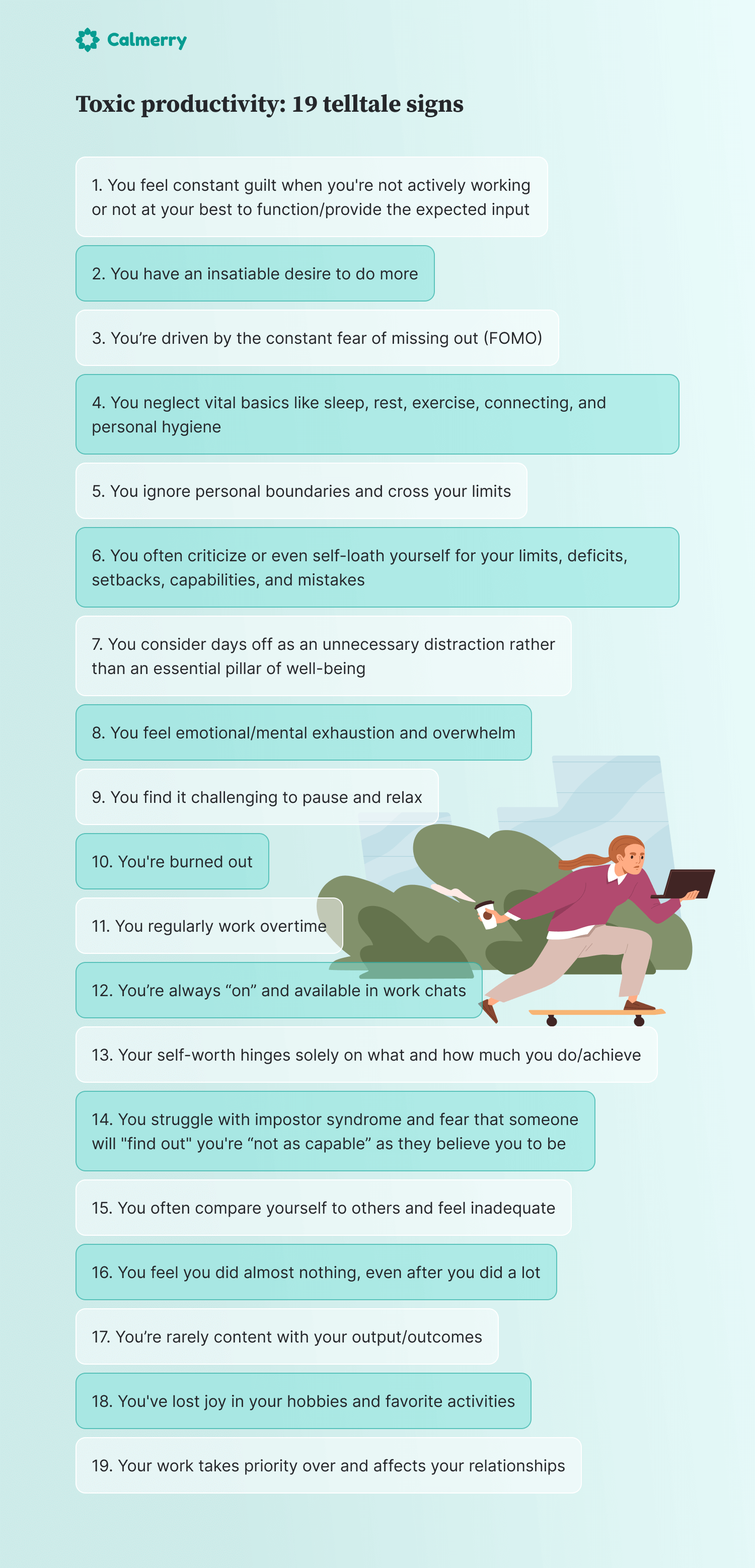 A note on productivity guilt & toxic productivity
Feeling guilty when not actively or not consistently engaged in work is a hallmark of productivity guilt.
That's the nagging sensation that you should be doing more or more effectively. And while a drive to achieve is natural, constant guilt can lead to burnout and hinder self-esteem.
It's that inner voice whispering, "You must be working, you must get it together – and finish this huge project by the evening…Why can't you? Let's get back to your laptop…" when you're engaging in leisure activities or just find it hard to motive yourself.
In turn, toxic productivity fuels feelings of guilt, trapping you in a never-ending loop of pushing yourself harder, exhausting yourself, and feeling guilty.
Moreover, this cycle doesn't acknowledge that we all have unique capacities and our brains work differently.
For example, for people with ADHD, the struggle against the neurotypical "productivity norm" [2] Pcc, L. W. (2022, February 7). Popular Productivity Advice That Torpedoes the ADHD Brain. ADDitude. https://www.additudemag.com/adhd-brain-productivity-advice/ can be particularly taxing. Societal expectations fail to recognize the nuances of neurodiversity, leading to stigma and guilt. So, for people with ADHD, the cycle of guilt and exhaustion can become even more intense.
Are you actually so busy, or is it toxic productivity?
In a world that glamorizes busyness and productivity, we need to discern whether your drive is healthy and beneficial for you, or you might be unwittingly falling into the trap of toxic productivity.
Here's a litmus test to help differentiate between the two:
1. Purposeful vs. frantic activity
Healthy productivity is characterized by purposeful actions that contribute to your goals and well-being. These activities align with your values and help you progress toward your objectives.
On the other hand, toxic productivity often manifests as a frantic scramble to stay busy, even when tasks lack meaningful impact.
2. Well-being awareness
Do you have time to take breaks? Healthy productivity respects your well-being and allows time for self-care and rest. It gives you a space to pause, recharge, and focus on your mental and physical health.
Toxic productivity tends to dismiss these needs.
Healthy productivity respects your well-being and allows time for self-care and rest. It gives you a space to pause, recharge, and focus on your mental and physical health.
Toxic productivity tends to dismiss these needs.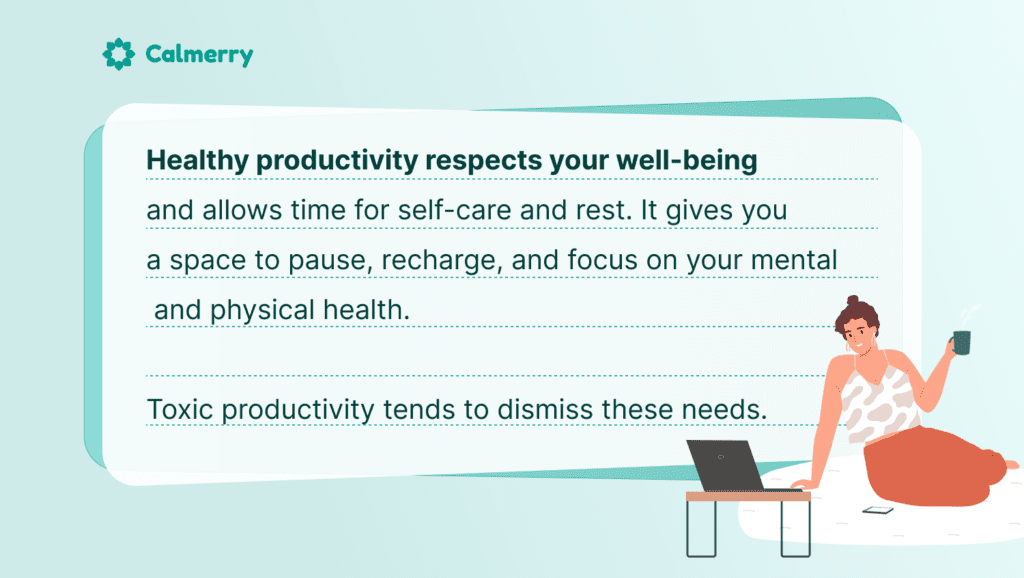 3. Quality vs. quantity
Efficient productivity emphasizes quality outcomes over sheer quantity. It involves completing tasks effectively, leaving room for planning, analysis, reflection, and improvement.
In contrast, toxic productivity culture fixates on completing an excessive number of tasks without considering their quality, significance, results, and your limits.
4. Flexibility and adaptability
Productivity with a healthy perspective allows for flexibility and adaptability. It acknowledges individual needs and limits, that circumstances can change, and adjustments are sometimes necessary.
Toxic productivity rigidly adheres to a fixed plan, even if it causes stress or negatively impacts your overall life.
5. Emotional connection
Healthy productivity fosters a positive emotional connection to your work and pursuits. It brings a sense of accomplishment, satisfaction, inspiration, curiosity, and meaning.
In contrast, toxic productivity may lead to emotional detachment, anxiety, and a constant feeling of never doing enough.
Root causes of toxic productivity
In a world where we're constantly bombarded by images of people "doing it all," it's easy to fall into the trap of believing you need to do the same to feel accomplished.
However, the origins of toxic productivity are far from simple. Here are some of the underlying causes:
1. Cultural pressure and specifics
In today's fast-paced world, the idea of constant busyness is often linked to success. We might feel pressure always to be doing something as if our worth depends on it.
This mindset can make us neglect the importance of our needs. We forget that being truly successful means having a healthy balance between work and well-being needs.
Besides, cultural specifics play a significant role in shaping attitudes toward productivity. For instance, in certain Asian cultures, there exists a deeply ingrained societal emphasis on academic and professional achievement. This pressure to excel is immense, often resulting in long working hours and a constant drive to outperform peers.

Moreover, the stigma surrounding discussions of mental health in some cultures can deter people from seeking help. They tend to internalize stress and anxiety [3] Carmichael, A., Coe, E. H., & Dewhurst, M. (2023). Employee mental health and burnout in Asia: A time to act. McKinsey & Company. https://www.mckinsey.com/featured-insights/future-of-asia/employee-mental-health-and-burnout-in-asia-a-time-to-act .
2. Fear of missing out (FOMO)
The fear of missing out on opportunities can drive us to overcommit. We worry that if we don't say "yes" to everything, don't catch up with all these new strategies that LinkedIn professionals are sharing 24/7, we might be left behind.
This can make us take on more than we can handle and eventually overwhelm us.
3. Remote work
Amidst the COVID-19 pandemic, remote work emerged as a lifeline, enabling us to work from the safety of our everywhere. However, this shift has led to blurred lines between work and personal life – and 42% of Americans expressed concern about it in 2022. [4] Board, The Conference. "Survey: Remote Workers Struggle with Work-Life Boundaries, but Is a Return to the Workplace the Answer?" www.prnewswire.com/news-releases/survey-remote-workers-struggle-with-work-life-boundaries-but-is-a-return-to-the-workplace-the-answer-301515832.html.
The convenience of hopping onto cafe Wi-Fi or joining virtual meetings has shifted the boundaries of when and where work happens.
Even weekends have seen a transformation. If you use weekends to catch up on tasks, you're not alone. A study by Prodoscore [5] Prodoscore Research: Productivity of Remote Workforce Remains Strong During Pandemic. (n.d.). Business Wire. https://www.businesswire.com/news/home/20201217005250/en/Prodoscore-Research-Productivity-of-Remote-Workforce-Remains-Strong-During-Pandemic showed that remote workers now dedicate 42% more time on Saturdays and 24% more on Sundays.
4. Unhealthy corporate culture
"Everyone's overworking, my colleagues are responding promptly at night – so should I." – many of us can relate to this. It's easy to feel pressured to do the same.
An unhealthy work culture that doesn't prioritize the well-being of employees can spread the belief that constant overwork and round-the-clock availability are the new norm.
And the fear of falling behind or being perceived as less committed can lead to a cycle of toxic productivity.
5. Perfectionism and unrealistic expectations
Striving for perfection can create a never-ending cycle of work. We set high standards for ourselves and feel like we must always meet them. This pressure can lead to overworking and treating our well-being as something secondary.
Perfectionism can blind us to the fact that it's okay to take breaks and make mistakes.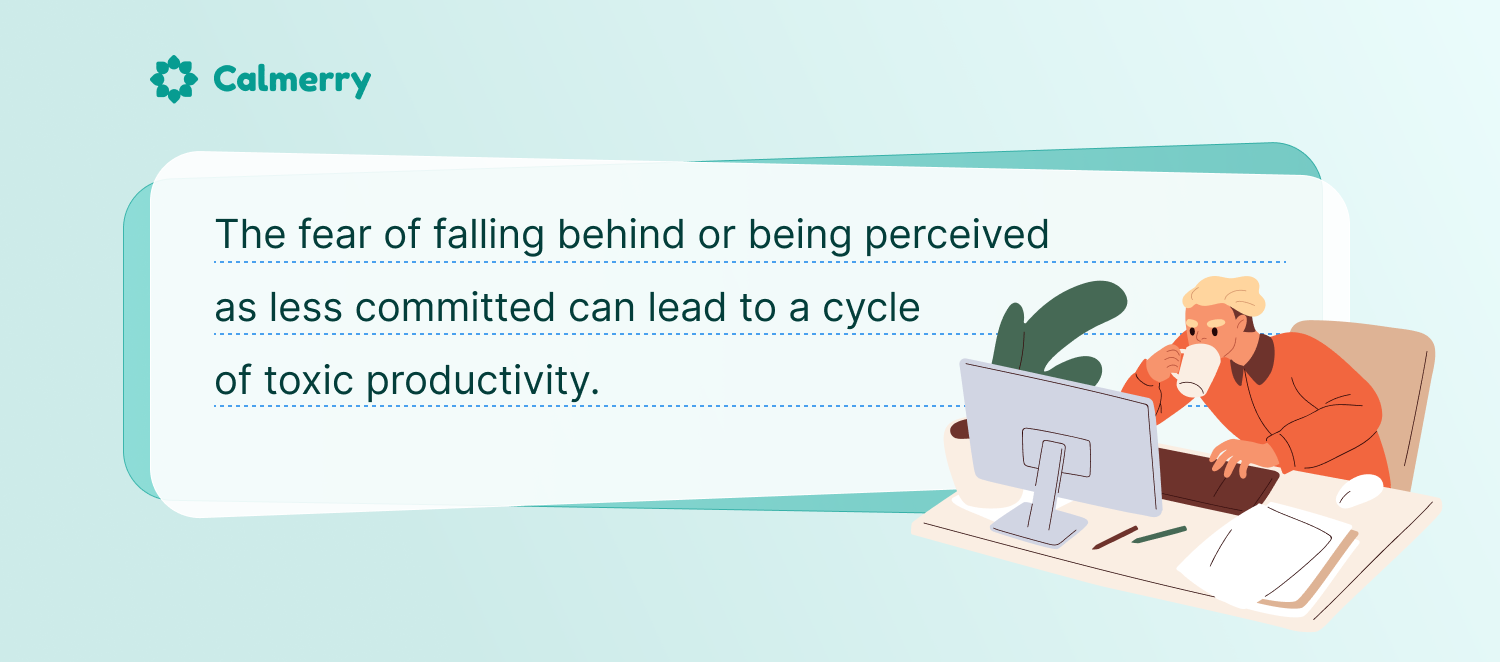 6. Social comparison
Seeing others' achievements, including on social media, can make us feel like we need to do just as much. We start to believe we're not doing enough if we're not as busy as they are.
This can push us to keep doing more, even when we're already overwhelmed.
7. Imposter syndrome
Feeling like we're not as capable as others believe us to be can drive us to overcompensate. We want to prove ourselves and show that we deserve our accomplishments by doing more.
This can lead to setting unrealistically high expectations and the need to constantly prove our worth.
8. Trauma response
For some people, constant busyness might be a coping mechanism to avoid painful experiences. When someone's been through traumatic events, they might try to distract themselves from the distressing feelings, thoughts, emotions, or memories and use work as an escape.
Effects of toxic productivity on mental health
Toxic productivity can create a deceptive illusion of achievement. It can often make us believe that staying constantly busy means we're on the path to success.
But this belief is a double-edged sword, with some negative effects on mental well-being:
Increased stress and anxiety – the relentless pursuit of constant productivity can elevate stress and anxiety levels. The pressure to keep up with an ever-growing to-do list can lead to constant worry and an overwhelmed feeling. In fact, 83% of US workers suffer from work-related stress. [6] Boyd, D. (2023, February 15). Workplace Stress – The American Institute of Stress. The American Institute of Stress. https://www.stress.org/workplace-stress
Diminished productivity and performance – paradoxically, the obsession with being busy can hinder our work quality. As fatigue accumulates, our ability to focus, make decisions, and maintain creativity diminishes.
Burnout – the cycle of non-stop work without adequate rest can lead to burnout. Exhaustion, both physical and mental, sets in, sapping our energy and leaving us emotionally drained.
Strained relationships – constant busyness can strain relationships with loved ones. Neglecting personal connections due to work-related commitments can lead to feelings of isolation and a lack of emotional support. One study revealed a link between constant connectivity and work-family conflict. [7] McAllister, C. P. (2020). Not at the Table: A Diary Study Analyzing the Effects of Constant Connectivity on Work-Family Conflict. Nau. https://www.academia.edu/42914049/Analyzing-the-Effects-of-Constant-Connectivity-on-Work-Family-Conflict
Depression – the unrelenting pressure to be constantly productive can contribute to feelings of hopelessness and depression. The pursuit of endless tasks may overshadow our sense of joy and purpose, leading to a sense of emptiness and loss of control.
How do you break the cycle of toxic productivity?
Achieving a harmonious relationship with productivity is possible. The journey begins with cultivating self-awareness and reshaping your perspective on what productivity truly means and feels for you.
1. Label it and reframe
Let's take a moment to challenge the idea that success is solely tied to working non-stop. Instead, when you catch this tendency in yourself, let's give it a name, like "The Constant Hustle Myth." By labeling it, you're acknowledging its presence without letting it dictate your actions.
Now, when "The Constant Hustle Myth" pops up, let's reframe it. Remind yourself that true, healthy productivity isn't about being busy all the time. It's more like a puzzle where every piece fits just right – where work and life come together to create a beautiful picture.
2. Embrace focus and efficiency
Picture productivity as a well-tuned instrument. Instead of playing a hundred notes haphazardly, try to focus on playing a few powerful, harmonious chords.
That's the essence of efficiency – getting things done effectively, leaving you with quality time for yourself and your passions.
3. Engage in micro-commitments with yourself
Think of your tasks as your personal micro-adventures, with small steps that lead to some rewards. Start by breaking down your tasks into little pieces, like a puzzle waiting to be solved.
Now, let's make these mini-tasks even more personal and irresistible to ignore. Imagine telling yourself, "I will send this email and then treat myself to a breath of fresh air." It's like giving yourself a little gift – a moment of fresh air and a break for your mind.
These micro-commitments are like promises you make to yourself. And with each one you fulfill, you're taking a step closer to your bigger goals.
4. Practice professional detachment
Imagine work as a chapter in the book of your life. Just as a character isn't defined solely by one chapter, you aren't solely defined by your work.
Try to cultivate the ability to detach mentally and emotionally, creating a space for other aspects of your life and identity. They all need attention and care, too.
5. Create decompression rituals
Develop after-work rituals that promote relaxation and decompression. [8] Lyubykh, Z., Gülseren, D., Premji, Z., Wingate, T. G., Deng, C., Bélanger, L. J., & Turner, N. (2022). Role of work breaks in well-being and performance: A systematic review and future research agenda. Journal of Occupational Health Psychology, 27(5), 470–487. https://doi.org/10.1037/ocp0000337 These rituals are your way of gently telling your mind, "Hey, it's time to switch and unwind." They help you shift gears from the demands of the day to the joys of the evening.
Engage in activities that help you shift your focus away from work-related matters and speak to your soul, such as:
Taking a leisurely stroll in nature
Finding a cozy spot to read a book or listen to an audiobook
Engaging in a short meditation or mindfulness session
Practicing deep breathing exercises to relax your mind
Trying gentle stretching to release tension in your body
Enjoying a warm bath with calming essential oils or bath salts
Having a technology-free hour to disconnect from screens
Spending quality time with loved ones
6. Set digital boundaries
Digital communication hygiene is crucial. And it's helpful to establish specific times for checking emails or messages and communicate these boundaries to colleagues to manage expectations.
7. Treat meetings as working hours
"I've spent 4 hours on planning and meetings today, but I will work till midnight, as I have a full day with tasks, too. Or I will move the tasks to the weekend." – it's a common corporate trap nowadays.

Acknowledge that work meetings are part of your work hours. Treat them like any other task and ensure you allocate time for preparation, participation, and follow-up.
This perspective prevents stretching your workday unnecessarily.
Acknowledge that work meetings are part of your work hours. Treat them like any other task and ensure you allocate time for preparation, participation, and follow-up.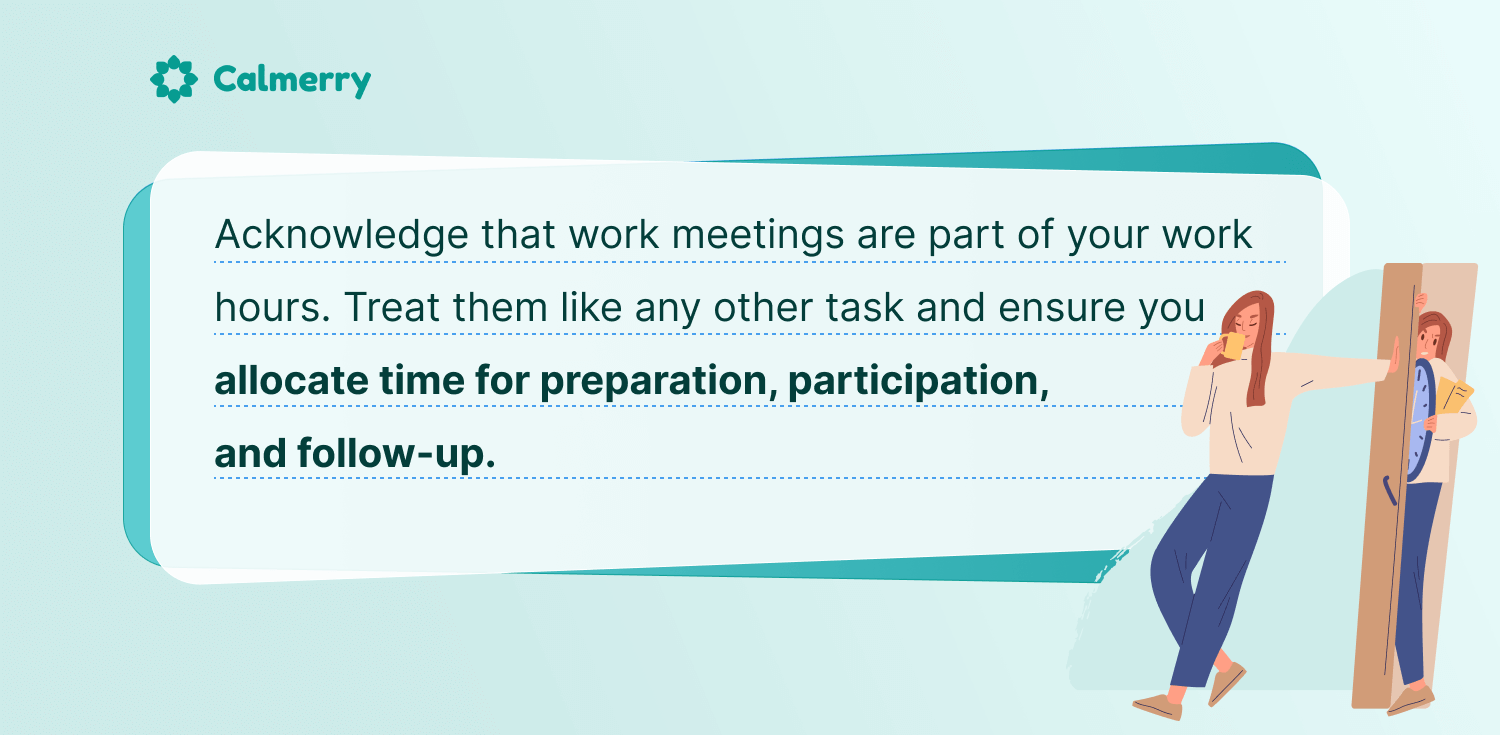 8. Use visual reminders
Employ visual cues, such as colorful sticky notes or digital reminders, to keep track of tasks and deadlines. Visual reminders may become your superpower in the world of organization.
9. Protect your personal time
Guarding your personal time is an act of self-care and empowerment.
Imagine creating a fortress around your precious moments, a space where work demands can't intrude. By setting boundaries, delegating, and saying "no" when needed, you prioritize your personal time – which is always important and no less precious than your work time.
Your commitment to preserving your "me-time" shields you from burnout and stress. It allows you to recharge and thrive.
10. Incorporate movement
Integrate movement breaks into your schedule. Physical activity can help regulate attention and boost productivity. Activities like stretching, walking, cycling, or fidgeting can enhance focus during work sessions.
11. Limit multitasking
While multitasking might seem appealing, it can fragment attention, especially for people with ADHD. Focus on one task at a time to maximize efficiency and prevent mental exhaustion.
12. Voice-out to prevent mental clutter
Use tools like voice recording or note-taking apps to externalize your thoughts. This allows you to capture ideas and tasks without feeling overwhelmed by mental clutter.
13. Talk to a mental health professional
A therapist can help you recognize the signs and patterns of unhealthy productivity. They provide a fresh perspective and help you understand how this mindset may be negatively affecting your well-being.
Besides, often, there are deeper factors that contribute to this behavior. Understanding these roots can be essential for making lasting changes.
Talking to a licensed professional is also beneficial for these reasons:
A therapist can teach you healthy coping mechanisms and stress management techniques.
You'll learn to replace self-critical thoughts with more compassionate and realistic ones
Therapists can guide you in setting clear and healthy boundaries in your personal and professional life
Through therapy, you'll develop a stronger sense of self-compassion and self-kindness to value yourself beyond your productivity
A therapist can assist you in reevaluating your goals and priorities. Together, you can determine what truly matters to you and create a more balanced and fulfilling approach to achieving those goals
Get matched with your online therapist at Calmerry. They will help you foster a healthier relationship with work, self-worth, and well-being.
For workplace leaders – spotting early signs is important
In the dynamic landscape of modern workplaces, recognizing the early signs of toxic productivity is crucial. The relentless pursuit of productivity can often lead to burnout, decreased morale, and compromised mental well-being among employees.
Prioritizing the well-being of your employees not only demonstrates compassion but also fuels a sustainable and effective cycle of productivity.
By actively encouraging open conversations about mental health, setting clear boundaries, and promoting self-care, you create a thriving atmosphere where employees feel valued as individuals – not just for their output.
At Calmerry, we offer a mental well-being program for employees tailored to meet the unique needs of your workforce. Our team of experienced mental health professionals and coaches specializes in equipping employees with the tools to navigate challenges, manage stress, and break free from toxic productivity patterns.
By incorporating our solution, you're investing in your employees' mental health and your organization's overall performance.
Let's connect
Book a 30-min demo call with us to learn more about our B2B offering and how Calmerry can help take the pressure off your team through flexible, customizable, and holistic therapy.
See a live demonstration of how platform works
Have an overview of our flexible payment models
Get a tailored offer based on your company needs and number of employees
We curate our articles with warmth and care, drawing from reputable sources and expert knowledge. Explore our editorial process to understand how we prioritize your trust and keep accuracy in every word we share.
Сheck your mental well-being for free: