Published November 2, 2023
The Sense of Belonging in the Workplace: Why It Matters So Much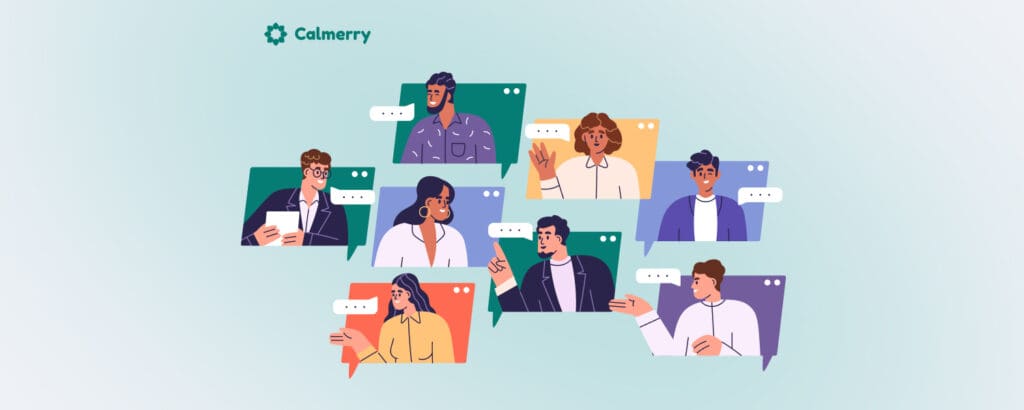 Reading Time:
7
minutes
Belonging…it's a need that is deeply rooted in the human experience.
As humans, we have an innate need to feel as though we are accepted and valued by others. Whether it's a family or a social group, a sports team or a work team, we have a sense of belonging, that we are truly part of the group.
You might think that implementing practices that promote diversity translates to an employee feeling that sense of belonging. While it's certainly important, striving for diversity isn't enough and doesn't necessarily translate to a sense of belonging.
Aside from having a seat at the table, employees want to feel as if they belong in their workplace.
What is belonging in the workplace?
Diversity, inclusion, and belonging are often used interchangeably. They are indeed all important parts of creating a healthy workplace environment, but they are different.
Diversity is about representation and creating a workforce that is reflective of the community in which a company exists. It is based on a company's hiring practices.
Inclusion is about the actions that a company takes to ensure each employee feels that they are a trusted, valued member of the organization. In an inclusive workplace, employees are encouraged to fully participate and grow.
Belonging, unlike diversity and inclusion, is a feeling. It is the subjective experience of the employee that feels like they are a valued and respected part of their work community. They feel safe to be their authentic selves with their unique qualities valued and appreciated.
At the heart of belonging is psychological safety. A true sense of belonging relies on vulnerability and authenticity. One has to feel that they can safely be who they are and not have to "cover up" some part of their identity.
An environment that is psychologically safe is one in which a person feels included, safe to learn, safe to contribute, and safe to challenge the status quo without fear of being embarrassed, marginalized, or suffering repercussions. [1] Kim, S., Lee, H., & Connerton, T. P. (2020). How Psychological safety Affects team performance: Mediating role of efficacy and learning behavior. Frontiers in Psychology, 11. https://doi.org/10.3389/fpsyg.2020.01581

– Dr. Dawn Ferrara, PsyD, Licensed Professional Counselor (LPC), and mental health writer
It's a safe space for interpersonal risk-taking. Individuals feel safe to be their authentic selves and bring ideas and concerns to the team without worrying that they will be ostracized.
Psychological safety has been referred to as the engine of performance, fueled by an atmosphere that highly values the ideas and actions of its employees, allowing them to adapt to challenging tasks. [1] Kim, S., Lee, H., & Connerton, T. P. (2020). How Psychological safety Affects team performance: Mediating role of efficacy and learning behavior. Frontiers in Psychology, 11. https://doi.org/10.3389/fpsyg.2020.01581
Psychological safety has been shown to be a key factor in team effectiveness and performance.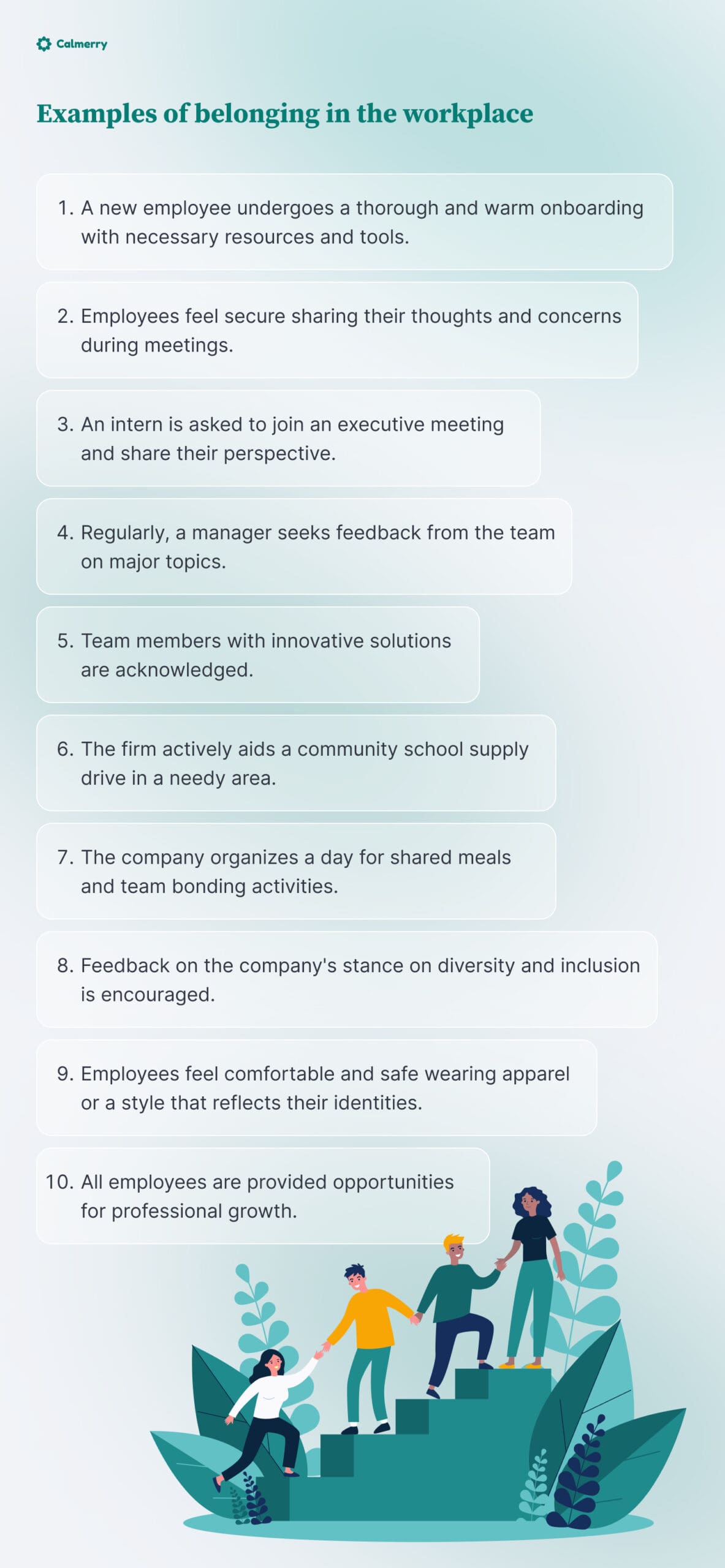 Examples of belonging in the workplace
Belonging is not just a "policy" or a "practice". It's an experience, a feeling, and a very personal one.
In that respect, it can be difficult to envision just what belonging might look like in the workplace. Here are some examples of how belonging in the workplace might be experienced by a person:
A new employee goes through a structured and welcoming onboarding process. They step into their new role feeling prepared with the tools and resources they need to succeed.
A new intern is invited to sit in a high-level executive meeting. They are introduced as a new addition to the team and welcomed. As the meeting progresses, they are asked to share ideas and input. The response is a positive one.
A company hosts a Family Day for its employees and their loved ones. Every employee receives an invitation. It's a day of sharing a meal, fun activities, and creating space to interact with each other on a more personal level.
An employee of 20 years is recognized for their contributions to the company.
A manager makes it a point to ask team members routinely for feedback and suggestions about key issues or decisions.
A team member who had an innovative solution to a problem is recognized for their efforts.
An employee feels that it is safe to share their opinions, ideas, and concerns in their staff meeting.
The company is active in supporting a community school supply initiative in an underserved area of their city.
Employees are informed of and are offered the opportunity to give feedback on the company's commitment to inclusion, diversity, and support for every employee.
An employee feels comfortable and safe wearing apparel or a style that reflects their culture.
Professional growth is encouraged and facilitated via learning and professional development opportunities for every employee.
These are but a few of the many ways that belonging can be experienced.
But these opportunities don't just happen organically. An environment that nurtures a sense of belonging has to be created and cultivated over time.
You can have all the "policies and procedures" in the world and all well-intentioned plans. But if a person doesn't feel like they belong, like they matter, or that it is meaningful to them, then the essence of inclusiveness – belonging – is missing. And the consequences are not just personal for the employee, they're dire for the company's health, too.

– Dr. Dawn Ferrara, PsyD, Licensed Professional Counselor (LPC), and mental health writer
Why is belonging important in the workplace?
The importance of belonging in the workplace can't be understated. Cultivating that sense of belonging benefits both employees and their employers.
In a recent survey, 90% of respondents reported that a sense of belonging was important in the workplace. Nearly half rated a sense of belonging as "extremely important."
60% of respondents reported they feel more engaged, and 60% reported feeling more confident.
38% of respondents reported feeling more inspired and likely to go the extra mile.
46% of respondents said they feel more connected to their colleagues.
35% reported feeling happier, and 17% reported feeling better about themselves.
In the same survey, respondents reported that feeling connected to their work community fostered positive feelings and strengthened intrinsic motivation towards their work.
Some of their top responses to the question "What is the impact when you feel like you belong?" included:
I am more likely to go "above and beyond" for my organization
I am more able to do my best work
I build stronger relationships with my colleagues
I am more productive
I am more effective
I am more committed to staying with my organization
Another recent study found that a strong sense of belonging was associated with:
It is clear that creating a culture of belonging in the workplace benefits both employees and employers. It creates the kind of workplace people want to work in, feel comfortable and safe in, and are invested in its success.
Employees know that the company values and respects their unique contributions and is invested in providing a welcoming, diverse, and inclusive workplace.
5 key components of belonging
While there are a lot of ways to define belonging, five key components emerge.
Understanding these aspects of belonging and what your employees need can help you begin to create that culture of belonging so critical to a healthy workplace environment.

– Dr. Dawn Ferrara, PsyD, Licensed Professional Counselor (LPC), and mental health writer
1. Feeling valued and appreciated
People need to know that they are valued and appreciated by their coworkers and their employer. They want to know that their contributions matter.
2. Feeling included
Whether it's a meeting, decision-making or even a social event, people want to feel included, that their presence is valued.
Being included in decision-making when the decision directly affects them is a need that employees note as particularly important to them.
3. Feeling like a team
Employees want to feel that they are working together/collaborating on a common goal and have good relationships with their team members. People want to feel comfortable with and valued by their colleagues.
4. Being heard
People want to feel that their voice is heard by their colleagues. Being asked for their input and being able to speak their minds without fear helps foster the feeling of being heard and valued.
5. Being accepted for who I am
People want to feel that they can be their authentic self without fear or the need to "cover" or "hide" certain aspects of themselves. The absence of microaggressions can help to increase that sense of authenticity and acceptance.
How to create a sense of belonging in the workplace
Creating a sense of belonging in the workplace can be challenging. Even with all the "things" in place, creating that sense of belonging for every person can be elusive.
The experience is still a subjective one, and people experience it in different ways. The key is knowing your workforce and understanding who they are and what resonates with them.
Here are some ways to promote belonging in the workplace and create a space that is safe and welcoming for all.
Welcoming new employees
Welcoming new employees starts with onboarding. A welcoming, warm, and structured onboarding process can set the tone going forward.
Employees start off with the tools and knowledge they need to be successful. It also signals that the company has given thought and assigned importance to how new employees are brought into the environment.
Create opportunities to build connections
Encourage interaction and social connections. Team retreats, family day events, celebrations of team milestones all offer the opportunity to get to know each other and build a sense of camaraderie.
Celebrate success
Adopt initiatives that recognize and honor the unique contributions of employees. Some ways to do that might include incentives, rewards, promotions, or tokens of appreciation for things like contributions, successful completion of projects, or even a person's contributions to their community.
The important thing is to recognize employees' unique accomplishments or efforts.
Offer meaningful benefits and initiatives
Provide benefits that are available to everyone and promote employee wellness. Things like flexible schedules, educational programs or employee wellness programs can help to demonstrate support and caring for employees.
Organize or participate in events that promote diversity or celebrate underrepresented groups or communities (e.g., International Women's Day or Martin Luther King Day).
Recognition like this promotes awareness and speaks to the value of every person and what they bring to the team and their community.

– Dr. Dawn Ferrara, PsyD, Licensed Professional Counselor (LPC), and mental health writer
Model inclusive leadership
When the team is faced with decisions, listen to all the voices on the team. Be open to idea sharing.
When people feel they're part of the decision-making process, they're more likely to be invested in its success and work together towards the common goal.
Promote open communication
Cultivate an environment where every voice and every viewpoint are valued. Provide and encourage opportunities for open communication. Have regular staff meetings. Talk about pertinent issues and encourage the sharing of alternative viewpoints and ideas.
Create opportunities for growth
Create opportunities for professional growth and development. Without opportunity for growth, employees can feel stuck and isolated. Have clear paths for advancement and the training or educational resources to help employees thrive.
Prioritize diversity and inclusion
Lead by example. Create and maintain a psychologically safe space where employees feel safe to share and learn. Advocate for diversity and inclusion initiatives.
Prioritize mental health
Employee mental health has come to the forefront of workplace issues, especially in the wake of the pandemic. Providing access to mental health services and resources is a way to signal care and support for employees.
Rather than waiting until a mental health issue arises, encourage employees to prioritize their mental wellness.
Some ways to support employee mental health include:
Encouraging self-care (e.g., using time off, setting boundaries)
Consider flexible scheduling or task-sharing
Talk about mental health. Provide access to information about mental health and mental health resources.
Prioritize diversity, equity, and inclusion.
Include employee mental health services (e.g., employee assistance programs or educational resources) and coverage for mental health in employer health plans.
When help is needed
One of the biggest challenges people have when seeking help is knowing where to go and how to make time.
For employees, there's always the worry about taking time off for personal needs.
For managers, knowing how to help an employee who may be struggling with a mental health concern and connect them with the right help isn't always easy to navigate.
Calmerry offers coaching services to help you help them find the right help at the right time.
Coaching is one of the best ways to help managers develop inclusive behaviors, create a culture of belonging, and help employees respond in ways that help bolster their own and others' sense of belonging.
At Calmerry, we believe that mental health care should be readily accessible when someone is in need.
We have experienced therapists ready to help. When your employee calls for help, they can be matched with a mental health professional within one hour and start therapy in one to two days.
There's no waiting weeks or months for an appointment. And there's no complicated process to get started. One call – and they're on their way to getting the help they're seeking.
Let's connect
Book a 30-min demo call with us to learn more about our B2B offering and how Calmerry can help take the pressure off your team through flexible, customizable, and holistic therapy.
See a live demonstration of how platform works
Have an overview of our flexible payment models
Get a tailored offer based on your company needs and number of employees
We curate our articles with warmth and care, drawing from reputable sources and expert knowledge. Explore our editorial process to understand how we prioritize your trust and keep accuracy in every word we share.
Kim, S., Lee, H., & Connerton, T. P. (2020). How Psychological safety Affects team performance: Mediating role of efficacy and learning behavior. Frontiers in Psychology, 11. https://doi.org/10.3389/fpsyg.2020.01581
Сheck your mental well-being for free: