Published July 11, 2023 / Updated July 18, 2023
BIPOC Mental Health: Challenges, Trends, Disparities, and Care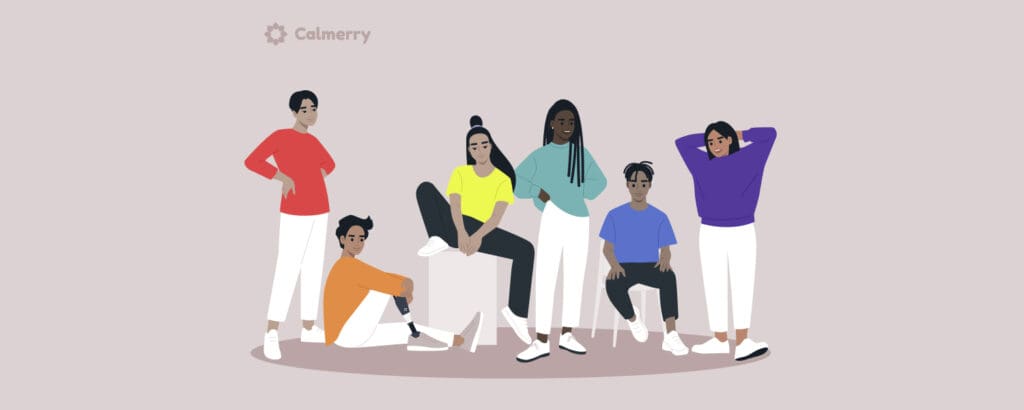 Reading Time:
8
minutes
July is BIPOC Mental Health Awareness Month. Today, we celebrate the resilience of Black, Indigenous, and People of Color while recognizing the injustices that have been (and continue to be) perpetrated.
Racism and historical trauma undoubtedly affect BIPOC mental health. Here, we've included information about the challenges and disparities in BIPOC mental health care as well as resources and self-care tips.
What does BIPOC stand for?
BIPOC stands for "Black, Indigenous, and People of Color." It's a term that's used to describe non-white people, including Black people, Indigenous and Native people, non-white Latinx people, Asian people, Pacific Islanders, Middle Eastern and Arab people, and more.
We use this term when speaking about issues that affect all People of Color (non-white people). However, it's important to distinguish the specific group you're talking about rather than grouping all POC together.
BIPOC is not a monolith, and there are many different cultures, identities, and experiences reflected in this term. For example, many mental health and economic disparities only affect Black Americans. Others only affect Asian Americans, while others may affect all POC immigrants.
When talking about these groups, we should refer to them specifically – "Black people," "Asian Americans," etc. – rather than grouping us all together using "BIPOC."
BIPOC mental health statistics
Here are some statistics about the state of BIPOC mental health in the United States (both BIPOC as a whole as well as specific groups):
In 2020, 44% of BIPOC (non-white) individuals reported that racial discrimination was a cause of significant stress in their daily lives.
Nearly 48% of Black Americans report racism and racial discrimination as a source of significant daily stress.
Black Americans are twice as likely to report feelings of sadness, hopelessness, and worthlessness as white people.
Native and Indigenous Americans face higher rates of post-traumatic stress disorder than any other racial group.
Mixed/multiracial people are the racial group most likely to face mental health problems – over 35% of them experience mental illness every year. Mixed-race people are more likely to have depression, anxiety, substance use disorder, eating disorders, and more compared to monoracial individuals.
Rates of mental illness are higher for U.S.-born Asian Americans and non-white Latinx than foreign-born.
Mental illness rates and suicidal thoughts are on the rise for Asian Americans and Native Hawaiians, Black Americans, and non-white Latinx.
Black female high schoolers are now 60% more likely than their white peers to attempt suicide.
In general, Black Americans (across all ages) are less likely to die by suicide than white Americans.
American Indian/Alaskan Native young people (aged 15 to 24) in the United States are twice as likely to die by suicide than their white counterparts.
Only 37% of Black Americans seek treatment for mental health concerns opposed to over 50% of white Americans.
Asian Americans have the lowest rates of mental health treatment access; only 25% of Asian Americans with mental illness receive treatment.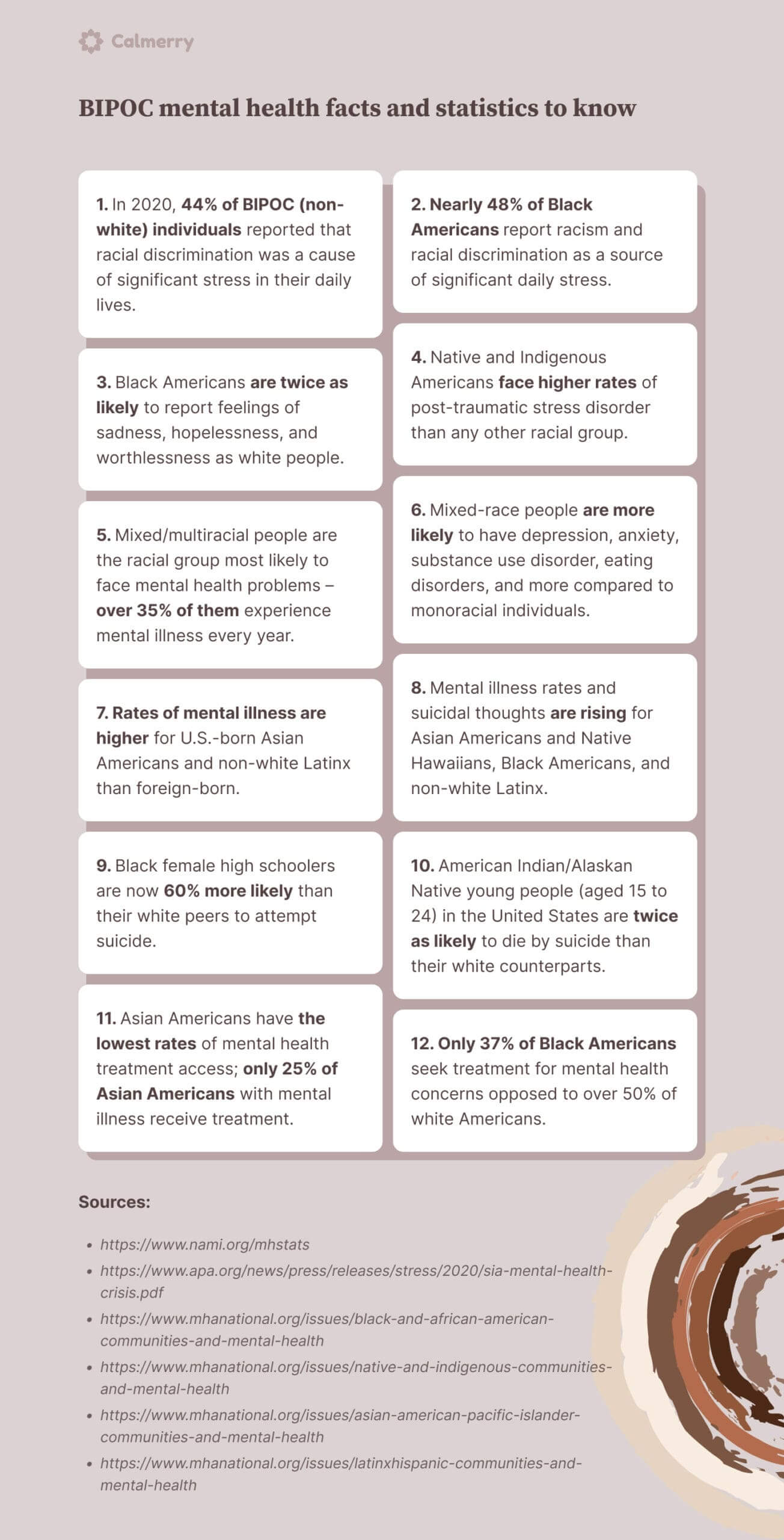 BIPOC mental health experiences and challenges
As the above statistics show, BIPOC experience unique challenges regarding mental health care and treatment access, especially in the United States.
Systemic racism and discrimination
A large proportion of BIPOC, especially Black Americans, report that racism is a source of daily stress for them. In a country – and the world – that still has a long way to go to achieve true racial equity, this comes as no surprise.
BIPOC faces racism, both individual and institutional, every single day. And racism causes trauma – the emotional reaction to a life-threatening event. This racial trauma can then turn into other mental health problems like anxiety or depression.
It isn't just about overt racism like someone calling you a slur or committing a hate crime in your community – although that does continue to happen. Some racism is more "subtle" but is just as damaging. 
Some examples include:
Mass incarceration of and police violence against people who look like you
Not seeing your race adequately or appropriately represented in media
Facing microaggressions at work or in your personal life due to race
Medical professionals making assumptions about you based on your race
Economic inequality
Disparities in housing, healthcare, and education access
Being denied employment due to your race
Having to live with the chronic fear of being discriminated against
Research has shown that racism changes the way our brains respond to threats – in the same way that other traumatic events do.
In one study, Black women who had experienced racial trauma were more likely to experience hypervigilance, or being hyperaware of their surroundings. Other studies have found that Black Americans are more blunted against stressors like loud sounds.
All of these factors combined can lead to significant mental health struggles for Black Americans and other BIPOC.
Historical/generational trauma
Generational trauma is when trauma is passed down from one generation to the next. We now know that the effects of trauma don't stop with one person – their descendants can continue experiencing the negative consequences of trauma for years afterward.
The term "historical trauma" refers to generational trauma that affects a specific racial or cultural group. Some examples of historical trauma that BIPOC in the U.S. have been through include:
Slavery
Violent colonization of Native Americans
Indian Boarding Schools and forced assimilation
Jim Crow lynchings
Incarceration of Japanese Americans during World War II
Mass incarceration of Black and Brown Americans
Widespread police violence against Black Americans
Anti-Asian hate crimes
Incarceration of Latin American immigrants
The effects of these horrific and traumatic events are long-lasting. BIPOC individuals today are starting to heal, within their communities, from the mental health effects of historical trauma.
Poverty
Economic disparities also have an enormous impact on mental health, in general, but especially for BIPOC. And because of racism and discrimination, most BIPOC groups are more likely to live in poverty than white Americans.
As of 2018, 1 in 5 Black Americans lived in poverty.
Although Asian Americans have a higher median income than white people, there are also more Asian Americans who live in poverty. Over 12% of Asian Americans live in poverty (compared with under 10% for non-Hispanic whites).
Over one-fifth of Latinx minors live in poverty.
Black American children are 3 times more likely to live in poverty than white children.
In 2019, Black Americans earned 61 cents for every dollar the average white American made. Latinx Americans made 74 cents for every dollar.
The link between poverty and mental health concerns has been well-documented. Living with financial stress and economic insecurity can raise your risk for depression, substance use disorder, anxiety, and more.
Disparities in healthcare access
Living in poverty can also diminish the access you have to quality healthcare, especially in the United States.
8.3% of the U.S. population is uninsured. This number includes 5.7% for non-Hispanic white people.
Comparatively, nearly 19% of people identifying as American Indian or Alaskan Native are uninsured.
17.7% of Hispanic/Latinx people are uninsured.
Over 10% of Black Americans have no health insurance.
Fewer than half of Black and Hispanic children living with their parents are insured.
Without health insurance, it becomes difficult – maybe even impossible – to receive quality mental health care.
Cultural and language barriers
Even if people do have health insurance, it can be difficult for BIPOC – especially immigrant groups – to receive culturally competent care.
For example, over a third of Asian Americans do not speak English fluently. This means that many Asian people will not have access to mental health care, because there aren't enough providers who can speak their languages.
Even for BIPOC who do speak English, there could be a mismatch of cultures. Having a therapist who shares your racial and cultural identities can make for a more effective therapeutic relationship. For example, studies show that Black clients have better mental health outcomes when they work with a Black therapist.
When there aren't enough mental health providers in the community who share our cultural backgrounds – often due to economic and educational disparities – that can become a barrier to treatment access.
Cultural differences and stigma
Lastly, some cultural groups have a different understanding of mental health which may make it difficult or uncomfortable for them to seek care – especially from providers who aren't familiar with their customs.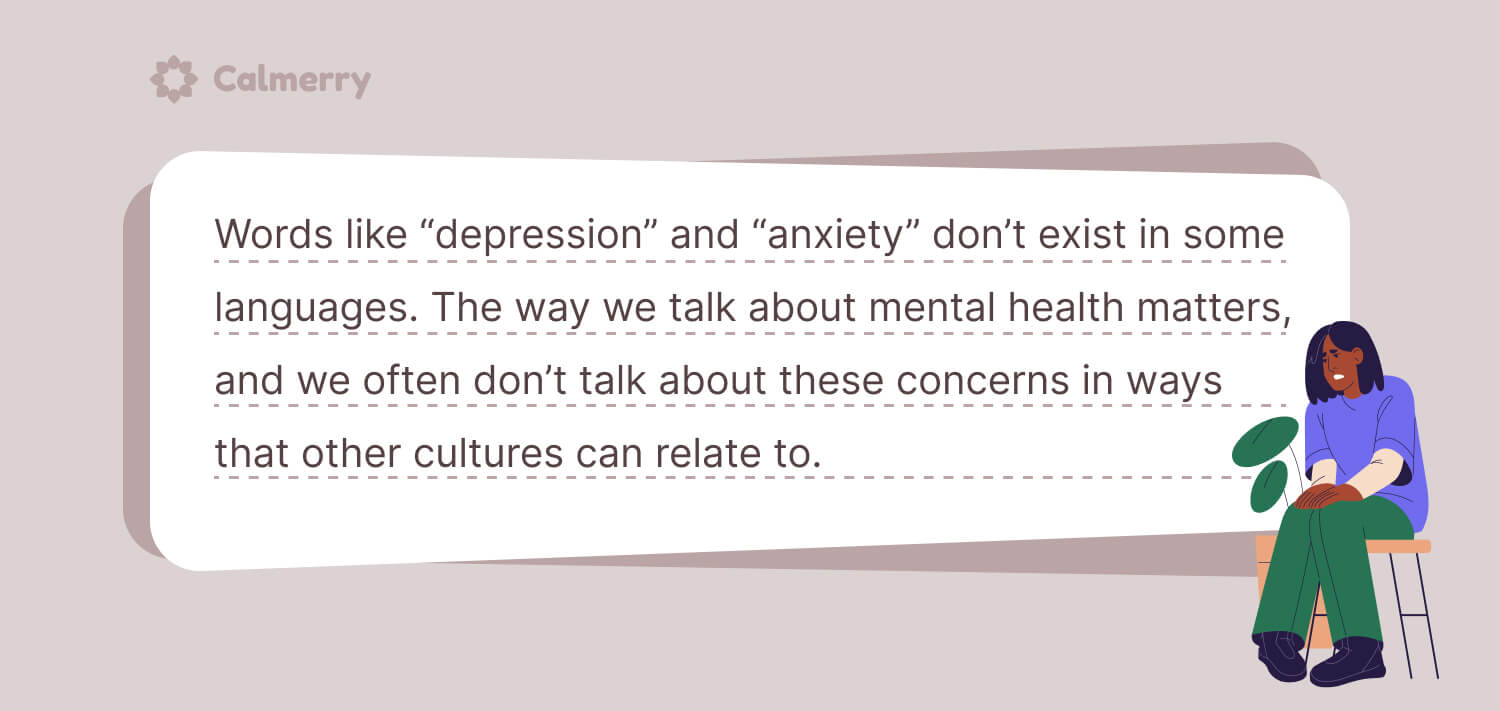 For example, words like "depression" and "anxiety" don't exist in some languages. The way we talk about mental health matters, and we often don't talk about these concerns in ways that other cultures can relate to.
On top of that, there may also be a higher stigma against receiving mental health care in some cultures. There may be cultural beliefs against sharing private matters with others outside of the family. There could be an understandable mistrust of medical or government professionals. Others may prefer other types of help, like from a spiritual guide.
How you can take care of your mental health
Many of the factors contributing to mental health issues in BIPOC communities need to change on a fundamental societal level. For example, as long as racism and inequality continue, then BIPOC will face additional stressors that unjustly affect their mental health.
This paints a grim picture, but BIPOC has so many strengths and protective factors as well that can help support our mental health.
While we work toward equality in all its forms in the U.S., there are ways that you can take care of your mental health and build resilience.
Connect to community
Community and a strong social support network can protect us against stressors and mental health issues. Although it's not necessary that your inner circle shares your racial or cultural identity, it can help.
People who are part of our racial group may be able to understand us in ways that others can't. This can make us feel less alone in our experiences.
Community can look a lot of different ways. For example, for some people, their community could be their church, while others could connect to student groups at their university. Or your community could be a group of people who share your interests, regardless of race and ethnicity.
No matter where you find community, the important thing is that you feel you have other people you can trust and count on.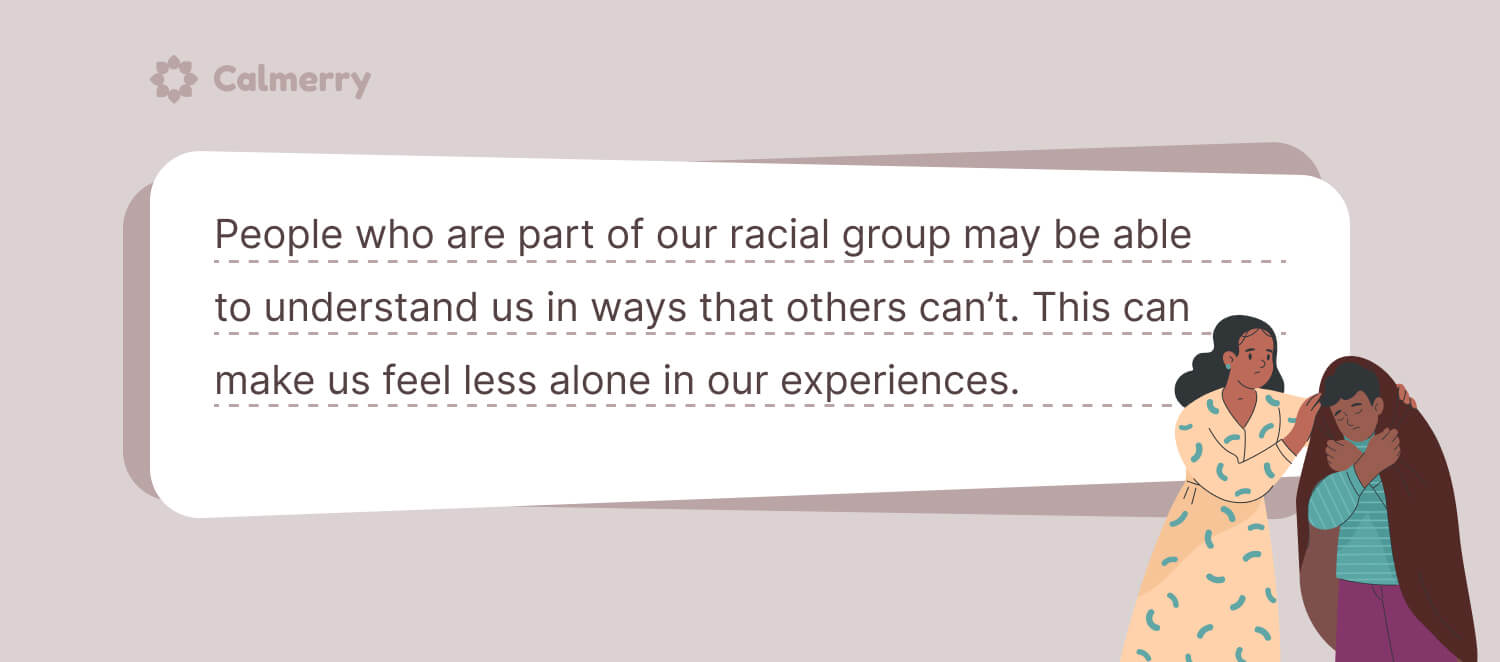 Take pride
Another way to build mental resilience, especially in the world today, is to take pride in your culture and race. Connecting to cultural values can also help many BIPOC, especially foreign-born BIPOC, to take care of their mental health.
For example, studies showed that Japanese Americans more connected to their cultural values fared better during the imprisonment of World War II than Japanese Americans who felt more disconnected.
Attend community gatherings. Find ways to feel and show pride in the fullness of who you are.
Prioritize self-care
Living in this world as a BIPOC is exhausting. The constant microaggressions, racial trauma, fighting against injustice, and more can take a toll on mental health.
Although self-care isn't a cure-all – it won't fix the very real societal problems that are causing you to feel this way – it's still very important.
Self-care doesn't have to be about having a spa day. It's about taking care of your physical and mental health in a basic way. Get enough sleep every night. Nourish yourself with tasty and healthy meals. Don't isolate yourself. Go out for walks and fresh air.
Not only do you need self-care, you deserve it!
Find practitioners who understand
Lastly, consider going to therapy with mental health practitioners who either share your race and identity or have done deep anti-racism work to be able to understand you.
At Calmerry, we have a large and diverse community of licensed and culturally competent practitioners who can provide compassionate and effective online therapy for BIPOC clients. We strive to level the playing field in terms of mental health access and ensure that every person who needs it has access to quality care.
BIPOC mental health resources
In addition to Calmerry therapists, here are some more resources committed to supporting BIPOC mental health.
Therapist directories
Online resources and toolkits
Chat & Hotlines
Subscribe
to our mental health digest
Let us support you on the way to better mental well-being. Get expert tips and insights on mental health delivered to your inbox monthly.
Сheck your mental well-being for free: