Published October 16, 2023
"I'm Feeling Lonely": 11 Common Causes of Loneliness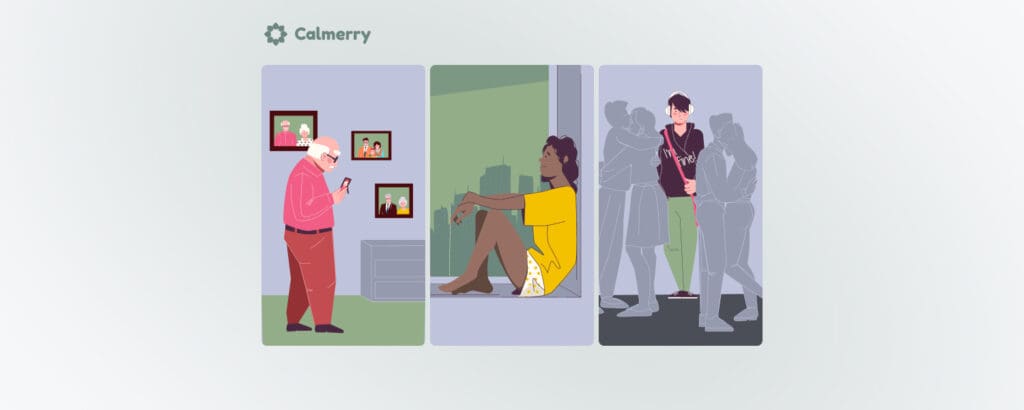 Reading Time:
6
minutes
Loneliness is relatively common. In one study with just over 15,000 adults, 10.5% of participants indicated that they experienced loneliness to some degree, with 1.7% stating that they experienced loneliness causing significant distress. [1] Beutel, M. E., Klein, E. M., Brähler, E., Reiner, I., Jünger, C., Michal, M., Wiltink, J., Wild, P. S., Münzel, T., Lackner, K. J., & Tibubos, A. N. (2017). Loneliness in the general population: prevalence, determinants and relations to mental health. BMC Psychiatry, 17(1). https://doi.org/10.1186/s12888-017-1262-x
If you're feeling lonely, you might be wondering what's causing you to feel this way. Understanding the underlying cause of your lonely feelings can help you identify the root of the problem so that you can begin to move beyond it.
What causes loneliness?
There isn't one singular cause of loneliness; instead, feeling lonely can arise from various factors or situations.
Some of these causes of loneliness will simply get better with time, whereas others may require you to make changes or seek some sort of intervention, such as counseling.
Consider some of the most common causes of loneliness, described in more detail below. While not all loneliness can be attributed to these factors, you might find that one of them describes your situation.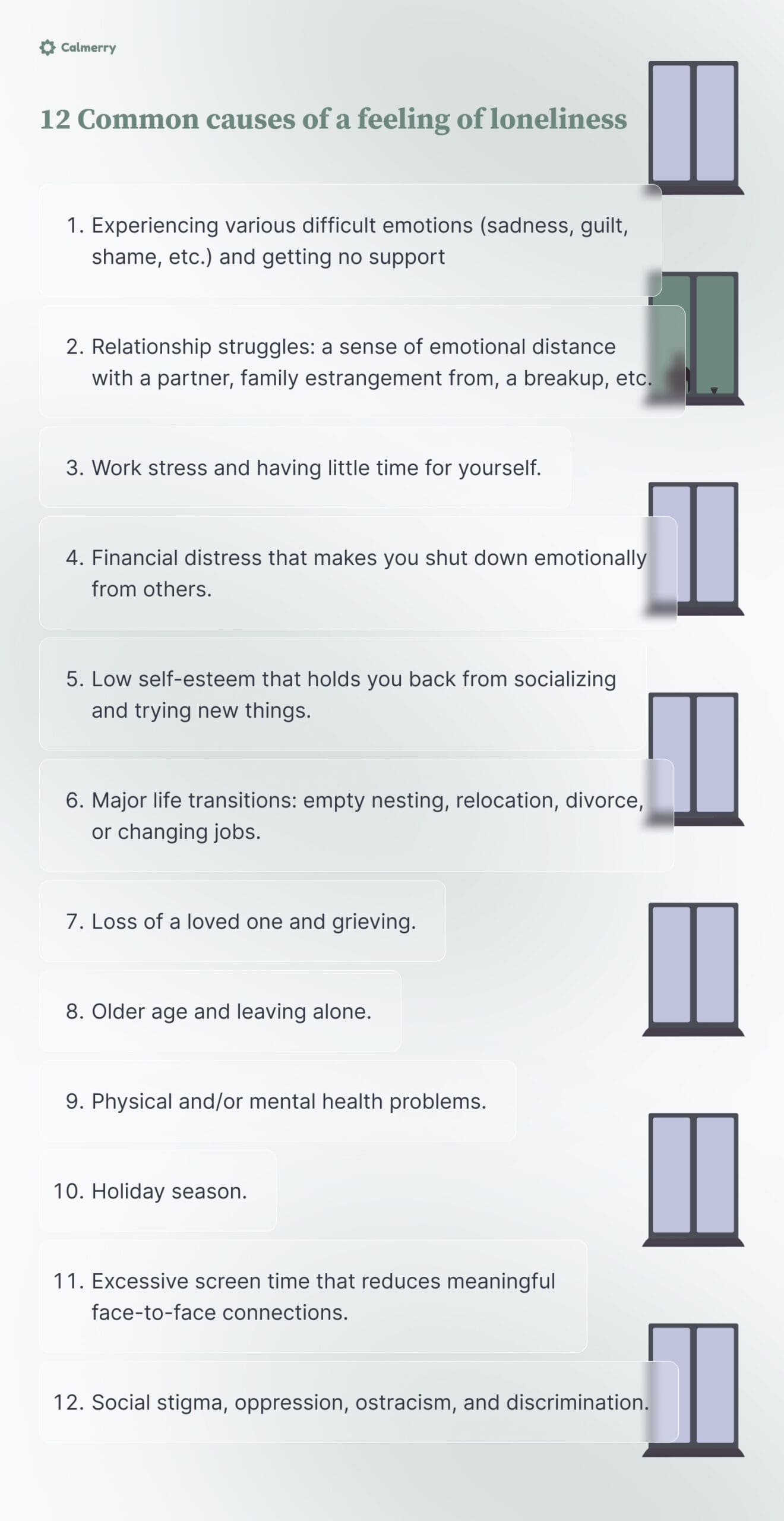 1. Difficult emotions
Loneliness can sometimes arise during periods when you're experiencing a variety of different "negative" emotions. For example, if you're experiencing sadness or guilt, you might also experience loneliness.
In some cases, these "negative" emotions may indicate a larger mental health problem, such as depression. In fact, research with young adults has found that loneliness is strongly related to depression. [2] Matthews, T., Danese, A., Wertz, J., Odgers, C. L., Ambler, A., Moffitt, T. E., & Arseneault, L. (2016). Social isolation, loneliness and depression in young adulthood: a behavioural genetic analysis. Social Psychiatry and Psychiatric Epidemiology, 51(3), 339–348. https://doi.org/10.1007/s00127-016-1178-7
When you're coping with a negative emotional landscape, you might feel quite isolated, as if you don't know where to turn for support. In this case, you might benefit from talking with a therapist to help you develop coping strategies for depression or whatever difficult emotions are bothering you.
2. Relationship struggles
Relationship struggles, which can take on many forms, can also lead to loneliness. This might involve isolation or estrangement from family and close friends, or dealing with the aftermath of a breakup.
Some people may experience loneliness if they've struggled to form social connections, especially with a romantic partner. Research suggests that individuals without a significant other are more likely to report feeling lonely. [1] Beutel, M. E., Klein, E. M., Brähler, E., Reiner, I., Jünger, C., Michal, M., Wiltink, J., Wild, P. S., Münzel, T., Lackner, K. J., & Tibubos, A. N. (2017). Loneliness in the general population: prevalence, determinants and relations to mental health. BMC Psychiatry, 17(1). https://doi.org/10.1186/s12888-017-1262-x
Feeling lonely in a relationship is also possible. This problem might occur if there is significant conflict within the relationship or you've grown apart over time, leading to a sense of emotional distance. 
3. Work-related stress
If you notice yourself thinking, "I'm feeling very lonely and isolated!" it's possible that your job is to blame.
When you're experiencing stress in the workplace, you might find yourself working long hours and having little time for yourself.
Job stress can also lead you to isolate yourself from others, causing additional feelings of loneliness. You might be worried about bringing stress from work home, so you avoid confiding in your spouse or significant other.
Or, you might be so exhausted from work that you're just not interacting with friends like you normally do.
All of these factors can make you feel alone.
4. Financial distress
Perhaps you've experienced job loss, or you're dealing with a major unexpected expense, such as a house repair or a costly medical problem.
Additionally, you could be coping with the effects of inflation or recession and find that your wages aren't keeping up with increases in monthly expenses.
When you find yourself in a financial bind, your stress levels are likely to increase. In this scenario, you could begin to shut down emotionally and close yourself off from others. Maybe you're worried they will judge you negatively for your financial woes, or you don't want to burden others with your problems.
Regardless of the exact scenario, financial distress can be quite isolating.
Research conducted during the COVID-19 pandemic found that financial strain was associated with loneliness. [3] Refaeli, T., & Achdut, N. (2021). Financial Strain and Loneliness among Young Adults during the COVID-19 Pandemic: The Role of Psychosocial Resources. Sustainability, 13(12), 6942. https://doi.org/10.3390/su13126942 Social scientists have speculated that financial distress leads to poor mental health in general, including feelings of hopelessness.
It can also cause strain in important relationships, leading to elevations in loneliness.
5. Low self-esteem
When you're feeling down about yourself, you may also start to feel lonely. In cases of low self-esteem, you may worry that others will not like you, so you may not bother trying to connect with others.
Low self-esteem can also hold you back from trying new things because you feel you won't be good at them anyway. This can result in social withdrawal and isolation.
6. Major life transitions
Major life transitions, such as children heading off to college, relocating to a new city, or changing jobs, can leave you feeling lonely.
In the case of children moving away, the quietness in the house and lack of activities like youth sports or school celebrations can create an air of loneliness.
Changing jobs or moving to a new city requires you to leave behind old colleagues and friends, which can also make you feel more lonely.
After a major transition, it can take time to adjust and rebuild new social connections.
7. Loss of a loved one
Experiencing the loss of a loved one can lead to loneliness. In fact, numerous studies have shown that loneliness is moderately to highly prevalent during bereavement. [4] Vedder, A., Boerner, K., Stokes, J. E., Schüt, H., Boelen, P. A., & Stroebe, M. (2022). A systematic review of loneliness in bereavement: Current research and future directions. Current Opinion in Psychology, 43, 48–64. https://doi.org/10.1016/j.copsyc.2021.06.003
In many cases, loneliness improves over time, peaking soon after the loss and then slowly decreasing as time goes on.
For some people, loneliness can be long-lasting and debilitating, suggesting they may benefit from grief counseling to help them heal.
8. Older age
Older adults are particularly vulnerable to feelings of loneliness. As researchers have explained, old age is associated with less social engagement. [5] Berg‐Weger, M., & Morley, J. E. (2020). Loneliness in Old Age: an unaddressed health problem. Journal of Nutrition Health & Aging, 24(3), 243–245. https://doi.org/10.1007/s12603-020-1323-6 Older adults are also more likely than younger individuals to live alone.
Loneliness can be particularly severe among older adults coping with medical problems, such as heart disease and dementia, making it difficult for them to participate in activities and social gatherings. [5] Berg‐Weger, M., & Morley, J. E. (2020). Loneliness in Old Age: an unaddressed health problem. Journal of Nutrition Health & Aging, 24(3), 243–245. https://doi.org/10.1007/s12603-020-1323-6
Younger adults with medical problems can also experience loneliness. But the problem is often more prevalent among older adults, who may live alone or have experienced the loss of family, friends, and potentially their spouse.
9. The holidays
Most of us probably feel especially connected with family and friends during the holiday season, when we travel to visit family or spend extra time with friends during cocktail parties or other outings.
However, the holidays can mean loneliness for some people.
Spending holidays alone when everyone around you is getting together with loved ones can be especially isolating. This might occur if you're dealing with family conflict, living far from family, or going through a divorce or breakup. [6] Routledge. (n.d.). Merry Christmas and Happy New Year! The impact of Christmas rituals on subjective well-being and family's emotional climate. Taylor & Francis. https://www.tandfonline.com/doi/abs/10.1174/021347411797361347
10. Excessive screen time
It's no secret that the digital world plays a critical role in our lives. Many of us have constant access to social media, video games, and various communication apps.
In some respects, this technology increases our social engagement. After all, email, social media, and video conferencing platforms allow us to connect with friends and family across the globe.
On the other hand, when screen time reduces or eliminates meaningful face-to-face connections, we may begin to feel isolated, especially if screen time is excessive.
Some research has shown that Internet use and loneliness are connected, suggesting that technology can be problematic in some cases. [7] MacDonald, K. B., Patte, K. A., Leatherdale, S. T., & Schermer, J. A. (2022). Loneliness and screen time usage over a year. Journal of Adolescence, 94(3), 318–332. https://doi.org/10.1002/jad.12024
11. Stigma and discrimination
Being part of an ostracized or oppressed group can also lead to feelings of loneliness. Individuals who belong to these groups may feel isolated or alone because of discrimination and stigma.
Research with marginalized groups has found that many of these individuals deal with feeling lonely.
In addition to belonging to a racial or ethnic minority group, identifying as LGBTQ+, having a disability, living with mental illness, or being homeless can lead to marginalization and a feeling of isolation.
How therapy for loneliness can help
There are numerous factors that can make a person feel more lonely. If you're looking for solutions for how to deal with loneliness, therapy may help.
A therapist can help you develop healthy coping skills so that life stressors like financial problems, transitions, and loss do not lead to isolation and feeling lonely.

– Dr. Jenni Jacobsen, PhD, Licensed Social Worker (LSW), mental health writer
If you're dealing with relationship conflict, a therapist can also help you to develop stronger communication and problem-solving skills.
In addition, therapy can help to treat mental and emotional health problems, such as depression and low self-esteem. Through sessions with a therapist, you can learn to change unhelpful or distorted thinking patterns that perpetuate negative emotions and lead to loneliness.
A therapist may even help you to reframe your thinking so that you can enjoy solitude rather than viewing it in a negative light. This can be especially helpful if you're going through a breakup.
The bottom line is that therapy can make a real difference for those coping with feelings of loneliness, regardless of the underlying cause. Therapists are trained in multiple different methods that can help people overcome negative emotions, enhance their coping skills, and lead more fulfilling lives.
Try online therapy on Calmerry
In-person therapy can be beneficial, but some people may prefer online therapy, especially if they live in a rural area or struggle to make time to drive to an office for appointments.
At Calmerry, we offer online sessions with licensed and credentialed therapists. So you can connect with a professional from the convenience and privacy of home – and start therapy within 1-2 days.
Visit our webpage or start a brief survey now.
We curate our articles with warmth and care, drawing from reputable sources and expert knowledge. Explore our editorial process to understand how we prioritize your trust and keep accuracy in every word we share.
Сheck your mental well-being for free: