Published October 19, 2023
Why You're Feeling Lonely in a Relationship and What to Do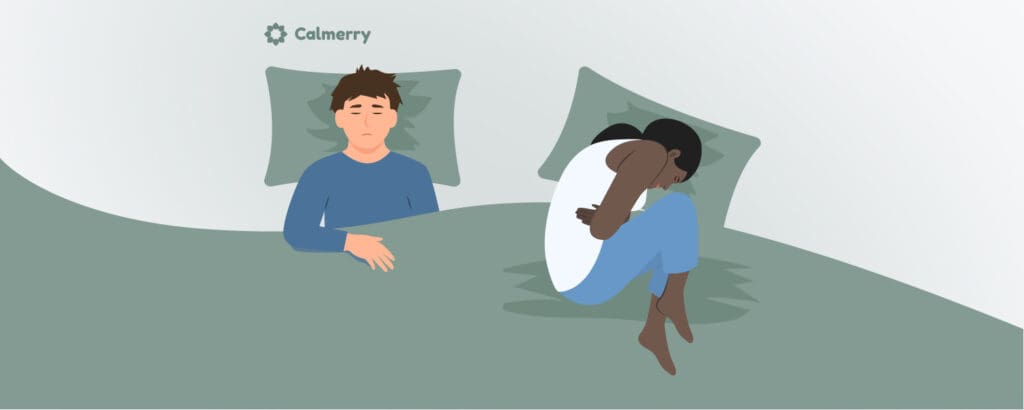 Reading Time:
6
minutes
Loneliness doesn't just feel upsetting. It can also take quite a toll on physical and mental health.
In fact, studies show it's linked to depression, psychological distress, inflammation, heart disease, and other chronic health conditions. [1] Abshire, D. A., Graves, J. M., Amiri, S., & Williams-Gilbert, W. (2020). Differences in loneliness across the Rural‐Urban continuum among adults living in Washington State. Journal of Rural Health, 38(1), 187–193. https://doi.org/10.1111/jrh.12535
Being in a relationship might protect you from being lonely. After all, having a partner means you have someone to share holidays with, turn to when you're stressed, and simply navigate life with, through good and bad.
However, being in a marriage or long-term relationship doesn't always protect you from becoming lonely. If you're feeling alone in a relationship, there are several underlying causes to consider.
Below, learn about signs of loneliness in a relationship, as well as contributing factors, and what you can do to stop feeling so alone.
Signs that you are alone in a relationship
We all probably have a general idea of what it means to be lonely, but if you're in a relationship, you may think it's not possible to feel alone. While this does seem logical, the truth is that you can be in a marriage or long-term partnership and still struggle with loneliness.
If you're not sure if you're truly feeling lonely, it's helpful to understand some of the signs of loneliness in a relationship. [2] Hughes, M. E., Waite, L. J., Hawkley, L. C., & Cacioppo, J. T. (2004). A Short Scale for Measuring Loneliness in Large Surveys: Results From Two Population-Based Studies. Research on aging, 26(6), 655–672. https://doi.org/10.1177/0164027504268574
You feel like you have no one to turn to
It seems that you lack companionship
You don't feel close to your partner
You and your partner don't share many interests
You worry that your partner doesn't know you very well
You feel like your partner is physically but not emotionally present
Your partner does activities without you, and you feel left out
You find yourself feeling unhappy and withdrawn
The signs above suggest that you're not feeling emotionally connected or supported, which can leave you feeling as if you're alone, even when you have a partner.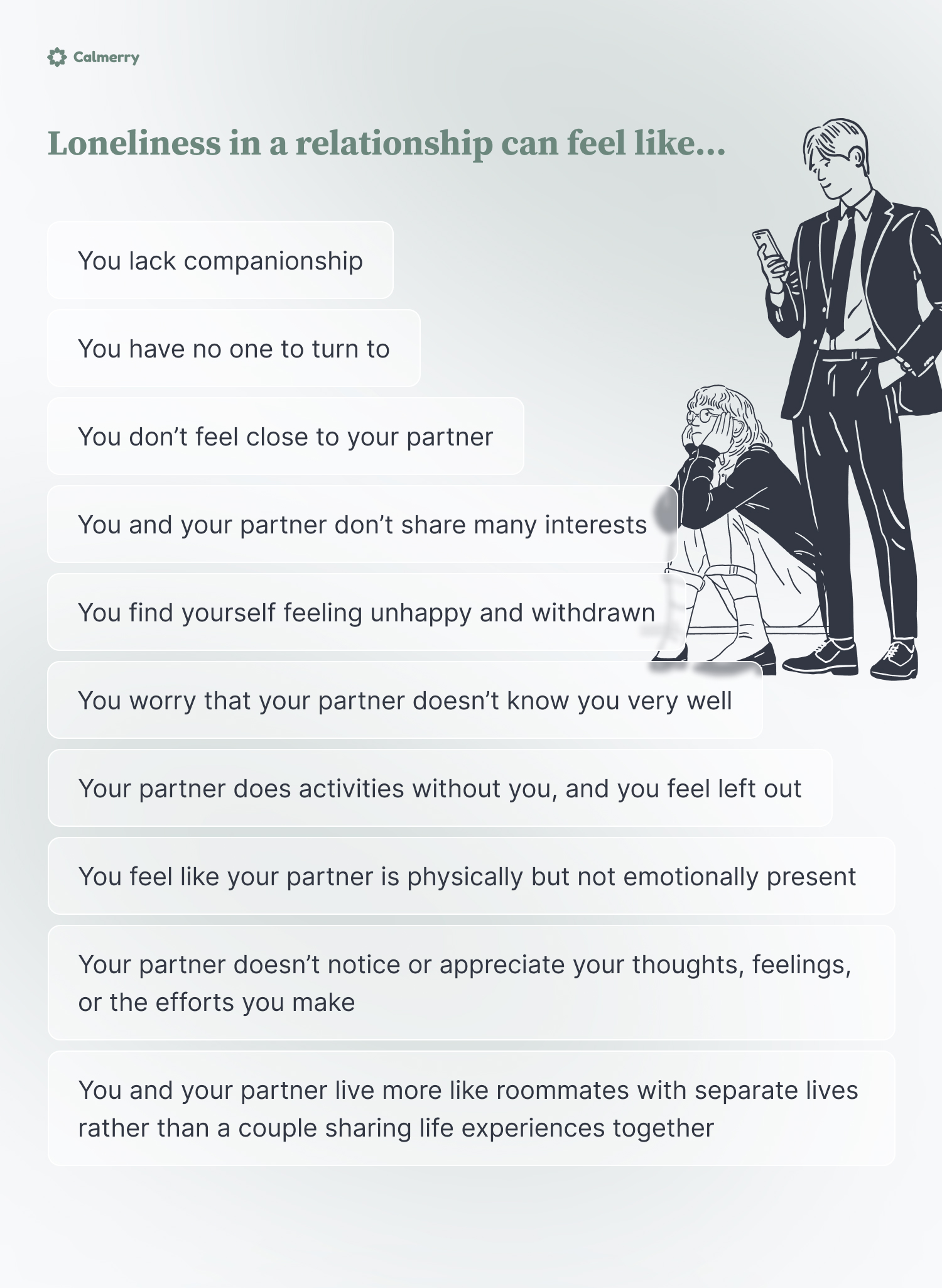 Why do I feel lonely in my relationship?
If you're in a relationship but feel alone, you might be confused. Perhaps you see happy couples around you, and you worry that you're doing something wrong.
The truth is that there are several causes of loneliness, and some of them can have a direct impact on your relationship, leading to lonely feelings, even when you're with a long-term partner. 
The specific factors contributing to loneliness in relationships are discussed below in more detail. 
1. Your emotional needs aren't met
We all have emotional needs in a relationship. These can include factors like acceptance, affection, open communication, validation, and quality time spent together. 
If you aren't feeling heard, or it seems like your spouse or significant other doesn't respect or make space for your feelings, it's possible to feel lonely.

– Dr. Jenni Jacobsen, PhD, Licensed Social Worker (LSW), mental health writer
This problem might arise if you've communicated your needs to your partner several times, and they seem to disregard them. For instance, perhaps you share that you need to feel that time together is a priority, but they continue to appear distracted by their phone during every date night.
Over time, the lack of attention to your emotional needs can make you feel quite isolated.
2. You or your partner are struggling with attachment issues 
Childhood attachment issues can also lead to isolation and loneliness in relationships. As children, it's important for us to develop healthy emotional bonds with our parents or caretakers.
If we bond well with our caretakers and trust that we can rely upon them to keep us safe and nurtured, we develop what's called a secure attachment. 
On the other hand, if our parents or primary caretakers are distant, inconsistent, or abusive, we will develop an insecure attachment because we learn that we cannot count on important people to care for us.
Unfortunately, this insecure attachment pattern can affect us well into adulthood, including our romantic relationships. Research has found that having an insecure attachment pattern is linked to lower-quality relationships and, in turn, increased loneliness within these relationships. [3] Givertz, M., Woszidlo, A., Segrin, C., & Knutson, K. (2013). Direct and indirect effects of attachment orientation on relationship quality and loneliness in married couples. Journal of Social and Personal Relationships, 30(8), 1096–1120. https://doi.org/10.1177/0265407513482445  
Loneliness in a relationship might mean that one or both of you have some attachment work to do.

– Dr. Jenni Jacobsen, PhD, Licensed Social Worker (LSW), mental health writer
3. You've grown apart
Long-term relationships require work. In the early stages, often called the honeymoon stage, everything comes naturally. You can't wait to spend time together, and there is never a dull moment.
As you settle into a long-term commitment, you and your significant other may begin to drift apart. Perhaps you aren't putting in the same effort, or maybe you've become too comfortable with each other.
Over time, these factors can lead you to take each other for granted. Other people and activities can begin to take priority, leading to an emotional distance and a sense of loneliness.
4. You're looking to your partner to fill a void 
Surprisingly, some of us are lonely by nature. In fact, research with the genetics of loneliness has found that genetics contribute about 40% to 50% to the development of loneliness. [4] Spithoven, A., Cacioppo, S., Goossens, L., & Cacioppo, J. T. (2019). Genetic contributions to loneliness and their relevance to the evolutionary theory of loneliness. Perspectives on Psychological Science, 14(3), 376–396. https://doi.org/10.1177/1745691618812684  
The exact proportion can vary across different studies, but there is a pretty strong agreement among scientists that loneliness has a genetic component.
If you're someone who has a natural tendency to feel more lonely, you might look to your partner to fill a void.

– Dr. Jenni Jacobsen, PhD, Licensed Social Worker (LSW), mental health writer
While your spouse or long-term significant other should meet your emotional needs, provide companionship, and fulfill the role of a life partner, they meet all of your needs.
For example, it's important to maintain your own hobbies and nurture other relationships, such as those with friends, extended family, and children. If you have a propensity for loneliness, you may rely upon your partner to fill a void and meet every need you have.
In this case, the task is impossible for your partner, who also has a need to nurture their own hobbies and friendships. Over time, you might feel lonely if your partner takes time for themselves or spends time on a hobby that doesn't interest you.
5. You aren't communicating well 
Healthy communication is a key contributor to the strength of a relationship. In fact, studies have established that there is a link between long-term relationship satisfaction and communication. [5] Lavner, J. A., Karney, B. R., & Bradbury, T. N. (2016). Does couples' communication predict marital satisfaction, or does marital satisfaction predict communication? Journal of Marriage and Family, 78(3), 680–694. https://doi.org/10.1111/jomf.12301  
Couples should communicate about their needs, wants, and long-term goals. It's also important to engage in communication about misunderstandings, hurt feelings, and minor problems before they turn into big issues.
If you and your significant other aren't communicating, this can leave you feeling as if your partner doesn't understand you. Or, maybe you feel a distance between the two of you because you aren't talking about anything or sharing a vision for the future.
Overall, a lack of communication can leave you feeling as if you're alone, even if you're in a long-term relationship.
What to do when you're feeling lonely in a relationship
If you find yourself feeling alone, you probably want to learn how to stop feeling lonely in a relationship. Below are several solutions that can get you back on the right track so that your relationship will feel healthy again and you won't feel so down.
Explore your own interests
Sometimes, loneliness occurs because you're relying on your partner to fill all your needs. If this is the case, you might find that you can actually learn to enjoy solitude. 
Rather than tying your happiness and satisfaction solely to your relationship, take some time to explore your own interests. Return to the hobbies you enjoyed before you settled down in a committed relationship or spend time with old friends.
You'll come to realize that when you and your partner both spend time exploring your own interests, your time spent together as a couple is more meaningful.

– Dr. Jenni Jacobsen, PhD, Licensed Social Worker (LSW), mental health writer
Talk to your partner
Relationships should be a safe space for communicating your feelings and being vulnerable with your significant other. If you're feeling lonely, speak up. Perhaps your partner doesn't even realize that you've been feeling alone.
Sit down and have a conversation at a time when you're both free and in a generally positive mood. Avoiding blaming or using insults. Simply state that you're feeling lonely, and tell your partner what you might need to feel more connected, whether spending quality time together for an hour each evening or going on a weekly date night. 
As a couple, you can make a plan to reconnect. This might involve taking a trip together, scheduling regular check-ins, or simply making an intentional effort to be more present with each other.
Try a relationship class
There are various educational classes for couples. Some of these are available online as do-it-yourself modules, whereas others may be in the form of weekend workshops or retreats.
Explore several options and find something that works for you. Some counseling or therapy centers may even offer educational sessions for couples.
Regardless of the format you choose, relationship classes can be effective. Research has shown that these classes can improve relationship satisfaction by teaching key concepts, such as healthy communication and maintaining realistic expectations. [6] Halford, W. K., & Bodenmann, G. (2013). Effects of relationship education on maintenance of couple relationship satisfaction. Clinical Psychology Review, 33(4), 512–525. https://doi.org/10.1016/j.cpr.2013.02.001
Consider therapy
If you're struggling with feeling alone in a relationship, therapy can be helpful. Individual sessions can help you explore personal factors, such as attachment issues, that might contribute to your own feelings of loneliness.
Couples therapy can also be beneficial. It can create a safe setting for processing relationship issues, strengthening your communication, and setting goals together as a couple.
A word from Calmerry
If you prefer individual online therapy, Calmerry professionals are here to help. We offer online sessions with credentialed therapists so that you can connect with an expert from the comfort of your home. 
Start with a brief survey to get matched with a professional within 1 hour.
We curate our articles with warmth and care, drawing from reputable sources and expert knowledge. Explore our editorial process to understand how we prioritize your trust and keep accuracy in every word we share.
Сheck your mental well-being for free: