Published March 21, 2023 / Updated March 24, 2023
How to Cope with Death Anniversary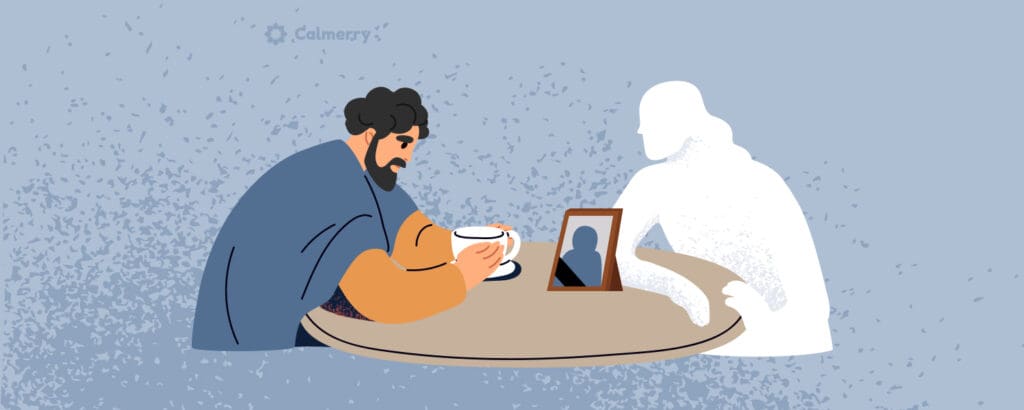 Reading Time:
5
minutes
Grieving a death of a loved one is hard, and coping with a death anniversary can bring about new feelings of anxiety and sadness each year. It's a natural part of the healing process. No matter how many years have passed since the person you're grieving has died, a grief anniversary can evoke powerful memories and trigger trauma or an anniversary reaction.
Every experience of grief is unique and shows up in different ways. Healing from grief is a gradual change, but it isn't linear, and the grief will never magically go away. It's all about learning to adjust to living with grief, but there are times that can bring up a lot of painful feelings.
While everyone experiences grief in their own way, you can expect specific grief reactions on the anniversary of your loss. Some people may experience profound sadness, many find themselves feeling unsettled and restless, and others might suffer a complete emotional breakdown.
Remember: there is no one right way to heal so try not to compare your reactions to those of other people – each person is different. And although the anniversary effect is tough to get through, there are some ways to cope.
One-year death anniversary: what does grief feel like?
Significant events such as grief anniversaries can feel daunting and scary and may always lead you to feel painful emotions more intensely than usual. Moreover, you may experience an anniversary grief response without any warning because of an unconsciously perceived trigger, such as smelling a perfume that you associate with your loved one, seeing a scene in a movie, or hearing a particular song.
All death anniversaries may feel hard or painful, but the one-year death anniversary is particularly difficult. During the first year, everything reminds you of your loss, and emotional distress can remain high all year long. This is the time when you begin to realize how much has changed in your life, both emotionally and practically.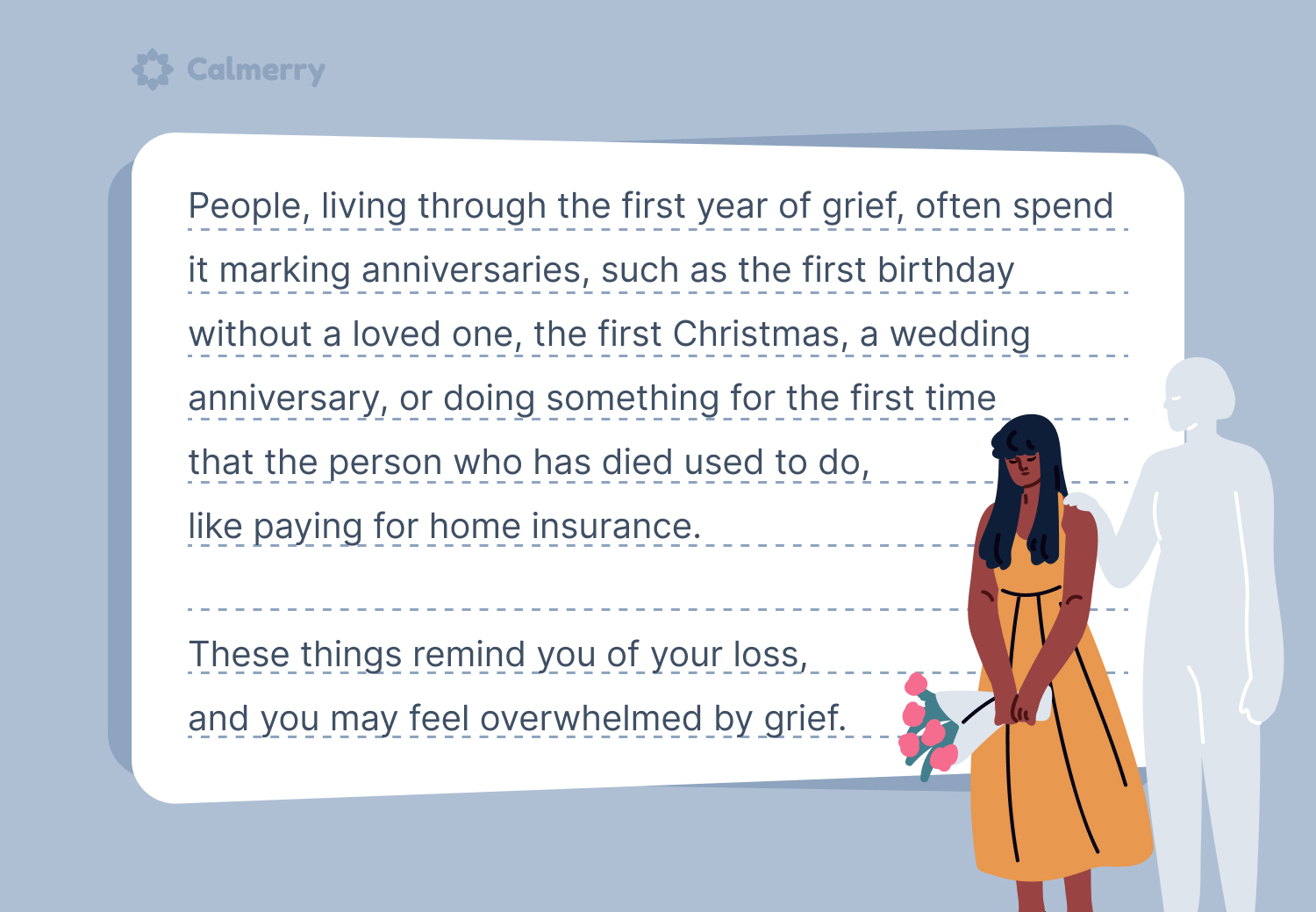 Death, especially when it's sudden, violent, or unexpected when we didn't get a chance to say goodbye, interrupts what we feel as the natural rhythm of life. People, living through the first year of grief, often spend it marking anniversaries, such as the first birthday without a loved one, the first Christmas, a wedding anniversary, or doing something for the first time that the person who has died used to do, like paying for home insurance. These things remind you of your loss, and you may feel overwhelmed by grief.
As the one-year mark approaches, your pain and sorrows may sharpen again, and that's normal. You realize that your loved one is no longer in your life and a year has passed without them in it. This realization triggers an intense grief reaction that often occurs each year at or around the time of loss and can last for several days or weeks afterward.
The effects of an anniversary grief response can include:
Disturbing feelings of sadness
Loss
Loneliness
Anxiety
Irritable outbursts
Feeling of detachment from others
You may also have physical and mental symptoms such as loss of appetite, difficulty of falling or staying asleep, nightmares, increase in distressing memories, and difficulty concentrating among others.
Getting through the first year is hard, but unfortunately, grieving doesn't "turn off" after one year. The intensity of your feelings may lessen over time, and gradually you will find that you have more good days and fewer bad days. Still, for most people, grieving is a long process, and it can take years.
Grief can't be "fixed", and your goal is to find a way to live with it and cope with your feelings. So allow yourself to grieve your way, and you may eventually come to a point where your feelings of grief are a reminder of the person who died. Time doesn't erase the past, but it provides the space to think about the person you're grieving, heal from the loss, and find meaning in life.
How to cope with anniversary grief response
There are things you can do to take care of yourself as the difficult date approaches. First, it is helpful to remember that the anniversary response is common and often expected, and you can plan your self-care around it.
Accept your feelings
Recognize and acknowledge feelings you may experience. Grief is a powerful, multifaceted response to the death of a loved one. It often persists, affecting you physically, mentally, and emotionally. Don't try to deny or avoid your anniversary grief response, but accept it as a natural and normal reaction to the death of the person you loved and cared for, no matter how long ago it happened.
Understand that your intense and painful feelings are part of the recovery process – allow yourself to feel whatever emotions arise and accept them. Cry if you need to. You may find it helpful to start a journal and let your feelings flow out on paper. You can also address them in a creative way, for example, with painting or music.
Find healthy ways to cope with distress
Consider making plans to keep yourself busy before, on, and after the anniversary. Find ways to fill your time during these days, and it can help distract you from the acute pain you're feeling and focus on something else. You may take a walk through the neighborhood or in a local park or just immerse yourself in a favorite hobby or a household chore and benefit from the positive feeling of accomplishing something.
We all love to feel loved and cared for during difficult times, so it makes sense to spend your time with family and friends or share your memories and feelings with someone you trust. Make sure you spend these special days with the people who are supportive and understanding of where you are in your grief journey.
Honor your loved one's memory
Remember and celebrate the life of your loved one. You may decide to plant a tree or flowers in their memory, visit a place that was special to them, do a balloon release, listen to their favorite music, or make a donation to a charity you associate with your loved one. Being active in your grief can cultivate positive feelings and promote healing.
There are many meaningful ways to remember your loved one on the anniversary of their death. It's up to you to choose what you want to do to honor that unique relationship in a way that feels right to you. This way, you'll be able to infuse the meaning into a painful anniversary and start transforming its dreadful date into one that generates future positive feelings and memories.
Consider professional help
Dealing with a difficult anniversary can be very upsetting. If it feels like your grief is interfering with your life or you are looking for more support as you come up on a grief anniversary, it may be a good time to talk to a licensed mental health professional. Calmerry counselors can help you navigate painful feelings of loss, build your resilience, and develop strategies to cope with distress.
Subscribe
to our mental health digest
Let us support you on the way to better mental well-being. Get expert tips and insights on mental health delivered to your inbox monthly.
Final thought
Anniversary reactions to grief are spontaneous and involve difficult emotions and complicated feelings linked to the pain and sorrow of your loss. These reactions are normal and expected, and although they're painful at first, death anniversaries and other reminders will eventually become easier. Over time, these important dates can become your opportunities to revisit the happy memories that made your loved one special, and that in itself can become a source of comfort.
Сheck your mental well-being for free: