Published December 6, 2022 / Updated June 19, 2023
How to Take Care of Yourself When Coming Off Antidepressants
Reading Time:
5
minutes
​​There are many reasons why you may decide to come off antidepressants. Hopefully, like in my case, it's because your mental health has improved, and you feel ready to try.
Whatever your reason for considering it, never try to go off your antidepressants by yourself, as it can be dangerous.
A doctor is responsible for making the taper safe and as comfortable as possible.
You're responsible for preparing and learning to care for yourself during this time.
Let me share some self-care tips that helped me enormously during my own taper.
What can you expect when coming off your antidepressants?
It's difficult to predict when and which mental and physical side effects will appear. It can be days or weeks after starting the process. Their intensity can fluctuate as well, even on a daily basis.
Some of the common side effects of coming off antidepressants are:
Flu-like symptoms: fatigue, muscle and joint pain, headaches, lack of appetite
Dizziness
Sleeping problems
Restlessness and anxiety
Low mood
Gastrointestinal issues, e.g., nausea, diarrhea
Ringing in your ears
'Brain-zaps' (a feeling of an electric shock in your brain)
Red flags: when should you contact a doctor?
While unpleasant side effects are unavoidable when going off any psychiatric medication, don't hesitate to contact your doctor or psychotherapist if you have any concerns about what is happening.
Seek assistance, especially if you experience:
Dissociation/depersonalization (feeling like you're disconnected, numb, not real)
Feelings of terror, severe panic attacks
Urge to self-harm
Suicidal ideation
If you feel like your health or life is in danger, reach out to The Suicide and Crisis Lifeline at 988 or call 911.

Subscribe
to our mental health digest
Let us support you on the way to better mental well-being. Get expert tips and insights on mental health delivered to your inbox monthly.
Depressive mood: side effect or a relapse?
You can feel depressed or anxious during the taper, but it doesn't necessarily mean it's a relapse. It may be a sign you're coming off the medication too quickly – consult your doctor to adjust the schedule.
Perhaps you're overwhelmed or lack effective coping mechanisms. In this case, consider meeting with your therapist more frequently.
It's possible you're dealing with side effects and not relapse, if:
You experience new and unfamiliar symptoms, like those 'brain zaps' or anything that doesn't feel like your usual depression
Your condition improves quickly after restarting your medication
The symptoms appear soon after starting the taper, usually within a few days. Meanwhile, a relapse tends to occur weeks or months after stopping the antidepressant and has a slow onset.
How to cope during the process
Your body needs to flush out the substance and adjust to the lack of it. It's something you can't hurry through – your mind and body dictate the speed of the taper. You can, however, take care of yourself and take steps to make the process more comfortable.
Prepare for the taper
Learn more about what to expect, such as what side effects are most often associated with your particular medication. Ask as many questions as you need. You can even bring a list of questions to your doctor's appointment to ensure you don't miss anything.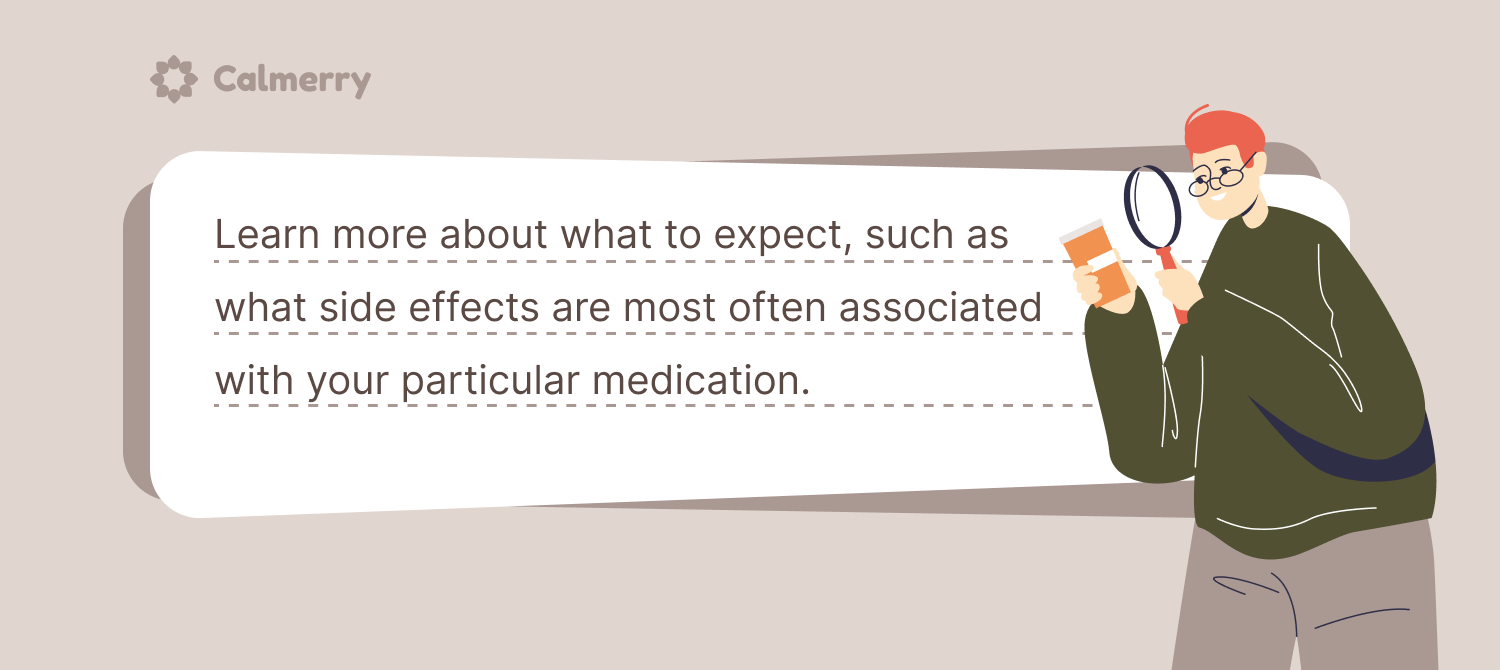 You have no way of knowing how you'll react to the taper. Just in case, plan for your condition to worsen during the process – consider scheduling rest days, talking to your supervisor about flexible working hours or adjusting your workload, and asking for help with chores or childcare.
Even better, try to schedule the taper when you don't have any planned long trips, big projects, or other potentially stressful events. This way, you can take off the pressure and focus on coming off your antidepressants.
Be patient
Going cold turkey and completely stopping the medication may sound more appealing than a (sometimes significantly) slow process of tiny steps, but this is very dangerous. The taper must be gradual to allow your body and brain to regain balance and avoid serious health risks, such as catatonia, psychosis, or suicidal thoughts.
The long time and discomfort of the process might make you impatient and ready to stop halfway. Don't give up, and finish the taper. Before making that decision, discuss your feelings and doubts with your doctor or therapist.
Try therapy
As I've mentioned before, if you're already in therapy, it may be helpful to meet more often. Keep your therapist updated about the taper, so they're better equipped to support you.
Before starting the process, discuss together how to best prepare you for it: practice grounding techniques or compile a list of additional resources and people you can reach out to if needed.
If you're not in treatment now, consider online therapy so that you have affordable and accessible professional support during this difficult time. Studies show that people undergoing psychotherapy while coming off antidepressants are less likely to relapse.
Especially at the end, your emotions can roar into life with intensity, no longer dampened by medicine. Old and new fears can emerge. A therapist can help you navigate through this new and often overwhelming reality.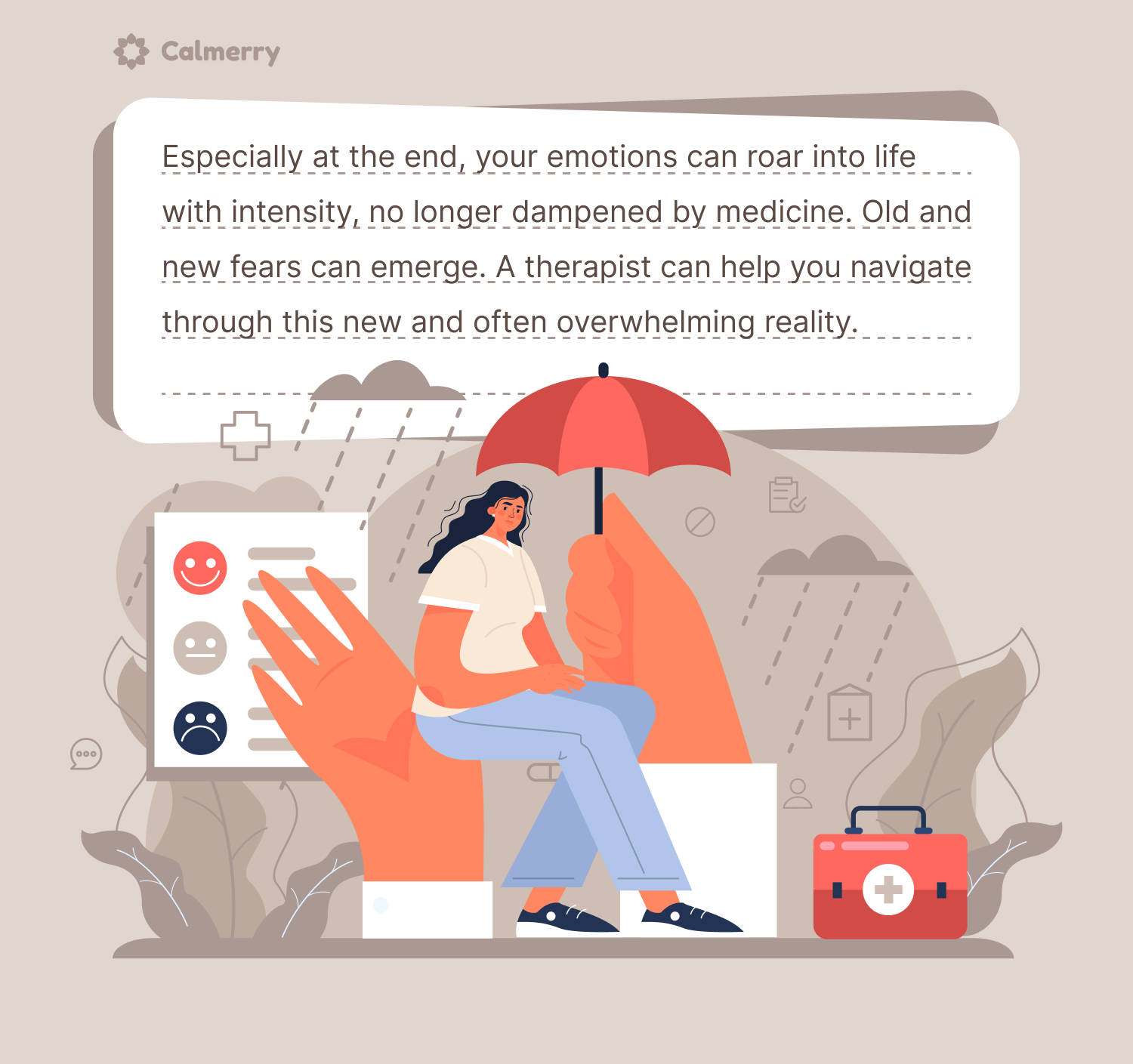 Keep moving
Regular physical activity has many benefits, but its positive effect on mental health is even more critical when you're coming off antidepressants and may need that extra boost.
Try to exercise at least three times a week. A brisk walk or a short yoga practice is a great starting point – don't set the bar too high, or you'll get easily discouraged.
If you already have a workout regime, keep up with it but be prepared to modify the training to accommodate your condition during the taper.
Mind the food
Eat regular meals made with healthy and unprocessed food. It'll get you the nutrients you need and keep your energy levels – and mood – steadier throughout the day.
Still, you can lose your appetite or struggle with gastrointestinal issues. Try to eat something, even if it's just a pudding or a smoothie. When planning for the taper, you can make a list of food that is easy on the stomach or even prepare it in advance.
Drink plenty of water, especially if you experience such side effects as nausea, diarrhea, or intense sweating.
Journaling
It's a good idea to keep a patient diary to monitor the dosage and your physical and mental condition. This way, you can quickly notice something's wrong.
Consider starting a journal to write down your feelings and thoughts as well. Such techniques as expressive writing can improve your mood, help you stay calm, and increase self-awareness.
Drawing or other forms of artistic expression are also a great medium when you can't put your emotions or sensations into words.
Reach out to trusted people
Staying in touch with your doctor and therapist is essential when coming off antidepressants, but don't hesitate to reach out to your friends, family, and even trusted people at work.
Let them know that you're discontinuing the medication and the possible side effects, so they understand why you may act differently and what kind of support you may need.
Rest
Some days you might feel great and ready to take on the world. Others will be challenging, with an aching body, nausea, and brain fog. It's crucial to allow yourself to rest. Get plenty of sleep but also permission to take it easy. If possible, take time off work, at least on the most difficult days.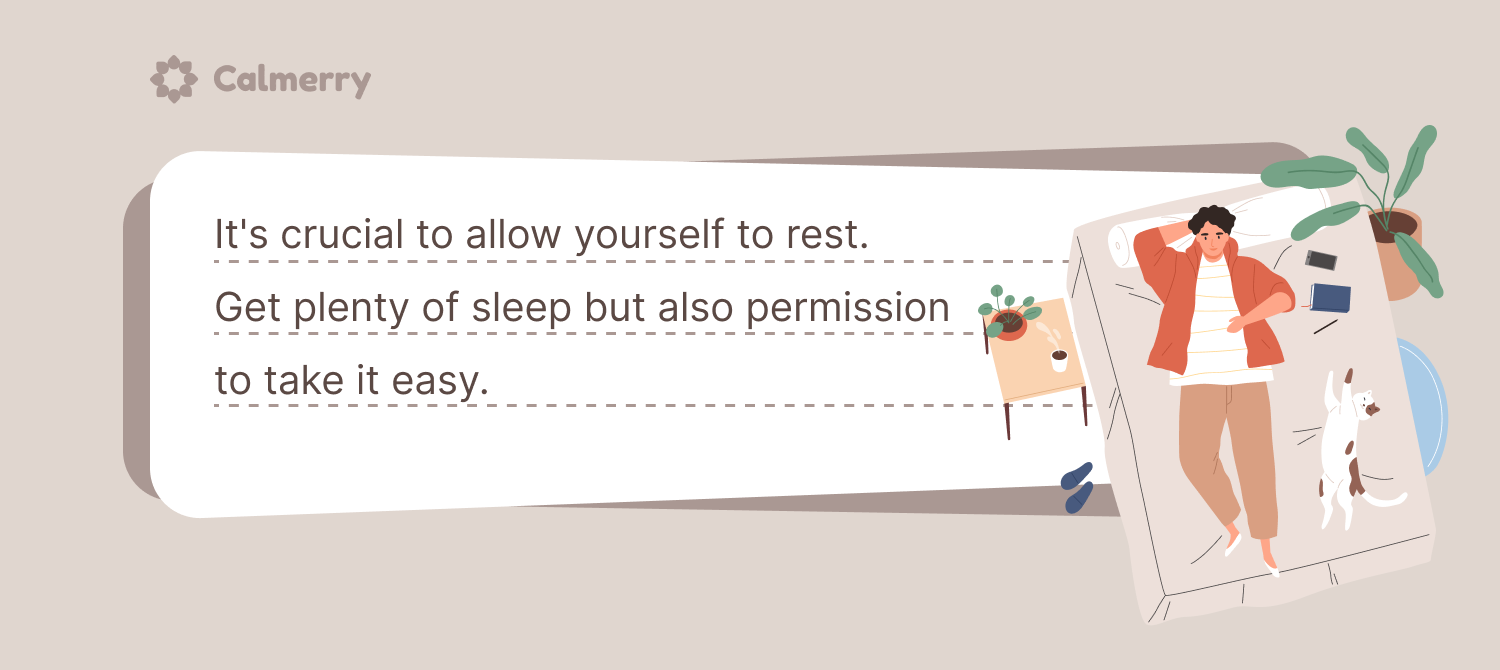 Care for yourself as if you were nursing a sick loved one. Remember that your organism is working hard to flush out the medication and readjust to its absence.
Be compassionate towards yourself and respect your limitations during this time. Be proud of how hard you're working and how resilient you are.
Сheck your mental well-being for free: