Published January 6, 2023
What Is Death Anxiety, Actually? And How to Overcome it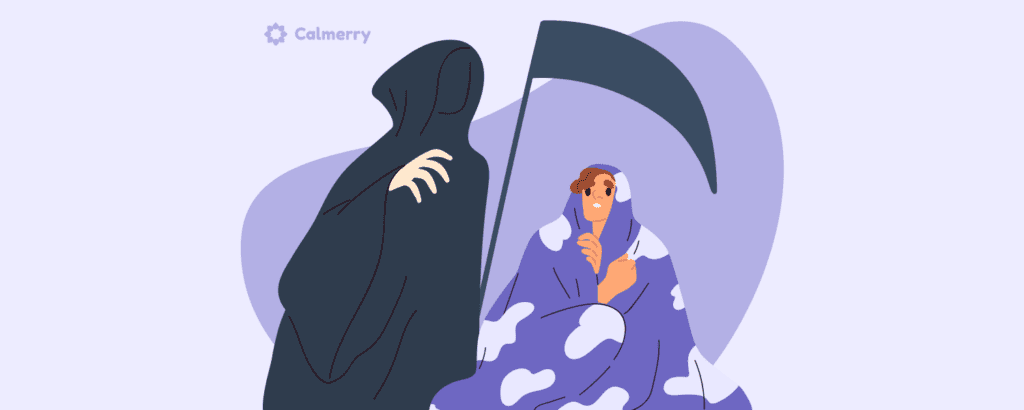 Reading Time:
8
minutes
Despite death being an inevitability, it's something that many of us choose not to think about too often.
This is perfectly normal, as, after all, the thought of losing loved ones or leaving them behind is not exactly uplifting. And it's entirely reasonable to feel concerned about what happens after you are gone.
However, some people go to excessive lengths to avoid thinking or talking about death altogether. Because if they do, it brings about intense feelings of anxiety, panic, and dread.
We're talking about those who have a form of anxiety known as death anxiety, also referred to as thanatophobia. Death anxiety is a constant fear of dying or death that's so severe that it interferes with everyday life and activities.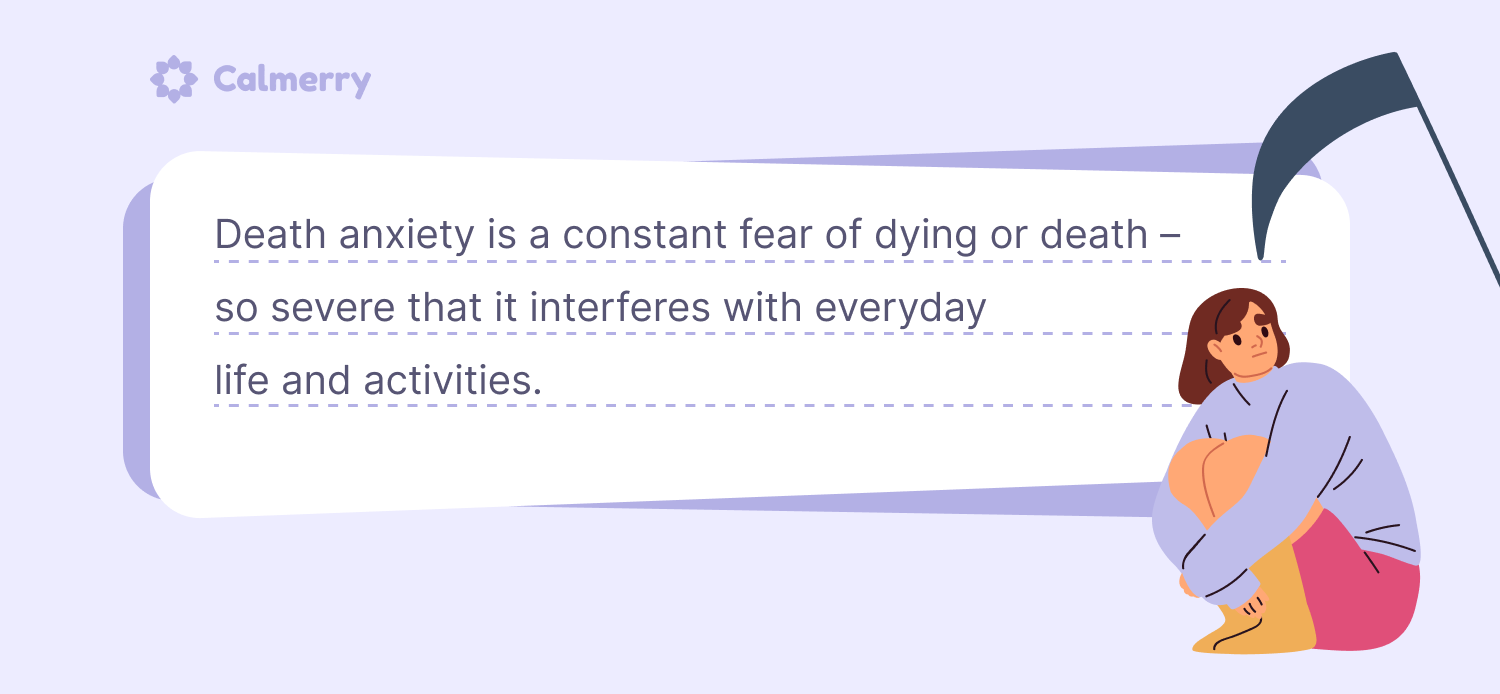 Fortunately, with the right help, there are ways to treat thanatophobia, which we will cover in this blog. We'll also look at the symptoms, causes, risk factors, and best self-care tips so you'll have everything you need to know about this mental health issue.
What is death anxiety, actually?
Thanatophobia, also known as death anxiety, is an intense fear of death or the dying process. While thanatophobia is not a clinically recognized condition, clinicians typically classify it as a specific phobia, which is a type of anxiety disorder.
While it's normal to have some fears about dying, these concerns don't affect most people's daily lives. Whereas for those with thanatophobia, their fears and anxiety around death can be so intense that it causes various distressing symptoms and interferes with everyday activities.
So, how can we tell what is thanatophobia and what isn't? Generally, someone's fear of death would be considered a phobia if:
It persists for longer than six months
It affects their daily life
A person experiences intense anxiety whenever they think about death
They avoid situations that remind them of death
Symptoms of thanatophobia
The symptoms of death anxiety can vary from person to person, and they may only present themselves when you think about or are confronted by death.
That's why people with thanatophobia often avoid situations where they have to think about death as a way of coping with and preventing symptoms. However, avoidance can reinforce the fear and worsen symptoms over time.
Here are some of the most common symptoms that people with death anxiety experience:
Anxiety, fear, and dread (especially when thinking about death)
Panic attacks, dizziness, shortness of breath, sweating, and heart palpitations
Stomach ache or nausea when thinking about death
Regularly worrying about dying (catastrophic thinking)
Avoiding triggers and withdrawing socially
When a person's thanatophobia is linked to another mental health disorder, they may also experience additional symptoms related to that condition.
Related conditions
Fear of death or dying can feature in various mental health conditions. Therefore, it's believed that thanatophobia is often linked to or can emerge alongside the following disorders:
Specific phobias – For example, you fear flying and worry you'll die in a plane accident.
Panic disorders – For example, having a panic attack and worrying that you're dying from a heart attack.
Post-traumatic stress disorder (PTSD) – For example, having vivid flashbacks of a traumatic, life-threatening event happening again.
Obsessive-compulsive disorder (OCD) – For example, repeatedly checking you've turned appliances off out of fear of accidentally causing a fire and harming or killing someone.
Illness anxiety disorder (Hypochondria) – For example, regularly worrying you have a life-threatening illness.
Separation anxiety disorder – For example, a child may fear being permanently separated due to their parents dying.
Somatic symptom disorder – For example, fearing that your symptoms are life-threatening despite the medical evaluation saying otherwise.
Depressive disorders – For example, having existential depression and fearing death and that your life was meaningless.
Causes
As with other specific phobias, there isn't a single exact cause of thanatophobia. Therefore, it's not usually clear why it starts.
However, it's believed that various factors may contribute to developing thanatophobia, such as:
Thanatophobia may be associated with a past incident or trauma related to death or almost dying, which a person may or may not remember.
Thanatophobia may be a learned response that a person developed in childhood from a sibling or parent.
Some people may be more vulnerable to developing thanatophobia and other phobias due to genetic factors.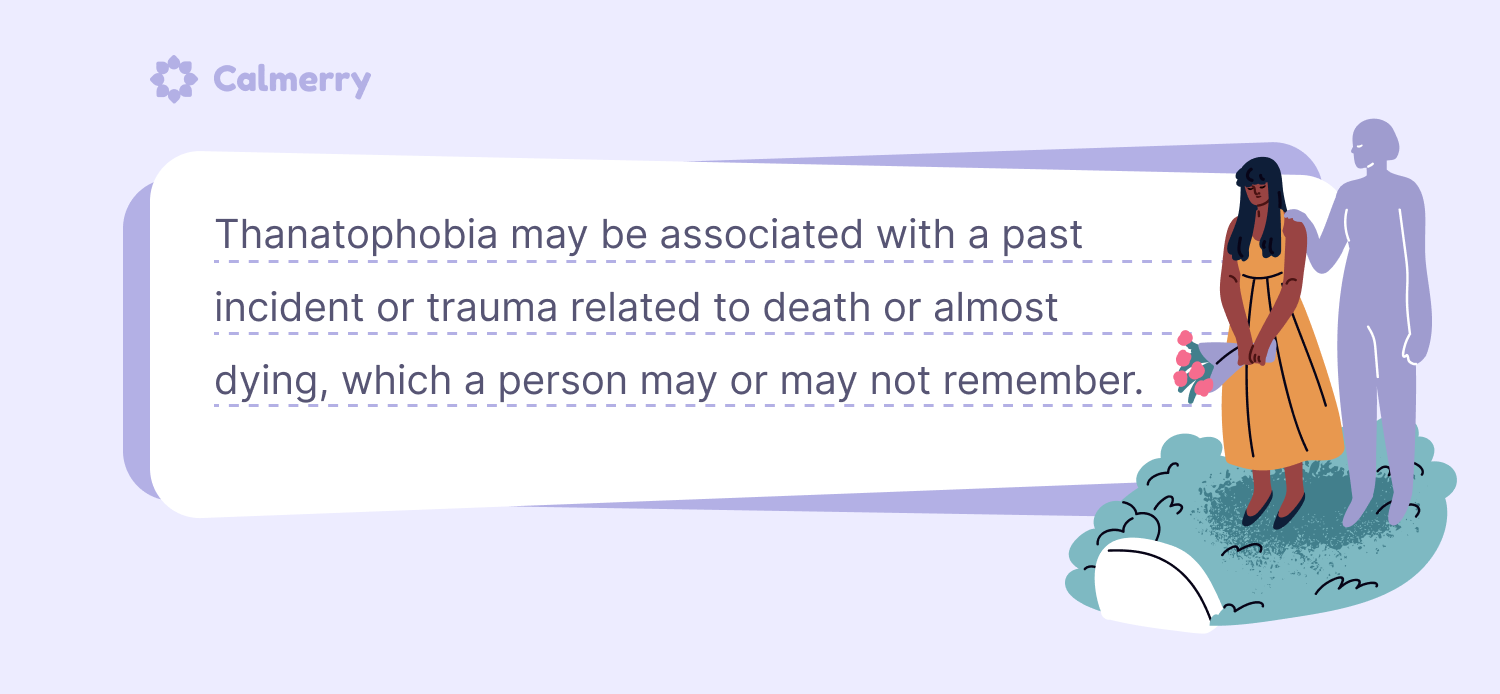 Risk factors
It's thought that the following risk factors can make some people more likely to develop death anxiety:
Age: Thanatophobia is most common among people in their 20s and becomes less common with age. Young people tend to fear death itself, whereas older people tend to fear the dying process.
Sex: Younger men and women experience death anxiety equally, but women in their 50s are more likely to have it than men of the same age.
Heath problems: People with a severe or chronic illness are more likely to be anxious about dying and experience thanatophobia.
Attitude: A study suggests that people with greater humility are less likely to develop thanatophobia because they have lower level of self-focus and are more willing to accept their circumstances.
When to seek help
It's normal to have some concerns about your health as you age or worry about what will happen to your family or friends when you pass away.
However, if you regularly experience intense anxiety caused by thoughts about dying or death, it may be time to seek professional help. This includes if your fear of death affects your daily life, if you avoid triggering situations, or if you're using drugs or alcohol to cope.
You can seek help by talking to your doctor about what you're experiencing or booking a session with a licensed therapist.
Diagnosis and death anxiety test
As thanatophobia, or death anxiety, is not a clinically recognized condition, your doctor or therapist will likely classify it as a specific phobia. However, they will note that fear of dying or death is the root of your anxiety.
Your doctor or therapist will carry out a psychological evaluation to help them make an accurate diagnosis, which can involve questions about the following:
What your symptoms are, and how long you've had them
How severe and restricting your symptoms are
Events in your personal and family history related to death or dying
What triggers your death anxiety
Your thoughts and emotions
Your lifestyle, diet, health status, and sleeping patterns
The doctor will try to determine how intense your fear is in relation to your circumstances. They will also assess whether your death anxiety is linked to any other underlying mental health disorder.
You can take this clinically-validated death anxiety test. This test can help identify levels of anxiety related to the particular fear of dying. Just by asking yourself these questions, you can gain much insight into your emotional state.
Please note: online screening tools are not diagnostic instruments. Consider sharing your results with a doctor or a licensed therapist who can give you a full assessment.
Treatment
A few treatments are available for specific phobias like thanatophobia, such as CBT, exposure therapy, and relaxation techniques. Based on your diagnosis and symptoms, your doctor or therapist will advise which treatment or combination of treatments is most suitable for you.
If there is another underlying mental health condition linked to your death anxiety, then they may recommend other appropriate treatments for that.
Talking therapy
Talking therapies like CBT or psychoanalytic therapy are often used to treat anxiety and specific phobias. They involve sharing your experiences and talking through your fears with a licensed therapist.
Your therapist will help you understand the cause of your fear and develop effective coping strategies.
Cognitive behavioral therapy (CBT)
CBT involves identifying unhelpful behavioral and thinking patterns that may be contributing to your death anxiety and then finding practical ways to change them to help you overcome your fears.
Through CBT, you can develop coping strategies that allow you to cope with your fear and stay calm when thinking about death. CBT usually requires several individual sessions with a professional, which are carried out over a period of weeks or months – in-person or online.
Exposure therapy
Exposure therapy involves exposing a person to situations or thoughts that trigger their death anxiety. The goal is to desensitize them gradually by allowing them to face their fears in a safe environment.
Each exposure reduces their fear response, helping them overcome unhealthy coping methods like avoidance and eventually feel unafraid when talking or thinking about death or dying.
Relaxation techniques
Your therapist may recommend relaxation techniques like breathing exercises, meditation, mindfulness, and guided imagery to help you relieve anxiety when it arises.
Medication
Sometimes, a doctor might prescribe medication for specific phobias to help relieve the symptoms, especially if your fear is linked to another underlying mental health disorder.
However, for death anxiety alone, medication is not usually an effective long-term solution. Instead, they may prescribe it short-term to help you confront your fears as you go through talking therapy.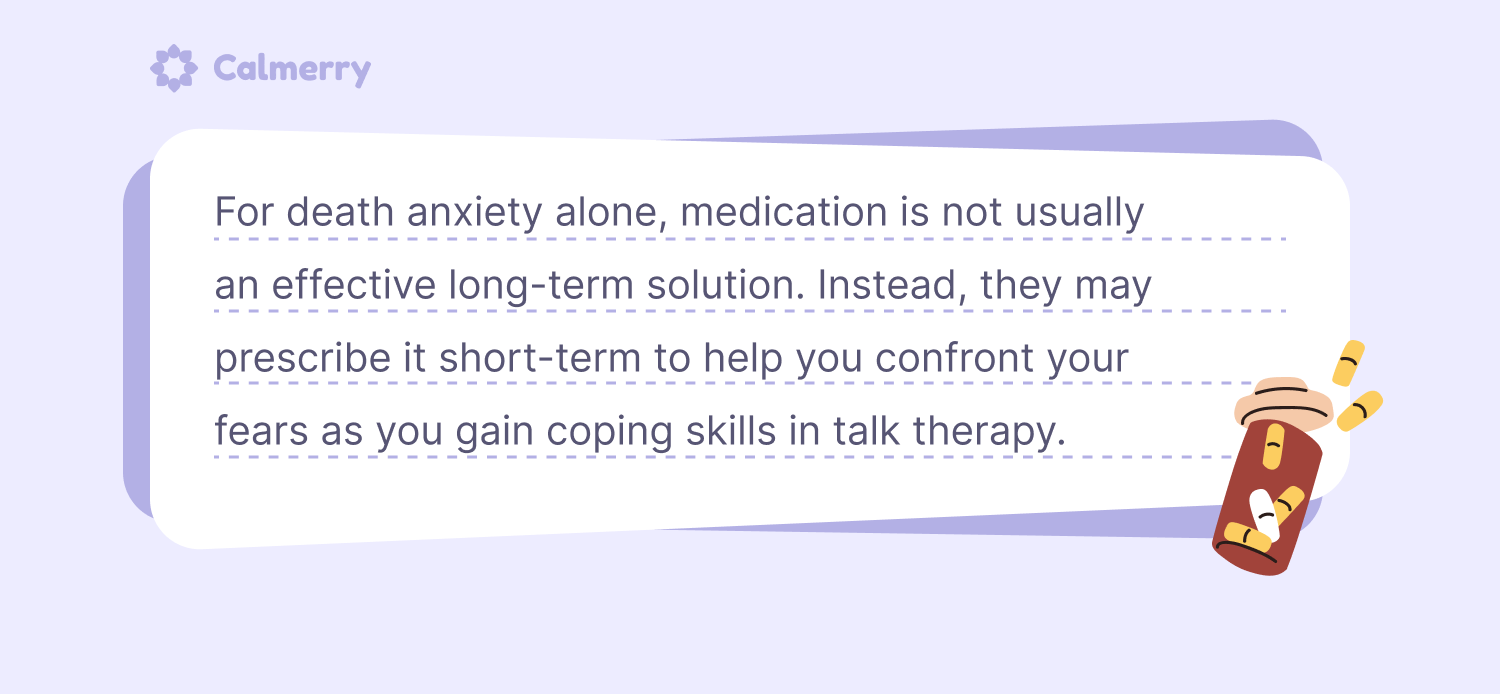 Dealing with panic attacks
It's common for people with thanatophobia, and other phobias, to suffer from panic attacks. While they are not life-threatening, they can be scary, distressing, and happen very suddenly.
While it may be difficult to prevent them from happening altogether in the short term, there are some things you can do to help you cope and gain some control.
Here are some tips on what you should do during a thanatophobia-induced panic attack:
Recognize that you're having a panic attack
Remind yourself that you're safe and that it's not life-threatening
Remind yourself that these feelings are temporary and will pass
Stay where you are and ride it out, if possible
Breathe deeply and slowly
Focus on an object or relaxing image
Engage all your senses
8 Self-care tips for thanatophobia
Below are some ideas you can try to cope with and address your death anxiety. You might find some of these helpful, while others may not work for you.
Nonetheless, remember that these self-care tips are not designed to replace professional help and treatments.
1. Talk to someone
Speaking to someone you trust and sharing your personal experiences with thanatophobia can help you feel more in control.
Knowing that someone cares and is supportive can also help you feel not ashamed and more willing to face your fear.
2. Stick to your treatment plan
You shouldn't expect thanatophobia to go away on its own. The surest way to overcome it is to seek professional help.
Once you seek help, it's essential to stick to your treatment plan and attend therapy sessions.
3. Join a support group
By joining an in-person or online support group, you can share your experiences with other people facing similar challenges. Knowing that you're not suffering alone can be comforting, and others may be able to help you by sharing coping methods that work for them.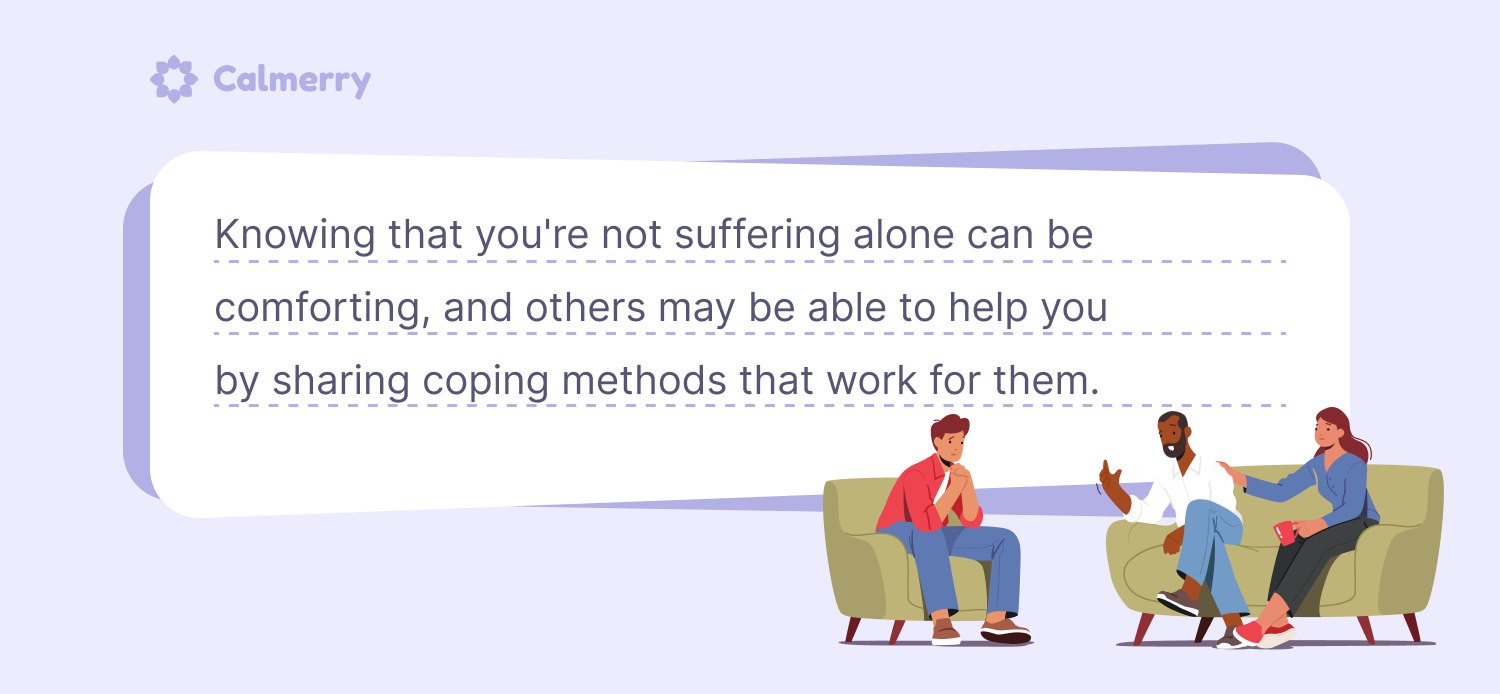 4. Write down your thoughts
Write down a list of all your death-related fears to identify what you are afraid of and what triggers you. This can be an excellent first step if you're finding it hard to talk about phobia with others, and it's something you could take with you to a therapy session.
5. Avoid unhelpful coping strategies
When death anxiety arises, you may be tempted to seek immediate relief through unhealthy coping methods like alcohol or drugs. However, these methods can leave you feeling worse off and increase anxiety in the long run.
6. Meditation
Research suggests that meditation and mindfulness exercises can reduce stress and anxiety and improve mood. It's also a good way to relax and calm the mind when you experience panic.
7. Look after your health
Getting enough sleep, regular exercise, and a balanced diet are a few ways you can stay healthy, reduce stress, ease anxiety, and feel better. Reducing caffeine consumption can also help with anxiety.
8. Educate yourself 
Engaging in psychoeducation and reading self-help books like "The Anxiety and Phobia Workbook" written by experts in CBT could offer practical tips on overcoming or dealing with your phobia.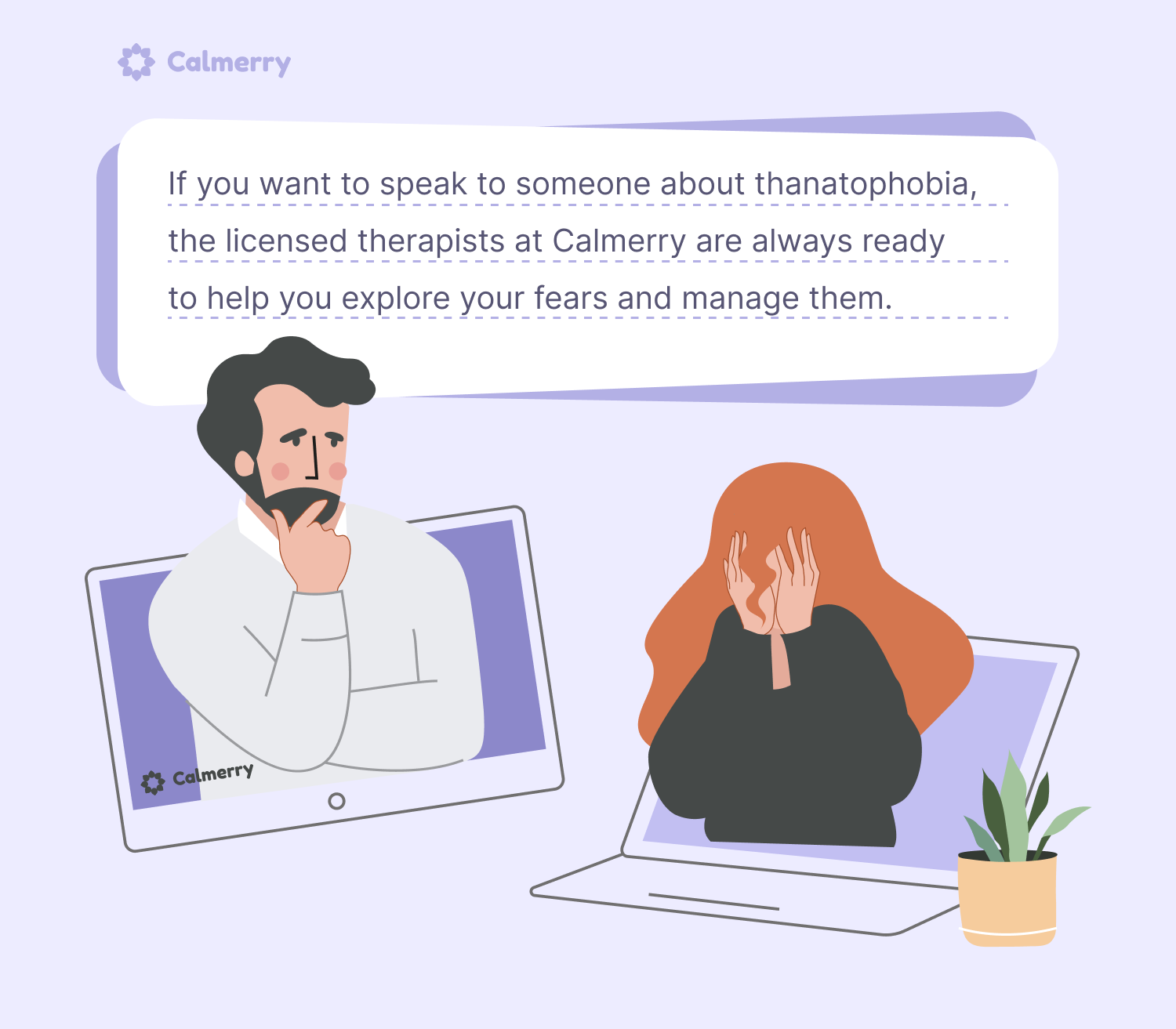 Summing all up
Most of us are afraid of death to some degree, as it involves so many unknowns. But death anxiety is more than that. It's a fear of death that has developed into a distressing phobia that affects daily life.
Fortunately, it is possible to manage and treat it, especially with the help of a caring professional.
If you'd like to speak to someone about thanatophobia, the licensed therapists at Calmerry are always ready to help you understand your fears and manage them. They can offer expert, impartial guidance and evidence-based treatment to help you overcome your phobia.
Сheck your mental well-being for free: